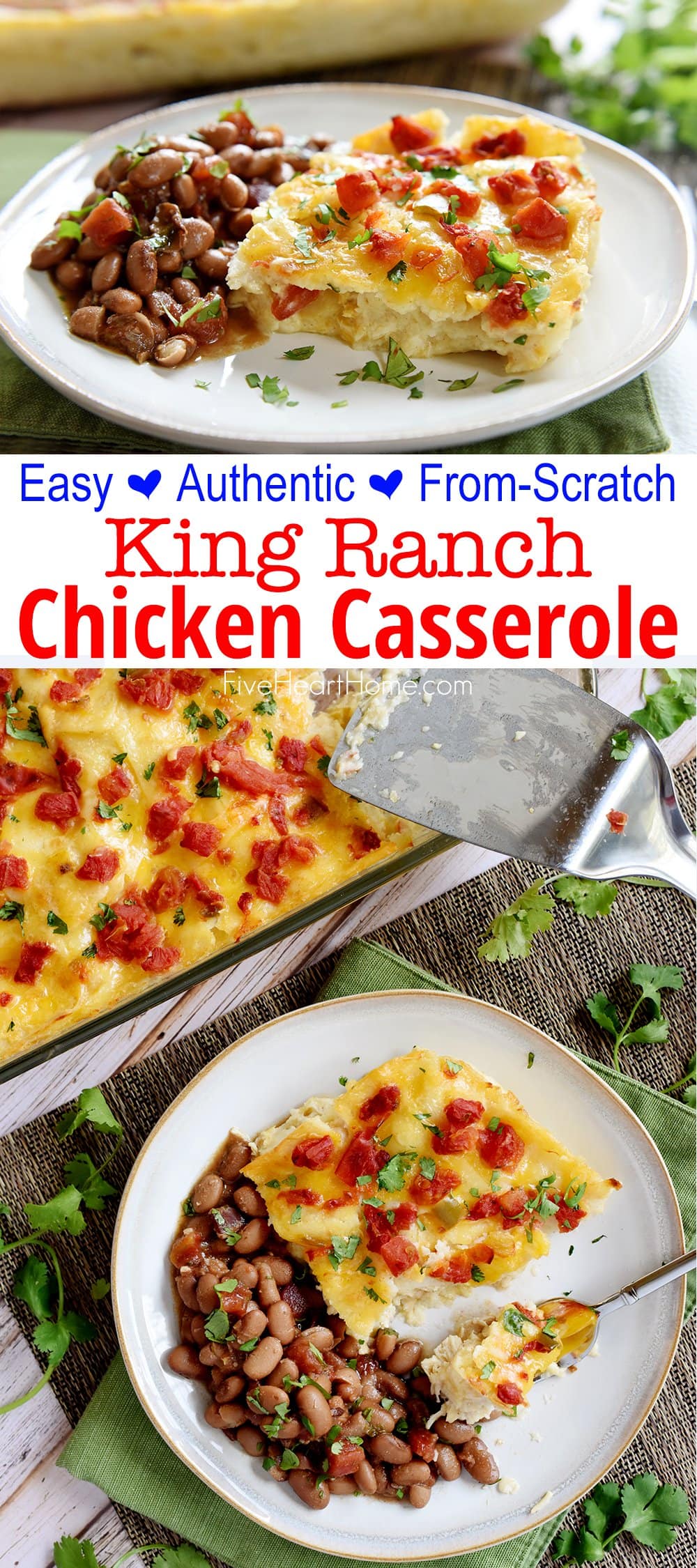 King Ranch Chicken Casserole is a cozy, comfort food classic with melty layers of chicken, tortillas, and cheese. And this authentic, from-scratch version features a simple homemade sauce with NO canned condensed soups!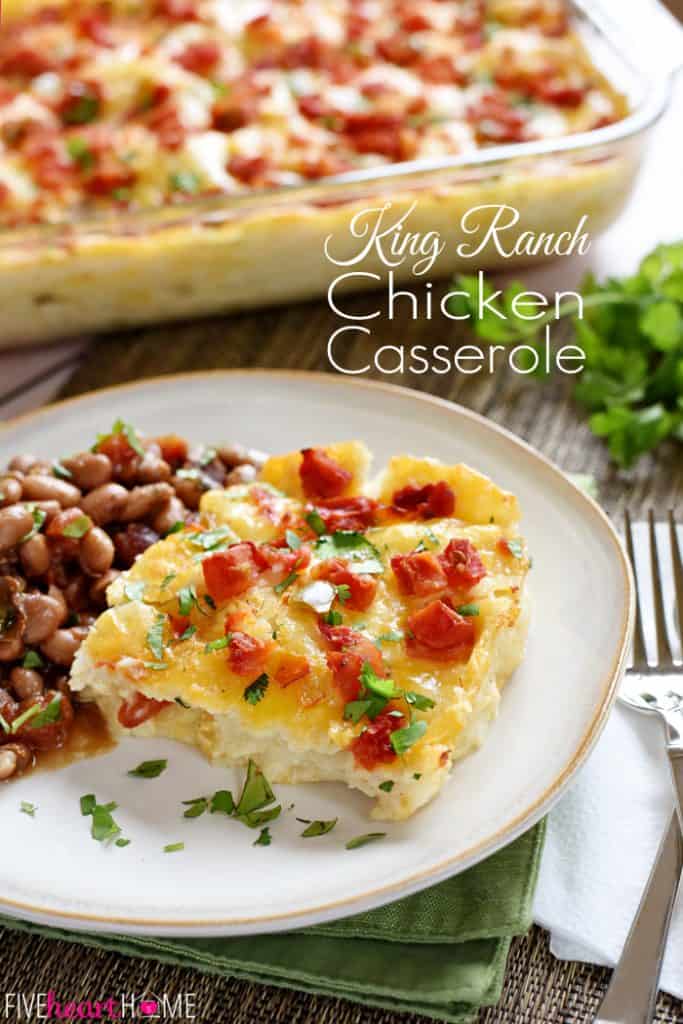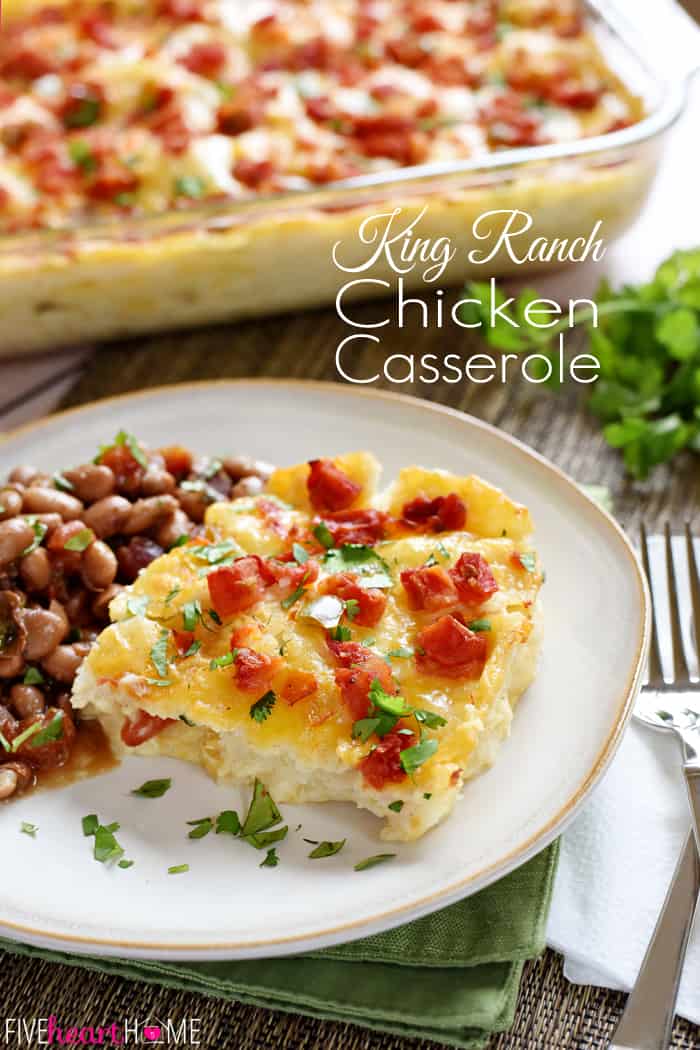 If you're a fan of this recipe, you'll also LOVE King Ranch Chicken Soup! And if you enjoy chicken casseroles in general, this Chicken Enchilada Casserole is also great!

If you happen to be from and/or reside in the great state of Texas, odds are you already know and love the wonder that is King Ranch Chicken Casserole. 🙂
If you happen to reside in another state but you've had it before, well, lucky you!
And if you've never had it before, now's your chance to change that, no matter where you live! Because the cheesy, scrumptious recipe that I'm sharing today is truly what I consider to be a comfort food classic.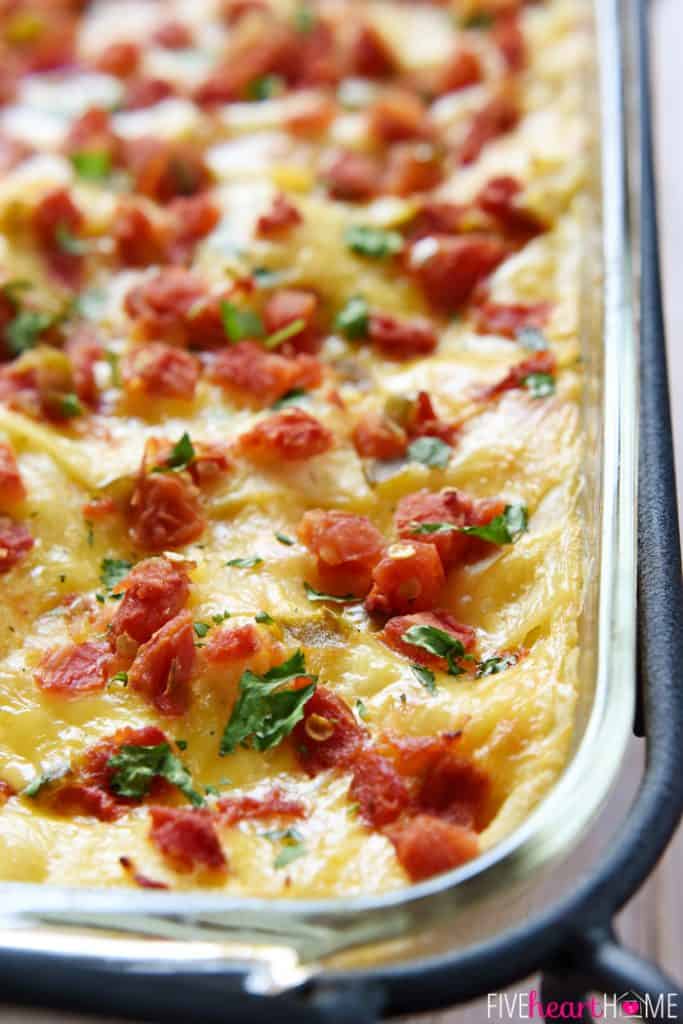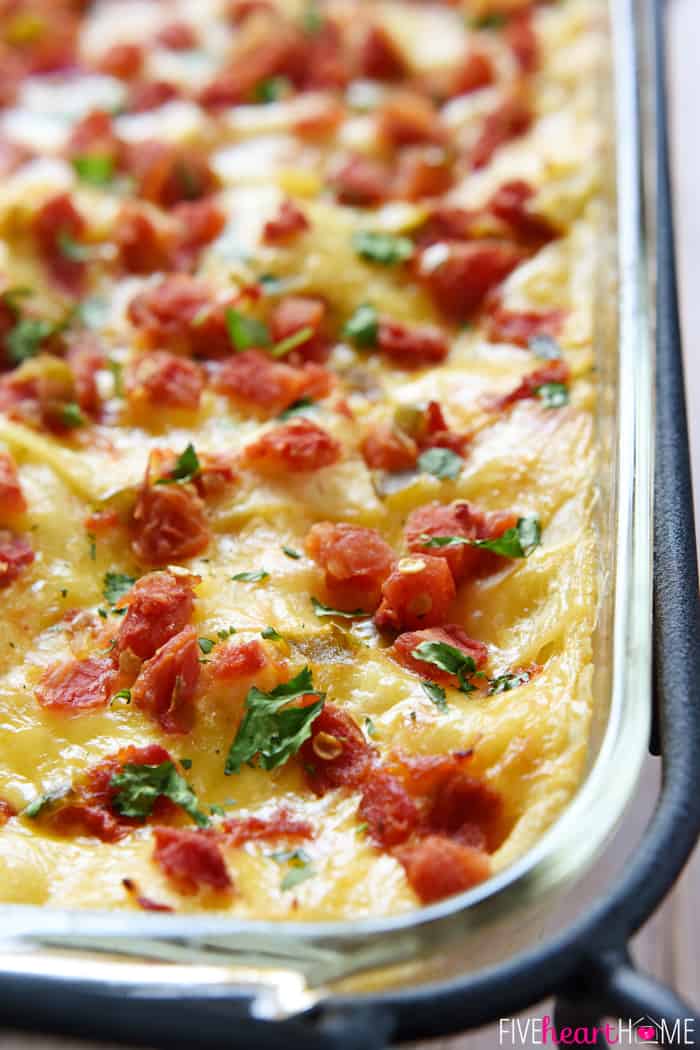 The History
Founded in 1853 in south Texas, the King Ranch remains one of the largest ranches in the world. And while the ranch has a fascinating and storied history, King Ranch Chicken Casserole seems to be a tribute in name only, with no record of it being historically connected to the actual cattle ranch in any way. Nevertheless, this is a cozy, gooey, cheesy casserole whose appeal is as vast as the state of Texas!
I like to think of this dish as the one that (in part) won me the heart of my husband. You see, this recipe was the main course of the first dinner that I ever cooked for him. I believe I served it with a high-brow side dish of canned ranch-style beans and Frozen Margarita Pie for dessert.
To this day, my hubby will tell you that when I cooked him that first meal of King Ranch Casserole, he just knew he had to marry me. So it goes without saying that this has been a regular recipe in our dinner rotation for all of our years of wedded bliss! 😉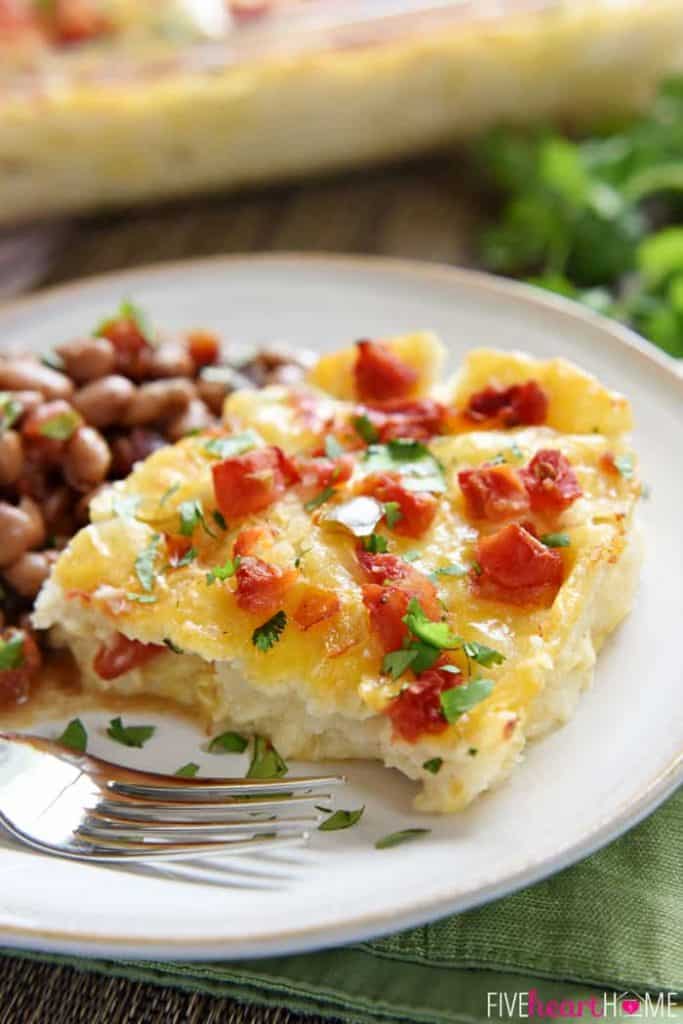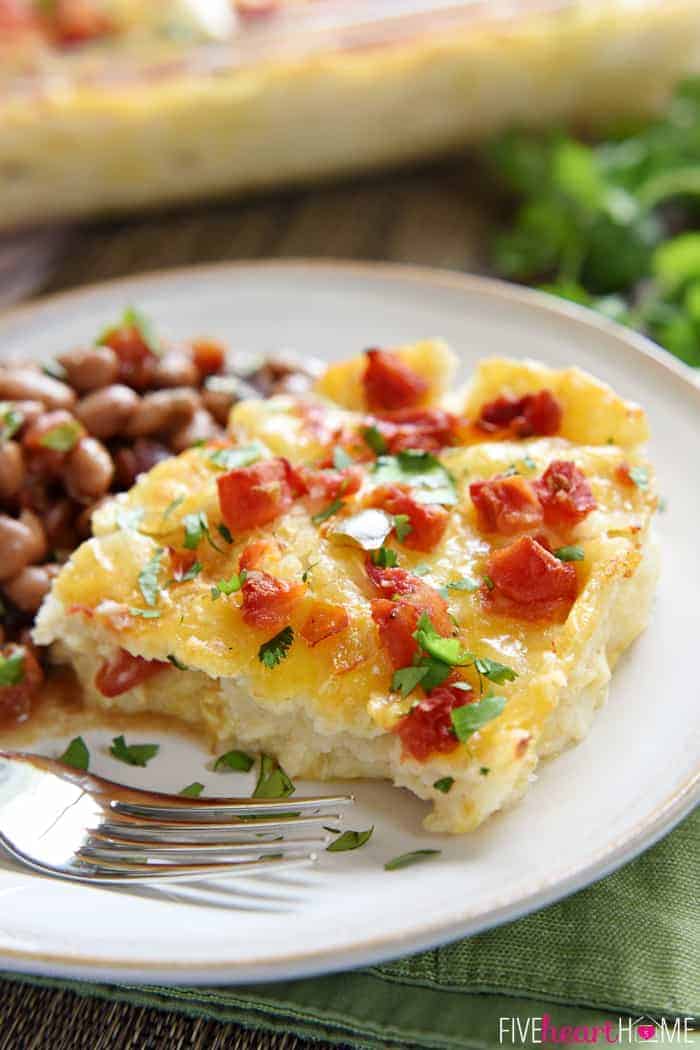 Authentic and From-Scratch
I adapted this King Ranch Chicken recipe from my childhood friend/college roommate's mom's recipe...and I consider that recipe to be pretty darn authentic since she is a multi-generational native Texan!
That being said, since college, I'd always made this recipe using the standard can of Cream of Chicken soup plus can of Cream of Mushroom soup. And let me tell you...using those cans, it always turned out dee-li-cious.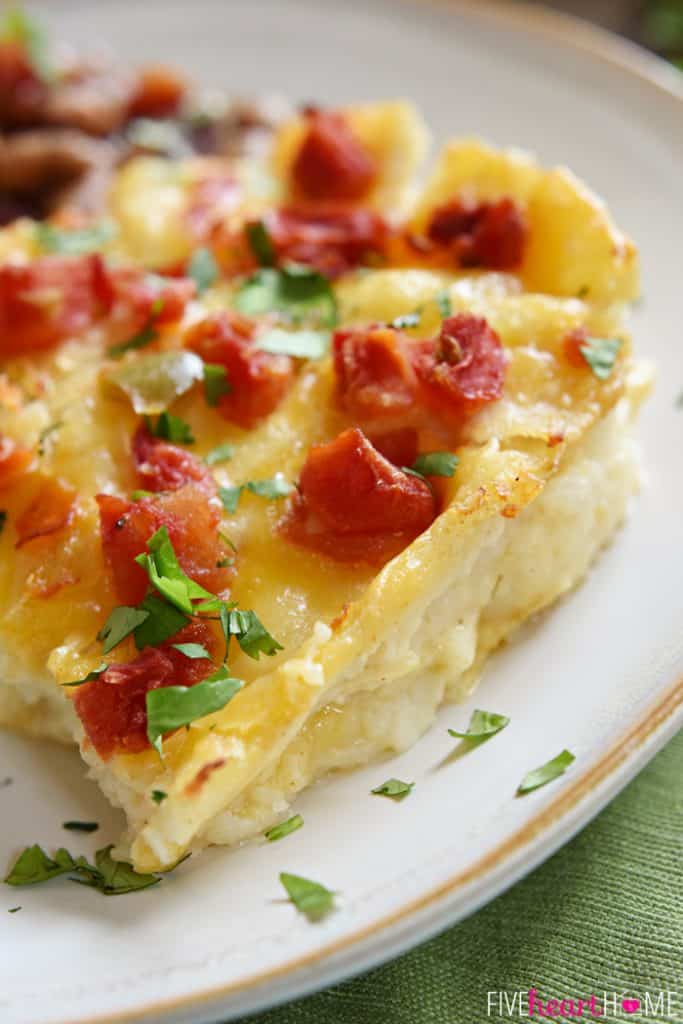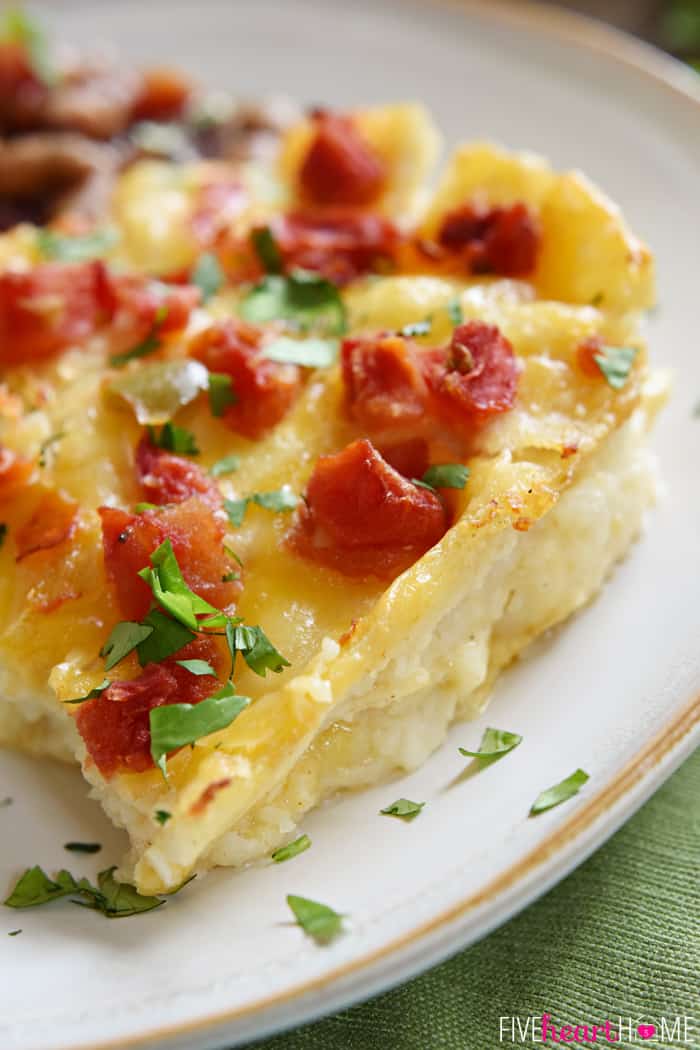 NO Canned Soups
However, when I had kids of my own, I stopped buying condensed 'Cream of X' soups in favor of making my own simple sauces, from béchamel to cheese sauce.
Why do I love from-scratch sauces so much???
They're quick and easy to whip up.
They don't include any weird ingredients or icky preservatives.
They allow me to control the sodium and the seasonings.
So it only made sense to replace the canned soups in traditional King Ranch Chicken Casserole with an easy homemade sauce instead!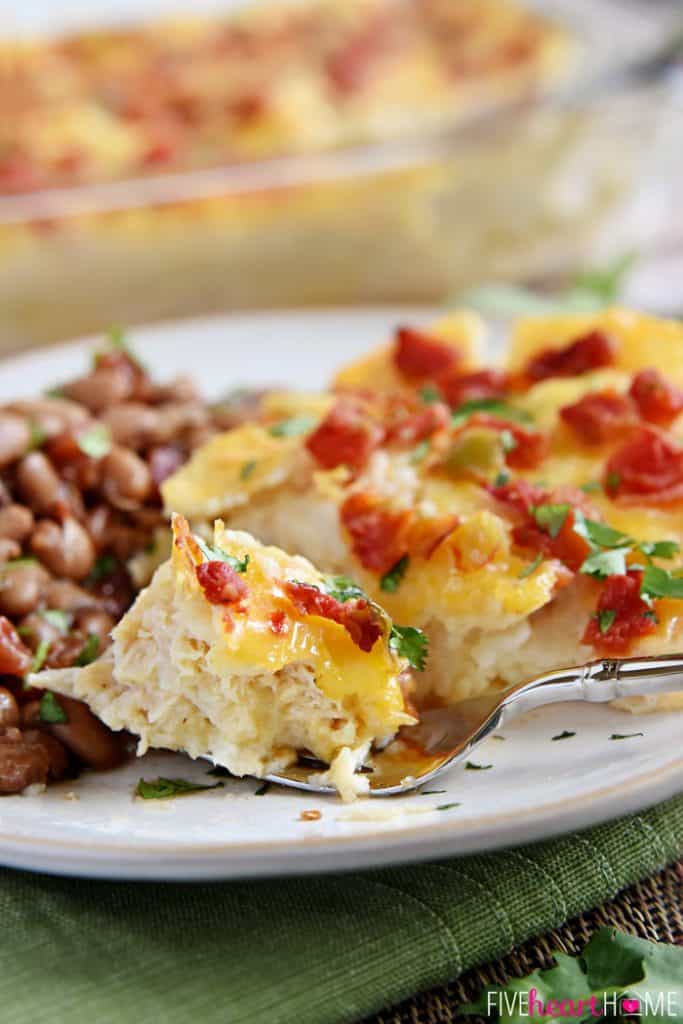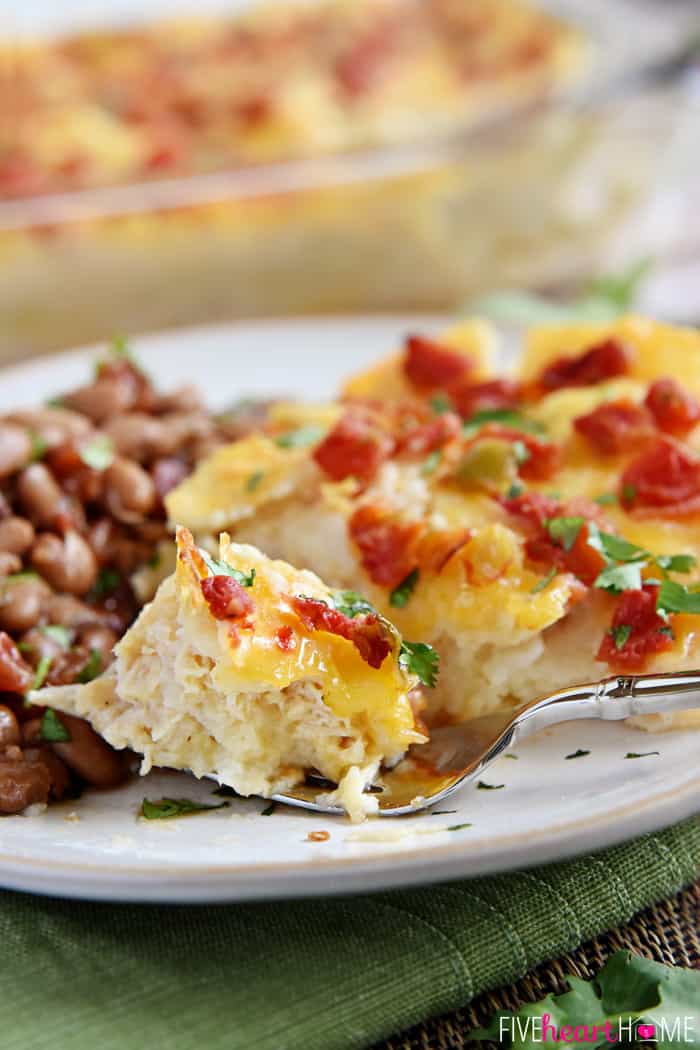 Ingredients
So what does it take to make the aforementioned from-scratch sauce?
And what else goes into this King Ranch Chicken Casserole recipe?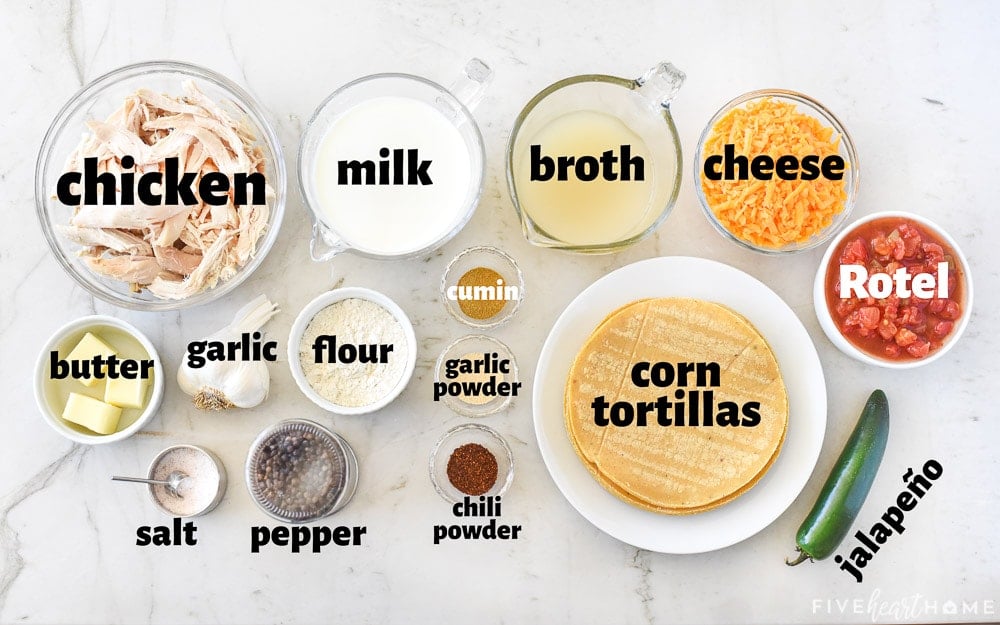 For the Sauce
In a matter of minutes, a few simple ingredients transform into a thick and creamy sauce that puts canned soup to shame. And I promise that it's so easy! So step away from the can opener, friends... 😉
Butter. Salted or unsalted will work.
Garlic. Freshly minced. Use extra, if you like.
Flour. I've successfully made this sauce with all-purpose white flour, whole wheat pastry flour, and even my favorite gluten-free flour blend.
Milk. I typically use whole milk, but a lower fat milk or even non-dairy milk (such as unsweetened almond milk) would work as well.
Chicken broth. Or chicken stock. Use low-sodium if you'd like more control over the ultimate saltiness of your recipe.
Spices. Specifically, cumin, garlic powder, chili powder, salt, and pepper.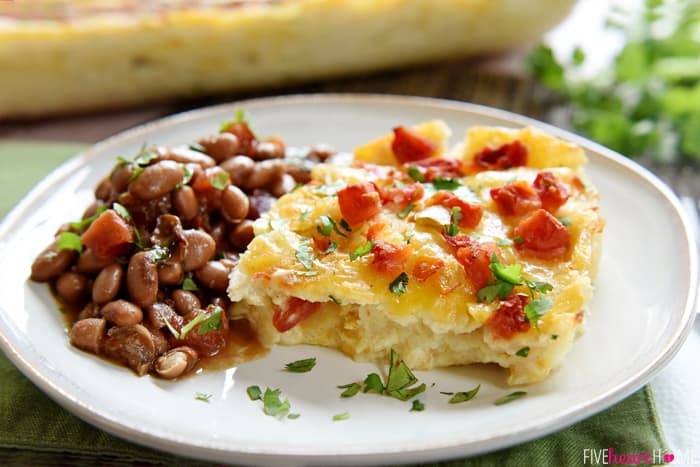 For the King Ranch Casserole
In addition to the homemade sauce, you'll also need:
Chicken. King Ranch Chicken starts with (surprise!!!) chicken, which you may cook in the oven, the slow cooker, or poach in some simmering water on the stove. Or you can take the shortcut of shredding a trusty rotisserie chicken...it's up to you! For the casserole pictured in this post, I tossed some frozen chicken breasts in the crock pot, seasoned them well, and let them do their thing until they were tender to the point of falling apart.
Corn tortillas. You'll want to quarter your tortillas. And yes, I do recommend corn tortillas over flour tortillas. As in most enchilada-type recipes, flour tortillas would get rather gummy in a soupy casserole like this.
Grated cheese. Cheddar, Colby Jack, or a Mexican blend all work beautifully, depending on your preference. You could also opt to use Monterey Jack or, for extra kick, pepper jack.
Additional chicken broth. To keep the casserole moist.
Rotel. AKA, diced tomatoes and green chiles. I've been known to use fresh tomatoes when they're in season, but Rotel is more readily available year-round, so I suppose I need to take back what I said earlier. Feel free to get the can opener back out!
Fresh minced jalapeños. Optional, for garnish, if you're a fan of a little heat.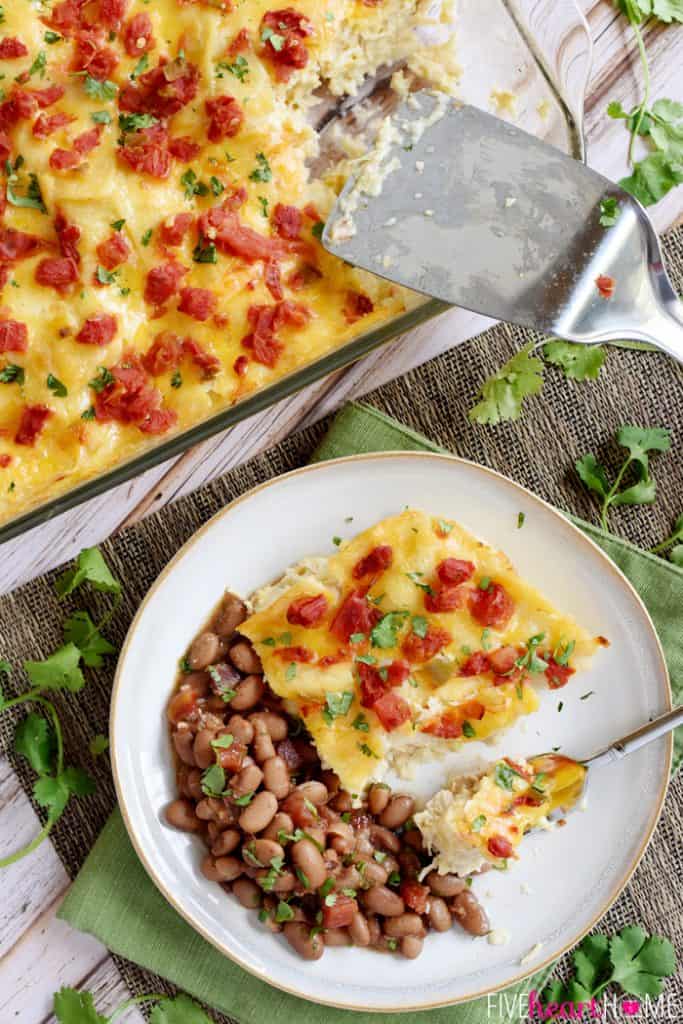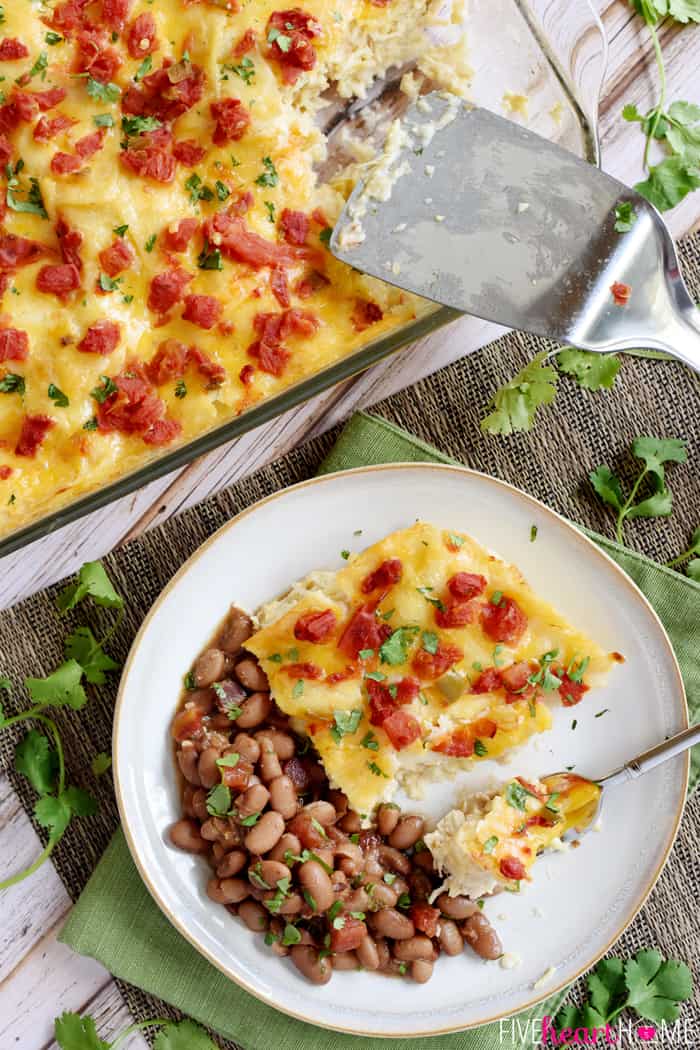 How to Make King Ranch Chicken Casserole
It really is a super easy recipe. Here's the scoop!
After you've cooked and shredded your chicken...
Make the Homemade Sauce:
Melt butter in a saucepan over low heat.
Add garlic and saute for a minute until fragrant.
Stir in flour and whisk continuously.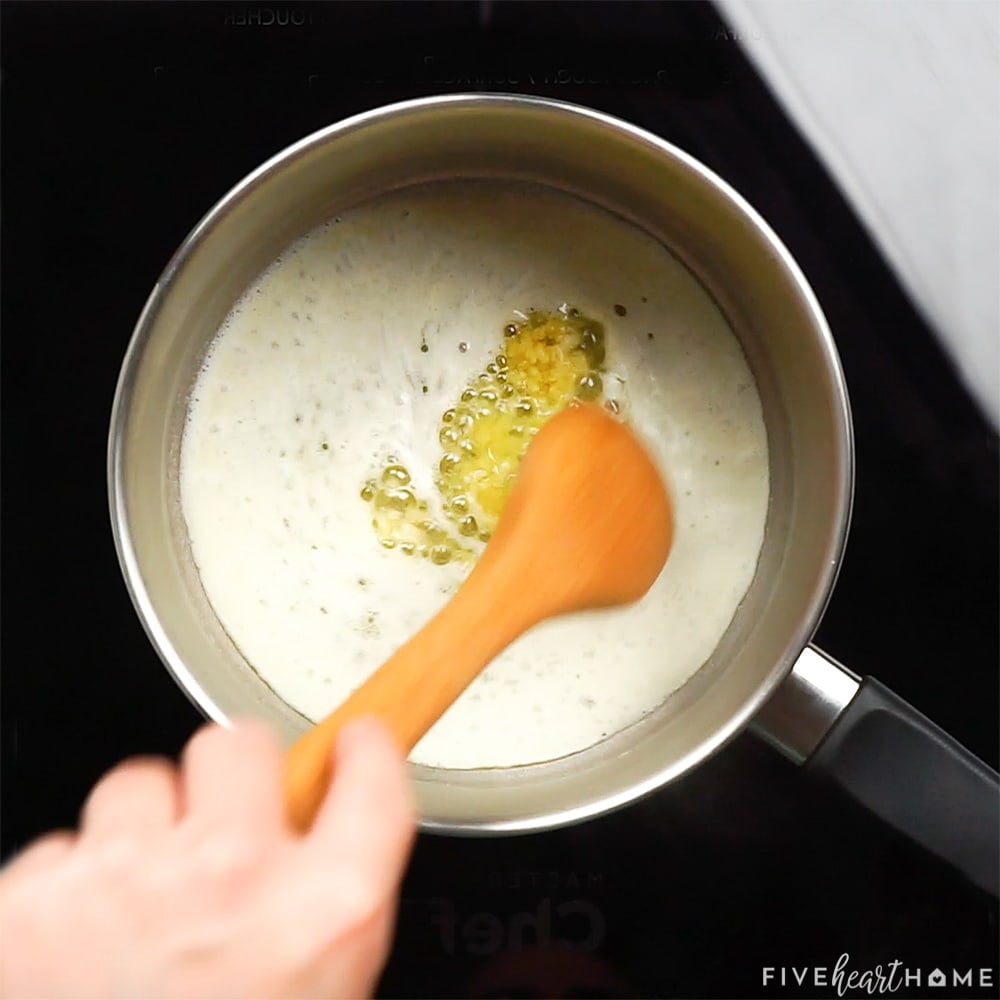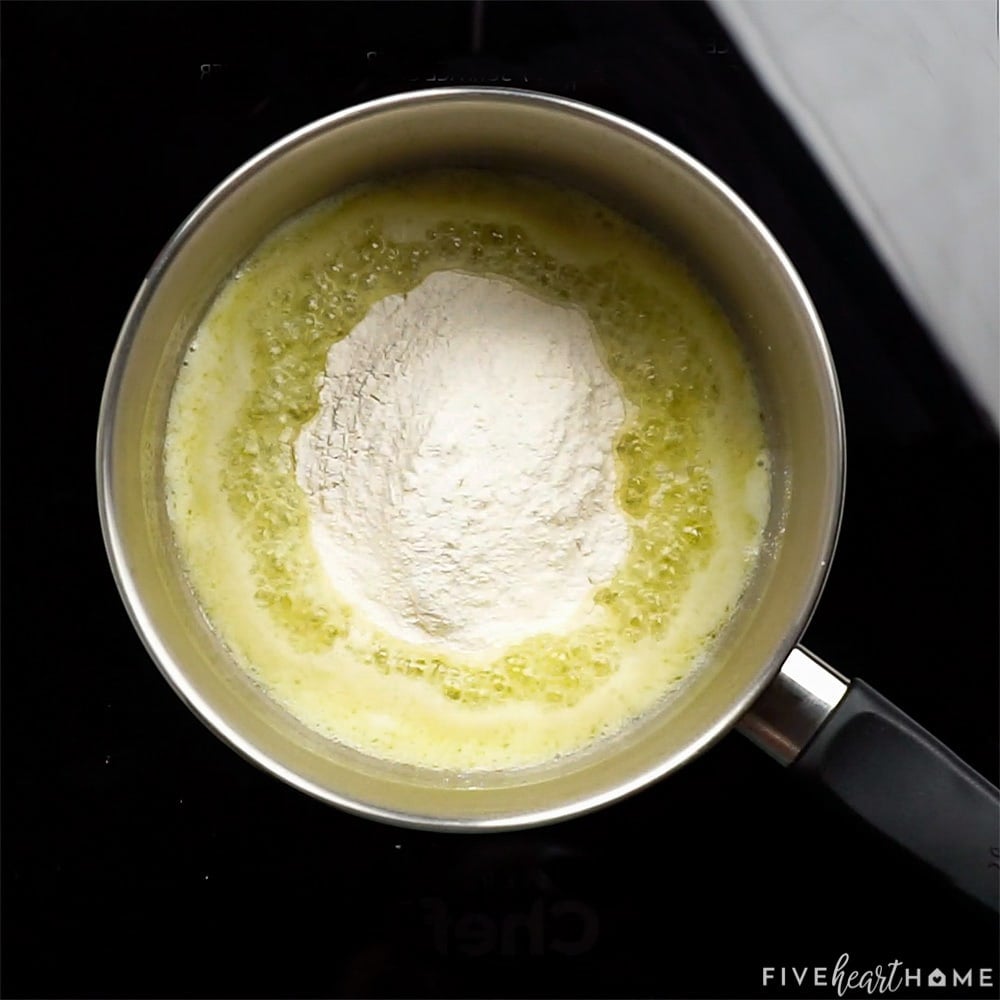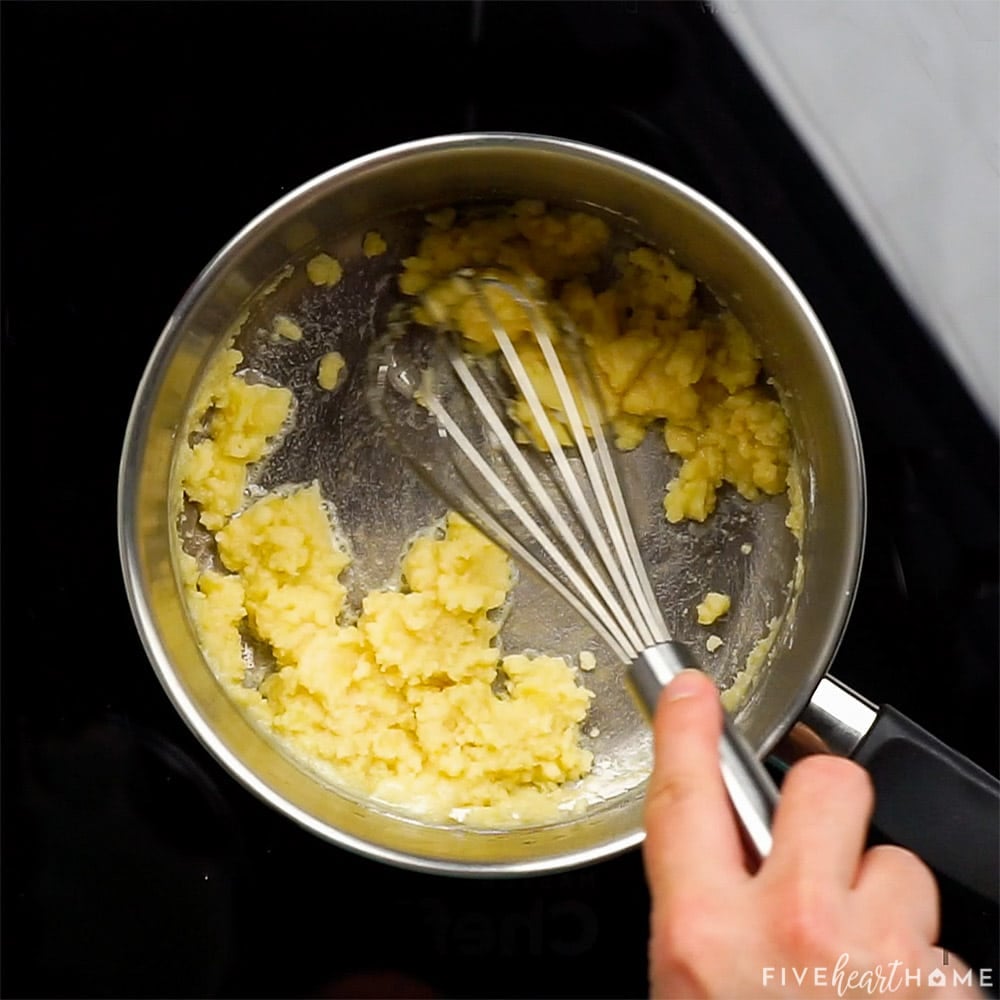 Slowly and gradually whisk in the milk, and then the chicken broth.
Increase the heat and stir continuously until the sauce is thickened.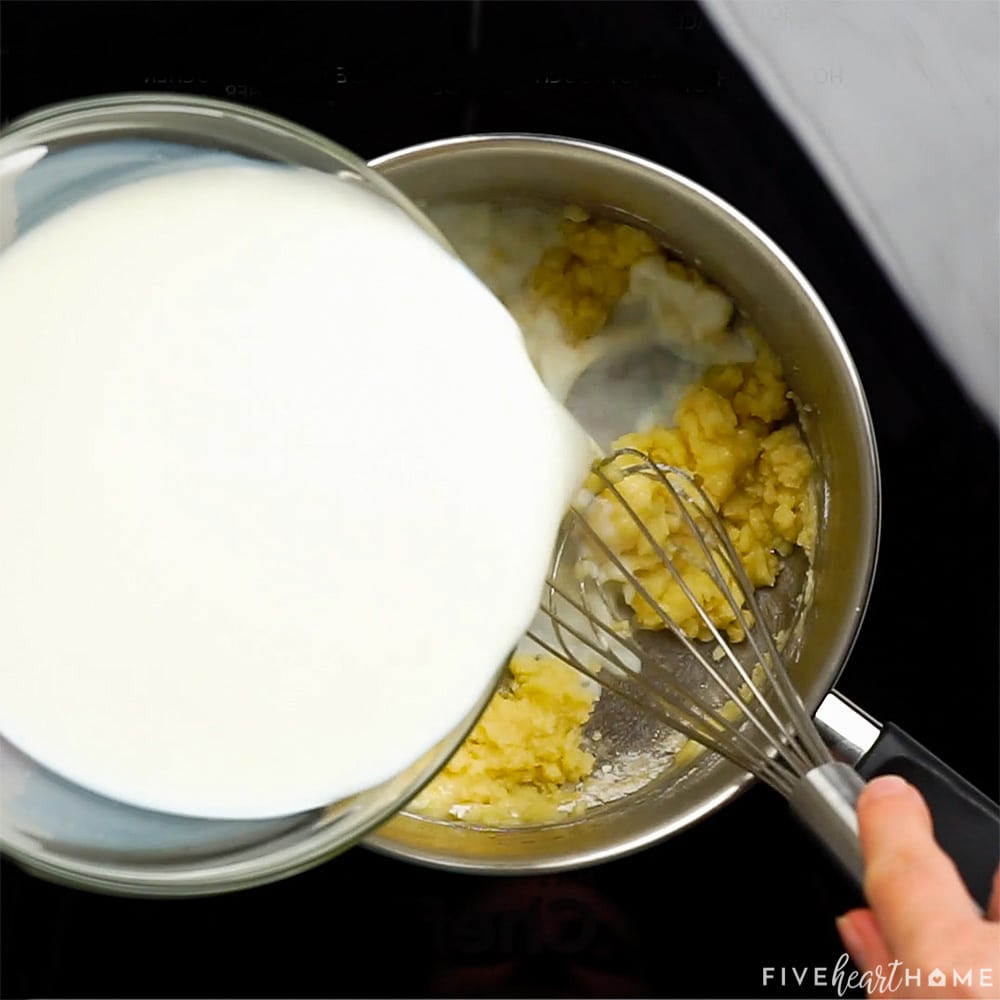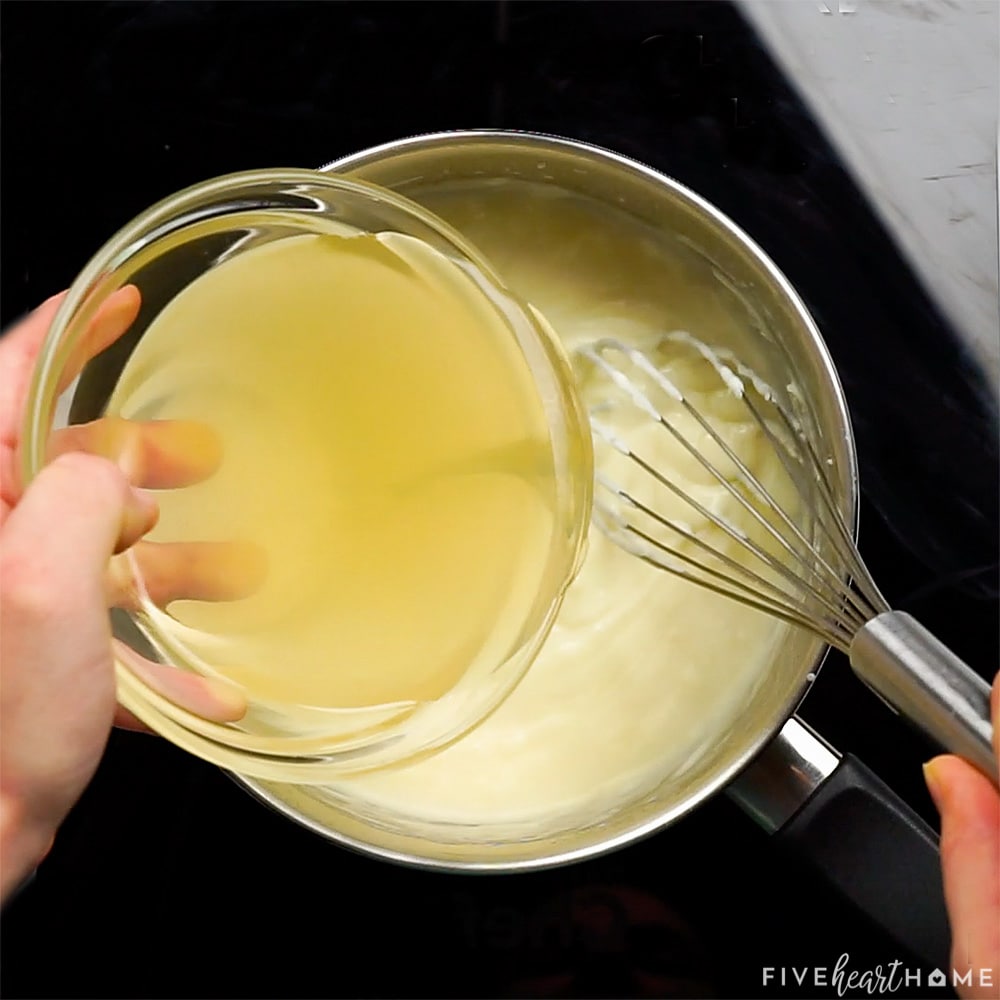 Remove from the heat.
Stir in the spices and set aside.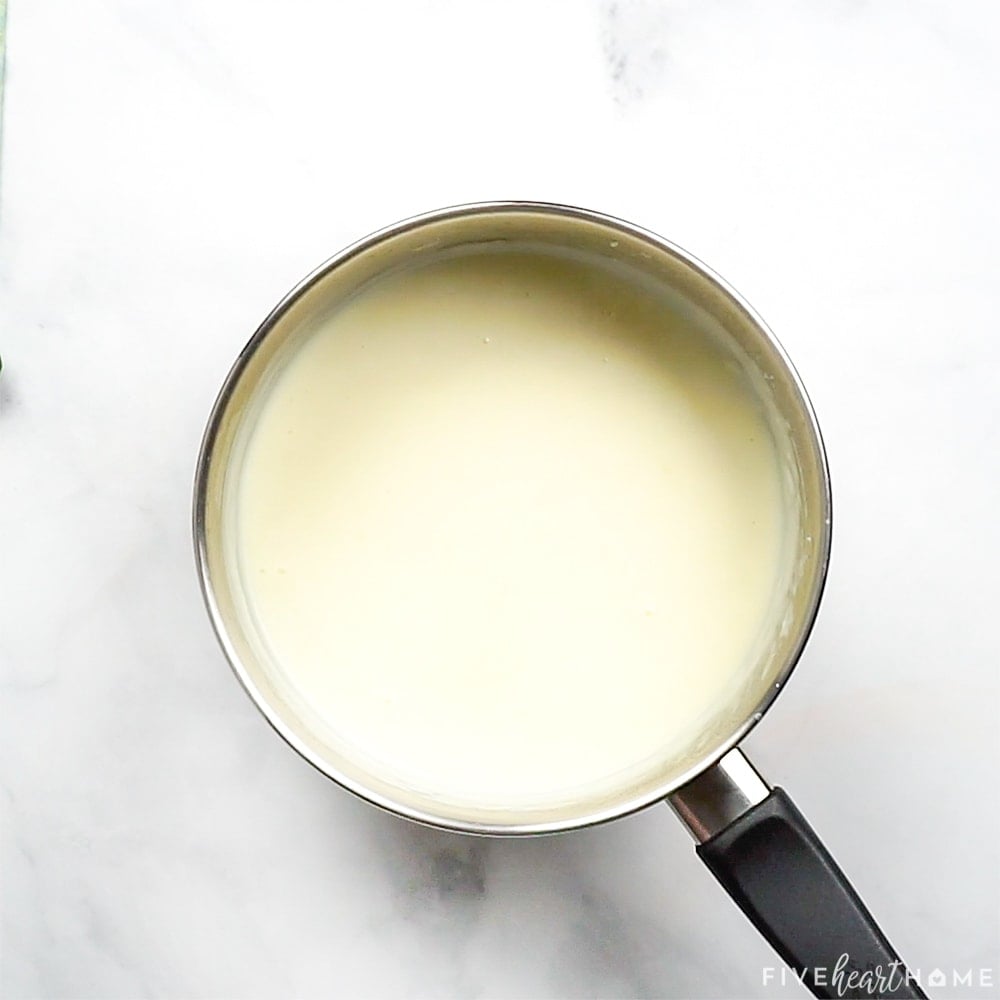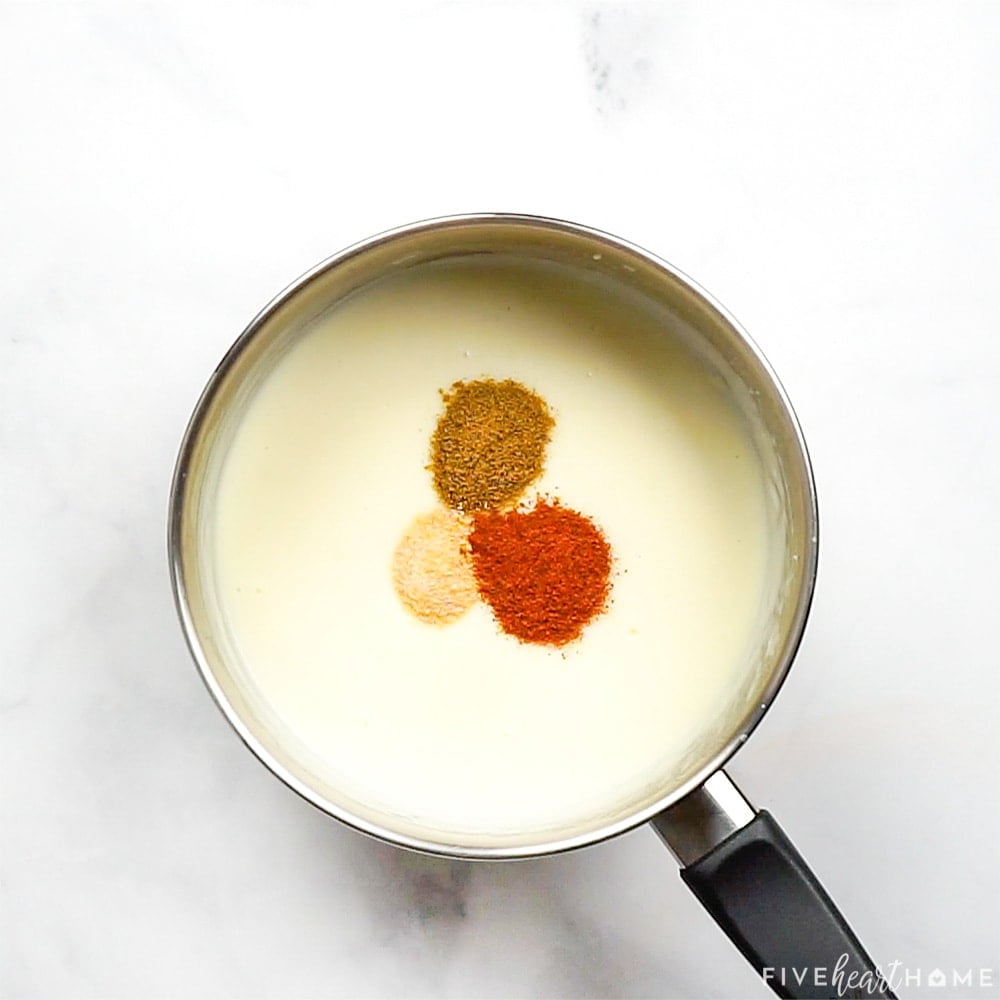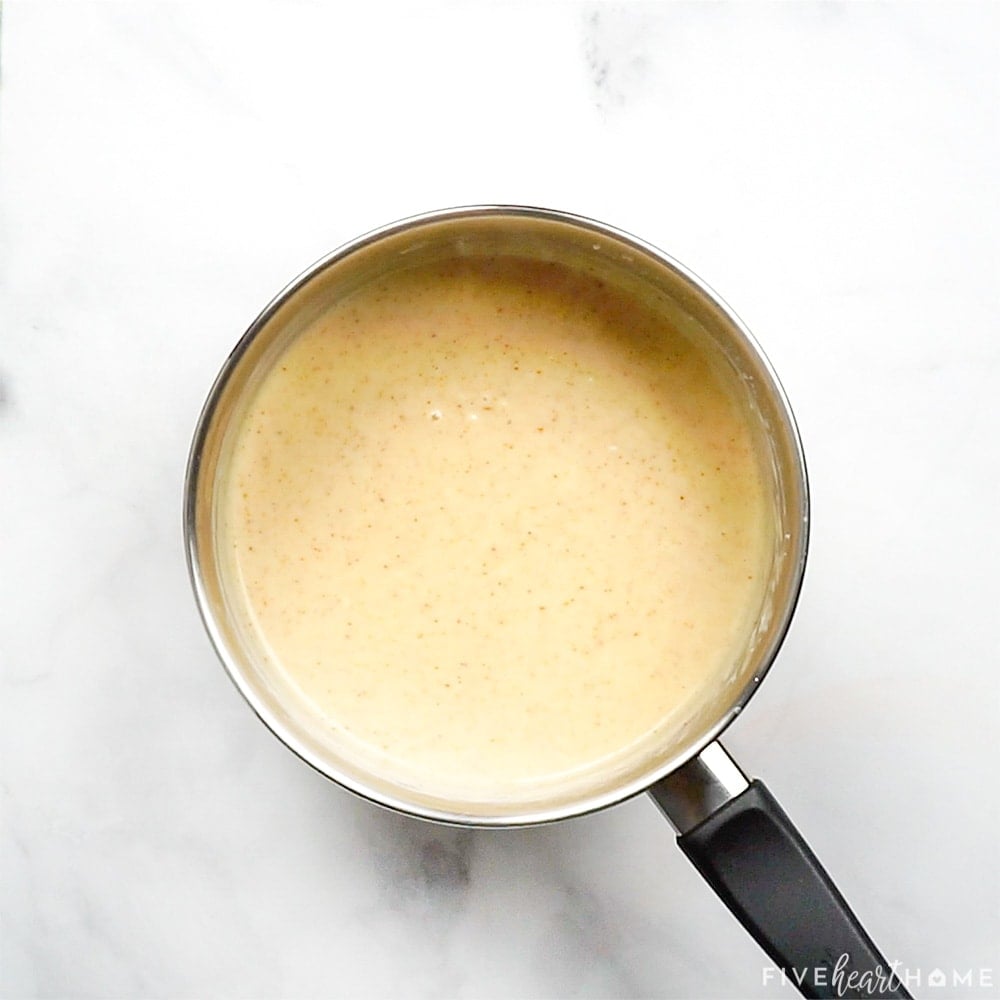 Assemble the Casserole:
Spread half of the shredded chicken in the bottom of a greased baking dish.
Layer with half of the sauce.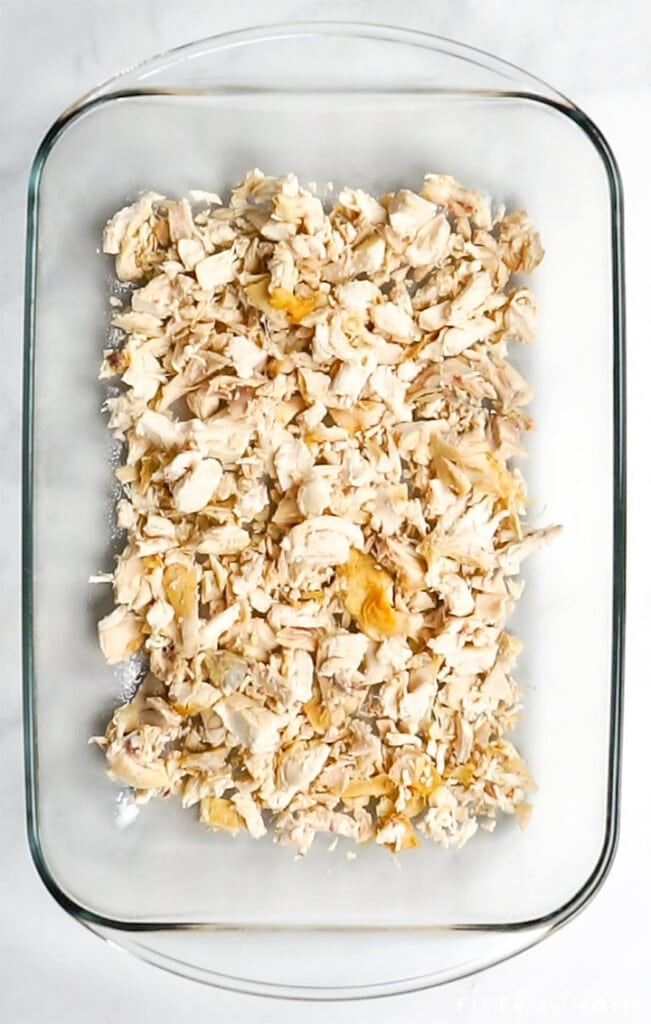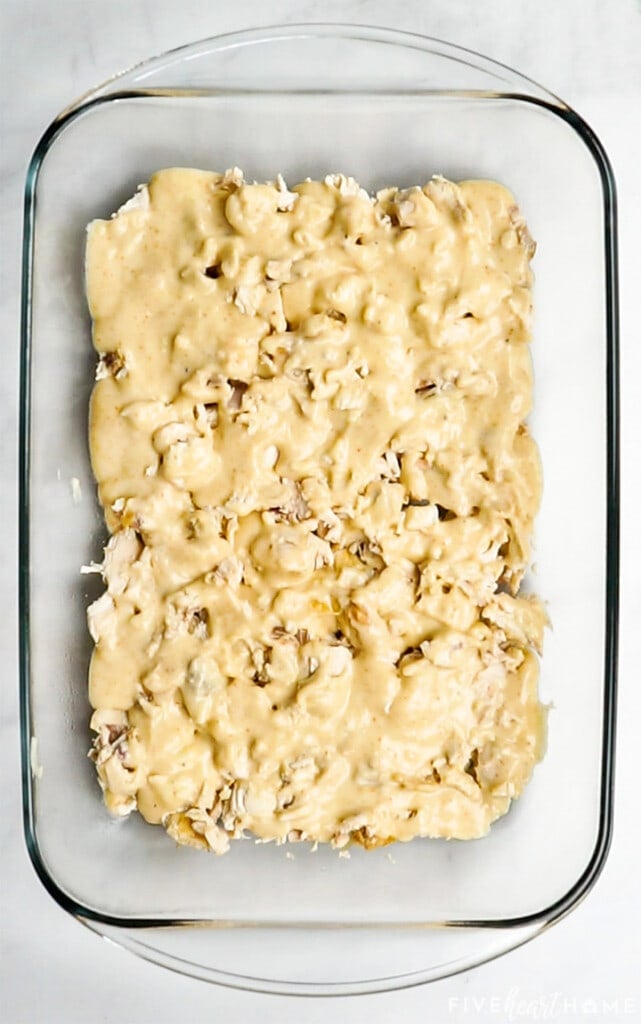 Arrange half of the corn tortillas on top.
Sprinkle with half of the shredded cheese, and then drizzle with half of the chicken broth.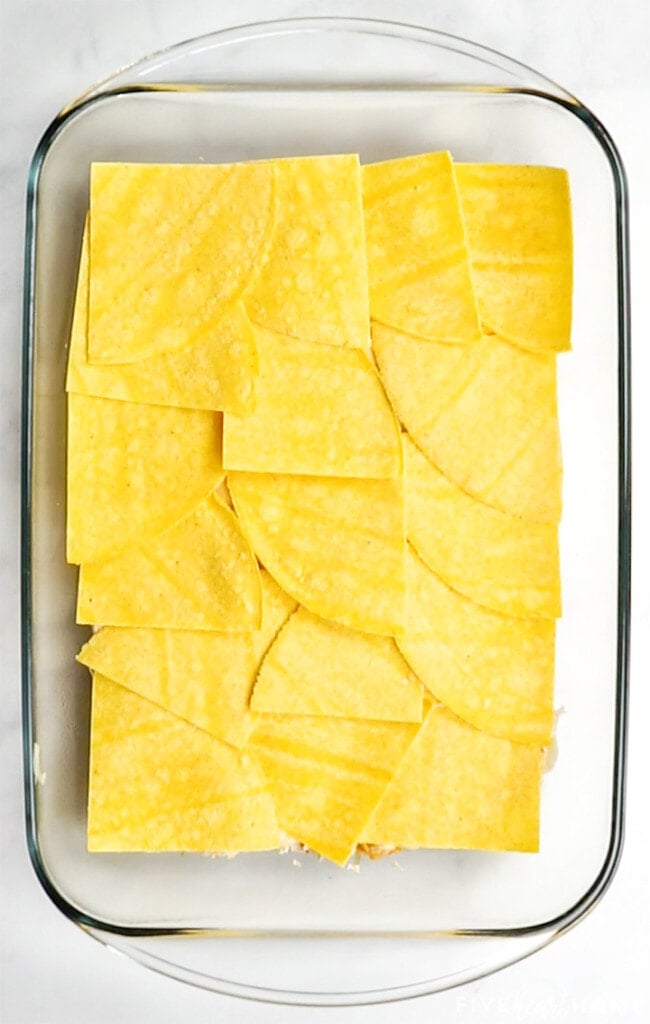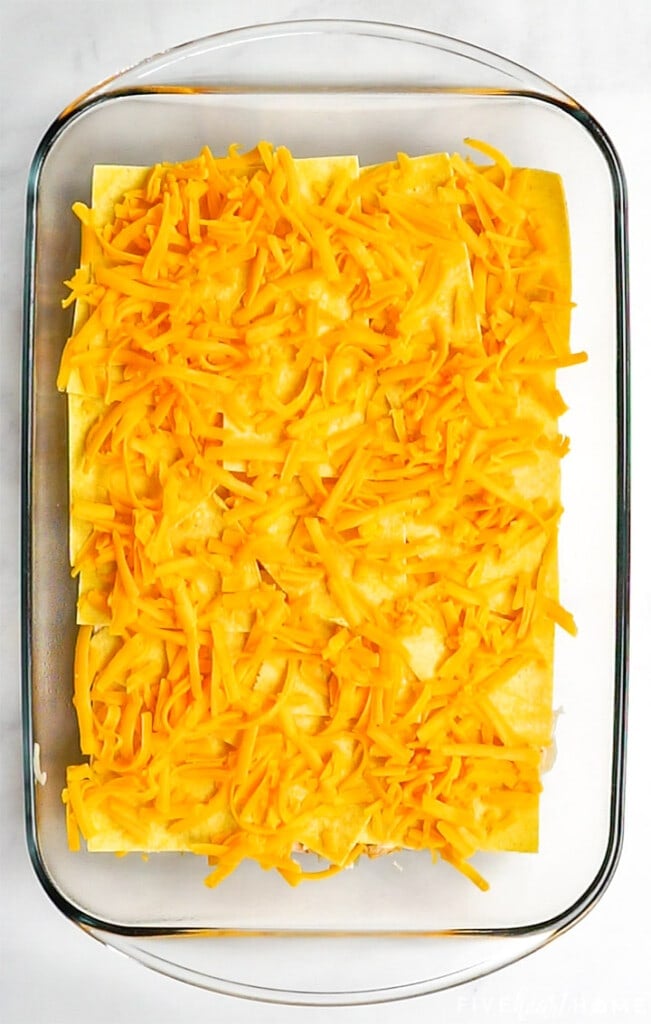 Repeat the layers one more time!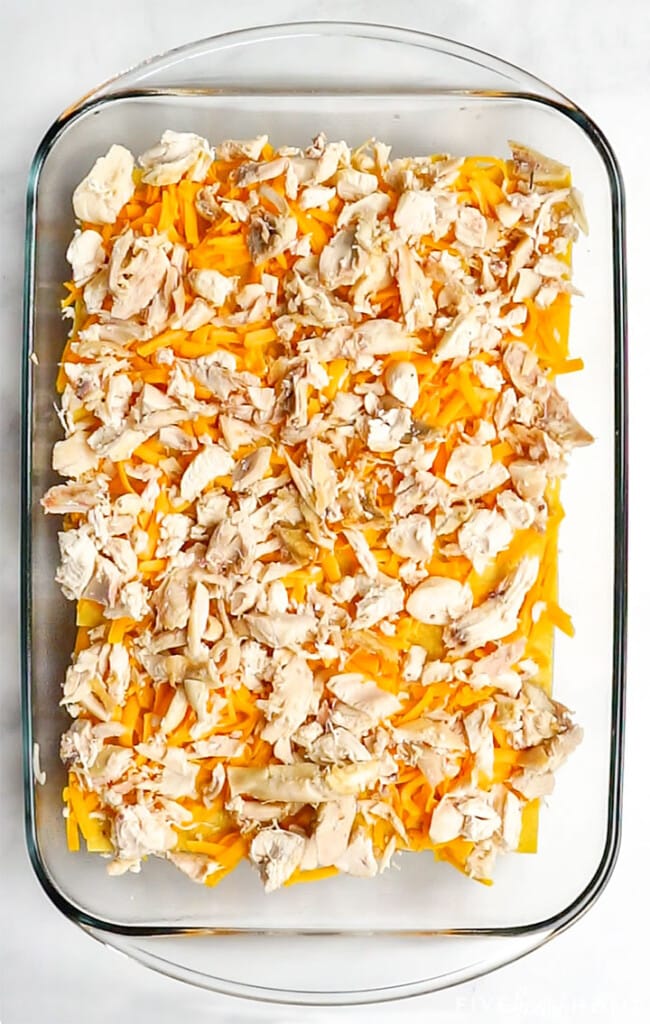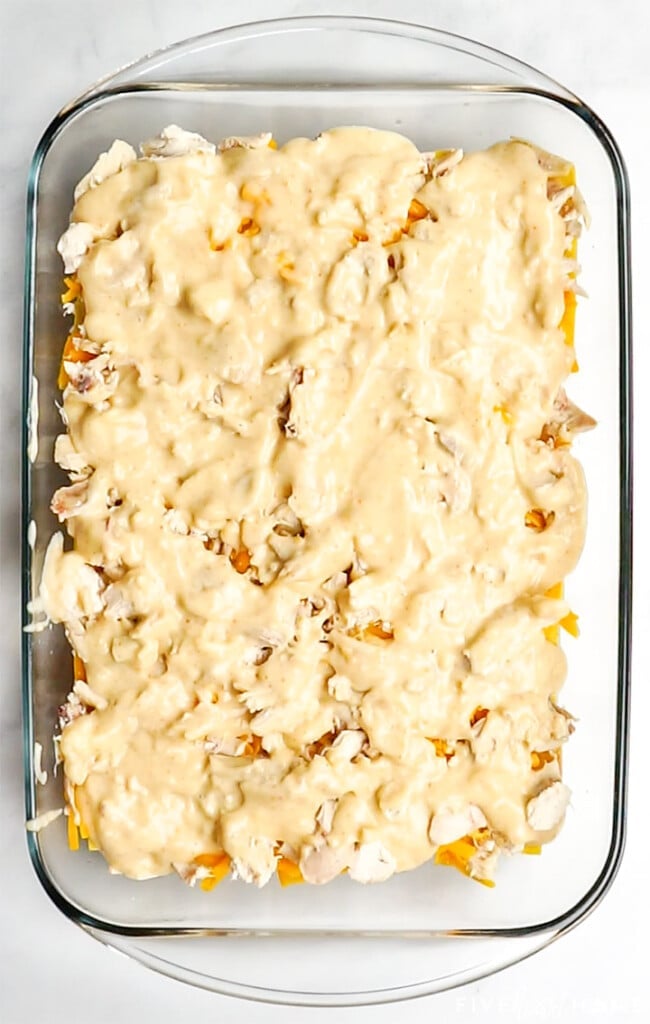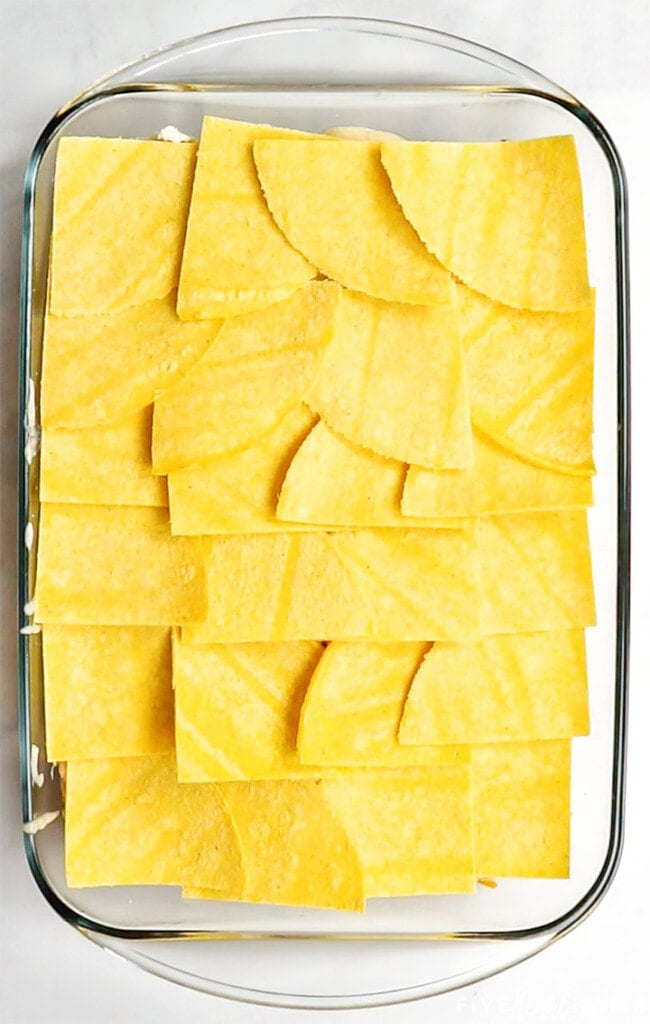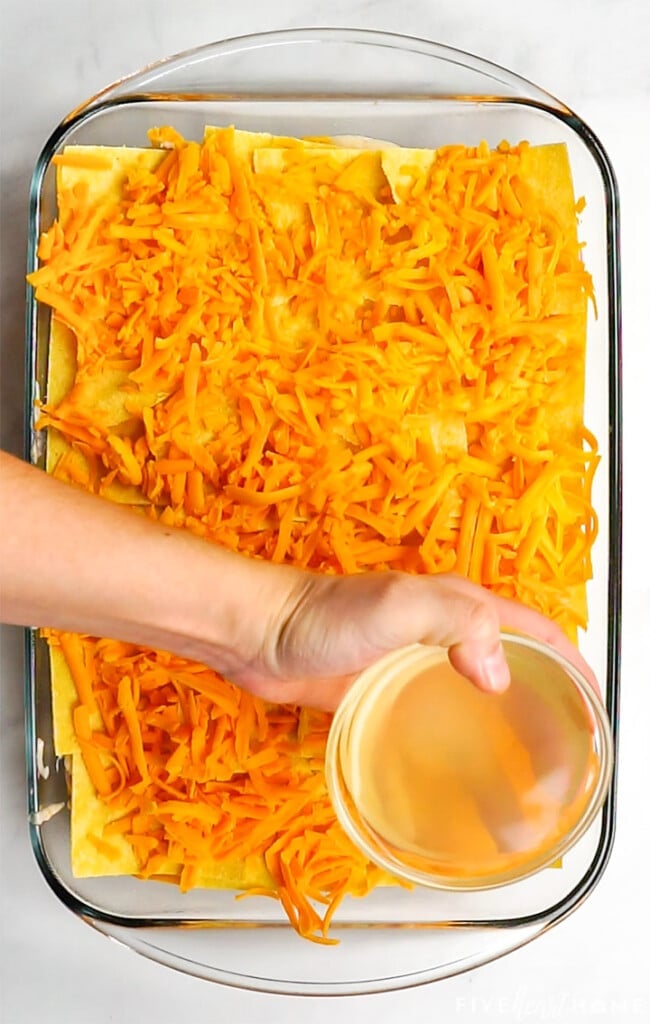 Top the whole caboodle with Rotel and minced jalapeños, if using.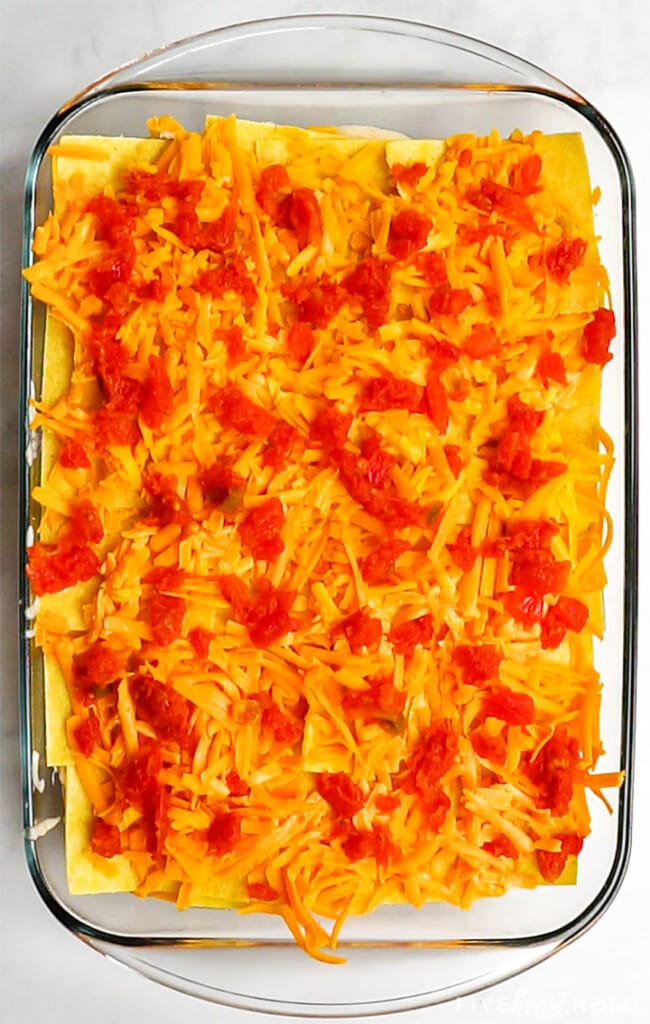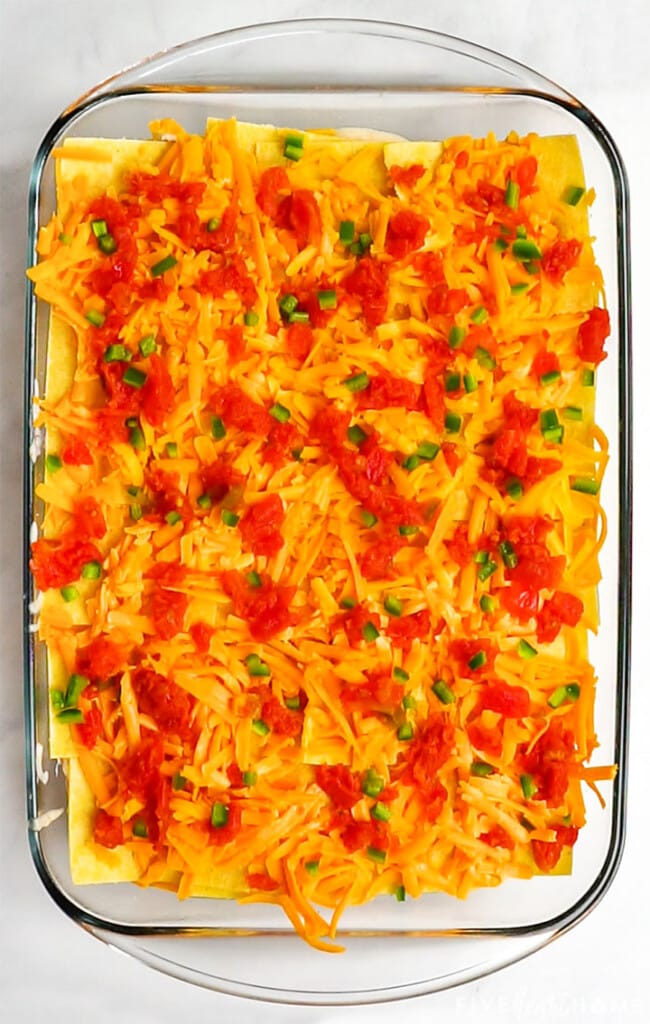 Bake until hot and bubbly. And that's it!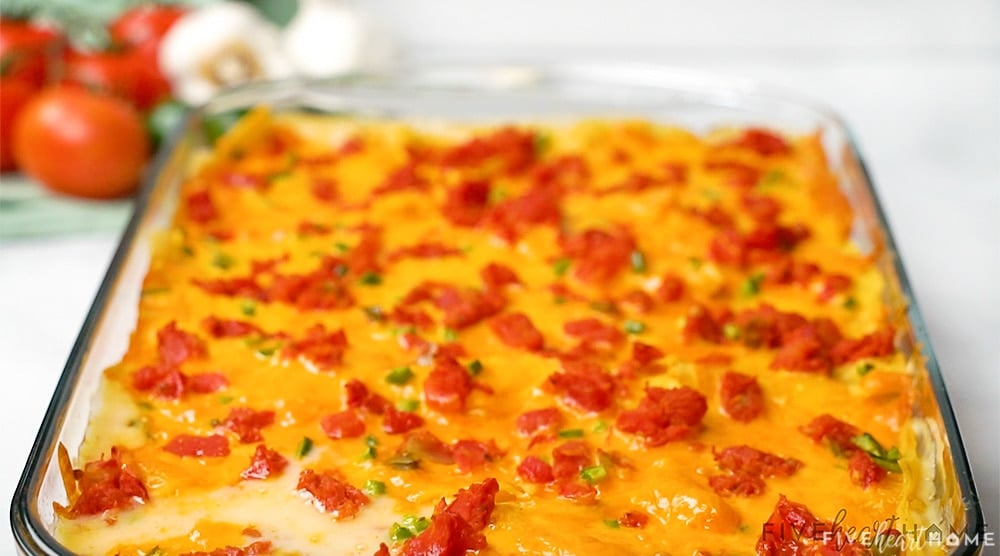 Gluten-Free Version
As I mentioned above in the "Ingredients" section, it's a snap to make King Ranch Casserole gluten-free by simply using a gluten-free flour blend in the homemade sauce. Easy peasy!
Enjoying Your King Ranch Chicken
I particularly love this recipe for the way the tortillas soften into the sauce, causing the scrumptious layers to practically meld together.
You can garnish with fresh cilantro, sour cream, salsa, and/or diced avocado if you like.
Or you can just enjoy the steamy simplicity of chicken, tortillas, and cheese without any adornments.
Any way you slice it, I'm telling you...King Ranch Chicken Casserole is ultimate. Comfort. Food.
Adults love it.
Kids love it.
Even persnickety toddlers can't wait to get their little mitts on it...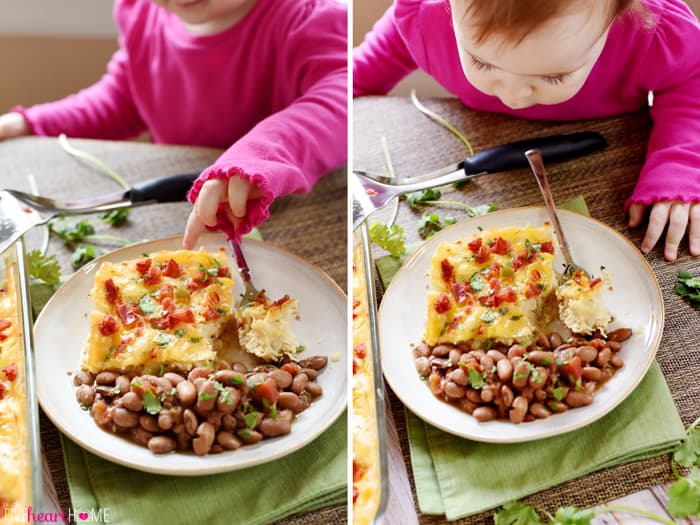 So thank you to my childhood friend's mama for first introducing me to this recipe.
Thank you to my significant other for liking it enough to marry me.
And thank YOU for bringing joy to your family by adding these ingredients to your grocery list and making it for dinner this week!
I promise...King Ranch Chicken Casserole will be an instant keeper in your recipe file.
One last warning, though.
If you happen to be single, be sure to wield the power of this casserole with great care. After all, this is a recipe that's entirely capable of eliciting marriage proposals down the road. 🙂
More Comfort Food Classics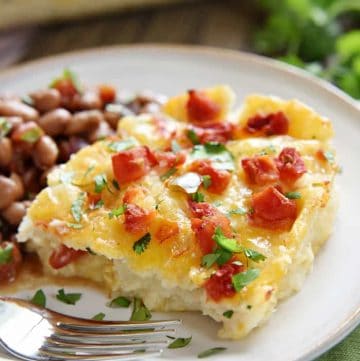 BEST King Ranch Chicken Casserole
King Ranch Chicken Casserole is a cozy, comfort food classic with melty layers of chicken, tortillas, and cheese...and this authentic, from-scratch version features a simple homemade sauce with NO canned condensed soup!
Print
Pin
Rate
Ingredients
4

cups

shredded or chopped cooked chicken

6

tablespoons

butter

2

cloves

garlic

,

minced

6

tablespoons

flour

2

cups

milk

2

cups

chicken broth OR stock

,

DIVIDED

1

teaspoon

cumin

1

teaspoon

garlic powder

1

teaspoon

chili powder

Salt & freshly ground pepper

12

corn tortillas

,

quartered

8

ounces

(2 cups) grated cheddar OR Colby Jack cheese

1

(10-ounce) can Rotel (diced tomatoes & green chiles)

,

drained

1

jalapeño

,

seeds & membranes removed and finely diced (optional)
Instructions
Adjust rack to center position of oven. Preheat oven to 350°F. Lightly spray a 9- by 13-inch baking dish with cooking spray.

Make the white sauce by melting butter in a medium saucepan over low heat. Add the garlic to the pot and saute until fragrant and light golden brown, about 1 minute. Stir in the flour and whisk continuously for 1 minute. Slowly and gradually whisk in milk and 1 cup chicken stock. Increase heat to medium and stir continuously for several minutes until sauce is smooth and thickened. Remove pot from the heat and stir in cumin, garlic powder, and chili powder. Add salt and freshly ground black pepper, to taste.

Evenly scatter half of the shredded chicken in the bottom of the baking dish. Dollop half of the sauce on top of the chicken and use the back of a spoon to spread it in an even layer. Arrange half of the corn tortilla quarters on top, overlapping slightly and tearing in half to fill in any gaps, if necessary. Sprinkle half of the grated cheese on top. Drizzle the entire surface with ½ cup of the remaining chicken broth, including corners and edges. Repeat layers of chicken, sauce, tortillas, cheese, and final ½ cup broth. Evenly sprinkle Rotel and diced jalapeños (if using) over top of the casserole.

Cover with foil and bake for 15 minutes. Remove foil and bake for an additional 30 minutes, until hot and bubbly.
Notes
You may use leftover chicken or cook it fresh by poaching, baking, grilling, cooking in the slow cooker, etc. I typically cook 3 to 4 (depending on size) frozen chicken breasts (totaling about 1 ½ pounds) for this recipe. Alternatively, a rotisserie chicken torn into chunks yields about 4 cups.
All-purpose flour, whole wheat flour, or whole wheat pastry flour all work for the sauce. Or, to make this recipe gluten-free, you may substitute gluten-free baking mix in place of regular flour.
You can use regular whole milk or an unsweetened non-dairy milk (such as almond milk) in the sauce.
If you can't find Rotel, you may use a regular can of diced tomatoes plus a small (4-ounce) can of diced green chiles in its place. Or you can use an equivalent amount of fresh diced tomatoes and green chiles.
Calories:
469
kcal
|
Carbohydrates:
28
g
|
Protein:
31
g
|
Fat:
26
g
|
Saturated Fat:
14
g
|
Cholesterol:
111
mg
|
Sodium:
374
mg
|
Potassium:
478
mg
|
Fiber:
3
g
|
Sugar:
5
g
|
Vitamin A:
810
IU
|
Vitamin C:
5.6
mg
|
Calcium:
333
mg
|
Iron:
2.5
mg
Post originally published on September 28, 2014, and updated on October 22, 2019, and February 3, 2022.