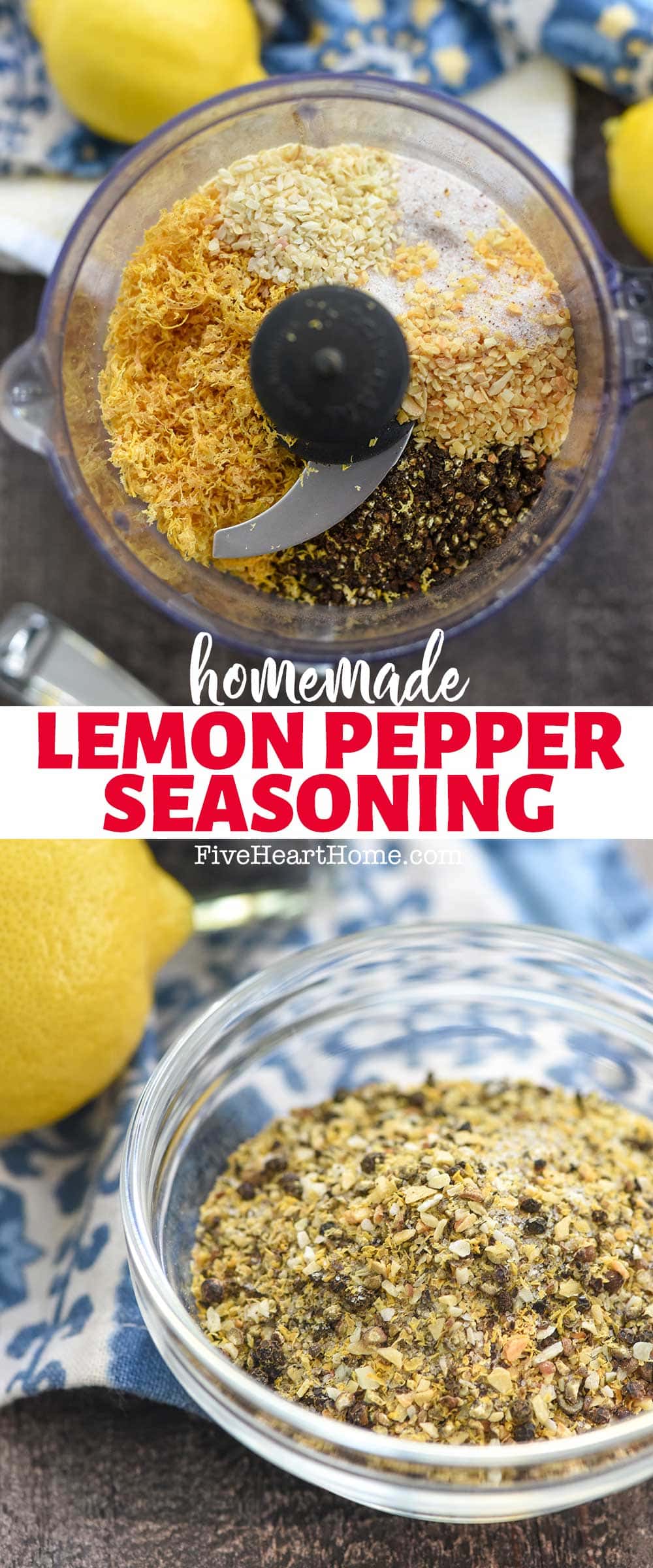 Lemon Pepper Seasoning is easy to make from scratch using just a few simple ingredients, for bright, bold flavor without the additives and artificial ingredients often found in store-bought seasonings!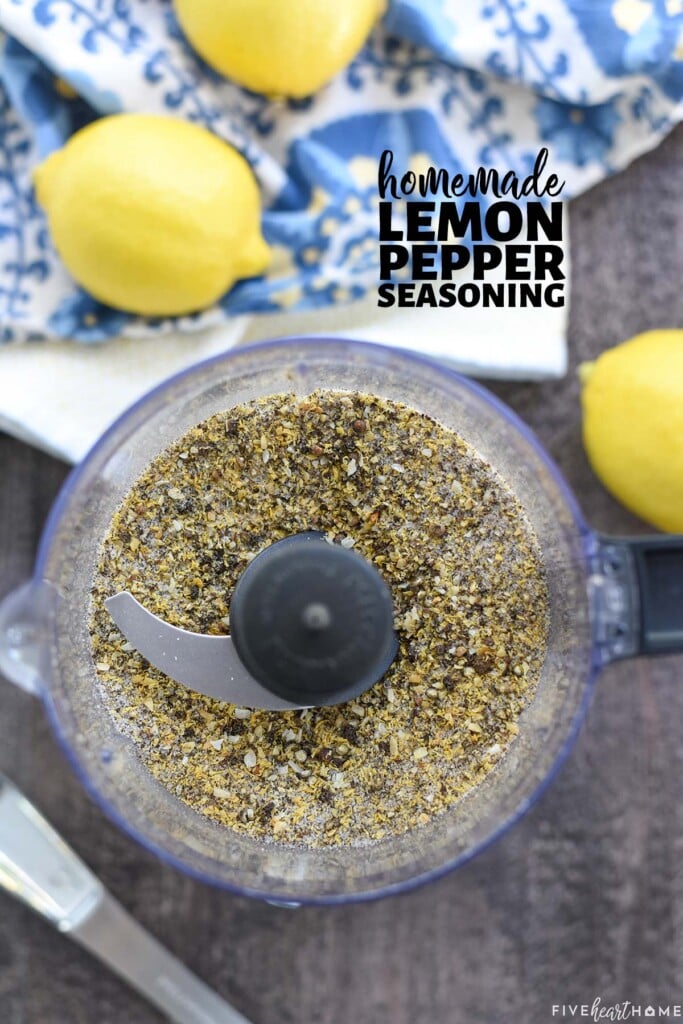 Are you a fan of Lemon Pepper Seasoning? It's a zippy blend of dried lemon zest plus a few spices that's great for adding flavor to a variety of dishes, from poultry to seafood to veggies and so much more. And if you already use and love Lemon Pepper, you don't know what you're missing if you've never made it from scratch!
Ingredients
Lemon Pepper Seasoning is easy to whip up with just a few real ingredients. But perhaps more importantly, since you control what goes in it, there's nary an additive or artificial ingredient to be found!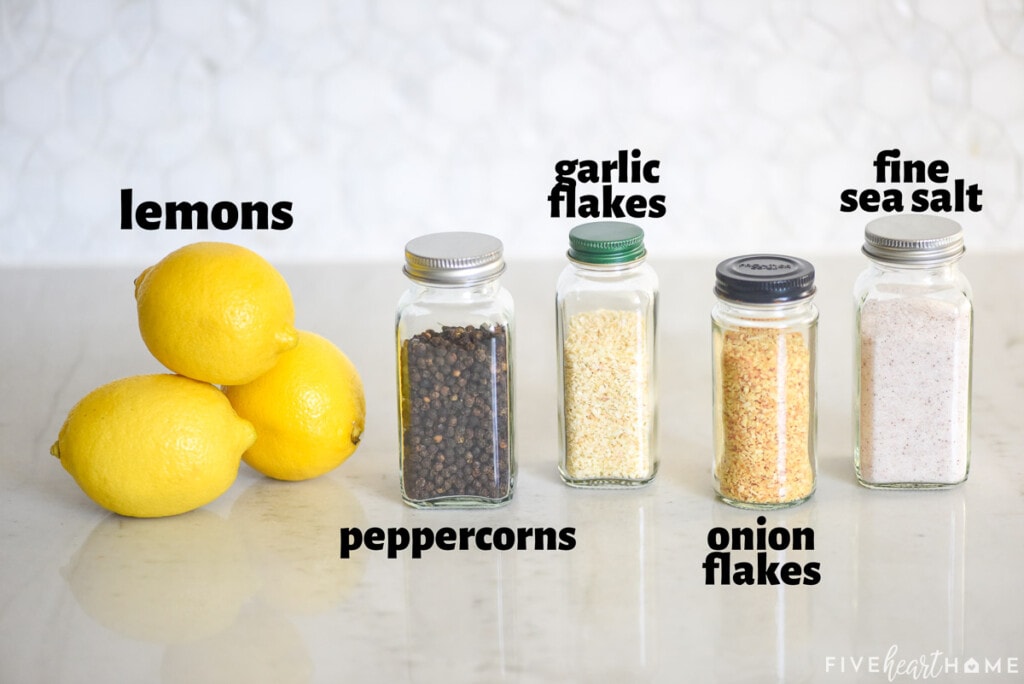 Fresh lemons. The size of your lemons will dictate how many you need. And you're going to need just the zest, so the juice can be reserved for another yummy use, such as Lemon Pound Cake, Lemon Blueberry Muffins, or Lemon Whipped Cream!
Black peppercorns. Starting with whole peppercorns gives Lemon Pepper Seasoning much more powerful flavor than if using ground black pepper. If you like, you could opt to use muti-colored peppercorns instead.
Dehydrated garlic flakes + dried minced onion. Optional but recommended. I like a Lemon Pepper with nice texture, and these ingredients contribute to that. You could substitute garlic powder and onion powder, but you'd need to use less since more of those will fit into a measuring spoon because of their finer textures.
Fine sea salt. Again, you can opt to omit the salt altogether if you'd prefer a sodium-free Lemon Pepper Seasoning.
Of course, if you're a Lemon Pepper purist, you could simply combine lemon zest with freshly ground black pepper and call it a day. But I feel like the above combo of ingredients results in a seasoning blend with fabulous, versatile flavor.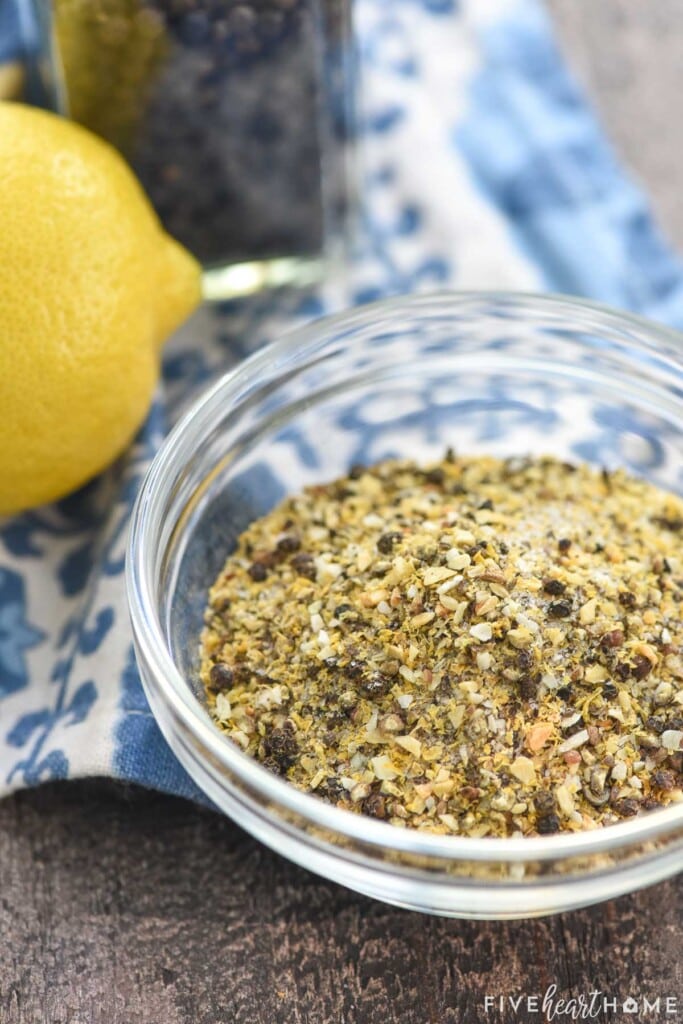 How to Make Lemon Pepper Seasoning
(The below photos are intended to be helpful, but please refer to the recipe card at the bottom of this post for FULL DIRECTIONS.)
The most "difficult" step of this Lemon Pepper Seasoning recipe is zesting the fresh lemons, and it's honestly not difficult...just takes a few minutes.
Wash your lemons and dry them well. Zest or peel them, taking care to only remove the zest and not the white pith underneath.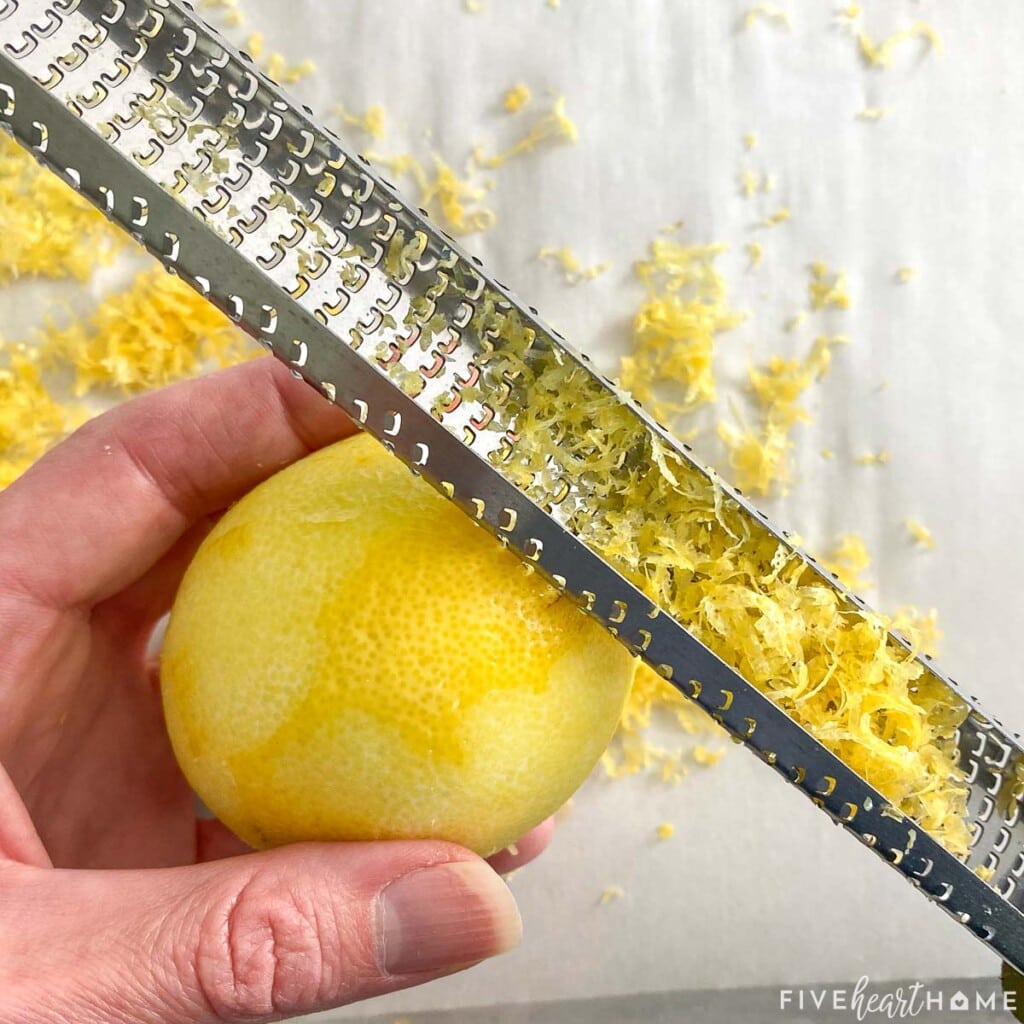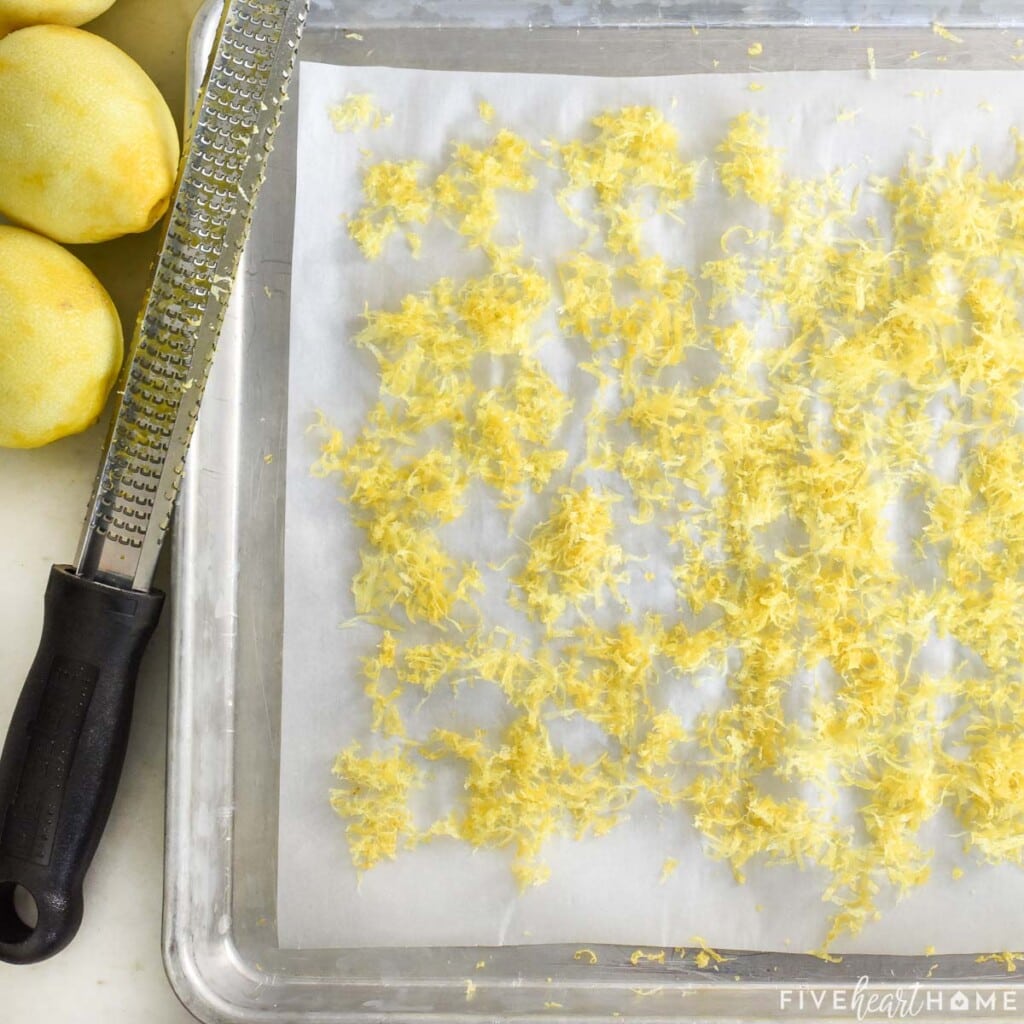 Spread out the zest on a parchment paper-lined baking sheet. Bake at your oven's lowest heat setting until the zest is completely dried out, shriveled, and slightly darkened. Allow to cool.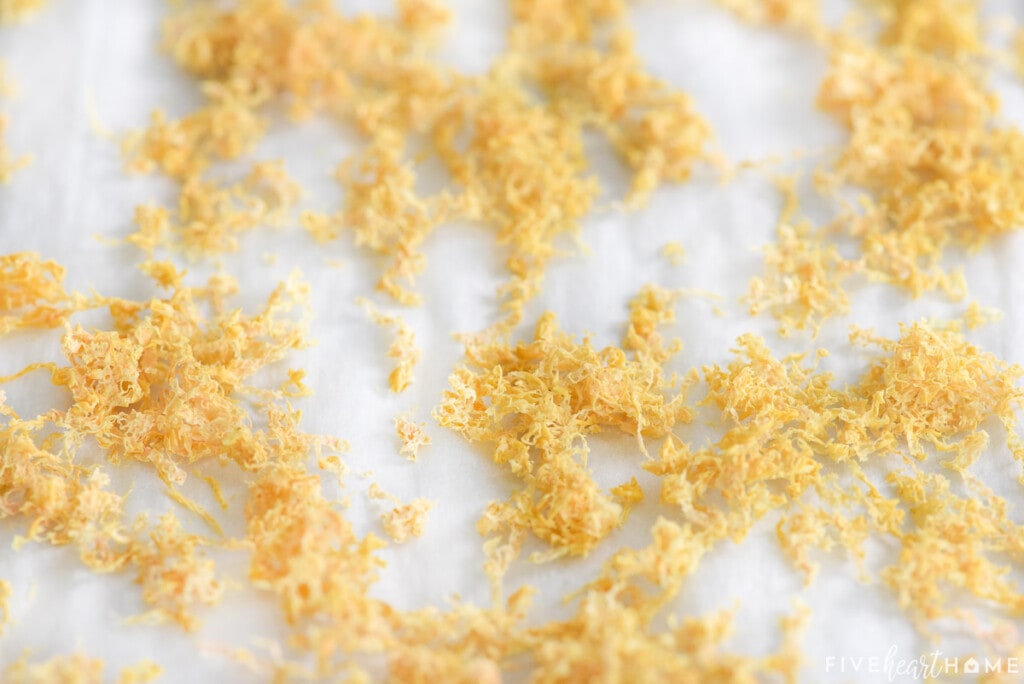 Next you're going to break down your peppercorns a bit before combining them with the other ingredients. If you have a spice grinder or a high-powered blender or food processor, those should suffice. But if you don't, you'll want to pre-crush your peppercorns in a freezer-thickness zip-top baggie using a good ol' fashioned meat mallet.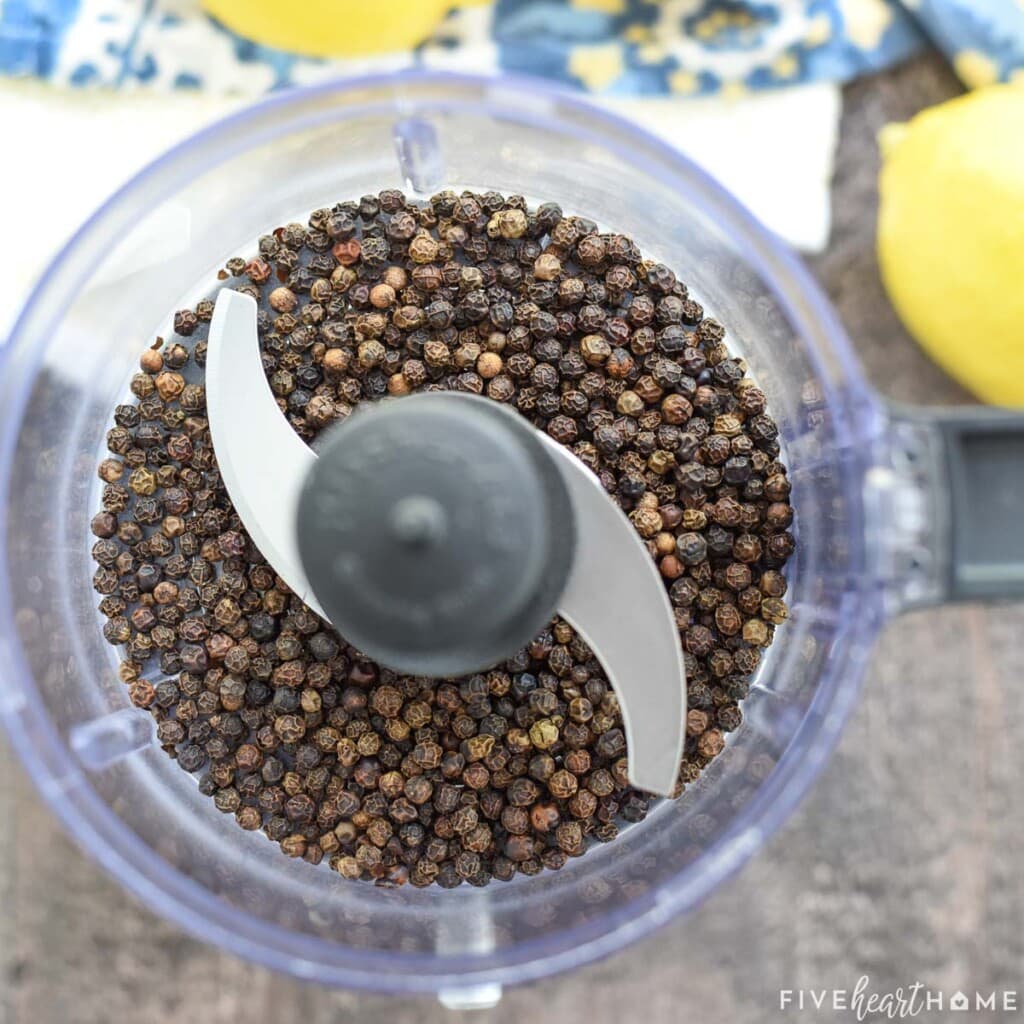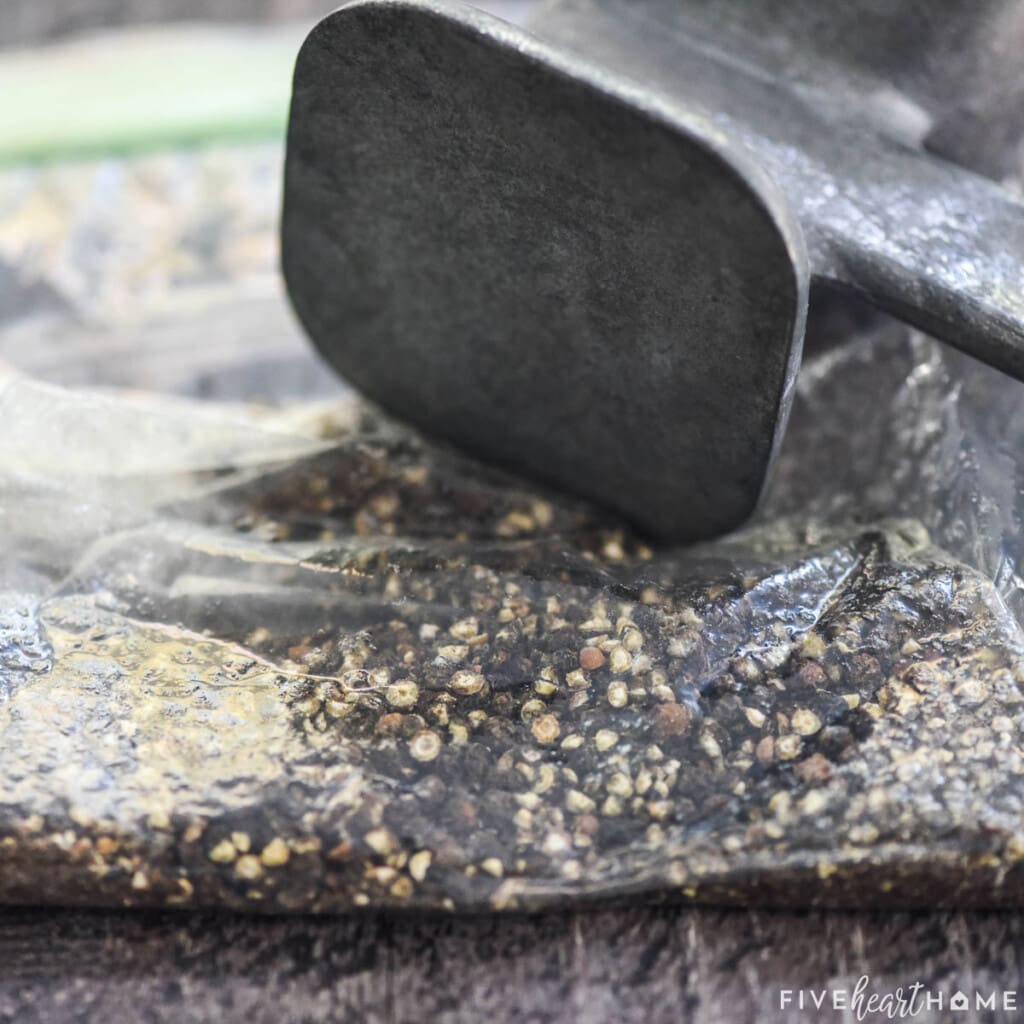 Whether you're using a spice grinder, blender, or food processor, add the other ingredients on top of the pre-crushed peppercorns.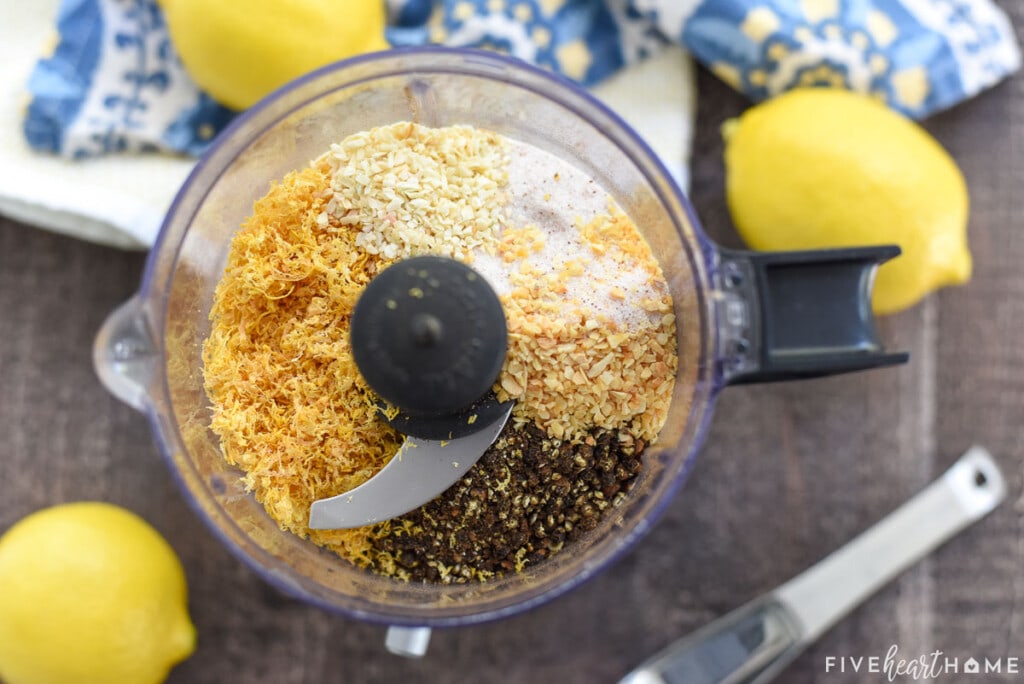 Pulse until all ingredients are combined and your preferred Lemon Pepper texture is achieved.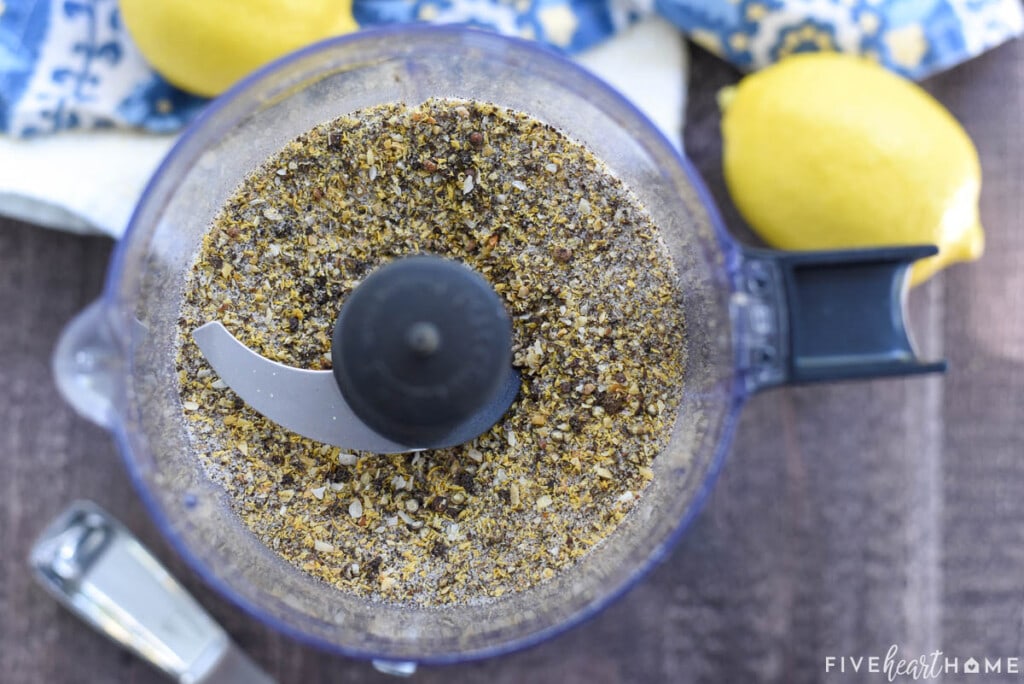 Enjoy it to season your favorite recipes and store in an airtight container.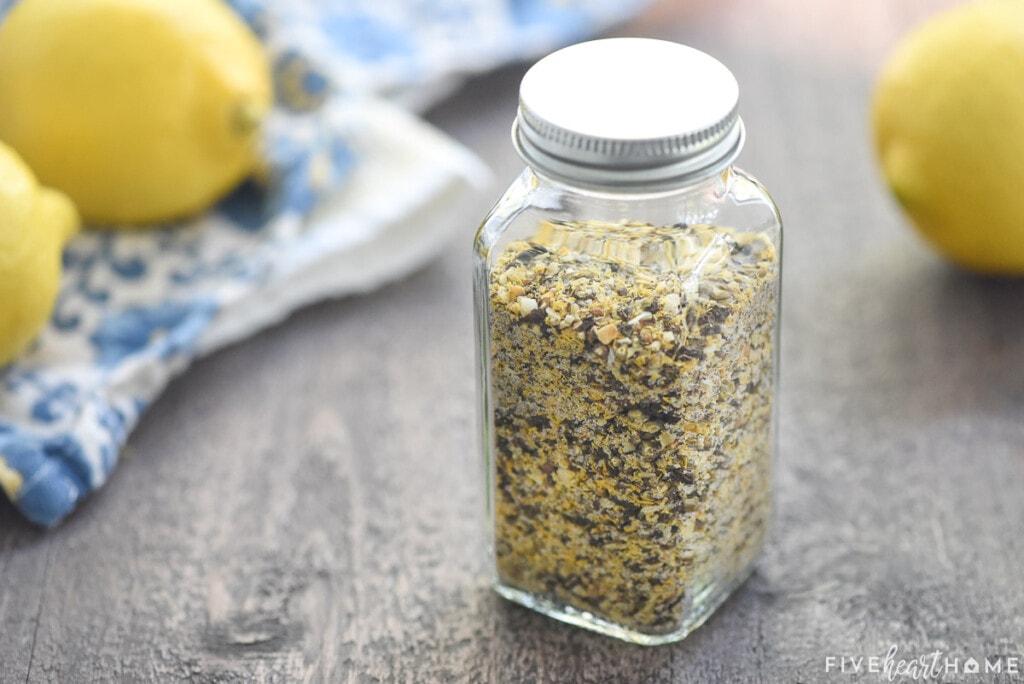 How Long Does Lemon Pepper Last
The reason Lemon Pepper lasts a good while is because the lemon zest is dried out. That's why it's important to bake it long enough and cool it completely to ensure that no moisture remains.
If you store at room temperature in an airtight container (old spice jars work great, as do these types of spice containers), this Lemon Pepper Seasoning will last for up to a year, although its lemony punch may fade with time. For optimum flavor, try to use it up within six months.
That being said, I actually prefer storing homemade Lemon Pepper in my freezer. It lasts longer and doesn't lose its potency as quickly.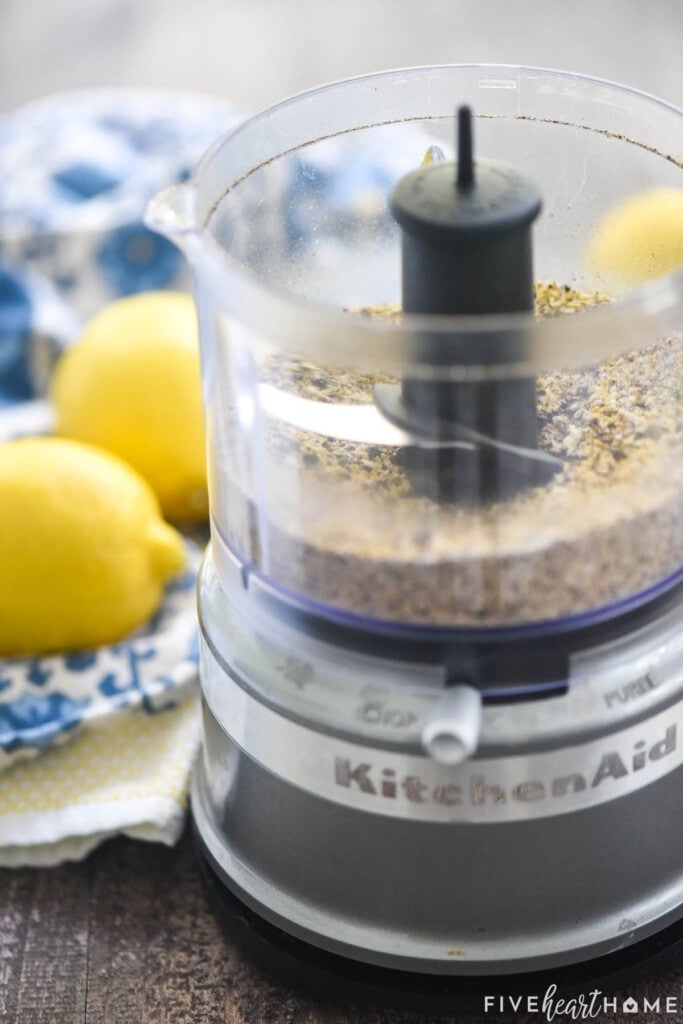 How to Zest Lemons
If you have a citrus zester, feel free to use it.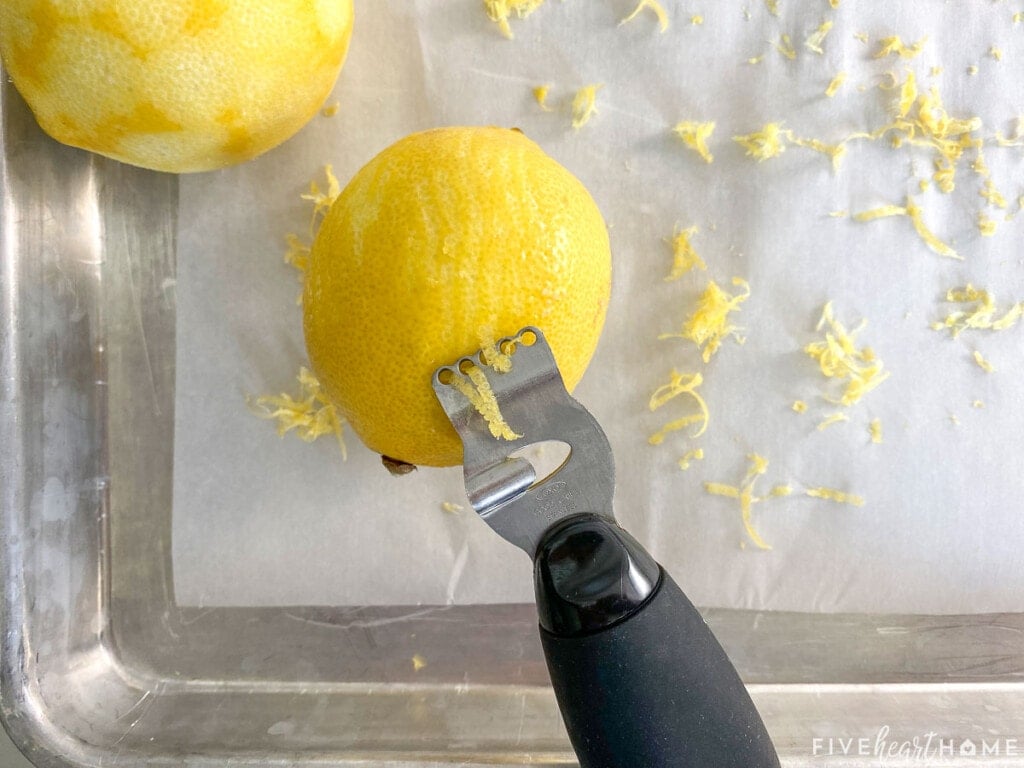 However, I feel like the easiest way to zest lemons is to use a microplane zester.
Also, for the most effective way to use your microplane, don't place the lemon over the microplane (shown below on the left).
Rather, put the lemon in your palm and face the microplane so that the zest if facing up (shown below on the right).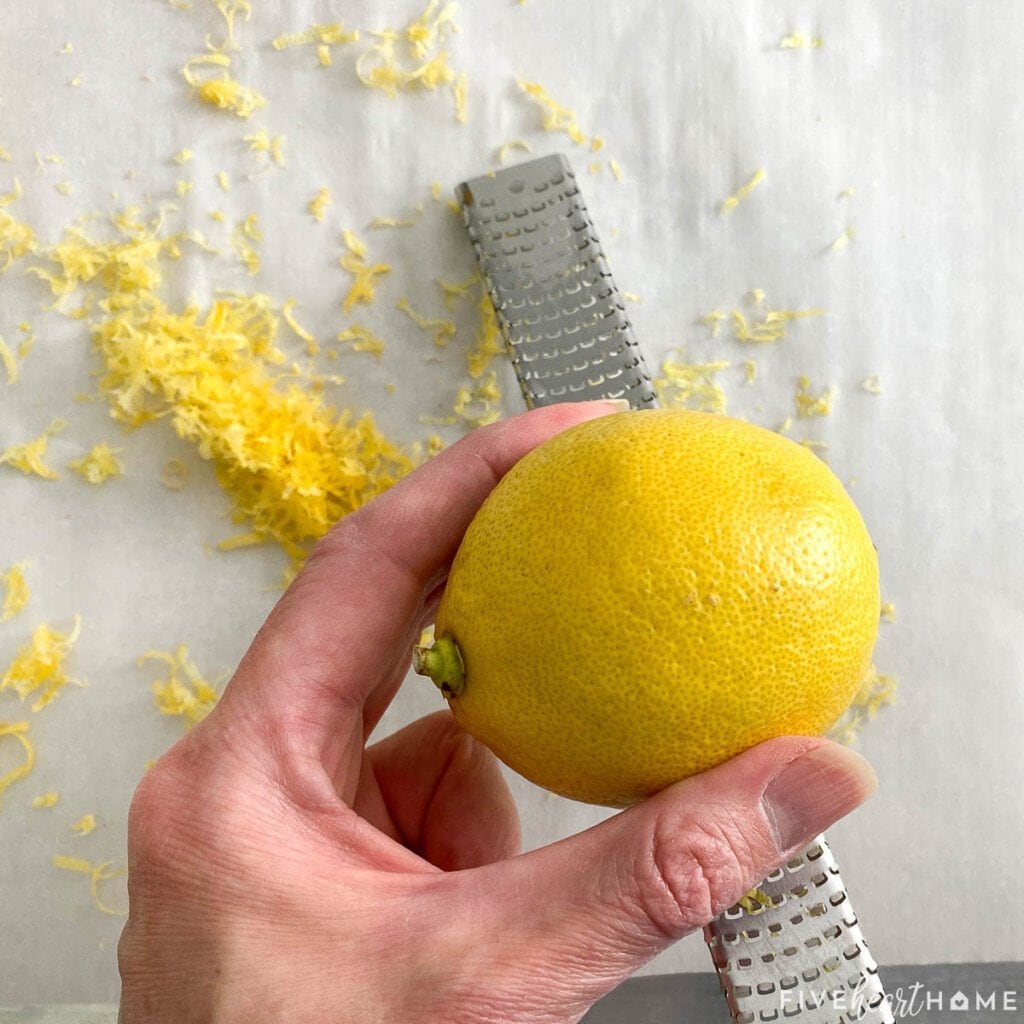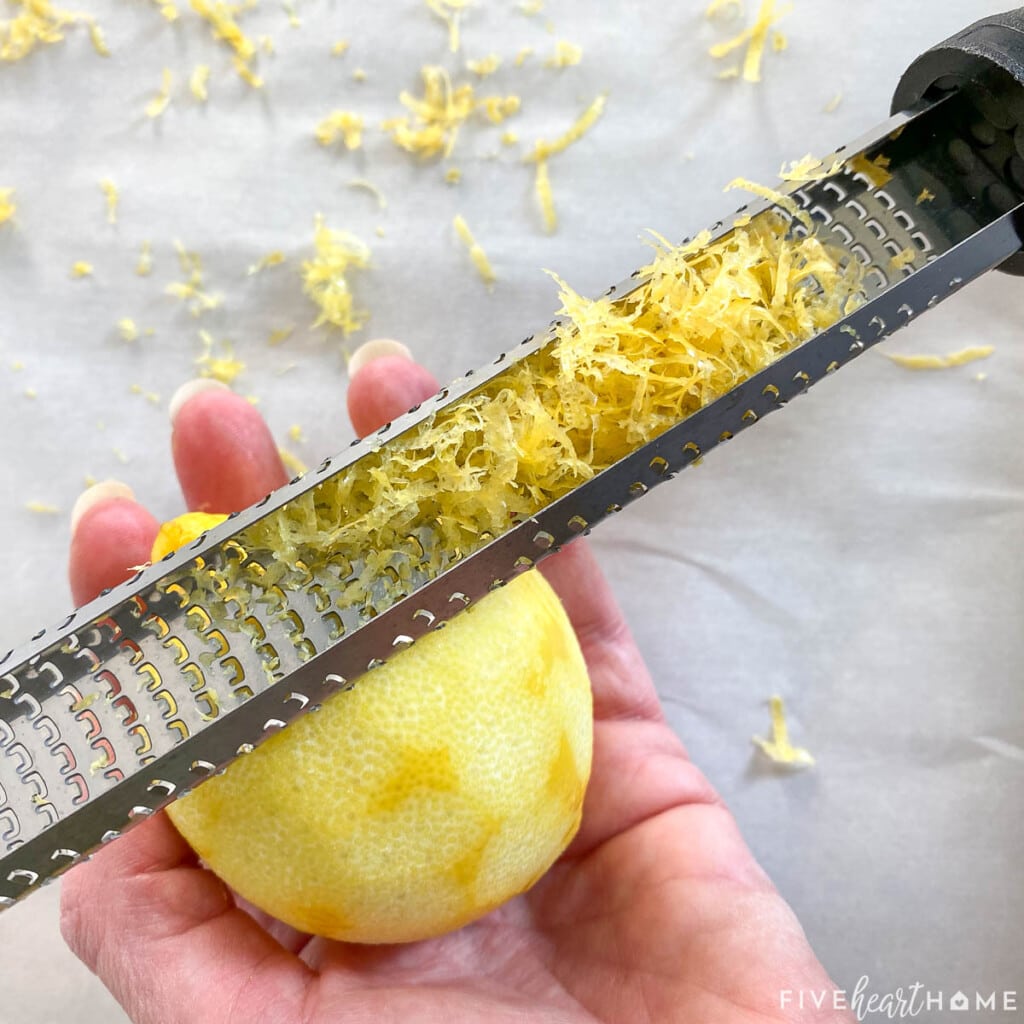 This way, you can see exactly where you're zesting, you won't end up with a bunch of pith, and you'll be able to avoid any bad spots on the lemon skin!
And you may certainly opt to peel instead of zest your lemons if you find that easier. Just heed my earlier warning to avoid the pith, and keep in mind that the baking time will need to increase in order to dehydrate the wider strips of lemon peel (more below).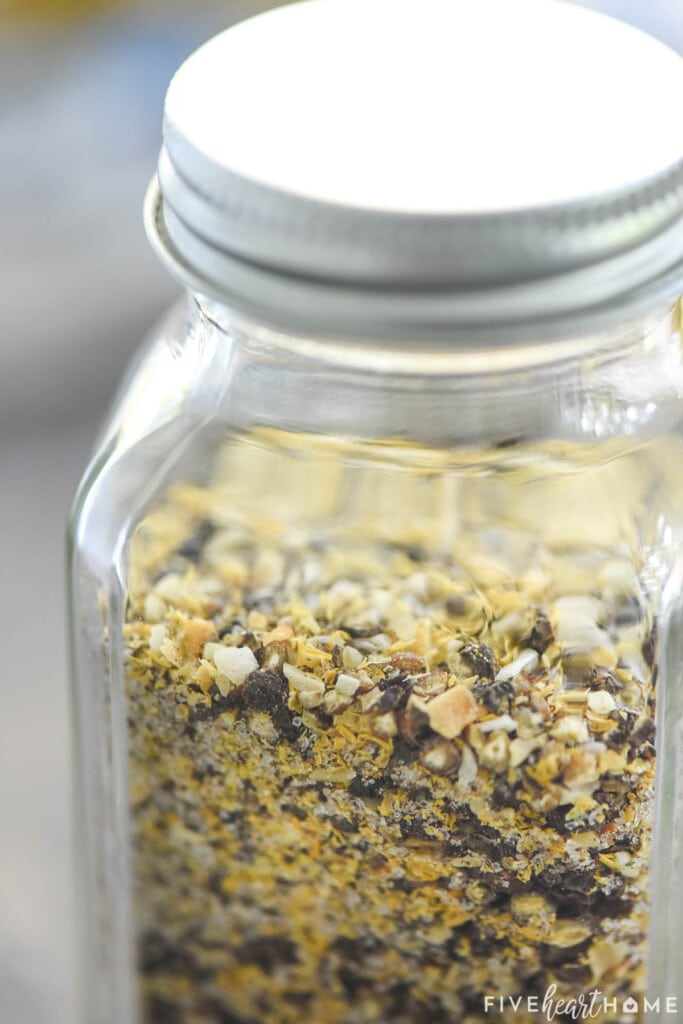 Baking Time
The baking time of your zest is going to depend on its texture (which could be anything from fine shreds to wide strips) and how hot your oven is. However, most zest will be dried out within 30 minutes to an hour.
The zest pictured here baked for 55 minutes at 170°F.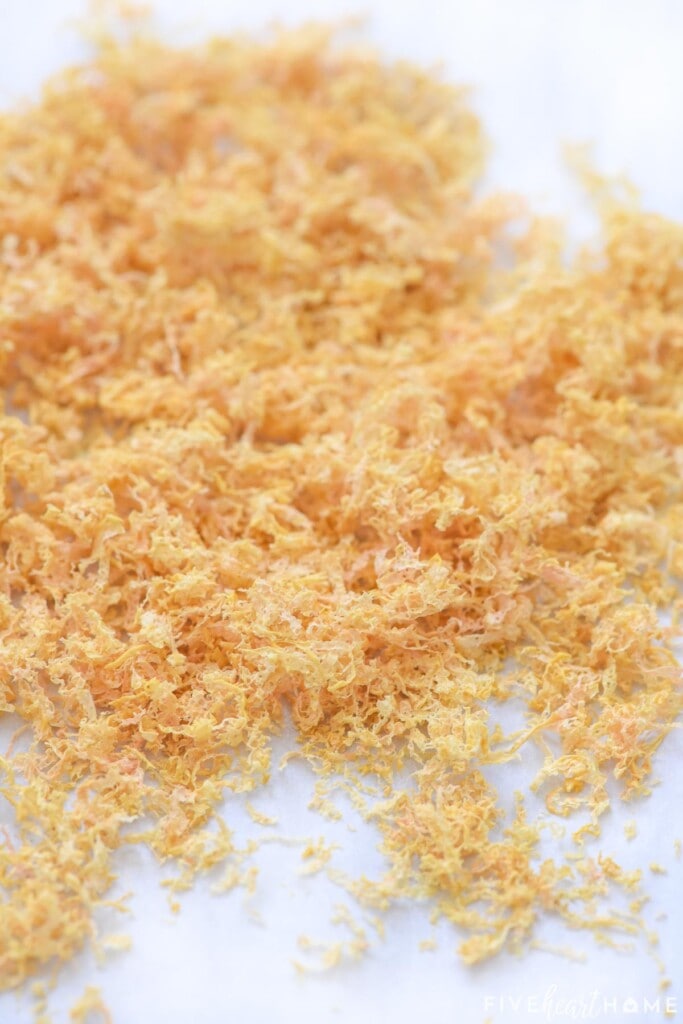 Ways to Use Lemon Pepper
This best Lemon Pepper Seasoning is obviously a perfect substitute for the store-bought spice blend in recipes that call for Lemon Pepper.
But if you'd like to expand your horizons, here are some other tasty ideas for enjoying Lemon Pepper:
As a seasoning for grilled or baked chicken, steak, fish, or shrimp.
Sprinkled over grilled, roasted, or sauteed veggies...from corn to potatoes to asparagus to spinach to so much more.
To further enhance buttered popcorn.
To boost the flavor of soups, pastas, and salad dressings.
In marinades and spice rubs.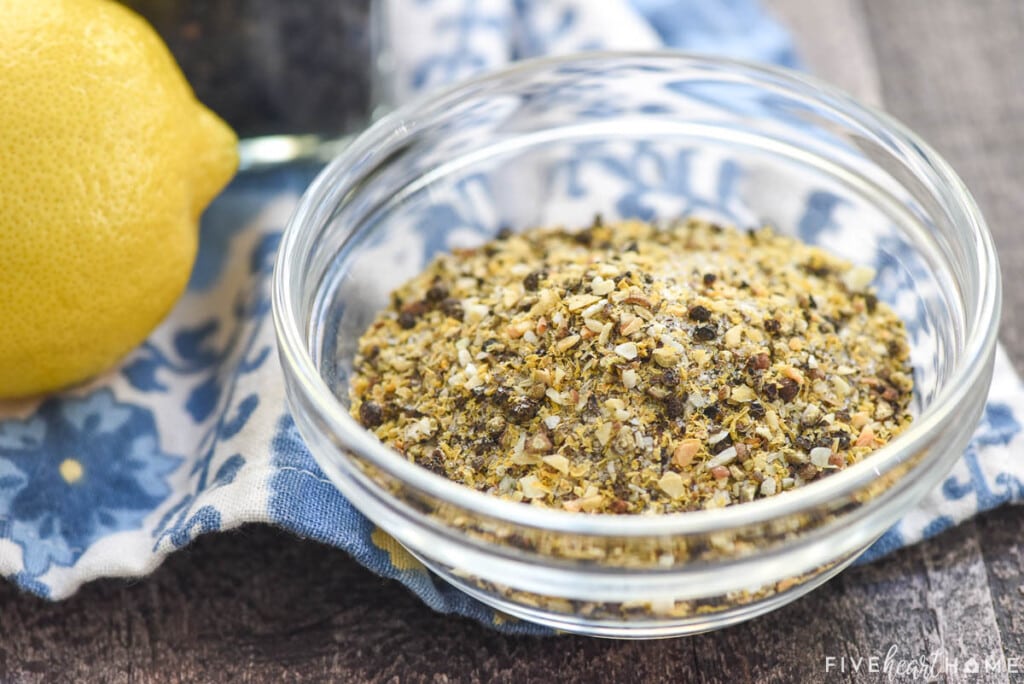 So have I convinced you to whip up your own Lemon Pepper Seasoning? It's tasty and versatile. It's easy and economical. And YOU control the ingredients...and ultimately, the flavor!
I'm telling you friends...homemade pantry staples are the way to go. 🙂
More Homemade Seasonings & Mixes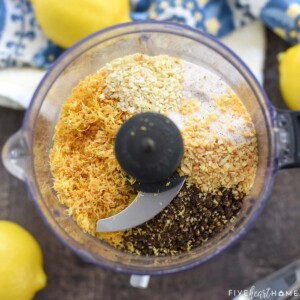 Lemon Pepper Seasoning
Lemon Pepper Seasoning is easy to make from scratch using just a few simple ingredients, for bright, bold flavor without the additives and artificial ingredients often found in store-bought seasonings!
Print
Pin
Rate
Servings:
10
(1-tablespoon) servings (total recipe yields aabout ⅔ cup)
Ingredients
6

large lemons

,

about 2 pounds total, washed & dried

¼

cup

whole black peppercorns

1

tablespoon

dehydrated garlic flakes

2

teaspoons

dried minced onion

1 to 2

tablespoons

fine sea salt

,

optional
Instructions
Preheat the oven to 170°F (or the lowest temperature your oven will go).

Zest the lemons using a microplane, taking care not to get any pith (you should end up with about 6 tablespoons of zest). Spread into a thin, even layer on a parchment paper-lined sheet pan. Bake until completely dried out, shriveled, and slightly darkened, which will likely take between 30 minutes to 1 hour depending on the thickness/texture of the zest.

Start breaking down the peppercorns by pulsing in a spice grinder, high-powered food processor, or high-powered blender. (If your appliance is not high-powered enough to grind the peppercorns, you may place them in a freezer-thickness zip-top plastic baggie and bash with the flat side of a meat mallet instead.)

Along with the peppercorns, add the dehydrated/cooled lemon zest, dehydrated garlic flakes, dried minced onion, and desired amount of salt (if using) to your spice grinder/food processor/blender. Pulse until combined and broken down to your desired Lemon Pepper Seasoning consistency, whether that's with a bit of texture or completely fine and smooth.

Store in an airtight spice jar or container at room temperature for up to 1 year (use within 6 months for optimal flavor and freshness). Or store in an airtight, freezer-safe container for 1 to 2 years.
Notes
I bought 2 pounds of lemons, which contained 6 large lemons (weighing about 5 ounces each). This amount yielded about 6 tablespoons of dried zest, weighing 0.21 ounces.
Instead of zesting, you may peel the lemons with a vegetable peeler. Be careful to avoid the pith and be prepared to bake the peel longer in order to fully dehydrate it.
The lemon zest must be completely dried out in order to give the Lemon Pepper Seasoning its decent shelf life at room temperature.
I prefer my Lemon Pepper to have some texture, so five (1-second) pulses in my mini food processor was all it required.
You may tweak the amount of salt in this recipe to your liking. Or, for a sodium-free seasoning blend, you may leave out the salt completely.
Calories:
23
kcal
|
Carbohydrates:
6
g
|
Protein:
1
g
|
Fat:
0.2
g
|
Saturated Fat:
0.1
g
|
Polyunsaturated Fat:
0.1
g
|
Monounsaturated Fat:
0.05
g
|
Sodium:
700
mg
|
Potassium:
110
mg
|
Fiber:
2
g
|
Sugar:
1
g
|
Vitamin A:
34
IU
|
Vitamin C:
5
mg
|
Calcium:
35
mg
|
Iron:
1
mg