This Chocolate Mint Cookie Bark — with its two layers of chocolate, Oreo chunks, mint chips, and mint M&Ms — is so festive and enticing that it can even double as Leprechaun Bait!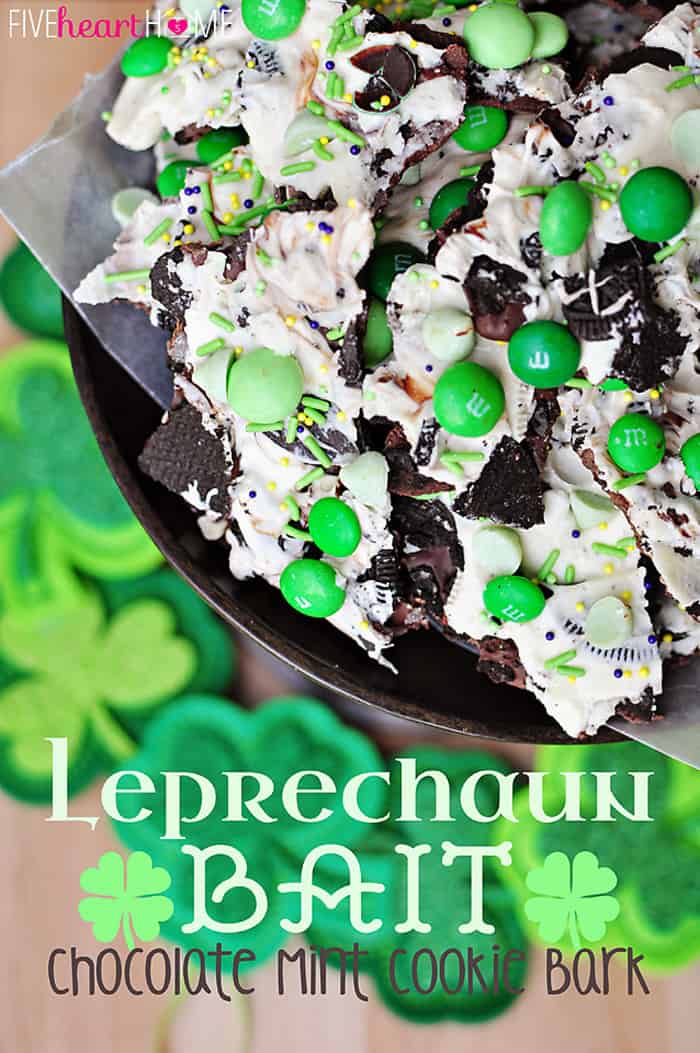 People. It is almost MARCH. How the heck did that happen? And when did I become that person who bemoans how quickly time is passing each time a new holiday is upon us? Because I do find it quite shocking how much more rapidly each subsequent year whizzes by. Tell me I'm not the only one?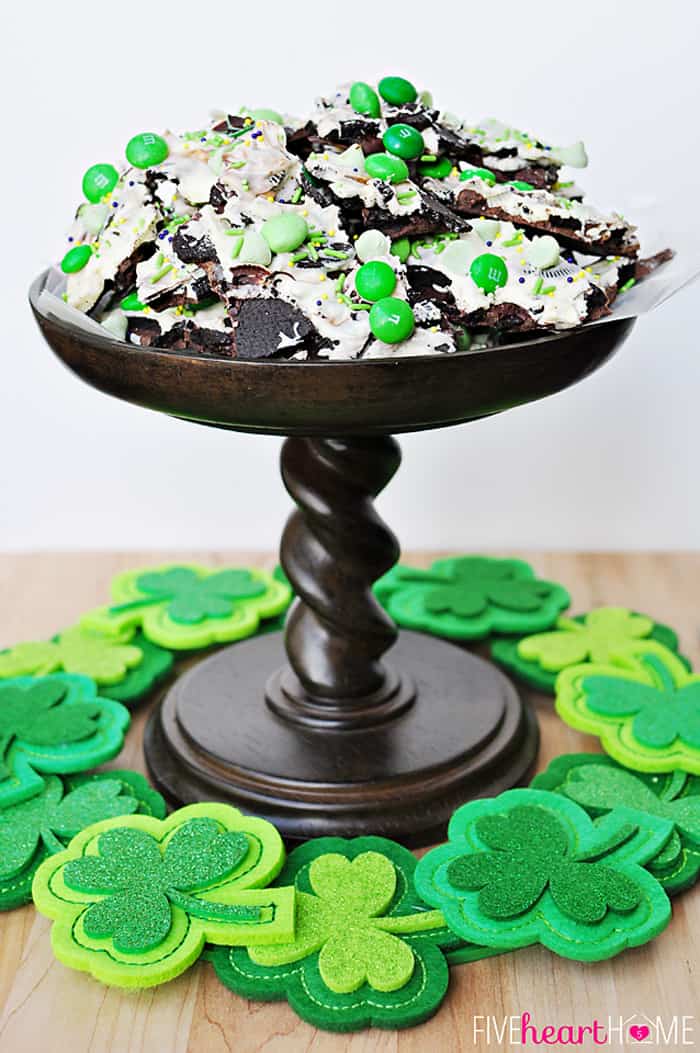 Ready or not, St. Patrick's Day is on the horizon! And as the fast-flying years have progressed, so has my appreciation for St. Paddy's Day evolved. The fun, Spring-Break-coinciding jubilee has morphed into a holiday seen through my children's eyes, revolving now around enchanting rainbows and pots of gold. Instead of enjoying a mug of green beer come March 17th, these days I concoct treats like Leprechaun Bait for my wide-eyed kiddos to set out in hopes of capturing a tiny green imp.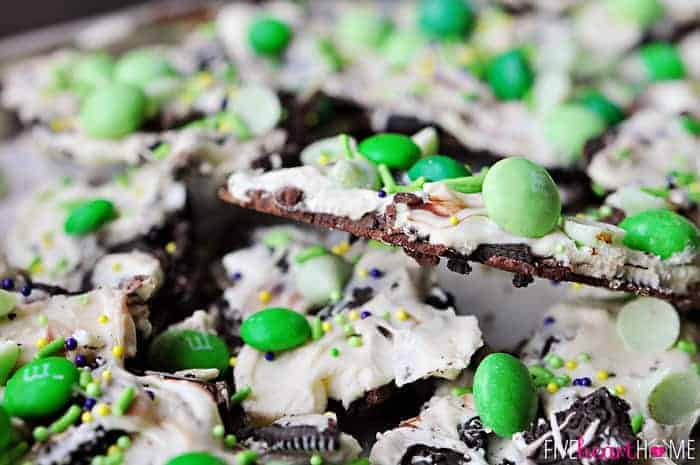 Of course, the bait will disappear without having caught a leprechaun, though the little guy is likely to leave a small treat for consolation. And this year, he might even prank my potty-humor loving boys with, well, some potty humor.
Even if you're not into leprechauns at your house, I think you will enjoy this Chocolate Mint Cookie Bark any time of the year. It's got two kinds of chocolate. It's got Oreos. It's got minty candies, like mint chips and mint M&Ms and Andes mint bits.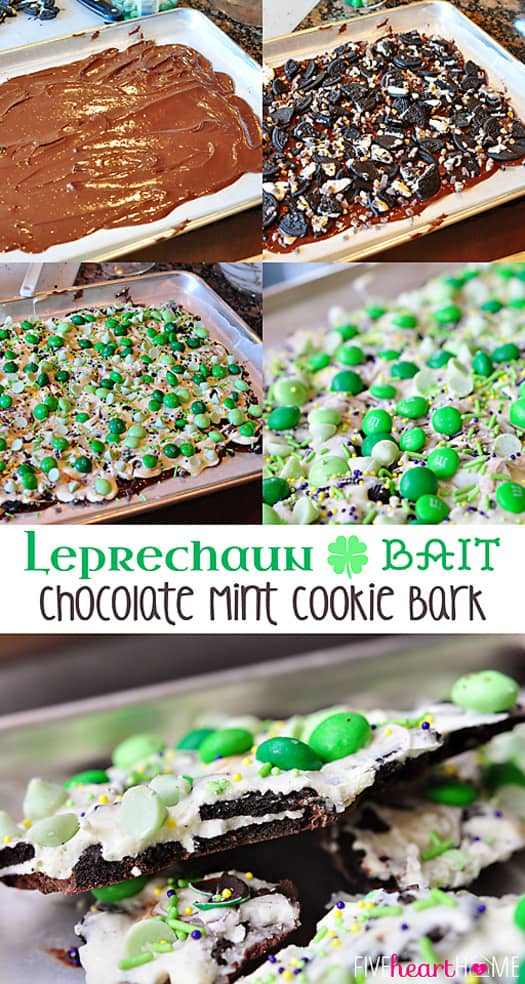 But really, you can customize it however you like, with or without the minty additions. Pick your favorite types of chocolate. Stir a splash of mint extract into your melted chocolate if you prefer things really minty. Use regular or mint chocolate sandwich cookies, or you could even use Grasshopper cookies or Thin Mints instead. Use regular or mint M&Ms. The possibilities are endless!
This treat is really easy to make, so it's fun to let the kids help. After all, the hardest part is waiting for it to set up before breaking it into chunks and chowing down.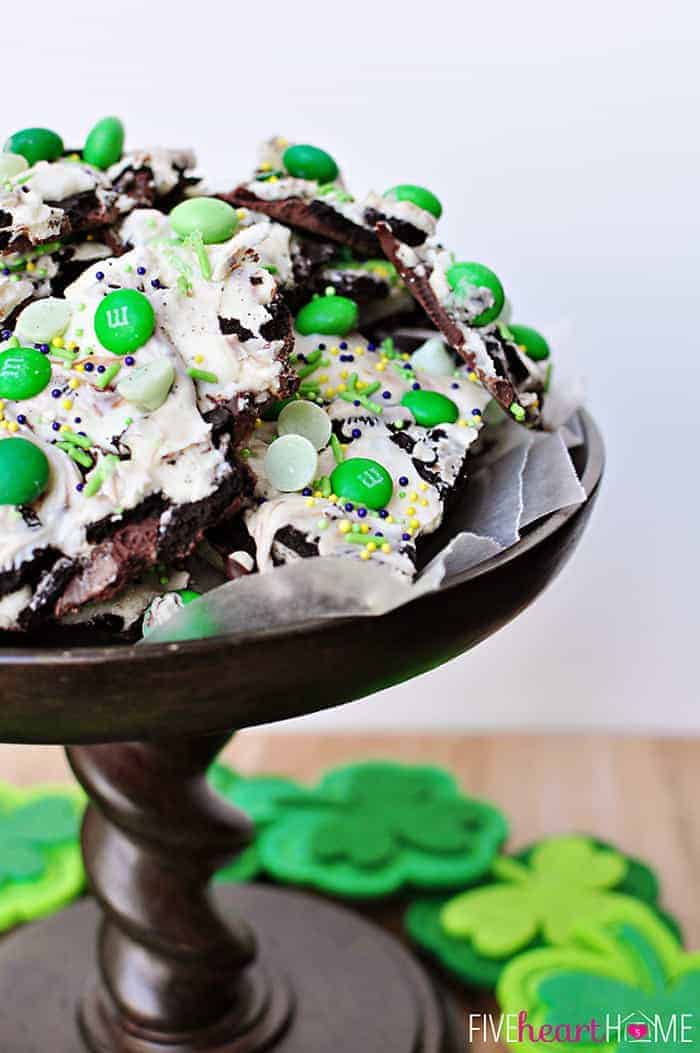 Do you do anything fun to celebrate St. Patrick's Day? Do you try to make it special for your kids? Or do you just throw on a green shirt and call it a day? Whatever you do, I hope that this year, you'll incorporate some of this yummy, addictive Leprechaun Bait into your festivities!
Leprechaun Bait ~ Chocolate Mint Cookie Bark
This Chocolate Mint Cookie Bark -- with its two layers of chocolate, Oreo chunks, mint chips, and mint M&Ms -- is so festive and enticing that it can even double as Leprechaun Bait!
Ingredients
12 ounces semi-sweet or milk chocolate chips
12 ouces white chocolate chips
2 tablespoons vegetable shortening (like Crisco), divided
20 chocolate sandwich cookies (like regular or mint Oreos)
1 cup mint chips or Andes mint bits
1 cup green M&Ms (regular or mint)
Green sprinkles
Instructions
Line a large jellyroll pan or cookie sheet with wax paper. Roughly chop sandwich cookies into quarters.
Pour semi-sweet chocolate chips and 1 tablespoon shortening into a microwave-safe bowl. Microwave for 1 minute; stir chocolate well. Microwave for another 30 seconds; stir until chocolate is smooth. (If necessary, microwave in additional 15-second increments, stirring between each one, until chocolate is completely melted and smooth.)
Spread melted chocolate in a thin layer onto wax paper. Sprinkle with chopped cookies and mint chips (or Andes bits), pressing them down into melted chocolate in a single layer.
Melt white chocolate chips with 1 tablespoon shortening in a clean bowl by repeating the above process, but microwave for only 15 seconds after the initial 1 minute since white chocolate melts more quickly than regular chocolate.
Carefully drizzle white chocolate over cookie layer and spread in an even layer. Sprinkle with M&Ms, pressing them down into the white chocolate, and then fill in any bare areas with green sprinkles.
Refrigerate until chocolate is hard. Carefully break into large chunks and enjoy!
Notes
The shortening is added to the chocolate chips to help the chocolate harden once cooled. If you prefer, you may use dipping chocolate/candy coating instead of chocolate chips and shortening.
https://www.fivehearthome.com/leprechaun-bait-chocolate-mint-cookie-bark/
https://www.fivehearthome.com ~ All recipes and images on Five Heart Home are copyright protected. Please do not use without my permission. If you would like to feature this recipe, please rewrite the directions in your own words and give proper attribution by linking back to this blog.
More Irish fun…
St. Patrick's Day Free Printable ~ Irish Blessing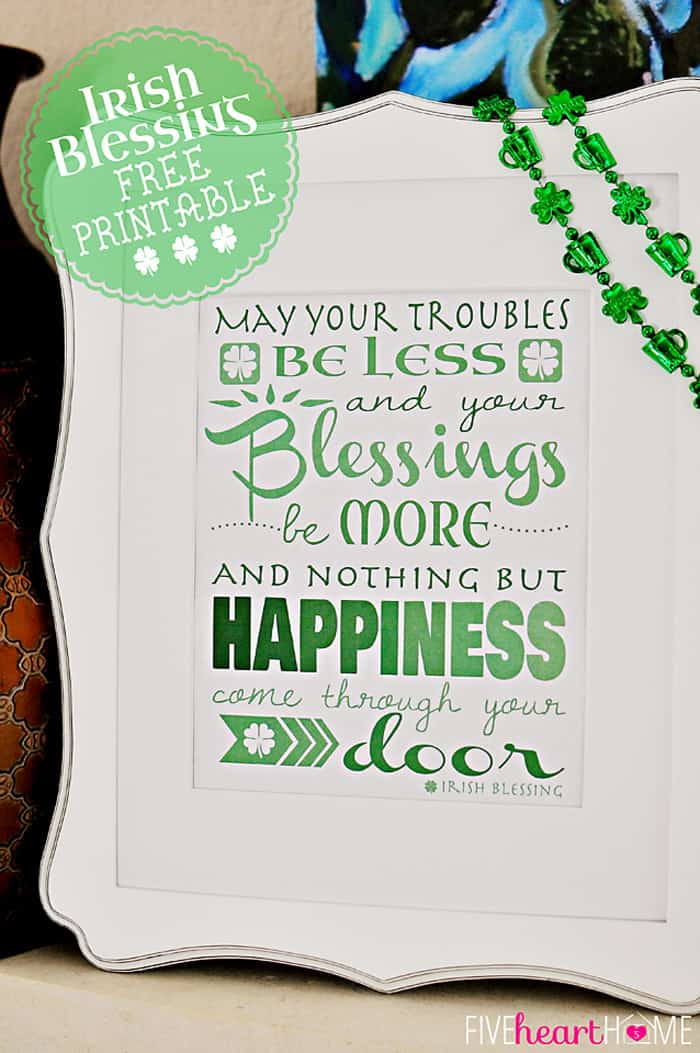 More holiday bark…
Easter Egg Pretzel Bark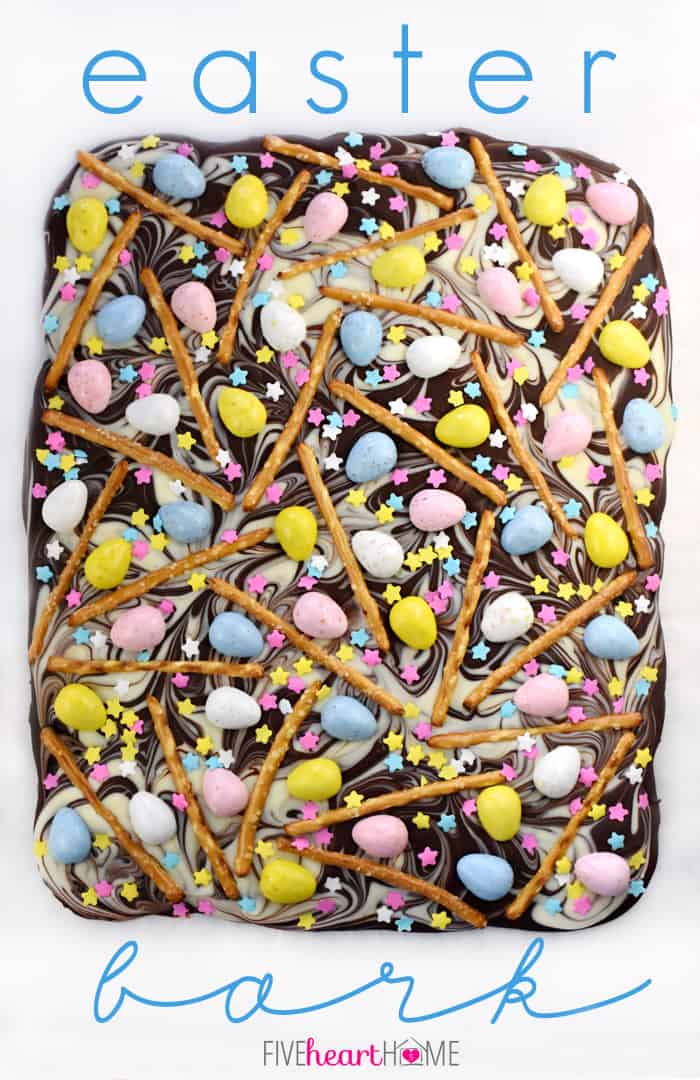 Halloween Candy Corn Bark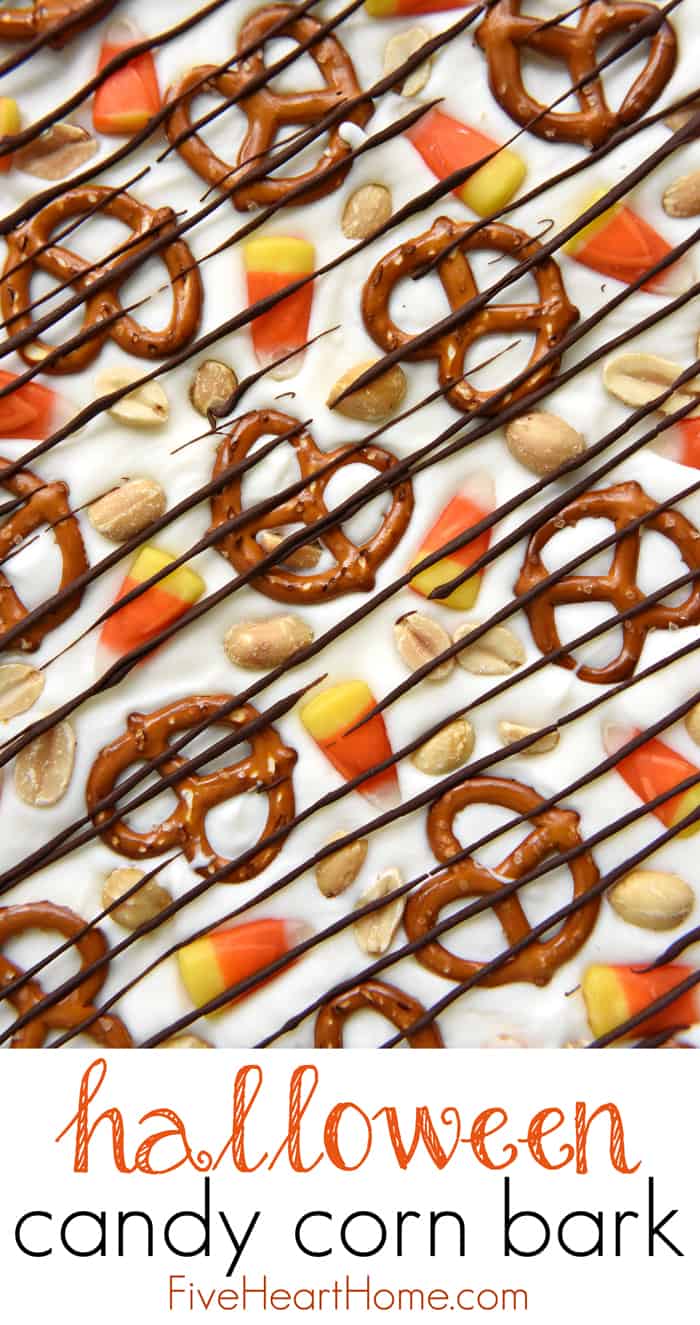 Strawberry Pretzel Chocolate Swirl Bark