This juicy, tender Maple-Glazed Turkey with Bacon is slathered with sage-infused butter, shingled with crispy bacon, and glazed with maple syrup for the best Thanksgiving turkey you've ever tasted!

For the tastiest sides to accompany your turkey, you'll love Bacon Green Bean Casserole, Garlic & Herb Stuffing, and easy homemade Cran-Cherry Sauce!
Today I'm setting out to prove that bacon indeed makes everything better! Say hello to this amazing Maple-Glazed Turkey with Bacon and Sage Butter. Doesn't the name just say it all?!
This star of the Thanksgiving table is slathered with sage-flecked butter and glazed with pure maple syrup as it cooks. Then, about an hour before it's done, the top of the bird is shingled with salty bacon and brushed with more syrup for good measure. The final result is moist, juicy, tender turkey with an undertone of sage and bacon, a sweet maple glaze that filters into the gravy, and bonus crispy bacon strips, over which everyone at the table will be fighting!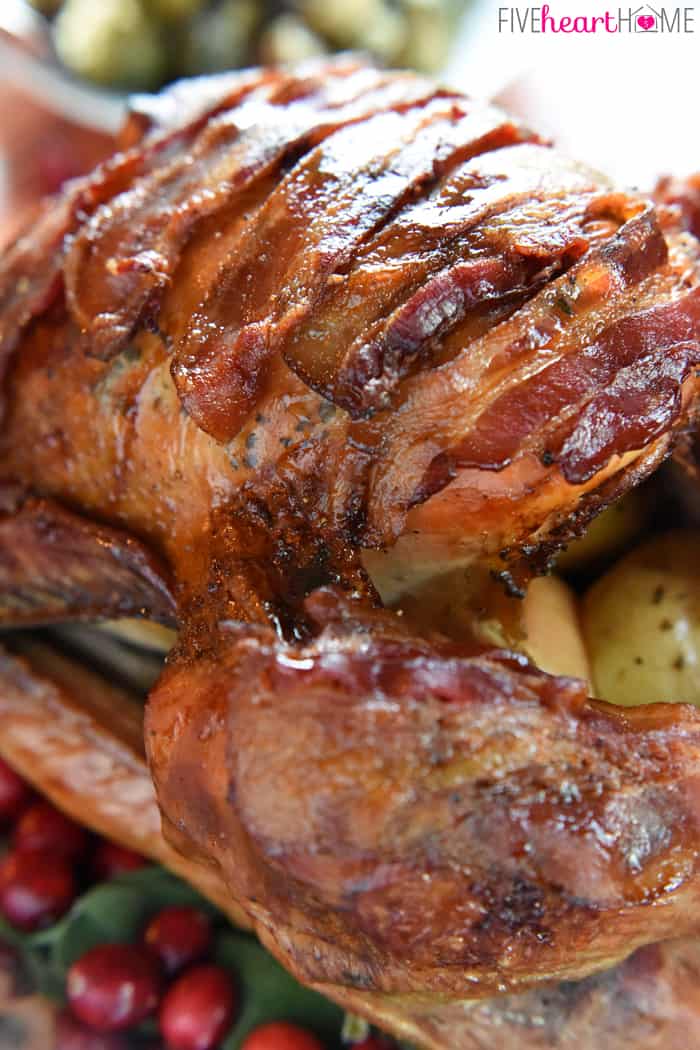 To Brine or Not to Brine?
I've made this recipe both brined and unbrined and it turns out beautifully either way.
You typically can't beat the over-the-top juiciness of a brined turkey, so I would recommend it if you don't mind the extra step and time required. Just be sure to use a basic brine that doesn't incorporate too many flavors, because you certainly don't want to overshadow the yummy sage/bacon/maple thing going on here.
However, if you don't care to brine your turkey, this recipe will still yield a scrumptious bird, as is. Massaging the sage butter under the skin of the turkey, keeping it glazed with maple syrup, and then letting the bacon fat drip down over the whole shebang pretty much mean that this bird has no choice but to turn out juicy! Just don't overcook it, mkay? 😉
Tips for Even Cooking
Speaking of overcooking, it's totally normal for certain parts of your turkey to brown faster than others, which is why it's important to monitor its color each time you take it out of the oven to glaze it.
After awhile, the breast of my turkey got to be a nice golden brown while the rest of the turkey was still looking rather pale. So I simply covered the brown parts with a piece of foil and proceeded with the cooking. The exposed skin continued to deepen in color without the turkey breast becoming burnt. Then, when it was time to lay the bacon on top, it happened to perfectly cover the portion of the turkey that was already nicely browned, while the rest of the turkey continued to darken as the bacon cooked.
And if your turkey has not reached the target temperature by the time the bacon is cooked and the entire bird is golden brown, it's time to tent the whole thing with foil while the interior continues cooking (and rising in temperature) for a bit longer.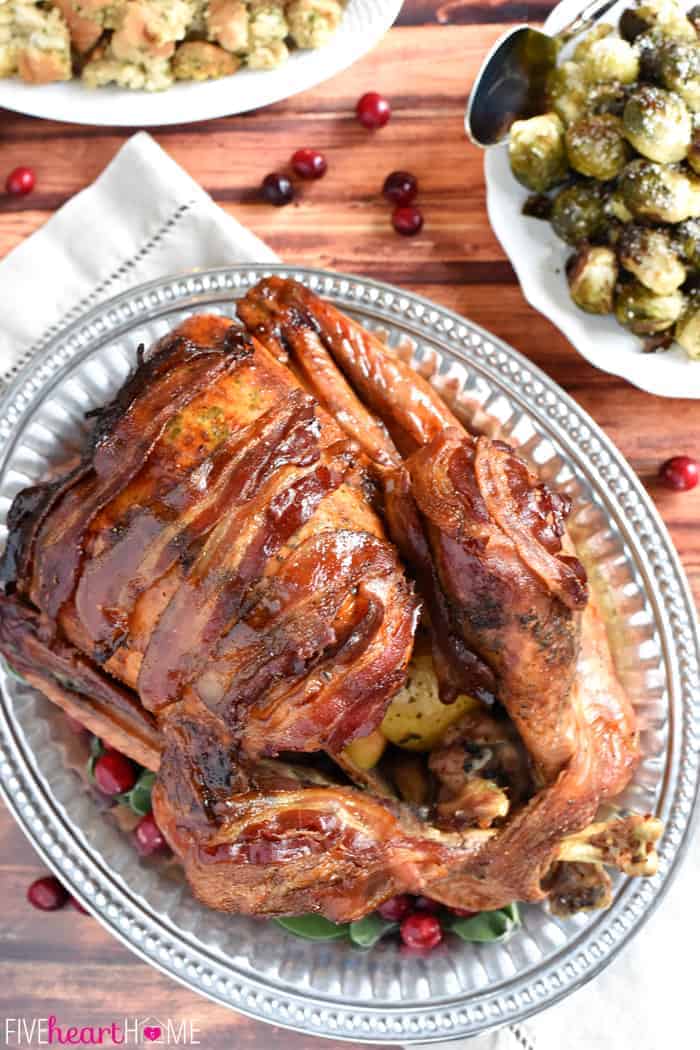 The BEST Turkey Recipe
So can I share a little secret with you? This turkey is based on a Tyler Florence recipe that was the first turkey I ever cooked about ten years ago. And guess what? It was so darn good that I've never cooked turkey another way since!
Yes, friends, I've been making this turkey recipe -- and only this turkey recipe -- for a full decade. Now you might be wondering how I can claim it to be the best if it's the only turkey recipe I've ever made? Well, just because I haven't prepared turkeys by other recipes doesn't mean that I haven't eaten plenty of them! Quite simply, this turkey trumps every turkey I've ever had, cooked by anyone...and I've eaten plenty of turkey over the years. I know how fabulous this recipe turns out every year, so I'm going to stick with it.
The Gravy
Perhaps the best part of this turkey is the gravy...because, well, it's not just regular gravy. It's gravy made with pan juices that include melted sage butter and bacon drippings and, most importantly, maple syrup. That's right...this gravy has a whole savory-sweet thing going on that is just indescribably (though I'm trying) good. And if you happen to pour it on top of a mound of Make-Ahead Garlic Herb Mashed Potatoes? Well, I'd be tempted to have double servings of that and skip the pie. Okay, not really...I don't skip pie. But rest assured that this gravy is darn tasty.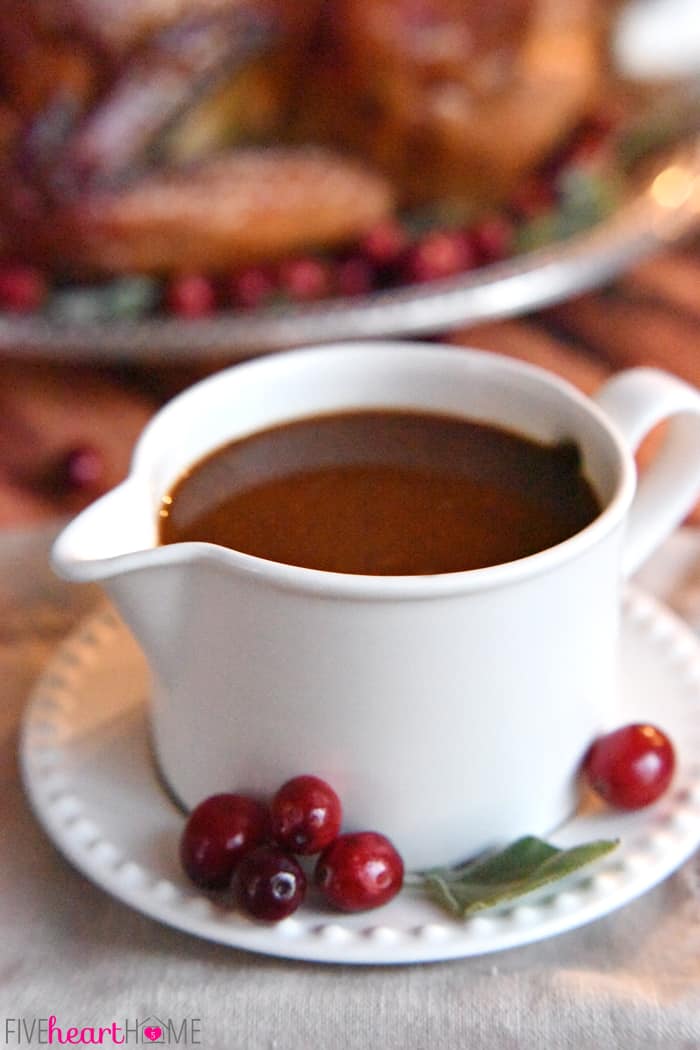 How to Make It
Have I mentioned how easy this turkey is to make? I know that the idea of cooking a whole turkey can be a little intimidating, but there's nothing to this preparation. Seriously. Let me break it down for you, and it really is this basic...
Remove bag of giblets and neck from thawed turkey; put in a roasting pan.
Season turkey with salt & pepper, inside & out.
Loosen skin and spread sage butter underneath.
Glaze entire turkey with maple syrup.
Bake for a couple of hours, basting with additional syrup every 30 minutes.
Arrange raw strips of bacon on top of turkey; glaze again.
Bake for about one more hour or until turkey reaches an internal temperature of 165°F.
Remove turkey from oven, tent with foil, allow to rest, carve, and enjoy!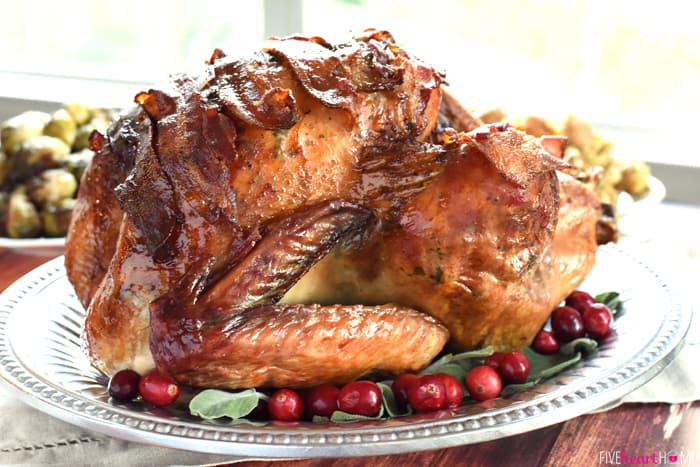 Is that simple or what?
Yes, there is a time commitment involved.
Yes, you have to be attentive, between regular glazing and using foil to tent parts of the turkey that are browning too quickly.
Yes, you need to make sure your turkey reaches a safe temperature without becoming overcooked (for which you can rely on your trusty meat thermometer).
But honestly, there's no reason to experience anxiety over cooking a turkey. If I can do it, so can you!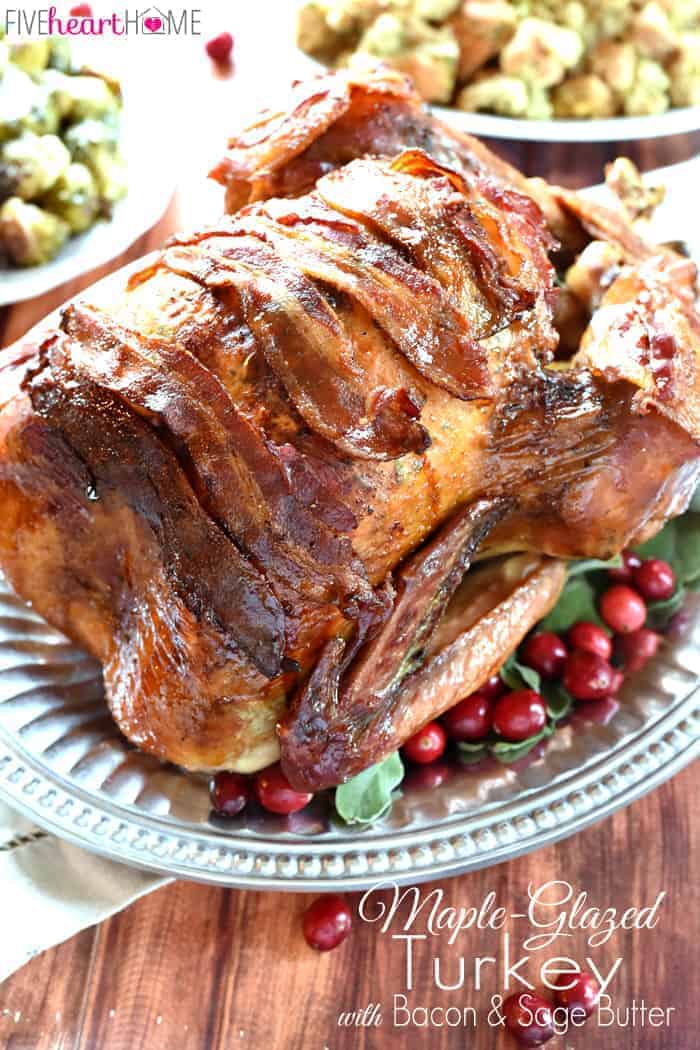 So if you're looking for a new spin on traditional turkey this year, I highly encourage you to give this Maple-Glazed Turkey with Bacon and Sage Butter a try!
Gobble, gobble, yum, yum, YUM.
More Thanksgiving Yummies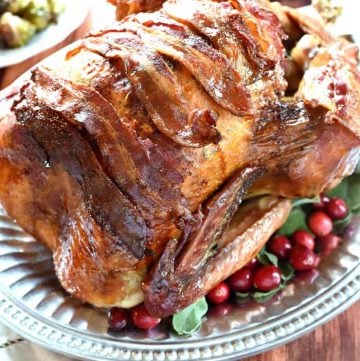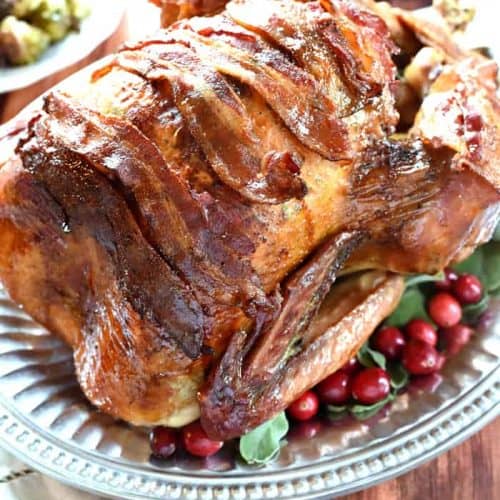 Maple-Glazed Turkey with Bacon and Sage Butter
This juicy, tender Maple-Glazed Turkey with Bacon is slathered with sage-infused butter, shingled with crispy bacon, and glazed with maple syrup for the best Thanksgiving turkey you've ever tasted!
Print
Pin
Rate
Servings:
12
to 14 servings
Ingredients
1

(12- to 14-pound) fresh or frozen turkey

,

(completely thawed)

¾

cup

(1 ½ sticks) butter

,

at room temperature

3

tablespoons

finely chopped fresh sage leaves

Salt & freshly ground black pepper

Optional aromatics to stuff inside turkey

,

such as whole garlic cloves, quartered onion, cut lemons, oranges, or apples, etc.

1

cup

pure maple syrup

¼

cup

hot water

8

strips bacon

¼

cup

flour

3

cups

chicken stock/broth

,

OR turkey stock/broth

½

lemon
Instructions
An hour before roasting, take turkey out of fridge, unwrap, and remove bag of giblets and/or neck (check both neck cavity and body cavity). Place turkey on a rack in a large roasting pan, breast side up, to allow it to dry and come to room temperature.

Place oven rack in the bottom third of the oven and remove the top rack. Preheat oven to 350°F.

Stir minced fresh sage into softened butter until well combined. Season well with salt and pepper.

Liberally sprinkle the turkey, inside and out, with salt and pepper. Carefully slide your fingers under the skin of the breast and drumsticks to lift it away from the meat. Slip spoonfuls of sage butter underneath the skin and gently smooth over the top of the skin to spread out the butter in a thin layer. Repeat everywhere that you can reach under the skin until all of the butter has been used.

If you are stuffing your bird, fill it with dressing without packing too tightly (cook leftover dressing in a separate baking dish). If you aren't stuffing your bird, you may place a few aromatics inside the cavity (I used a head of garlic, peeled and separated into cloves, and a large quartered apple for this turkey), but it's not required. Truss the turkey legs.

Combine maple syrup and hot water. Use a basting brush to baste the entire turkey. Place turkey in the oven for 2 hours, basting with maple syrup every 30 minutes. If the breast and/or the tops of the drumsticks turn golden brown before the rest of the turkey, shield them with foil.

After 2 hours, remove the turkey from the oven and insert an oven-safe meat thermometer into the meatiest part of the thigh (without touching the bone). Baste the turkey with syrup once more and arrange the strips of bacon over the top of the turkey with no gaps in between them, until they cover the entire breast. Return the turkey to the oven for about 30 minutes, then baste with syrup again (bacon and all). Continue cooking, watching the bacon closely so that it turns crisp but does not burn. If the bacon is done before the thermometer inserted in the turkey reads 165°F, shield the bacon with foil (as well as any other parts of the turkey that are brown enough, which might end up being the whole turkey) and continue cooking until the turkey is done. (Depending on a variety of factors, a turkey typically takes anywhere from 13 to 20 minutes per pound to cook. The 12 ½ pound turkey in these photos took about 3 hours to cook).

Once the temperature of the turkey reaches 165°F and the juices are running clear, tilt the turkey in the pan so that the liquids run out of the cavity. Transfer turkey to a cutting board, tent with foil, and allow to rest for 30 minutes.

In the meantime, skim the excess fat from the pan drippings. Pour the drippings into a medium pot, scraping brown bits at the bottom of the roasting pan from the turkey but leaving behind any burnt maple syrup sludge. Set pot over medium heat and whisk flour into the drippings until smooth. Gradually add chicken stock while continuously stirring. Raise heat to high and bring to a simmer while stirring regularly, until gravy is thickened to your preferred consistency. Season with salt and pepper, to taste, and a squeeze of fresh lemon juice.
Notes
In my experience, thawing a frozen turkey in the refrigerator always takes longer than the estimated time. I bought this turkey on Tuesday and it was still partially frozen when I went to cook it on Saturday, so I had to finish thawing it using the cold water method.
I prefer leaving the turkey unstuffed so that it cooks more evenly. However, an unstuffed bird will cook slightly faster than a stuffed one. A brined turkey or an untrussed turkey may also cook faster.
Cooking a turkey that's less than 12 pounds will require less than 3 hours to cook. You should probably check the temperature sooner and add the bacon earlier in the cooking process.
Calories:
560
kcal
|
Carbohydrates:
22
g
|
Protein:
50
g
|
Fat:
30
g
|
Saturated Fat:
13
g
|
Cholesterol:
195
mg
|
Sodium:
459
mg
|
Potassium:
637
mg
|
Fiber:
1
g
|
Sugar:
16
g
|
Vitamin A:
480
IU
|
Vitamin C:
2
mg
|
Calcium:
70
mg
|
Iron:
2
mg
Adapted from Food Network
Post originally published on November 12, 2014.