Mini Pecan Pies are individually-portioned in a muffin pan and fun to eat, featuring a tender, buttery crust (no rolling pin needed) and a sweet, nutty filling.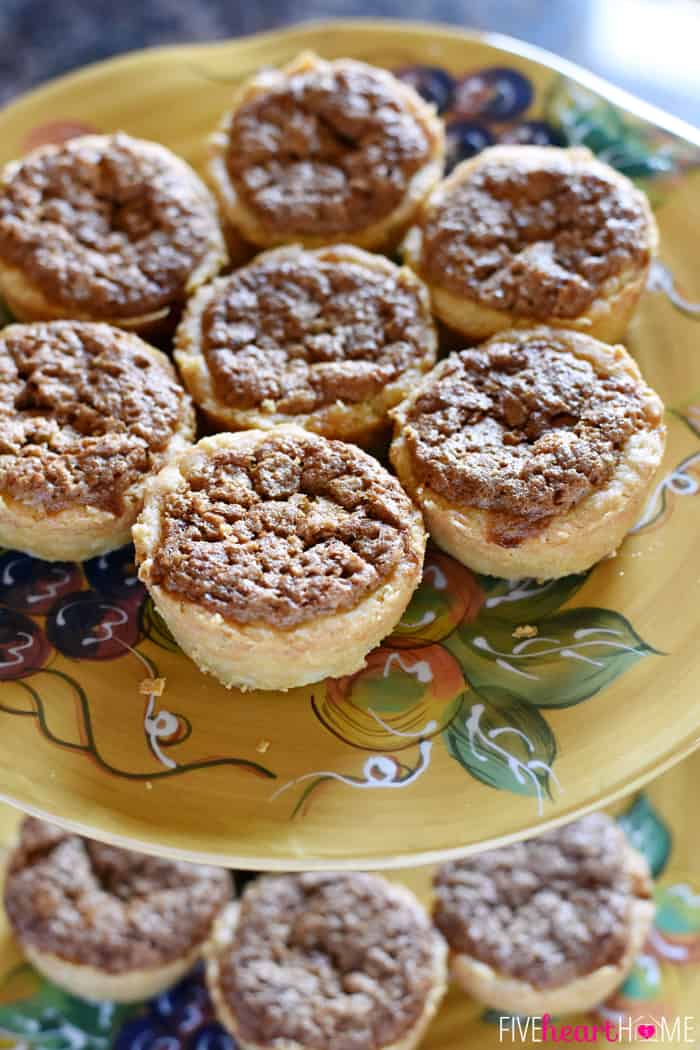 You probably think I'm posting Mini Pecan Pies because of a certain impending holiday that starts with Thanks- and ends with -giving.
Well, that may be so...but the truth is, last weekend, we celebrated my husband's birthday. And he's not a big fan of cake but he looooooves pecan pie. So every year I bake him some incarnation of it for his special day.
Pecan Pie Trial & Error
Do you have a particular recipe that just never seems to turn out for you? For a long time, my culinary nemesis was pecan pie. I've always fancied myself a decent baker, but as soon as I fell in love with a man whose favorite dessert of all time is pecan pie, I quickly determined that it was the one thing I couldn't seem to master. For years, my pecan pies would never solidify in the center. Or if they did, they'd burn on top. Or the crust would fall apart. No matter which recipe I tried, all of my pecan pies failed...and here I was, simply trying to impress my boyfriend/fiancé/husband!
Well, I'm happy to report that after many, many failures, I've finally mastered a fool-proof recipe for pecan pie!
But in the meantime, I'm going to share one of my cheater, pecan pie-ish recipes that worked for me back when a legit pecan pie never would. Even though I typically make a full-fledged pecan pie for my husband's birthday now that I've finally mastered it (hallelujah and Amen), I sometimes fall back on this Mini Pecan Pies recipe when time is a little tight or when I want individually-sized treats for everyone to enjoy.
I'd consider these little cuties to be the pecan pie version of birthday cupcakes! 😉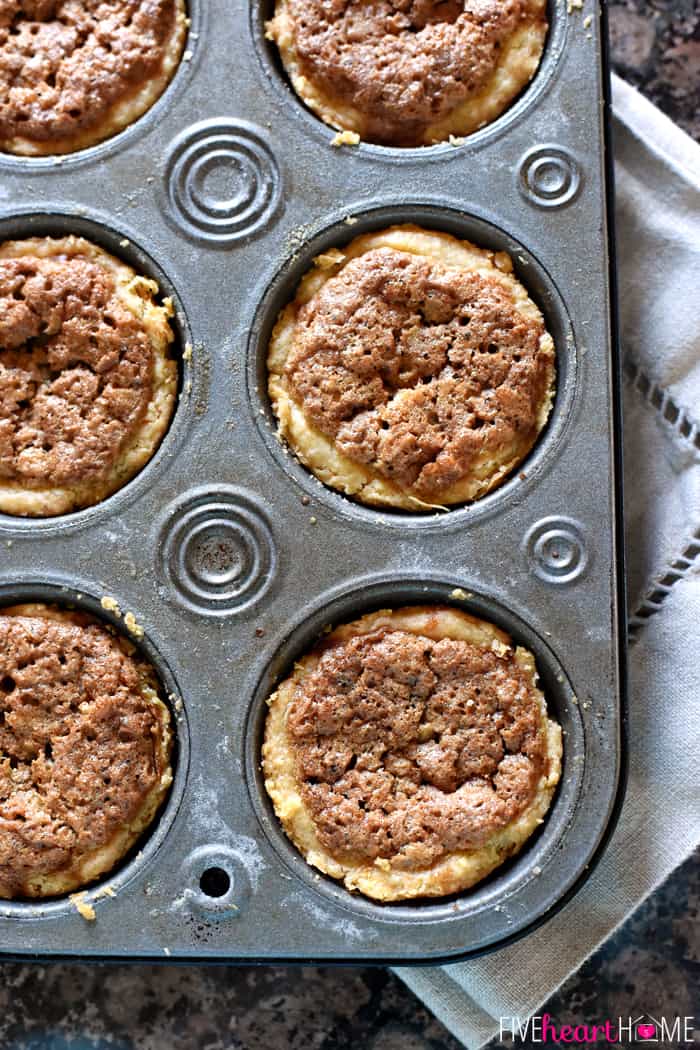 Ingredients
These Mini Pecan Pies are totally scrumptious, and that's coming from someone who's never really cared for pecan pie (me) as well as someone who considers himself a pecan pie expert (the hubby).
They boast a 3-ingredient homemade crust (cream cheese + butter + flour) that you form into a circle with your fingers and then lightly press into the pan...no rolling pin required! The crust turns out tender and melt-in-your-mouth flaky, and it's the perfect vehicle for the gooey, sugary pecan filling.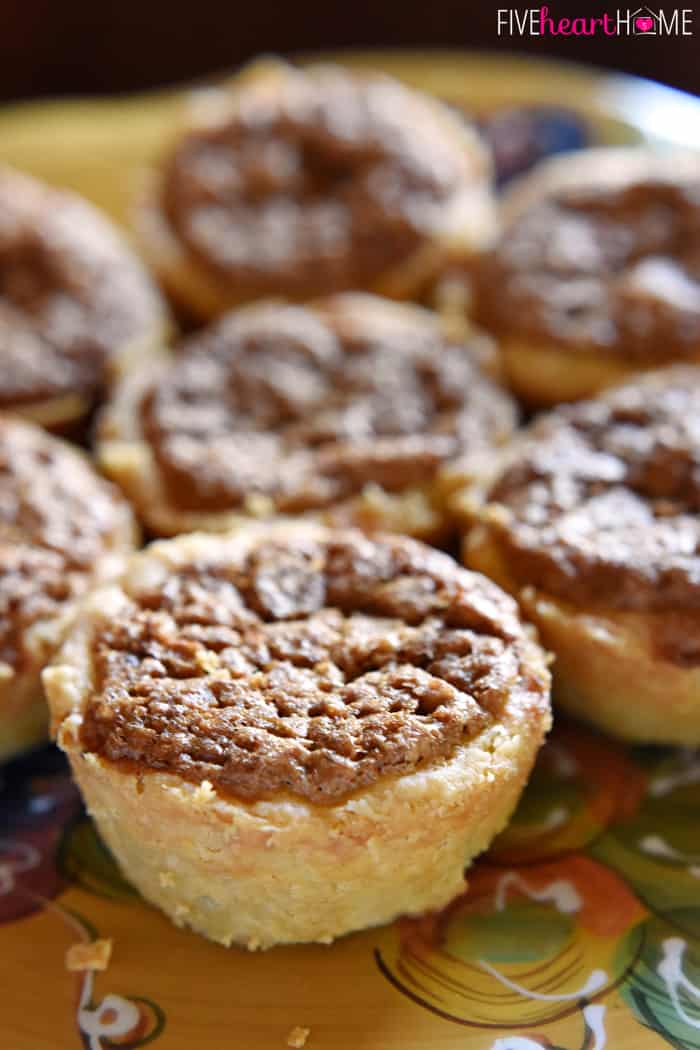 The filling itself only requires five ingredients -- brown sugar, butter, eggs, vanilla, and (of course) pecans -- but by some sort of voo-doo magic, those simple ingredients morph into the most delicious pecan filling.
Chopping the Pecans
My husband would claim that the key to a perfect pecan pie is finely chopping the pecans...like, really finely chopping them. That's how his Nanny always made pecan pie, so by golly, it has to be right. By finely chopping the nuts, they form this crackly pecan veneer on top of the layer of brown sugary goo.
Of course, if you prefer larger pieces of nuts, save your arm the workout and go for a coarser chop...it's totally up to you. 😉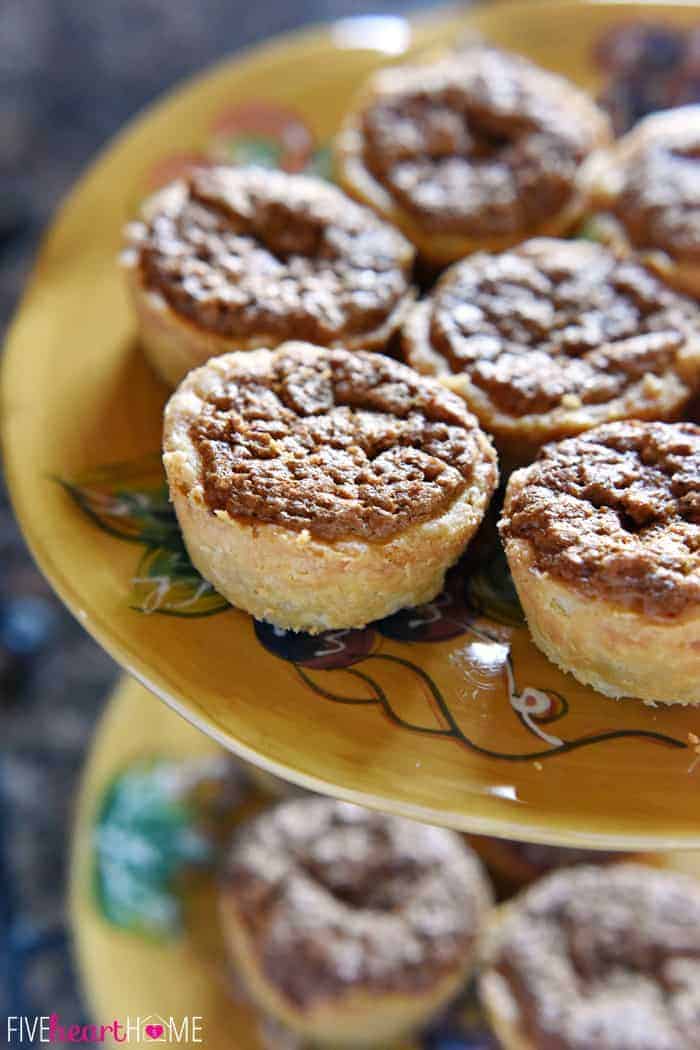 So...I had planned on baking these for my hubby's birthday with no thought of posting them on Five Heart Home. And then, as I was making them, it occurred me that posting this recipe this week would actually be perfect timing for sharing them as a Thanksgiving menu idea...because wouldn't these Mini Pecan Pies be a fun addition to all of the full-sized pies on the Turkey Day dessert table?!
I decided that, if I had a chance, I would quickly and covertly photograph the pies for a blog post before presenting them to the birthday boy. They were cooling on a rack as I put the two-year-old down for a nap, and when I came out of her nursery, I walked into the kitchen just as my husband was taking a big bite out of a little pie and telling me how good it was. I smiled and nodded through clenched teeth -- because what kind of evil blogger wife would tell her husband that he has to wait to eat his birthday dessert until she could take pictures of it??? Then I waited for him to leave the room, quickly threw the remaining 11 pies on a tiered stand, grabbed my camera, and started snapping.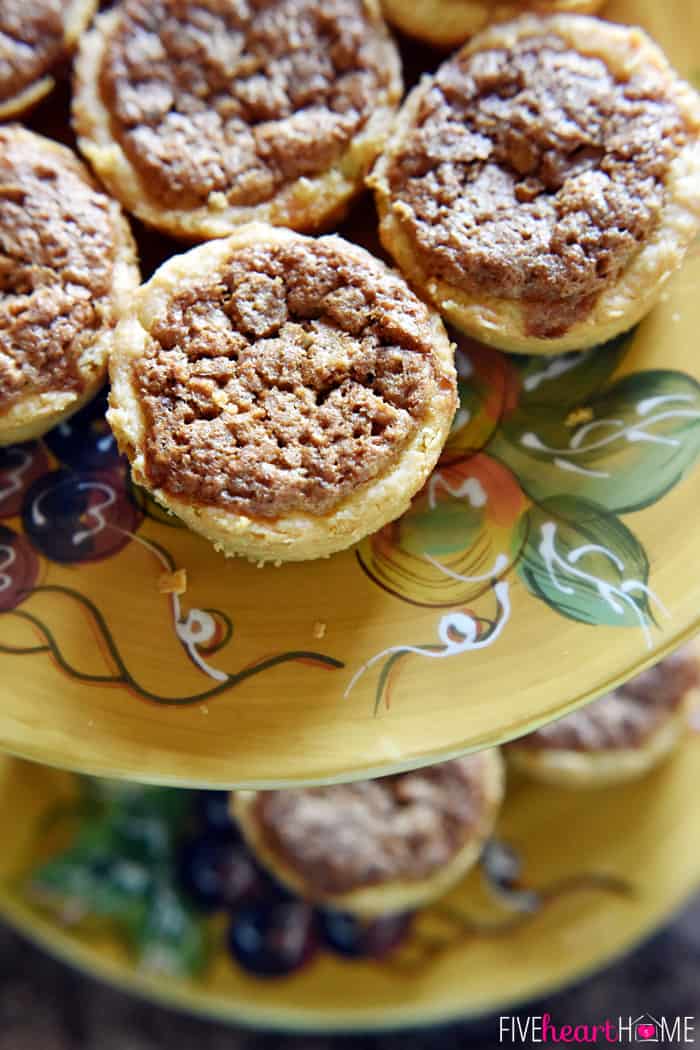 So forgive me that these photos aren't all propped out. You're seeing rich, nutty, Mini Pecan Pies, pure and simple. And after these pics were taken, we stuck a candle in one, sang 'Happy Birthday' (to my patient and understanding spouse...love you, honey!), and proceeded to devour the rest of them.
Because whether it's Thanksgiving or a pie-lover's special day, these Mini Pecan Pies are sure to be a hit. Hope y'all enjoy them as much as we do!

More Thanksgiving Desserts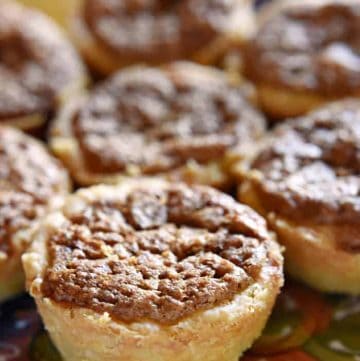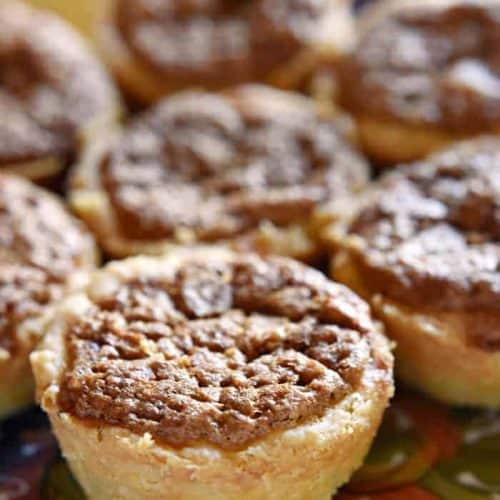 Mini Pecan Pies
Mini Pecan Pies are individually-portioned in a muffin pan and fun to eat, featuring a tender, buttery crust (no rolling pin required!) and a sweet, nutty filling.
Print
Pin
Rate
Ingredients
FOR THE CRUST:
3

ounces

cream cheese

,

at room temperature

½

cup

1 stick salted butter

,

at room temperature

1

cup

all-purpose flour
FOR THE FILLING:
1 ½

cups

packed brown sugar

2

tablespoons

butter

,

at room temperature

2

eggs

,

lightly beaten

2

teaspoons

pure vanilla extract

½

teaspoon

salt

1 ½

cups

finely chopped pecans
Instructions
Prepare muffin pan by generously greasing (with softened butter or shortening) and flouring each muffin cup (or coat with a flour-based baking spray, such as Baker's Joy).

In a medium bowl, beat together cream cheese and butter. Mix in flour until smooth and well combined. Scrape dough onto a sheet of plastic wrap, wrap and form into a disk, and refrigerate for 30 minutes to an hour.

In another medium bowl, beat butter into brown sugar. Blend in eggs, vanilla, and salt, and mix until thoroughly incorporated. Gently stir in pecans.

Place oven rack in center position of oven and preheat to 350°F. Once dough is chilled, divide it into 12 equal pieces (I do so by forming a circle with the dough, cutting it into quarters, and then dividing each quarter into three pieces...if you have a small kitchen scale, it can help you achieve equal pieces, but eyeballing it works, too!). Roll each piece of dough into a ball and use your fingers to gently press it into a thin, flat circle. Lay the circle of dough in one of the greased and floured muffin cups and gently press it into the bottom and up the sides, spreading the dough a bit more if necessary to cover the entire cup. (You want the crust to lightly adhere to the muffin cup, but don't press it too hard or it may get stuck!)

Give the filling another stir to redistribute the pecans and evenly divide it between the 12 mini pie crusts (use a cookie scoop to make this easier).

Bake for 20 to 25 minutes or until filling is puffy and set. Remove pan to a rack and allow to cool for 2 minutes. Run a thin knife around the edges of each muffin cup to make sure that there is no sticking. Allow to rest for 5 more minutes. Run knife around each pie one more time. Place a cooling rack on top of muffin pan and carefully invert so that pan is resting upside-down on rack. Carefully lift pan and turn the pies over to finish cooling on the rack.
Notes
Dough may be made up to 3 days in advance, but you will need to let it soften at room temperature enough to form it into individual pie crusts (but make sure it is still somewhat chilled or it will be too soft and sticky!).
The trickiest part of this recipe is removing the pies from the muffin pan, but it definitely can be done! The keys to success are making sure that the muffin cups are thoroughly greased/floured, initially loosening the pies with a knife, allowing them to set long enough that they don't fall apart, once more making sure that they're loosened, and then putting the cooling rack on top of the pan before carefully overturning.
Calories:
358
kcal
|
Carbohydrates:
37
g
|
Protein:
4
g
|
Fat:
23
g
|
Saturated Fat:
9
g
|
Cholesterol:
60
mg
|
Sodium:
222
mg
|
Potassium:
123
mg
|
Fiber:
2
g
|
Sugar:
28
g
|
Vitamin A:
435
IU
|
Vitamin C:
0.2
mg
|
Calcium:
47
mg
|
Iron:
1.2
mg
Adapted from Cooks.com