Happy Wednesday, y'all, and welcome to Moonlight & Mason Jars…I'm thrilled that you could join us today. 🙂
Have you adjusted to the time change yet? I have to admit it hasn't been easy on me this year, which isn't helped by the fact that my kids pop out of bed bright and early, despite the fact that it's Spring Break. They apparently haven't gotten the memo yet about this concept called sleeping in. Anyway, who's ready for St. Patrick's Day…and even better, who's ready for the first day of spring right around the corner (me, me, me!!!)?
Before we got on with the party, I wanted to make sure you know about our big, awesome, Get Lucky Giveaway going on right now!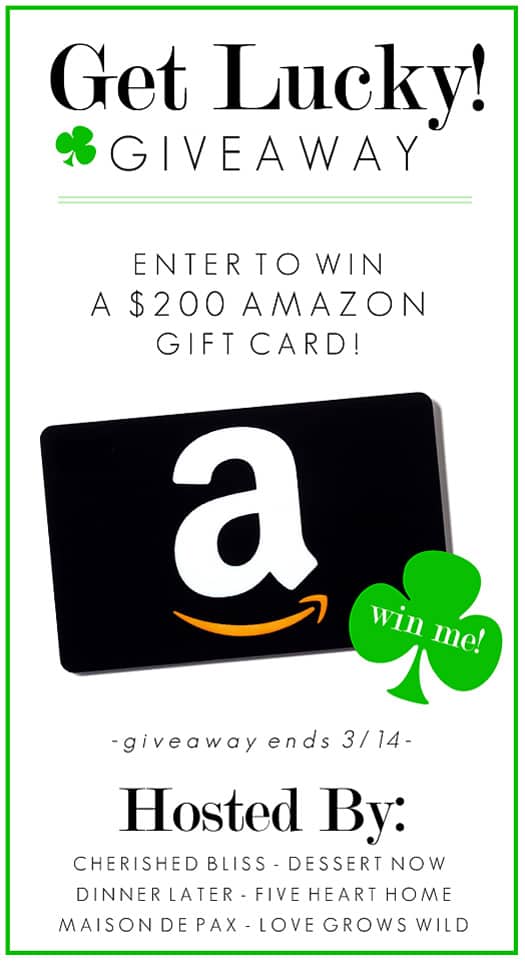 If you haven't entered yet, don't delay…only a couple of days left! Click HERE for your chance to win a $200 Amazon gift card (because who couldn't use one of those?)!

MY LATEST VIDEOS
Every Wednesday at 5:00 p.m. CST, we have a party where bloggers are invited to link up some of their latest recipes, crafts, DIY projects, and seasonal fun…and readers get to check out all of that talent in one place! That makes this a great place to find great new ideas and inspiration.
Thank you again for stopping by!

The Newlywed Pilgrimage // Pinterest // Google+ // Bloglovin' // Facebook
Cherished Bliss // Pinterest // Google+ // Bloglovin' // Facebook
Five Heart Home // Pinterest // Google+ // Facebook // Twitter
Mama Dish // Pinterest // Twitter // Bloglovin' // Facebook
Our Thrifty Ideas // Pinterest // Google + // Facebook // Twitter
We can't wait to see what amazing creations YOU have been working on this week! This link party is a great opportunity for bloggers to network with one another, so please take a peek at our party guidelines. We're so happy to have you here and honored to have you following along with us via some of the links above!
Here are our five featured picks from the talented bloggers who linked up last week. Congratulations, ladies! If you were featured, feel free to grab your featured button!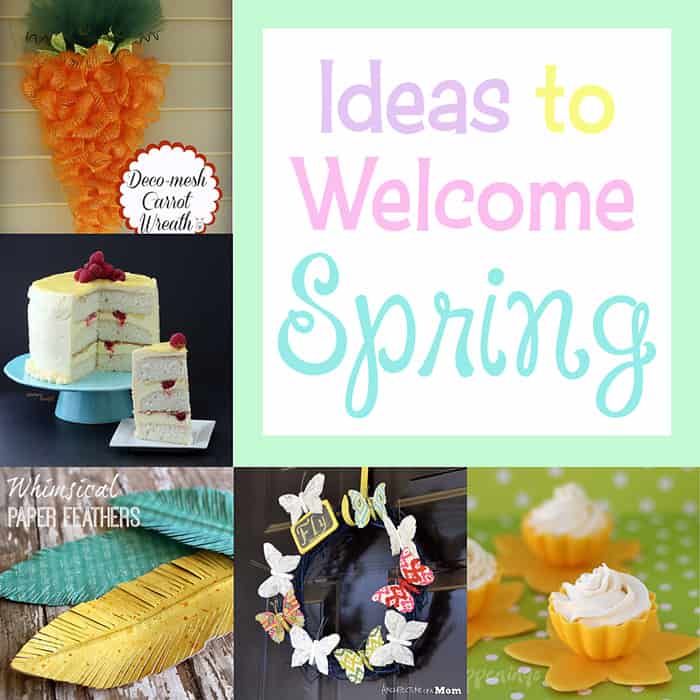 Deco Mesh Carrot Easter Wreath Tutorial by Knock-It-Off Crafts
Raspberry & Lemon Cake by Dieter's Downfall
Whimsical Paper Feathers by Posed Perfection
Spring Butterfly Wreath by Architecture of a Mom
Daffodil Candy Cups with Lemon Mousse by Hungry Happenings
To provide maximum exposure for our winners, we pin all featured party picks to our group Features Pinterest Board. I also pin features (and my favorite link-ups each week!) to my Five Heart Home Pinterest boards! Feel free to show some love and visit these blogs to pin these wonderful features as well. 🙂
Time to party!!!
0