Happy last day 'o April, everyone (yikes…how did that happen?!), and welcome back to the Moonlight & Mason Jars Link Party! Congrats to the winner of last week's 1-Year Linkyversary $100 Target Gift Card Giveaway…Shelby N! And as an aside, I'm currently looking for a guest host for next week, so if you're interested, please leave a comment on this post or send me an e-mail. 🙂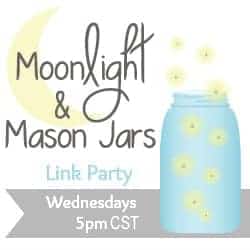 Every Wednesday at 5:00 p.m. CST, we have a party where bloggers are invited to link up some of their latest recipes, crafts, DIY projects, and seasonal fun…and readers get to check out all of that talent in one place! That makes this a great place to find great new ideas and inspiration.
Thank you again for stopping by…it's time to party!

Cherished Bliss // Pinterest // Google+ // Bloglovin' // Facebook // Twitter // Instagram
Five Heart Home // Pinterest // Bloglovin' // Google+ // Facebook // Twitter
Mama Dish // Pinterest // Twitter // Google+ // Bloglovin' // Facebook
The Newlywed Pilgrimage // Pinterest // Google+ // Bloglovin' // Facebook
The Best of this Life // Pinterest // Google + // Facebook // Twitter // Bloglovin'
We can't wait to see what amazing creations YOU have been working on this week! This link party is a great opportunity for bloggers to network with one another, so please take a peek at our party guidelines. We're so happy to have you here and honored to have you following along with us via some of the links above!
Here are our five featured picks from the talented bloggers who linked up last week. Congratulations, ladies! If you were featured, feel free to grab your featured button!

Home Office Makeover >>> Just a Girl and Her Blog
Flying Inspired Bedroom >>> Bohemian Junktion
Patterned Dot Wall >>> Taylor Made
Laundry Room Makeover >>> My Love 2 Create
Board & Batten >>> The Turquoise Home
To provide maximum exposure for our winners, we pin all featured party picks to our group Features Pinterest Board. Feel free to visit these blogs to pin these wonderful features as well!
Now let's get on with the party!!!

0