Happy Wednesday, and welcome back to Moonlight & Mason Jars, friends! We just love having you party with us each week. 🙂
Thanks to everyone who helped me celebrate my 1st blogiversary last week by sharing your sweet messages and supportive words, and by participating in the big giveaway. Check HERE to see if you were the lucky winner of the $400 Amazon gift card! Y'all are the best…I certainly felt the bloggy love!
Well, my boys have been out of school for a week and a half now and I must say…we've settled into the laid-back summertime routine quite nicely! While there are certainly a few challenging moments for Mama with all three kids home 24/7, we've also been able to do a couple of fun things so far. But the best part of all? No having to get out of the house at an unreasonably early hour (most days), and no having to pack school lunches every night (can I hear a hallelujah?)! So how is your June going so far?
Every Wednesday at 5:00 p.m. CST, we have a party where bloggers are invited to link up some of their latest recipes, crafts, DIY projects, and seasonal fun…and readers get to check out all of that talent in one place! That makes this a great place to find great new ideas and inspiration.
Thank you again for stopping by…it's time to party!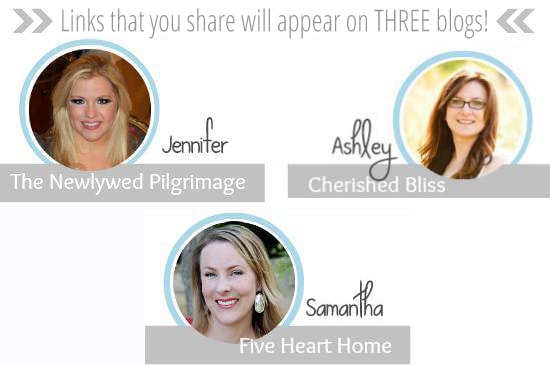 The Newlywed Pilgrimage // Pinterest // Google+ // Twitter // Facebook // Bloglovin'
Cherished Bliss // Pinterest // Google+ // Twitter // Facebook // Bloglovin'
Five Heart Home // Pinterest // Google+ // Twitter // Facebook // Bloglovin'

DIY World's Greatest Dad Shadowbox >>> Little Miss Celebration
How to Make Golf Ball Cake Pops >>> Pint Sized Baker
Spicy Chipotle BBQ Sauce | Father's Day Awesomesauce >>> Giggles Galore
Father's Day Sharpie Mug Craft >>> I Heart Arts N Crafts
Heart Tattoo Beanie | Free Pattern >>> Chaos and Love
To provide maximum exposure for our winners, we pin all featured party picks to our group Features Pinterest Board. Feel free to visit these blogs to pin these wonderful features as well!
Now let's get on with the party!!!
0