Welcome to the Moonlight & Mason Jars Link Party! We're so happy to have you stop by to share your talent…or to simply check out a bunch of awesome links in one place!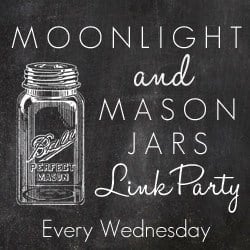 Well, we're in week #2 of back-to-school and the boys seem to be hitting their strides. The enthusiasm of the first few days has made way for a bit of fatigue, but everyone is holding it together so far. I just left the school after eating lunch with them and the PreK-er is apparently already charming the ladies (a tiny, tow-headed little girl announced to me that she was coming to our house this afternoon for a playdate), while the 2nd grader was excited to see me (or maybe he was just excited to see the Chic-Fil-A?) and then proceeded to ignore me/talk to his friends for the entire lunchtime. It appears they get too cool for their parents at an early age, huh? Speaking of age, we celebrated the big boy's birthday this past weekend…and someone else I know (cough, cough) might possibly have a birthday coming up this Friday. But the nice thing about having a birthday sandwiched between two of my children's is that between their celebrations, I don't have much time to think about getting a year older myself. 😉
Moonlight & Mason Jars is a weekly party where bloggers are invited to link up some of their latest recipes, crafts, DIY projects, and seasonal fun (to be simultaneously seen on FIVE BLOGS)…and readers get to check out all of that talent in one place! That makes this a great place to find great new ideas and inspiration. The party goes live at 10:00 p.m. CST every Tuesday night and is open through the week for your link-up (or link-browsing) convenience. 🙂
Thank you again for stopping by…it's time to party!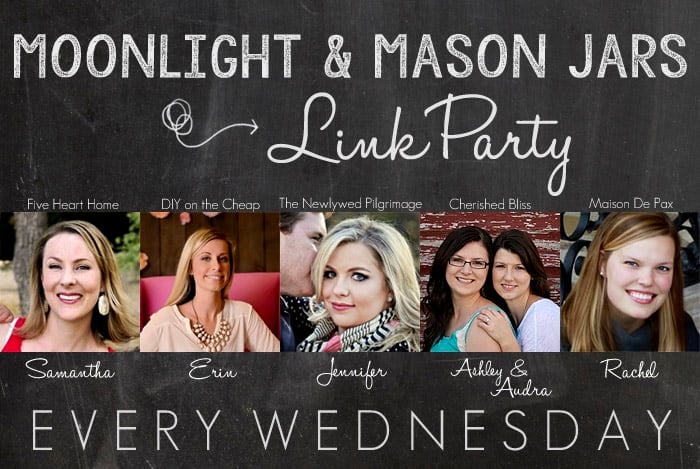 Five Heart Home | Pinterest | Google+ | Twitter | Facebook | Subscribe
DIY on the Cheap | Pinterest | Google +| Twitter | Facebook | Subscribe
The Newlywed Pilgrimage | Pinterest | Google+ | Twitter | Facebook | Subscribe
Cherished Bliss | Pinterest | Google+ | Twitter | Facebook | Subscribe
Maison De Pax | Pinterest | Google +| Twitter | Facebook | Subscribe
This week's five fabulous features…
(From the top)
Skillet Upside Down Apple Spice Cake | Little Miss Celebration
Baked Apple Cinnamon Donuts | The Seasoned Mom
Carmel Apple Pie | PicNic
Amish Apple Goodie | Tastes of Lizzy T's
Honey Caramel Apple Bundt Cake | Baking in Pyjamas
To provide maximum exposure for our winners, we pin all featured party picks to our group Features Pinterest Board. Feel free to visit these blogs to pin these wonderful features as well!
Now let's get on with the party!!!
0