Welcome back to the Moonlight & Mason Jars link party, friends!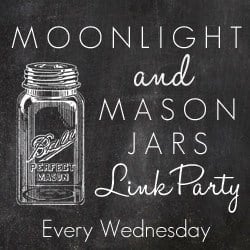 Hope you're all enjoying your mid-Octobers! Hard to believe that Halloween is right around the corner (and did you see the awesome Halloween blog hop we participated in last week?!). Until then, however, we've been staying busy! Last week I had the privilege of attending field trips with both my 2nd grader and my Pre-K'er. This past weekend, we all headed back to our college alma mater for a football game…and while the game didn't exactly result in the outcome we had hoped for, it was a fun trip anyway. This week we've got another family birthday on the horizon…the middle child is turning 5 tomorrow! His little sister helped me bake his birthday cake this morning, which resulted in spilled flour and a sneeze in the cake batter, but I'm sure the birthday boy will enjoy it nonetheless. 😉
Before we get on with the party, I wanted to make sure you had a chance to enter our latest giveaway! There are four cash prizes totaling over $1000…it takes just a minute to enter, and just think of all the things you could do with that kind of moola, especially leading up to the holidays!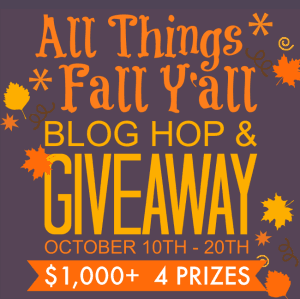 Moonlight & Mason Jars is a weekly party where bloggers are invited to link up some of their latest recipes, crafts, DIY projects, and seasonal fun (to be simultaneously seen on FIVE BLOGS)…and readers get to check out all of that talent in one place! That makes this a great place to find great new ideas and inspiration. The party goes live at 10:00 p.m. CST every Tuesday night and is open through the week for your link-up (or link-browsing) convenience. 🙂 Thank you again for stopping by…it's time to party!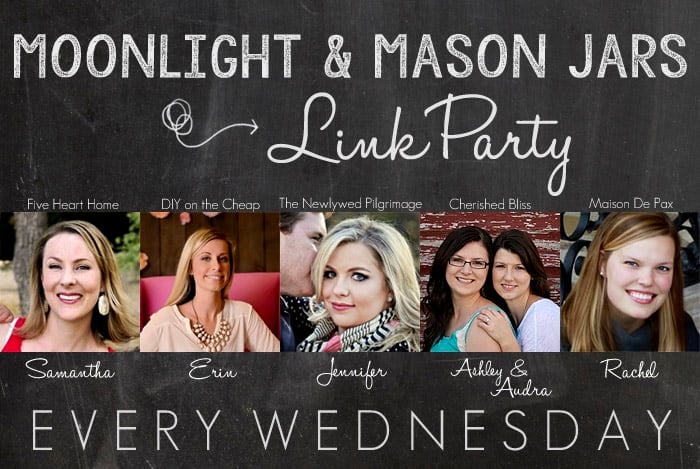 Five Heart Home | Pinterest | Google+ | Twitter | Facebook | Subscribe
DIY on the Cheap | Pinterest | Google +| Twitter | Facebook | Subscribe
The Newlywed Pilgrimage | Pinterest | Google+ | Twitter | Facebook | Subscribe
Cherished Bliss | Pinterest | Google+ | Twitter | Facebook | Subscribe
Maison De Pax | Pinterest | Google +| Twitter | Facebook | Subscribe
This week's five fabulous features…
Solar Light Jack-O-Lantern — Bitz & Giggles
Fall Subway Art Pumpkin — Canary Street Crafts
Hocus Pocus Ode to Binx Wreath — Little Miss Celebration
2×4 Black Cat Trio — Our Peaceful Planet
DIY Mini Candy Corn Tassel Garland — Curly Crafty Mom
To provide maximum exposure for our winners, we pin all featured party picks to our group Features Pinterest Board. Feel free to visit these blogs to pin these wonderful features as well!
Now let's get on with the party!!!
0