Welcome to Moonlight & Mason Jars, everyone…hope this finds you staying warm!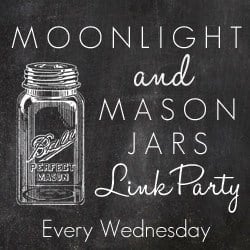 So I've been hearing all about how some parts of the country are already experiencing freezing temperatures and snow…which made me feel like a big ol' wimp today when I was shivering-to-the-point-of-teeth-chattering along with a classful of PreK-ers, teachers, and parents on a field trip to the farm. The temp was lingering in the 40s with really high winds, and these Texans are just not equipped for that type of weather…at least not quite yet in November! Don't laugh at me, northerners, but the rest of this week, I plan to keep my little tail indoors where it's warm with no windchill.
I've been working on lots of Thanksgiving recipes for y'all this past week and I have more in store! In fact, you don't want to miss tomorrow when I'll be co-hosting an AWESOME Thanksgiving Menu Blog Hop along with a couple dozen of your favorite bloggers! We are all sharing our favorite holiday dishes for a full Thanksgiving menu of delicious recipes, from main dishes to sides to desserts…and don't forget the pie! So be sure to stop back by on Wednesday, November 12th at 8:00 a.m. sharp for a fun time and lots of Thanksgiving recipe inspiration!
Oh, and before we get on with the party, time is almost up on our current $1000 Black Friday Shopping Spree Giveaway for a chance to win some big bucks before the holidays…so hurry over and ENTER HERE! And we also have a fun giveaway/contest running right now where you have a chance to name and win a gorgeous apron from Scarlet Threads' new product line! Scarlet Threads sells ethically-produced, boutique-quality goods, handmade by artisans in a small village in China. When you purchase one of their beautiful products, an artisan gains economic empowerment to provide for her family. So what would you name the beauty below? Scroll down to the bottom of this post to learn more and enter the contest!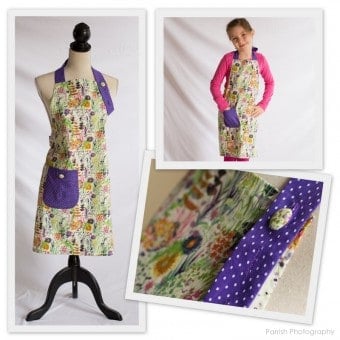 Moonlight & Mason Jars is a weekly party where bloggers are invited to link up some of their latest recipes, crafts, DIY projects, and seasonal fun (to be simultaneously seen on FIVE BLOGS)…and readers get to check out all of that talent in one place! That makes this a great place to find great new ideas and inspiration. The party goes live at 10:00 p.m. CST every Tuesday night and is open through the week for your link-up (or link-browsing) convenience. 🙂 Thank you again for stopping by…it's time to party!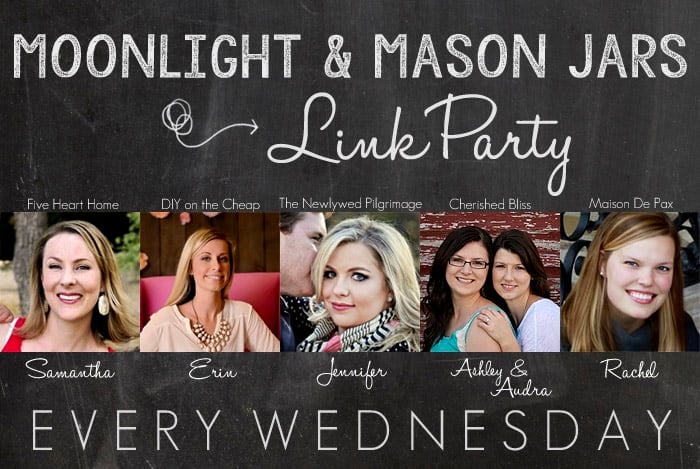 Five Heart Home | Pinterest | Google+ | Twitter | Facebook | Subscribe
DIY on the Cheap | Pinterest | Google +| Twitter | Facebook | Subscribe
Modern Pilgrim | Pinterest | Google+ | Twitter | Facebook | Subscribe
Cherished Bliss | Pinterest | Google+ | Twitter | Facebook | Subscribe
Maison De Pax | Pinterest | Google +| Twitter | Facebook | Subscribe
This week's five fabulous features…
Thanksgiving is just around the corner, so be sure to try these delicious fall recipes!
Butternut Squash Salad with Candied Nuts from The Seasoned Mom
Goat Milk Caramel from The Dieter's Downfall
Pumpkin Spice Truffles by Kleinworth and Co.
 Healthy Apple Almond Butter Muffins by Luv a Bargain
 Sweet Potato Puff by Little Miss Celebration

To provide maximum exposure for our winners, we pin all featured party picks to our group Features Pinterest Board. Feel free to visit these blogs to pin these wonderful features as well!
Now let's get on with the party!!!
0