Happy New Year and welcome back to the Moonlight & Mason Jars Link Party…we've missed y'all!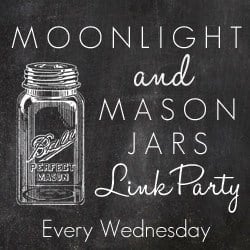 So how was everyone's holiday season? I hope your 2015 is off to a fantastic start! We had a fun, relaxing Christmas with no major rushing around this year…which was blissful. My brother and his family were home for the holidays, so we were able to squeeze in some nice visits. It was great to have a break and to have the boys home from school for a couple of weeks, but by the end, I have to admit that I was itching for the return of some structure! Do I enjoy getting up so early in the morning once again? Noooo…but it is nice to get back into a routine and start tackling some of organizational projects that have needed to get done around here for so long. And there's no better time to get organized than a fresh new year, right? 😉
One of my favorite parts of the new year is looking back at last year's posts and seeing which ones were the most popular! In case you missed it, I had lots of fun putting together my Top 20 Recipes of 2014…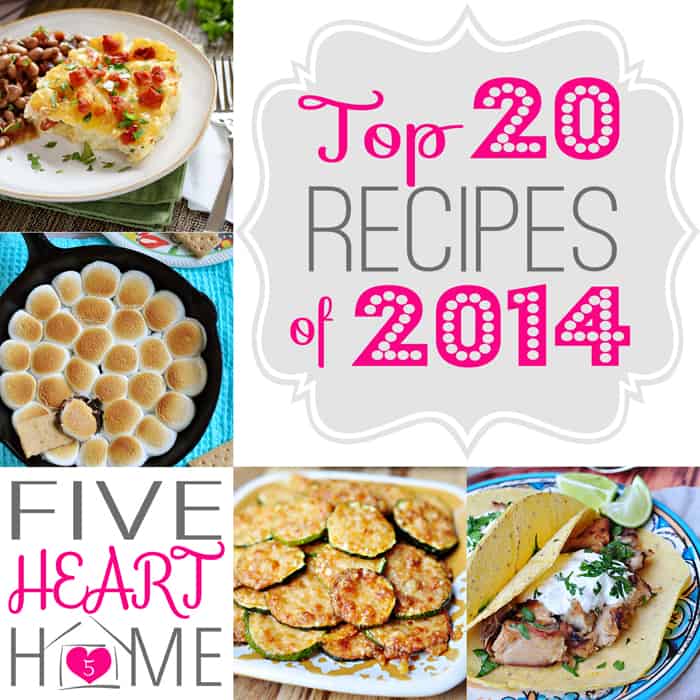 Moonlight & Mason Jars is a weekly party where bloggers are invited to link up some of their latest recipes, crafts, DIY projects, and seasonal fun (to be simultaneously seen on FIVE BLOGS)…and readers get to check out all of that talent in one place! That makes this a great place to find great new ideas and inspiration. The party goes live at 10:00 p.m. CST every Tuesday night and is open through the week for your link-up (or link-browsing) convenience. 🙂 Thank you again for stopping by…it's time to party!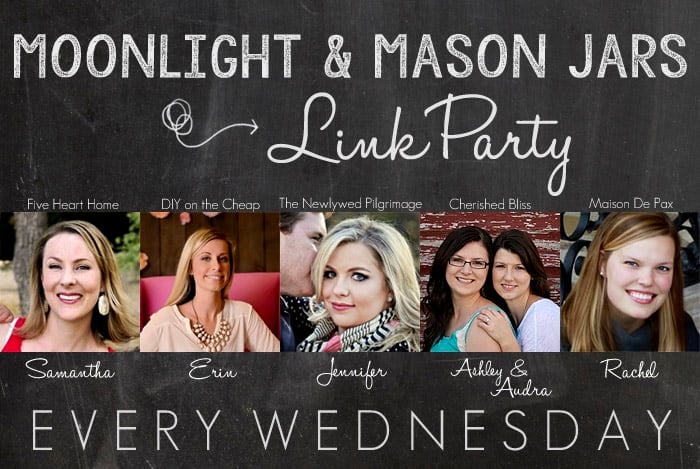 Five Heart Home | Pinterest | Google+ | Twitter | Facebook | Subscribe
DIY on the Cheap | Pinterest | Google +| Twitter | Facebook | Subscribe
Modern Pilgrim | Pinterest | Google+ | Twitter | Facebook | Subscribe
Cherished Bliss | Pinterest | Google+ | Twitter | Facebook | Subscribe
Maison De Pax | Pinterest | Google +| Twitter | Facebook | Subscribe
This week's five fabulous features…
Dipped Honey Comb Candy — Life with the Crust Cut Off
Dark Chocolate Shortbread — Oh Mrs. Tucker
Cherry Coke Cupcakes — Home. Made. Interest.
Chocolate Brownie Trifle in a Jar — Summer Scraps
Chocolate Covered Oreo Balls — Luv a Bargain
To provide maximum exposure for our winners, we pin all featured party picks to our group Features Pinterest Board. Feel free to visit these blogs to pin these wonderful features as well!
Now let's get on with the party!!!
* * * * * * * * * *
Let's stay in touch!
Facebook | Google+ | Pinterest | Twitter | Instagram | Bloglovin'
Sign up to have new blog posts sent to your inbox!
I always love hearing from you! ~ samantha {at} five heart home {dot} com
0