Welcome back to Moonlight & Mason Jars, friends…so happy to have you join us!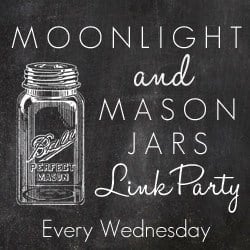 So how was your Valentine's Day? Ours was nice aside from the fact that I woke up on V-Day with massive congestion and absolutely no voice. Is it spring yet??? But the highlight of last week was definitely the toddler child's first set of pigtails. I have to say…these girly milestones are kinda' fun after two boys. 😉
Oh, and Happy Fat Tuesday! Hard to believe that Easter is just around the corner. I'm still finalizing in my head what I'm going to be giving up for Lent (guess I better hurry!), but I do know that I'm going to participate in this de-cluttering challenge this year, which conveniently takes place over the next 40 days. Clearing out the junk has been on my to-do list for a long time, so I'm hoping that doing so in the context of this project will give me some extra motivation! Anyone care to join me? It might help if I had someone to hold me accountable… 😉
Moonlight & Mason Jars is a weekly party where bloggers are invited to link up some of their latest recipes, crafts, DIY projects, and seasonal fun (to be simultaneously seen on FIVE BLOGS)…and readers get to check out all of that talent in one place! That makes this a great place to find great new ideas and inspiration. The party goes live at 10:00 p.m. CST every Tuesday night and is open through the week for your link-up (or link-browsing) convenience. 🙂 Thank you again for stopping by…it's time to party!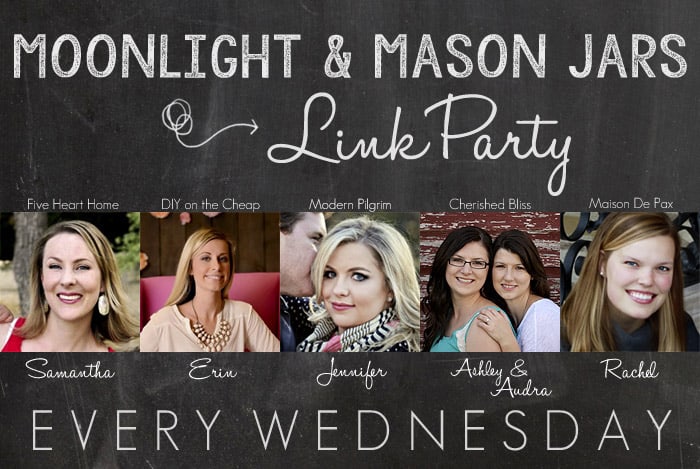 Five Heart Home | Pinterest | Google+ | Twitter | Facebook | Subscribe
DIY on the Cheap | Pinterest | Google +| Twitter | Facebook | Subscribe
Modern Pilgrim | Pinterest | Google+ | Twitter | Facebook | Subscribe
Cherished Bliss | Pinterest | Google+ | Twitter | Facebook | Subscribe
Maison De Pax | Pinterest | Google +| Twitter | Facebook | Subscribe
This week's five fabulous features…
Ready for a little treat? Don't miss these amazing cupcake recipes!
Reese's Peanut Buttercream by Mommy in Sports

White Chocolate Strawberry Buttercream by The Bewitchin' Kitchen

Pomegranate Lemon Cupcakes by Lou Lou Girls

Coconut Cupcakes with Chocolate Peanut Butter Lentil Buttercream by Swirls and Spice

Cream Filled Chocolate Cupcakes by Creations by Kara

To provide maximum exposure for our winners, we pin all featured party picks to our group Features Pinterest Board. Feel free to visit these blogs to pin these wonderful features as well!
Now let's get on with the party!!!
* * * * * * * * * *
Let's stay in touch!
Facebook | Google+ | Pinterest | Twitter | Instagram | Bloglovin'
Sign up to have new blog posts sent to your inbox!
I always love hearing from you! ~ samantha {at} five heart home {dot} com
0