Happy Monday, friends…I hope you all had a wonderful Easter weekend! My posting may be a little sporadic this week as I head to SNAP conference, but I'm very excited to announce three days of BIG giveaways for you!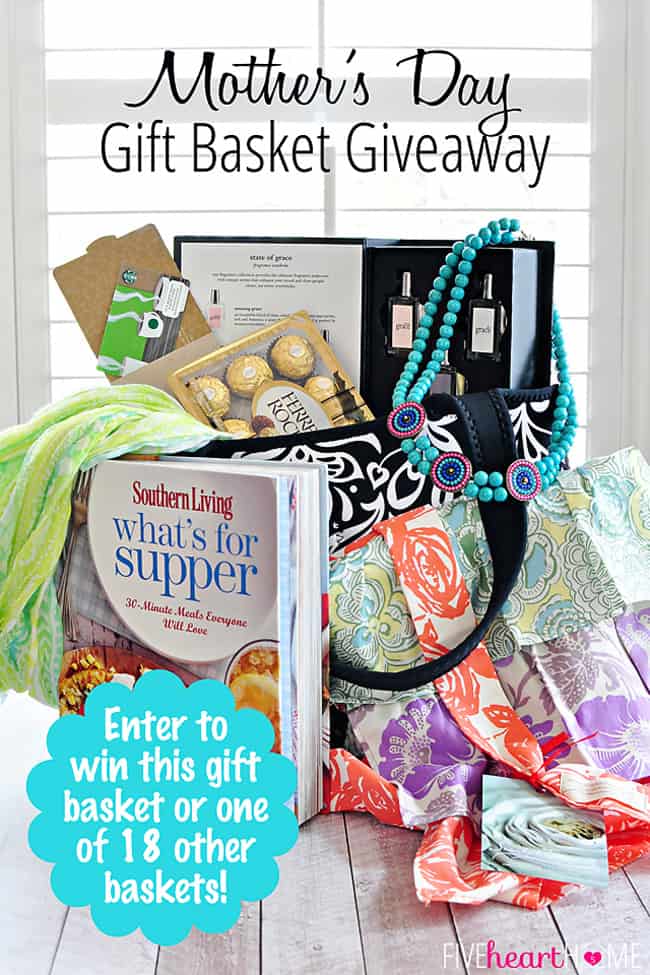 Up first, some awesome treats for Mother's Day!
I had so much fun creating this gift basket full of mom-appealing, "wish list" items (over $190 value!). Whoever wins it may elect to keep it herself or use it as a Mother's Day gift for a beloved mother, mother-in-law, grandmother, sister, friend…or really any special lady in your life, whether she's a mom or not.
But wait…there's more! Would you like to know the really exciting part???

MY LATEST VIDEOS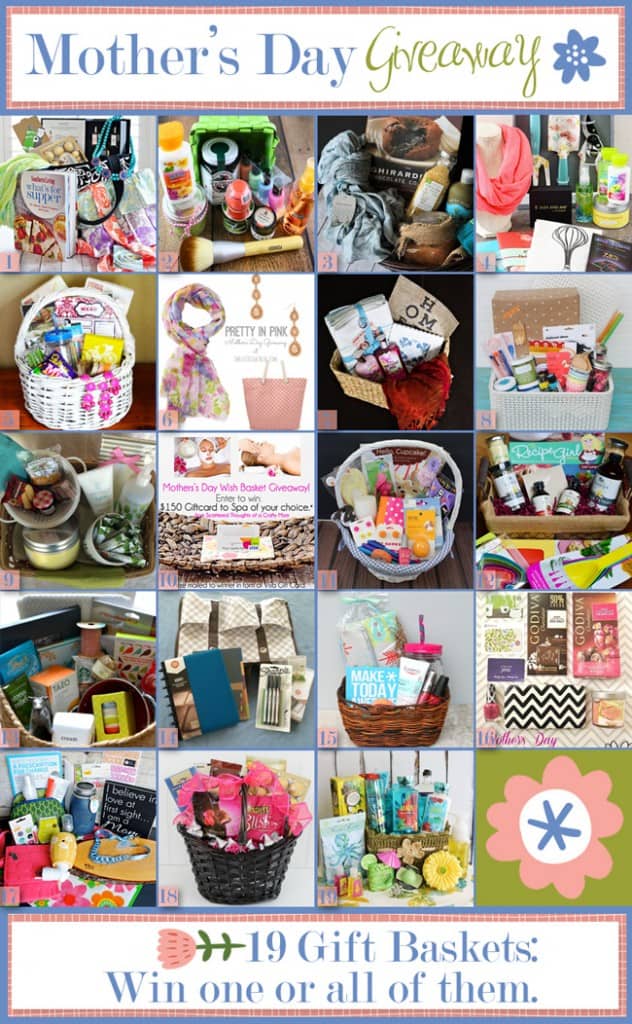 I've gotten together with 18 other fabulous bloggers for this giveaway and they've all put together Mother's Day-themed gift baskets, too! So after you enter for a chance to win the Five Heart Home gift basket, hop over to some (or all!) of the other blogs listed below to view the items and enter the giveaways for those baskets!
There's a little bit of everything included across these baskets, with each collection personally and lovingly assembled by one of the participating bloggers. Whether you're drawn to pampering goodies, edible treats, cute accessories, kitchen gadgets, crafting supplies, home decor items, tote bags, gift cards, and more, there's something for everyone! Simply view the above graphic to decide which baskets you'd like to check out…and then click on the link below for the corresponding blog.

Click to enter each of the basket giveaways you see above:

These are all goodies that I would be thrilled to win for myself or as a gift! Some of these items are my personal favorite things, and some of them were inspired by gifts that I know my own mom would love to receive.
First off, should you win this giveaway, you'll get this cute, easy-care tote bag! It's made of machine washable neoprene with a fun hot pink interior that boasts large pockets, and it would be ideal for a variety of uses, from diaper bag to beach bag to gym bag.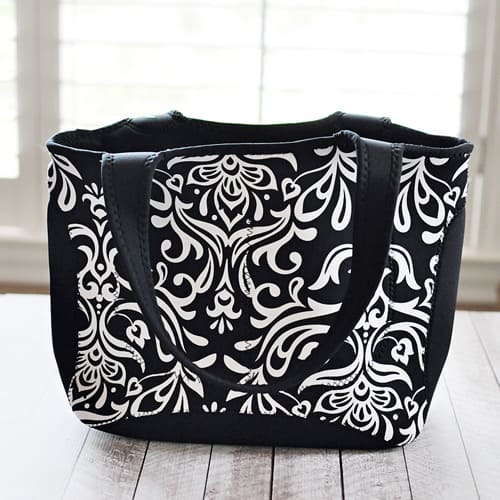 You're visiting a food blog, so I assume you have at least a slight interest in cooking, no? 😉 Well, this is one of my favorite cookbooks for easy meals to whip up on busy weeknights…and better yet, everybody will love these recipes! You simply can't go wrong with a Southern Living cookbook, folks.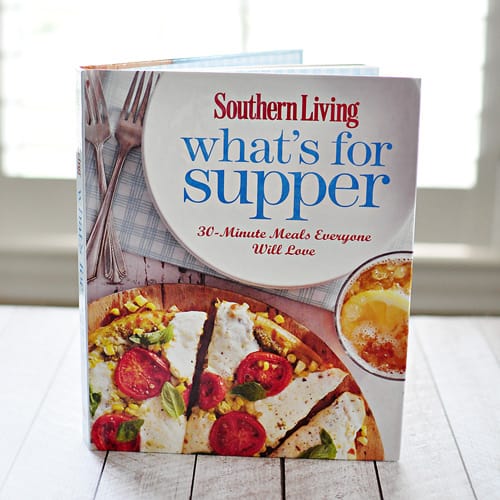 And if you're going to cook, why not look cute doing it? This adorable, handmade, ruffled apron is courtesy of our friends over at Scarlet Threads. You may have seen my previous post introducing this wonderful company, which sells ethically-produced, boutique-quality goods, handmade by artisans in a small village in China. So you get to wear a beautiful apron, and an artisan gains economic empowerment to provide for her family…that's what I call a win-win!
EDITED TO ADD: Due to all of the positive comments about the Priscilla apron included in this giveaway, Scarlet Threads is now offering 20% off any order of $30 or more by using the code giveaway (through May 10th)! There are only 11 Priscilla aprons left in stock, so hurry up and snag one if you're interested in treating yourself to this cuteness or giving one as a gift! Check out or purchase Scarlet Threads' aprons and other lovely products HERE, and be sure to click on the shopping cart when you're ready to enter your coupon code!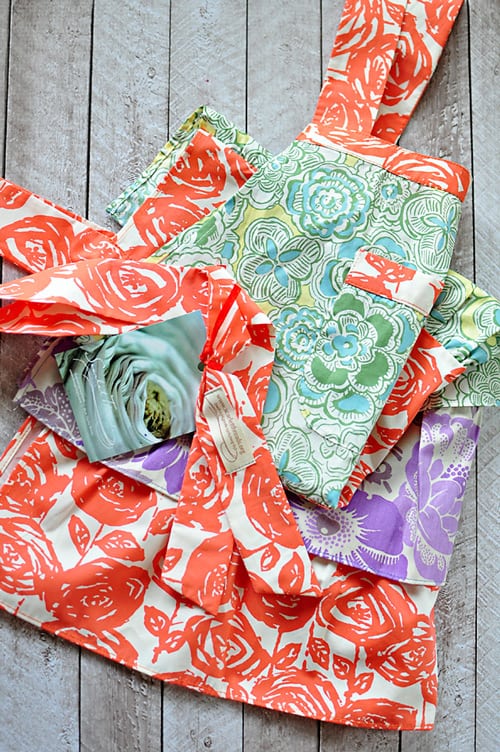 When Mom is not in the kitchen sporting a sassy apron, another way to look fabulous is with a gorgeous, custom, handmade necklace from EllaBead! EllaBead started out as a mother/toddler collaboration, making too-cute-for-words little girl necklaces using big, chunky beads. Lucky for us, the venture has now expanded into adult jewelry as well. This necklace would be the perfect way to dress up a t-shirt and jeans, because busy moms like to look put together even when they're wearing something comfy, right?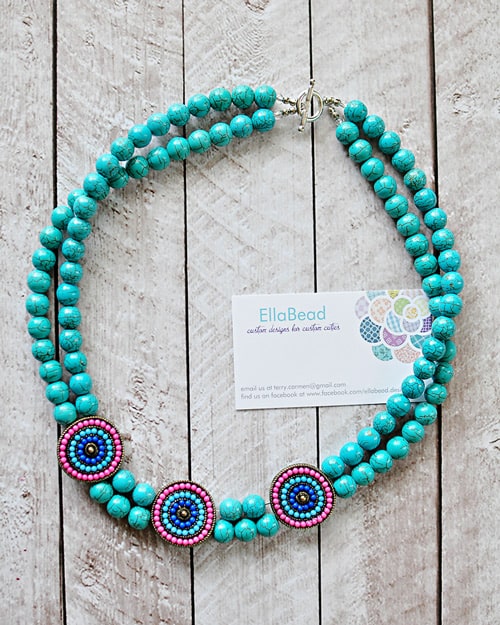 And while we're on the topic of fashion, don't you just love this lightweight infinity scarf in spring-y shades of green? Because the only accessory that's as much fun as a necklace is a scarf!
So we've already established that you want to look good…how about smelling good as well? This fragrance set from Philosophy lets you choose the scent that fits your mood on any particular day…which beats Eau de Baby Spit-Up hands down, am I right? 😉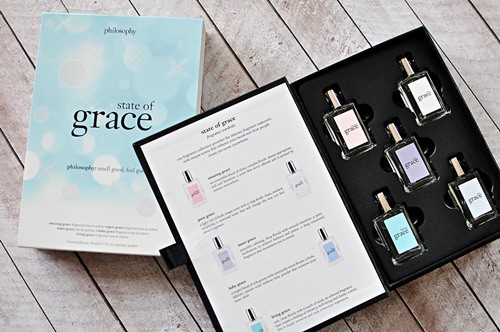 And finally, what's a Mother's Day treat if it doesn't involve a little chocolate? Ferrero Rocher happens to be my Mama's favorite kind of chocolate, so this gift basket item is a homage to her. And since I can't mail you a cup o' joe to wash down your chocolate, there's a little Starbucks gift card included, too!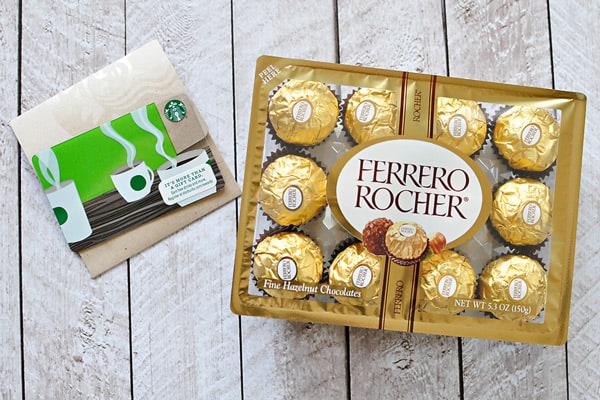 Well what are you waiting for?! Enter to win this gift basket using the Rafflecopter below, and then hop on over to the other participating blogs to enter the giveaways for their gift baskets, too!
Remember…it's up to you how many Rafflecopter entries you would like to submit, from one of them to all of them. But if you happen to already follow one of the social medias listed, be sure you click on it and get credit for it!
The giveaway has now ended.
Congratulations to our winner, Lisa L.!
Don't forget that we have another awesome giveaway going on right now for a Kindle Fire HDX! Enter HERE!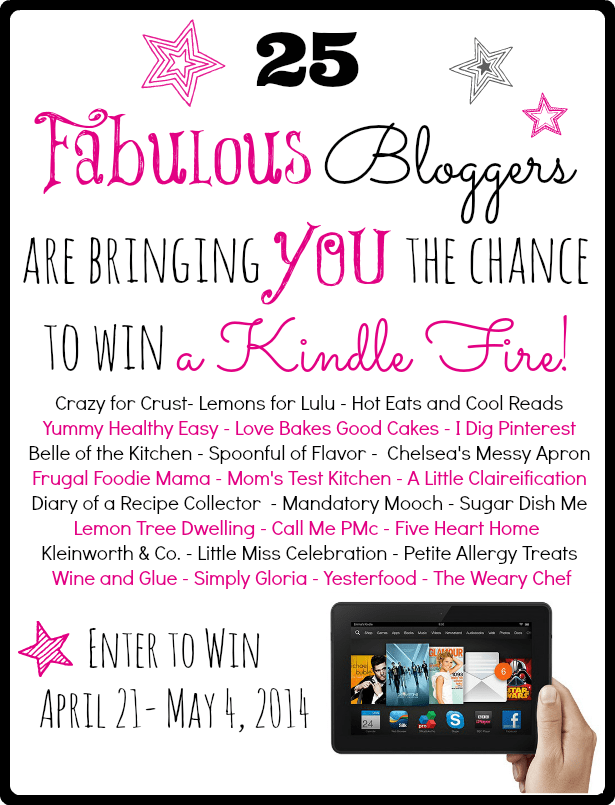 AND click here for your chance to win a $100 Target gift card!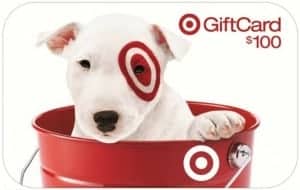 This giveaway is sponsored by Five Heart Home,
in collaboration with EllaBead and Scarlet Threads.
EllaBead provided the necklace.
Scarlet Threads provided the apron and is also an affiliate link.
All opinions expressed are my own.
0