Warm, soft Mozzarella Bubble Biscuits are refrigerated biscuits jazzed up with gooey, cheesy centers, a dollop of marinara, and a sprinkling of Parmesan. They make a perfect party appetizer, kid-friendly snack, or delicious accompaniment to an Italian meal!

Y'all might not know this about me at this early stage in our relationship, but I could pretty much subsist on carbs and cheese alone. My affinity for tortillas and queso is already well-documented. And I would rather eat warm-from-the-oven homemade bread slathered with butter than caviar-topped truffles spread with foie gras.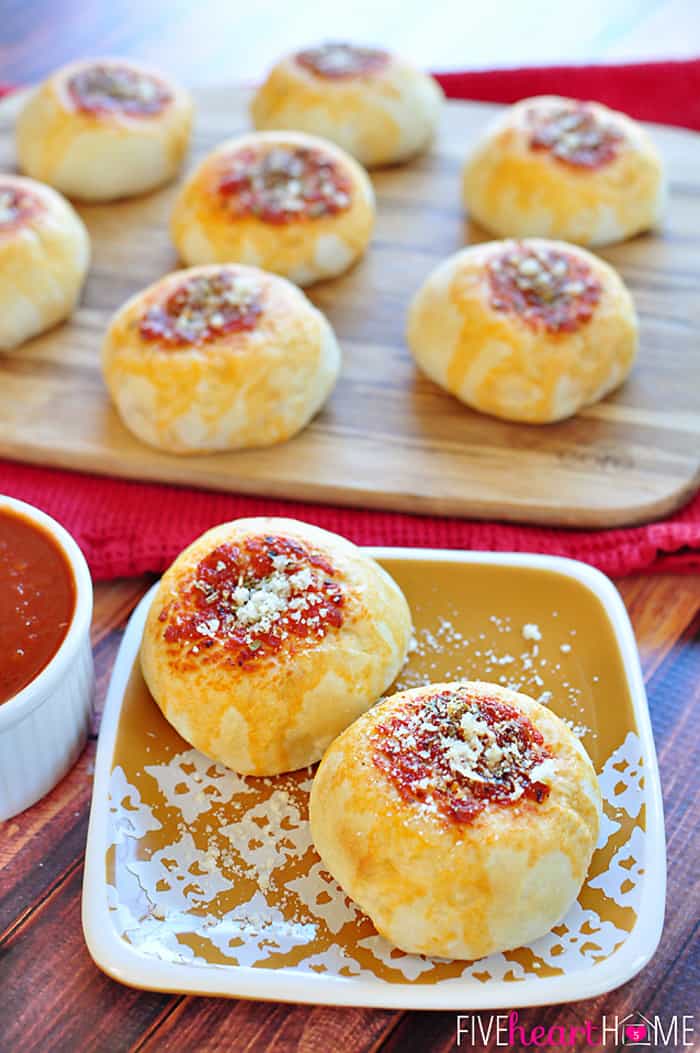 So it should come as no surprise that the recipe I'm sharing today — featuring tender biscuits enveloping a center of melted mozzarella and flavored with savory marinara and Parm on top — are essentially culinary euphoria as far as I'm concerned.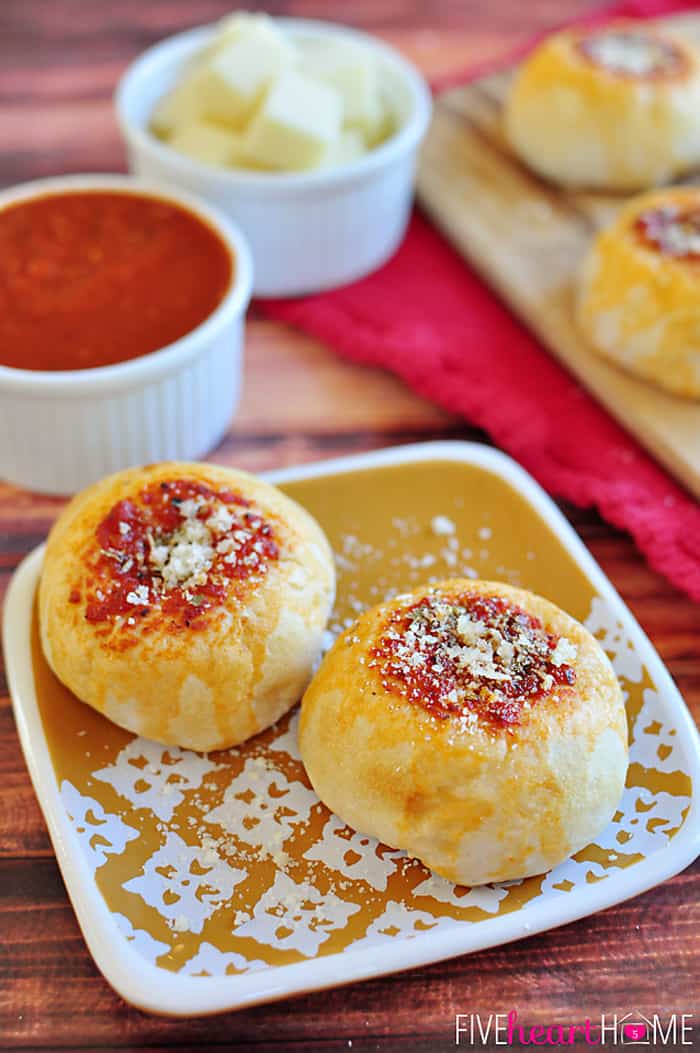 Now for confession time: As much as I try to bake from scratch most of the time, I just can't give up refrigerated biscuits! They are simply too easy and too tasty, and they can be magically morphed into so many different recipes. Fortunately, even if you avoid certain processed ingredients, you can buy natural/organic varieties of biscuits these days that will work just perfectly in these Mozzarella Bubble Biscuits. Or use your favorite brand! Just pay attention to the size of your biscuits and if you are using the super jumbo variety, cut them in half before proceeding with the directions.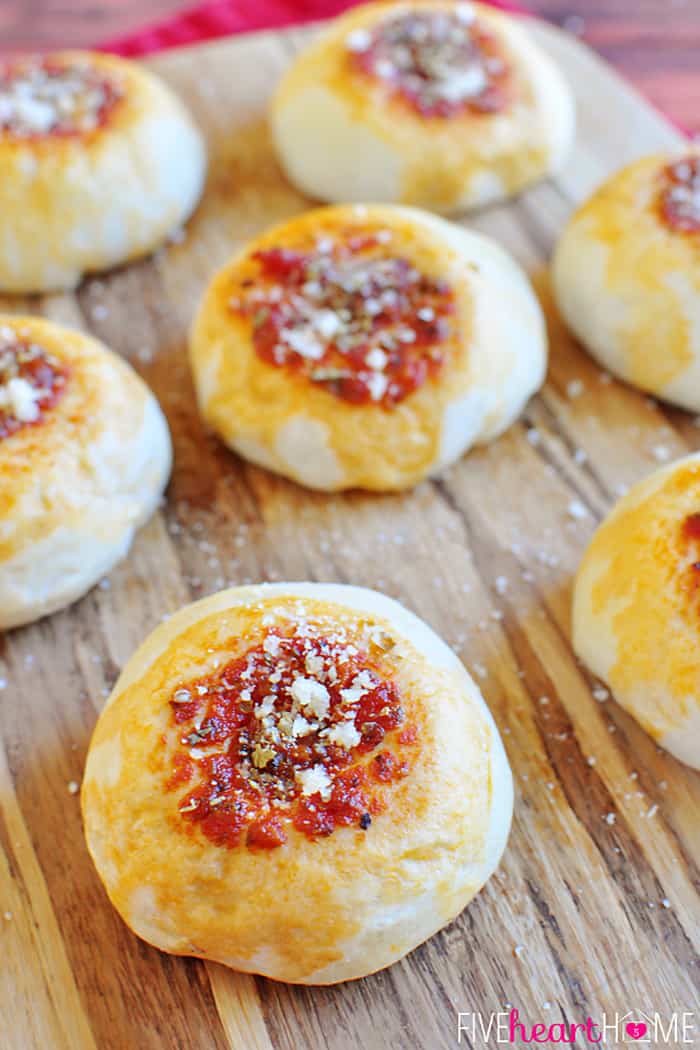 This recipe only involves a few additional steps beyond cracking open your can of refrigerated biscuits, and the results are so much tastier! All it requires is to sprinkle each biscuit with a bit of dried oregano before wrapping around a cube of mozzarella cheese. Pinch to seal, place seam-side down on a baking sheet, and top with your favorite marinara/spaghetti sauce/pizza sauce (jarred or homemade).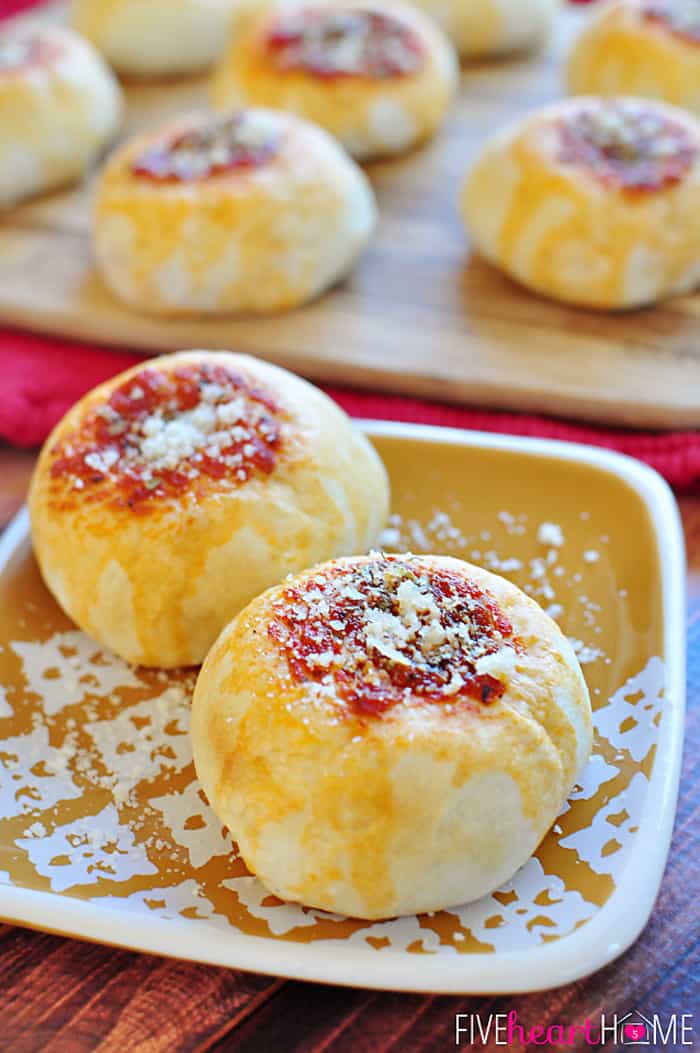 In a flash, you'll have puffy, golden biscuits with oozing interiors of melted mozzarella and a saucy topping. I typically like to finish off my biscuits with a sprinkle of Parmesan for even more flavor, because if one type of cheese is good, two types are great…am I right? 😉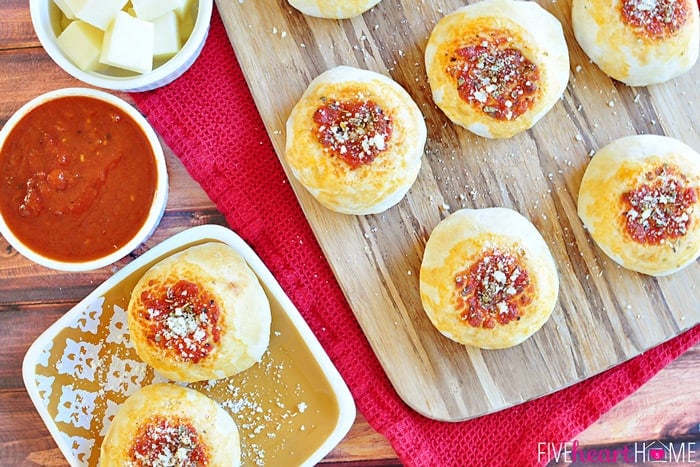 These little bubble biscuits are perfectly delicious with spaghetti, lasagna, or your favorite Italian entree. But they are also scrumptious as a stand-alone appetizer, with a side of warm marinara sauce. Or if you have kiddos in the house, these even make a great after-school snack! There's no arguing with a recipe that can serve so many different purposes.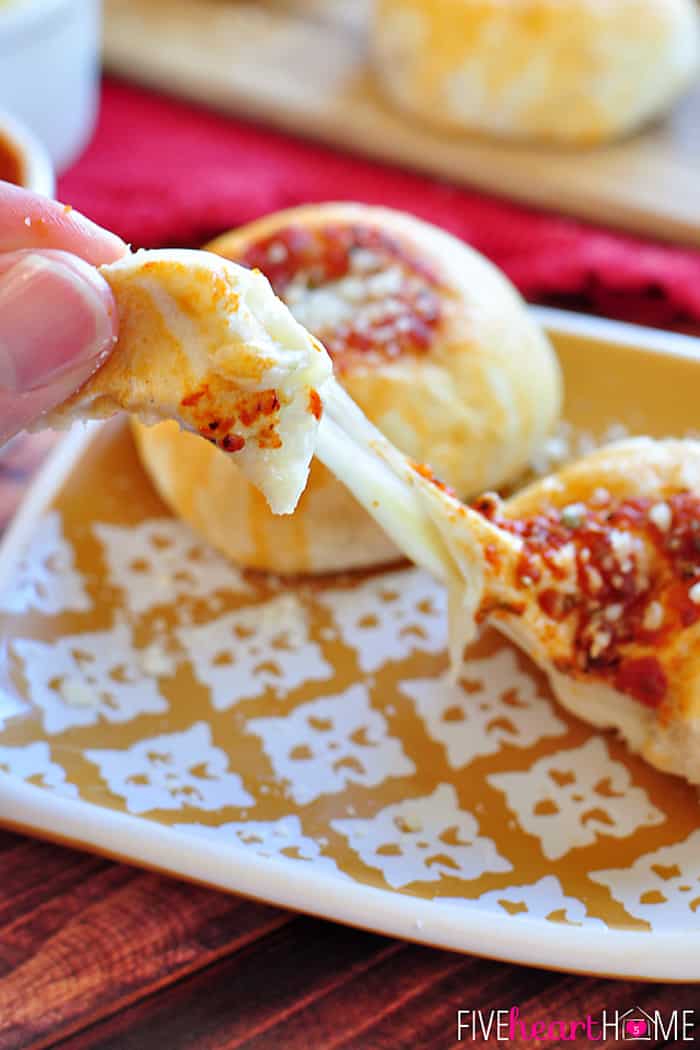 So the next time you're craving Italian, or you need an app to take to a party, or you want to surprise your offspring with a snack that's a bit out of the ordinary, I encourage you to give these Mozzarella Bubble Biscuits a try! They come together in no time and they are indescribably delicious…especially if you are someone who would be happy subsisting on a diet of bread and cheese. Not that I know anyone like that. 😉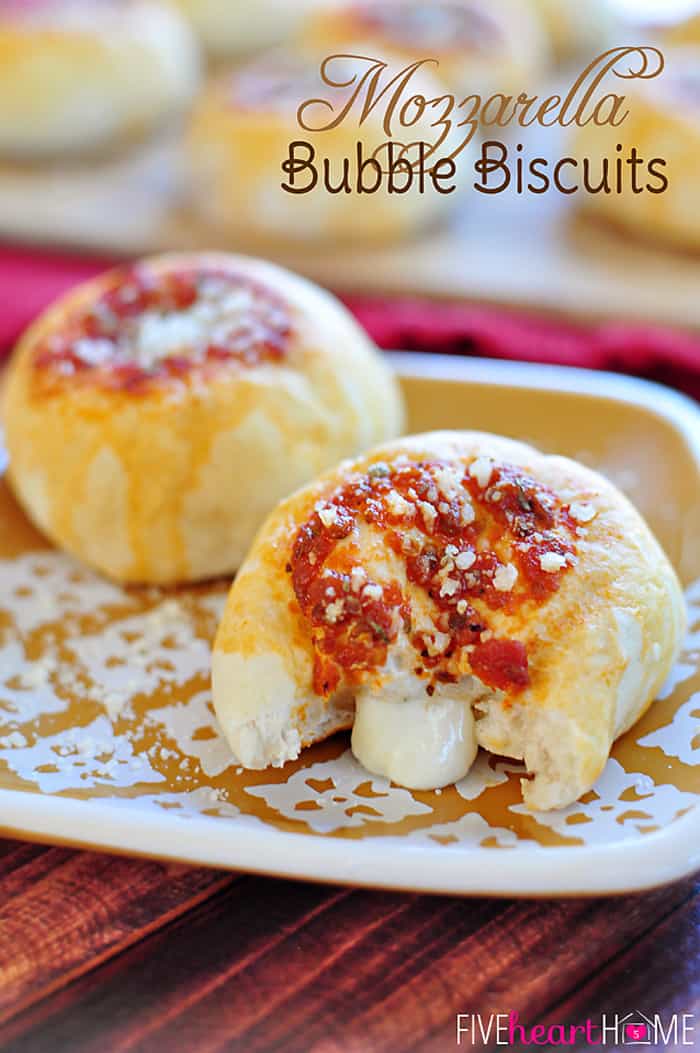 Mozzarella Bubble Biscuits
Warm, soft Mozzarella Bubble Biscuits -- with their gooey, cheesy centers, dollop of marinara, and sprinkling of Parmesan -- make a perfect party appetizer, kid-friendly snack, or delicious accompaniment to an Italian meal!
Ingredients
1 can (7 to 8 ounces) refrigerated buttermilk biscuits
1 teaspoon dried oregano
3 ounces mozzarella cheese, cut into ten 3/4" cubes
2 tablespoons marinara, spaghetti sauce, or pizza sauce
Grated Parmesan cheese
Instructions
Preheat oven to 375°F.
Slightly flatten a biscuit and sprinkle with a pinch of oregano. Lay a cube of mozzarella in center and carefully fold biscuit around cheese, pinching to seal. Place seam-side down on an ungreased or parchment paper-lined baking sheet. Top with a dollop of spaghetti sauce. Repeat with remaining biscuits, placing them at least an inch apart on the pan.
Bake for 10 to 12 minutes or until golden brown. Sprinkle with Parmesan and serve warm.
Notes
If you use a 14 to 16-ounce can of jumbo biscuits, cut each biscuit in half before shaping, flattening, and proceeding with recipe. You may have to cut additional cheese cubes and use a bit more oregano and sauce to compensate for additional biscuit halves.
https://www.fivehearthome.com/mozzarella-bubble-biscuits/
https://www.fivehearthome.com ~ All recipes and images on Five Heart Home are copyright protected. Please do not use without my permission. If you would like to feature this recipe, please rewrite the directions in your own words and give proper attribution by linking back to this blog.
Recipe originally posted at Or So She Says on May 20, 2014.
Yummy meal ideas to accompany your biscuits…
Easy Italian Baked Chicken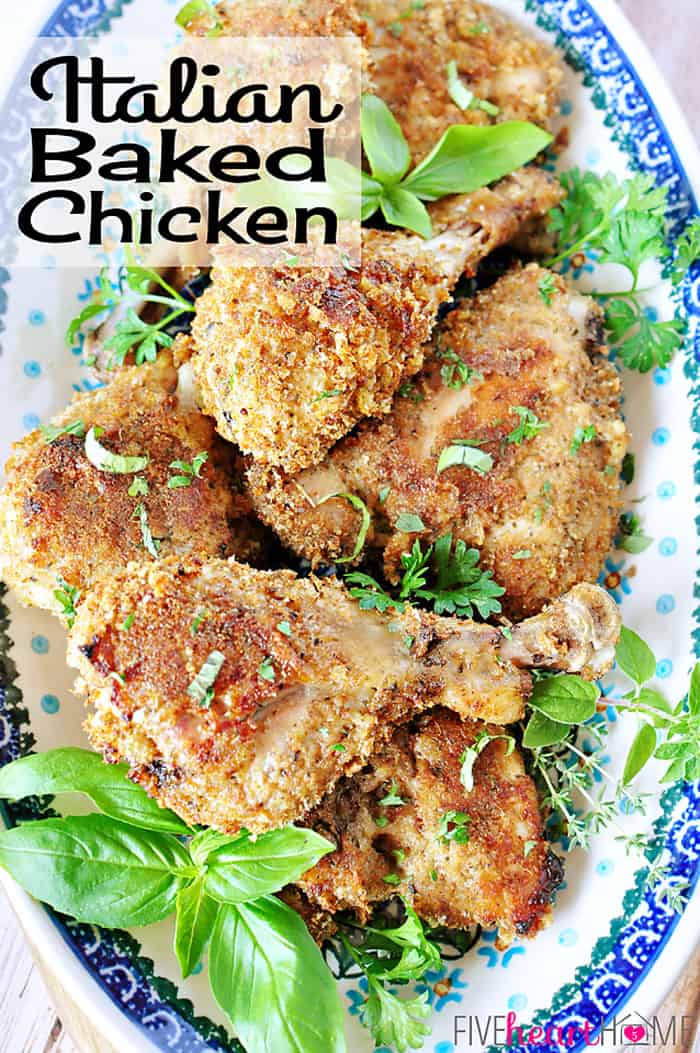 Zucchini Marinara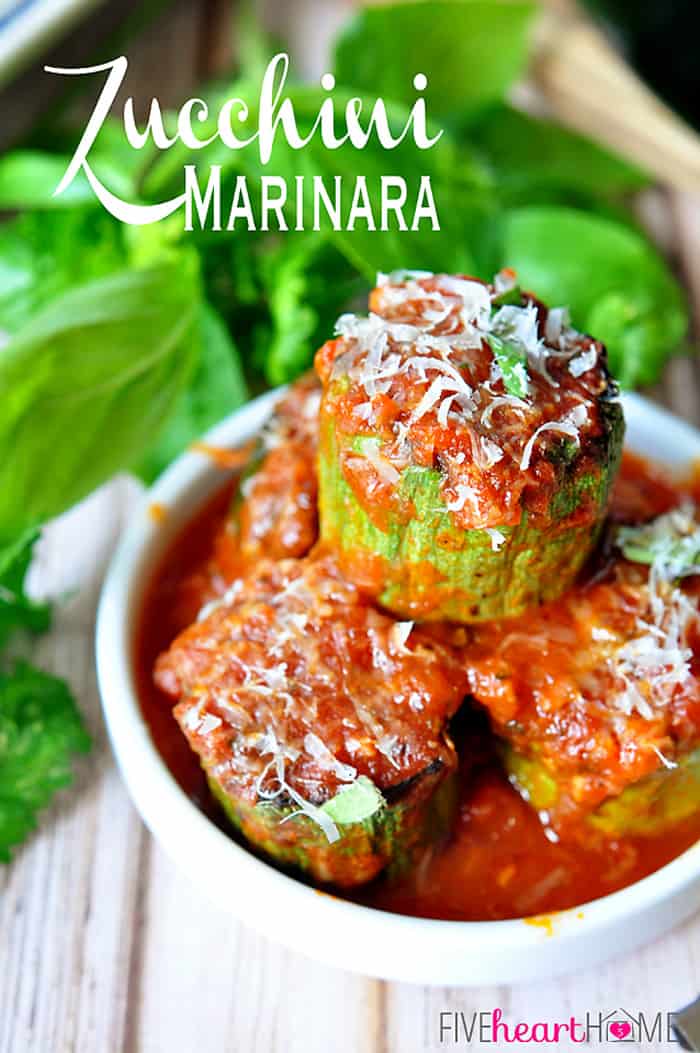 Tortellini Pasta Salad with Tomatoes, Basil, & Fresh Corn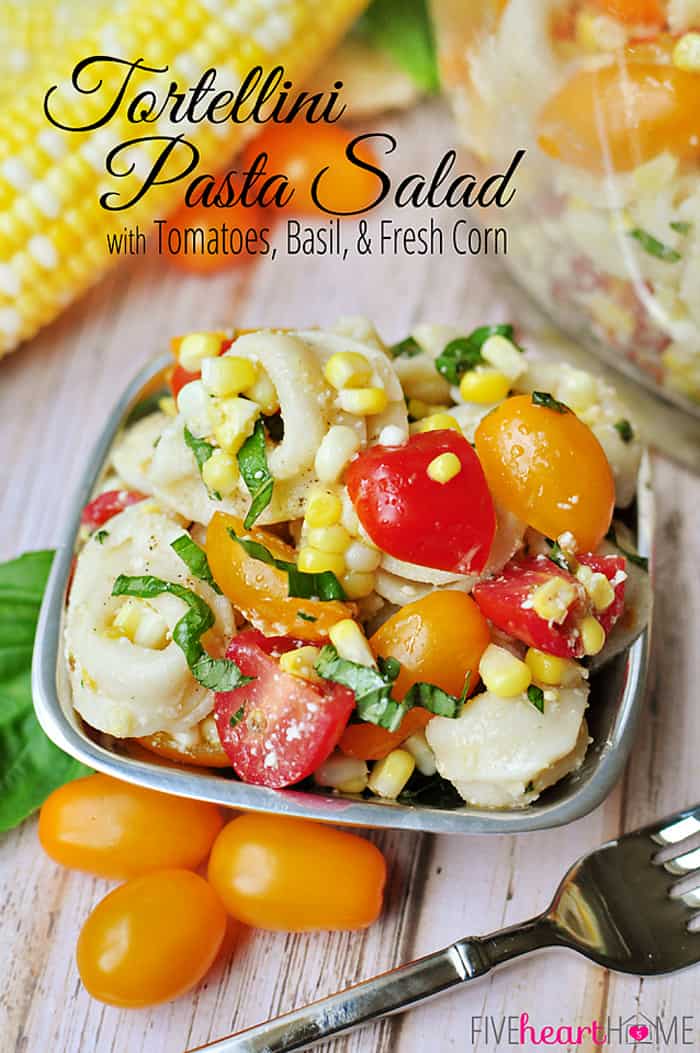 Balsamic Roasted Tomatoes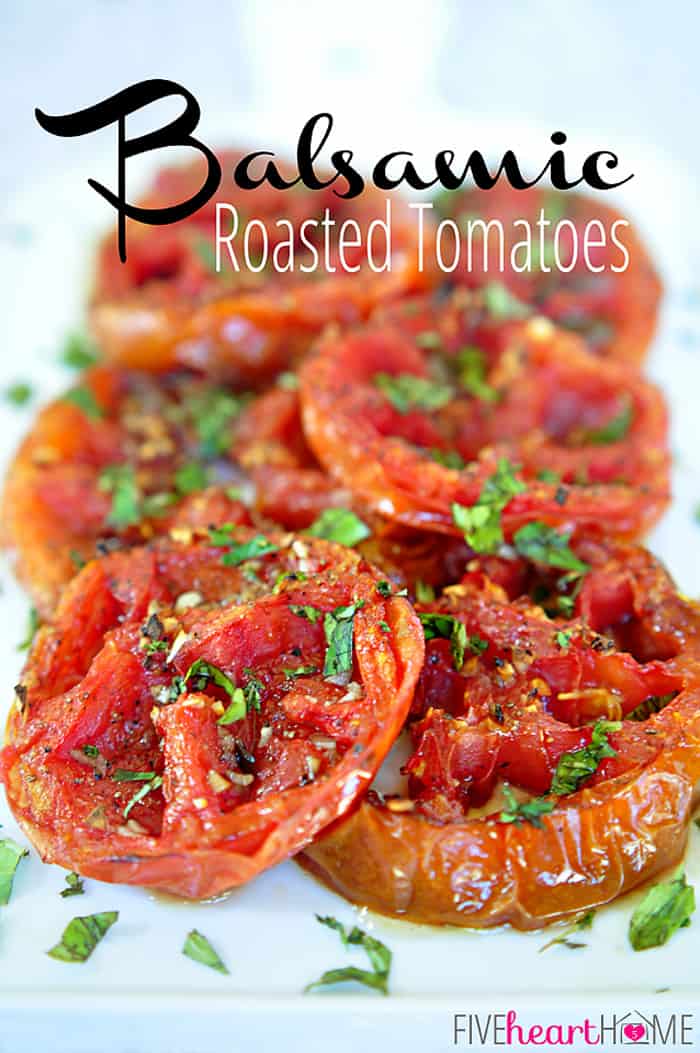 Blueberry Buttermilk Sherbet