Soft Sugar Cookies require NO ROLLING! They're puffy with tender centers, a crunchy coating of sugar, and loads of vanilla flavor!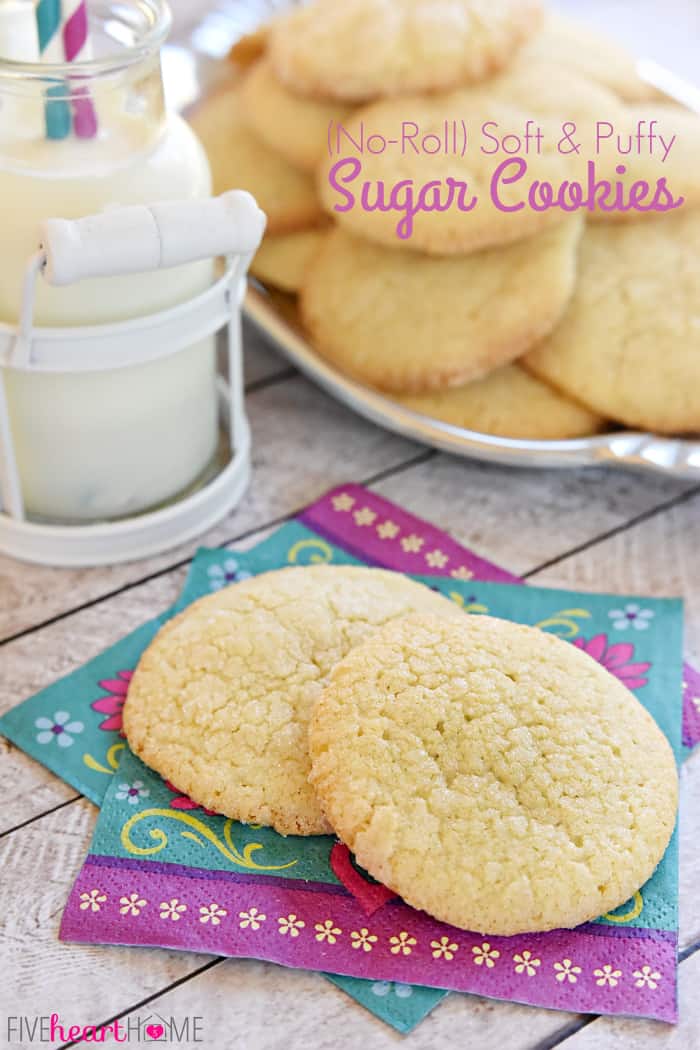 There's a story about how these Soft Sugar Cookies came into my life. I've mentioned it once before, but back when I was an elementary school teacher with no kids of my own, I got the bright idea to open a cookie booth at my sister-in-law's newly founded farmers market. And so every evening after school, I would make various batches of cookie dough, roll it into balls, and refrigerate it. And then every Friday, I would be up into the wee hours of the morning baking and packaging sheet after sheet of jumbo cookies...like, hundreds of them, y'all. My hubby would often help, which made for a wild and crazy way for two newlyweds to spend a Friday night, huh? 😉 And then every Saturday, we would spend the majority of the day peddling cookies at the market.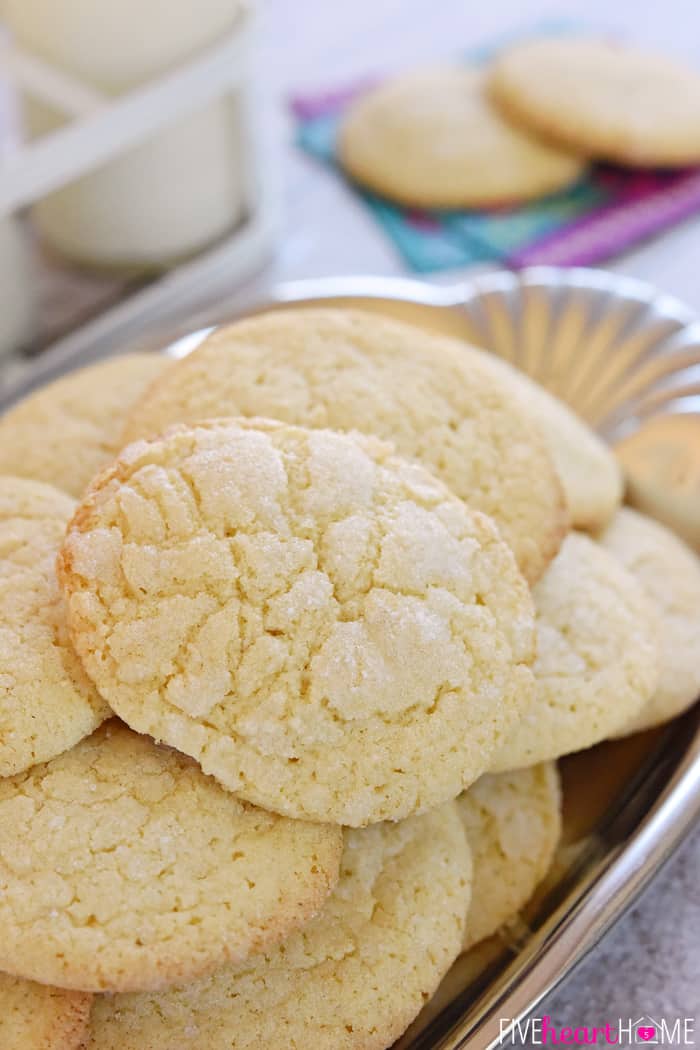 This went on for a number of months, until I didn't think I could look at (much less bake) another cookie for the rest of my life. And honestly, I didn't bake cookies for a good while after Samantha's Sweets Gourmet Bake Shop called it quits. But eventually, my inner Cookie Monster lured me back, and cookies started inhabiting my oven once more. But it was years before I made any of those same recipes that I used to bake in mass quantities for my farmers market endeavor.
Easy and Delicious
And that really was a shame, because in all that lost time, I forgot how magically amazing this Soft Sugar Cookies recipe truly is!
They're puffy drop sugar cookies that require NO ROLLING! In fact, if you asked me my favorite of the five varieties of cookies that I sold, I would probably have to answer these.
Typically I'm a chocolate chip cookie kind of gal...but these cookies? THE BEST.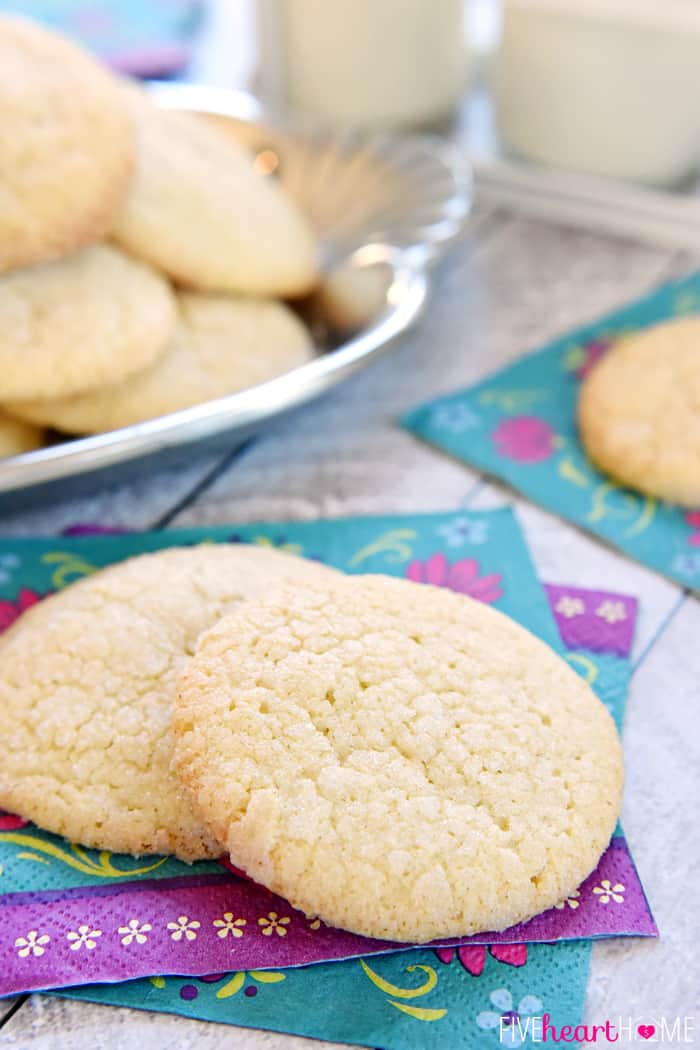 No Rolling Pin Required
The obvious thing that sets these apart from typical sugar cookies is that they require no rolling pin. Nope. This dough is treated like a regular ol' drop cookie. Make that a drop sugar cookie.
Actually, that's not entirely true. Before you drop the dough onto the cookie sheet, you first form it into a ball and roll in sugar until nicely coated. But there are no cookie cutters involved, meaning that this version of sugar cookies take minimal effort as compared to its more labor-intensive cousin.
Ingredients
The flavor of these Soft Sugar Cookies will make you marvel at how a combination of simple ingredients can transform into something so good. It's really basic here, folks:
Butter.
Flour.
Sugar.
Eggs.
Vanilla.
But please heed my advice when I assert that the quality of your vanilla matters, since it's the flavor that takes center stage.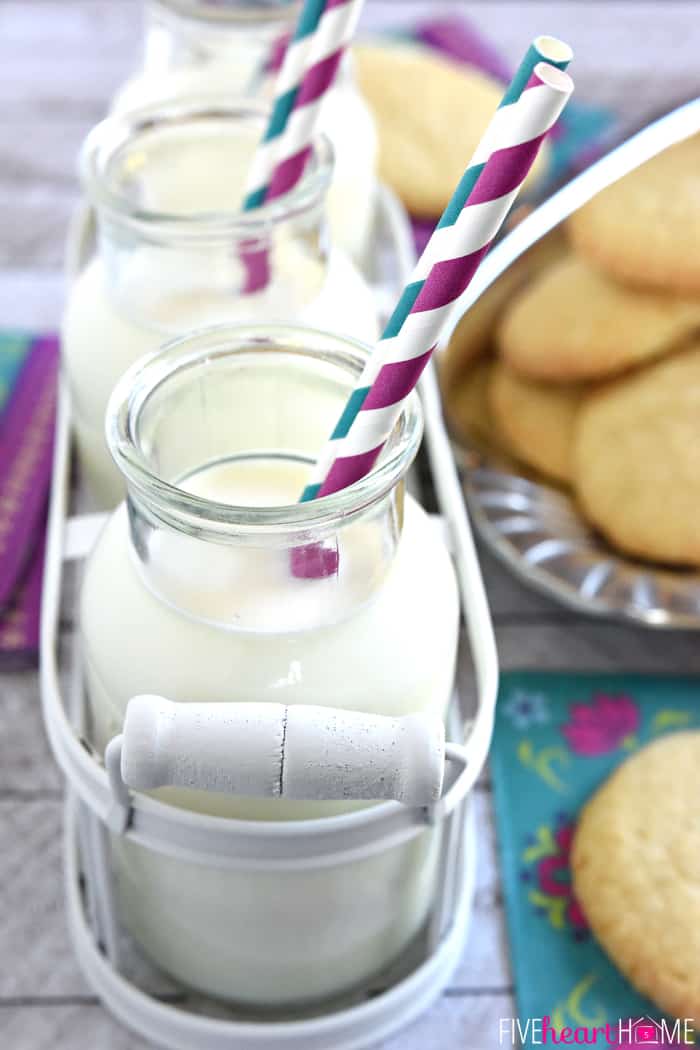 Good Vanilla Matters!
I've said it before and I'll say it again...I swear by Nielsen-Massey Madagascar Bourbon Vanilla. I love it so much that I order it by the jug to make it cost efficient. But let me assure you...it's worth every penny.
Now I'm sure that Nielsen-Massey isn't the only excellent premium brand out there, so if you have another favorite, by all means use it (and let me know what it is so that I can compare!).
The bottom line is that I truly believe in high-quality, pure vanilla extract as the secret ingredient to catapult your classic, vanilla-based recipes (like vanilla cupcakes) above the rest. Cheap or imitation vanilla extract just won't yield the same results.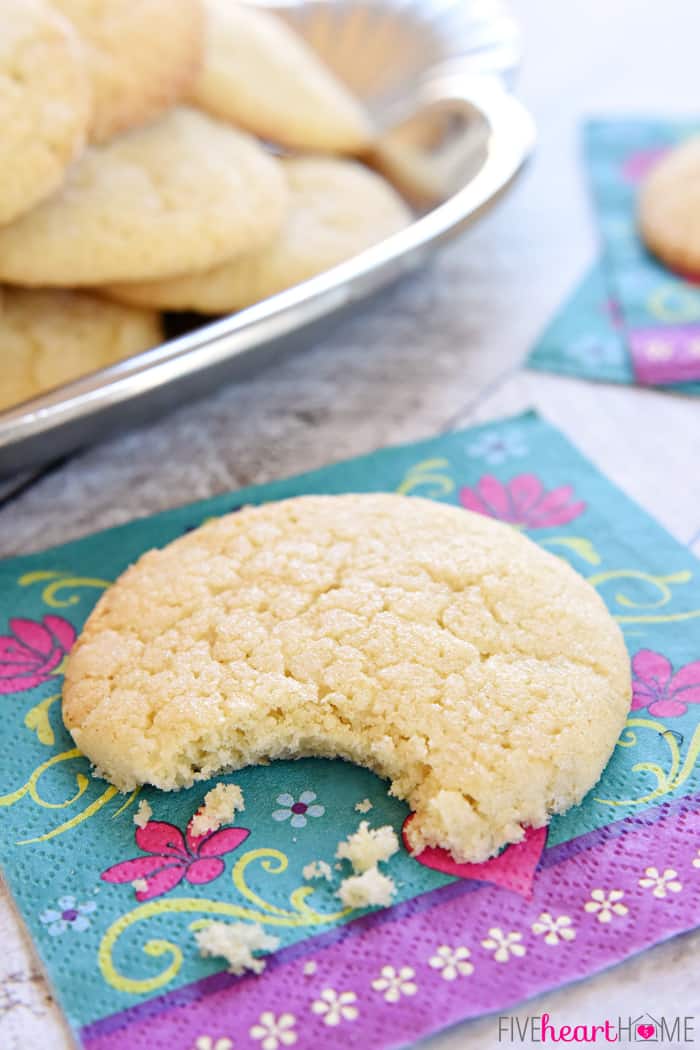 And finally, the texture of these cookies...out of this world. They puff up perfectly in the oven, resulting in soft, chewy centers and slightly crispy edges with a thin veneer of crunchy sugar over the whole exterior of the cookie.
So the next time you get a hankering for sugar cookies, don't feel obligated to break out the rolling pin and the cookie cutters. Instead, give this Soft Sugar Cookies recipe a whirl! These cookies are so good and so easy that your cookie cutters just might end up on a permanent vacation. 😉

More Yummy Cookies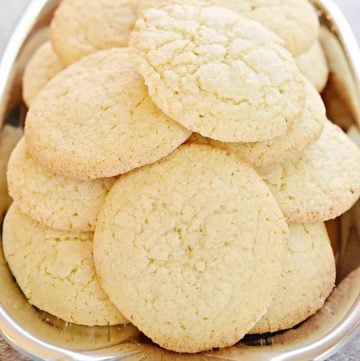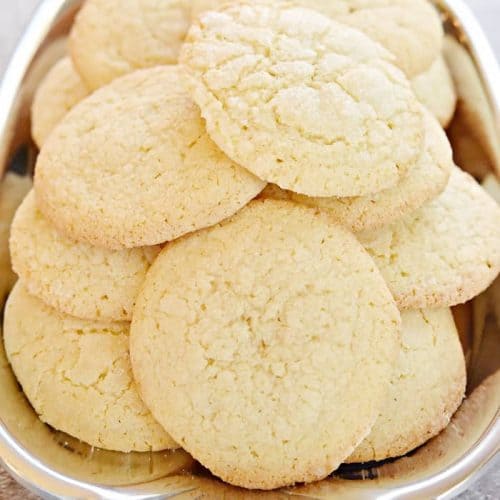 Soft Sugar Cookies
Soft Sugar Cookies are extra easy because they require no rolling! They have tender, puffy interiors with a crunchy coating of sugar.
Print
Pin
Rate
Servings:
20
large cookies
Ingredients
2

cups

all-purpose flour

,

equivalent to 10 ounces

½

teaspoon

baking powder

¼

teaspoon

salt

1

cup

(2 sticks) unsalted butter

,

at room temperature

1

cup

sugar

,

plus an additional ½ cup sugar for coating cookies

1

tablespoon

brown sugar

1

egg

,

at room temperature

1 ½

teaspoons

pure vanilla extract
Instructions
Adjust rack to center position of oven and preheat to 375°F. Line cookie sheets with parchment paper.

In a medium bowl, whisk together flour, baking powder, and salt. In a large bowl, use an electric mixer to whip butter until smooth. Beat in 1 cup granulated sugar and brown sugar at medium speed. Scrape bowl, increase speed to medium-high, and beat for 3 minutes or until light and fluffy. Blend in egg and vanilla until well incorporated. Turn mixer to low and slowly stir in flour mixture, scraping bowl as necessary, mixing until just combined, and taking care not to overmix.

Pour the remaining ½ cup sugar in a shallow bowl. Fill another bowl with cold water. Moisten hands with water, pinch off a heaping tablespoon of dough, and roll into a 1 ½-inch ball (damp hands will keep the dough from sticking). Drop the ball into the sugar, turn and roll to coat, and place it on prepared baking sheet. Repeat with the remaining dough, spacing cookies 2 to 3 inches apart.

Bake cookie until just the edges are golden brown and the centers look set, 12 to 18 minutes. Allow the cookies to cool on the baking sheets for 3 minutes before transferring to a rack to cool completely.
Notes
I have the most success with this recipe when I weigh my flour, rather than just using measuring cups. If you use measuring cups and your dough seems too sticky to press into the pan, add a tad bit more flour.
Fitting 12 cookies on my 12x18-inch sheet pan resulted in cookies that slightly touched after spreading. Fitting 8 cookies on my sheet pan meant that they didn't touch.
If your dough seems overly soft and warm, you might consider refrigerating it for 20 minutes or so. If you do chill your dough, you may want to slightly flatten the tops of your dough balls so that they spread adequately. Dough that hasn't been refrigerated probably doesn't need to be flattened.
Calories:
172
kcal
|
Carbohydrates:
20
g
|
Protein:
2
g
|
Fat:
10
g
|
Saturated Fat:
6
g
|
Cholesterol:
33
mg
|
Sodium:
34
mg
|
Potassium:
29
mg
|
Fiber:
1
g
|
Sugar:
11
g
|
Vitamin A:
295
IU
|
Calcium:
10
mg
|
Iron:
0.6
mg
Adapted from Baking Illustrated