Overnight Gingerbread Baked French Toast with Streusel Topping is assembled the night before and baked in the morning for a warm, aromatic, delicious breakfast that's special enough to celebrate the holidays or serve to company!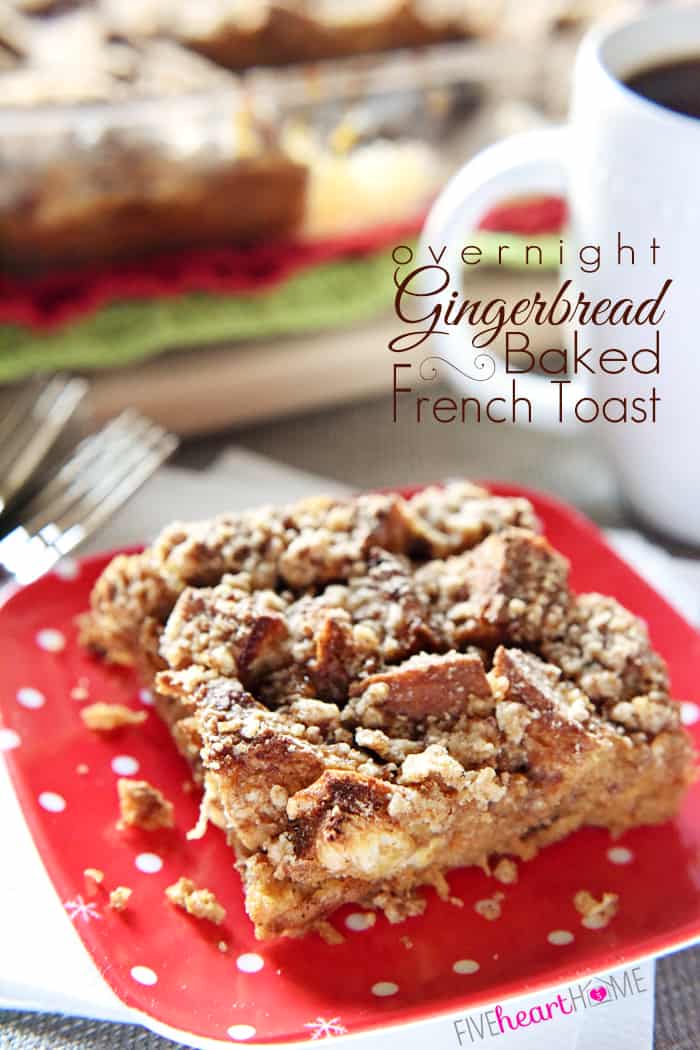 Hold on to your hats, folks…I'm back today with a real, live, actual recipe! That's right…after taking a few days off for Thanksgiving, and then sharing my 2014 Holiday Gift Guide for Foodies, and then participating in a fabulous blog hop featuring 100 Christmas Projects for a Beautiful Holiday Home, let's get back to the business of sharing recipes, shall we? 😉
My hope is that today's dish — this glorious Overnight Gingerbread Baked French Toast with Streusel Topping (!!!) — will convince you to forget (or, at the very least, to forgive me for) the recent dearth of new recipes around here. Because glorious this French toast is!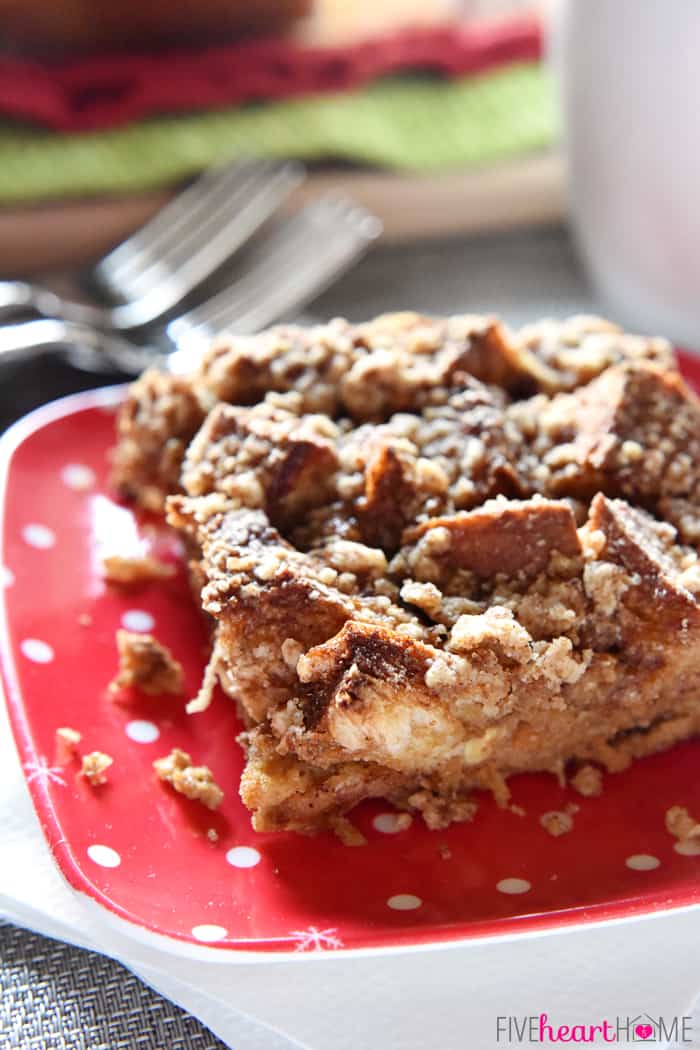 You may have picked up on the fact that I'm a big fan of gingerbread, and I always go into gingerbread overdrive come December. Gingerbread Lattes are my drink o' choice at Starbucks. Our usual Saturday morning whole wheat pancakes get swapped out for Gingerbread Pancakes. And I even experiment with adding gingerbread spices to tried-and-true classics, like my homemade granola. So it's only natural that I would take another beloved recipe — baked French toast — and give it a gingerbread spin!
I love a good baked French toast casserole because you have the flexibility of prepping it before going to bed, refrigerating it overnight, and baking it up in the morning for a breakfast treat that seems quite special despite being pretty much effortless. I've posted make-ahead Apple Praline Baked French Toast and Overnight Eggnog French Toast variations before. But this gingerbread twist has the added bonus of filling your house with the most intoxicating aroma of warm spices as it bakes.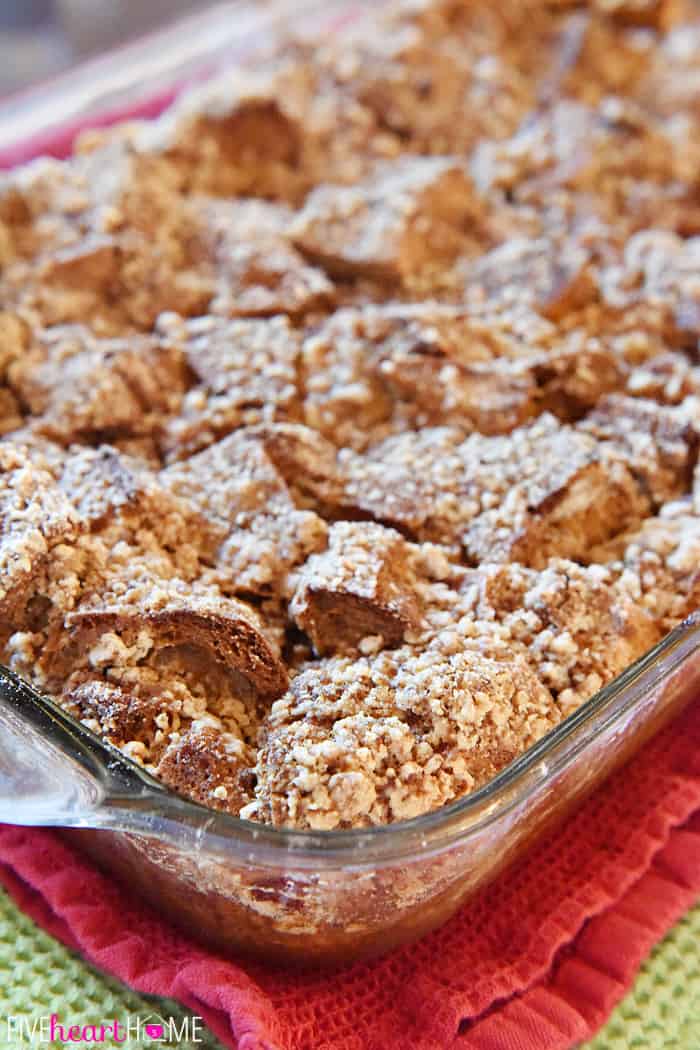 If you've never made a baked French toast casserole before, you won't believe how easy it is to whip up! I used challah bread for this recipe, but just about any type of soft French bread would work. I prefer cubing up my bread to make baked French toast, because I feel like it soaks up the custard more evenly than whole slices of bread would. Most recipes like this can either be assembled and baked immediately or prepped the evening before, popped in the refrigerator overnight, and baked the following morning — both ways work!
This dish features a custard that's been flavored with ginger, cinnamon, and spices, and sweetened with pure maple syrup and molasses. And then, as if that's not tasty enough, all of that goodness is topped with a buttery, sugary streusel and baked until puffy and golden brown. You can leave the streusel off, of course, but why would you want to? 😉 And if you like your French toast extra sweet, you can also top it with some additional warm maple syrup, or even better, Homemade Cinnamon Syrup!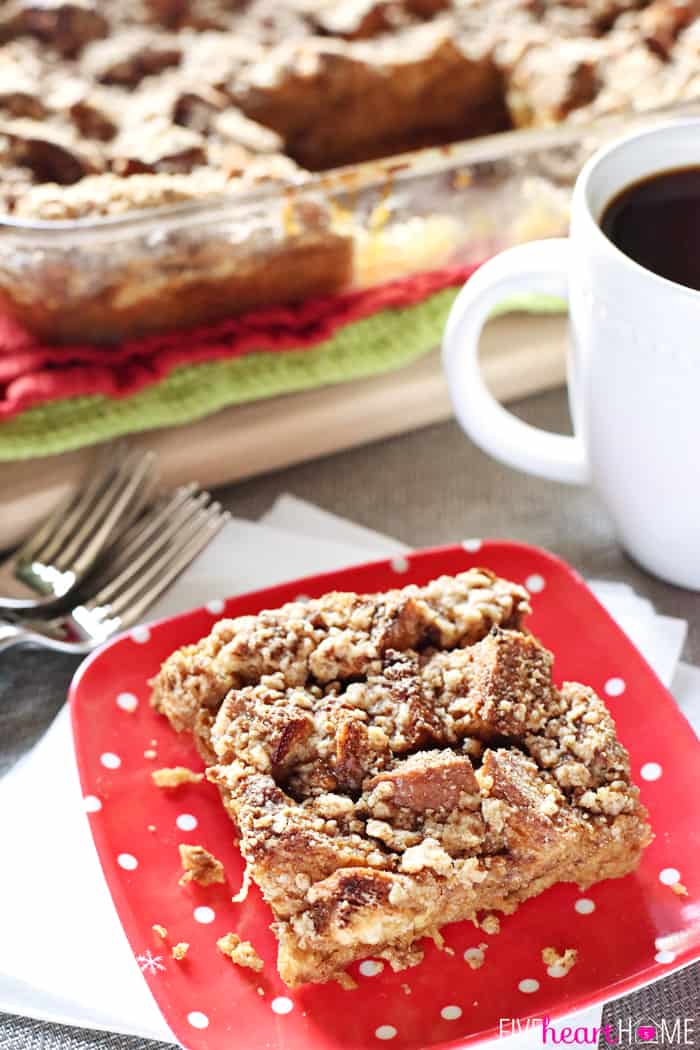 My kids loved this. My hubby loved it. I loved it. And the next time we have overnight guests, I'll be finding out if they love it (I can already predict that the answer will be yes…) 😉 Bottom line? Overnight Gingerbread Baked French Toast with Streusel Topping would be the perfect holiday breakfast or brunch to celebrate Christmas or New Year's. Alternatively, it would be fun to bake it off as the kids get ready for school one morning and then surprise them with a special gingerbread breakfast treat! However you choose to enjoy it, I hope this recipe makes it on your menu sometime this holiday season!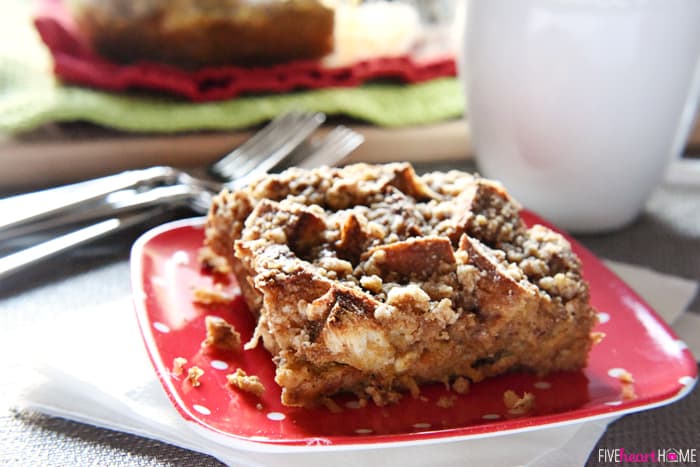 Overnight Gingerbread Baked French Toast with Streusel Topping
Overnight Gingerbread Baked French Toast with Streusel Topping is assembled the night before and baked off in the morning for a warm, aromatic, delicious breakfast that's special enough to celebrate the holidays or serve to company!
Ingredients
1 pound egg bread (challah) or soft French bread, cut into 1-inch cubes (approximately 8 to 9 cups)
8 eggs
1 3/4 cup whole milk
1/2 cup pure maple syrup
1/4 cup molasses
2 teaspoons pure vanilla extract
1 1/4 teaspoon cinnamon
1 teaspoon ground ginger
1/2 teaspoon nutmeg
1/4 teaspoon allspice
1/8 teaspoon ground cloves
1/8 teaspoon salt
For the Streusel Topping:

1/2 cup all-purpose flour
1/4 cup brown sugar
1/4 cup salted butter, cubed and chilled
1/2 teaspoon cinnamon
1/4 teaspoon ground ginger
1/8 teaspoon nutmeg
Instructions
Generously butter (or coat with cooking spray) a 9- by 13-inch baking dish. Scatter bread cubes in the bottom of the dish. Set aside.
In a large bowl, whisk together eggs, milk, maple syrup, molasses, vanilla, cinnamon, ginger, nutmeg, allspice, cloves, and salt until well blended. Evenly pour over bread cubes, gently pressing down on any cubes that are sticking up so that all bread gets soaked with egg mixture.
Prepare Streusel Topping by placing flour, sugar, butter, and spices in a food processor and pulse ingredients together until crumbly, like the texture of coarse sand. (Alternatively, you may use a fork or pastry cutter to cut together ingredients until crumbly.)
Evenly sprinkle streusel crumbs over assembled French toast casserole. Cover tightly and refrigerate overnight. In the morning, uncover baking dish and allow to come to room temperature while preheating the oven to 350°F. Bake for 45 minutest to 1 hour or until center is puffed and surface is golden brown. If bread is starting to brown too much before casserole is done, you may lay a sheet of foil over the top and bake for a few more minutes.
Allow to cool for a few minutes before slicing and serving warm.
Notes
I use a stand mixer (KitchenAid) to make whisking the custard quick and easy.
Instead of refrigerating overnight, French toast casserole may be baked immediately in a preheated oven.
Baking time can be dependent on the type of bread you use, how dry it was, how long it soaks overnight, etc. Different people may prefer this type of recipe to be moister or drier.
https://www.fivehearthome.com/overnight-gingerbread-baked-french-toast-casserole-streusel-topping/
https://fivehearthome.com ~ All recipes and images on Five Heart Home are copyright protected. Please do not use without my permission. If you would like to feature this recipe, please rewrite the directions in your own words and give proper attribution by linking back to this blog.
More easy breakfast recipes…
Cinnamon Bread (no-yeast quick bread)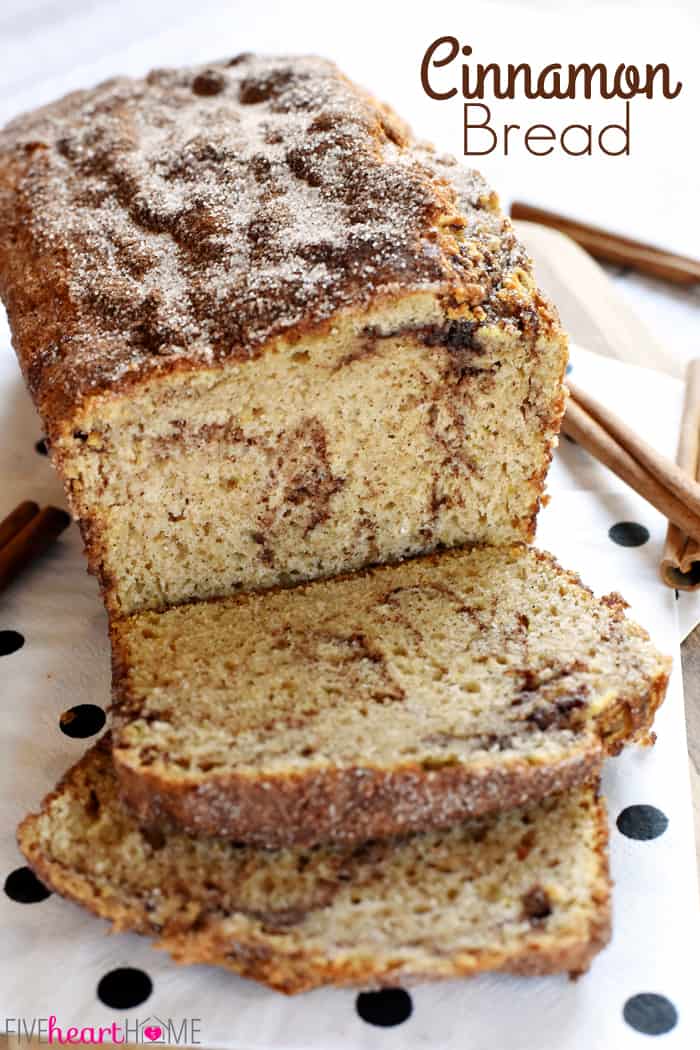 Green Chile Cheddar Egg Bake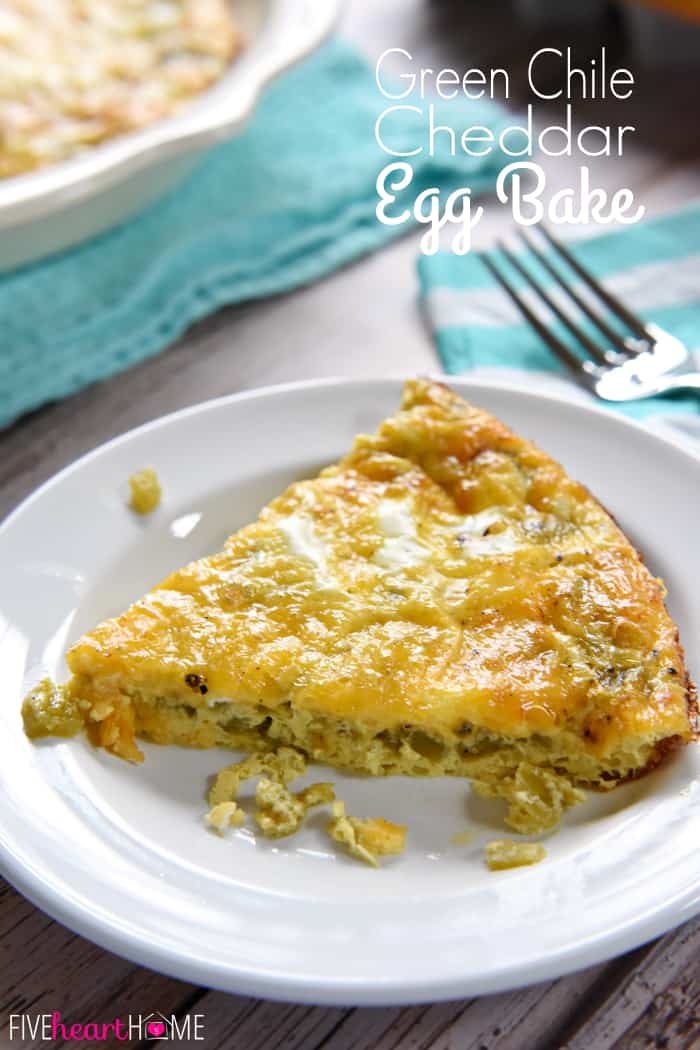 Wholesome Breakfast Cookies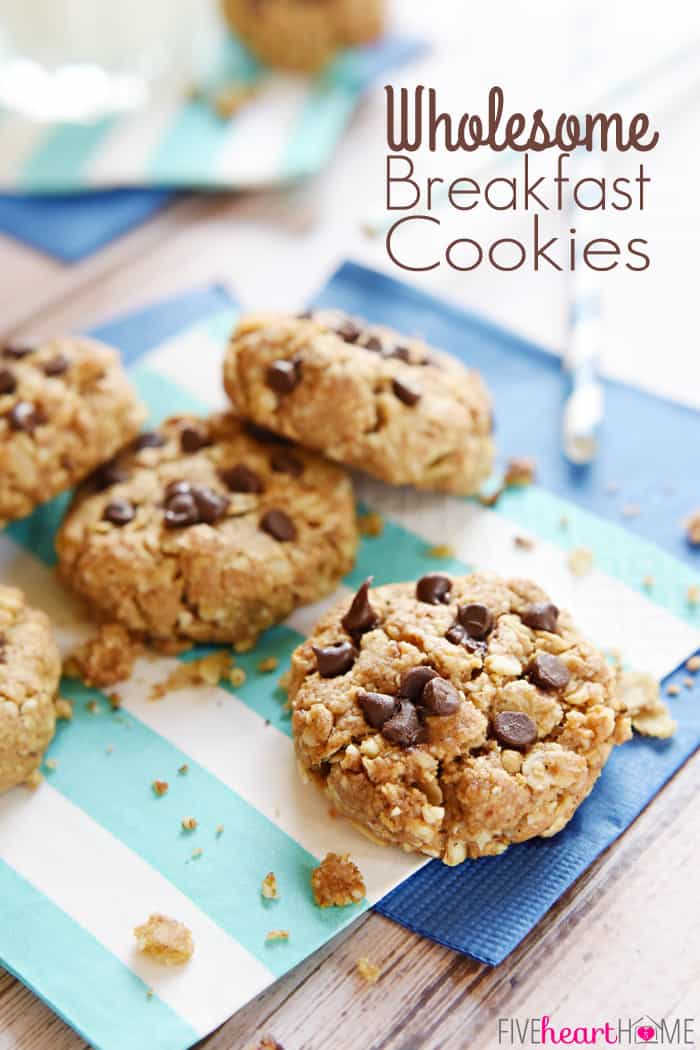 Chewy No-Bake Granola Bars with Coconut Oil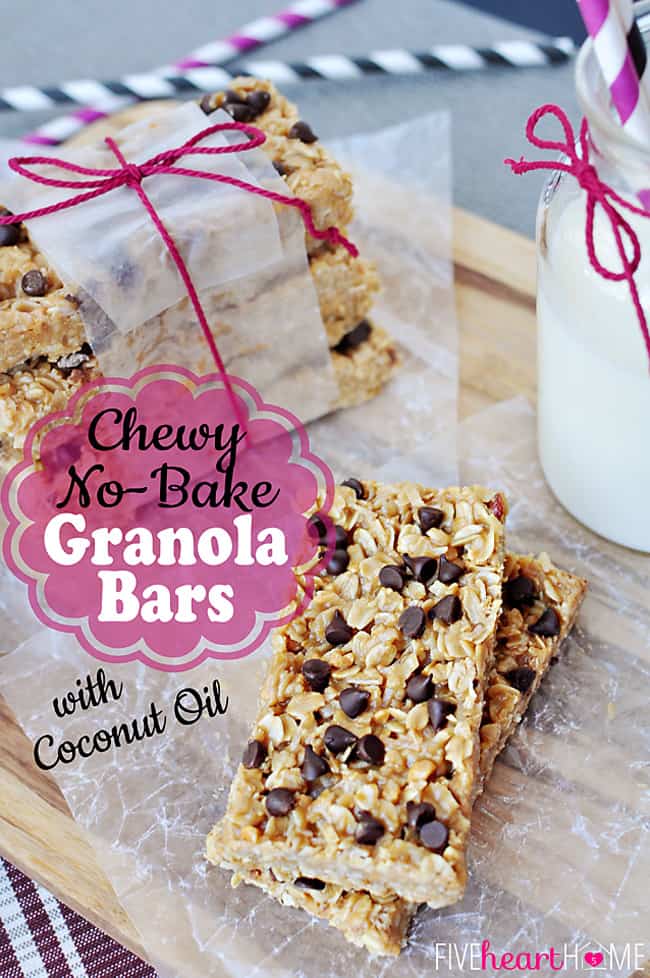 Pumpkin Baked Oatmeal with Maple & Pecans {Dairy-Free}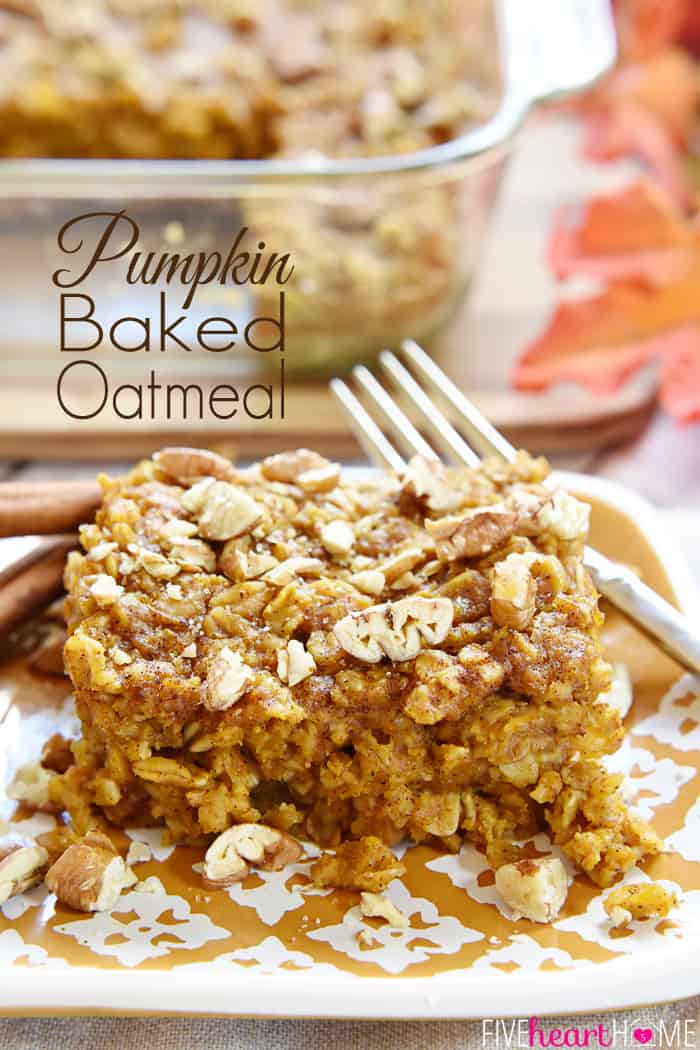 * * * * * * * * * * *
More festive holiday sweets…
Christmas Tree Brownie Pops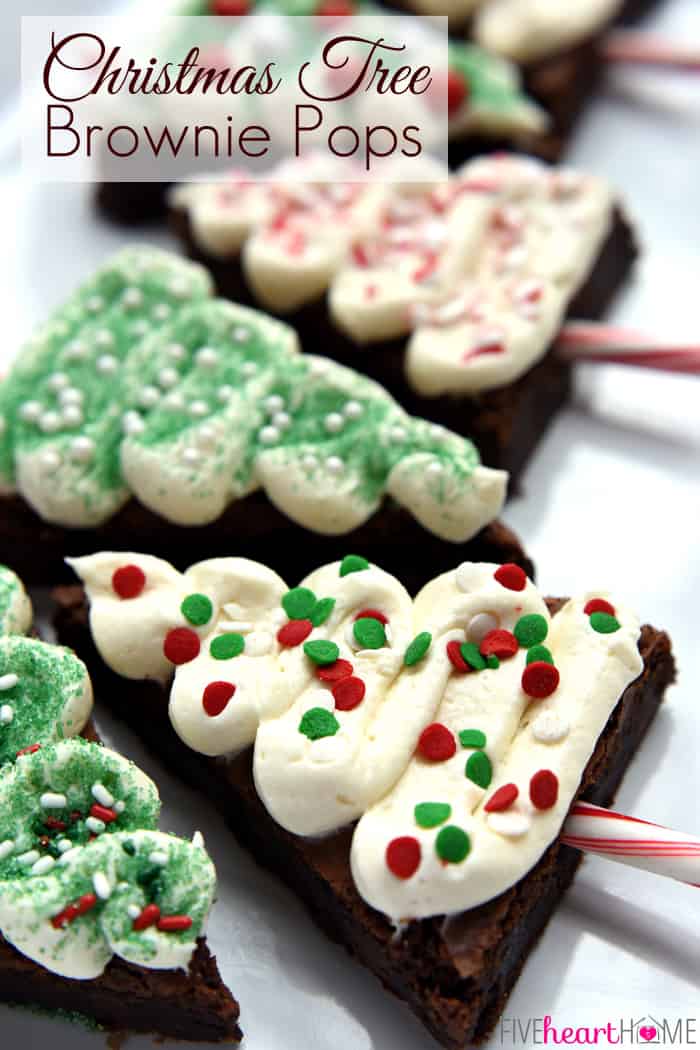 Eggnog Pudding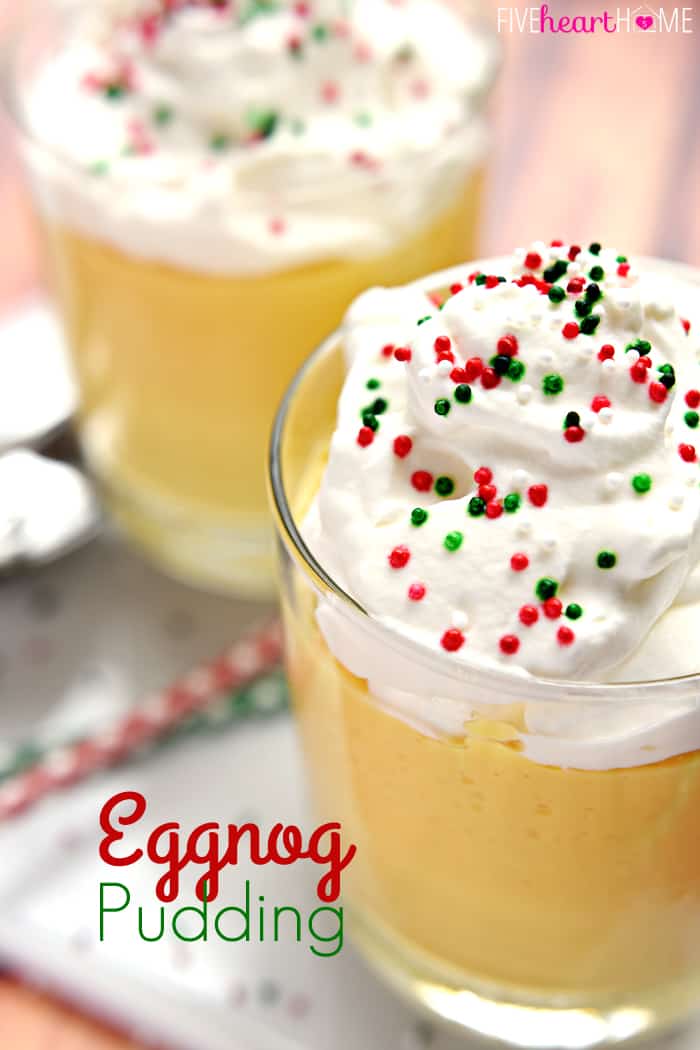 Nutter Butter Christmas Cupcake Toppers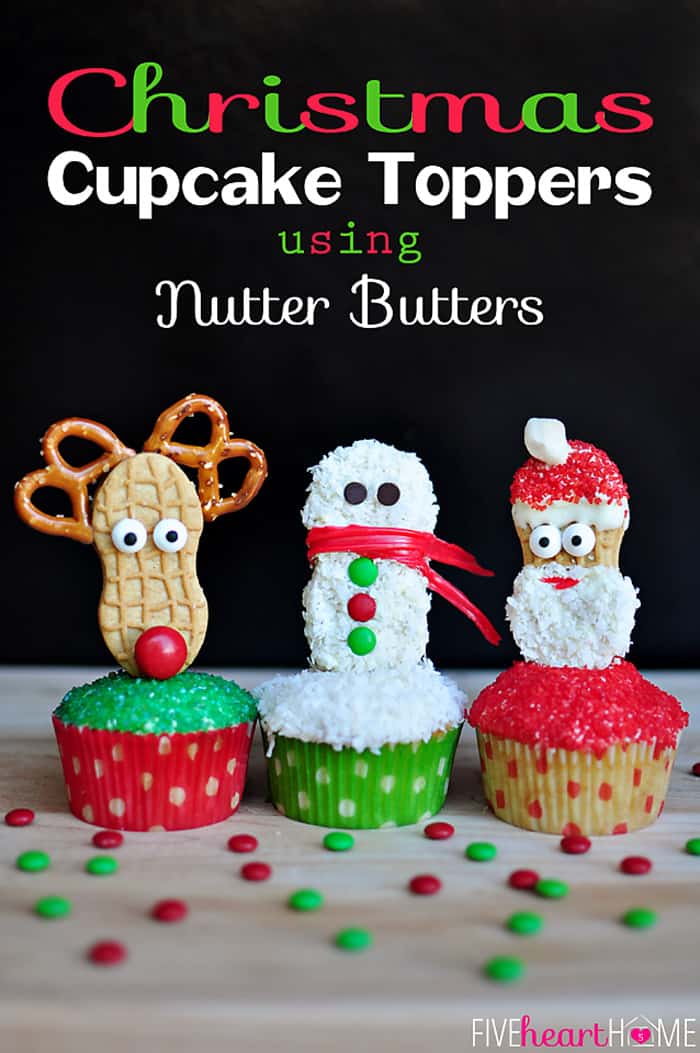 Candy Cane Kiss Brownie Bites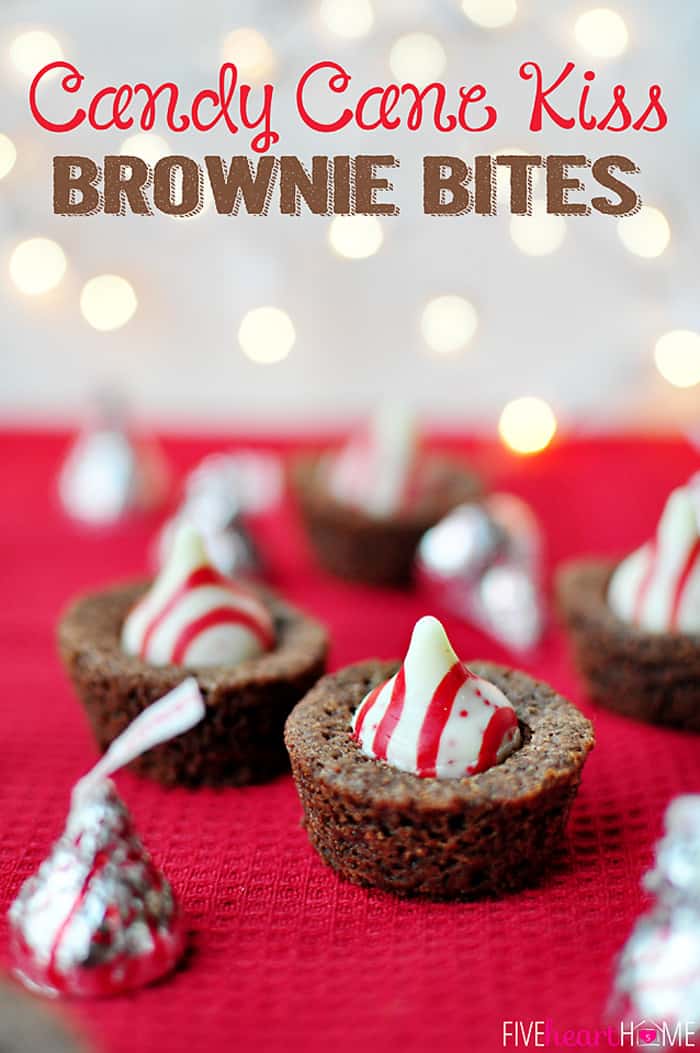 Cranberry Pomegranate Bellinis with Lime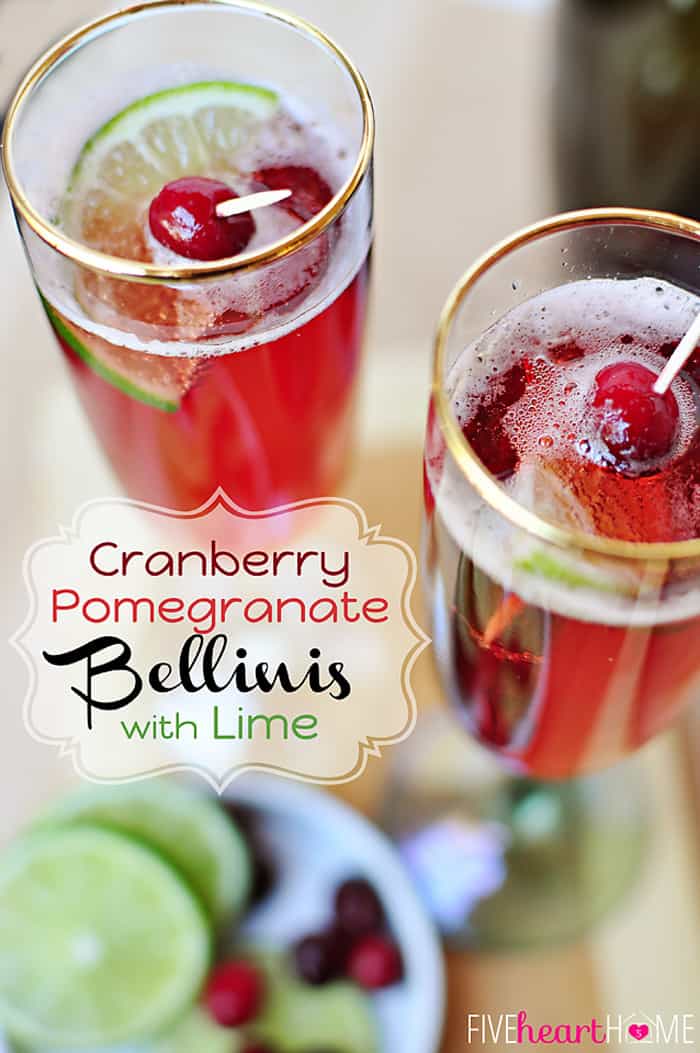 2