Wholesome baked oatmeal gets a tropical twist with the addition of fresh minced pineapple, coconut milk, and shredded coconut in this Piña Colada Baked Oatmeal!

If you like piña coladas…and getting caught in the rain…then you're going to LOVE this latest 5HH breakfast recipe, Piña Colada Baked Oatmeal! Okay, okay…so maybe you don't have to like actual piña coladas. An adoration of oatmeal, pineapple, coconut, and/or tropical flavor combinations should suffice just fine.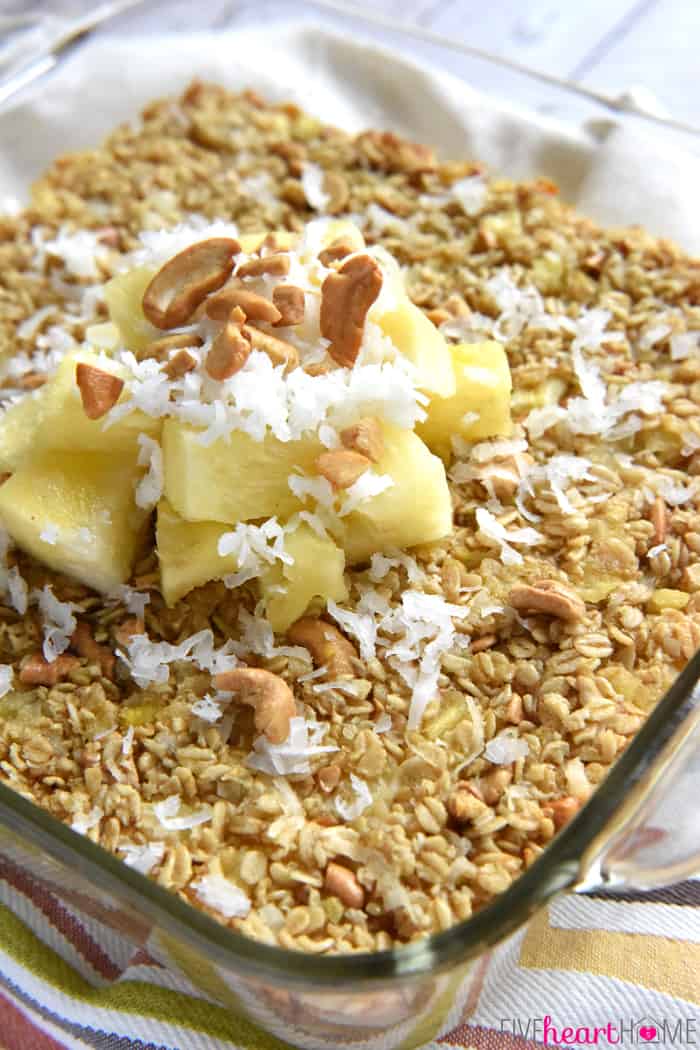 Not only is this Piña Colada Baked Oatmeal yummy, but it's also a filling, nourishing start to any morning. Loaded with oats, fresh pineapple, coconut oil, and coconut milk, this dish is somewhat creamy, somewhat chewy, and completely delicious. Top it with a sprinkle of chopped cashews (or macadamia nuts, if you have them) for a bit of salty crunch, and I'm telling you…breakfast bliss!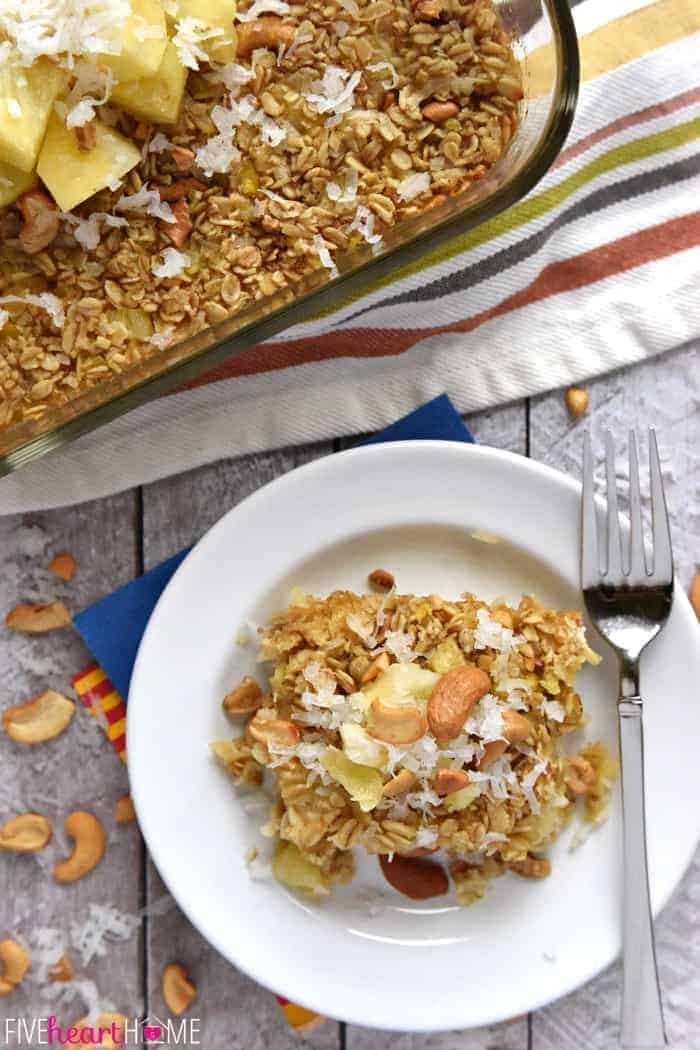 If you've been following Five Heart Home for awhile, you've probably already surmised that I enjoy a nice batch of baked oatmeal. It's healthy, its flavors can be customized, and it's amenable to making ahead of time, since individual servings reheat beautifully. Not only do my kids love baked oatmeal, but I feel good feeding it to them. So I enjoy the challenge of coming up with new seasonal flavors for them…but I have to say that this pineapple coconut goodness might be my favorite version yet!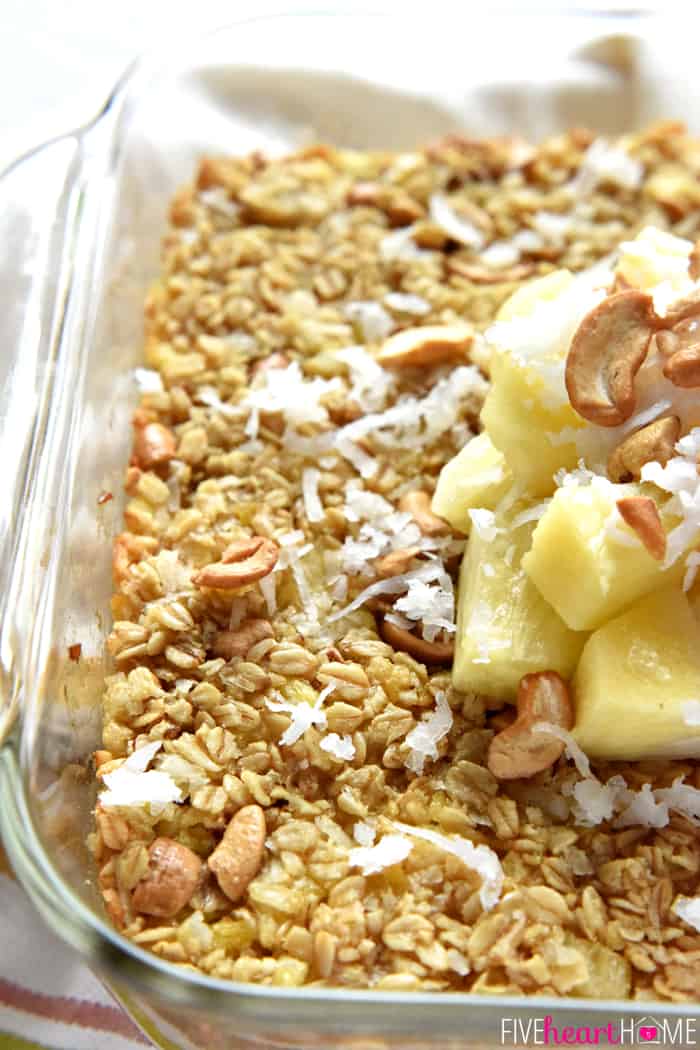 Before I reveal the recipe, I have to share a funny story about the photos behind this post. As you may have heard, Texas has had some crazy weather this spring, with torrential rains, flooding, and an abundance of meteorologic excitement in general. So on the day that I decided to whip up this recipe for the ol' blog, it was no surprise that storms were once again rolling through. In fact, by the time my Piña Colada Baked Oatmeal came out of the oven, it had gotten so dark outside that I had to set up a table on the front porch to quickly take a few pictures. (Yes, my neighbors think I'm crazy.)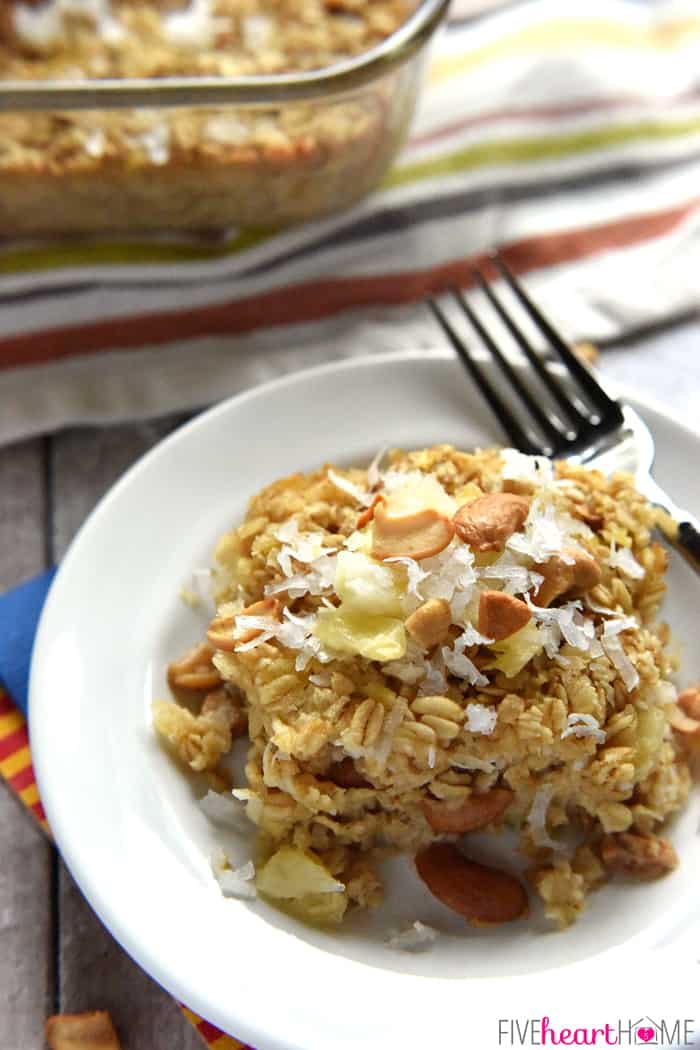 It was still dark out there so I cranked up the ISO on my camera, hoped for the best, and got to snapping. But about halfway through my shoot, the torrential rain started…and even though I was under the porch, my styled baked oatmeal scene kept getting marred by mist.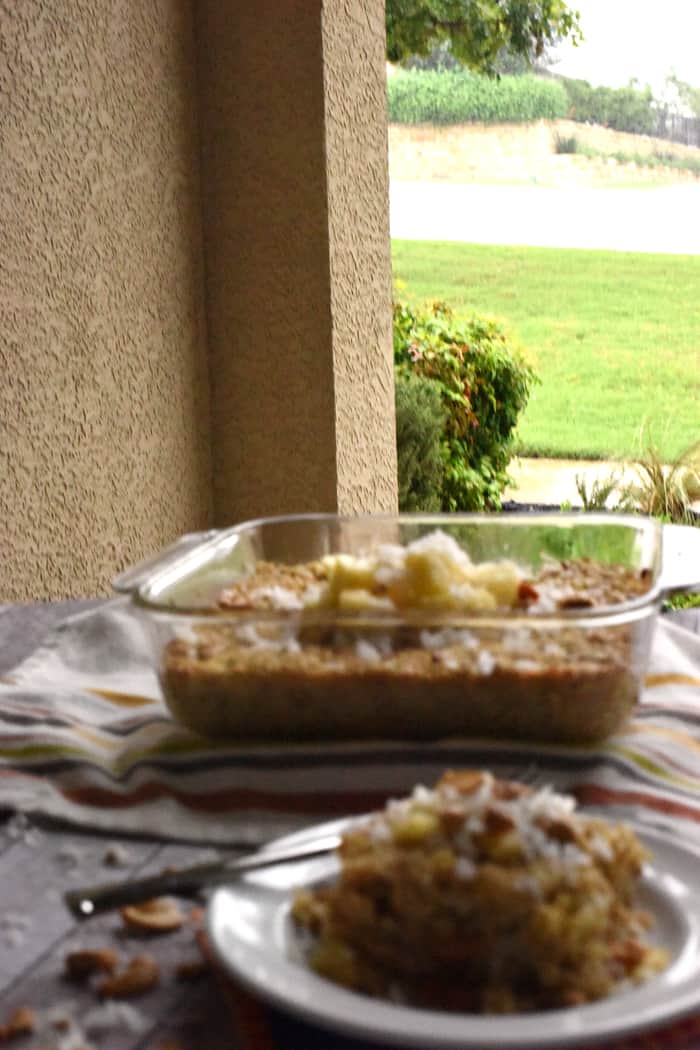 And then…the tornado warnings started. So I hurriedly tossed my camera equipment and the table full of oatmeal inside and herded the kids into our fancy tornado shelter (AKA, donning bicycle helmets in the bathtub with the crib mattress on standby).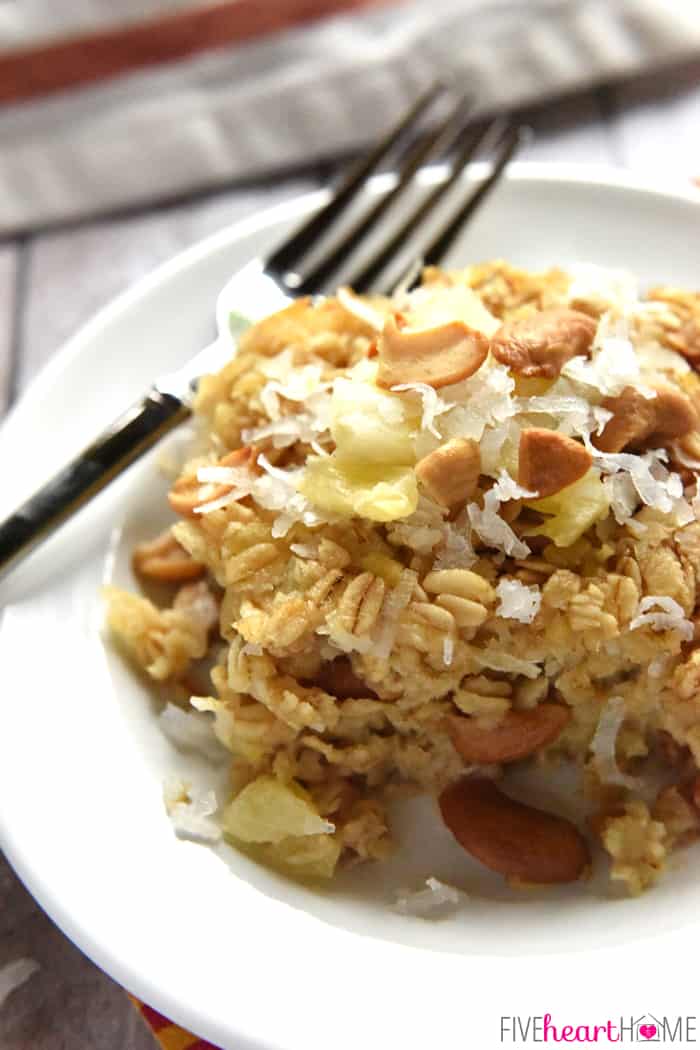 The moral of the story? Much like the opening lines of the song (and this blog post), piña coladas (and piña colada recipes) and getting caught in the rain apparently go hand-in-hand! But whether it's raining or shining, one bite of this Piña Colada Baked Oatmeal will momentarily transport you to a tropical island…even if the reality of that bite is taken in the bathtub under the protection of a bicycle helmet. 😉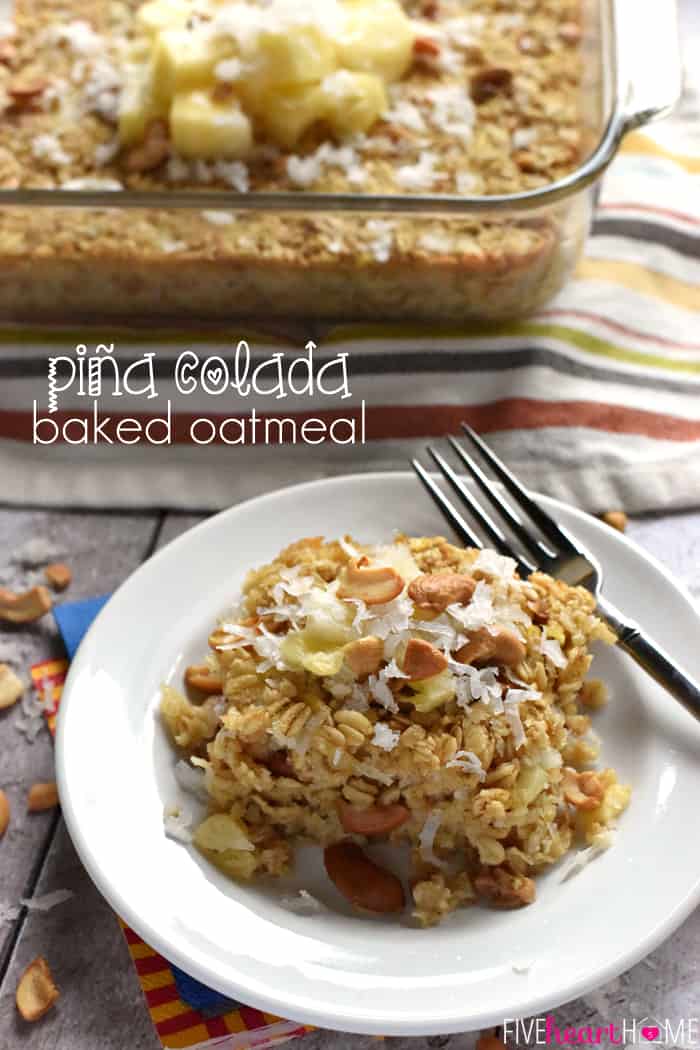 Piña Colada Baked Oatmeal
Wholesome baked oatmeal gets a tropical twist with the addition of fresh minced pineapple, coconut milk, and shredded coconut in this Piña Colada Baked Oatmeal!
Ingredients
2 cups rolled oats
½ cup shredded coconut (plus additional for garnish, if desired)
½ cup salted cashew pieces OR chopped macadamia nuts (plus additional for garnish, if desired)
1/2 teaspoon ground ginger
1/4 teaspoon salt
1 cup finely minced fresh pineapple (OR canned crushed pineapple)
3/4 cup coconut milk, at room temperature
2 eggs, at room temperature
¼ cup maple syrup
1 teaspoon pure vanilla extract
¼ cup coconut oil, melted and slightly cooled
Instructions
Preheat oven to 350°F. Lightly grease (or spray with nonstick cooking spray) an 8- by 8-inch glass baking dish.
In a large bowl, combine oats, coconut, cashew pieces, ground ginger, and salt. Mix in minced pineapple, coconut milk, eggs, maple syrup, and vanilla. Stir in coconut oil until all ingredients are well combined.
Spread mixture into prepared baking dish and bake for 25 to 30 minutes or until set and light golden brown on top. Allow to cool in the baking dish for at least 5 minutes before slicing. Serve warm with optional garnishes, such as warm coconut milk drizzled over the top and additional cashew pieces.
Notes
Either coconut milk from a carton (found in the refrigerated section of the grocery store) or canned coconut milk (found in the Asian foods section) will work in this recipe.
The reason the milk and eggs should be at room temperate is because if they are cold, they will cause the coconut oil to resolidify. To quickly warm everything up, I usually just put the whole eggs in a bowl of warm water for a few minutes and zap the milk in the microwave for 20 to 30 seconds.
Reheat oatmeal by placing an individual serving on a plate, drizzling with a little coconut milk, and then heating in the microwave for about 30 seconds.
https://www.fivehearthome.com/pina-colada-baked-oatmeal/
https://fivehearthome.com ~ All recipes and images on Five Heart Home are copyright protected. Please do not use without my permission. If you would like to feature this recipe, please rewrite the directions in your own words and give proper attribution by linking back to this blog.
Adapted from Coconut Almond Baked Oatmeal
More oat-filled breakfast ideas…
Carrot Cake Baked Oatmeal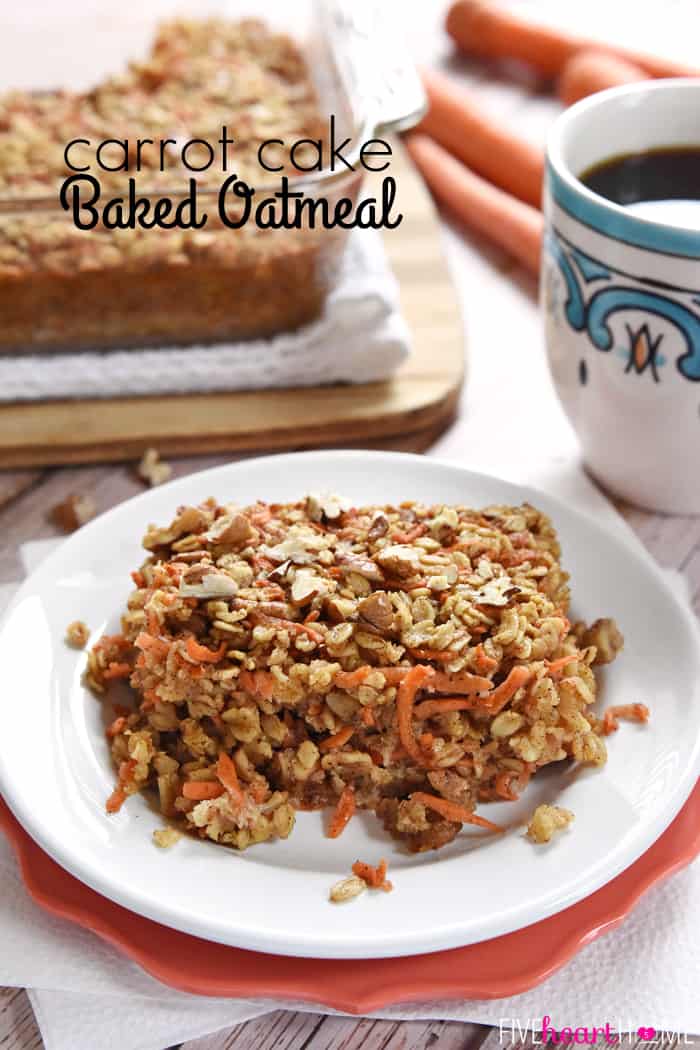 Overnight Oats ~ 3 Ways!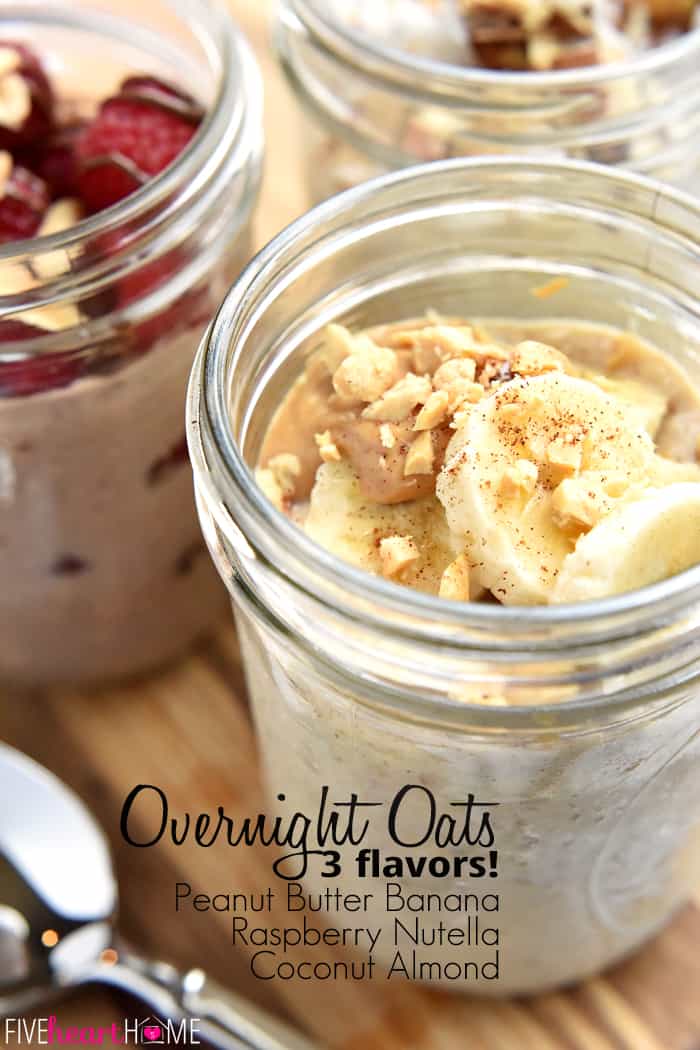 Healthy Oat Smoothies ~ Blueberry Muffin & Peach Cobbler Flavors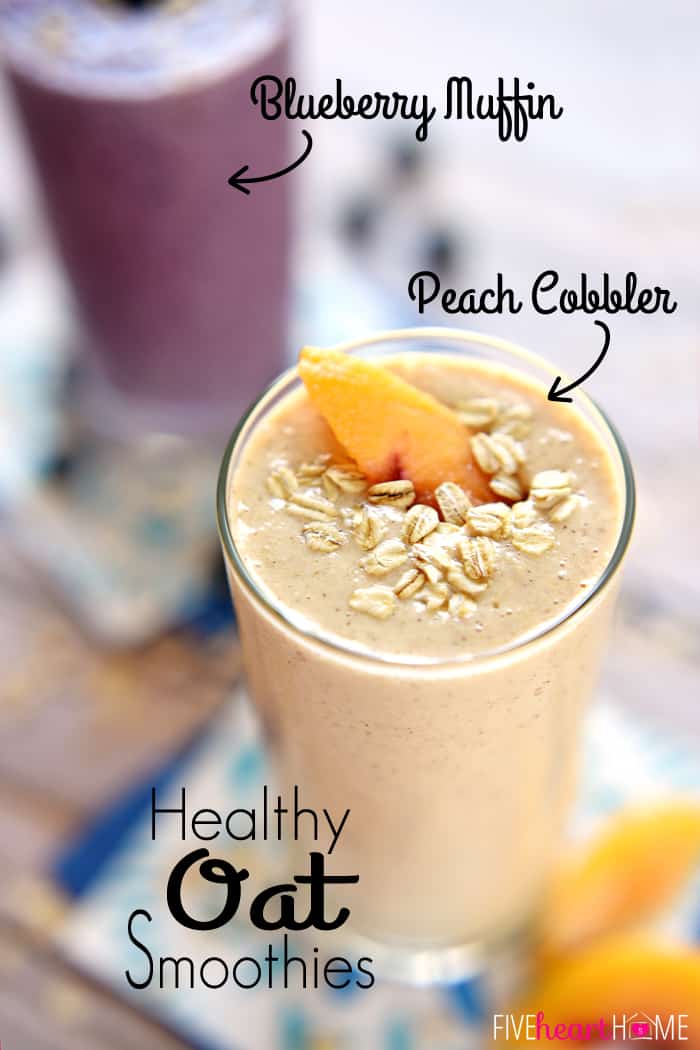 Pumpkin Baked Oatmeal with Maple & Pecans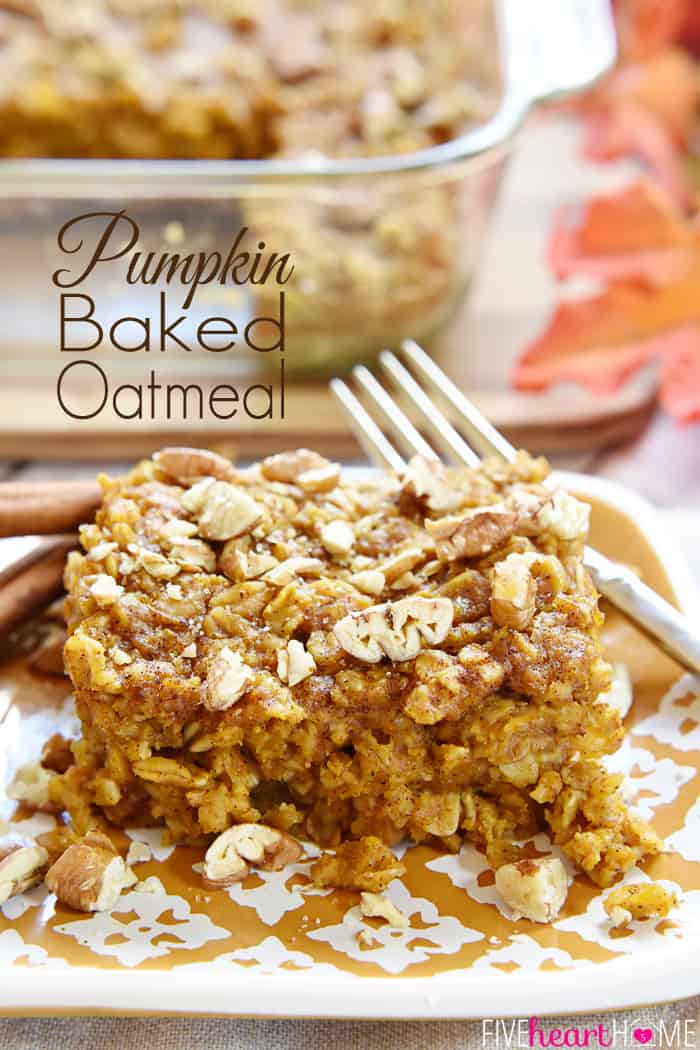 Oats & Honey Granola Bars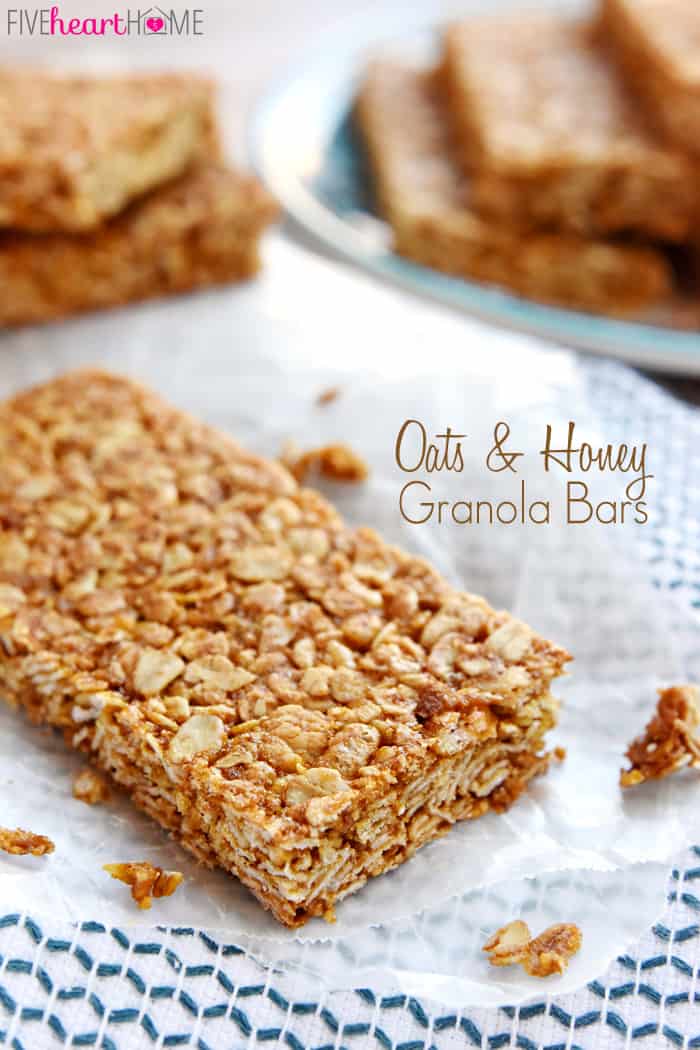 Gingerbread Granola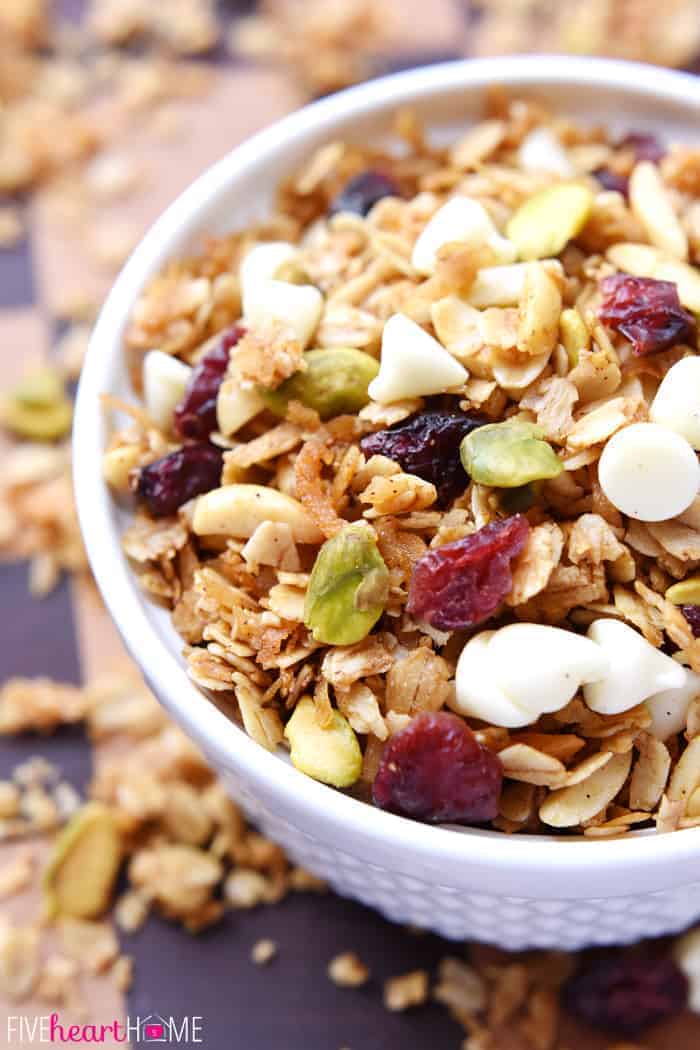 6