When you're born into the world after two big brothers, odds are your mama is going to make sure you are immersed in plenty of pink to balance out all those years of blue. So naturally, it only makes sense that your first birthday party would follow the same theme…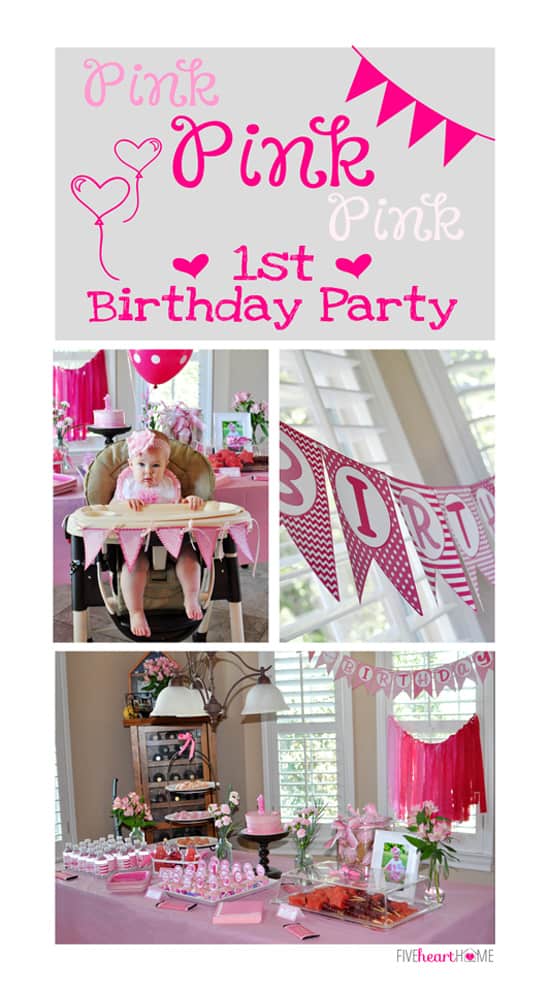 A little over a year ago when we were expecting our third child, we decided that we didn't want to find out the gender ahead of time. Already having two sweet boys, I think I was more surprised than anyone when the doctor said, "It's a girl!" On the happy day that we welcomed our daughter into the family, it didn't take me long to conjure up visions of bows and tutus and a very pink, very girly first birthday party.
So without further ado, here are the pictures and party details of our little one's Pink First Birthday Party!
I baked my daughter a smash cake using my dairy-free, egg-free First Birthday Applesauce Cake recipe and I attempted to create a pink ombre effect when I frosted it. Since I have a paranoia regarding food coloring — particularly when it comes to feeding it to my baby — I tried out the India Tree brand of vegetable-based natural decorating color. I can't vouch for the other colors, but I was pleased with the shades of pink that I was able to attain using India Tree red coloring.
I also whipped up some Fresh Strawberry Cupcakes with Strawberry Cream Cheese Frosting for our party guests…yum!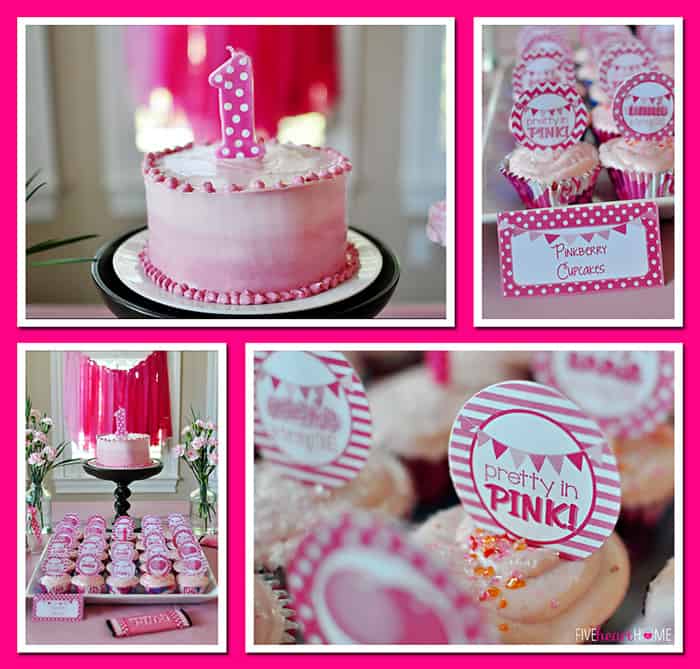 Believe it or not, the most frustrating aspect of planning this party was tracking down pink cotton candy! I had the bright idea to fill ice cream cones (dipped in pink-tinted white chocolate and coated in pink sprinkles!) with balls of cotton candy in lieu of ice cream. But through multiple stores, my search for solid pink-colored cotton candy was fruitless. So I ended up buying rainbow cotton candy and picking out the other colors to achieve (mostly) pink cones. Ah, the sacrifices we make for our children… 😉
I individually wrapped the cones in cellophane bags tied with (guess what color?) pink ribbon so that party guests could take them home as favors in case they were already feeling sugared out at the party. I also supplied the dessert table with a batch of my favorite Coconut Macaroons and dipped or drizzled each cookie with pink-tinted white chocolate. What can I say? When I decide on a theme, I embrace it whole-heartedly.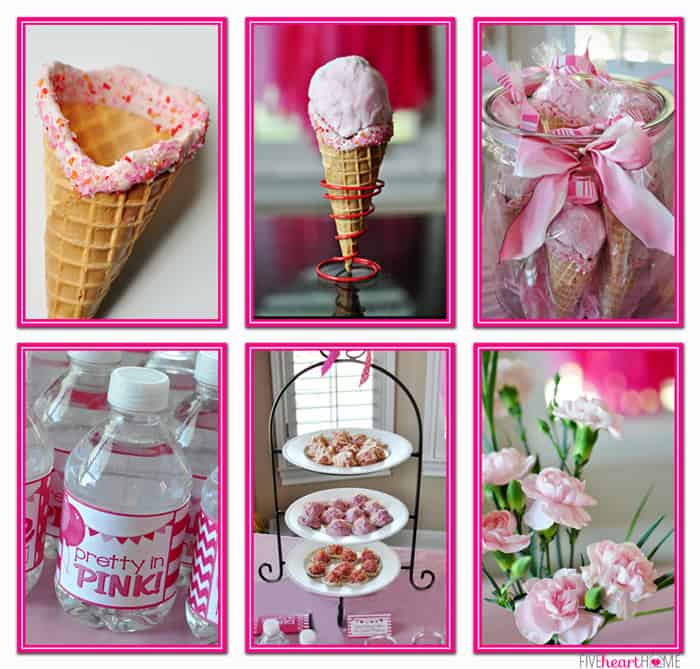 Other sweet treats included various shades of pink candy in the form of jelly beans and M&Ms. (Shout-out to the hubby for scouring the candy aisle at the grocery store to procure the perfect pink candies!) And I thought it would be wise to include a bit of fruit amidst all of the sweets, so I also skewered grapes and watermelon stars (cut out with a cookie cutter) into pinkish wands.
As far as decor, I made a pink ombre bunting by knotting quilting strips of fabric along a thin rope. And all of the adorable printables were custom designed for me by Holly at Mimi's Dollhouse. I had purchased party printables from the same shop for my son's pool themed birthday party in August, and I was so pleased with how everything turned out that I thought I'd check back when it was time to track down some pink decor.
I didn't initially find what I had in mind, so Holly was happy to put together a printable set inspired by my vague description of "different patterns in different shades of pink." I just loved the way the invitation, birthday banners, cupcake toppers, water bottle wrappers, candy bar wrappers, thank you tags, and various other party printables turned out, with their fun mix of chevron, polka-dots, stripes, and bunting detail!
I think my very favorite printable, however, was the first year banner. It included a banner piece for each month of my daughter's life, from first born all the way to 12 months. It was like a trip down memory lane putting the banner together (*sniff, sniff*), and I think all of the party guests really enjoyed seeing how much our baby girl has changed over the months.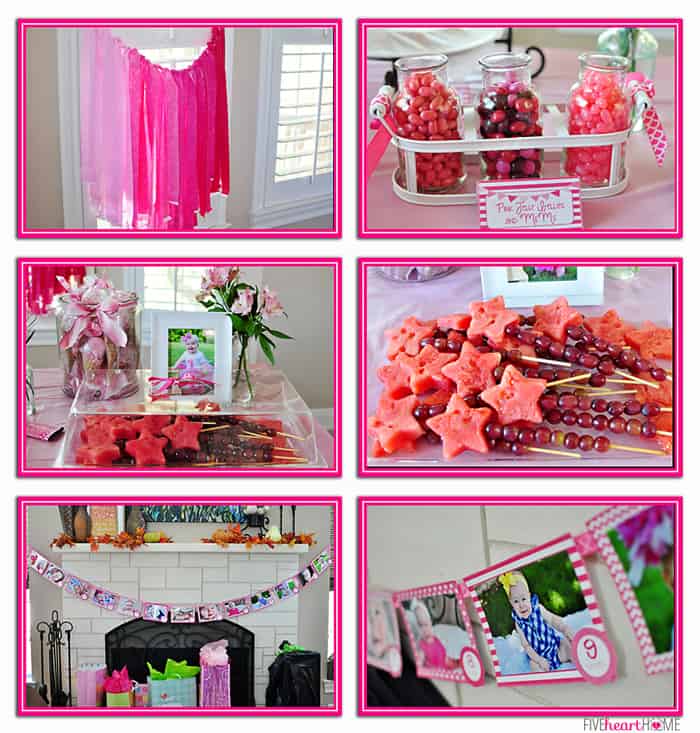 One of my most beloved birthday party traditions is choosing a children's book that matches the theme of the party and then having all of the party guests sign it as a guest book. It's so much fun to re-read those books down the road and remember all of the loved ones who helped celebrate that birthday!
We had boy and girl party guests of different ages, so I wanted to find a gender-neutral party favor that would appeal to the little ones as well as the older kiddos. I ended up tracking down some cute dry erase boards and pencils in the back-to-school aisle, so I just pink-ified them with a pink-wrapped Hershey's bar and lots of pink curling ribbon.
Now it goes without saying that a cute birthday girl requires a cute birthday outfit! I found an adorable onesie featuring a "1" made out of pink rosettes with a matching tutu and hair bow at a darling Etsy shop called Sweet Caroline Crafts. But we didn't want to ruin such a precious outfit with cake, so she changed into a Mud Pie cupcake bib and matching bloomers (ordered from Amazon) for her first birthday cake smash.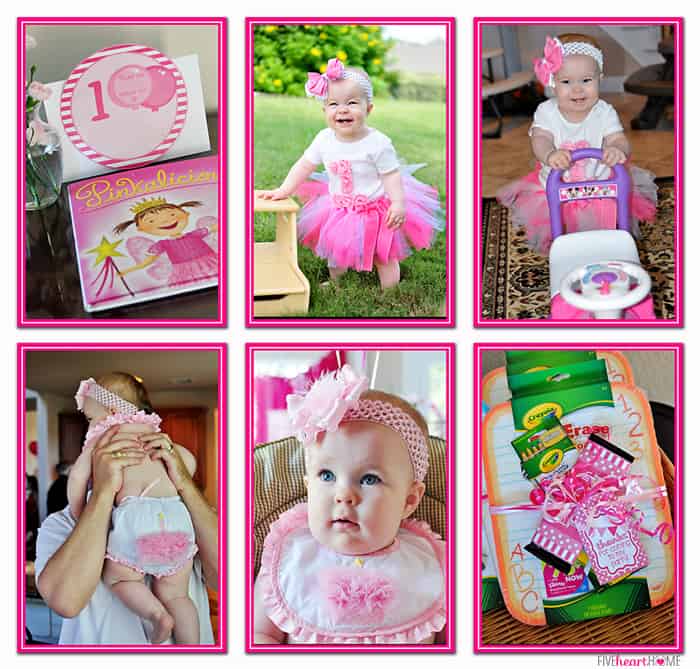 I think that's about it for the party details. I do believe it's time for cake!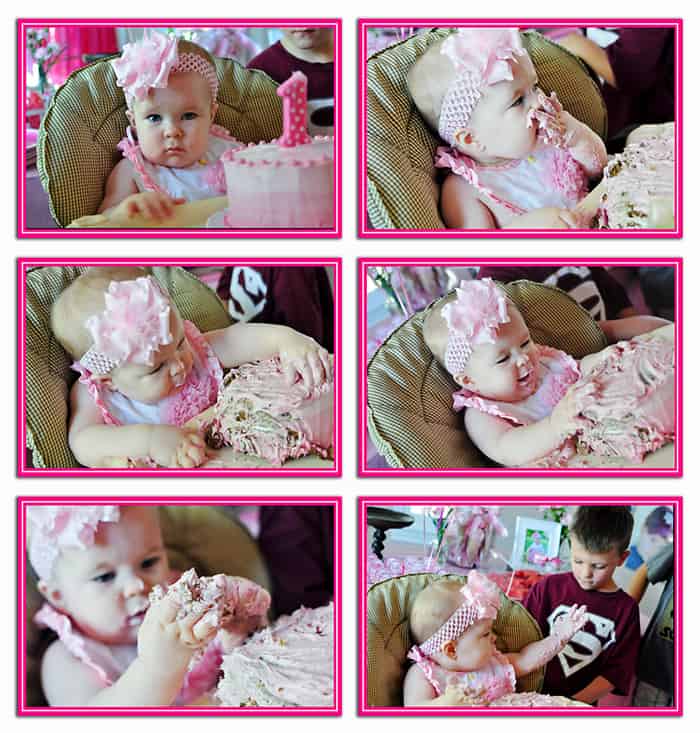 "My colors are blush and bashful."
"Your colors are pink and pink."
Someone was a little distraught after getting all of the frosting washed off, but a bit of jumping in the bouncy house with Mama made it all better.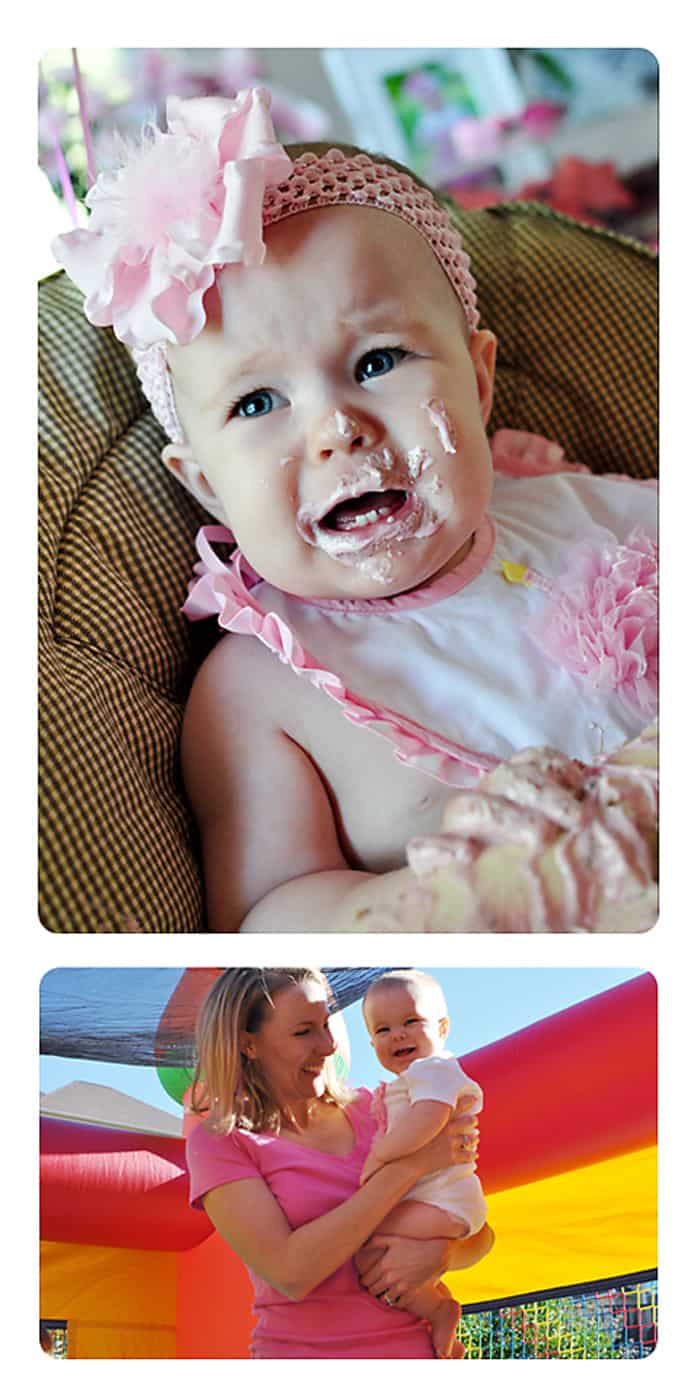 I had so much fun planning my daughter's pink party and I'm already looking forward to another sweet, girly theme for next year. I'm thinking I better take advantage while I can…because after all of the pink she's been subjected to from an early age, this little girl might just end up being a big ol' tomboy! 😉