Tender and juicy Pretzel-Crusted Chicken Nuggets are baked to perfection and served with a lightened-up, Greek yogurt-based Honey Mustard Dipping Sauce for a simple, yummy, family-pleasing dinner!

Who doesn't love the classic chicken nugget? My kids certainly do. In fact, my 3-year-old daughter is turning out to be the pickiest eater of all my offspring, and most nights she refuses to eat anything — and I mean anything — labeled "dinner." But lo and behold, she will eat "dinner" if it consists of pizza or chicken nuggets. As a result, some nights she goes to bed with a mostly empty tummy because she chose not to eat what was served…and other nights, my cold, hard heart takes pity on her stubborn threenager ways and I make pizza or chicken nuggets for dinner, simply because I know she'll eat them.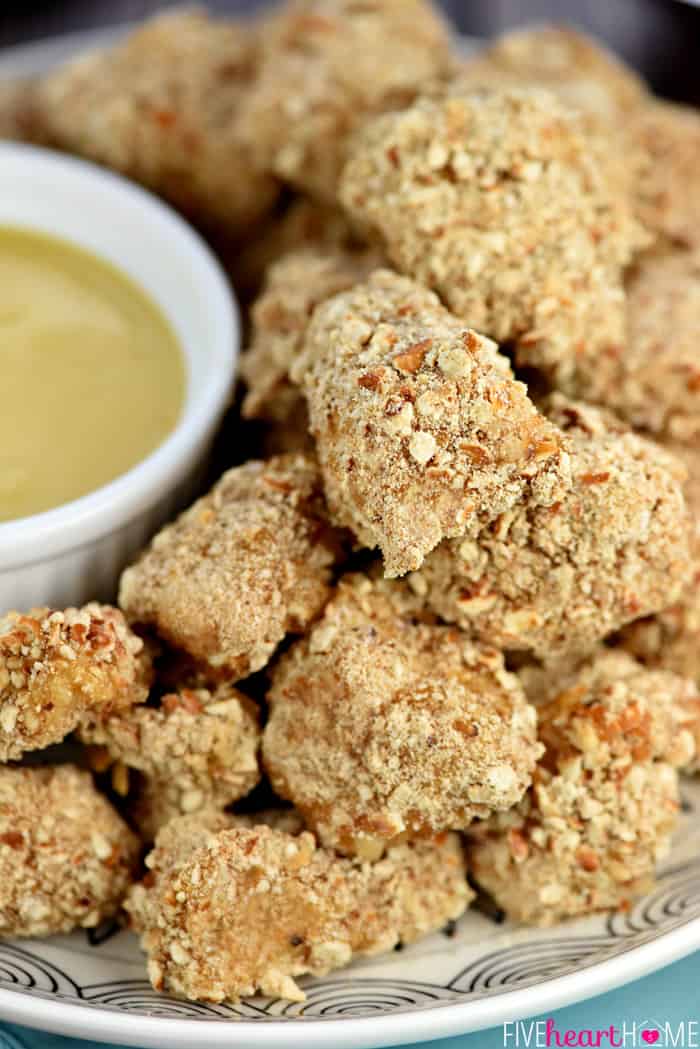 While there are decent frozen organic chicken nuggets available at the grocery store these days, they're awfully expensive and I've never really thought they taste like anything special. On the other hand, it's surprisingly quick and simple to make homemade baked chicken nuggets, and the kids can even help! There are lots of ways to coat your nuggets, from bread crumbs to Panko crumbs to crushed cornflakes. But my family's favorite coating is finely-crushed pretzel crumbs, which result in a crunchy, salty crust to contrast with the tender, juicy chicken.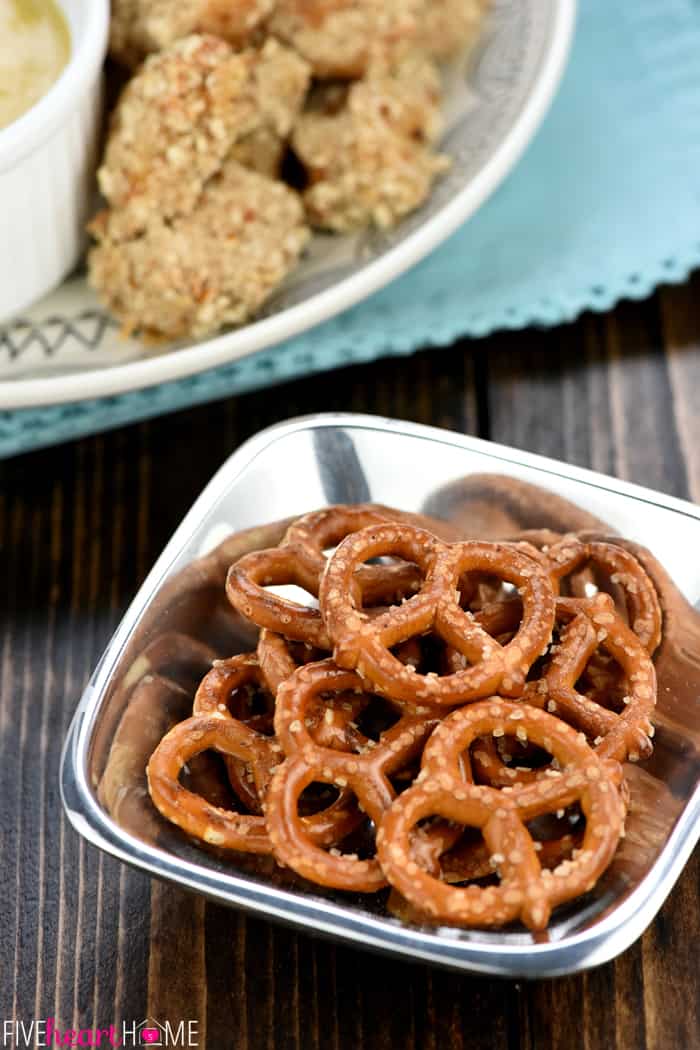 In this recipe, boneless, skinless chicken breasts are cut into bite-sized chunks and coated in seasoned whole wheat flour. The nuggets are then dipped in lightly beaten eggs followed by rolling around in a combo of pretzel crumbs and freshly grated Parmesan cheese. Bake 'em for 2o or so minutes and…that's it! Simple, addictive Pretzel-Crusted Chicken Nuggets.
Now the key to baking chicken nuggets is…are you ready? Don't overbake them. They should be cooked through yet still juicy, because everyone knows that dry chicken nuggets are not particularly enjoyable chicken nuggets. And don't expect your oven-baked nuggets to turn golden brown as if they were fried, either. If you'd like them to darken and crisp up a bit more than the ones pictured here, you can lightly spray them with olive oil cooking spray before baking. But I usually just bake them as-is and nary a complaint is heard from the vicinity of the dinner table.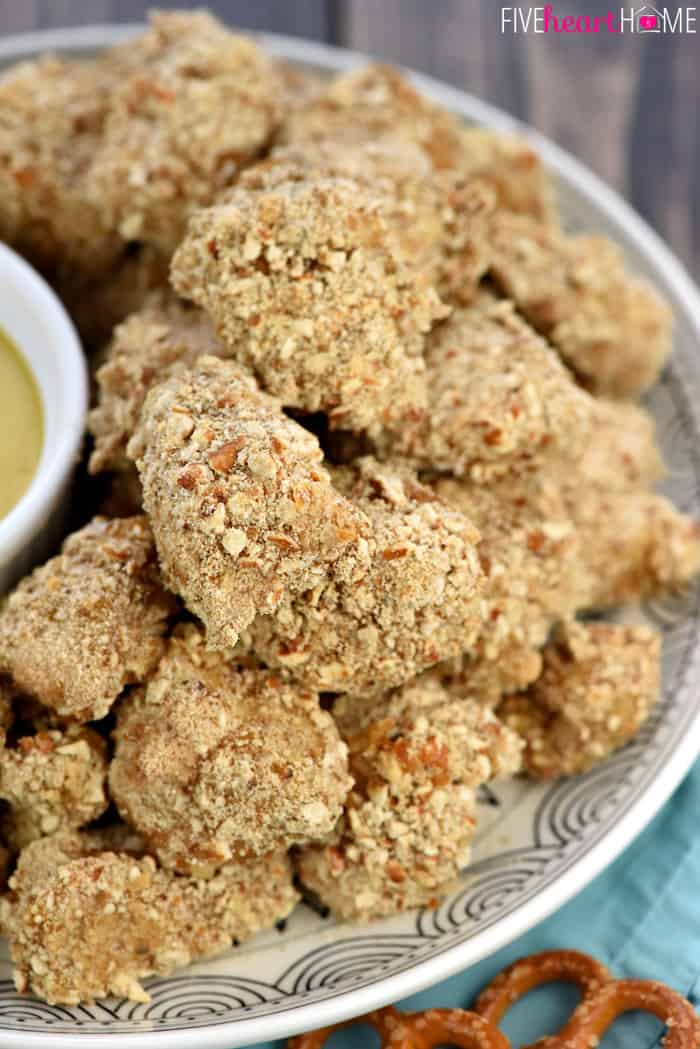 Let's not forget about the glossy, delicious dipping sauce, which everyone knows can take a humble little chicken nugget from good to great. Honey Mustard is our family's dip-o-choice. While it's typically concocted with a base of mayonnaise, this version swaps in lighter, healthier Greek yogurt. Depending on how sweet you like your sauce, it's easy to add more or less honey to taste. In the same way, you can tweak the ratio of Dijon mustard vs. yellow mustard to your liking, using more (or all) of one or the other. But regardless of the proportions, I always prefer whipping up my Honey Mustard Dipping Sauce first, allowing the flavors to blend in the fridge while I assemble and bake the chicken nuggets.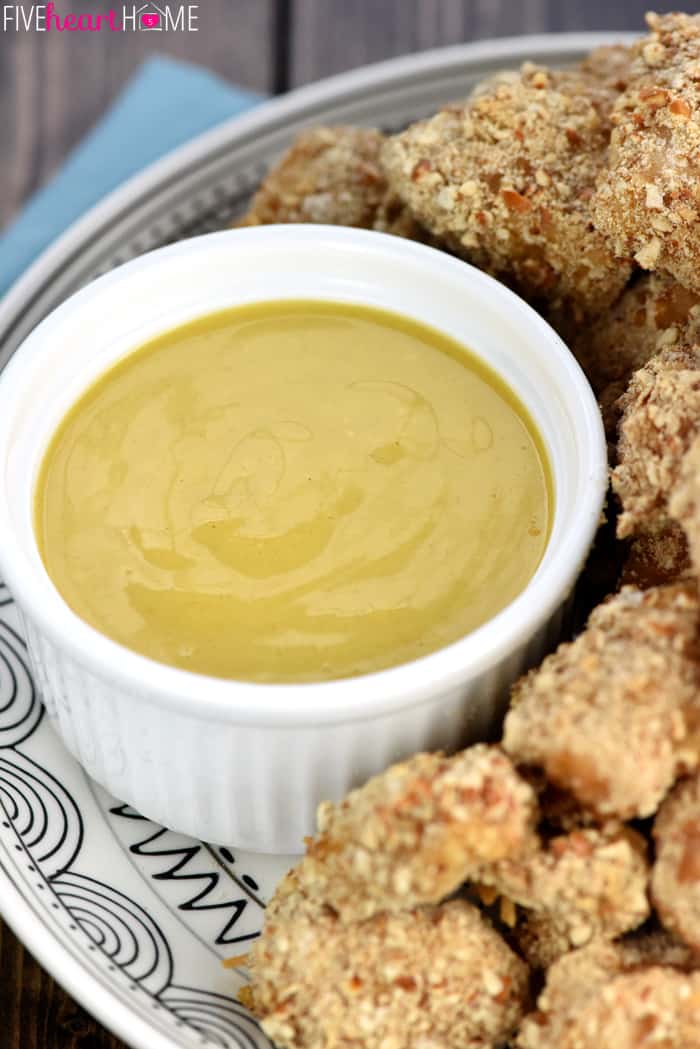 So who's ready for some tasty, betcha-can't-eat-just-10 Pretzel-Crusted Chicken Nuggets? I promise, y'all…these are guaranteed to be a hit with kids and adults alike. Because sometimes, a peaceful dinner where nobody (nobody!) whines about what's being served is worth its weight in (golden) Honey Mustard.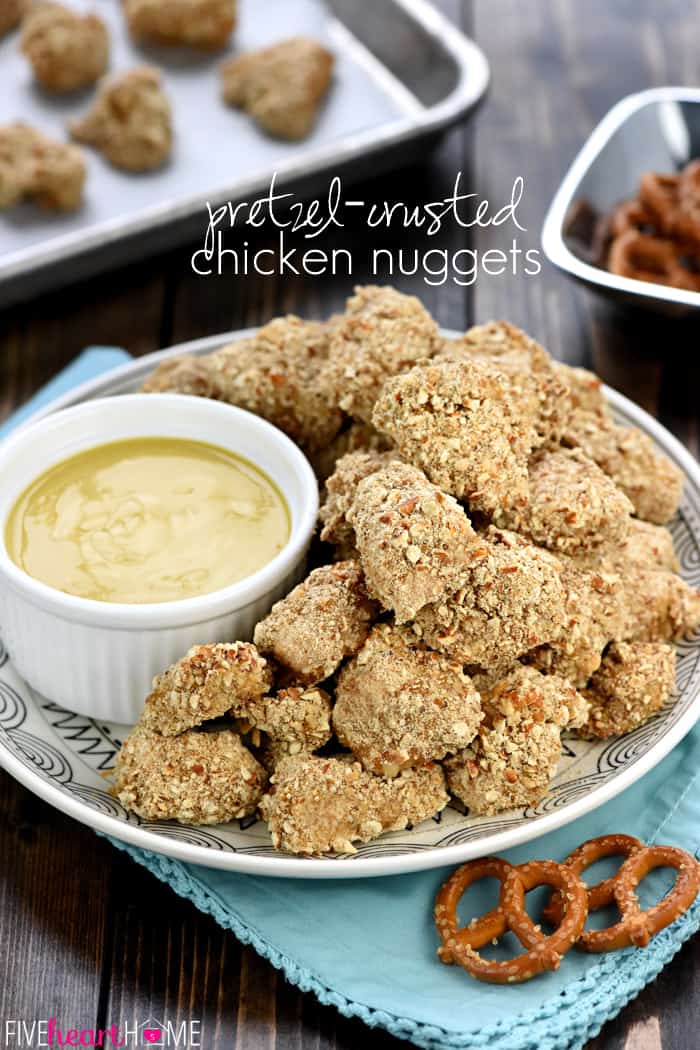 Pretzel-Crusted Chicken Nuggets with Honey Mustard Dipping Sauce Recipe


Pretzel-Crusted Chicken Nuggets with Honey Mustard Dipping Sauce

Tender and juicy Pretzel-Crusted Chicken Nuggets are baked to perfection and served with a lightened-up, Greek yogurt-based Honey Mustard Dipping Sauce for a simple, yummy, family-pleasing dinner!

Ingredients

FOR THE DIPPING SAUCE:
1/4 cup Greek yogurt
2 tablespoons honey (plus more to taste, if desired)
1 tablespoon prepared yellow mustard
1 tablespoon Dijon mustard
1/8 teaspoon salt
_
FOR THE NUGGETS:
1 1/2 pounds (2 large or 3 medium) boneless, skinless chicken breasts
1/2 cup whole wheat flour (or all-purpose flour)
3/4 teaspoon garlic salt
1/4 teaspoon onion powder
Freshly ground black pepper, to taste
2 eggs
4 ounces finely-crushed pretzels (equaling about 1 cup crushed pretzels, from about 2 1/2 cups whole pretzel twists)
1/4 cup freshly grated Parmesan cheese

Instructions

Prepare the Honey Mustard Dipping Sauce by combining the Greek yogurt, honey, yellow mustard, Dijon mustard, and salt in a small bowl. Whisk until smooth. Cover and refrigerate until ready to serve.
Adjust the oven rack to the center position and preheat oven to 400°F. Line a large rimmed baking sheet with parchment paper.
Cut the chicken into 1-inch chunks; set aside. In one bowl, combine the flour, garlic salt, onion powder, and black pepper. In another bowl, lightly beat the eggs. In a third bowl, combine the crushed pretzels and grated Parmesan.
Take a piece of chicken and drop it in the bowl of flour, turning to coat. Shake off the excess flour before dipping it in the beaten egg. Place the chicken in the bowl of crushed pretzels and turn to coat, pressing the pretzel crumbs into the chicken so that they stick. Transfer the chicken nugget to the prepared baking sheet and repeat until all of the nuggets are prepared.
Bake for 18 to 22 minutes or until the chicken nuggets are completely cooked through but not overdone. Serve warm with Honey Mustard Dipping Sauce.

Notes

The Honey Mustard Dipping Sauce can be prepared well ahead of time...the longer it chills, the more its flavors will meld. Try to use the thick (not the watery) portions of the Greek yogurt. Feel free to tweak the flavors by adding more honey or mustard to taste.

https://www.fivehearthome.com/pretzel-crusted-chicken-nuggets-with-honey-mustard-dipping-sauce/

https://www.fivehearthome.com ~ All recipes and images on Five Heart Home are copyright protected. Please do not use without my permission. If you would like to feature this recipe, please rewrite the directions in your own words and give proper attribution by linking back to this blog.