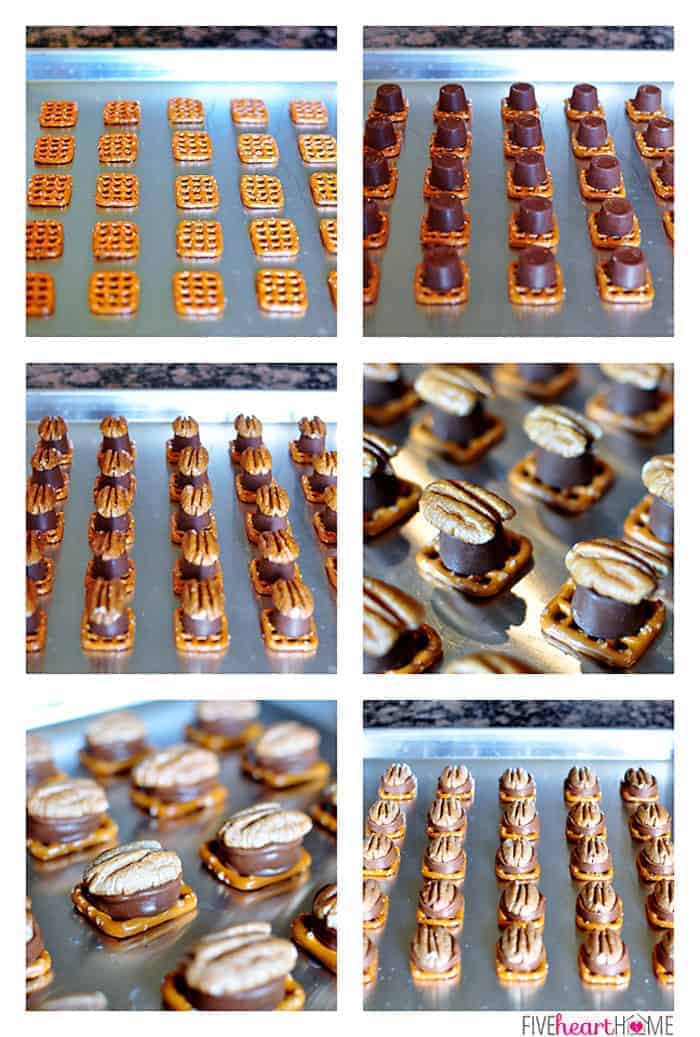 Rolo Pretzel Turtles are quick, easy, 3-ingredient treats, featuring pretzels, Rolos, and pecans. And they'll disappear even faster than you can make them!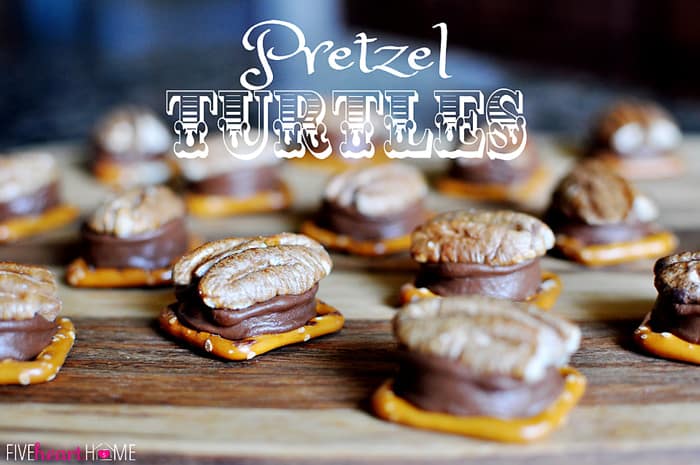 Y'all have probably seen, tasted or made these heavenly little morsels before, but just in case you haven't, I would be remiss not to share them here. Prepare to be amazed by this combination of three humble ingredients that yield...Rolo Pretzel Turtles!
I came across this recipe years ago and I thought it would be the perfect thing to take to a family gathering, seeing as how my father-in-law loves chocolate caramel pecan turtles. So I made them then, I've made them about 6,437 times since, and I'm making them for you today.
These suckers are seriously addictive, folks. But even better than that? They are super quick and easy to make. As in, it's hardly even possible that so little effort can go into something that ends up tasting so divine. This is my stand-by recipe (if it's even fair to call something so simple a "recipe") when I need to take a sweet treat somewhere but only have about ten minutes of effort to spare. I can assure you, they are always well-received.
Do I even need to go into what makes these Rolo Prezel Turtles so good? Okay then, here's the equation:
Pretzel (salty) + Rolo (sweet) + Pecan (toasty) = YUM
Or for you food texture junkies out there, you've got two crunchies sandwiching a chewy. Pure bliss.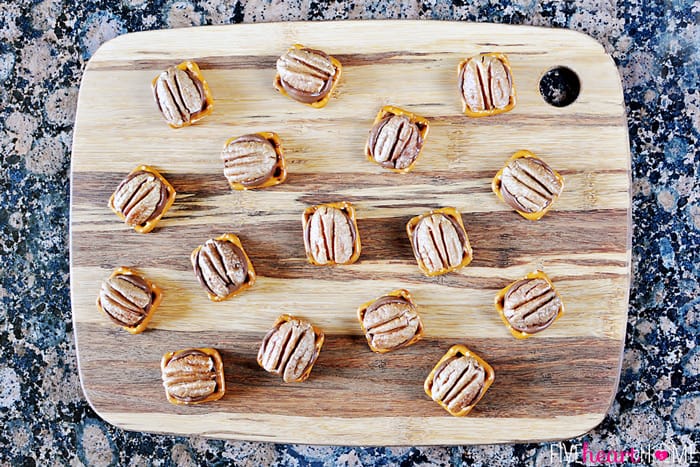 As far as the assembly, placing the pecans on top before putting your cookie sheet into the oven allows the nuts to get slightly toasted. You could always toast the pecans ahead of time for the same (or an even toastier) end result, but that would involve an extra step and a bit more time, and I'm going for the ultimate in quick and easy when I make this recipe, remember? Also, if you don't like or can't eat nuts, you can always leave these turtles plain or top them with another pretzel instead of a pecan.
It really is this simple: stack your ingredients, pop them in the oven for 5 minutes, and then when they come out, gently press the pecan down into the chocolate so that the Rolo flattens onto the pretzel but the caramel doesn't squeeze out. Truly, the hardest part of this recipe is waiting for them to cool down so you can start popping them in your mouth.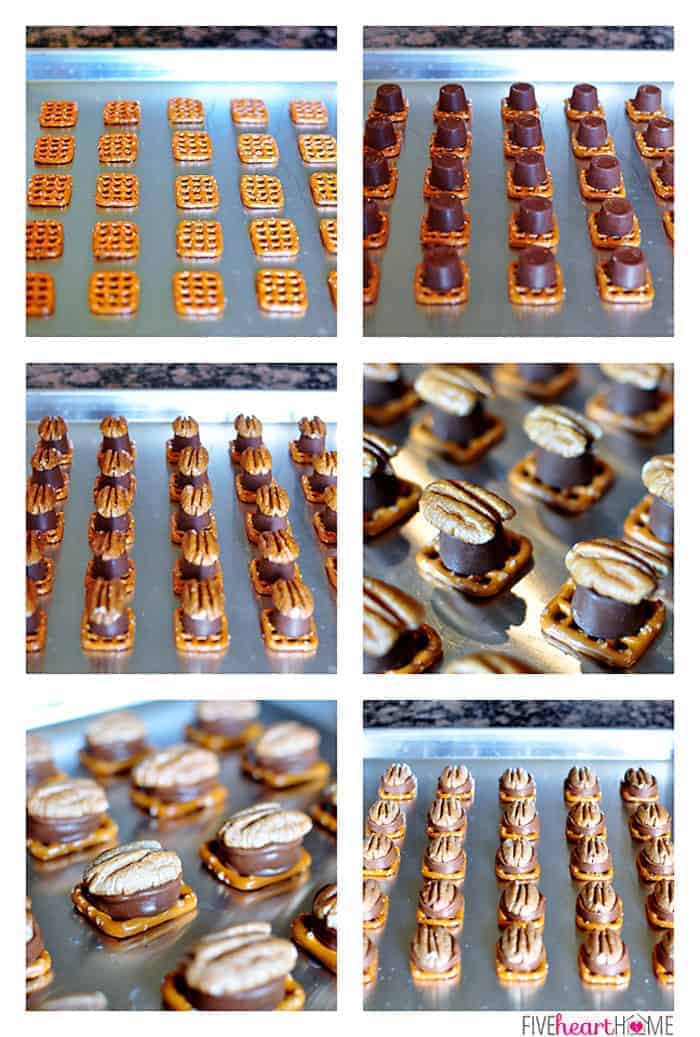 In full disclosure, I have made these candies before using Dove caramel milk chocolates instead of Rolos when I have square pretzels on hand. Something about the Dove chocolate squares appeases my perfectionist, square-chocolate-goes-with-square-pretzel self.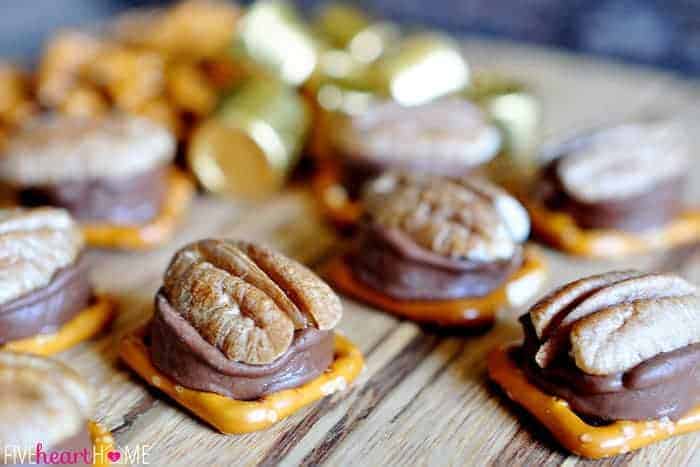 That being said, I still think I prefer the results of this recipe when made with Rolos. They boast a chewier caramel than Dove, so I think that aspect is an upgrade. But they're smaller than Dove chocolates, so the caramel-to-pretzel/pecan ratio is lower, if that's important to you. But since we're talking about chocolate and caramel here, I don't think you can lose either way.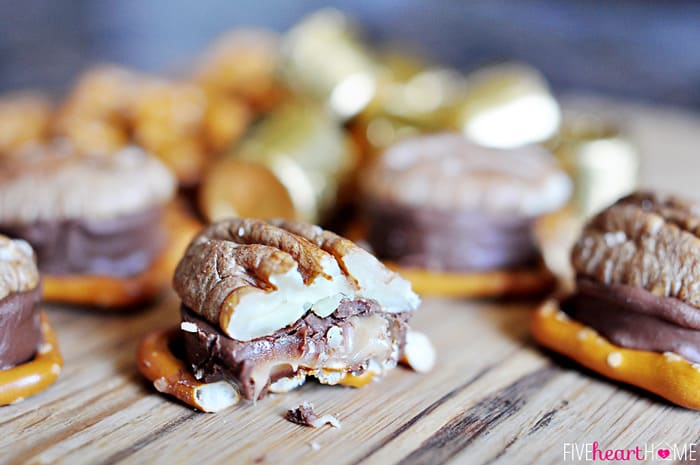 Bottom line? Whether you make these Rolo Pretzel Turtles as a Christmas candy, for a baby shower, as a token of teacher appreciation, or just because the 12th of July seems like a good day to celebrate life, I think they'll make you very happy indeed.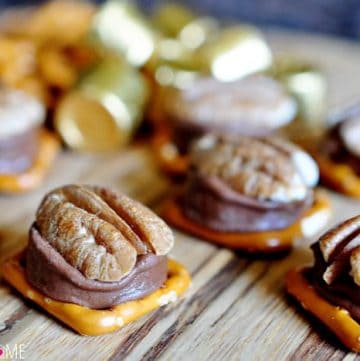 Rolo Pretzel Turtles
Rolo Pretzel Turtles are quick and easy, 3-ingredient treats, featuring pretzels, Rolos, and pecans. And they'll disappear even faster than you can make them!
Print
Pin
Rate
Ingredients
50

small square OR round pretzels

1

(11-ounce) bag of Rolos

,

(about 50 pieces)

50

pecan halves
Instructions
Preheat oven to 300°F.

Lay out pretzels on a cookie sheet. Top each pretzel with a chocolate caramel candy. Top each candy with a pecan half.

Bake for 5 minutes. Remove from oven and gently press down on each pecan so that it slightly flattens and becomes embedded in the chocolate without squeezing out the caramel. Allow to cool. You may refrigerate for 30 minutes to speed up the process.
Notes
You may use

Dove Caramel & Milk Chocolate Candy squares instead of Rolos, if you wish. However, keep in mind that a

bag of Rolos contains about 50 candies, but a bag of Dove chocolates only contains about 35 candies.
Calories:
42
kcal
|
Carbohydrates:
5
g
|
Protein:
1
g
|
Fat:
2
g
|
Saturated Fat:
1
g
|
Cholesterol:
1
mg
|
Sodium:
24
mg
|
Potassium:
18
mg
|
Fiber:
1
g
|
Sugar:
4
g
|
Vitamin A:
7
IU
|
Vitamin C:
1
mg
|
Calcium:
10
mg
|
Iron:
1
mg
Adapted from All Recipes.
More Candy-Laden Treats