A blend of vanilla yogurt and pumpkin puree is layered with Maple Cinnamon Pecan Granola to create beautiful parfaits that taste like fall!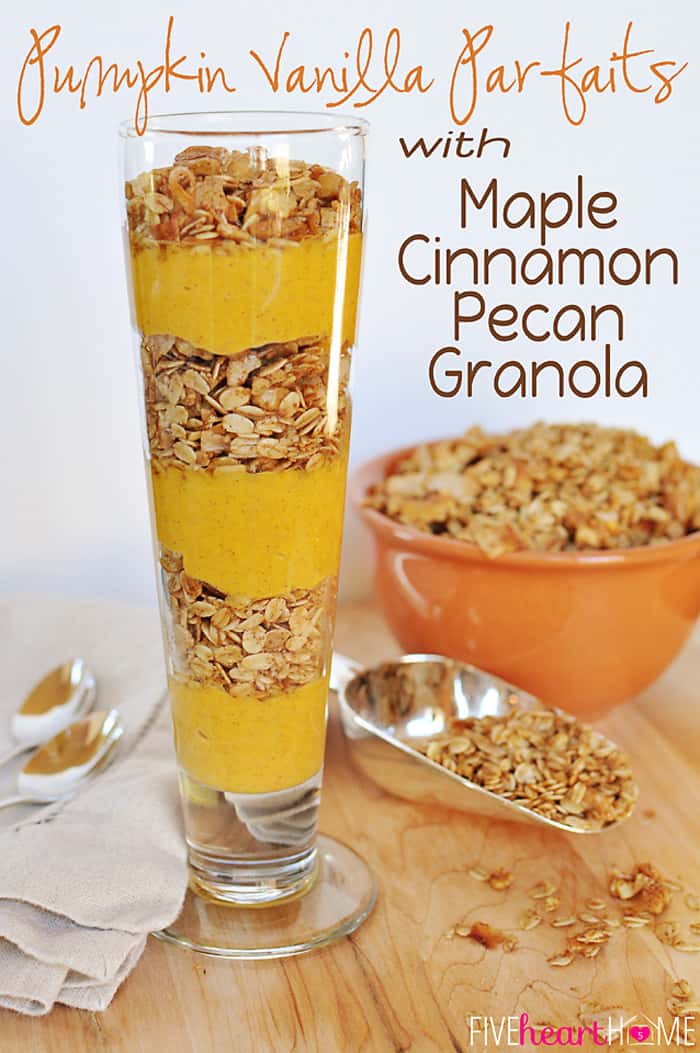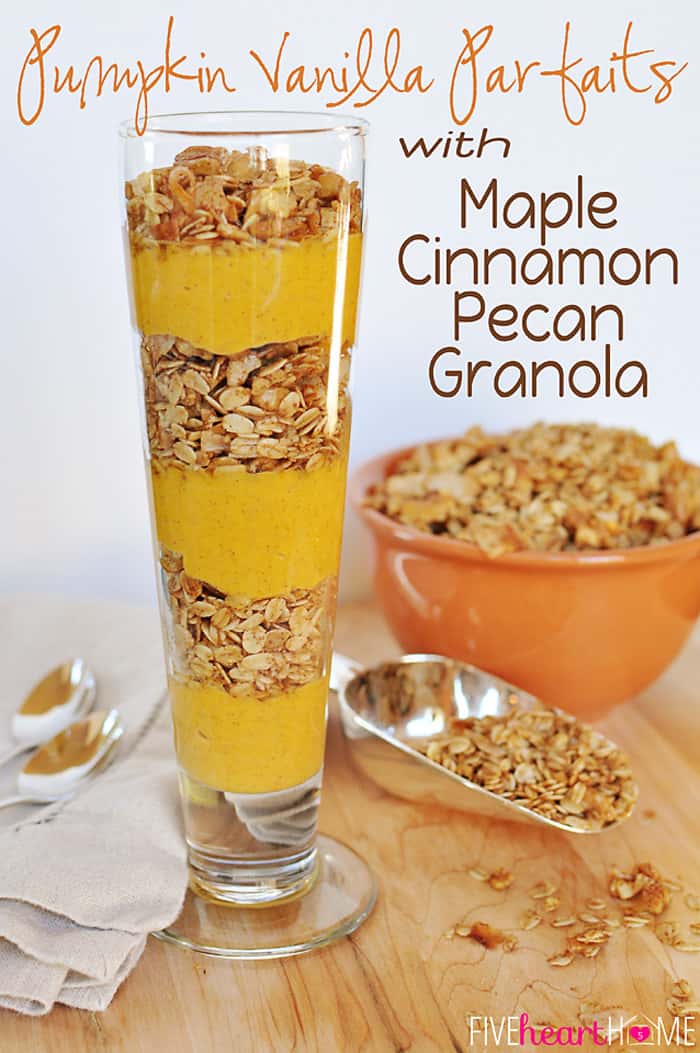 Hi. My name is Samantha, and I'm addicted to pumpkin. You've probably figured that out already, seeing as how this is my fourth pumpkin recipe in five weeks. But y'all…I just can't stop myself! Please send help.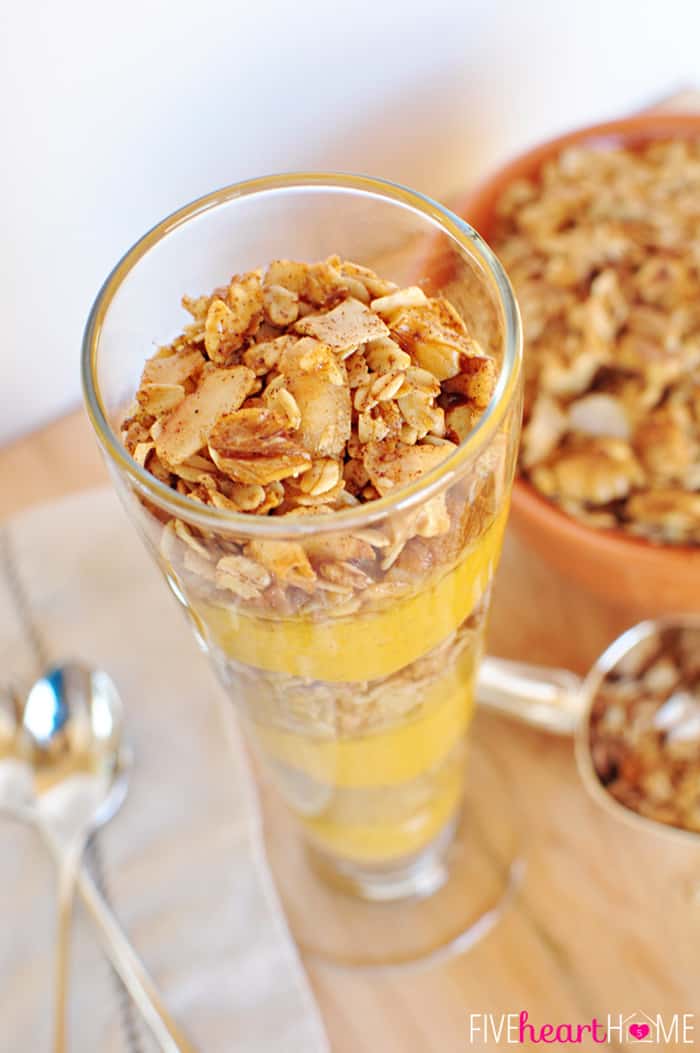 Even if you're not quite as pumpkin obsessed as me, today's post has something for you anyway. Some of my longtime followers (four months and counting! Woo-hoo!) may remember a granola recipe that I posted back in the summer as one of the first recipes I shared here. That Nut & Honey Granola is a tried and true family favorite. I've been making it for years and have perfected it just the way we love it. But the other day, I was feeling a bit rebellious and decided to mess with it.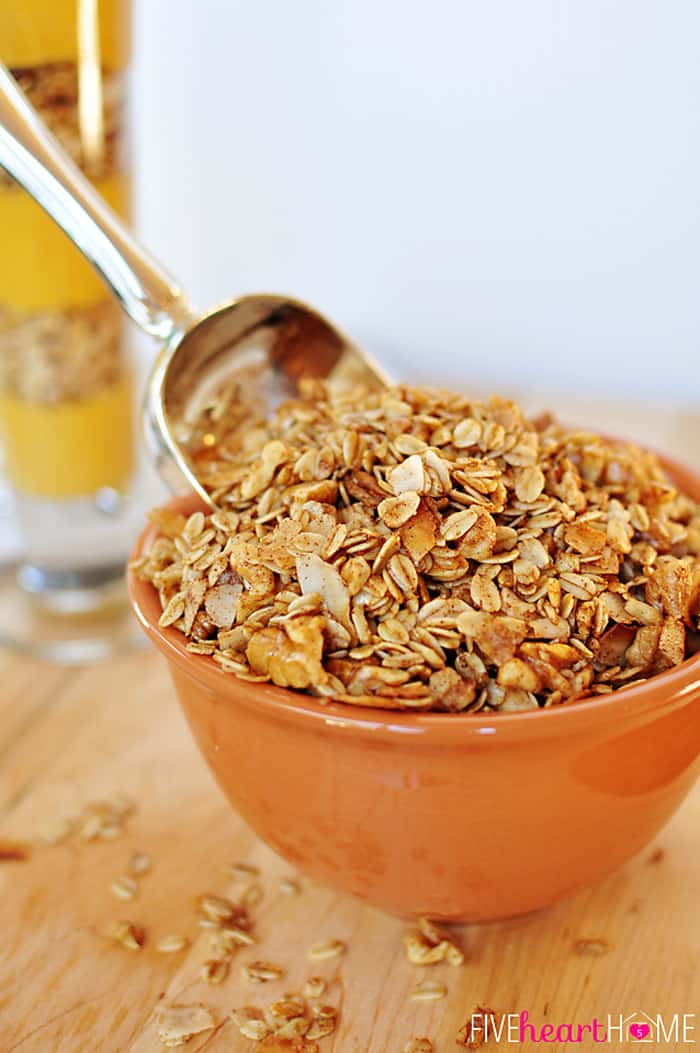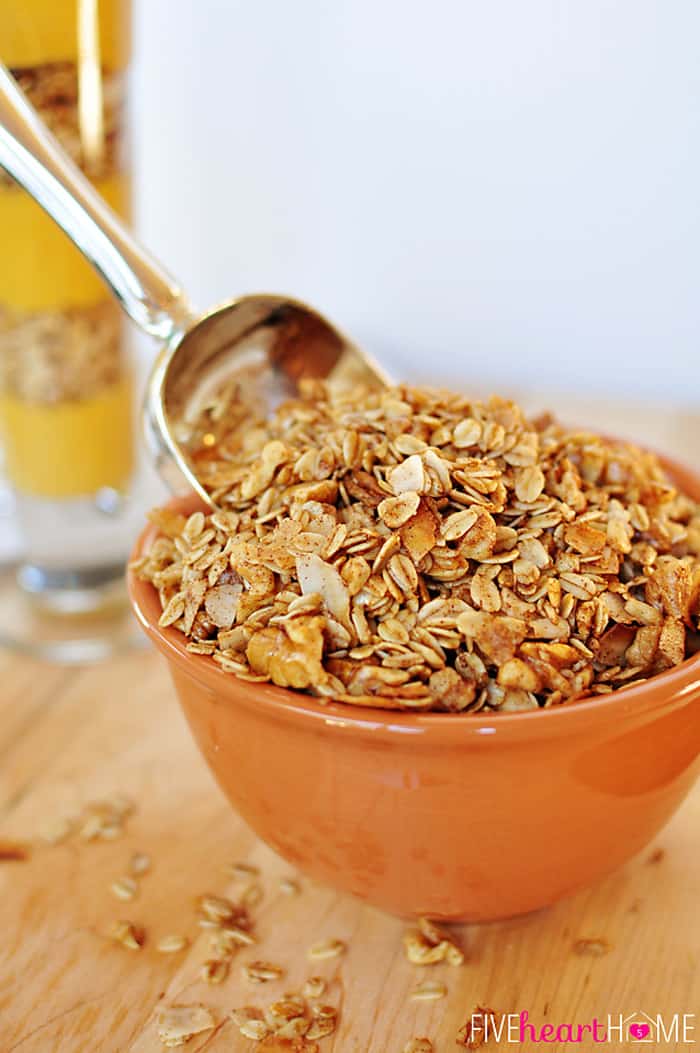 After all, pumpkin shouldn't be the only one to lay claim to fall flavors! So on a whim, I gave an autumn twist to my perfect, classic granola. I used pure maple syrup in lieu of honey, I swapped out my beloved almonds and cashews for some toasty pecans, and I added cinnamon, ginger, and nutmeg for a hint of spice.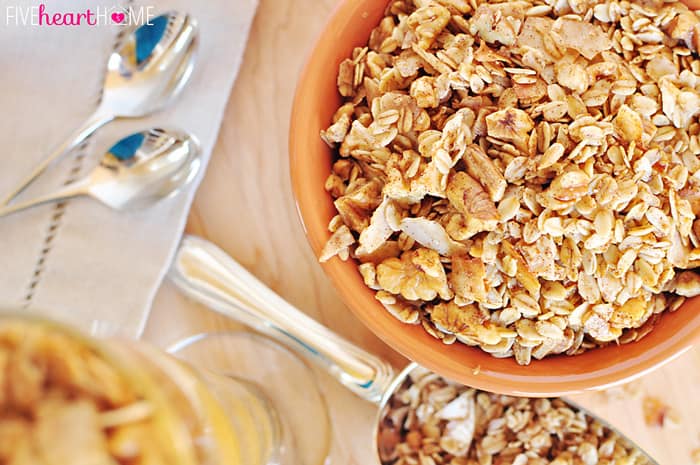 Oh. My. Goodness. Why had I never tinkered with this recipe before?! The results of my experimentation were delicious. The granola maintained its perfect chewy-crunchy, almost glazed texture (thank you, coconut oil). But it no longer tasted coconutty. The maple syrup and spices contributed that distinct fall flavor I'd been hoping for, and the pecans were the perfect, meaty accompaniment. Yum, yum, YUM.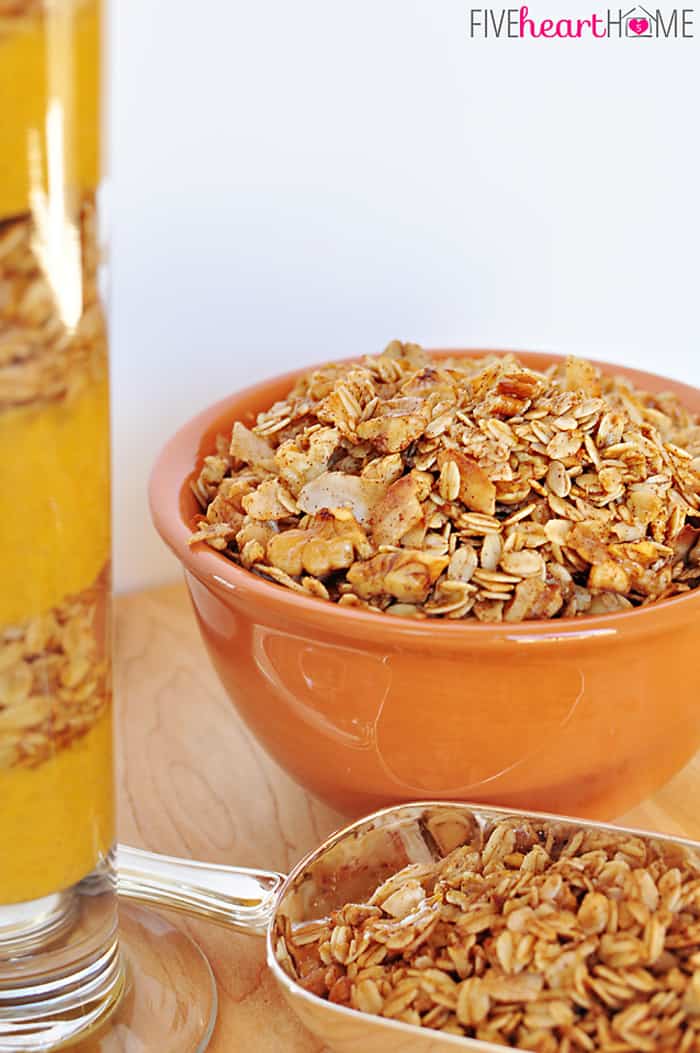 But you know what I left out that would make this version of granola even more fun? Pumpkin seeds! I think they would tie into the autumnal theme and the warm cinnamon-maple flavors perfectly, so I'll be sure to toss some in the next time I make a batch of this granola (which, at the rate we're eating it, is just a few short days away).
When I tasted my revamped, cinnamon-infused granola, I just knew I had to turn it into a festive, October-appropriate breakfast for my two granola-lovin' boys. So I mixed some pumpkin purée into vanilla yogurt, sweetened it with more maple syrup and spiced it with more cinnamon, and layered it with some granola in tall glasses. Not only were the resulting parfaits scrumptious, but they were quite lovely to behold as well.
Granola makes a fabulous breakfast or snack, and it's equally perfect for gift-giving. So whip up this version of maple+cinnamon+pecan goodness as a seasonal treat and, if you're addicted obsessed enamored with pumpkin like I am, consider layering it into these pretty, tasty parfaits to brighten someone's morning. (And it's absolutely okay if that someone is you!)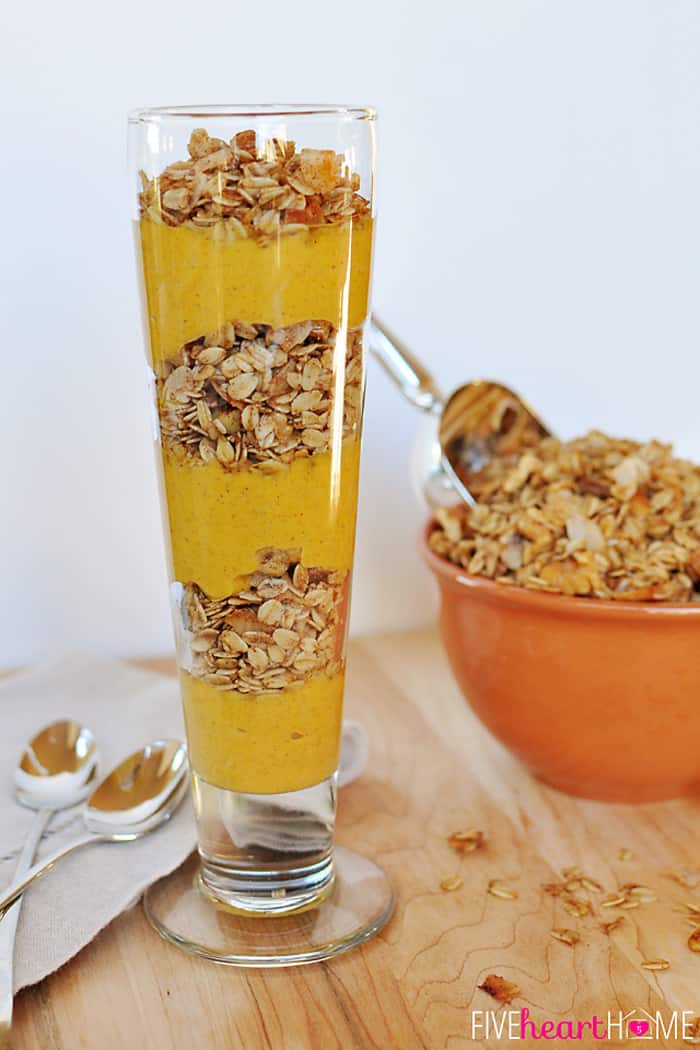 In the meantime, I promise to seek a pumpkin intervention. After all, I think it's time I start studying up on apple recipes anyway…
Granola recipe adapted from Five Heart Home.
This post may be linked up to Live Laugh Rowe, Posed Perfection, Mandy's Recipe Box, House of Rose, 4 Little Fergusons, Lil' Luna, Uncommon Designs, and these fabulous parties!