Raspberry Nutella Mug Cake boasts fluffy chocolate cake with a molten center of Nutella and raspberry preserves…but best of all, it's portion-controlled and ready to eat in just a few short minutes!

Oh, how I love a good mug cake. And based on our most popular recipes of 2015, so do y'all! 😉 So today I'm back with my newest favorite rendition of microwave cake in a mug…Raspberry Nutella Mug Cake!
I basically took my tried and true One-Minute Chocolate Peanut Butter Mug Cake and tweaked it just a tad, which amazingly enough resulted in a totally different treat. I'll concede that there aren't many flavors that complement chocolate better than peanut butter…but if there is one, it just might be raspberries. So I simply combined some seedless raspberry preserves with a dollop of smooth, sweet Nutella to give my chocolate mug cake an oozy, molten center of deliciousness.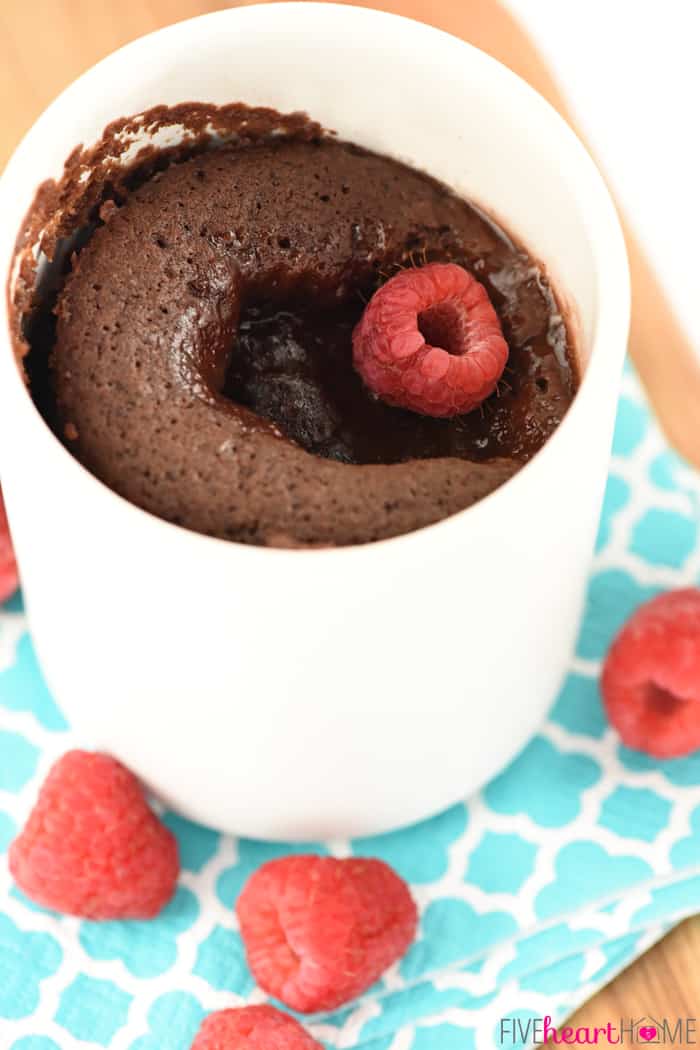 If you are reading this and have yet to try a microwave mug cake, allow me to hold your spot for a few minutes while you run to the kitchen and remedy that STAT.
Back already? I told you it was quick! 😉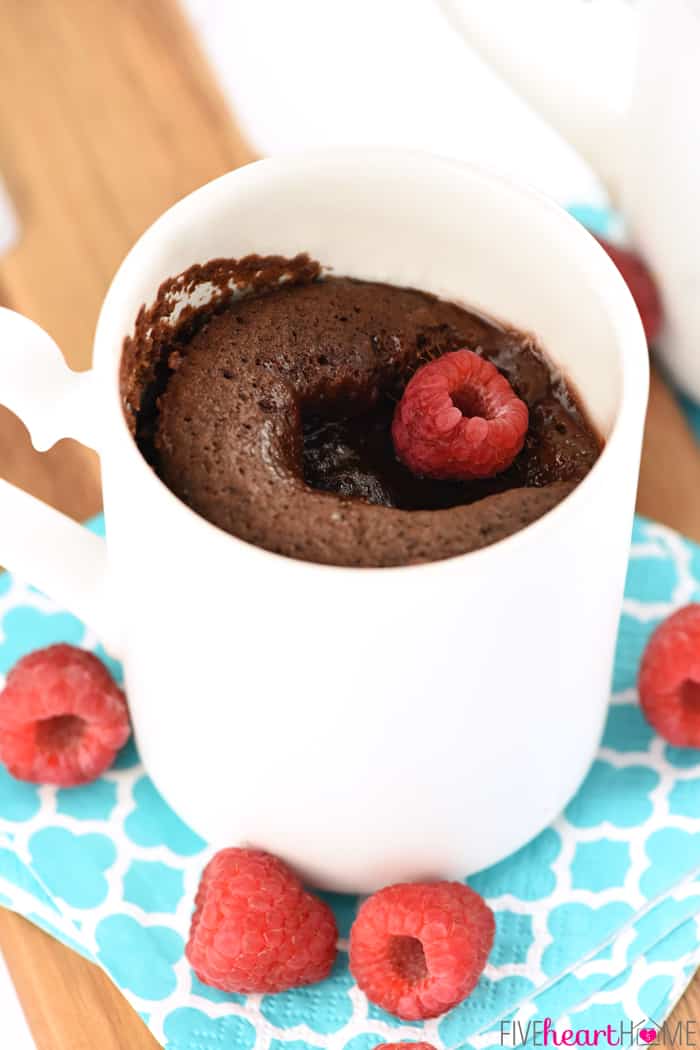 Despite the fact that you're only a few minutes away (at any given moment) from your very own decadent dessert, it's still safer than keeping a whole batch of cookies or an entire chocolate cake on hand. In other words? It's nice to be able to occasionally indulge your craving for a sweet treat without keeping a stock of sugary, ready-made desserts in the house (which are much harder to resist when they're already there). And should you scarf down your whole Raspberry Nutella Mug Cake and immediately decide that you want another, the portion-control is already built in…because it's all gone! You could make another one in a flash, of course, but at least that would give you a few more minutes to think about your decision and attempt to resist. 😉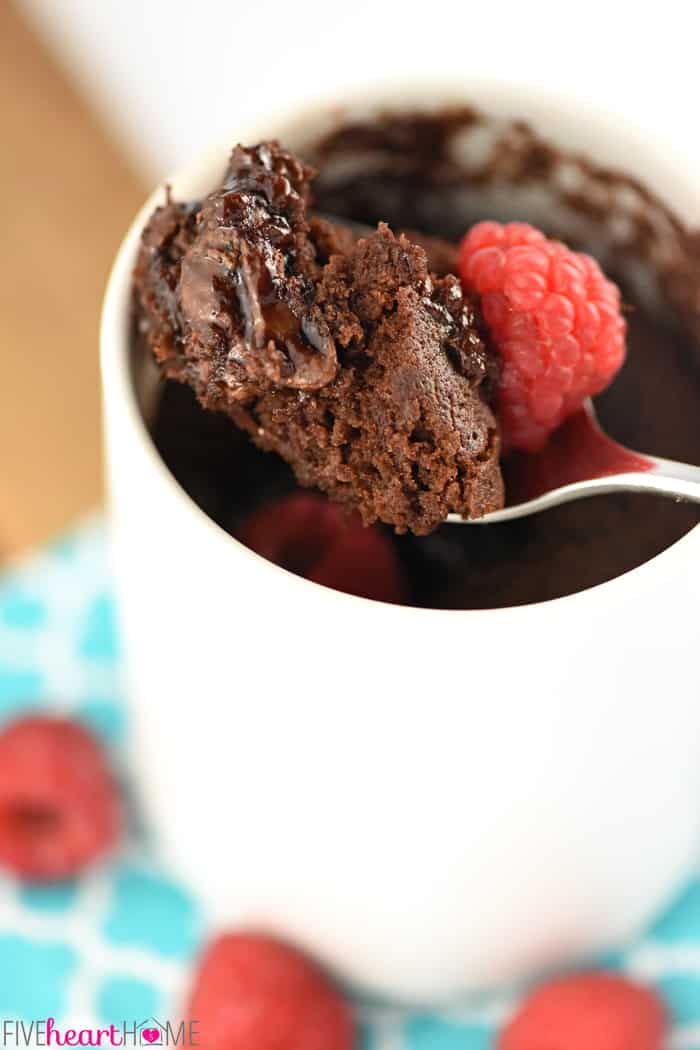 If you've tried mug cakes before but never really thought they were anything special, I encourage you to give one of my recipes a whirl (scroll down past this recipe for the full list of flavors). Each one is perfectly sweet and decadent with a light, fluffy (not dense or gummy) texture, and this Raspberry Nutella Mug Cake fits right in. It actually reminds me of the deep, dark chocolate cake with raspberry sauce that's a standard fixture on the dessert menu at so many fancy restaurants…except this version can be thrown together for mere pennies and in under five minutes from start to finish.
So enjoy, friends! And if you think of another mug cake flavor that you'd like to see added to this ever-growing list, let me know in the comments! 🙂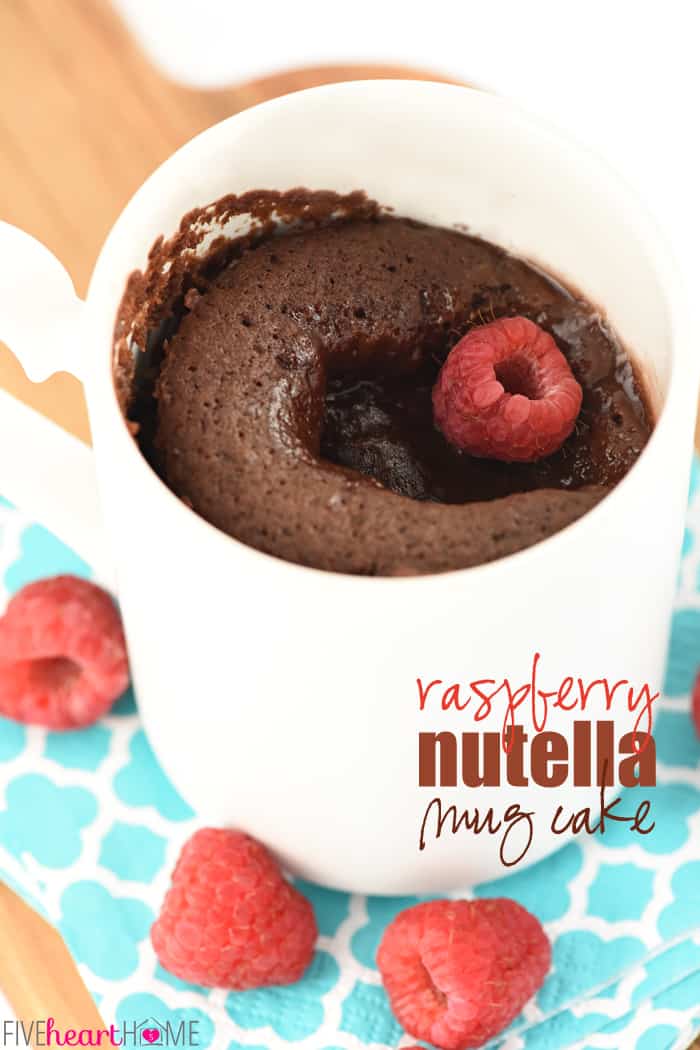 Raspberry Nutella Mug Cake Recipe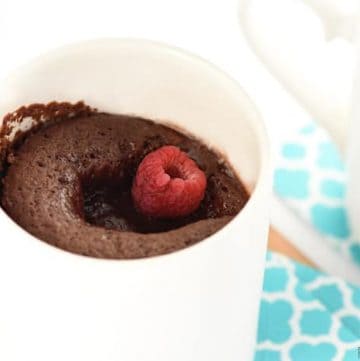 Raspberry Nutella Mug Cake
Raspberry Nutella Mug Cake boasts fluffy chocolate cake with a molten center of Nutella and raspberry preserves...but best of all, it's portion-controlled and ready to eat in just a few short minutes!
Print
Pin
Rate
Ingredients
1/4

cup

all-purpose flour

2

tablespoons

unsweetened cocoa powder

2

tablespoons

sugar

1/4

teaspoon

baking powder

1/4

cup

milk

,

at room temperature

2

tablespoons

butter

,

melted and cooled

1/4

teaspoon

pure vanilla extract

1

tablespoon

chocolate hazelnut spread

,

Nutella

1

tablespoon

seedless raspberry jam or preserves

Fresh raspberries

,

for serving
Instructions
In a small bowl, whisk together flour, cocoa powder, sugar, and baking powder until thoroughly, completely combined with no streaks of flour or cocoa powder remaining. Blend in milk, butter, and vanilla until batter is smooth. Pour batter into a 14-ounce (or larger) microwave-safe mug with straight sides.

Combine Nutella and raspberry jam and dollop into the center of the mug, gently pressing down until even with the top of the batter. Microwave on high for 1 to 1 1/2 minutes. Allow to cool for a couple of minutes and top with a few fresh raspberries before serving.
Notes
A tall, cylindrical mug with straight (not angled) sides will ensure that the cake bakes evenly. I found a 14-ounce mug to be the perfect size to allow the cake to rise up while baking without overflowing. (I filled my mug to the top with water and then transferred the water to a measuring cup to determine its capacity.) If you use a smaller mug, you may want to bake the cake on top of a plate or paper towel to catch any possible overflow.
The strength of individual microwaves can vary. The first time you make this recipe, be prepared to experiment a bit to determine the perfect length of baking time. I would start out microwaving it for a minute and, if necessary, add 15-second increments at a time from there. Keep in mind that the center is going to be molten even when the cake is done. But even if the cake is undercooked, at least you don't have to worry about raw eggs! 😉
As an alternative to serving straight out of the mug, you may instead spray the mug with non-stick cooking spray before adding the batter, and then carefully overturn the cake onto a plate once baked.
Calories:
627
kcal
|
Carbohydrates:
82
g
|
Protein:
8
g
|
Fat:
32
g
|
Saturated Fat:
22
g
|
Cholesterol:
66
mg
|
Sodium:
244
mg
|
Potassium:
409
mg
|
Fiber:
5
g
|
Sugar:
47
g
|
Vitamin A:
800
IU
|
Vitamin C:
1.7
mg
|
Calcium:
145
mg
|
Iron:
3.7
mg
More Mug Cakes & Quick Desserts