Happy September, friends! Seeing as how we're a little over a month out from the release of my cookbook, Real Food Slow Cooker Suppers, I thought we should celebrate with a little (actually BIG!) Pre-Order Giveaway!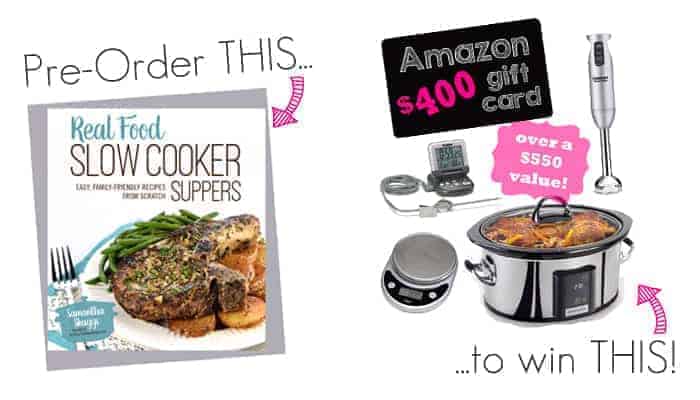 I use my slow cooker year-round, but fall is when I really start to rely on it again, between busy back-to-school schedules and cooler (hopefully soon!) weather. Many of you have already pre-ordered the cookbook which means that, as soon as it's released on October 11th, it will show up on your doorstep! And I honestly can't thank y'all enough.
Because you know what? Pre-orders are actually very important for authors as they create buzz around an upcoming book...and buzz is a good thing. 😉 Pre-orders get booksellers and publishers to take notice of a book and become excited about it. Pre-orders can increase a book's chance to get on best-seller lists, which then creates a positive snowball effect for the book. All of this simply means that if you are excited about any book that's coming out soon -- or if you know and/or want to support an author -- pre-ordering is a huge gift to both the book and the author!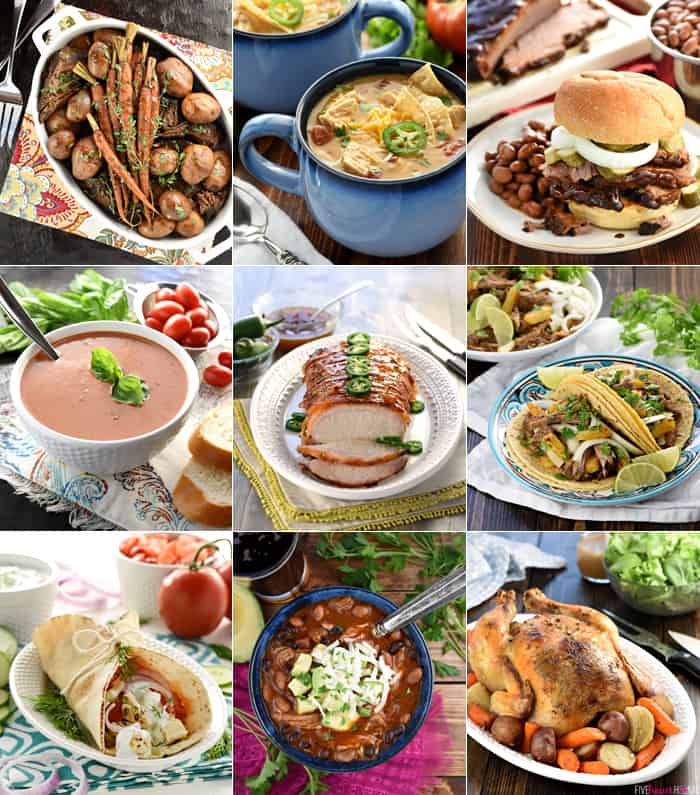 I'm going to be brutally honest with you for a minute here...I'm a terrible salesperson. I never, ever want to come across to anyone in my life as pushy or annoying. But I poured my heart and soul into this cookbook, and I genuinely think that it will be helpful to busy families striving to put wholesome dinners on the table. So...
♥ if you are intrigued by the idea of 80 new DINNER recipes made in the slow cooker, prepped when it's convenient for you and cooked while you go on with your day
♥ if you prefer cooking with real, fresh ingredients instead of processed or packaged ingredients
♥ if you enjoy a variety of recipes from classics to comfort foods to soups & stews to sandwiches & tacos to holiday main courses, and
♥ if you appreciate a full-color photo with every recipe
...then I invite you to pre-order Real Food Slow Cooker Suppers today! And to thank those of you who have already pre-ordered or are planning to pre-order (truly...thank you, thank you, THANK YOU!), I've put together a BIG GIVEAWAY! It's easy to enter and the prize is pretty fantastic, including a generous Amazon gift card, a fancy new slow cooker, and some additional kitchen accessories that will come in handy when using the cookbook! 🙂

To pre-order Real Food Slow Cooker Suppers, click one of the links below:
or wherever books are sold!
And to enter the giveaway, simply fill out this form and submit!
The giveaway is now over. Congratulations to Jennifer D. and thank you to everyone who entered! If interested, you may still fill out the below form with your name and address to be sent an autographed bookplate (until they run out). 🙂

Thank you isn't enough, y'all. This whole cookbook endeavor would never have been possible without you, my blog readers and followers. The fact that so many of you are supporting me and cheering me on makes me a little teary. I wish I could give you all a gift card and a crock pot as a gesture of my thanks...but I can send you virtual hugs, gratitude, and lots of luck for the giveaway! 🙂
Save
Save
Save
Save
Save
Save
Save
Save
Save
Save
Save
Save
Save
Save
Save
Save
Save
Save