Happy Friday, friends!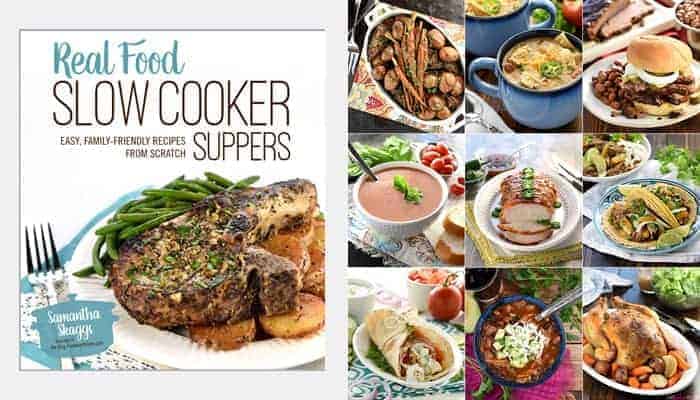 I know I've mentioned it a time or twenty over the past few months, but with cookbook manuscript and edits finally out of my hands, I thought it was time to "officially" share a little update on the status of Real Food Slow Cooker Suppers!
For those of you who don't know the backstory, last summer, I was surprised and elated to receive an e-mail from Page Street Publishing Co. asking if I would be interested in exploring the possibility of a Five Heart Home cookbook (!!!). On that first conference call, it didn't take us long to hone in on a concept that I thought you, my readers and followers, would love: an entire cookbook comprised of from-scratch, slow cooker, main dish recipes using real, unprocessed ingredients. And now -- after a year of pouring my love, energy, sweat, and (yes) tears into this project, working harder than I've ever worked before -- Real Food Slow Cooker Suppers is available for pre-order!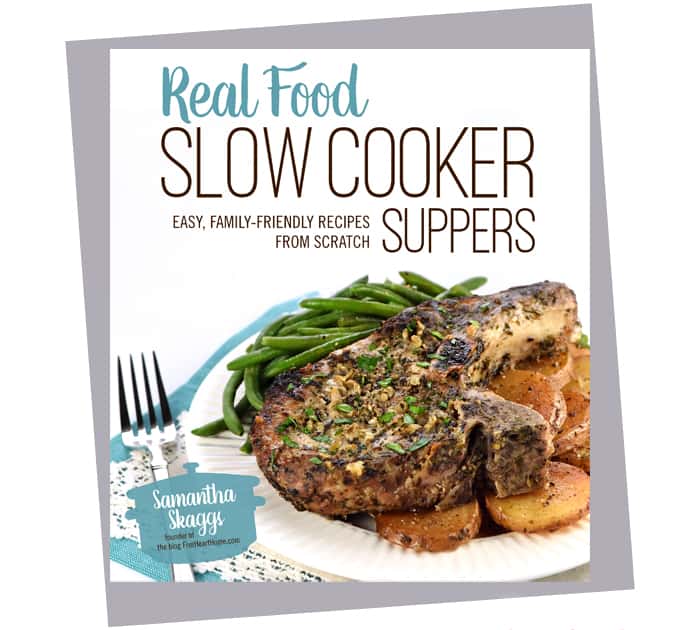 Y'all...I am so proud of this book. It's exactly the kind of cookbook that I've always wanted to cook from myself, with a wide variety of straightforward, creative, flavorful recipes (that don't all end up tasting like the same thing, as slow cooker recipes often do). Real Food Slow Cooker Suppers features 80 brand-new, family-friendly main dish recipes influenced by a variety of cuisines. Some are easy weeknight dinners and some are fancy enough for company (though still simple to make). Here's a list of the chapters plus a sampling of the recipes:
DINNERTIME CLASSICS
~Swedish Meatballs
~Teriyaki Chicken Breasts
~Marinated Pork Chops & Potatoes
COMFORTING MAIN DISHES
~Mexican Pot Roast with Borracho Beans
~Bacon-Wrapped Peach Jalapeño Pork Loin
~Cheesy Spinach Lasagna
SOUP'S ON
~King Ranch Chicken Soup
~Thai Shrimp Soup with Rice Noodles
~Bacon Cheeseburger Soup
STEWS, CHILIS, & CHOWDERS
~Beefy Three-Bean Chili
~Pork & Hominy Stew
~Chicken & Dumplings
SANDWICHES, TACOS, & WRAPS
~Raspberry Chipotle Chicken Sliders
~Mini Pulled Pork Pizzas
~French Dip Tacos with Caramelized Onions & Bleu Cheese
HOLIDAY HELPERS
~Cran-Cherry Glazed Ham
~Herbed Turkey Breast
~Citrus-Glazed Cornish Hens
Real Food Slow Cooker Suppers closes with a chapter of Homemade Seasonings and Stocks. And have I mentioned that there's a full-page color photo to accompany all 80 main dish recipes?! And that there are even metric conversions for our friends in other countries!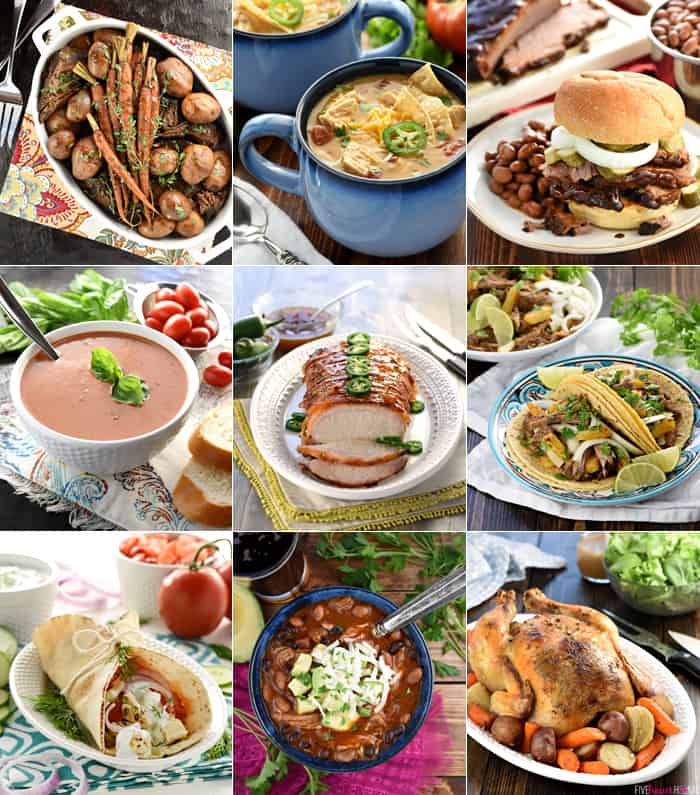 Working on this cookbook has truly been a labor of love, and my greatest wish is that it is deemed helpful by all of you who use it. I hope that these recipes make your taste buds happy and your life easier. I hope that this cookbook empowers you and your family to eat healthier, inspires you to try new things and brings your loved ones 'round the dinner table together.
Real Food Slow Cooker Suppers will officially be released on October 11, 2016! But if you're interested in reserving your copy now, it's already available for pre-order (and ordering now means that the cookbook will conveniently show up in your mailbox or on your doorstep as soon as it comes out -- yay!). I also hear it's going to be 2016's hottest Christmas gift of the year! Ha. 😉
Creating Real Food Slow Cooker Suppers has been a once-in-a-lifetime opportunity, and it wouldn't have been possible without the support of all of my faithful followers who read this blog and make my recipes and return to Five Heart Home time and time again. Now you can have a little piece of Five Heart Home right in your very own kitchen, and I sincerely hope you're as excited about that as I am. 🙂
So one last big THANK YOU and virtual hugs for all! Y'all are the best.♥
Save
Save
Save
Save
Save
Save
Save
Save