Tender roasted asparagus is perfectly complemented by flavorful brown butter and toasty pecans in this delectable spring side dish.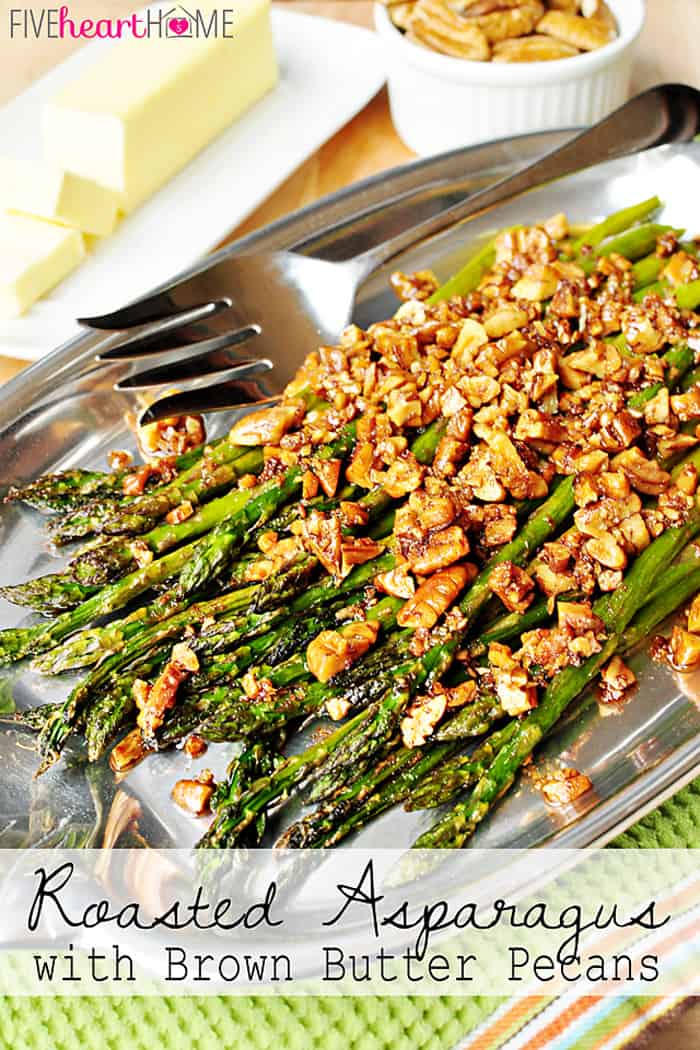 Spring officially begins this week!!! Can I hear a giant Hip, Hip, Hooray?! I know that some of you wonderful readers are still blanketed in snow (I'm so sorry), but the fact that spring has commenced calendar-wise means that spring-like weather can't be all that far behind…right?
Spring is arguably the best season in central Texas. For one thing, it's warm, but not yet 167-degrees. That, in turn, means that things outside are actually green (for the only time of the year).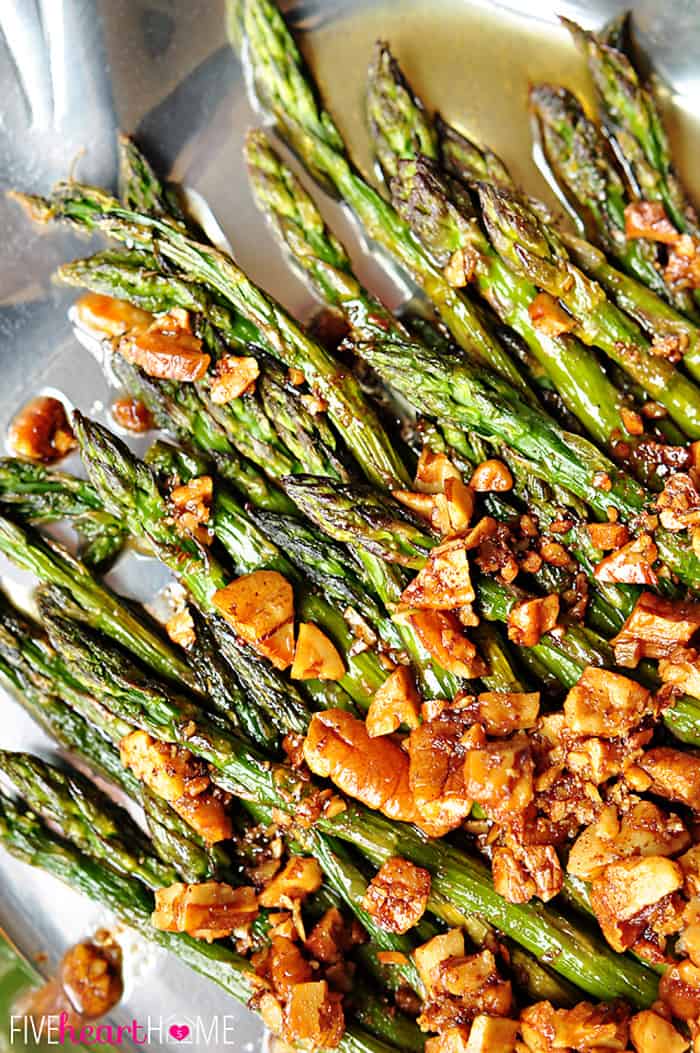 I know that a lot of people love fall, but in Texas, we just don't have all of the gorgeous, color-changing trees with spectacular leaves in shades of red, orange, and yellow. But what we do have come springtime are Hill Country wildflowers, and let me assure you, they are breathtaking.
The Hill Country is an area of central Texas known for being — you guessed it — hilly. In my entirely unbiased opinion (since I grew up there and all), it's one of the prettiest parts of Texas. And to come full circle, that's particularly true in the springtime when bluebonnets (the state flower of Texas), red Indian paintbrushes, and an assortment of yellow wildflowers grace the sides of the roads and the highway medians for miles on end.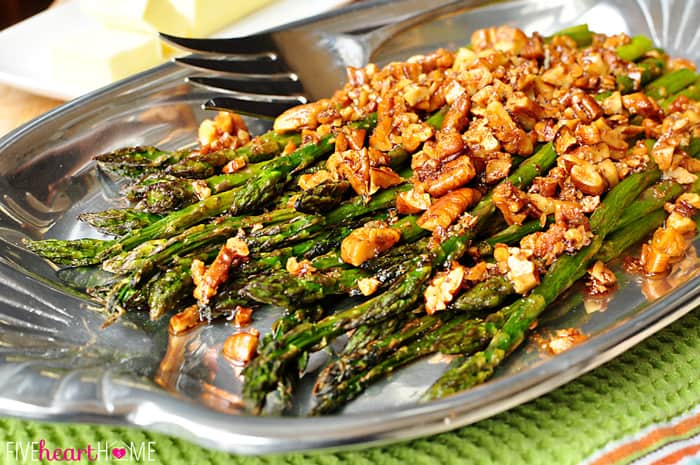 Never seen a bluebonnet? Well, if you were lucky enough to be born in central Texas, odds are that each spring, your mother trotted you out to a field of them for your yearly obligatory bluebonnet shot. I give you Exhibit A…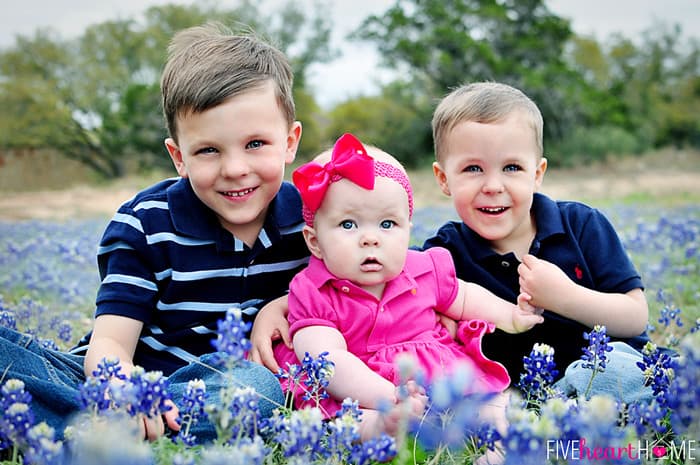 Most of the wildflowers found along the Hill Country roadways can be attributed to former First Lady "Lady Bird" Johnson, who was instrumental in getting the Highway Beautification Act passed.  As First Lady, she dedicated much effort to not only protecting wildflowers, but also to having them extensively planted to beautify the roadsides. And anyone driving through central Texas come April is able to fully appreciate her efforts.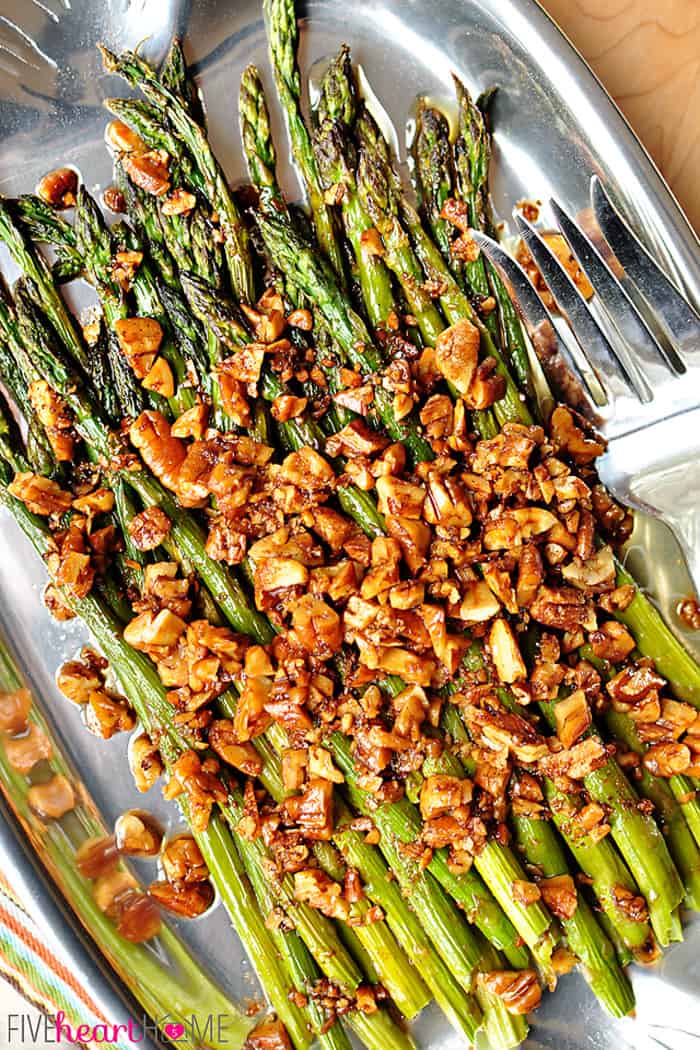 So what does all of that have to do with asparagus? Well, much like bluebonnets, asparagus is widely associated with spring! This tasty green veggie shines as a spring side dish, and I just don't think I could make an Easter dinner without including it.
My favorite way to cook asparagus (as well as many other vegetables) is to roast it. I happen to think roasting brings out a wonderful, almost caramelized flavor in veggies. If you prefer, however, you can certainly boil or steam your asparagus instead of roasting before finishing it off with these mouthwatering brown butter pecans.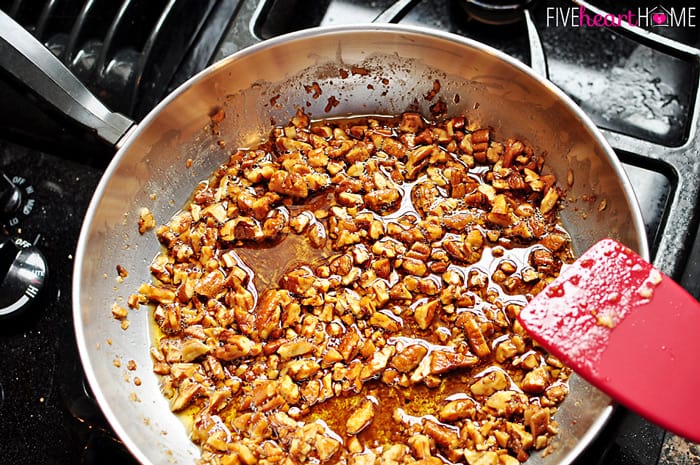 While I've made sweet treats featuring brown butter before, I hadn't yet tried it in anything savory. People! What took me so long??? I've always loved the flavor of toasted pecans, but toasting them in the butter as it browns? To die for. Seriously, you could pour these brown butter pecans over any vegetable and I would happily devour it. SO, SO GOOD.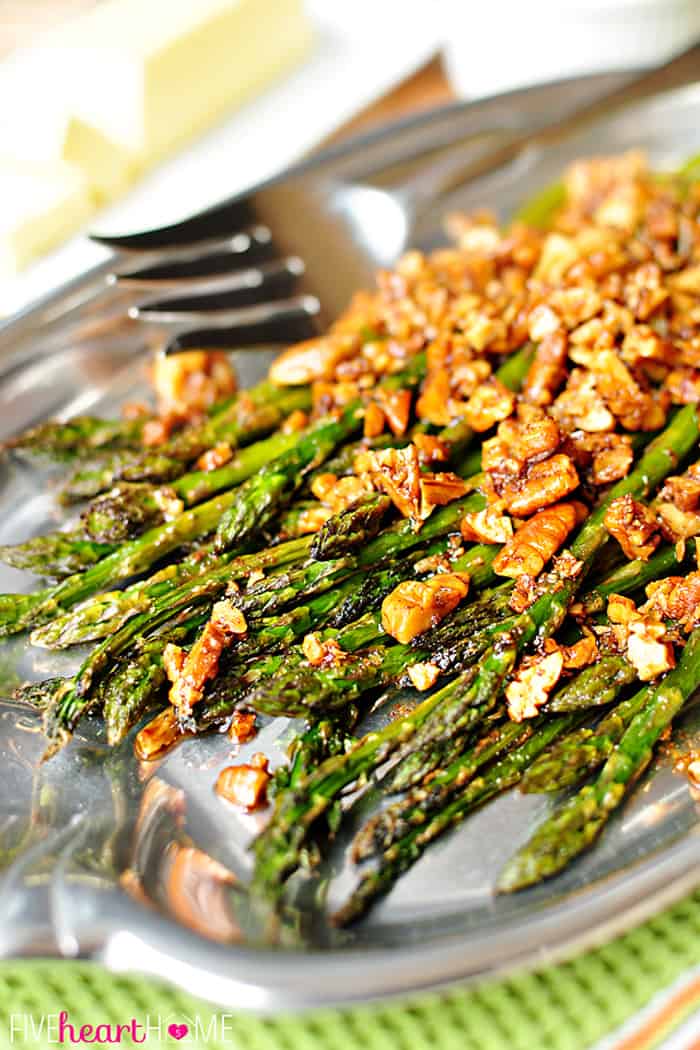 With that, I hope you will try this Roasted Asparagus with Brown Butter Pecans as a springtime side dish or even as a part of your Easter menu. It's deceptively simple to make and it's sure to be a hit with everyone who tries it!
And I bet it'll disappear faster than a baby can eat a bluebonnet. 😉

Roasted Asparagus with Brown Butter Pecans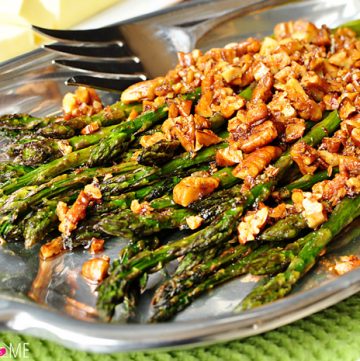 Roasted Asparagus with Brown Butter Pecans
Tender roasted asparagus is perfectly complemented by flavorful brown butter and toasty pecans in this delectable spring side dish.
Print
Pin
Rate
Ingredients
2

pounds

fresh asparagus

Olive oil

Salt & freshly ground black pepper

6

tablespoons

butter

1/2

cup

chopped pecans
Instructions
Preheat oven to 400°F. Prepare asparagus by washing it and snapping off the tough ends of the stems.

Place asparagus in a large bowl or plastic baggie (I use a long, rectangular shaped plastic container that fits the shape of the asparagus bunch). Pour in a couple tablespoons of oil and season with salt and pepper. Mix until asparagus are evenly coated. Spread asparagus, in a single layer, onto a large, rimmed sheet pan.

Roast asparagus for 10 to 15 minutes (depending on desired doneness and how thick your spears are), or until spears are just tender and beginning to brown. Taste and season with salt, if desired.

While asparagus is roasting, make brown butter pecans. In a medium saucepan set over low heat, melt butter and stir in pecans. Cook, stirring occasionally, until butter browns and pecans are toasted, approximately 5 to 10 minutes. During the process, the butter will foam and then the foam will die back down. Watch closely so that the butter turns brown but doesn't burn.

Transfer asparagus to a serving platter, pour brown butter pecans over the top, and serve hot.
Notes
If you prefer, you may steam or boil asparagus instead of roasting it.
Thicker asparagus holds up better to roasting than thin spears, but it also may take longer to cook.
Calories:
145
kcal
|
Carbohydrates:
5
g
|
Protein:
3
g
|
Fat:
14
g
|
Saturated Fat:
6
g
|
Cholesterol:
23
mg
|
Sodium:
77
mg
|
Potassium:
257
mg
|
Fiber:
3
g
|
Sugar:
2
g
|
Vitamin A:
1120
IU
|
Vitamin C:
6.4
mg
|
Calcium:
35
mg
|
Iron:
2.6
mg
Adapted from Pillsbury Menus to Celebrate Spring

More Spring Side Dishes