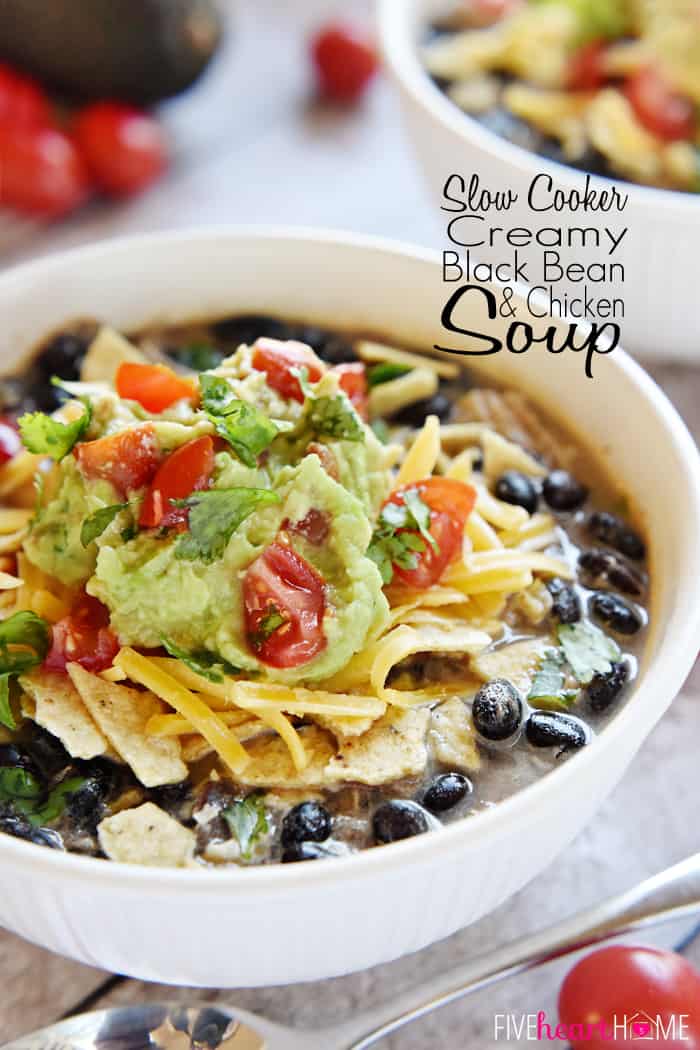 Healthy and easy to make, Slow Cooker Chicken Black Bean Soup is a creamy, flavorful, delicious crockpot dinner for those cold winter nights!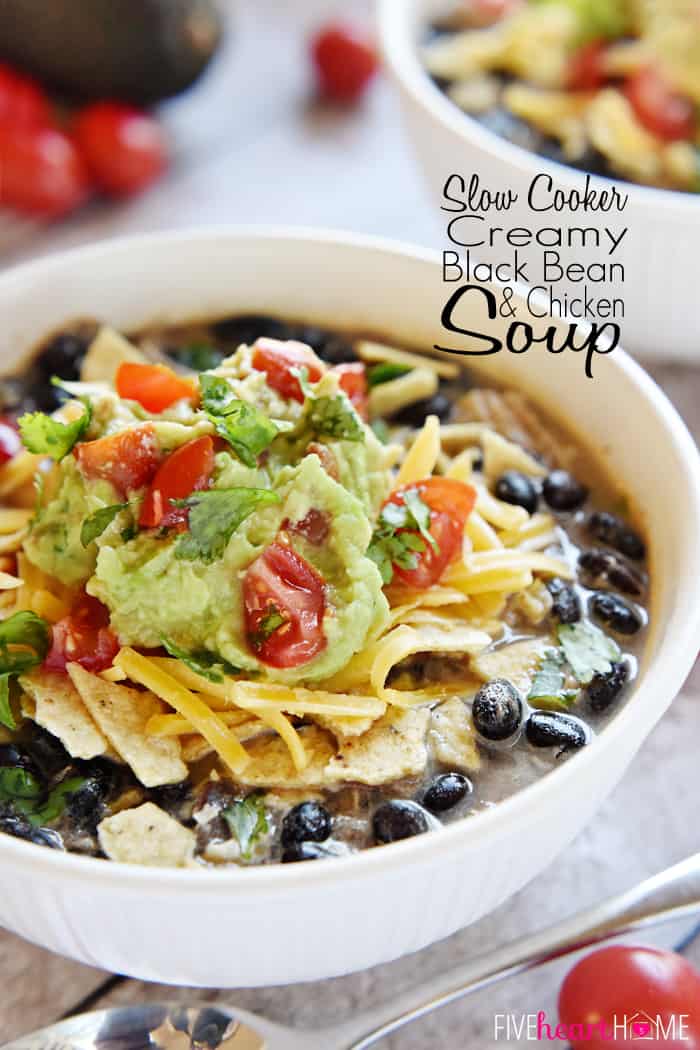 We interrupt this month of holiday recipes to bring you a cozy, slow cooker soup that can be enjoyed all winter long!
It's probably no secret by now that I love cooking with beans. From side dishes to soups to crock pot suppers, beans are nourishing, filling, and inexpensive. It's easy to infuse them with other flavors and they require minimal prep work to pretty much cook themselves. And let's be honest here...is there anything more comforting than a big ol' pot of beans (or bean soup) on a chilly day?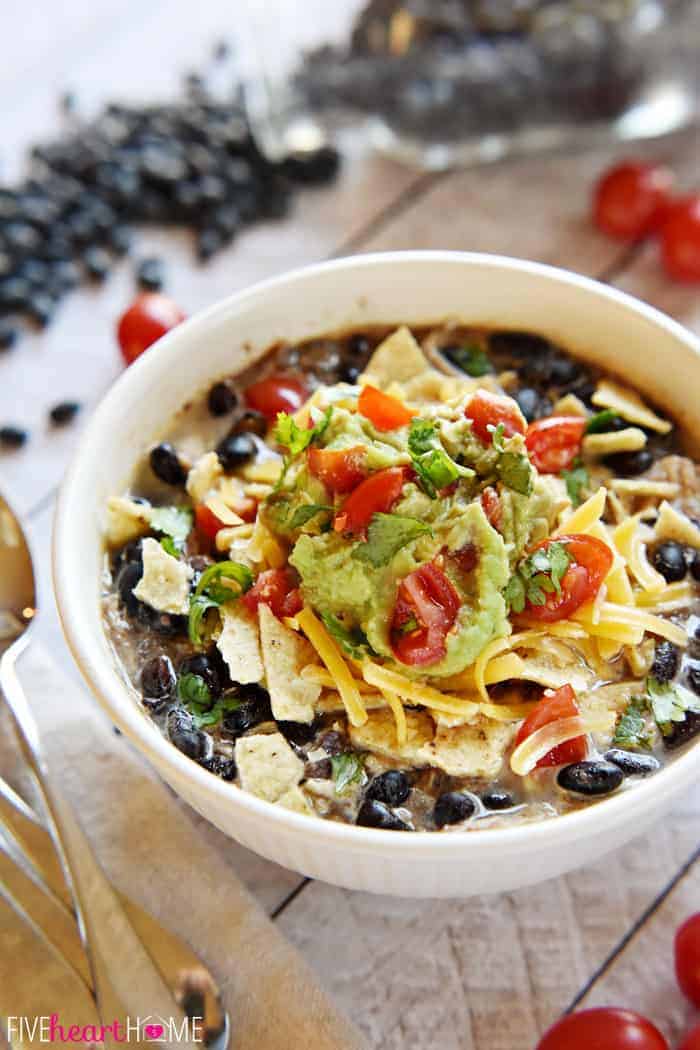 New Spin on an Old Favorite
One of my all-time favorite bean recipes is the Slow Cooker White Chili that I shared on the site last fall.
In fact, I went to make it last week and, lo and behold, I was out of dried white beans! But I did have a bag of dried black beans in the pantry, and that got my wheels a-spinnin'.
If white beans are good, would black beans, perchance, be better?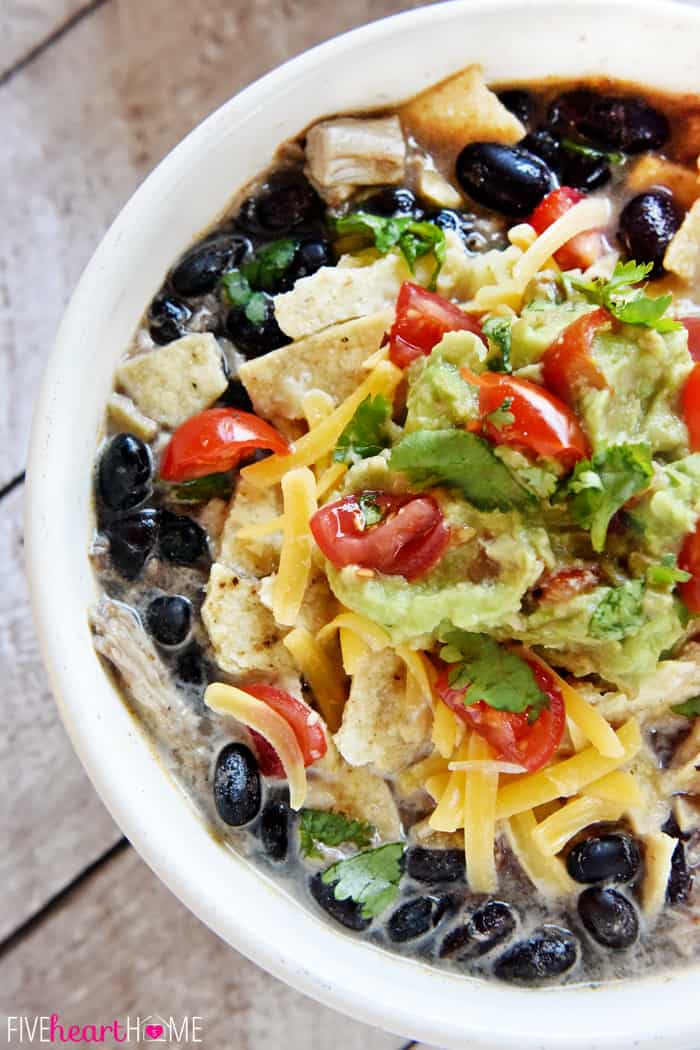 7-year-old: "May I please have more? A whole bowl."
5-year-old: "Mama, you're the BEST cooker!"
2-year-old (who, incidentally, is currently subsisting on a diet of apple slices and cheese popcorn): "Mmm-mmmm...DEEEEE-wishous!"
Husband: "I think I like this even more than the white bean version."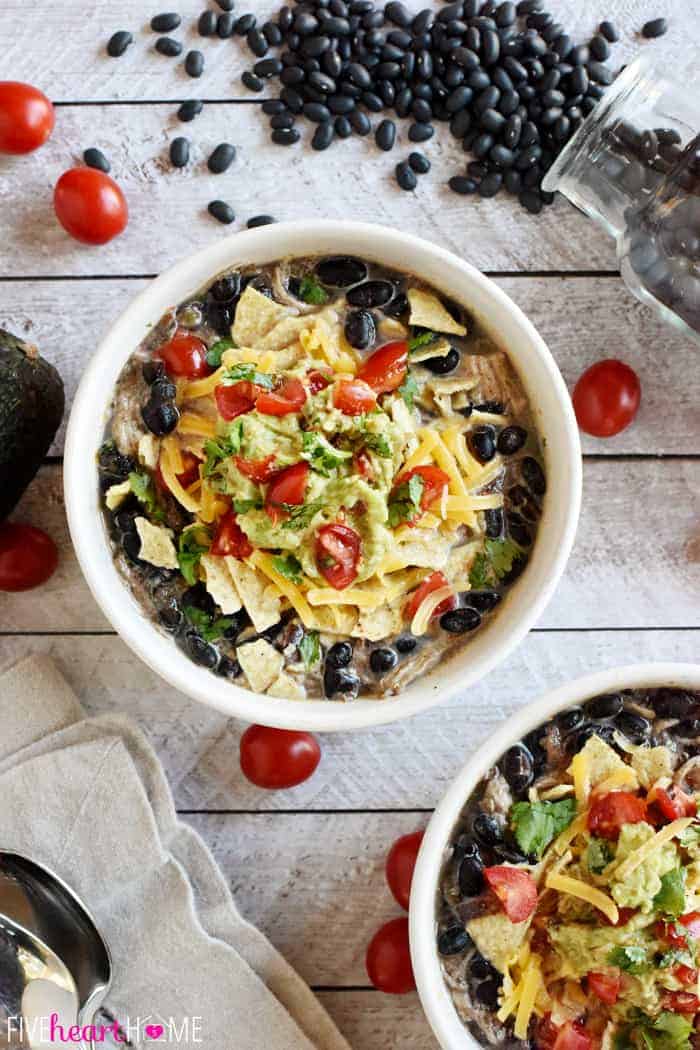 And gosh...it feels like blasphemy to admit it, but I enjoyed this Slow Cooker Chicken Black Bean Soup every bit as much as my old tried-and-true white chicken chili recipe. The variations between the two recipes are subtle but the final results are quite different, albeit delicious in their own respective ways.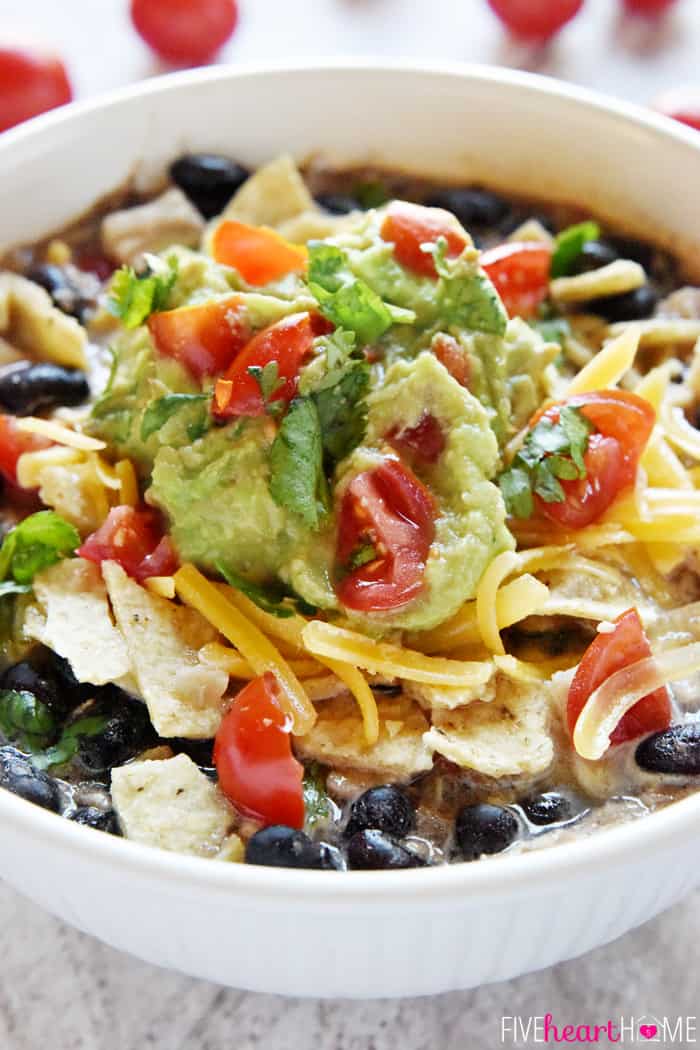 Ingredients
To make this black bean version of my white bean recipe, here's whatcha' need:
Dried black beans. You may pre-soak your black beans before cooking if you wish, but it's not necessary and the recipe is not written with that requirement. The overall cooking time of your beans will be the same whether you soak or not. (Also, please see the "Notes" section at the bottom of the recipe card for more tips on cooking dried black beans in a crock pot.)
Chicken thighs. I usually have no hesitation tossing chicken breasts into slow cooker soups. However, in my experience, dried black beans sometimes require a longer, higher-heat cooking time in the crock pot than do other dried beans. And we all know that chicken thighs don't dry out as readily as chicken breasts! Also, do not be surprised if the exterior of your chicken pieces get "dyed" by the black bean juices while cooking. The taste is unaffected and everything will look normal once you shred your chicken.
Chicken broth. I recommend starting with low-sodium broth or stock and then adjusting the soup's saltiness to taste. Alternatively, you can use 8 cups water + organic Better Than Bouillon chicken base in lieu of broth. Or plain water will also work as well.
Rotel + additional diced green chiles + jalapeño. For a bit o' heat and lots o' FLA-VAH.
Spices. Specifically cumin, chili powder, garlic powder, paprika, and cayenne. Although often, instead of cayenne, I substitute chipotle chile pepper powder in recipes like this for a little smokiness with the spiciness.
Sour cream. This is an optional stir-in at the end, but it's highly, highly recommended. Because hellooo, silky, creamy broth! Take my word for it: Black Beans + Sour Cream = Match Made in Heaven.
And, of course, don't forget the toppings! Because, in my humble opinion, garnishing chili is key.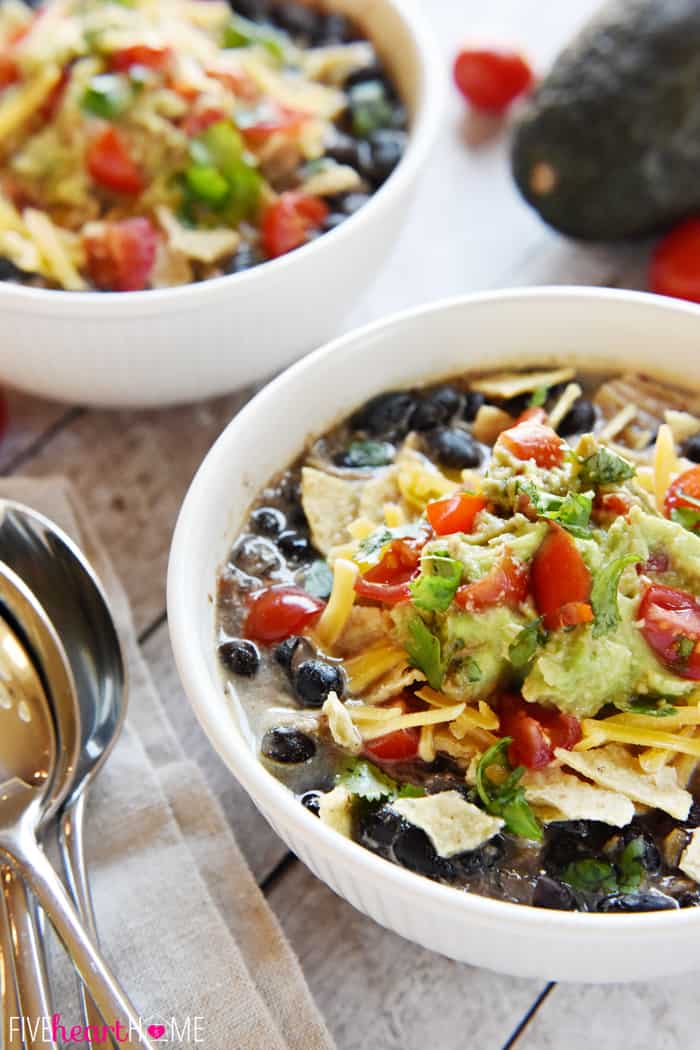 Garnishes
When hosting parties, I've been known to set up and serve a "Chili Bar, with a big crock pot full of traditional beef chili and another crock pot of chicken/white bean chili. I bake up a batch of cornbread muffins.
And then I pop open a bag of tortilla chips and set out bowls of shredded cheese, diced avocado, guacamole, sour cream, salsa, pico de gallo, chopped cilantro, pickled jalapeños...you name it! Everyone can garnish each kind of chili as he or she sees fit.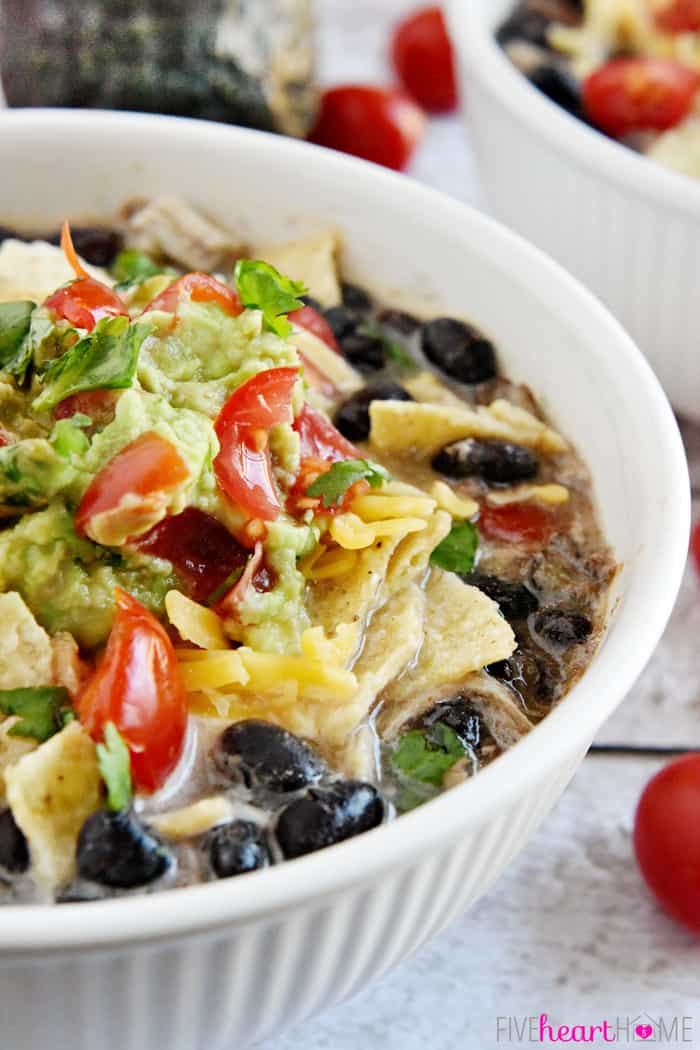 And the next time I host such a party, you can bet I'll be adding this black bean spin to the line-up! It would be yummy with any and all of the above suggested garnishes. Yum, yum, YUM.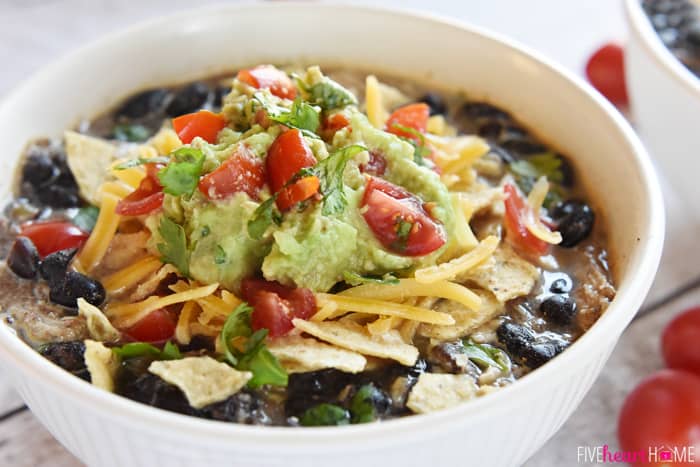 So the next time you want to warm up on a chilly day with a steamy bowl of comfort food goodness, toss the ingredients for this Slow Cooker Chicken Black Bean Soup into the crock pot. It's a simple, hearty meal that's sure to become a new family favorite!
More Easy Chicken Soups
>>> FOLLOW ALONG via E-MAIL, PINTEREST, INSTAGRAM, and FACEBOOK for my BEST quick and easy, family-friendly, real food recipes!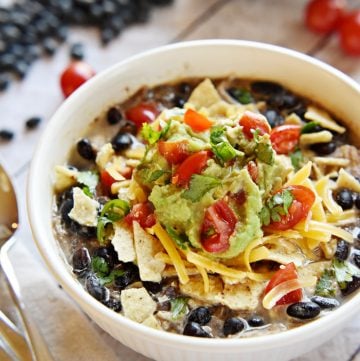 Slow Cooker Chicken Black Bean Soup
Slow Cooker Chicken Black Bean Soup is a creamy, healthy, effortless crockpot dinner for those cold winter nights!
Print
Pin
Rate
Ingredients
1

pound

dried black beans

2

pounds

chicken thighs

,

fresh OR frozen

3

tablespoons

minced garlic

,

fresh OR refrigerated jarred

2

(4-ounce) cans mild diced green chiles

1

(10-ounce) can mild diced tomatoes & green chiles

,

such as Rotel

1

jalapeño

,

diced (seeds & membranes removed), OPTIONAL

8

cups

low-sodium chicken broth

2

tablespoons

ground cumin

2

teaspoons

chili powder

2

teaspoons

garlic powder

½

teaspoon

paprika

¼

teaspoon

cayenne pepper

,

optional

Freshly ground black pepper

¾

cup

sour cream
RECOMMENDED GARNISHES:
Crushed tortilla chips

Shredded cheese

,

sharp cheddar, Monterrey Jack, etc.

Fresh cilantro

,

chopped
OPTIONAL GARNISHES:
Diced avocado

Guacamole

Diced tomatoes

Pico de gallo

Pickled jalapenos

Additional sour cream
Instructions
Rinse and drain beans and place in the bottom of a large (7- to 8-quart) slow cooker. Lay chicken thighs on top, and add garlic, green chiles, Rotel, and jalapeño (if using) to the slow cooker. Carefully pour chicken broth over ingredients, and season mixture with cumin, chili powder, garlic powder, paprika, cayenne (if using), and black pepper. Cook on HIGH for 6 to 8 hours or LOW for 10 to 12 hours or until beans are tender.

A half hour before serving, remove chicken to a plate or cutting board. Stir sour cream into soup and replace lid of slow cooker. In the meantime, cut chicken into large chunks and shred it with two forks. Add chicken back to the soup and taste for seasoning, adding more salt, pepper, or spices, to taste. Cover and continue to cook for 30 more minutes.

Before serving, garnish soup with a mound of crushed tortilla chips, a pile of shredded cheese, a dollop of salsa, and a sprinkling of fresh chopped cilantro...plus any other toppings you wish!
Notes
You may pre-soak your black beans before cooking if you wish, but it's not necessary. The overall cooking time of your beans will be the same whether you soak or not.
Black beans can take varying amounts of time to become tender when cooking in a slow cooker. This time can be affected by a number of factors, from the age of the beans to the heat level of your slow cooker.

Older model slow cookers often heat to a lower temperature than newer model slow cookers. Therefore, you must be familiar with how hot your particular slow cooker runs.
My favorite slow cooker is actually a model that doesn't get overly hot (similar to the heat level of older model crockpots). When I use it to make this recipe, I often have to cook on HIGH for 8 to 10 hours before the beans are tender. But again, I am familiar with how that particular slow cooker of mine runs cooler, so I expect it and plan for it.
Old beans can take considerably longer to cook than fresh beans. And using beans immediately after purchasing them from the grocery store doesn't necessarily mean that they weren't sitting in a warehouse for a long time prior to that.
I typically try to cook crockpot black bean recipes on HIGH. That way, if the beans are tender earlier than I anticipate, I can always switch the heat to WARM until it is time to eat. It's not as easy to "speed up" black beans that are still crunchy at dinner time. 😉

This recipe calls for chicken thighs instead of chicken breasts because of the potential for a longer, higher heat cooking time sometimes necessary for dried black beans. Chicken thighs don't dry out as readily as chicken breasts.
Calories:
753
kcal
|
Carbohydrates:
63
g
|
Protein:
54
g
|
Fat:
33
g
|
Saturated Fat:
10
g
|
Cholesterol:
166
mg
|
Sodium:
543
mg
|
Potassium:
1961
mg
|
Fiber:
14
g
|
Sugar:
4
g
|
Vitamin A:
798
IU
|
Vitamin C:
21
mg
|
Calcium:
304
mg
|
Iron:
8
mg