Slow Cooker Creamy Cheesy Corn is a rich, comforting side dish that's the perfect addition to any holiday menu...because not only is this recipe delicious, but it also frees up the stove and oven!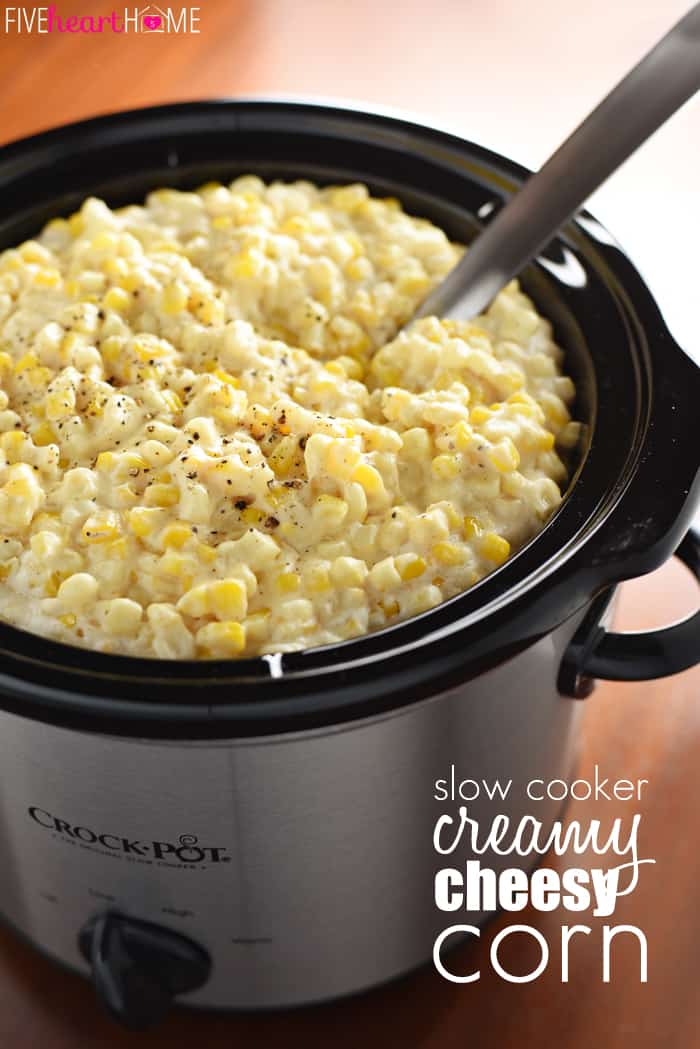 A few weeks ago, I had the honor of attending a 20th High School Reunion...and, seeing as how time apparently moves at warp speed, that high school reunion was actually mine. Now I'm not sure exactly how this happened. I mean, I remember 4th grade like it was yesterday. But as I ponder my husband of almost a dozen years and my former first graders who have now graduated college and my three no-longer-babies offspring and the dearly departed family members whom I miss every day and the wrinkles staring back at me in the mirror...yep, I guess it's been 20 years.
But the nice thing about a 20 Year Reunion -- as opposed to a 10 Year Reunion -- is that a lot of the pressure and pretense has long since vanished. At ten years, everyone feels compelled to prove that they're happy and doing well and have positive things to show for since graduating. Heading into the big reunion, diets are implemented and cute outfits are bought and skin is tanned and teeth are whitened.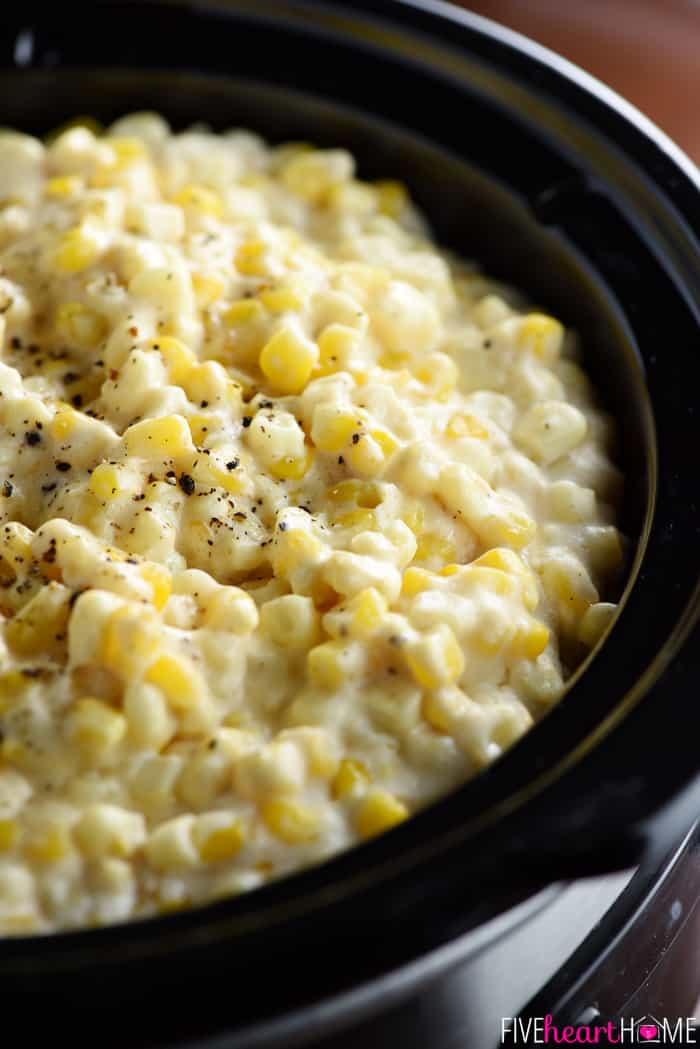 But at 20 years? Many of the classmates are in the trenches of having kids. Schedules are crazy. Years of sleep deprivation have piled up. Wrinkles and gray hair are becoming more and more prevalent. And it just takes too much time and effort to care about putting on a show. In fact, I didn't even think to get my hair highlighted before the big weekend...
And that's exactly why my recent 20th High School Reunion was so much fun! Let's face it...the people that you've known since childhood -- through the awkward adolescent years and the tumultuous teen years -- know you (and know things about you) in a way that the friends you've met since will never understand. I grew up in a small town and graduated from a teeny-tiny class (less than 40 people), so my classmates (some of whom I've known since we were 3 years old) were honestly more like my siblings. Together, we lived through Cabbage Patch Kids and mix tapes, Trapper Keepers and New Kids on the Block, acid-washed jeans and bangs teased up to the heavens (yikes)...and somehow we made it through.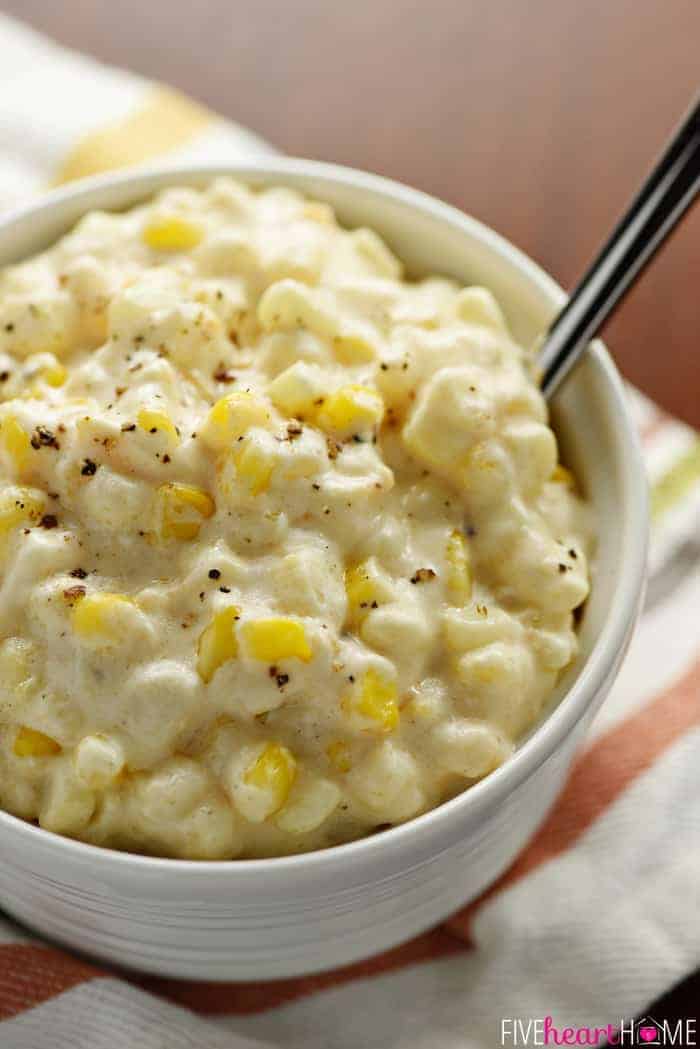 So with 20 years behind us at the reunion, we reminisced and laughed and marveled at the crazy things we did back then and who we've become since. I'll admit that 20 years ago, I was more than ready to fly the nest and get out of that small town and encounter new faces...but boy did it feel good to go back to that hometown and hang out with those old, childhood friends with a new, I-guess-I'm-finally-an-adult-now perspective.
So what does all of that sentimental mush have to do with Slow Cooker Creamy Cheesy Corn? Well, I was actually in charge of planning said reunion, and this was one of the dishes that I brought to my classmate's house on Friday night, where we gathered to visit and eat before the Homecoming football game. My week leading up to the reunion was rather hectic, so I needed a quick and easy recipe that would basically make itself. I needed a tasty dish that would appeal to everyone. I also needed a good way to keep it warm and serve it at the get-together. So obviously...crock pot to the rescue!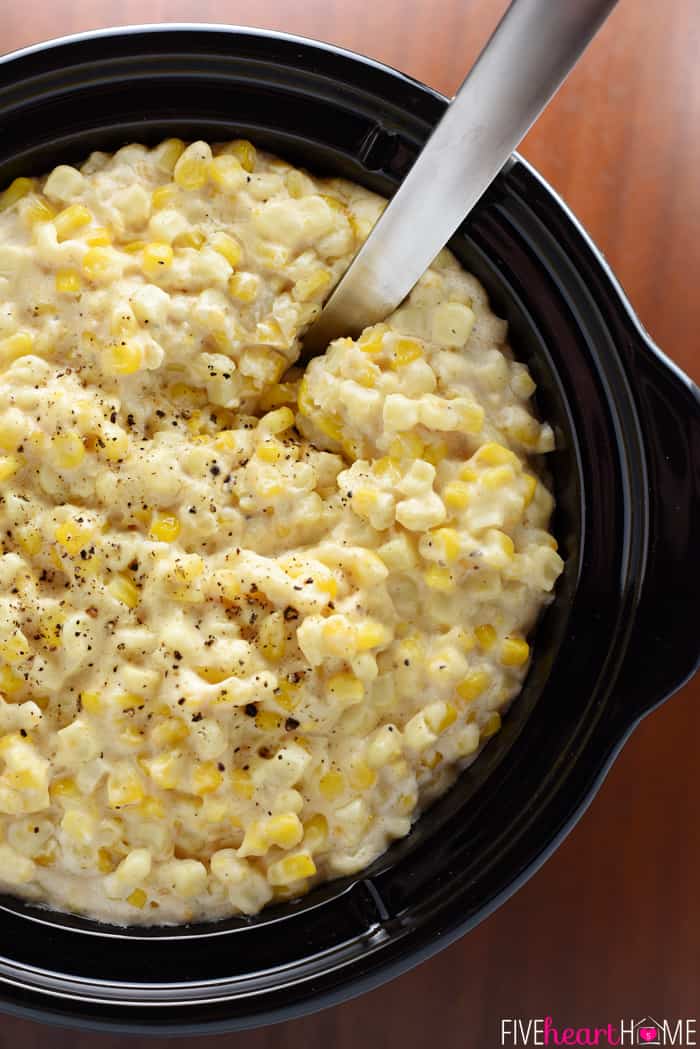 Some of y'all may have seen my recent big, exciting announcement revealing the reason that I'll have multiple slow cookers cranking around here, 24/7, for the next several months. But those recipes will be main dishes and this one is obviously a side, meaning that it's perfect for those occasions when you need to keep your oven and stove top free for various other recipes you'll be making at the same time. You know...like Thanksgiving...and Christmas...and Easter.
That's the thing. Slow Cooker Creamy Cheesy Corn is a delectable accompaniment to so many entrees. It goes with turkey...it goes with ham....it goes with barbecue or pulled pork or steak...it goes with about darn near anything. And no matter when or where or with what you serve it, it's guaranteed to be met with rave reviews!
This recipe is adapted from an oven-baked corn dish that I've been making for years, originally shared with me by my mother-in-law and since cooked and consumed more times than I can count. I actually posted that Creamy Cheesy Corn Casserole recipe on the blog a couple of Thanksgivings ago, and it still tends to go a little crazy on Pinterest every time a holiday rolls around. But to take that same recipe and transform it into a slow cooker wonder? That, my friends, makes this side dish even more holiday menu-friendly than it already was.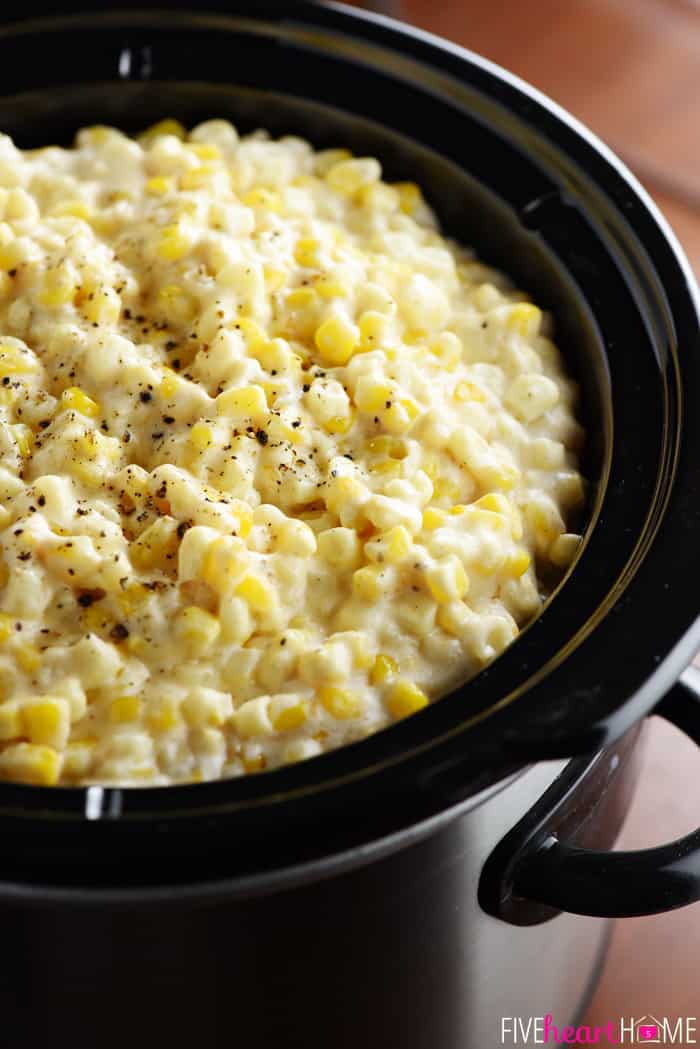 Before I get on with the recipe, I feel obliged to mention that I always make my creamy cheesy corn with fresh minced jalapeños included. I typically remove the seeds and membranes, so that the jalapeño flavor comes through without the heat. But you'll notice that the jalapeños are missing altogether from these photos. That's because I made this batch for my aforementioned reunion knowing that there would be children there. Seeing as how most kids like corn but aren't particular fans of unidentified green specks in their food, I opted to omit the peppers this time. You can leave them out, too, if you wish, but I really do think they contribute a nice little kick without being overly spicy.
So did you graduate from a large class or a tiny one? Did you attend your high school reunion(s)? Did you remember to highlight your hair beforehand? And are you ready for me to curtail the walk down memory lane and get on with the creamy, cheesy, corny goodness? Like, no duh. 😉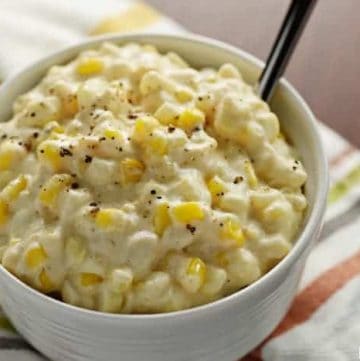 Slow Cooker Creamy Cheesy Corn
Slow Cooker Creamy Cheesy Corn is a rich, comforting side dish that's the perfect addition to your holiday menu...not only is this recipe delicious, but it also frees up the stove and oven!
Print
Pin
Rate
Servings:
8
to 10 servings
Ingredients
1

(24-ounce) bag frozen corn

,

about 5 ½ cups

1

(8-ounce) package of cream cheese

,

cut into small cubes

4

tablespoons

butter

,

diced

½

cup

milk

1

teaspoon

sugar

½

teaspoon

salt

Freshly ground black pepper

1 to 2

fresh jalapeños

,

minced (seeds & membranes removed), OPTIONAL

1

cup

shredded sharp cheddar cheese
Instructions
In a medium to large slow cooker, combine corn, cream cheese, butter, milk, sugar, salt, pepper, and minced jalapenos. Cover and cook on LOW for 4 hours. Add shredded cheddar cheese; stir until cheese is completely melted and sauce is creamy. Adjust seasonings, adding more salt and/or pepper, if desired, and stir in a bit more milk if sauce is too thick. Transfer corn to a serving dish and serve immediately, or serve directly from the slow cooker set to WARM.
Notes
Before adding my corn to the slow cooker, I place it in a colander and run it under warm water to at least partially thaw. The corn doesn't have to be completely defrosted, but rinsing it under warm water will prevent shocking the slow cooker with a drastic temperature change.
The sauce may seem lumpy or separated until it is well-stirred at the end. Also, it will continue to thicken as it sits. If you plan to serve the corn from the slow cooker set to warm, you may need to occasionally stir it and/or thin it out with an additional splash of milk.
Calories:
300
kcal
|
Carbohydrates:
23
g
|
Protein:
9
g
|
Fat:
21
g
|
Saturated Fat:
12
g
|
Cholesterol:
63
mg
|
Sodium:
385
mg
|
Potassium:
336
mg
|
Fiber:
3
g
|
Sugar:
2
g
|
Vitamin A:
780
IU
|
Vitamin C:
12.4
mg
|
Calcium:
152
mg
|
Iron:
0.8
mg