The savory flavors of Mexican street corn come together in an easy crock pot soup…Slow Cooker Mexican Street Corn Chowder is slightly spicy, slightly smoky, and topped with avocado, bacon, cilantro, & cotija cheese!

Well, friends…it appears we have a Super Bowl LI match-up! And while I may be a bit rusty on my Roman Numerals, I can tell you one thing for sure…regardless of whether or not I have a dog in the fight (and this year, I don't), I'm always excited for any TV sporting event that revolves around fun and food. That means, in a few short weeks, we'll be adding Slow Cooker Mexican Street Corn Chowder to our football-friendly menu!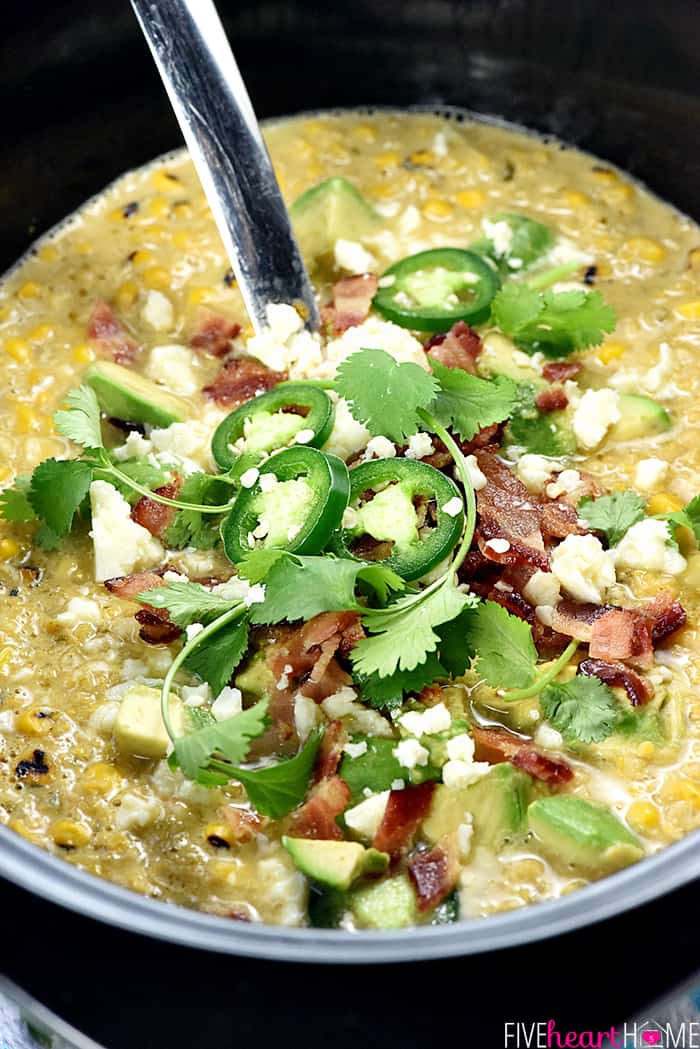 This soup is as good as it sounds, y'all. One of my most popular recipes from last year's Super Bowl was a decadent, delicious Ultimate Mexican Street Corn Dip. So this year, I was inspired to turn that dip into a soup…because as far as I'm concerned, one can never have too many excuses to eat corn + avocado + bacon + cheese. 😉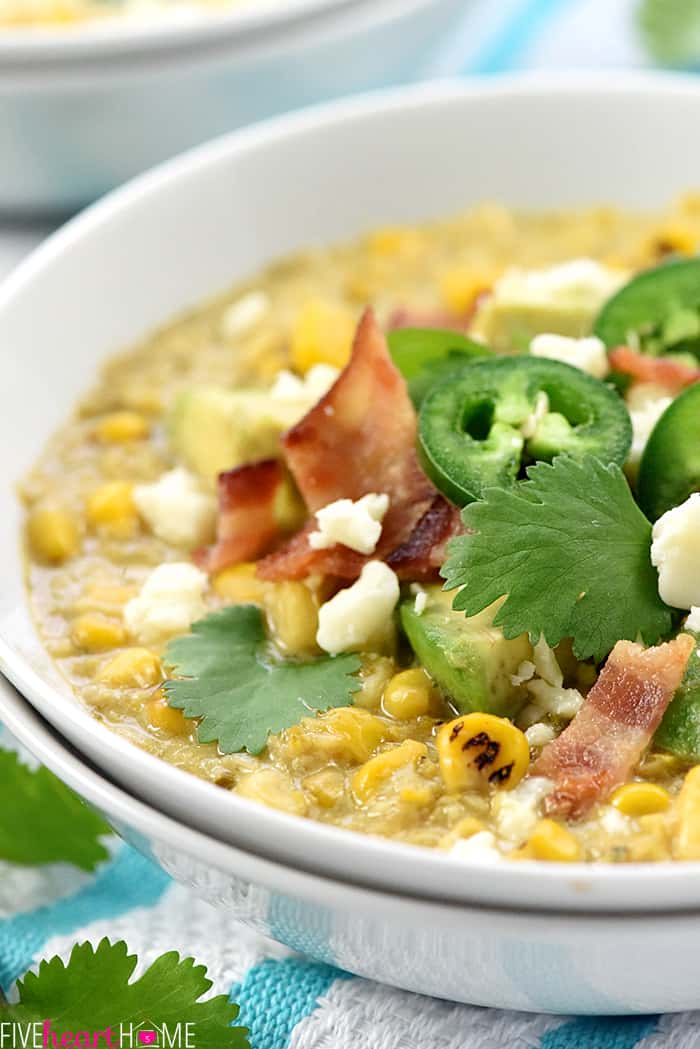 Better yet, why not make said soup in the crock pot? That way it can do its thing effortlessly unattended, only to welcome a plethora of mouthwatering toppings just before serving.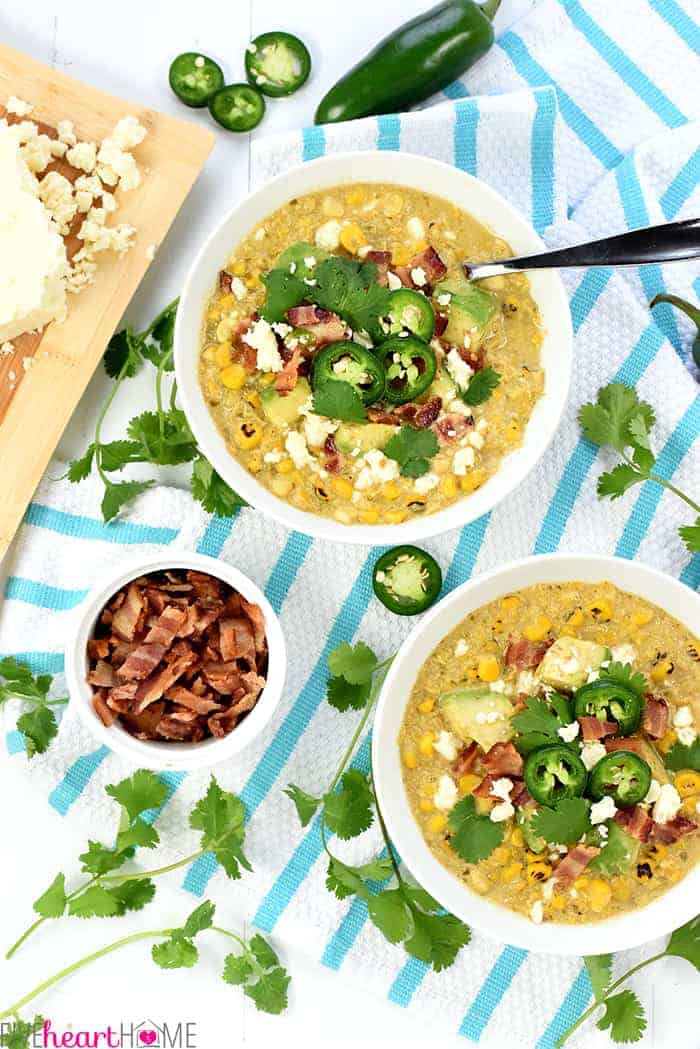 So as a starting point for this Slow Cooker Mexican Street Corn Chowder, I actually turned to a tasty Tex-Mex Corn Chowder from my cookbook. And while I tweaked a few things on the front end of the recipe, the real difference came at the end once the soup was done.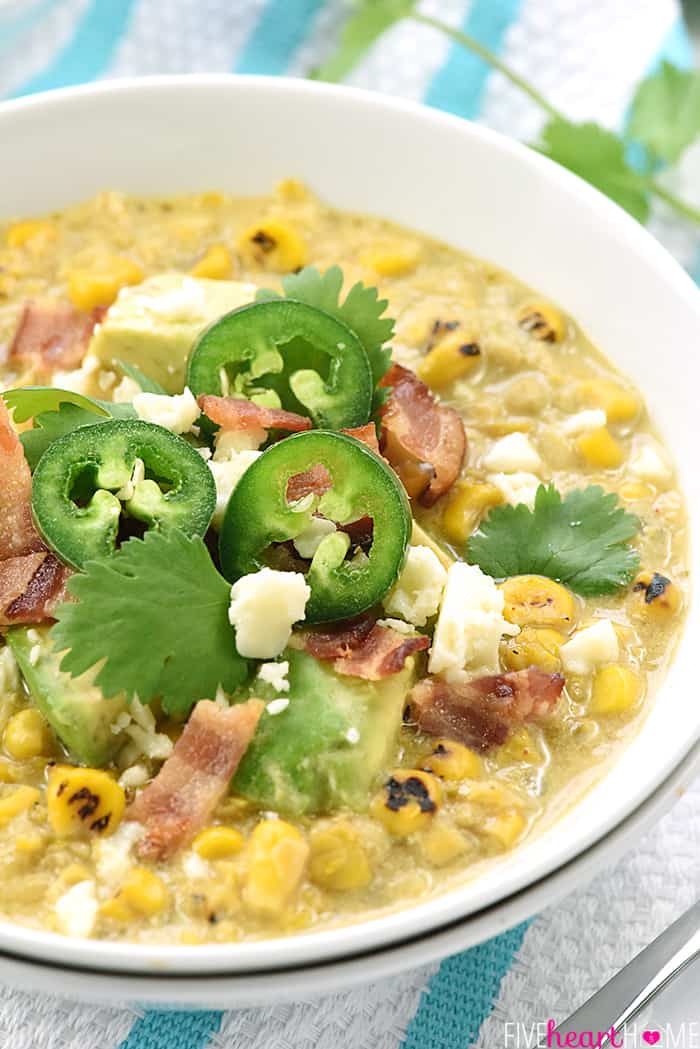 Traditional Mexican Street Corn is sprinkled with crumbled cotija cheese and cilantro, so those were obvious toppings. But thanks to last year's dip recipe, I learned that the sweet corn, spicy chipotle, tangy cotija, and bright cilantro are beautifully complemented a couple of other addictive ingredients…crispy, salty bacon and smooth, creamy avocado, to be exact. The end result? One amazing chowder!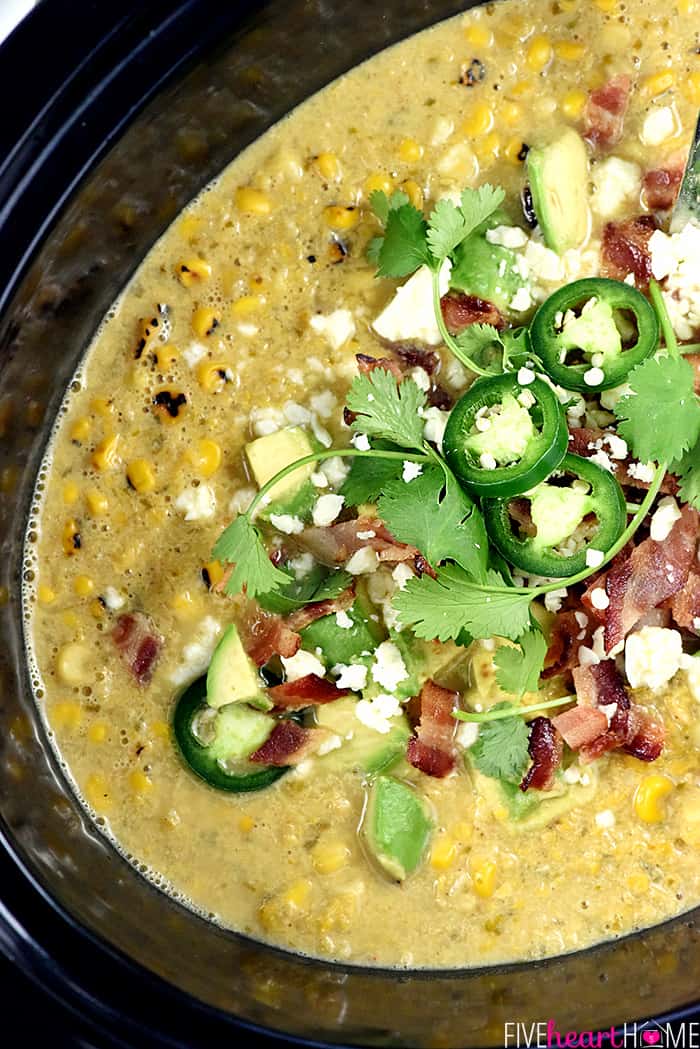 So crank up the crock pot, set out the toppings, and watch your Super Bowl guests go crazy for this savory, scrumptious Slow Cooker Mexican Street Corn Chowder! But even if you're not a football fan, it's certainly not required that you only enjoy this recipe during the big game. It would be equally enjoyable as a weeknight dinner or for a soup potluck or at just about any gathering. Just promise me you'll find a reason to make it…and make it soon! Because a soup this unique and tasty only comes around, ohhhh, every LI years or so… 😉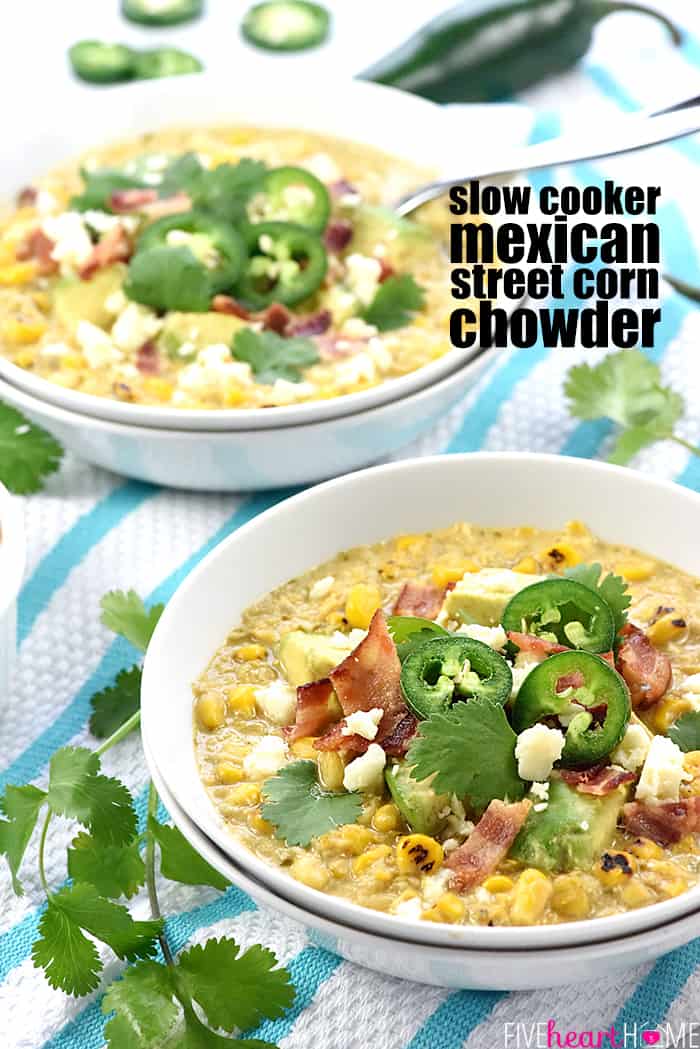 Slow Cooker Mexican Street Corn Chowder
The savory flavors of Mexican street corn come together in an easy crock pot soup...Slow Cooker Mexican Street Corn Chowder is slightly spicy, slightly smoky, and topped with avocado, bacon, cilantro, and cotija cheese!
Ingredients
1 to 2 medium jalapenos, seeds & membranes removed
1/2 cup packed fresh cilantro leaves, plus additional for serving
3 pounds frozen corn, thawed and DIVIDED
4 cups low-sodium chicken broth (or vegetable broth), DIVIDED
1 tablespoon ground cumin
1 teaspoon chipotle chile pepper powder, plus more to taste (for more heat)
1 1/4 teaspoons salt
1 teaspoon garlic powder
Freshly ground black pepper, to taste
1 cup half-and-half
16 ounces bacon, cooked until crispy, drained, & diced
2 ripe avocados, cubed (and tossed with lime juice to prevent them from turning brown)
Crumbled cotija cheese
Sliced jalapeños, for garnish (optional)
Instructions
In a large food processor or blender, pulse the jalapeños and cilantro until they are minced. Add half of the corn (1 1/2 pounds), half of the chicken broth (2 cups), the cumin, chipotle chile pepper powder, salt, garlic powder, and pepper. Purée the mixture until smooth. Transfer the mixture to a large slow cooker and stir in the remaining corn and chicken broth. Cover and cook for 4 to 6 hours on LOW (or 3 to 4 hours on HIGH).
Stir the half-and-half into the chowder and adjust the seasonings, adding more salt and pepper, if necessary. Cover and cook for a few more minutes or until heated through. Ladle into bowls and serve topped with diced bacon, cubed avocado, crumbled cotija, minced cilantro, and a light (optional) sprinkle of chipotle chile pepper powder (for extra smoky heat) or smoked paprika (for smokiness without heat).
Notes
Chipotle chile pepper powder is what gives this recipe its heat. If you like things milder, you can cut the amount in half. Or if you prefer no heat at all, you could swap out the chipotle chile powder for regular chili powder (which isn't spicy), plus 1/4 teaspoon or so of smoked paprika (so you don't lose the smokiness).
Another way to make this soup spicier is to leave the seeds and membranes in the jalapeños intact, as that's where most of the heat is found in a jalapeño.
If you desire a thicker chowder, you may whisk 1/2 cup all-purpose flour into the half-and-half at the end of the recipe. Stir this into the soup as directed, then cover and cook on HIGH for 15 to 30 more minutes or until thickened (just watch that it doesn't stick around the edges).
For a special touch, I found fire-roasted frozen corn at my grocery store and used a bag of it for a portion of the corn for this recipe.
https://www.fivehearthome.com/slow-cooker-mexican-street-corn-chowder-crock-pot-soup-recipe-avocado-bacon-cotija-cilantro/
https://fivehearthome.com ~ All recipes and images on Five Heart Home are copyright protected. Please do not use without my permission. If you would like to feature this recipe, please rewrite the directions in your own words and give proper attribution by linking back to this blog.
More football-friendly soups…
Slow Cooker Buffalo Chicken Soup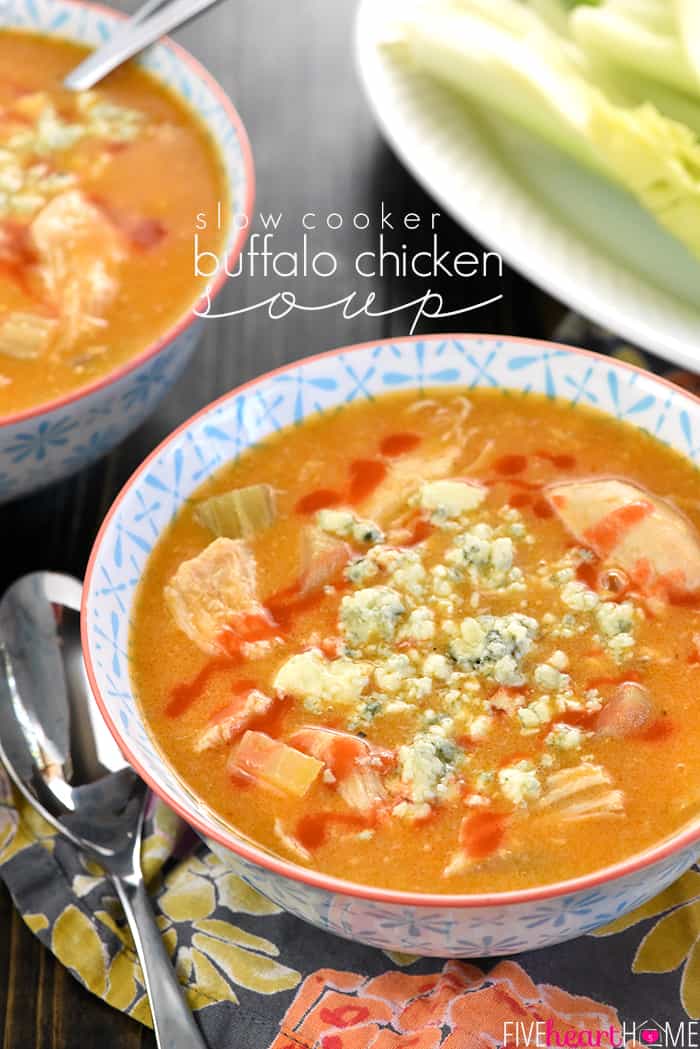 Slow Cooker Beefy Three-Bean Chili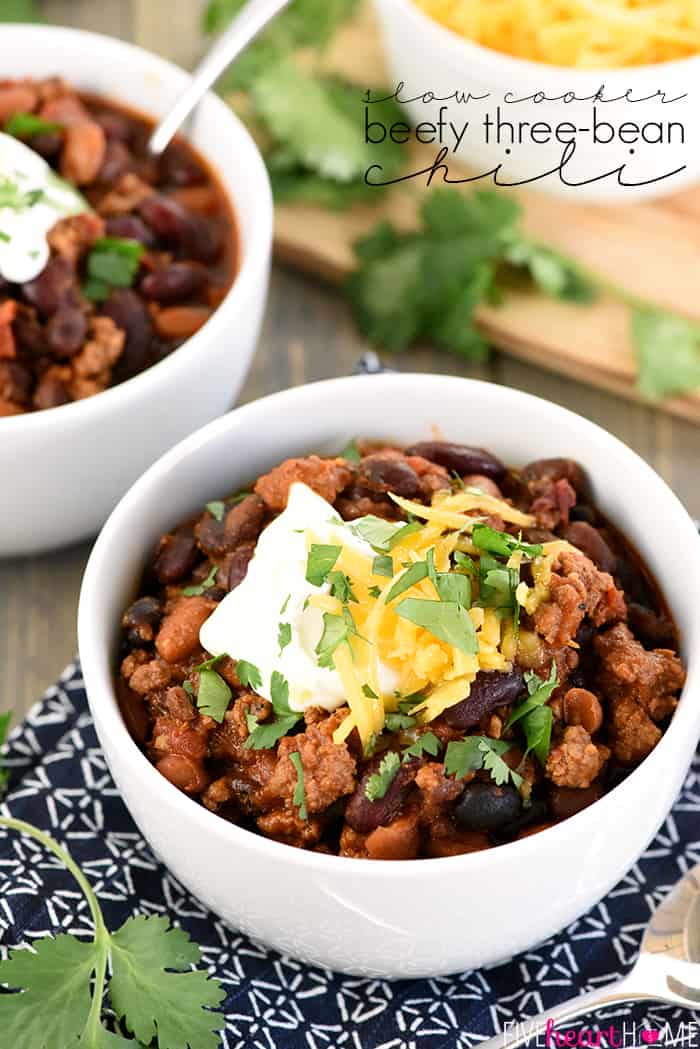 Slow Cooker Loaded Baked Potato Soup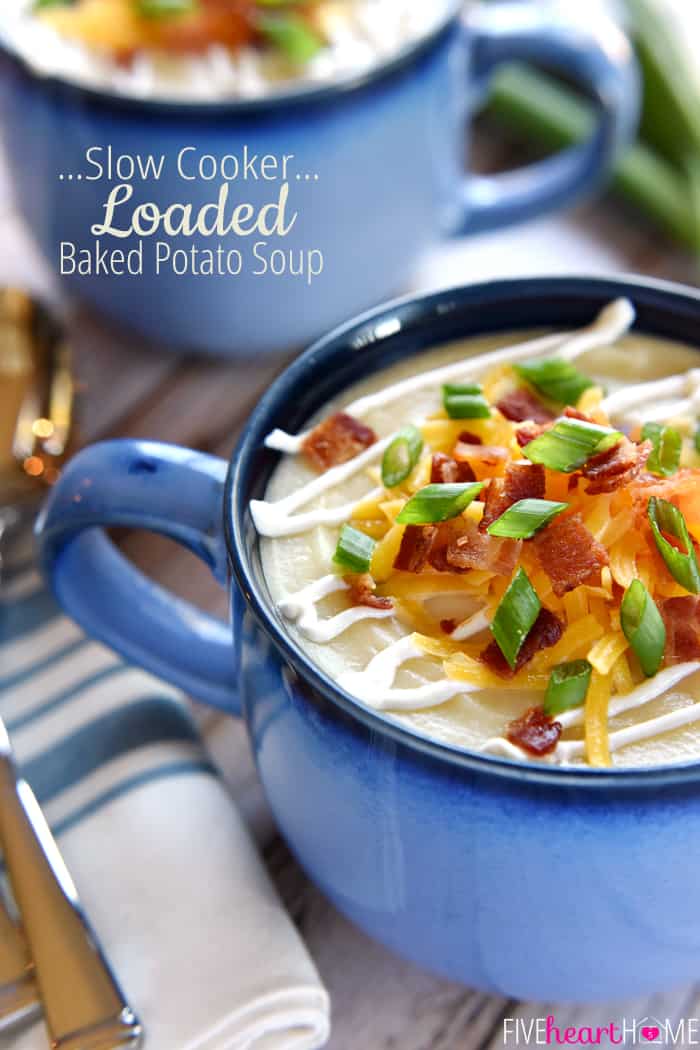 Slow Cooker Creamy Black Bean & Chicken Soup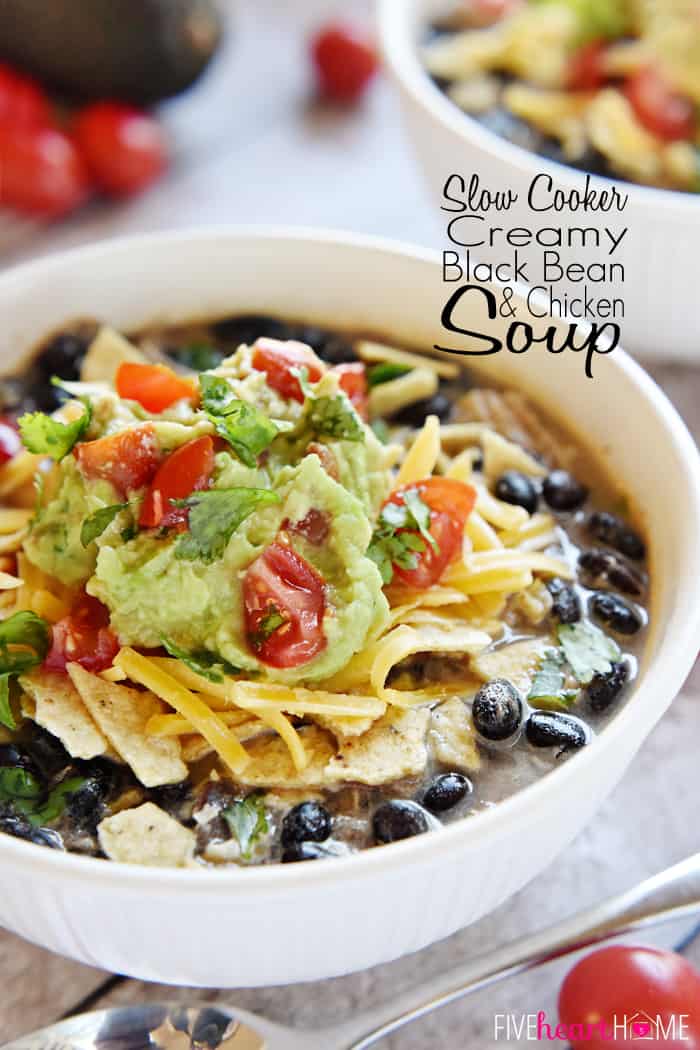 Save
Save
18