Slow cooker pulled pork is simmered in root beer and dressed in a tangy homemade barbecue sauce before being piled on sweet slider buns and topped with crunchy, creamy slaw…for an easy, make-ahead recipe that's perfect for watching the big game!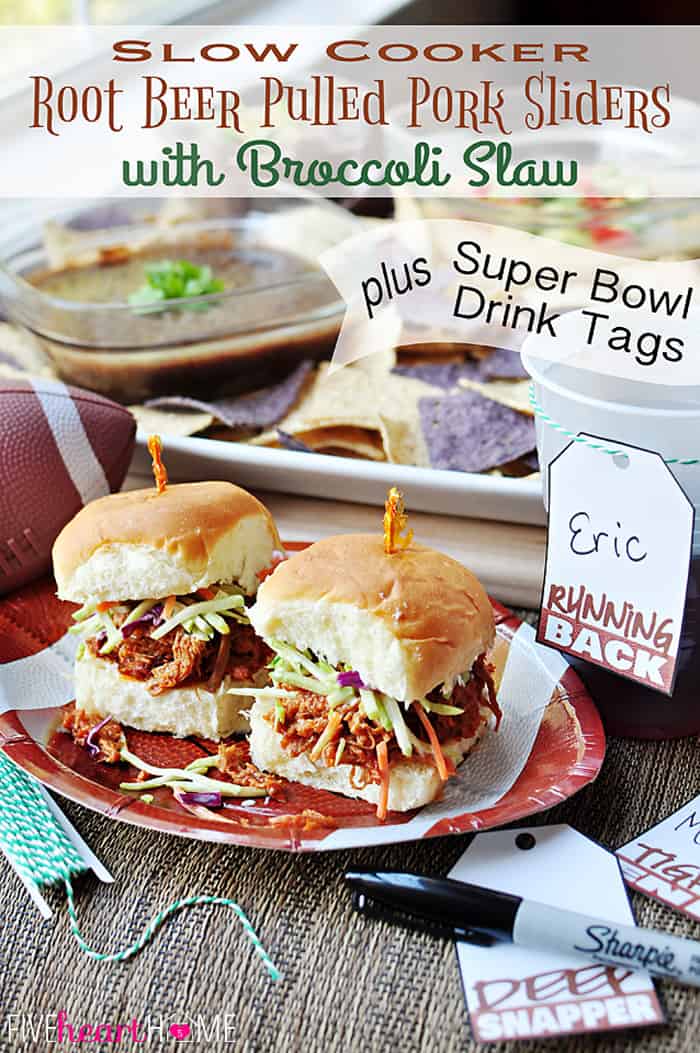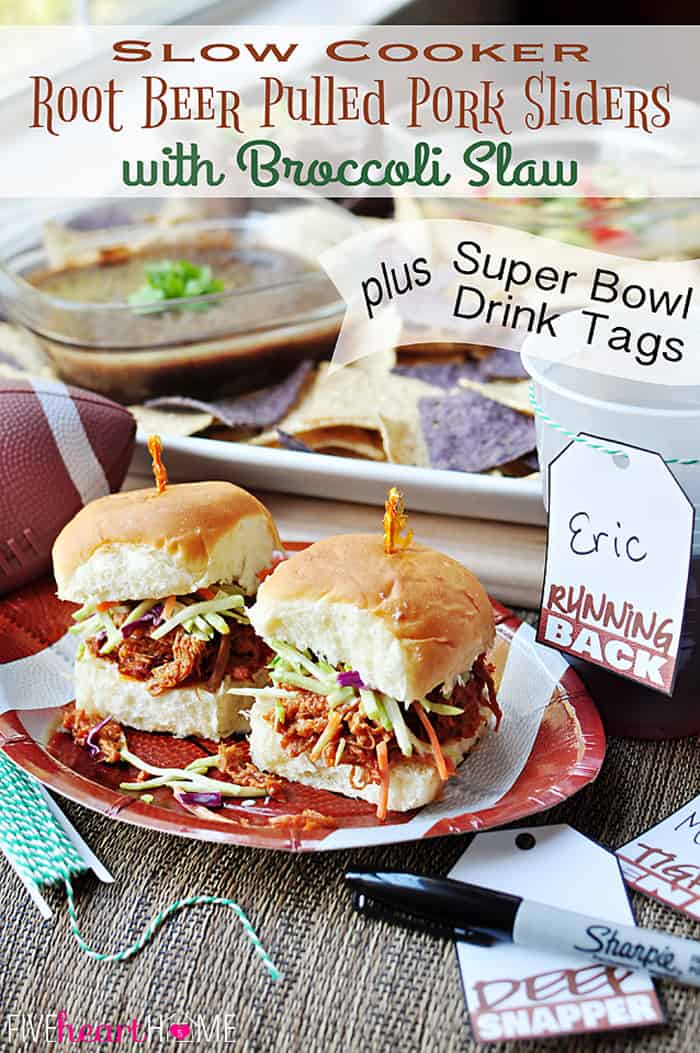 This shop is part of a social shopper marketing insight campaign with Pollinate Media Group™ and Rubbermaid and Sharpie, but all my opinions are my own. #pmedia #RubbermaidSharpie  http://cmp.ly/3/8vNxcO

Are y'all as excited about the Super Bowl as I am? I'm a football girl through and through, and I'm already mourning the imminent end of football season. Although my heart is invested in college football a bit more than NFL, I do love the NFL playoffs and, of course, the Super Bowl! Whether you watch the Super Bowl for the game itself or you only tune in for the commercials, I bet many of you will agree with me that the very best part of Super Bowl Sunday is the food.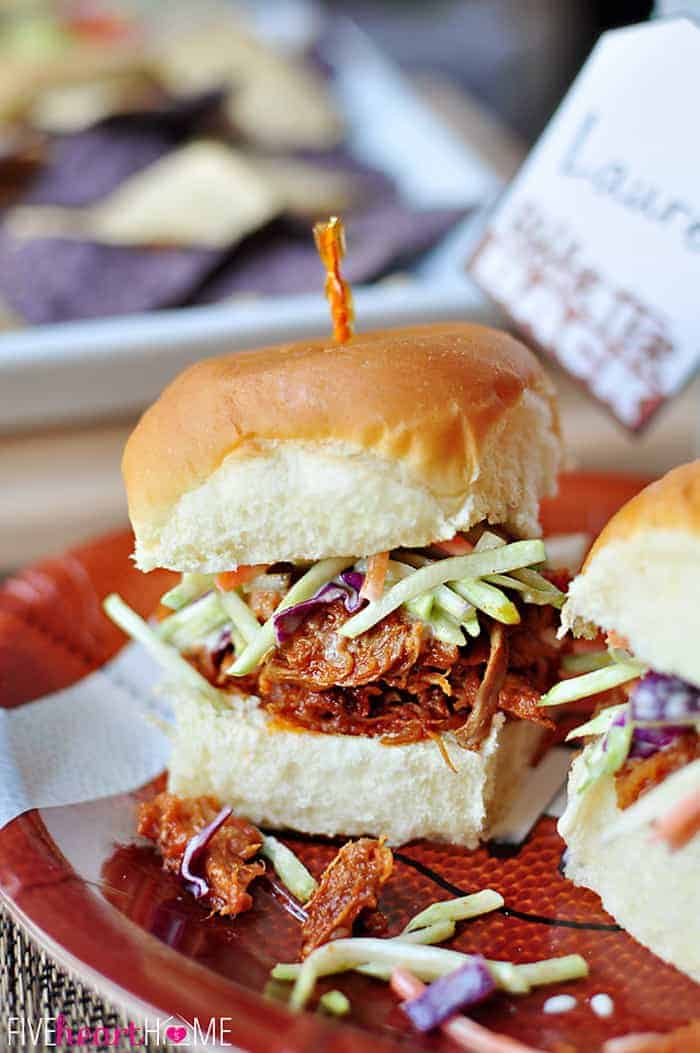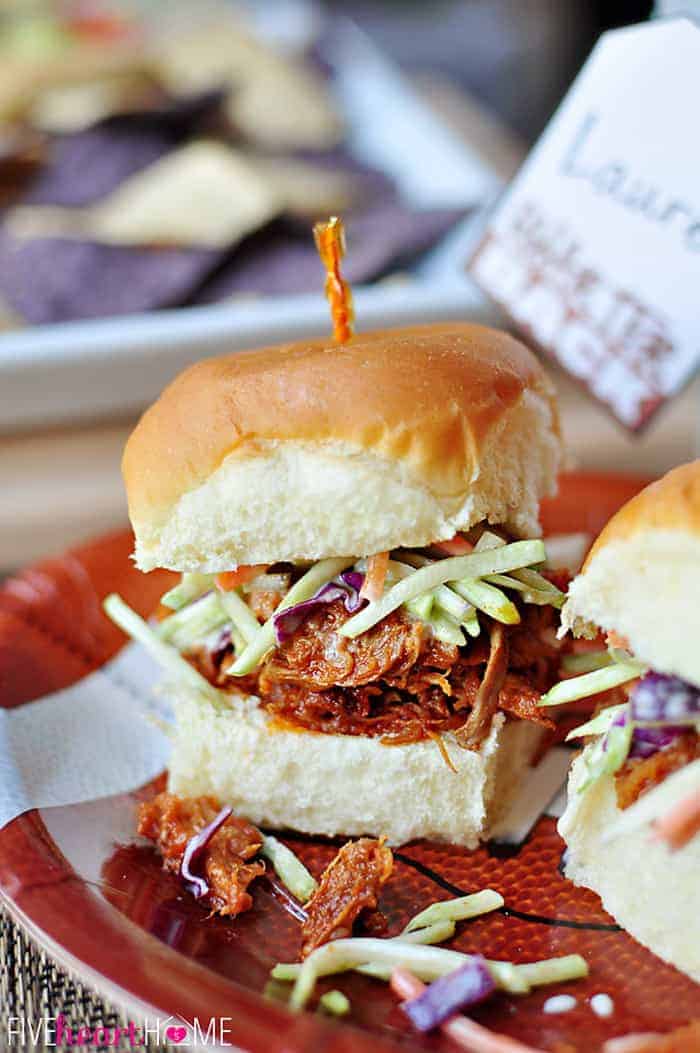 We had a little playoff-watching get-together at my house this past weekend, and I wanted to share part of my delicious, no-fuss menu today so that you can replicate it in time for your upcoming Super Bowl party!
Y'all…these little pulled pork sliders are so good. Seriously, my mouth is watering just looking at the pictures. But in addition to how scrumptious they taste, I love the fact that each component of these sandwiches can be prepped ahead of time (with the bulk of the work being done by your trusty ol' crock pot). Over many years of throwing many parties, I've learned that easy, make-ahead recipes are the key to maintaining my sanity and relaxing enough to actually enjoy my guests and all of the fruits of my labor come party time. As a result, this is a typical scene out of my refrigerator in the days leading up to a party: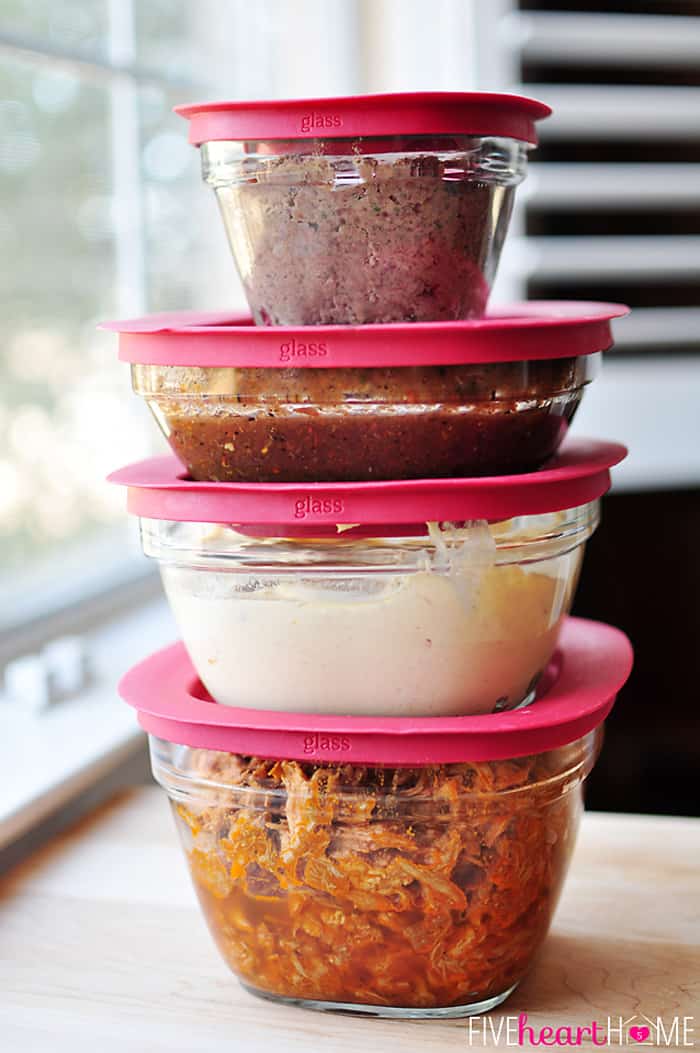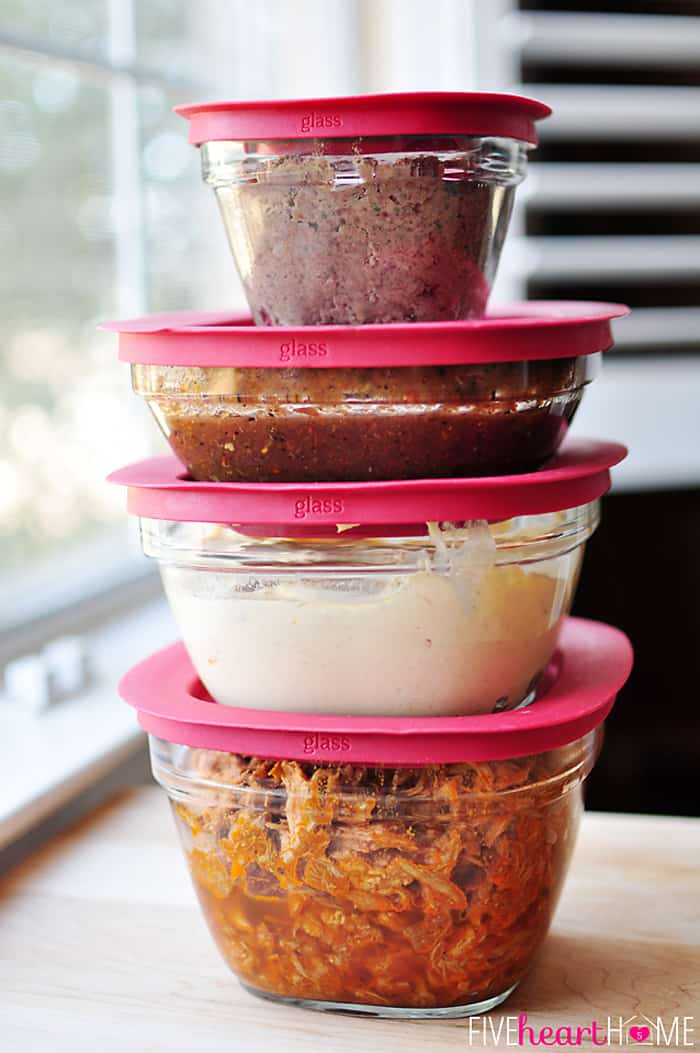 Appetizers and main course prepped and ready to go, all neatly compartmentalized and stacked! If you're anything like me, your type-A heart is all aflutter at that sight. 😉 I've had this set of Rubbermaid Glass Food Storage Containers for a couple of years now and let me tell you…I have gotten my money's worth out of these guys. They are great for storing do-ahead recipes and leftovers and even serving out of them, meaning that they go from the refrigerator to the microwave to the dishwasher and back again.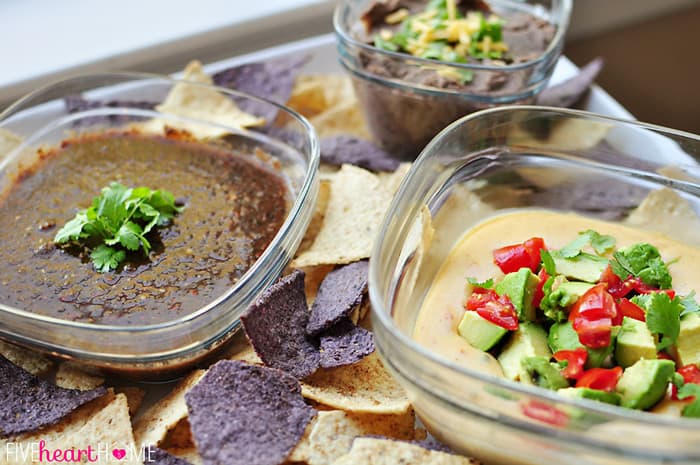 So…I made my salsa, queso, and black bean dip (recipe coming soon!) on the day before the party, and I also went ahead and prepared my pulled pork. As I mentioned before, getting as much cooking out of the way ahead of time helps make party day less stressful and more enjoyable for this easily frazzled hostess.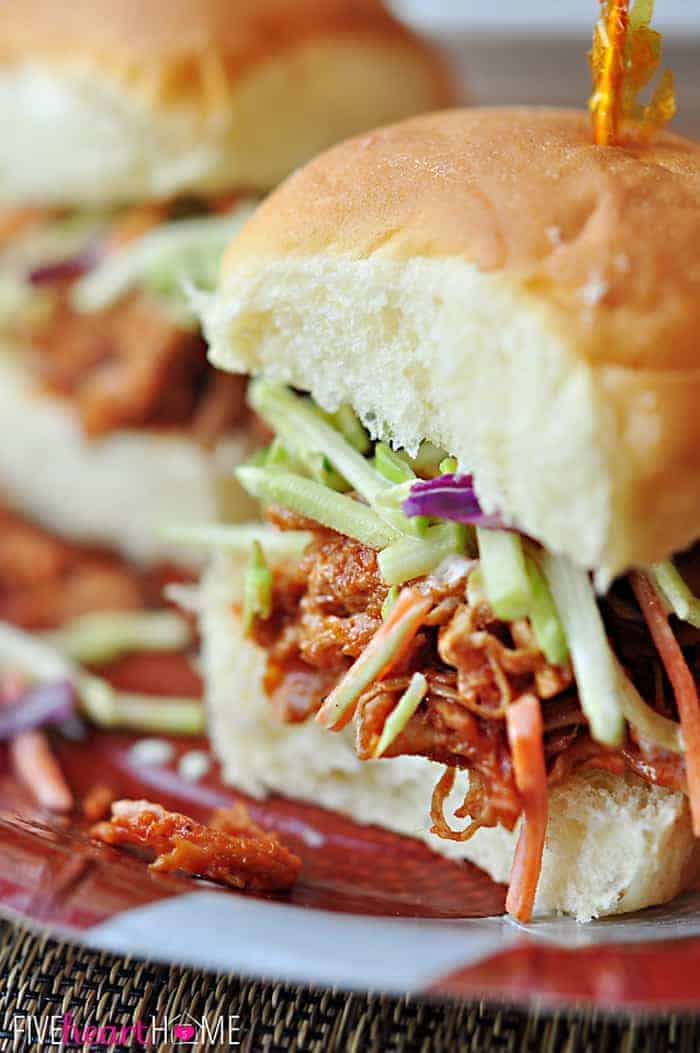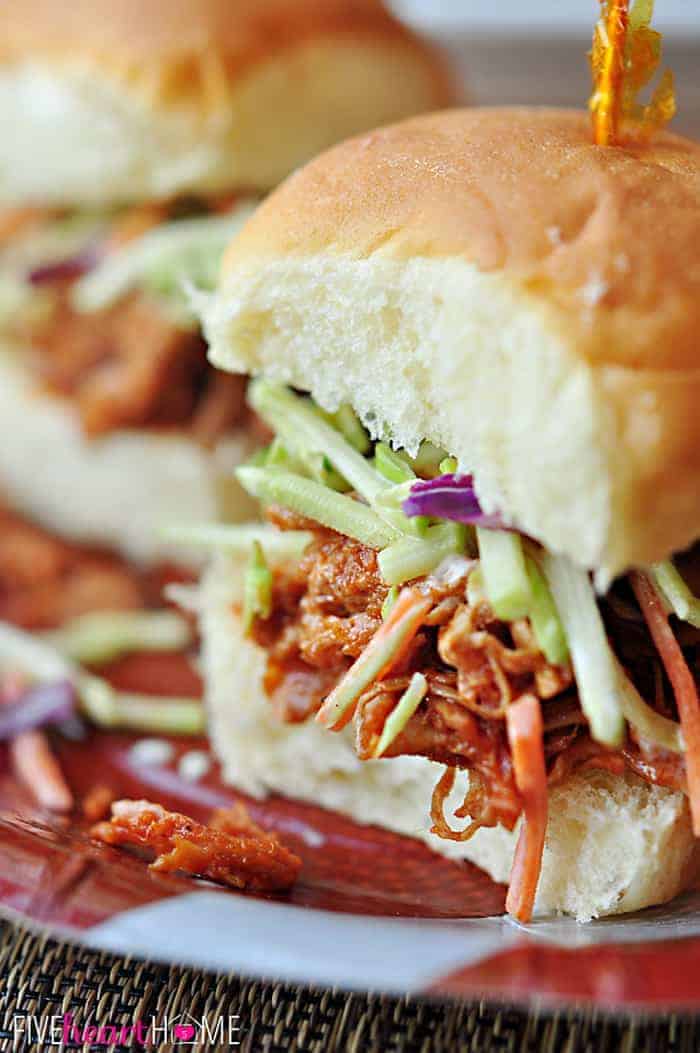 And now to tell you a little bit more about these sliders. Good gracious do I love them! The pork itself is so easy to make that I'm almost embarrassed to call it a recipe. All you do is toss your hunk of pork roast into the slow cooker with a can of root beer and a whopping two other ingredients. That's it. And then, since your whole day has been freed up by the wonder that is a crock pot, you go ahead and invest a tad bit of time into making a batch of homemade barbecue sauce and some creamy, crunchy coleslaw to go on top of your heavenly little sandwiches. I'm telling you, a cumulative 30 minutes of work is so worth the final, delectable results.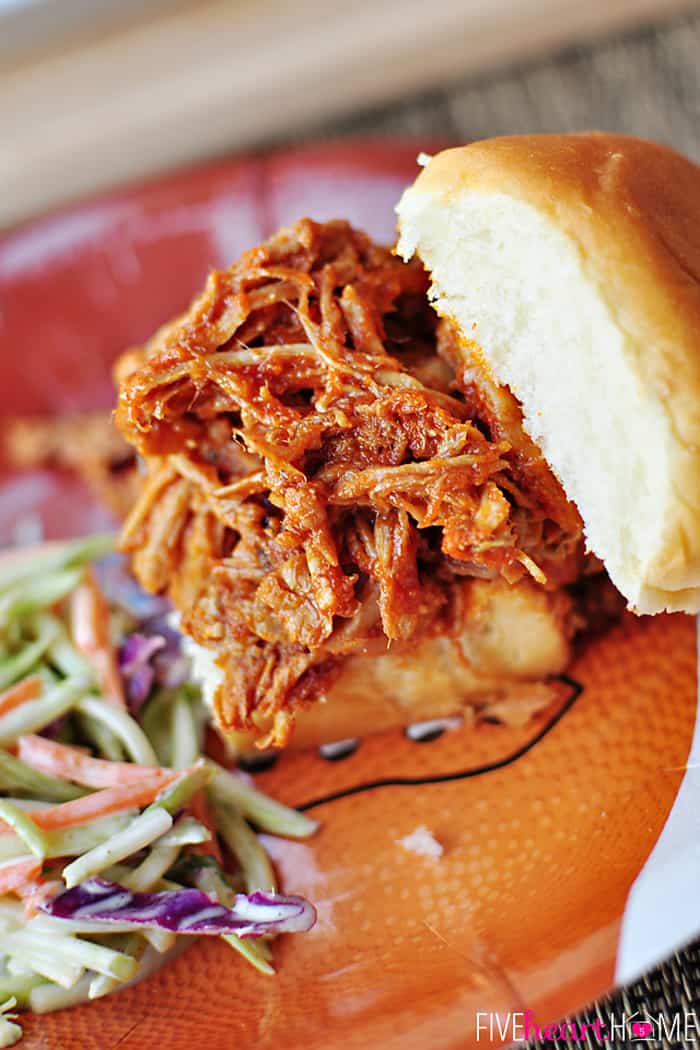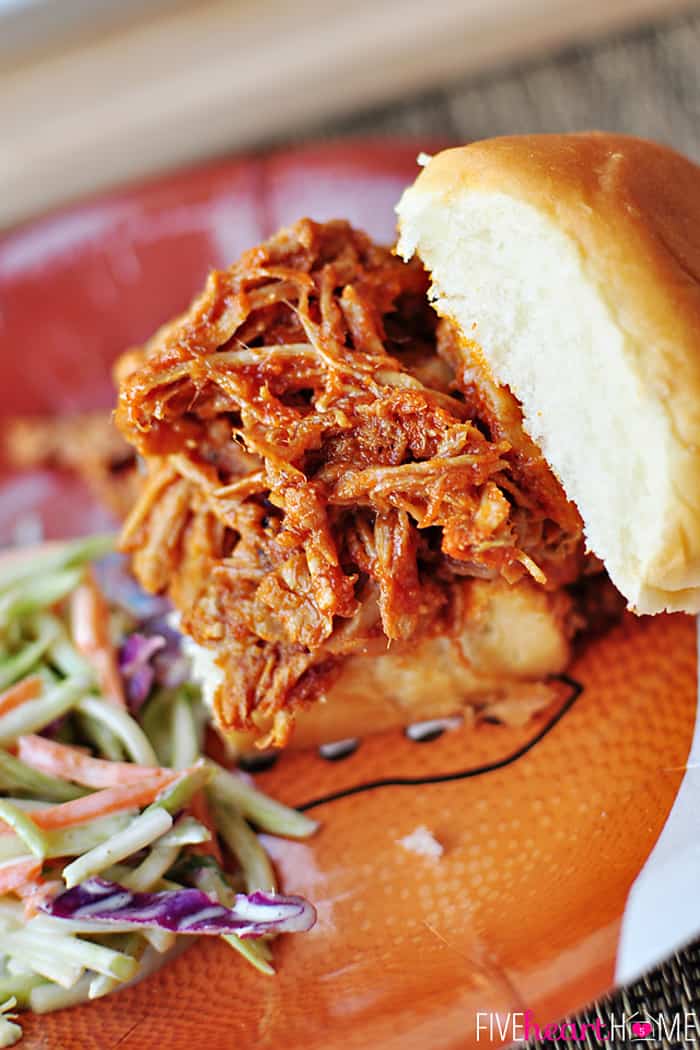 Here's the typical method to my madness. I measure out my barbecue sauce ingredients into a pot and let that start bubbling away on the stove. Then I place the pork and root beer in the slow cooker, season with minced garlic and pepper, slap on the lid, and set it on low. Next it's time to whip up the dressing for the slaw (which takes a whole two minutes) and stir in the shredded broccoli mix, which I find sold in a bag in the produce section of my grocery store. You could use shredded cabbage instead, which of course you could even chop up yourself, but I really like the slightly crunchier texture that the broccoli slaw lends to these sliders (not to mention the fact that I can buy it ready-to-go and that ends up being one less thing I have to do!).
I do think that it's important to make your slaw in morning (or at least several hours ahead of time) so that the broccoli has time to hang out in the dressing all day. This allows the flavors to meld together, and it also softens up the raw veggies just a bit. By the time you're ready to eat and the flavors of the slaw are all blended, nobody will ever even guess that they're eating broccoli unless you tell them…or, in my husband's case, unless they spy the empty bag on the counter that says BROCCOLI SLAW. Oops.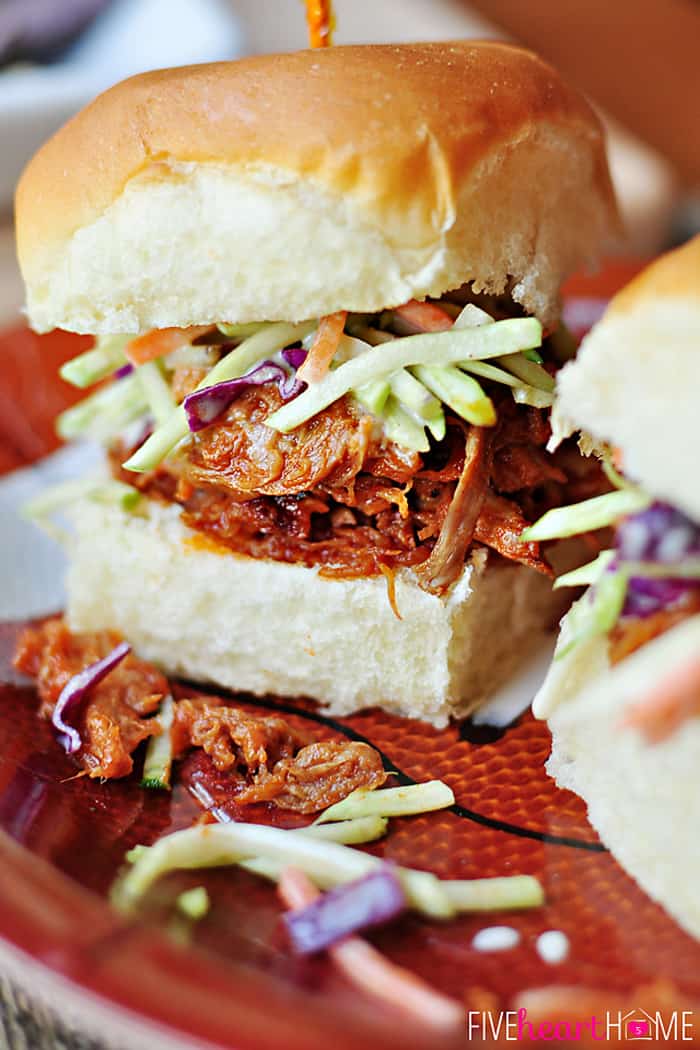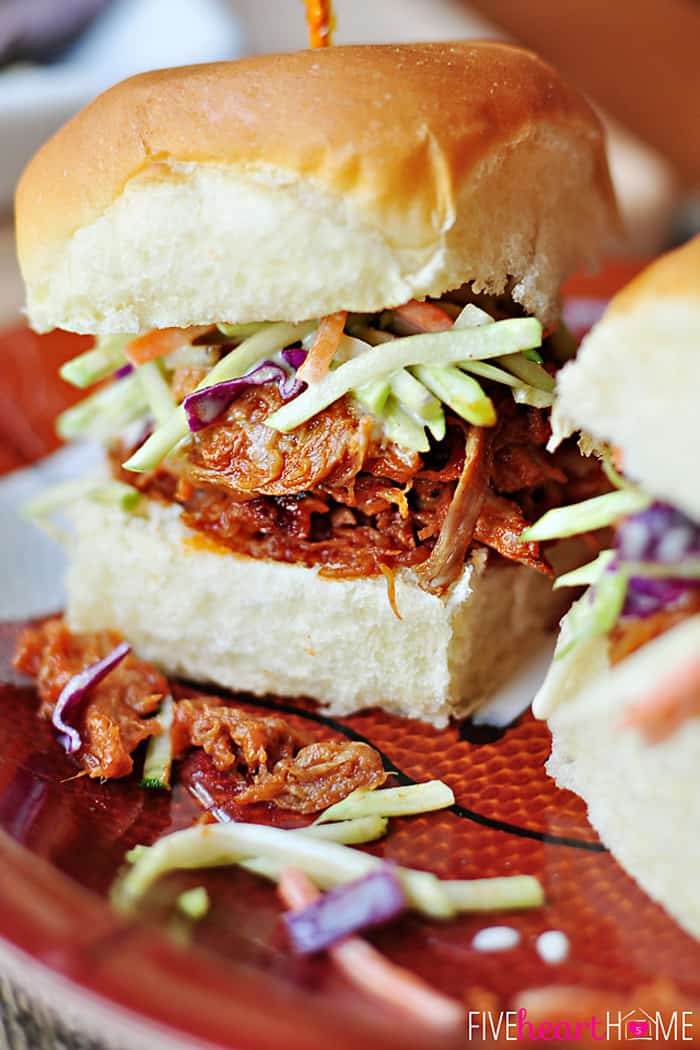 But back to our time table…by the time the pork is starting to cook and the slaw is in the refrigerator, my barbecue sauce will have just about simmered long enough. I allow it to cool a bit before transferring it into a container and popping it in the fridge to keep the broccoli slaw company. Then at the end of the day, when my pork is done cooking, I simply drain off the root beer, remove any fat, shred the pork, put it back into the slow cooker, stir in the barbecue sauce, and allow it all to cook a bit longer until heated through. Then it's time to pile some of this sweet, tangy pork onto tender little Hawaiian rolls (or you can use your favorite slider buns) and top it with a generous mound of slaw. Yum, yum, YUM.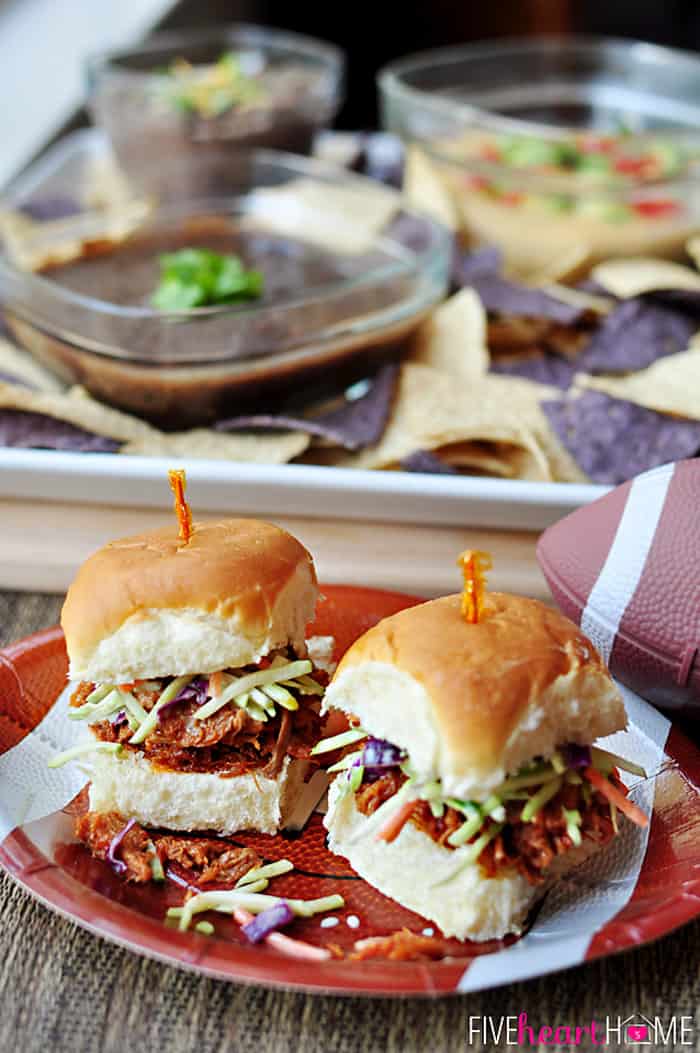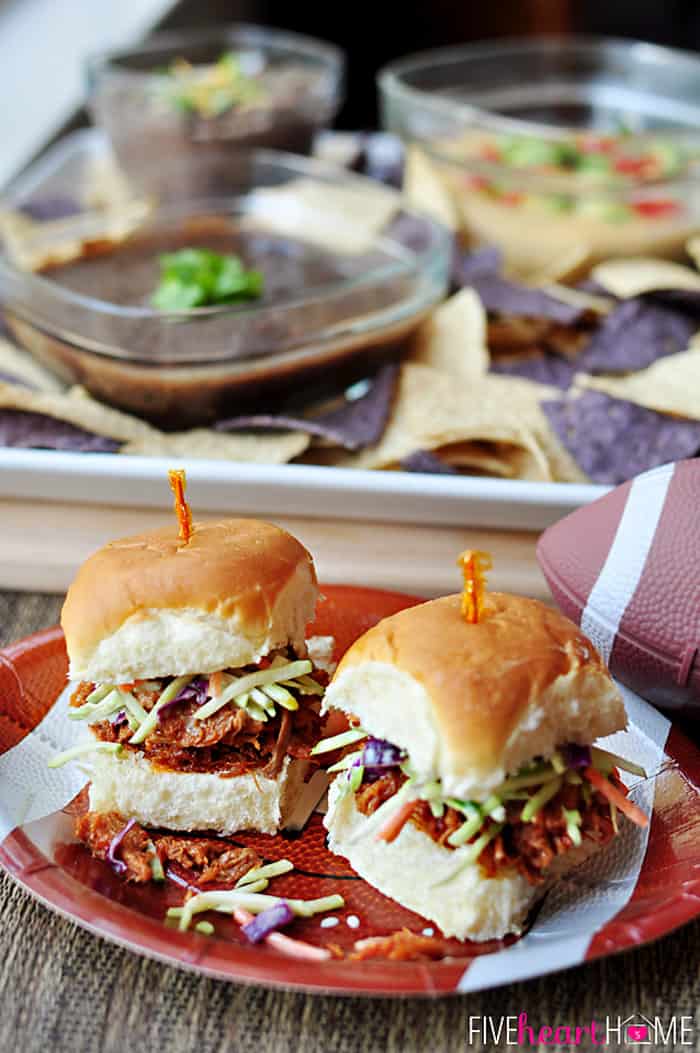 Folks, I implore you to try these tasty little sandwiches! They may be small but they pack a punch, with a combination of flavors and textures that is just out of this world. We regularly enjoy these sliders for ordinary weeknight dinners, after which I either freeze the leftover pulled pork for a later meal or use it to whip up something like quesadillas, nachos, or Cheesy Biscuit Cups on a subsequent night. But these sliders really shine at a party, where a crock pot full of pork goes a long way and everyone can assemble their sandwiches to their liking.
In addition to preparing the food ahead of time, there are other little tricks that I have learned over the years to make my parties run smoothly. One of them sounds so simple, but it's so important…make sure that everyone has a way to keep track of their drinks! After all, how annoying is it to set down your beverage at a party and then either forget where you set it or go back to retrieve it and find it sitting next to three other identical drinks? All it takes is a bit of planning to avoid this annoyance from occurring in the first place.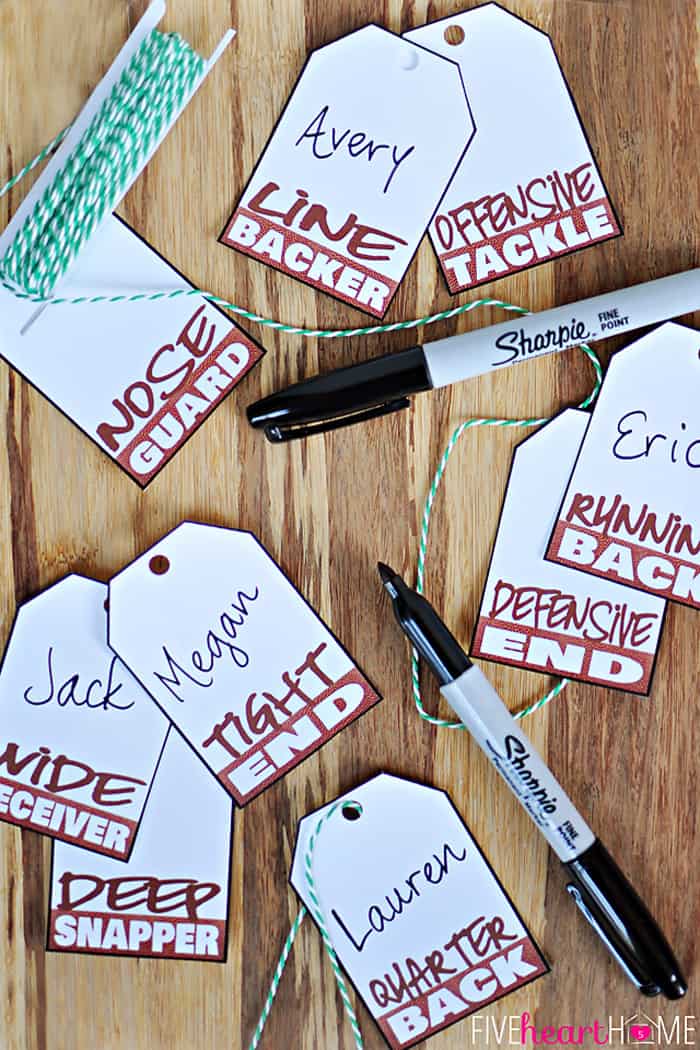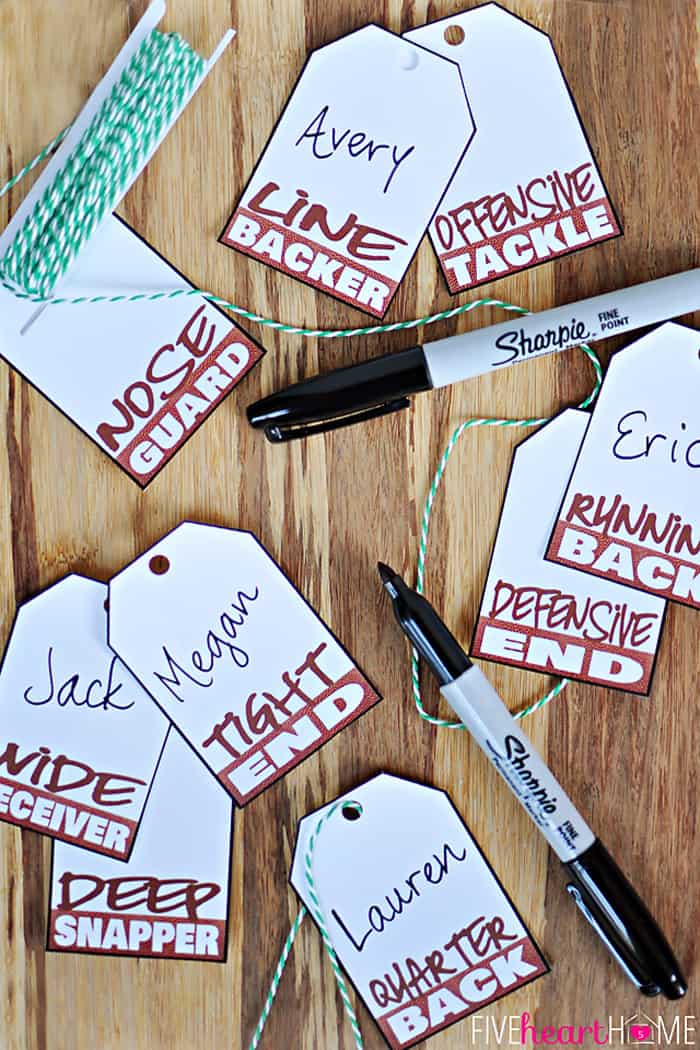 If you're hosting a fancy party with wine glasses, have some cute wine charms available, perhaps even complementing the party theme. If your shin-dig features water bottles and plastic cups, toss some Sharpie markers on the table so that everyone can write their names directly on their beverages. And if you're having a Super Bowl party, well…I've created some cute, customizable drink tags for tying around your cups and bottles. These are just what you need! 😉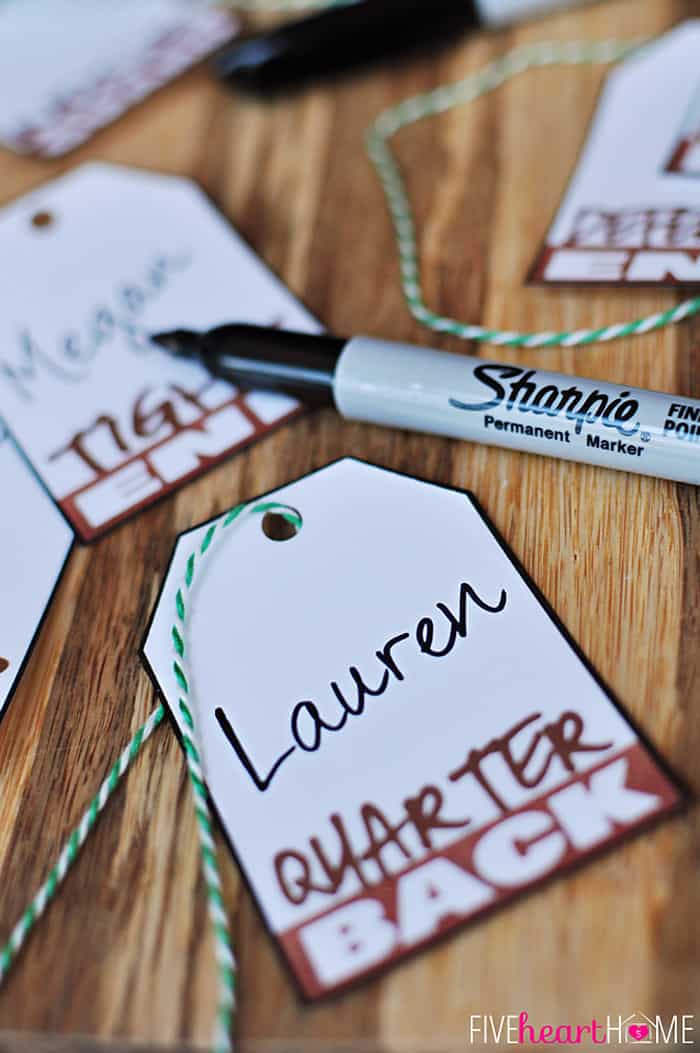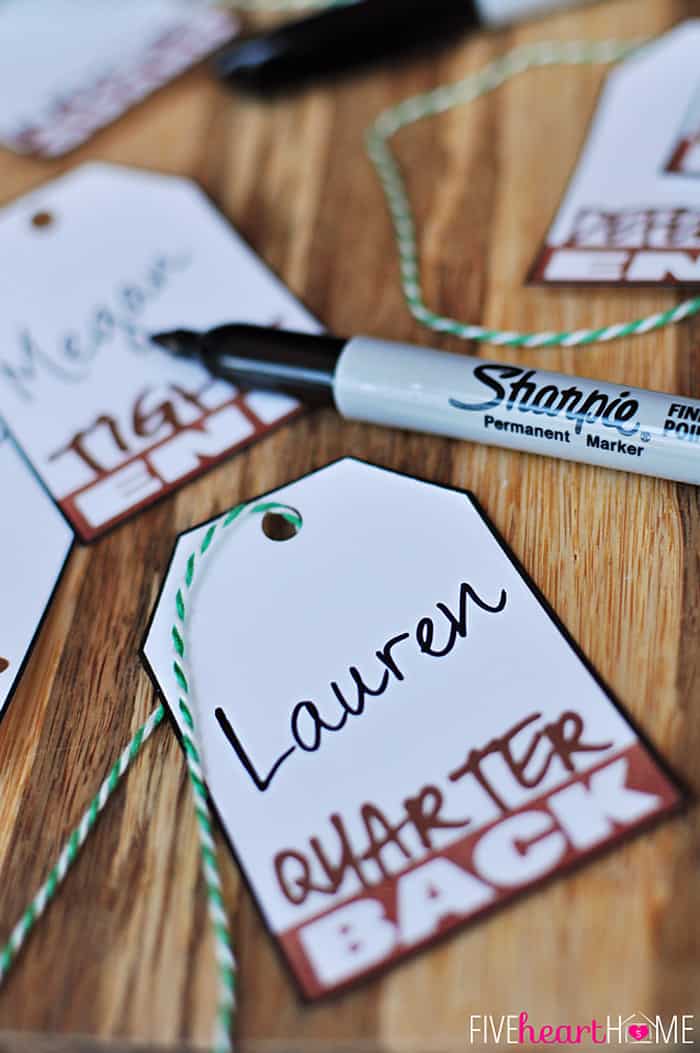 For a football-watching party, I thought it would be fun to create drink tags listing out some of the various football positions. When setting up your drink station, simply supply a pile of these cut-out tags, some cute string or twine, and a few Sharpie markers. That way, party-goers can write their names on their desired tags and then tie them onto their drinks, and voilà! Nobody is going to lose their drink at your party!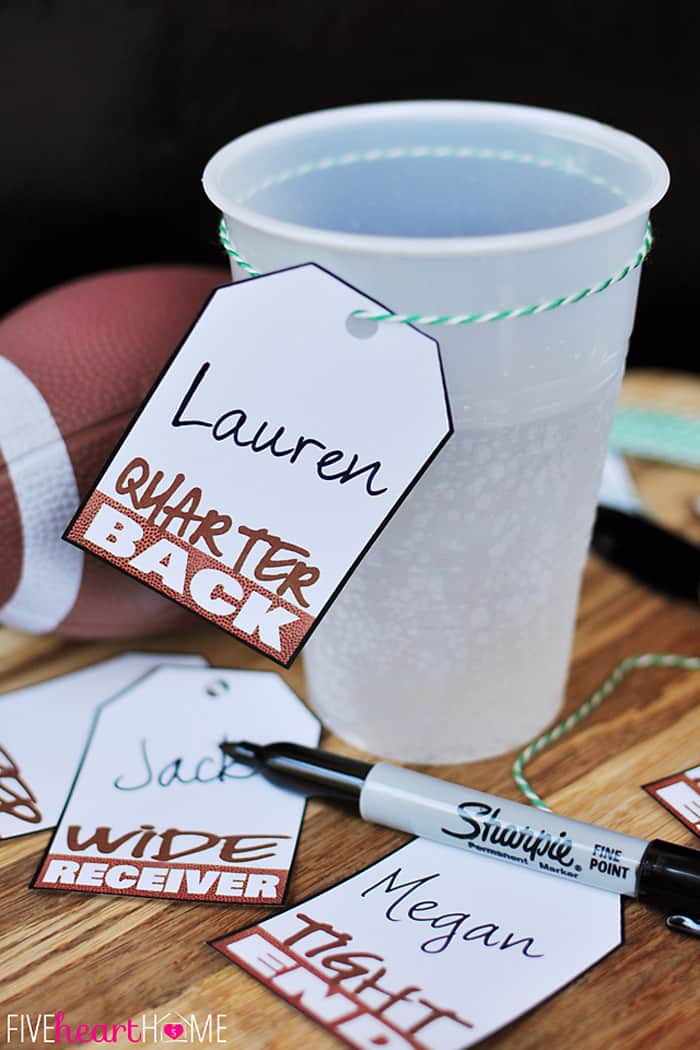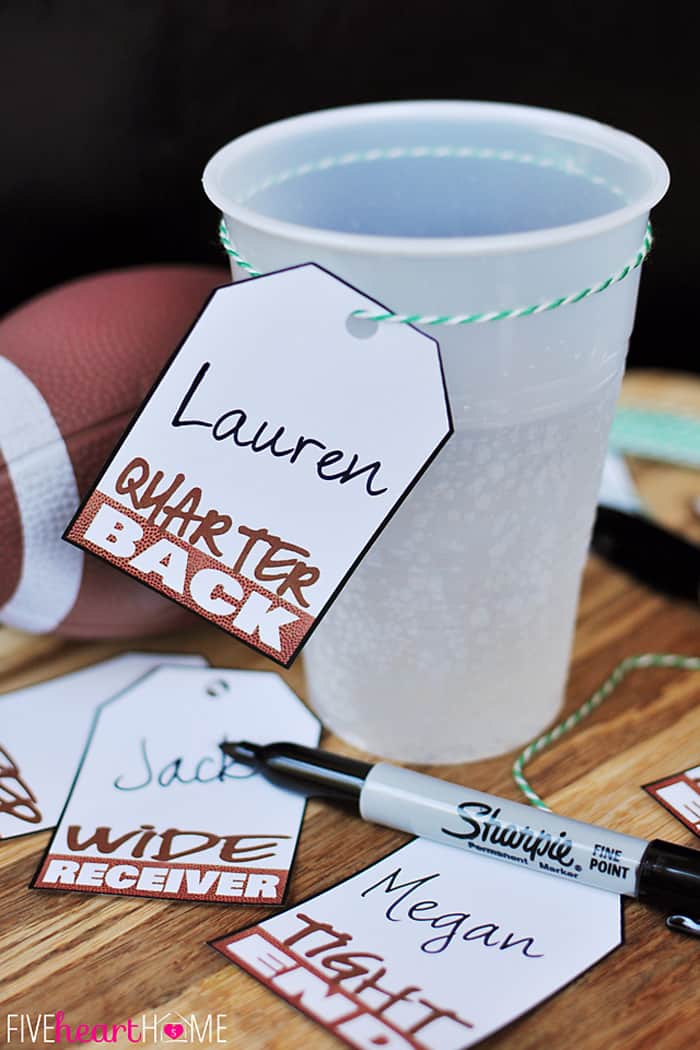 You know what else? When the party is over, should there be any leftover grub, you can send some leftovers home with your guests and label their to-go containers with — you guessed it — these same football-themed tags!
I already had a good supply of glass food storage containers, but when I ran to Target the other day to buy some Sharpie markers for my party tags, I also picked up a package of Rubbermaid Take Alongs. It's nice to have inexpensive containers that I can pack with leftovers for loved ones, yet not worry about it if I never see them again.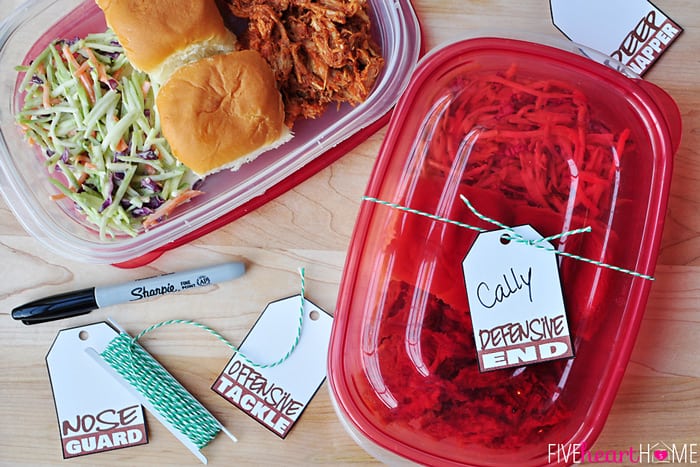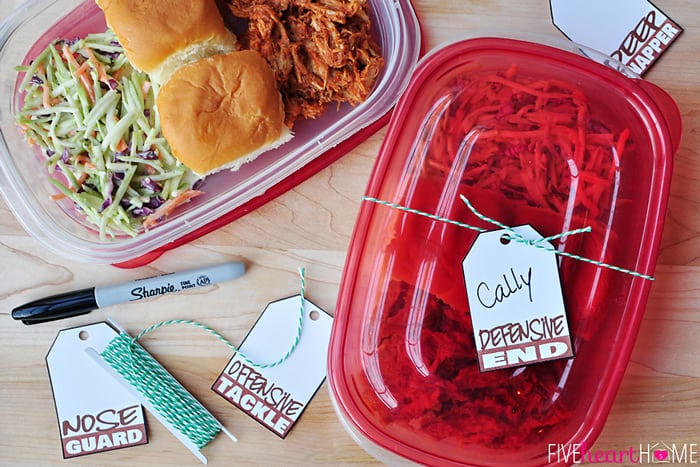 And I only recently learned this, but did you know that coupons to Target are available via text?! To receive Target Mobile Coupons to your cell phone, all you have to do is text the word COUPONS to TARGET (type "TARGET" into the phone number section of your phone). It really is that easy! And if you are obsessed with Sharpies like I am (maybe it's the former school teacher in me?), you won't want to miss the upcoming coupon for $1 off of a Sharpie 4-pack or larger. There is also a coupon for $1 off Rubbermaid food storage containers coming up, in case you're needing to add some new food storage pieces to your kitchen arsenal. Both of those coupons will be available from January 25 to February 8…just in time for your Super Bowl party!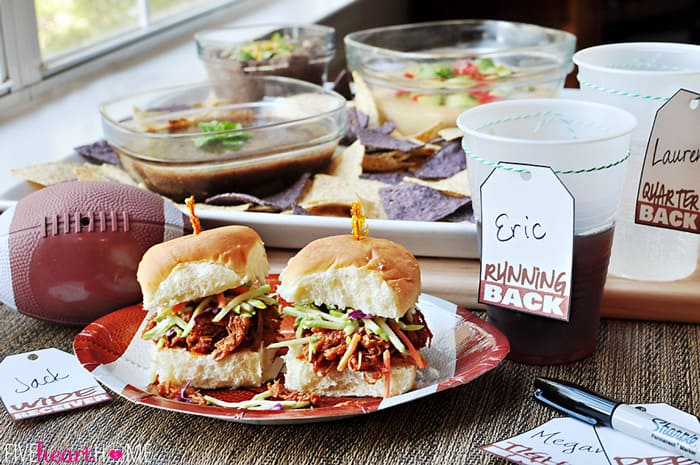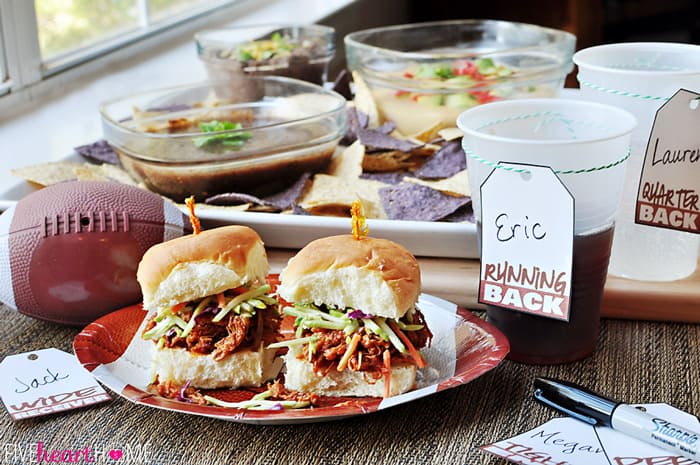 I hope that you enjoy this slow cooker recipe for Root Beer Pulled Pork, and I think you will be especially pleased with the results if you take the time to make the easy, homemade barbecue sauce and whip up the yummy slaw to top your sandwiches. I will tell you now that I don't actually care for raw broccoli, but I adore this broccoli slaw on these sliders! Besides, if my persnickety 4-year-old happily eats it, you know it's good. I also hope that these football position drink tags are a hit (and help avoid mixed-up beverages) when you watch the Super Bowl in a couple of weeks.
Have a great week, friends! And one last thing that I just have to know…Broncos or Seahawks? 😉
Slow Cooker Root Beer Pulled Pork Sliders
Slow cooker pulled pork is simmered in root beer and coated in a flavorful homemade barbecue sauce. It's especially tasty piled on sweet slider buns and topped with crunchy, creamy broccoli slaw.
Ingredients
4 pound boneless pork shoulder roast
12-ounce can root beer (I use natural root beer made with real sugar)
3 tablespoons minced garlic
16 ounces Best Ever Barbecue Sauce (OR your favorite bottled brand)
Freshly ground black pepper
2 to 3 packages Hawaiian rolls or other small slider buns
Instructions
Trim fat from pork and pierce all over surface with a knife. Place pork in slow cooker, pour root beer over top, and scatter garlic over surface, pressing into meat. Sprinkle liberally with pepper. Cover and cook on low for 9 to 10 hours.
While pork is cooking, prepare barbecue sauce and broccoli slaw
Remove pork from slow cooker and place on cutting board. Discard fat, cut meat into chunks with a knife, and then shred chunks with two forks. Drain liquid from slow cooker and add shredded meat back to crock. Stir in 2 cups barbecue sauce (or more, if desired). You may also add a splash of water if sauce seems too thick. Heat on low for 30 minutes to 1 hour or until heated through.
Serve pulled pork on Hawaiian rolls topped with Broccoli Slaw.
Notes
Although it's leaner and more expensive, I sometimes use pork loin instead of pork shoulder if that's what I have on hand.
I prefer using natural root beer made with cane sugar (as opposed to high fructose corn syrup).
For slow cooker recipes, I usually use the type of fresh minced garlic that you buy in a big jar and store in the refrigerator. It's quick to toss into crock pot recipes and since it ends up cooking for so long, I don't notice the end result being any different than if I took the time to mince fresh garlic cloves myself. I also tend to add more garlic than called for when it comes to crock pot recipes.
Cooking on low is recommended for the most tender meat, but if you don't have 9 to 10 hours to cook this recipe on low, you may cook it in half the time on high. However, be sure to heat in barbecue sauce at the end on low heat.
Depending on how much meat you put on each bun, this recipe should make between 2 and 3 dozen sliders.
https://www.fivehearthome.com/slow-cooker-root-beer-pulled-pork-sliders-with-creamy-broccoli-slaw-plus-super-bowl-drink-tags-printable/
https://fivehearthome.com ~ All recipes and images on Five Heart Home are copyright protected. Please do not use without my permission. If you would like to feature this recipe, please rewrite the directions in your own words and give proper attribution by linking back to this blog.
Crunchy shredded broccoli is coated in a sweet and tangy dressing to make a slaw that's perfect for topping sandwiches or as a side dish.
Ingredients
20 ounces broccoli slaw
1/2 cup mayonnaise
1/2 cup plain yogurt (OR sour cream)
2 tablespoons Dijon mustard
4 teaspoons apple cider vinegar
1/4 cup sugar
1 teaspoon celery salt
Salt and freshly ground black pepper, to taste
Instructions
In a large bowl, whisk together mayonnaise, yogurt, Dijon, vinegar, sugar, and celery salt. Stir in broccoli slaw until well coated. Taste and add salt and pepper, to taste. Cover and refrigerate for at least 4 hours before serving.
Notes
Broccoli slaw is a mixture of shredded broccoli stalks, carrots, and red cabbage that can be found in a bag in the produce section of your grocery store. You may also use shredded cabbage/regular coleslaw mix instead.
This quantity is enough to serve as a sandwich topping with 4 pounds of pulled pork. When I make this recipe for my family of 5 to eat, I cut it in half.
https://www.fivehearthome.com/slow-cooker-root-beer-pulled-pork-sliders-with-creamy-broccoli-slaw-plus-super-bowl-drink-tags-printable/
https://fivehearthome.com ~ All recipes and images on Five Heart Home are copyright protected. Please do not use without my permission. If you would like to feature this recipe, please rewrite the directions in your own words and give proper attribution by linking back to this blog.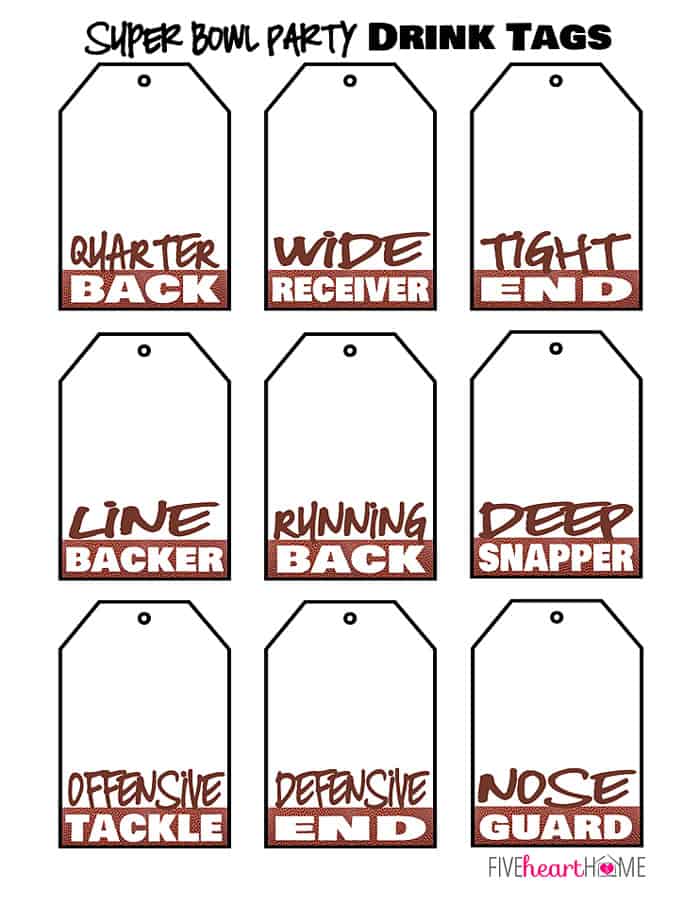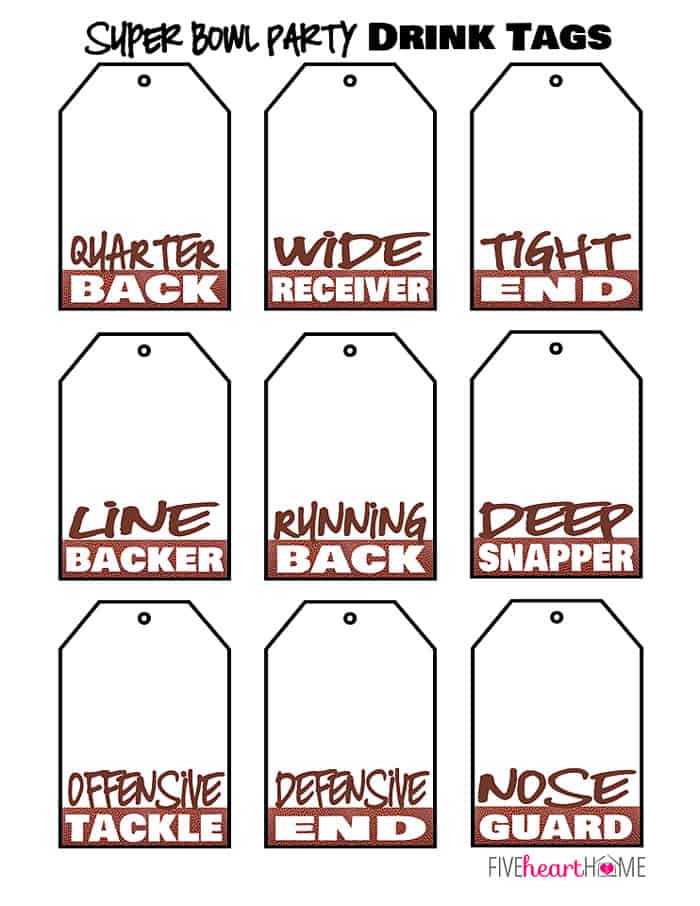 This Super Bowl Party Drink Tags printable is a high-resolution PDF. You may print these tags on cardstock, cut them out with scissors, and use a hole punch to punch a hole in the top and tie them onto drinks with twine or string.
For personal use only, please. Enjoy!
 ***This post is part of a social shopper marketing insight campaign with Pollinate Media Group™ and Rubbermaid and Sharpie, but all my opinions are my own. I personally use and enjoy these products. I would love for you to CLICK HERE to read about why I have started partnering with brands in select sponsored post opportunities and to learn more about my Disclosure Policy.***
♥More sandwiches for supper…
Slow Cooker Honey Balsamic Shredded Beef Sandwiches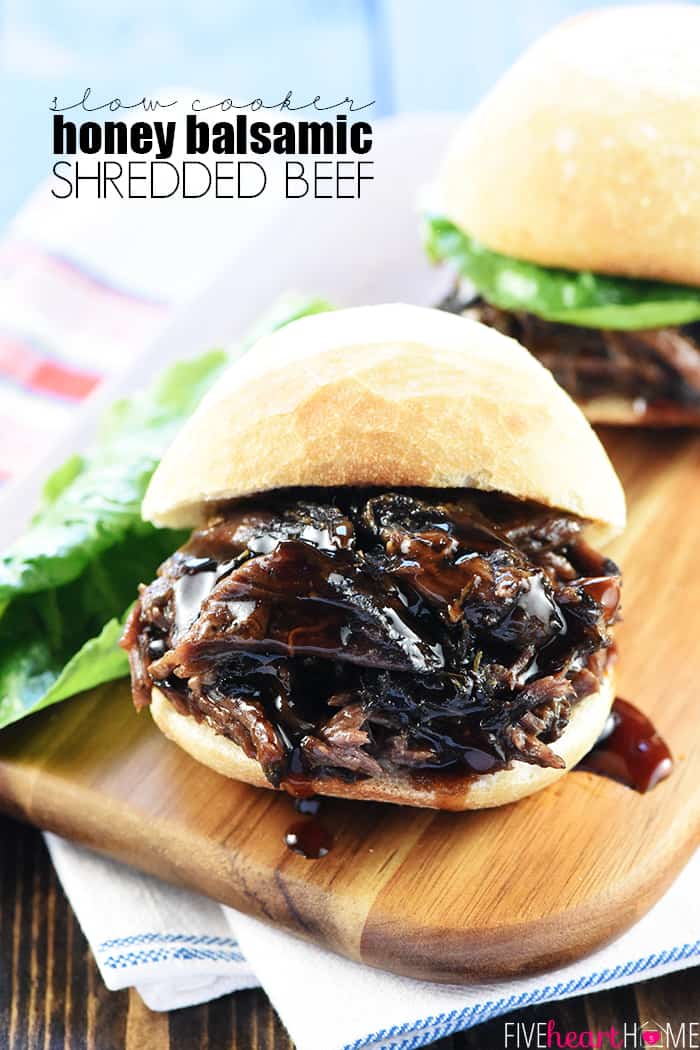 Bacon & Blue Cheese Egg Salad Sandwiches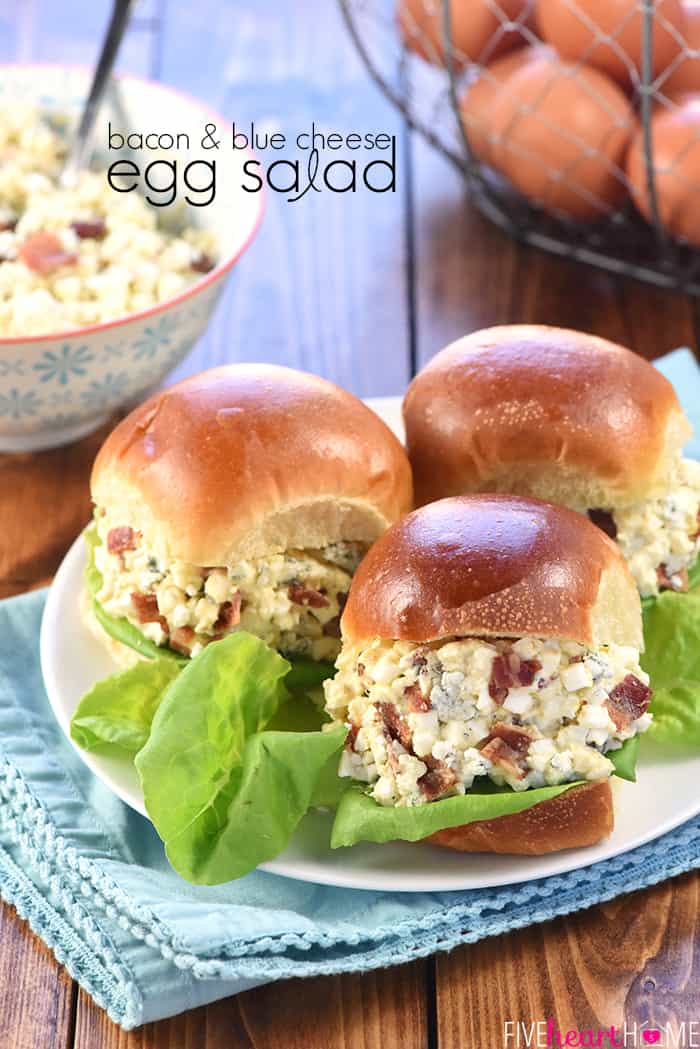 The ULTIMATE Stuffed Cheeseburger Sliders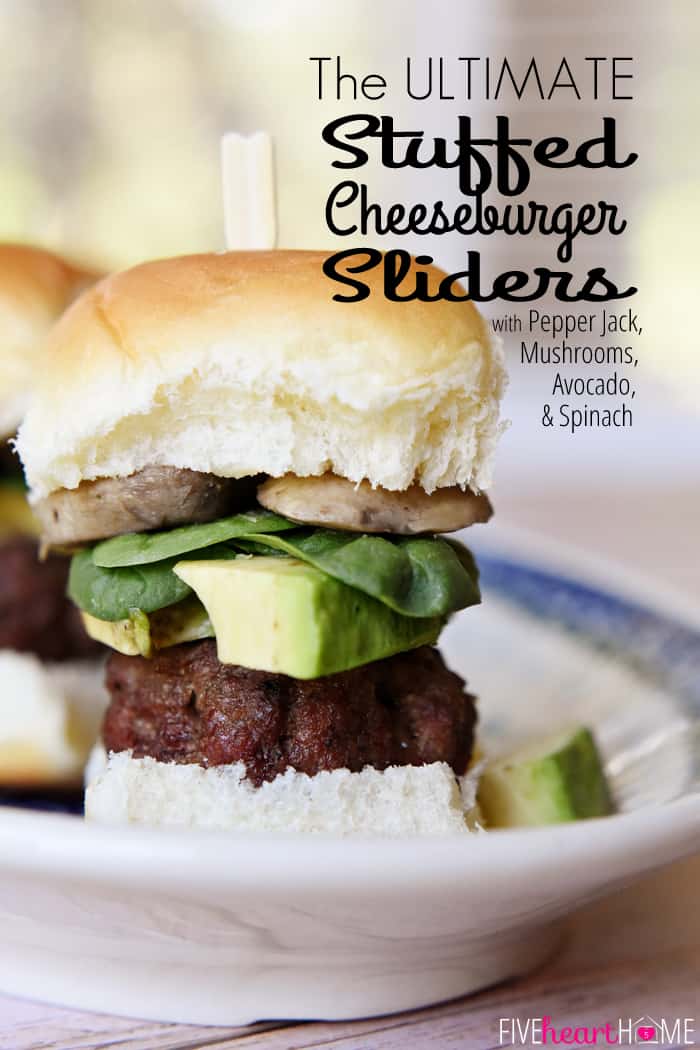 Caprese Chicken Salad Sandwiches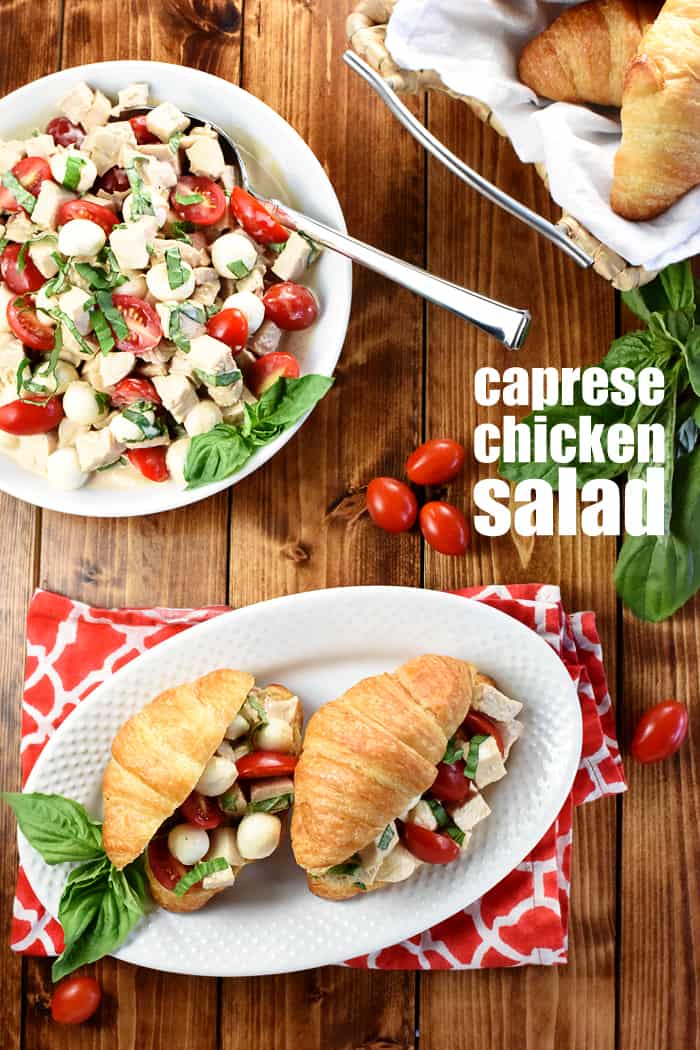 3