Slow Cooker Ham and Bean Soup is a hearty, wholesome, comforting crock pot recipe featuring creamy white beans that's perfect for using up leftover ham!

Now that chilly January is here, does anyone else have a leftover holiday ham bone and/or some diced ham in the freezer, just biding time until they can be transformed into something warm and cozy and comforting? If so, this Slow Cooker Ham and Bean Soup fits the bill!
Ham and Bean Soup is pure winter comfort food, though it's actually on the healthier side of things. And my crock pot version makes it ridiculously easy!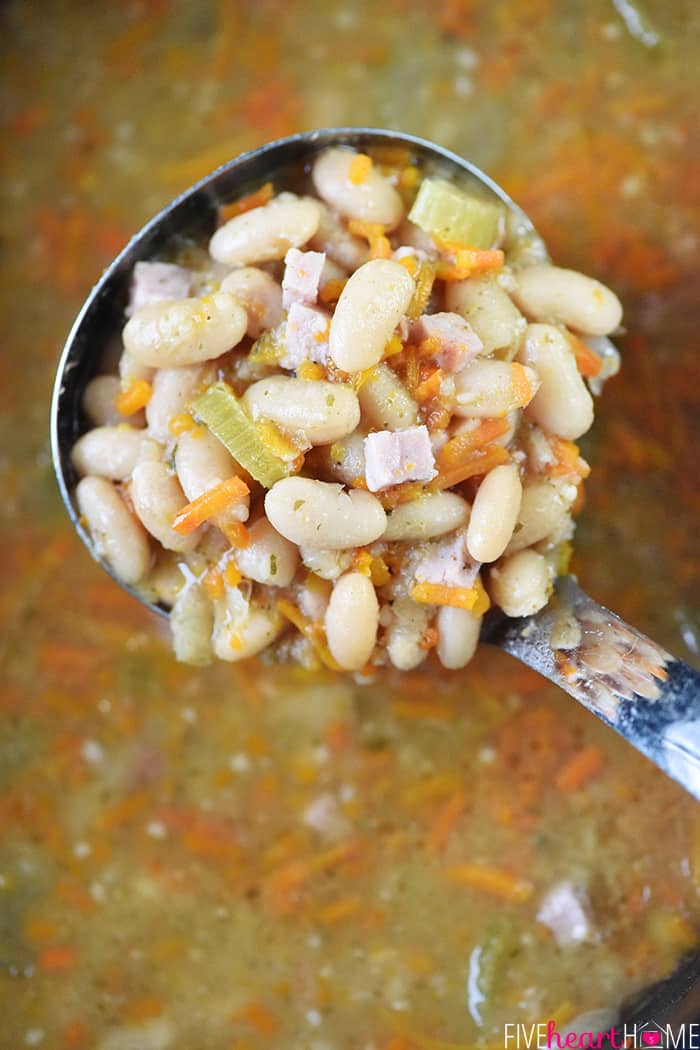 Ingredients
So what goes into the crock pot for this Ham and Bean Soup? Allow me to break it down...
Dried Great Northern beans. Navy beans work just dandy in this recipe as well.

Cannellini beans would taste good in this soup as well. However, cannellini beans (also known as white kidney beans) contain a high level of a naturally occurring toxin called phytohaemagglutinin (say that ten times real fast...or real slow) that can cause severe food poisoning. White kidney beans contain far less of this toxin than red kidney beans. But it's still necessary to bring any dried kidney beans to a rolling boil for 10 minutes in order to remove this toxin and make them safe to eat! Since some slow cookers run cooler than others, the only way to guarantee safe cannellini/kidney beans is to boil them on the stove before draining and transferring the beans to the slow cooker. So for a recipe like this, I think it's just easier to use Great Northern or navy beans from the get-go. 🙂
Whether you use Great Northern beans or navy beans, be sure to rinse 'em and pick 'em over. I never soak my beans (partially because I'm lazy and partially because I don't feel like it makes a difference), but if you're a loyal bean soaker, feel free to soak and drain your dried beans before proceeding with the recipe. Just remember that soaking will reduce their overall cooking time.

Ham bone. If you don't have a leftover holiday ham bone, you can buy ham hocks or a ham shank at the grocery store.
Carrots. To save time peeling and dicing -- and make assembling this recipe super quick and easy -- I typically opt for a bag of julienned carrots from the grocery store.
Celery. I chop up a stalk and toss it in if I have one on hand. If not, I don't worry about it.
Garlic. Again, to keep things simple, I often use a few spoonfuls of jarred minced garlic when it comes to crock pot recipes. Because I don't really feel that *fresh* minced garlic retains any semblance of having been "fresh" after slow cooking all day.


Chicken broth. Or stock. The ham bone usually adds plenty of saltiness to this soup. This is why it's important to start with low-sodium chicken broth (you could also use water). You can always add salt and pepper at the end if you need to adjust the seasonings, but it's unlikely that the soup will need more salt.
Herbs and spices. For depth of flavor, I jazz up this soup with bay leaves, dried parsley, celery salt, dry mustard powder, black pepper, and hot pepper sauce. You can tweak these ingredients depending on what you have on hand, of course. A squeeze of prepared mustard could substitute for the dry mustard, for example.
Diced ham. If your ham bone/hock/shank wasn't particularly meaty, feel free to stir in additional diced ham once the soup is done cooking. In full disclosure, I've actually made this soup plenty of times with no ham bone/hocks/shank at all. Rather, I just stir in a couple cups of diced ham (at the beginning of the recipe, to infuse the broth with that salty ham flavor) and call it good.
Additional Ingredient Notes
Feel free to adjust the ingredients in this soup to your liking. If you don't care for celery, leave it out. Or if you enjoy onion, add some in. If you don't have any dry mustard powder, stir in a squeeze of prepared mustard instead. And if you have fresh parsley on hand, use that instead of dried (and use about 3 times as much).
I always like to serve lentil soup or even split pea soup with a little splash of apple cider vinegar stirred into individual bowls, and it turns out that the same thing is yummy in this soup (props to my eldest chef-in-training for suggesting it). A tiny bit of vinegar stirred into bean soup really makes the flavors pop. Just be careful not to add too much as a little bit goes a long way!

How to Make Ham and Bean Soup
This soup is slow cooked until the beans and veggies are tender and the smoky ham bone has had plenty of time to permeate the white beans and broth with all of its savory deliciousness. And I'm telling you, this is one of those effortless recipes that takes ten minutes to toss into the slow cooker in the morning for a ready-made meal eat at the end of the day. Literally...
Rinse and drain your beans and pour them into the bottom of a large crock pot.
Nestle your ham bone into the center of the beans.
Add the rest of the ingredients to the slow cooker.
Cover and cook until the beans are tender. I typically prefer to cook my bean soups on LOW, which will likely take 7 to 9 hours. If you're short on time, you may instead cook on HIGH for 4 to 5 hours.
Once the soup is done cooking, remove the bone/hock/shank and discard any fat/cartilage. Pull all of the bits of ham from it to add back to the soup later. Any big chunks of ham may be shredded.
For a thick, creamy soup, you may partially puree it at this point. If you don't already have one, I highly, highly recommend investing in an immersion blender. They're pretty affordable and they are so gosh darn handy. I use mine all the time...for instance, in this soup and a bunch of other recipes in my cookbook. Wayyyy easier and less messy than transferring soup to a blender or food processor to puree. Alternatively, if you wish, you may puree your Ham and Bean Soup until completely smooth.
Stir any shredded ham from the ham bone back into the soup. If desired, you may also stir in additional diced ham at this point.
That's it, y'all! This complete crock pot meal is hearty, filling, and will warm you up straight down to your toes. I like to serve my Ham and Bean Soup with thick slices of fresh homemade bread and perhaps a side salad.
Although, to be perfectly honest, I think that skipping the side salad is perfectly acceptable...you know, since the soup has carrots and all. 😉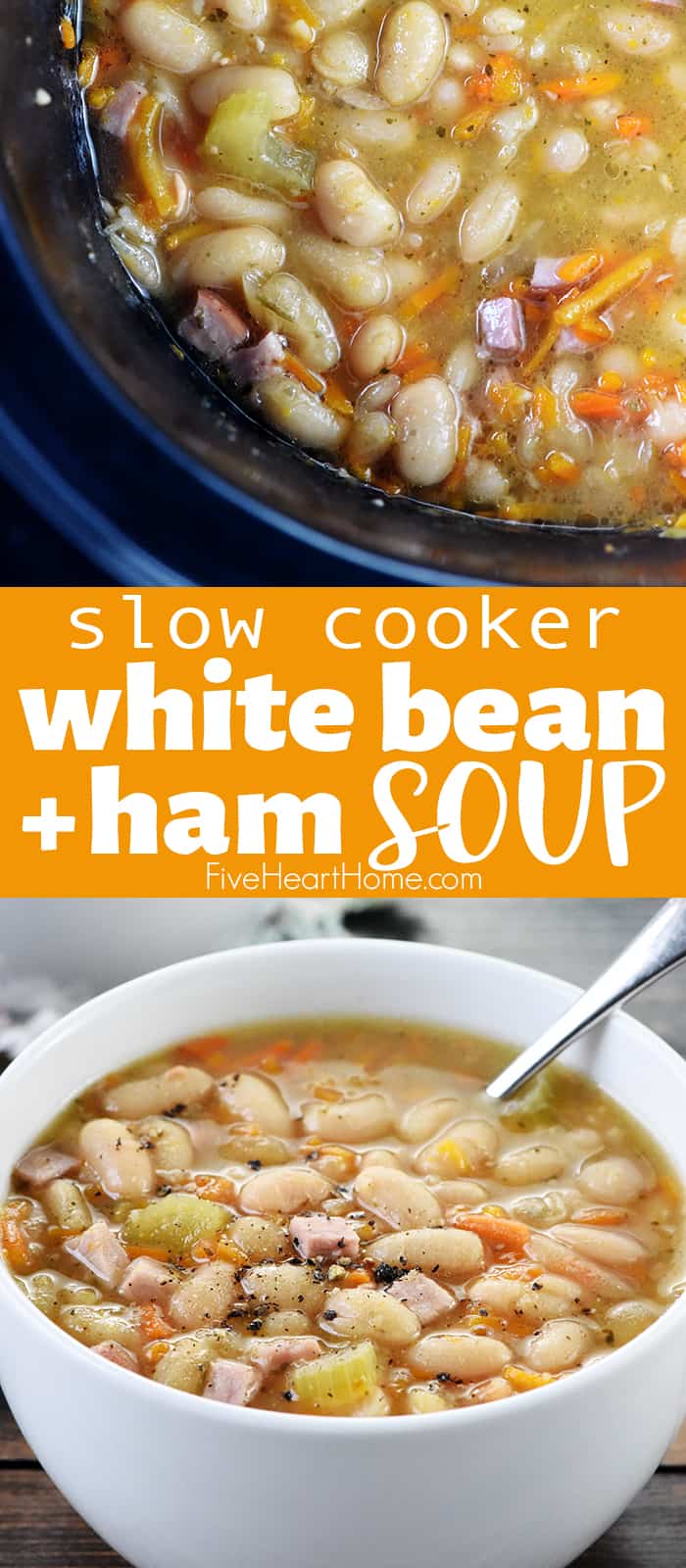 More Savory Ham Recipes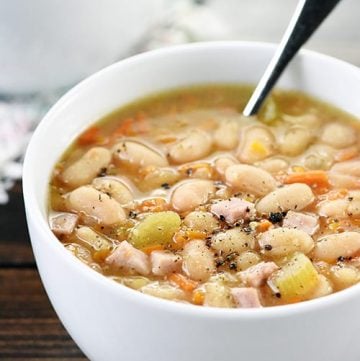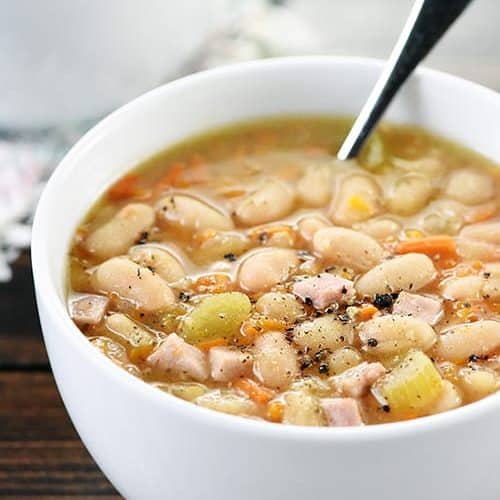 Slow Cooker Ham and Bean Soup
Slow Cooker Ham and Bean Soup is a hearty, wholesome, comforting crock pot recipe featuring creamy white beans that's perfect for using up leftover ham!
Print
Pin
Rate
Servings:
6
to 8 servings
Ingredients
1

pound

dried Great Northern OR navy beans

,

picked over

1

large smoked ham bone, ham hock, OR ham shank

2

cups

(approximately 6 ounces) shredded, julienned, or diced carrots

1

medium stalk celery

,

sliced

4

cloves

garlic

,

minced

7

cups

low-sodium chicken broth OR stock

2

bay leaves

1

tablespoon

dried parsley

½

teaspoon

celery salt

½

teaspoon

dry mustard powder

Freshly ground black pepper

Several dashes of hot pepper sauce

,

such as Tabasco

1 to 2

cups

additional diced ham

,

optional
Instructions
Rinse and drain the beans and place them in the bottom of a large (7- to 8-quart) slow cooker. Nestle the ham bone/hock/shank in the center, and add the carrots, celery, and garlic on top. Carefully pour the chicken broth over the ingredients in the slow cooker, and then sprinkle with the bay leaves, parsley, celery salt, mustard powder, black pepper, and hot pepper sauce. Cover and cook on low for 7 to 9 hours or until the beans are tender.

Remove the ham bone/hock/shank. Pull any ham meat from the bone, shred, and set aside; discard the bone and any fat or cartilage. Use an immersion blender to puree just enough of the soup to give it a creamy consistency, leaving most of the beans whole. Stir the shredded ham (from the bone) into the soup, along with any additional diced ham you'd like to add. Allow to cook for a few more minutes until just heated through.
Calories:
344
kcal
|
Carbohydrates:
56
g
|
Protein:
26
g
|
Fat:
3
g
|
Saturated Fat:
1
g
|
Cholesterol:
10
mg
|
Sodium:
571
mg
|
Potassium:
1456
mg
|
Fiber:
17
g
|
Sugar:
5
g
|
Vitamin A:
7158
IU
|
Vitamin C:
8
mg
|
Calcium:
167
mg
|
Iron:
5
mg
Post originally published on November 20, 2017.