Apparently I missed National S'mores Day a couple weekends ago.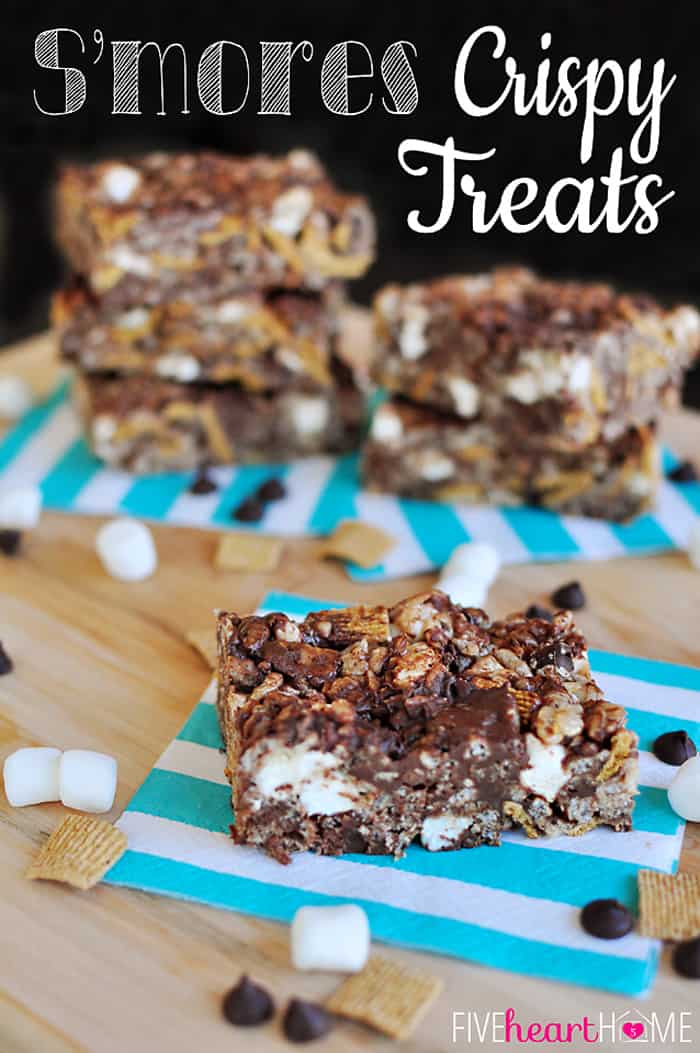 So I decided I'd better remedy that. Stat.
I recently mentioned that this week not only marks my oldest son's first week of school, but also his birthday. So yesterday, our little family was scheduled to made the trek to first grade to share birthday treats with his class. As crazy as this week was shaping up to be, I knew that I would need to make something that was quick and easy, while also being nut-free for school and guaranteed to be eagerly gobbled down by a gaggle of 6-year-olds.
So here's what I came up with. I mean, who doesn't like marshmallow cereal treats? But as good as they are, they're not very exciting, so I decided to pay homage to the end of summer by turning them into s'mores inspired bars.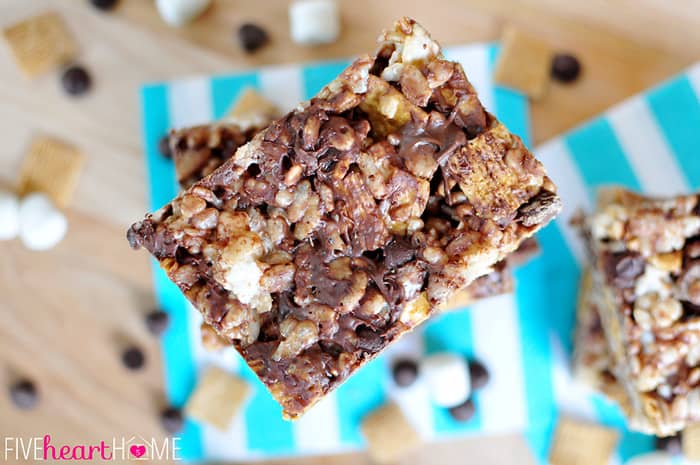 Of course, marshmallows are already included in your standard crispy treats, but I decided to toss in additional mini marshmallows for a more s'more-like experience.
Graham crackers and chocolate were also required. I thought about stirring in broken graham crackers, but I was afraid they may get stale or soggy. So instead, I subbed Golden Grahams cereal for two cups of the crispy rice cereal.
For the chocolate, I used half milk chocolate and half semi-sweet chocolate chips, but you can certainly pick your favorite type of chocolate here. Some of the chips melted into the warm marshmallow/cereal mixture and some of them stayed whole. I stuck my chocolate chips in the freezer ahead of time in hopes that they wouldn't all melt completely, and it seemed to work.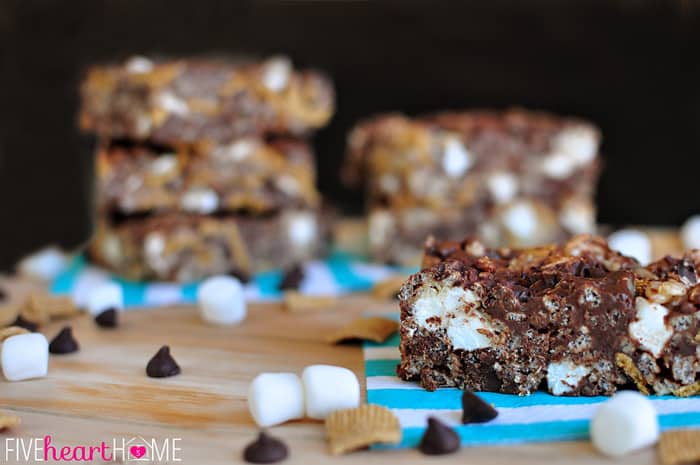 Care to know my other secret trick to making any variety of marshmallow cereal treats? Wet your hands before pressing them into the pan. That's right…no butter or wax paper needed, no getting frustrated with sticky, stringy marshmallow goo. With wet fingers, you can effortlessly press down your cereal mixture with minimal mess. Just don't press down too hard and get everything all compact. You want your cereal bars to turn out solid but not overly compressed.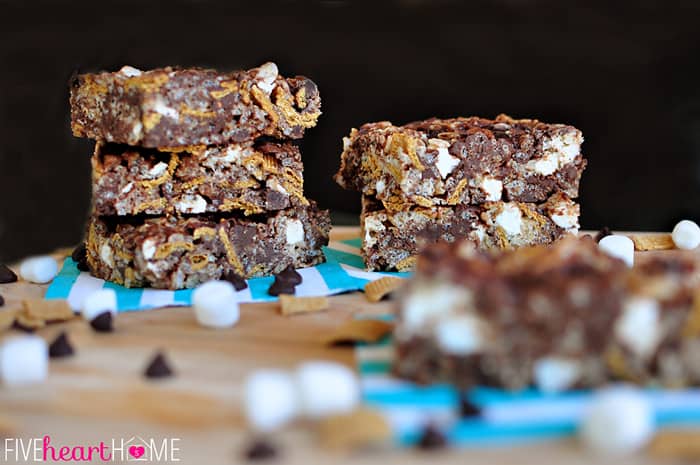 And now for the ultimate test…how did S'mores Crispy Treats go over with a classroom of first graders? Well, to say that they were a hit would be an understatement. Here are some of the quotes I overheard from the mouths of babes as they were chowing down:
"Can you text my mom this recipe?"
"I could eat, like, 100 of these."
"Oh my gosh, these treats are TO DIE FOR!"
That last one was from a 6-year-old boy, no less. To die for. It made me remember why I loved teaching first graders. Their enthusiasm for the simple things in life, like s'mores and cereal bars, always made me smile.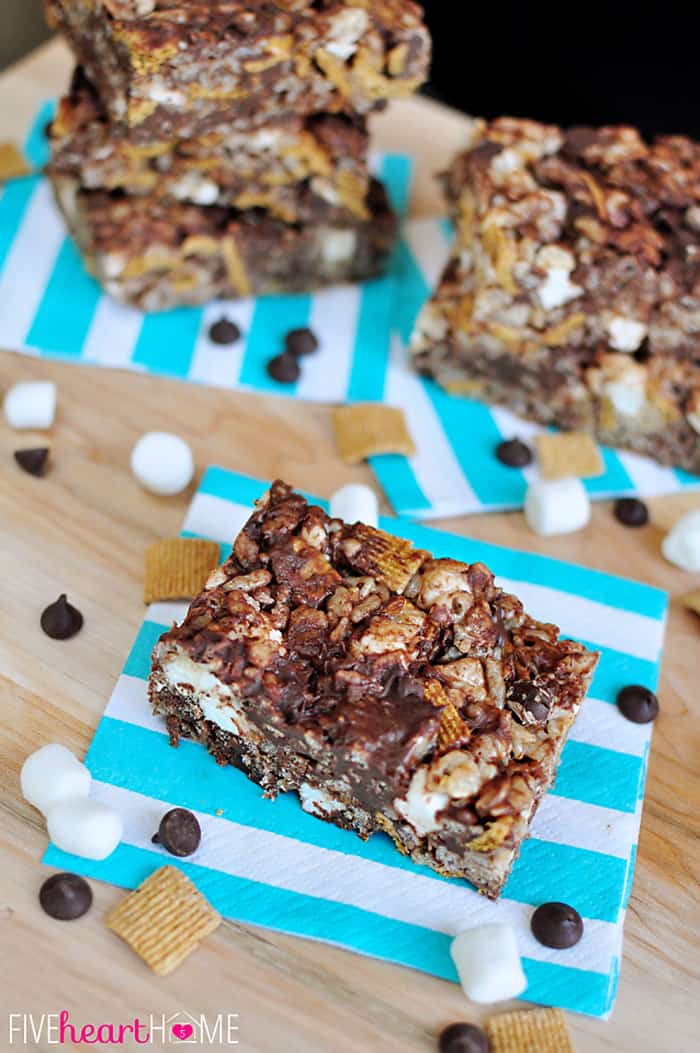 I think that these treats will make you smile, too. Just one last word of warning…you can make them in a snap, but they'll likely be gone in a flash. 😉
Classic rice cereal/marshmallow treats are given a s'mores twist with the addition of graham cereal, chocolate chips, and whole mini marshmallows.
Ingredients
4 tablespoons (1/2 stick) butter, PLUS 1 tablespoon softened butter for greasing pan
10 ounces marshmallows PLUS 2 cups mini marshmallows
4 cups crispy rice cereal
2 cups graham cereal (such as Golden Grahams)
2 cups chocolate chips (milk chocolate, semi-sweet, or a mixture)
Instructions
Use 1 tablespoon of softened butter to generously grease a 9-inch by 13-inch baking dish.
In a large pot, stir together 4 tablespoons butter and 10 ounces marshmallows over low heat until melted. Remove pot from heat.
Mix rice and graham cereals into melted butter/marshmallow mixture until blended. Quickly fold in additional 2 cups of mini marshmallows and chocolate chips. Stir until just incorporated. Before all of the chocolate chips have a chance to melt, dump mixture into greased baking dish. Press down in an even layer, pressing firmly enough that bars will be solid but not overly compact.
Allow to cool completely before cutting into bars with a sharp knife.
Notes
I prefer using salted butter in these, because a small amount of salt enhances/adds complexity to sweet flavors, but unsalted butter will work just fine as well.
Be sure to melt butter and marshmallows over LOW heat. If they melt at too high of a heat, your treats may end up tough.
Freeze your chocolate chips ahead of time so that they don't all melt when you stir them in.
Pre-measure all ingredients ahead of time so that they can be added quickly at the right time, which will make stirring everything in easier.
Wet your hands before pressing the mixture into the pan to keep it from sticking to your hands.
https://www.fivehearthome.com/smores-crispy-treats/
https://www.fivehearthome.com ~ All recipes and images on Five Heart Home are copyright protected. Please do not use without my permission. If you would like to feature this recipe, please rewrite the directions in your own words and give proper attribution by linking back to this blog.
♥More s'mores goodies…

Mini S'mores Trifles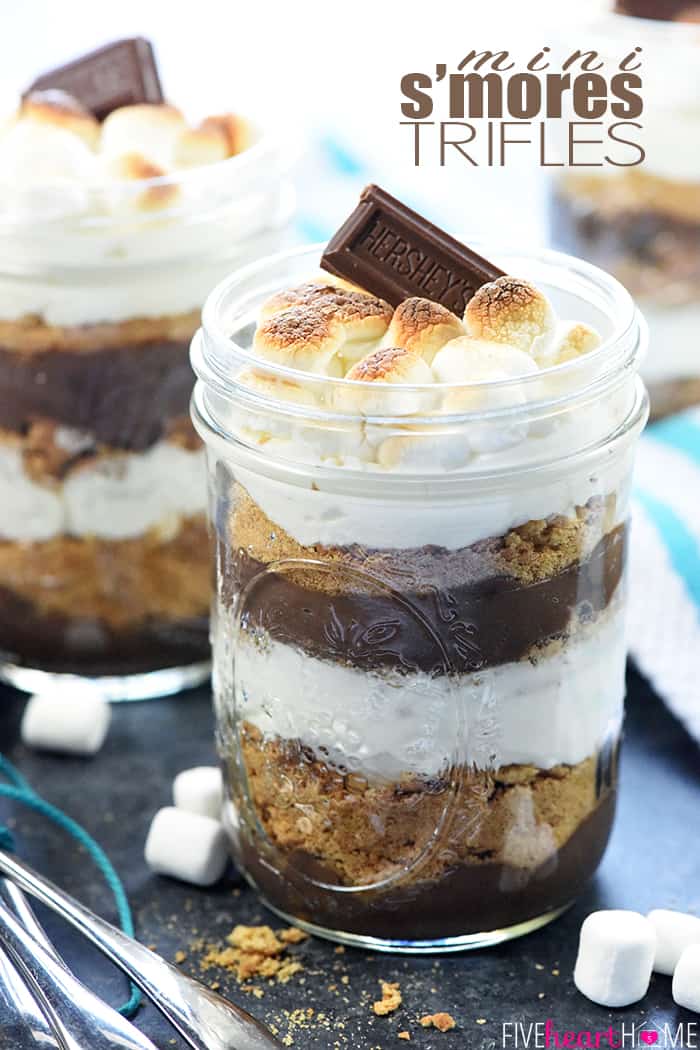 Peanut Butter Cookie S'mores Pizza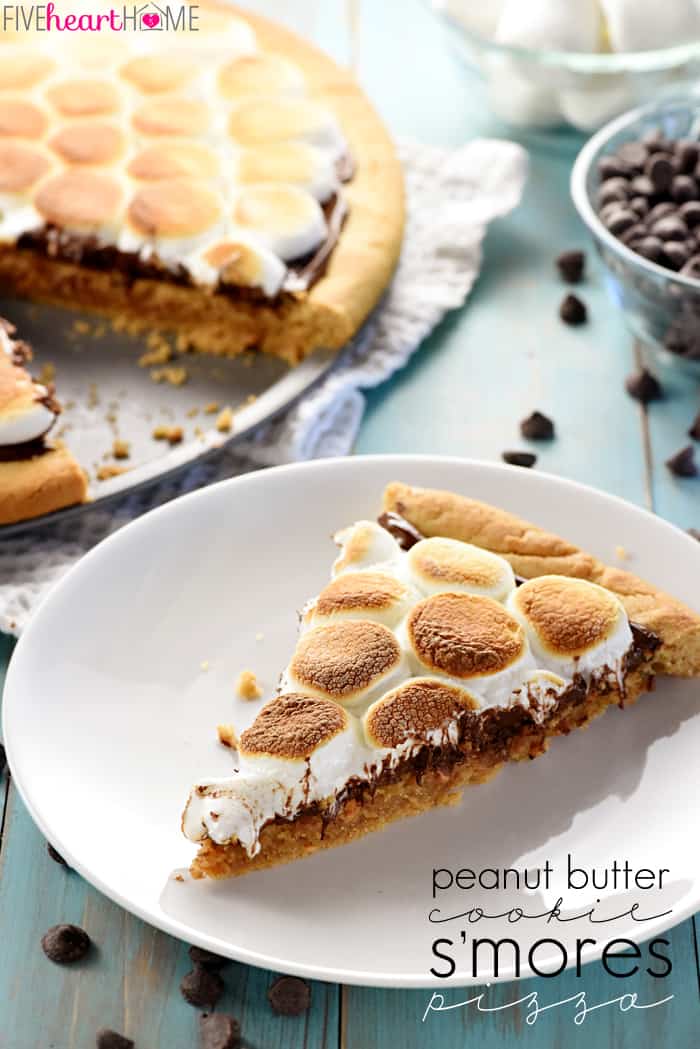 Skillet S'mores Dip