S'mores Dip — loaded with melted chocolate and toasty marshmallows — requires just a few minutes in the oven and is sure to be the hit of your next party!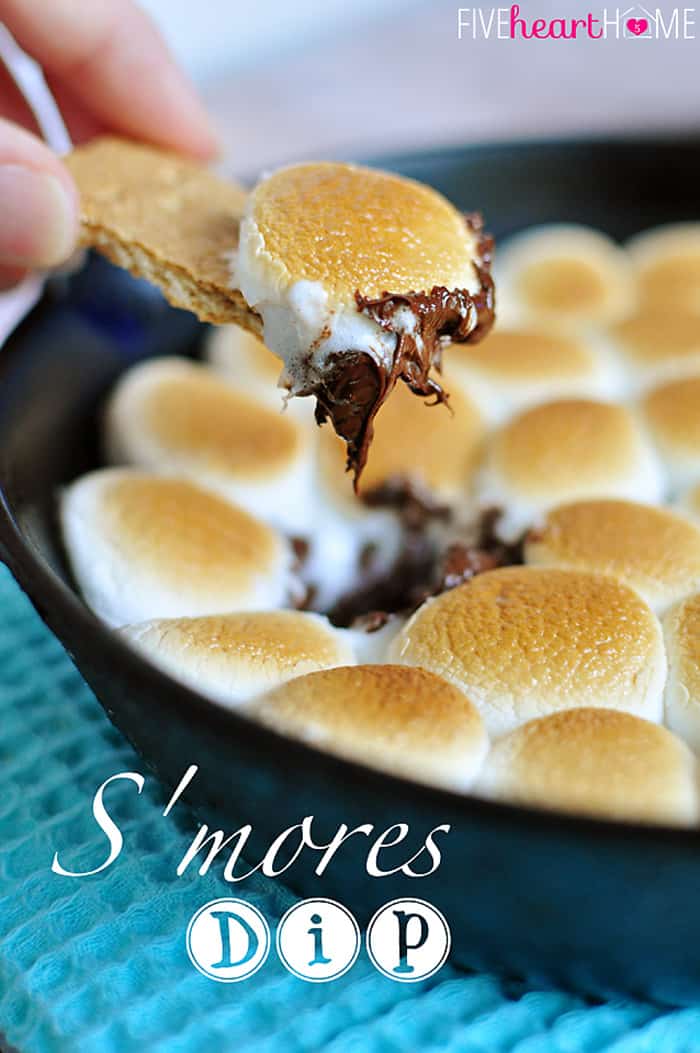 If you're a fan of sweet dessert dips, you'll also love Lemon Fruit Dip, Fluffy Chocolate Dip, and Cannoli Dip!
Happy National S'mores Day, everyone! If there was ever a food recognition day that I can wholeheartedly embrace, it would be this one. Because, let's face it...who doesn't love s'mores?! I mean, it doesn't get any better than silky, melted chocolate and gooey, toasted marshmallows sandwiched between crunchy graham cracker squares.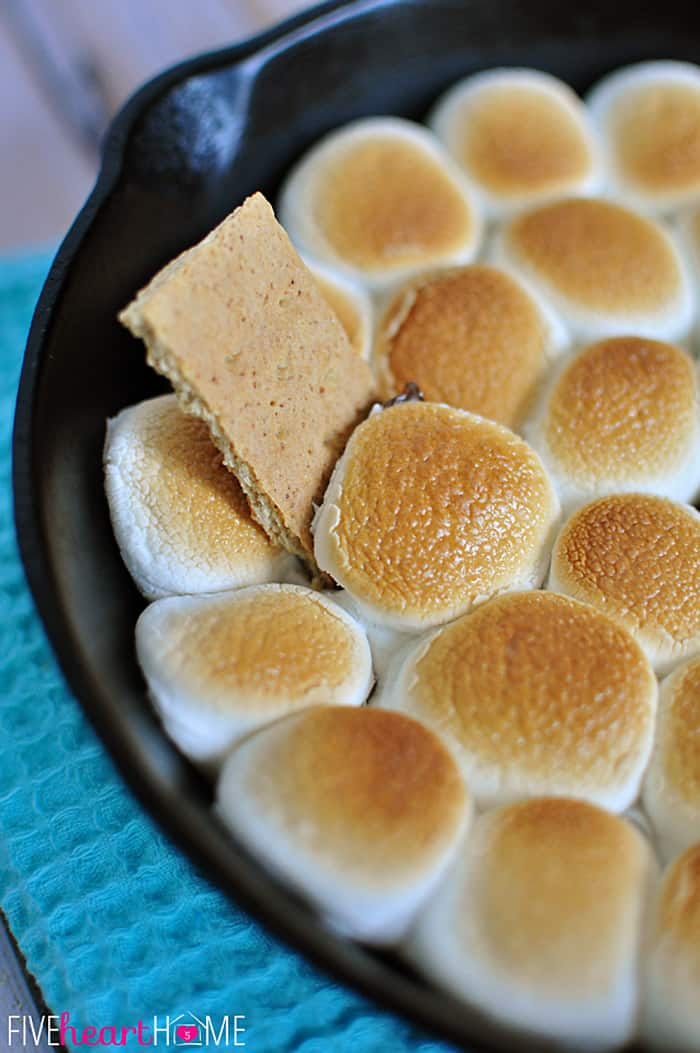 Wait. Actually, it does get better. And you're looking at it! How would you like to make enough s'more-y goodness to feed a crowd, without having to put together individual s'mores and without necessitating a campfire? Now don't get me wrong...I love making s'mores the old-fashioned way. But this little method is easier, faster, less messy, and doesn't put you at risk for campsite mosquito bites. It's an effortless way to enjoy s'mores year-round, and it's a sweet treat that is sure to quickly vanish at your next party or get-together.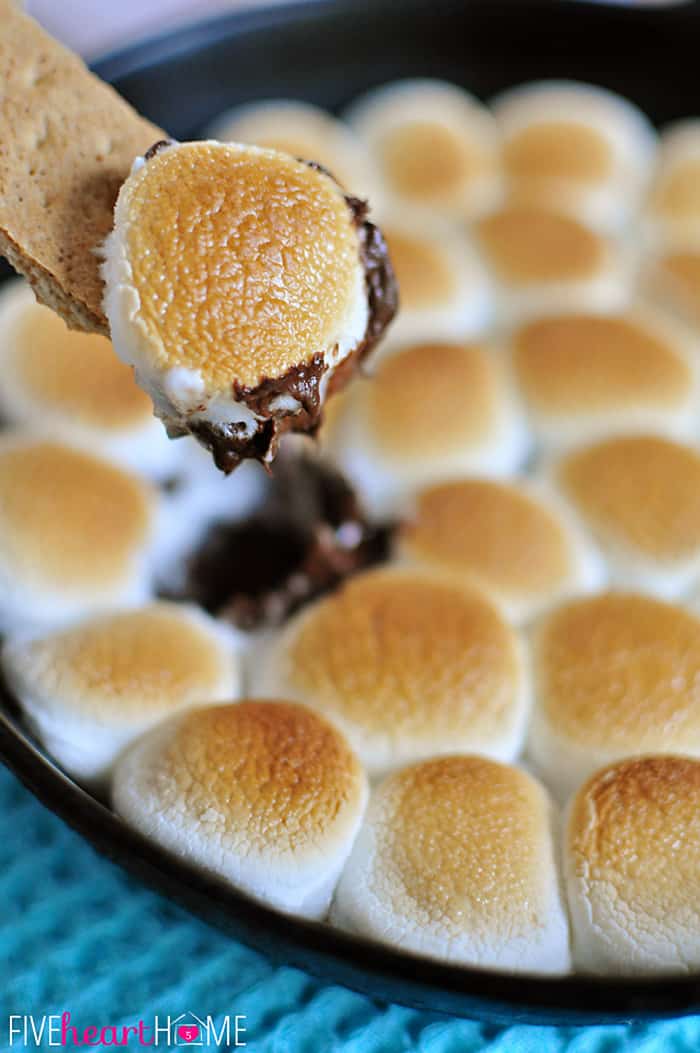 I'm already planning on putting this recipe on the roster for some football-watching parties this season. After all, maximum scrumptiousness for minimal effort? Sign me up...every time.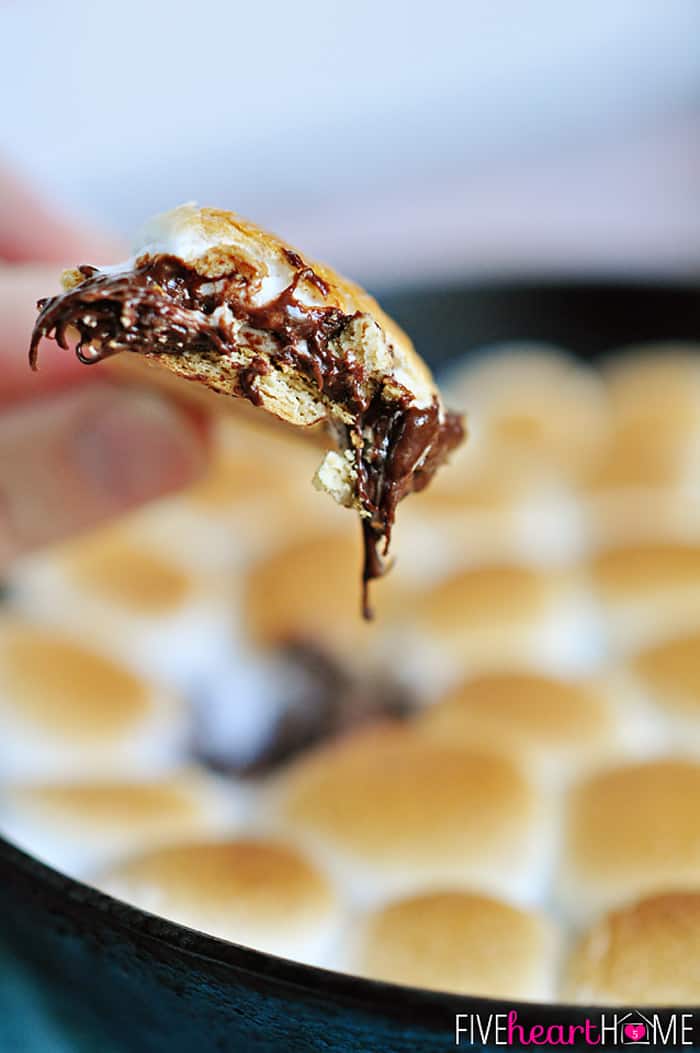 How to Make S'mores Dip
This is one of those recipes that's so brainless, I hardly feel justified calling it a recipe.
Simply toss some chocolate chips in a skillet or oven-safe dish.
Top with jumbo marshmallow halves.
Toast for 5 or so minutes.
Pull out the graham crackers, and voilà...
...dippable s'mores that will have your gang scraping the skillet for every last smudge of chocolate and streak of marshmallow!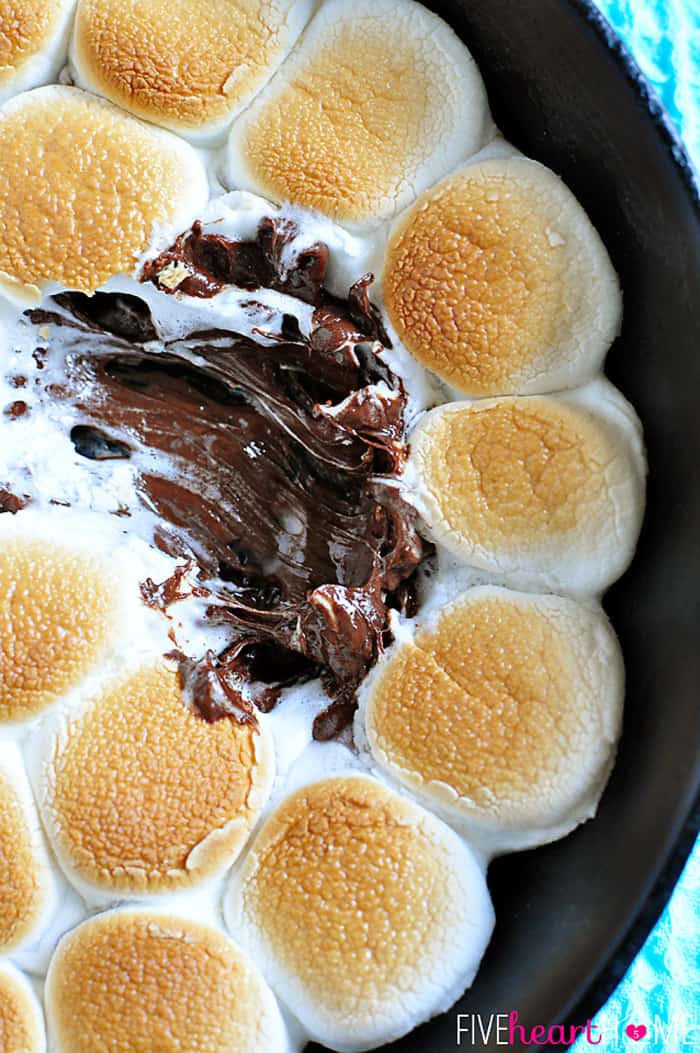 Variations
Use your favorite type of chocolate...milk chocolate, semi-sweet, or a combo would all be equally delicious.
If you don't have jumbo marshmallows, mini marshmallows will work just as well.
If your skillet is larger or smaller than mine, simply adjust the proportions accordingly.
Seriously, you can eyeball the amount of chocolate and marshmallows to your liking and this dip will turn out perfectly fine.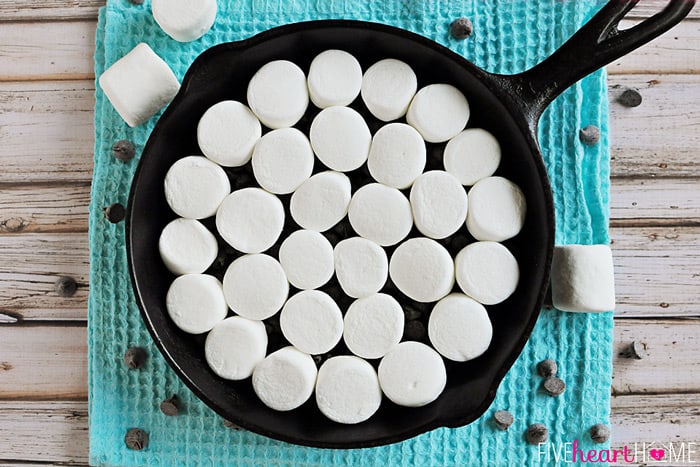 Noooo, you really can't mess this up...unless you scorch your marshmallows, so be sure to watch them carefully and pull your skillet out of the oven when they're to your desired level of toastiness.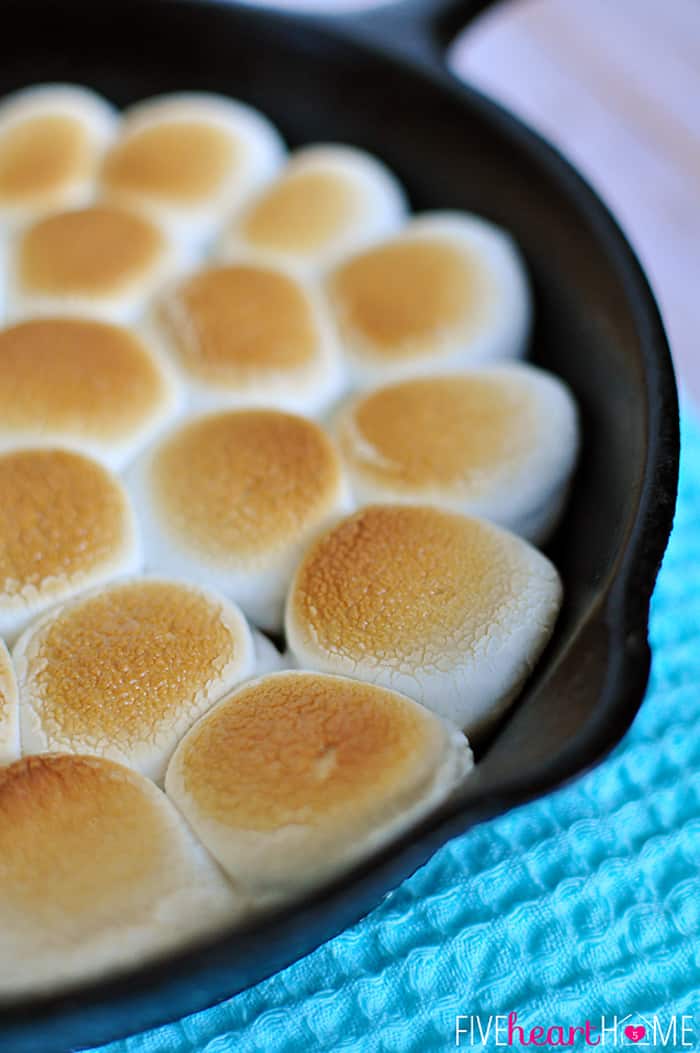 This S'mores Dip is guaranteed to be a hit. In fact, my youngest taste tester declared it the best thing she'd eaten all week. Well, she didn't exactly use those words, but she did gobble up her loaded graham cracker with a big smile on her face before requesting another. When I told her that one was enough, her face registered shock and she started wailing, "I wan sa MOOOORE!" That's toddler for "some more," which made me realize that if an almost 2-year-old can nail the definition of a s'more without even realizing what it's called, then whoever originally invented these little treats apparently named them appropriately. 😉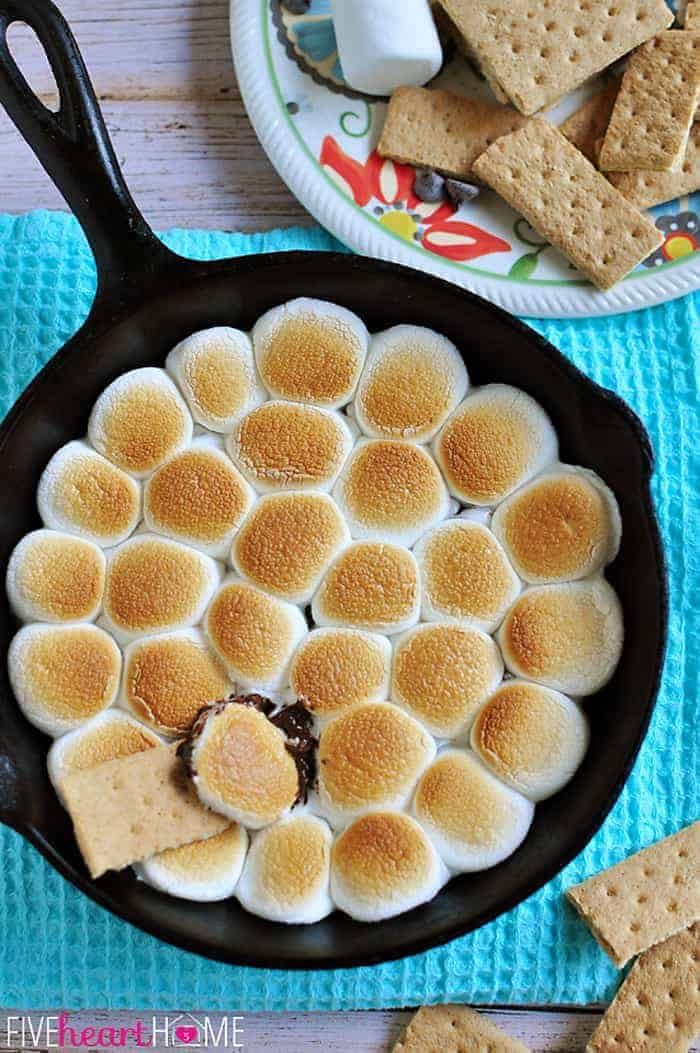 So what are you waiting for? Rummage through your pantry for some chocolate chips and a bag of marshmallows and whip thee up some S'mores Dip! And if you hurry, you still have time to enjoy it on National S'mores Day, when rumor has it that calories from s'mores treats don't actually count. 😉
More Delicious Dips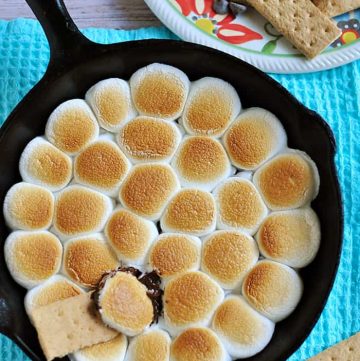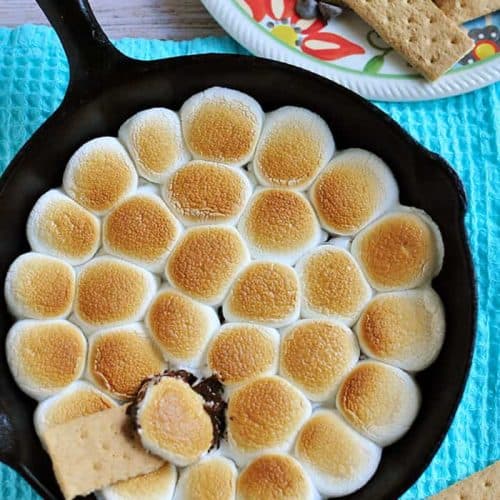 S'mores Dip
S'mores Dip -- loaded with melted chocolate and toasty marshmallows -- is sure to be the hit of your next party! After just a few minutes in the oven, serve it with graham crackers and watch it disappear.
Print
Pin
Rate
Ingredients
½

tablespoon

butter

1 ½

cups

chocolate chips

,

semi-sweet, milk chocolate, or a combo

15

jumbo marshmallows

,

halved

Graham cracker squares
Instructions
Adjust rack to center position of oven and place 8-inch cast iron skillet on rack. Preheat oven to 450°F with skillet inside. Once oven is preheated, use a pot holder to remove hot skillet from the oven. Place pat of butter in the skillet and use a pot holder to hold the handle and swirl the skillet so that the melted butter coats the bottom and sides. Pour chocolate chips in an even layer into the bottom of the skillet. Taking care not to burn fingers on the sides of the skillet, arrange marshmallow halves over the surface of the chocolate chips, covering the chocolate completely. Bake for 5 to 7 minutes or until marshmallows are toasted to your preference (watch closely!). Use an oven mitt to remove the skillet from the oven and allow to rest for 5 minutes. Serve immediately with graham cracker squares or sticks...but be careful, because the dip (and the skillet) will be very hot!
Notes
You may use another type of oven-safe baking dish, but it should be noted that the chocolate will probably melt more evenly (and stay melted more consistently) using a heavy cast iron skillet, which retains heat better than other types of dishes.
Be sure to let the skillet rest for 5 minutes before serving so that the residual heat from the skillet can finish melting the chocolate chips. Some of the chocolate chips may retain their shape, but once you dip a graham cracker into them, they should be fully melted (in the same way that chocolate chips melted in the microwave hold their shape until stirred).
Adjust the proportions of chocolate and marshmallows to your liking or to the size of the skillet or baking dish that you use, but don't make the layer of chocolate chips too thick or they may not fully melt.
You may use whatever type of chocolate or marshmallows you have on hand. Finely chopped chocolate, mini chocolate chips, regular chocolate chips, mini marshmallows, (halved) jumbo marshmallows, etc. will all work.
Calories:
441
kcal
|
Carbohydrates:
84
g
|
Protein:
3
g
|
Fat:
12
g
|
Saturated Fat:
7
g
|
Cholesterol:
9
mg
|
Sodium:
91
mg
|
Fiber:
1
g
|
Sugar:
66
g
|
Vitamin A:
130
IU
|
Vitamin C:
0.2
mg
|
Calcium:
54
mg
|
Iron:
0.7
mg
Adapted from Taste of the South Magazine.
Post originally published on August 10, 2014.mores