Soft Ginger Cookies are loaded with warm spice and coated in crunchy sugar for chewy, crinkly, sparkly cookies that are as pretty as they are delicious!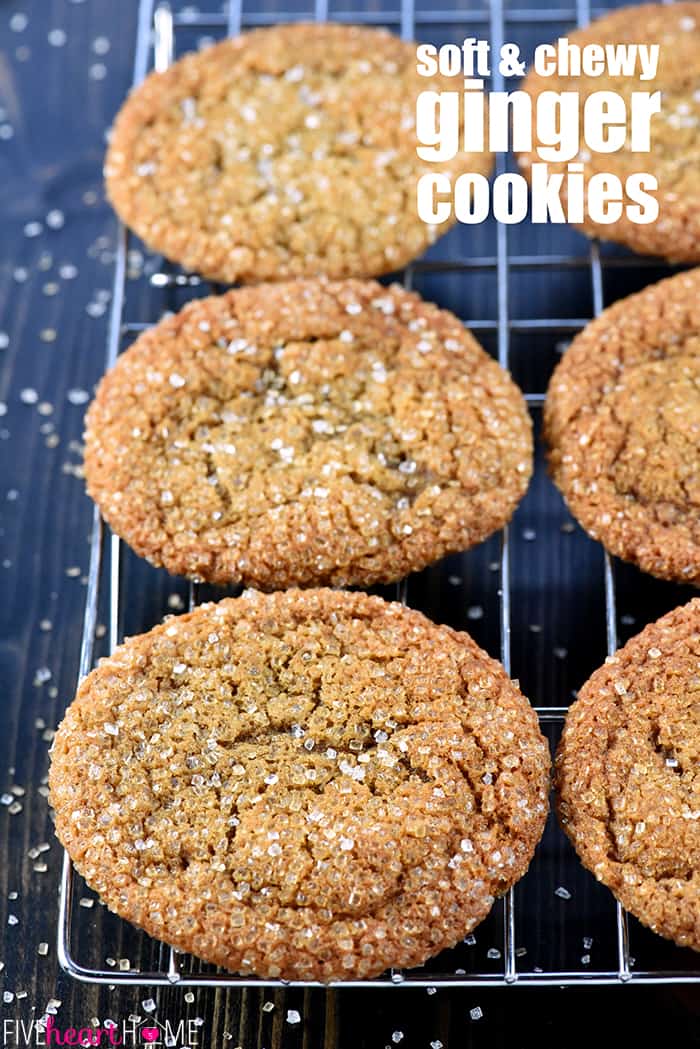 For more yummy Christmas cookies, you might also enjoy Eggnog Cookies, Easy Christmas Shortbread Cookies, and Thumbprint Cookies!
Three cheers for holiday baking! Who's with me? It's time to think Christmas cookies, my friends, and I've got a soft, chewy ginger delight to add to your platter this December.
Gingerbread men and gingersnaps seems to get all of the attention this time of year, but I would argue that Soft Ginger Cookies are where it's at! After all, these little beauts are bursting with warm spice, as well as a generous pouring of molasses to prevent them from drying out. They're deceptively humble for being so darn delicious.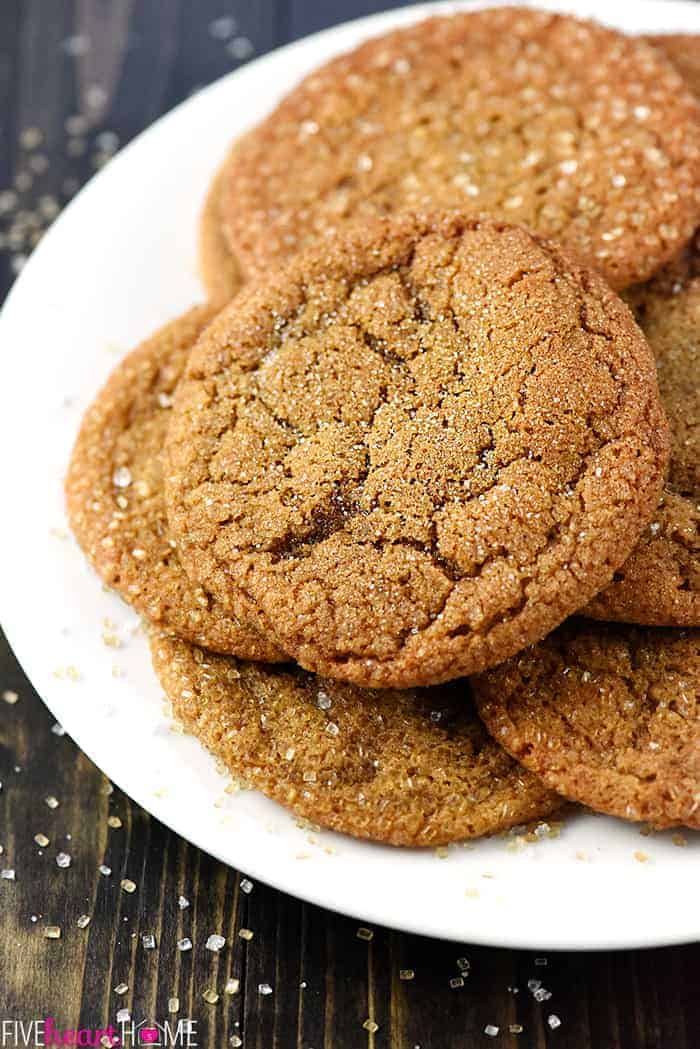 A Tale of 3 Sugars
But don't make the mistake of thinking they're plain or boring! On the contrary, they boast both flavor and texture. Since I'm all about texture, I decided to experiment with the type of sugar I used to coat them. As their name implies, the interiors of these cookies are simultaneously soft and chewy. But before they go in the oven, they're rolled in a generous coating of sugar, so I was determined to determine (heh) the best type of sugar for this job.
And the contenders were...
Sparkling sugar. Turbinado sugar (AKA, raw sugar). And regular ol' granulated sugar.
Just do me a favor and pretend you're reading that from right to left like my corresponding photo below... 😉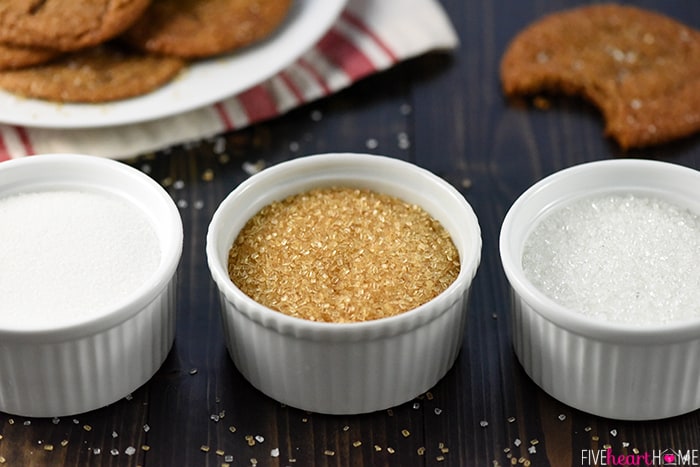 I wish I'd taken a shot of the raw cookie dough balls rolled in the various sugars, because they looked quite distinct. The sparkling sugar ginger cookies were coated in bright white crystals, the turbinado sugar ginger cookies looked more earthy, with brown-hued sugar crystals, and the granulated sugar ginger cookies looked as one would expect, their fine white coating shimmering.
Once they were baked, however, the sparkling sugar and turbinado sugar cookies were pretty much indistinguishable from one another, in both looks and flavor. However, they were noticeably different from the granulated sugar-coated cookies. The larger sugar crystals gave the Soft Ginger Cookies a delightfully crunchy exterior, which I happened to love.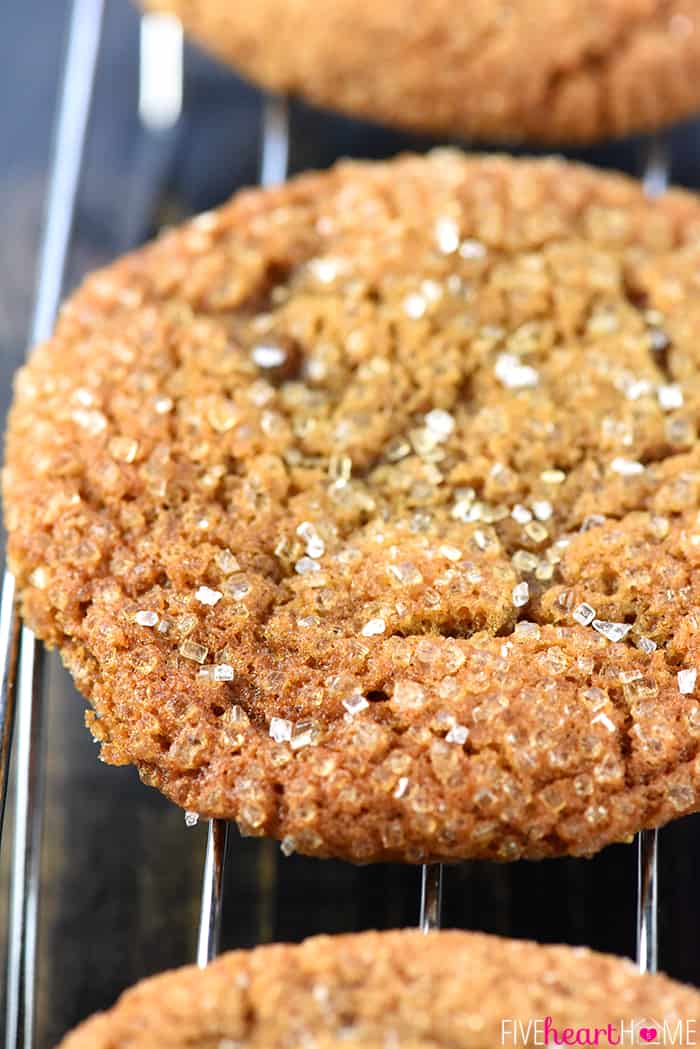 The Verdict
So the moral of the story?
If you want cookies that are soft through and though, from the outside in, roll them in granulated sugar.
If you want cookies that are crunchy on the outside and soft and chewy on the inside, roll them in either sparkling or turbinado sugar. Since I could hardly tell which was which after the cookies were baked, I would probably opt for turbinado sugar in the future since it's all-natural. But it's up to you! Go with whichever you prefer or whatever you already have on hand.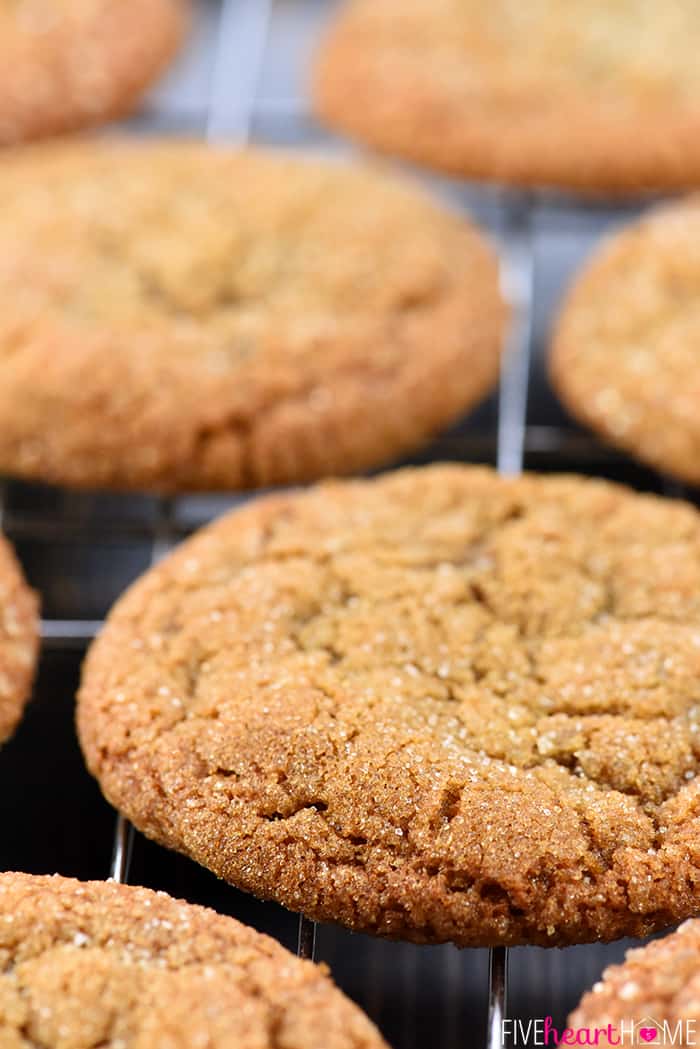 Chilling the Dough
One other important note about this recipe is that chilling the dough makes a big difference. The dough is initially very sticky, so it needs to be refrigerated for at least an hour before rolling the cookies in the sugar...or else you'll end up with a big, gluey mess.
Once in the oven, the cookies will spread, so to prevent them from spreading too much, I recommend popping the pan of sugar-rolled cookie dough balls into the freezer for 5 minutes before baking. That's right...you're going to be double chilling these babies, and it's the key to preventing overly thin cookies.
Bake Them Long Enough
As far as bake time, after considerably testing I came to the conclusion that these cookies should not be underbaked.
Don't get me wrong...most of the time, I'm a fan of the slightly underbaked cookie. But these ginger cookies actually turned out better when they were allowed to slightly darken around the edges with a few crinkles popping up in the middle. The cookies that I underbaked never got very crinkly at all and, while they were soft, they lacked that toothsome chewy texture.
So it's going to vary by oven, but for not-underbaked-cookies, mine needed to bake towards the longer end of the suggested baking time rather than the shorter.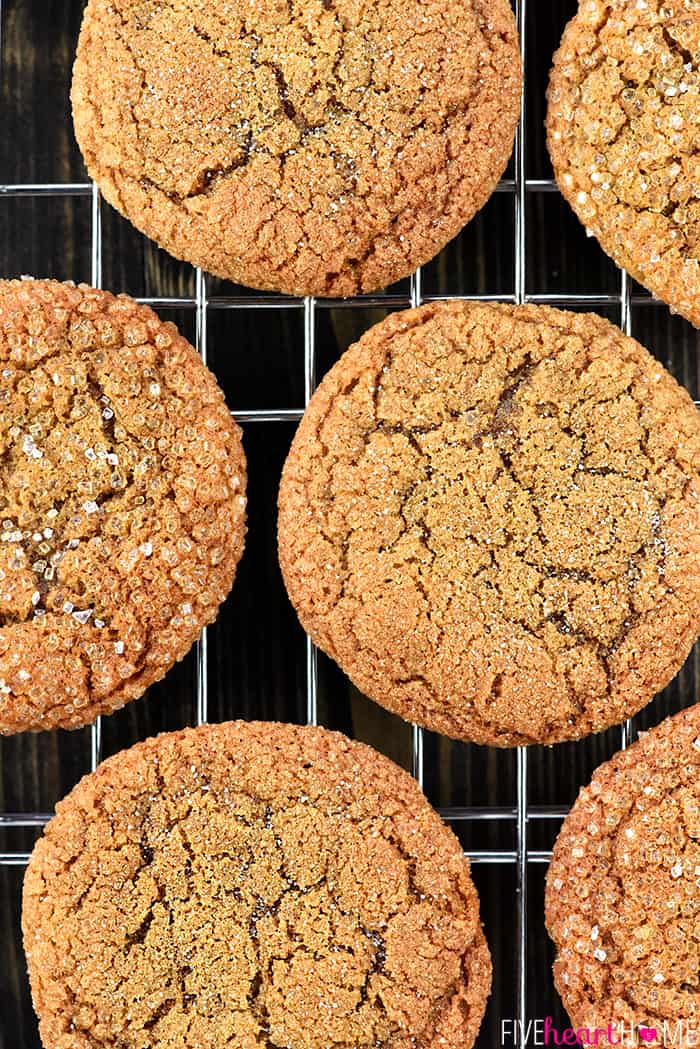 They may not be the flashiest option on the holiday cookie platter, but once somebody ventures to sample one, these Soft Ginger Cookies are sure to be among the first to disappear!
They're fun to make with the kids (let 'em do the sugar rolling!), popular at any party or gathering, and perfect for packaging up as a made-with-love-from-my-kitchen-to-yours gift.
Just one warning, though...make them once and you just might be adding them to your annual baking list for eternity. 😉

More Favorite Cookies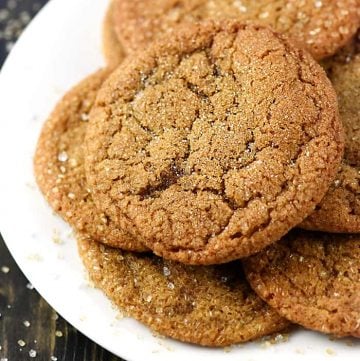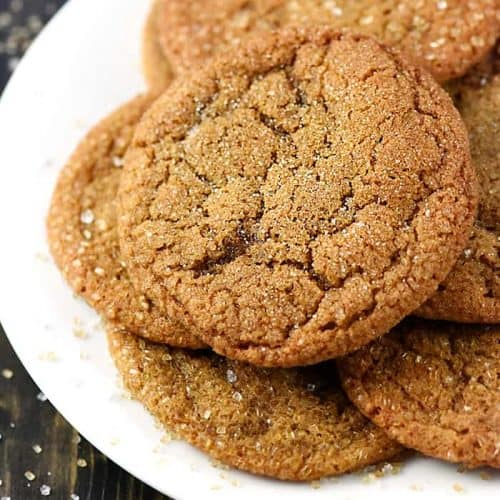 Soft Ginger Cookies
Soft Ginger Cookies are loaded with warm spice and coated in crunchy sugar for chewy, crinkly, sparkly cookies that are as pretty as they are delicious!
Print
Pin
Rate
Servings:
40
(3 ½-inch) cookies (approximately)
Ingredients
3 ¾

cups

all-purpose flour

1

tablespoon

baking soda

2

teaspoons

ground ginger

2

teaspoons

ground cinnamon

¾

teaspoon

salt

½

teaspoon

ground cloves

1 ¼

cups

(2 ½ sticks) unsalted butter

,

softened

1 ½

cups

granulated sugar

2

eggs

⅓

cup

molasses

1

cup

sugar for rolling

,

granulated, turbinado, or sparkling sugar
Instructions
In a large bowl, whisk together the flour, baking soda, ginger, cinnamon, salt, and cloves until well combined. In another large bowl, use an electric mixer to beat the butter until creamy. Add the 1 ½ cups sugar and beat on medium-high for a few minutes until light and fluffy. Mix in the eggs and molasses until smooth. With the mixer on low speed, gradually blend in the flour mixture until just combined. Cover and refrigerate the cookie dough for at least 1 hour.

Adjust oven rack to center position and preheat oven to 350°F. Line baking sheets with parchment paper and set aside. Pour remaining 1 cup of sugar into a bowl. Use a tablespoon (or a tablespoon-sized cookie scoop) to scoop a heaping tablespoon of cookie dough and form it into a ball. Roll in sugar until evenly coated on all sides and place on the cookie sheet. Repeat until the cookie sheet is full, with cookie dough balls spaced 2 inches apart. Place the cookie sheet in the freezer for 5 minutes, and then bake for 8 to 11 minutes until the cookies start to crinkle in the center and darken around the edges. Cool on the cookie sheet for 5 minutes before using a thin spatula to carefully transfer them to a rack to finish cooling. (Repeat this process on fresh cookie sheets until all of the dough has been used.)
Notes
These cookies will spread a good bit, so be sure to space them 2 inches apart (I was able to fit 10 to a cookie sheet).
The cookie dough balls do not need to be flattened before baking or they will spread too thin.
To expedite the process, overlap the steps using multiple cookie sheets. While the first cookie sheet is in the freezer, roll the dough balls for the second cookie sheet. Move that cookie sheet to the freezer and transfer the first cookie sheet to the oven. Repeat until all of the cookies have been baked. If you only have one or two cookie sheets to work with, you'll need to allow the cookie sheet(s) to cool before starting the next pan of cookies so that the cookie dough balls don't get too warm and spread too thin.
Calories:
134
kcal
|
Carbohydrates:
19
g
|
Protein:
2
g
|
Fat:
6
g
|
Saturated Fat:
4
g
|
Cholesterol:
23
mg
|
Sodium:
131
mg
|
Potassium:
60
mg
|
Fiber:
1
g
|
Sugar:
10
g
|
Vitamin A:
189
IU
|
Calcium:
11
mg
|
Iron:
1
mg
Adapted from AllRecipes
Save
Save
Save
Save
Save
Save
Save
Save