Mini cheeseballs taste like strawberry cheesecake in these cute little bites that are rolled in graham cracker crumbs and speared with pretzel sticks…perfect for serving up at your next party!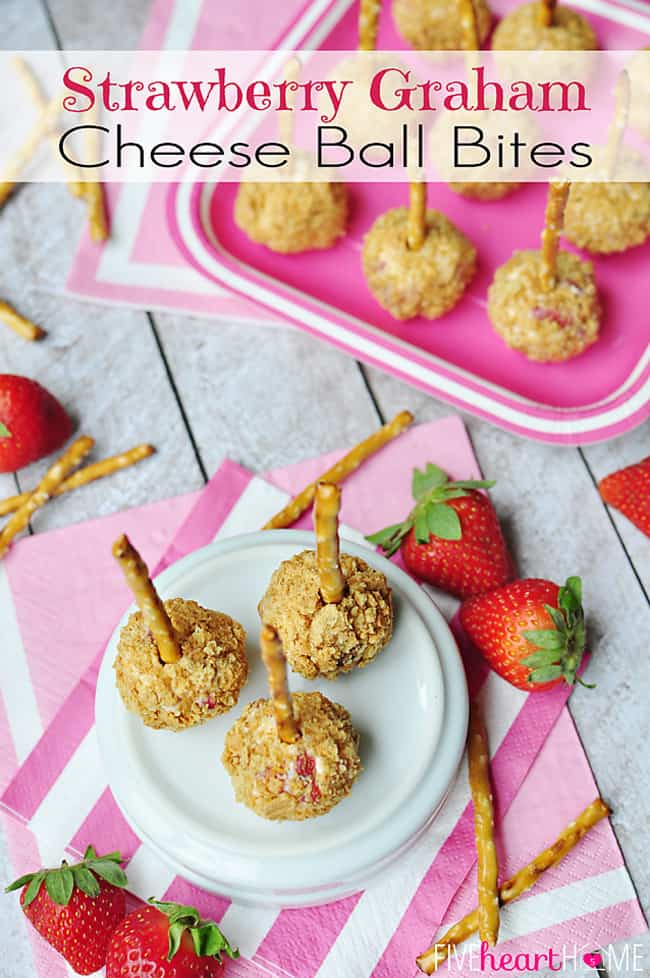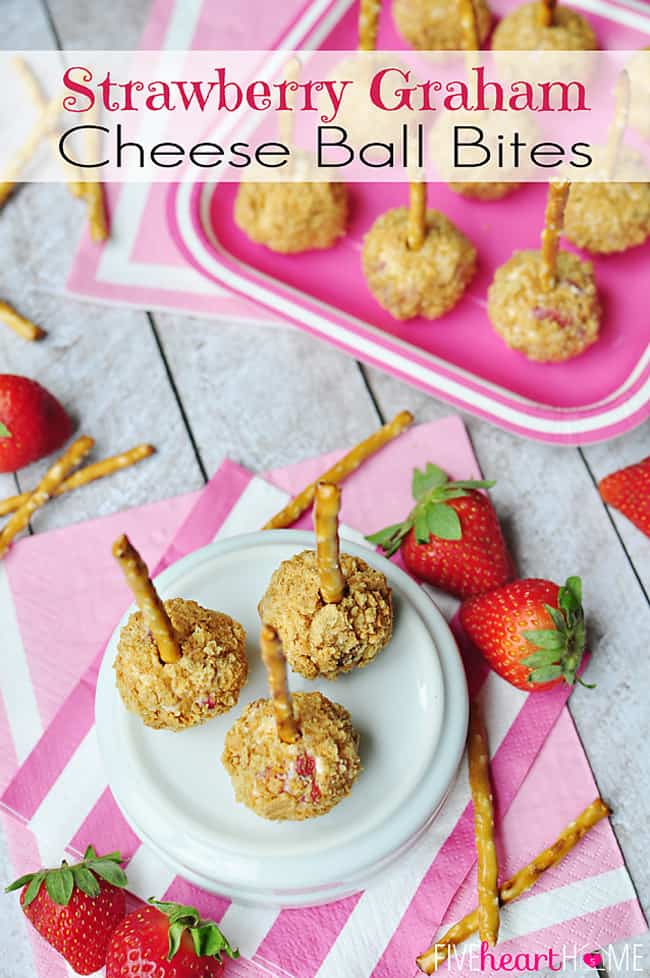 Happy Friday, everyone…I hope you've all had a fantastic week! I'm having a blast at SNAP Conference right now, but I'm so excited to pop in today as a group of us celebrate a very special blogging friend, Cathy from Lemon Tree Dwelling, as she gets ready to welcome her new baby girl! Since it's not possible for everyone to get together in real life, we're throwing a little virtual baby shower this morning with lots of party-friendly recipes!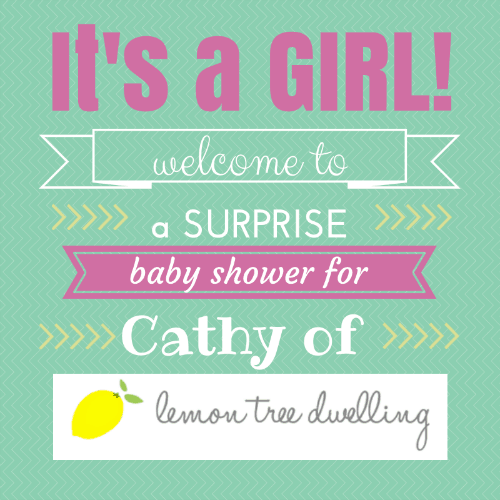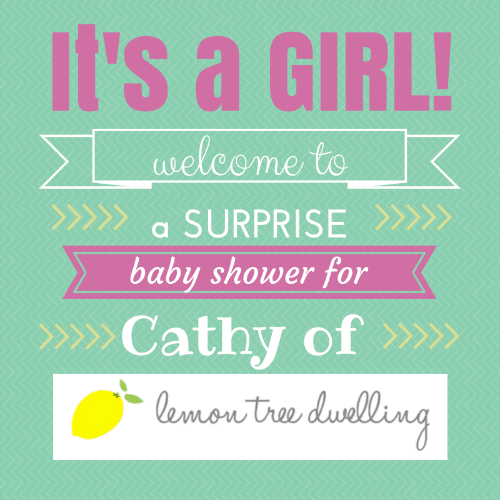 I decided that a shower for a sweet baby girl calls for a treat that's pink! Cathy and her husband are blessed to be welcoming their fourth daughter…so I'm pretty sure they already know how to embrace pink! Hmmm…it's almost like Cathy may be building her very own sister-driven blogging empire or something… 😉 Seriously, though, I couldn't be happier for the Trochelman family and I can't wait to see this little cutie once she arrives!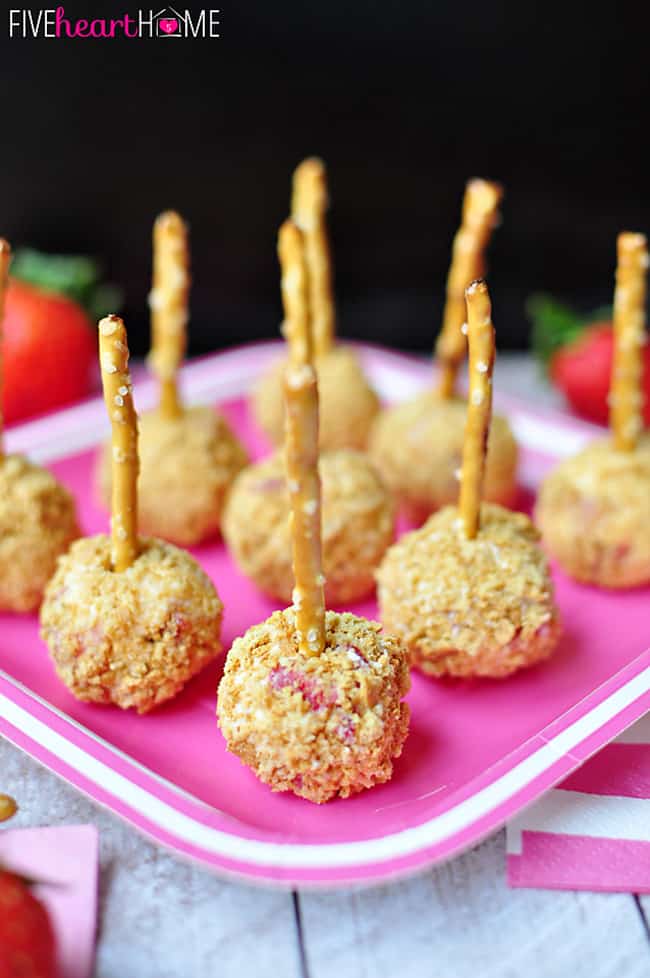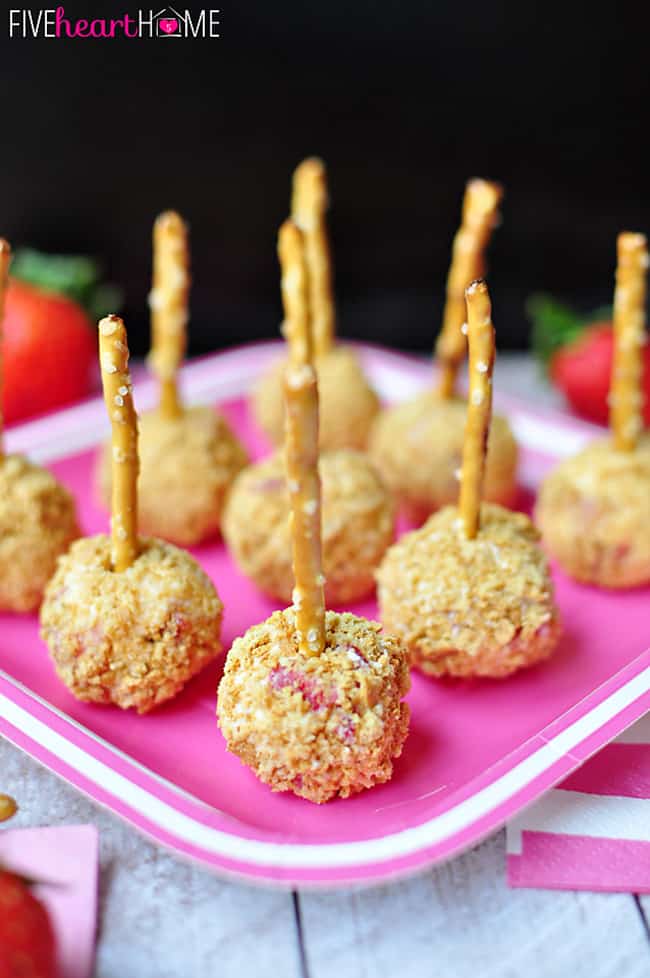 But back to the recipe…I've always thought that a baby shower (or bridal shower, for that matter) calls for fun-to-eat finger foods that are cute and tasty, and these Strawberry Graham Cheese Ball Bites fit the bill perfectly! If you've been hanging around Five Heart Home for awhile now, you may recognize the similarity between these little yummies and one of my most popular recipes ever. That's right, folks…this recipe was inspired by my Mini Cheese Ball Bites, which are savory little cheese balls stuffed with blue cheese and dried cranberries and rolled in toasted pecans before being skewered with a pretzel stick.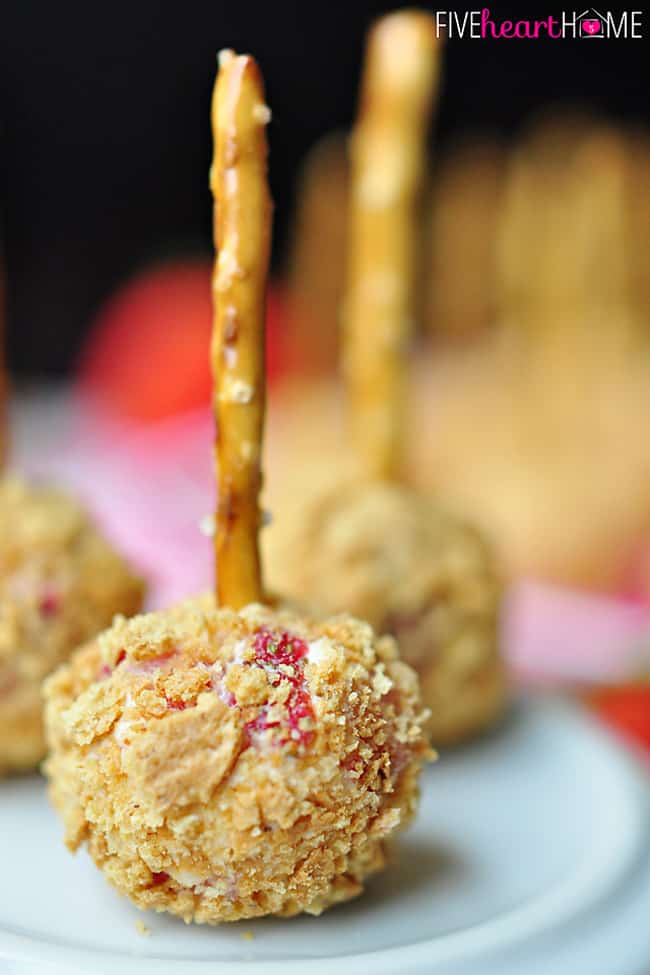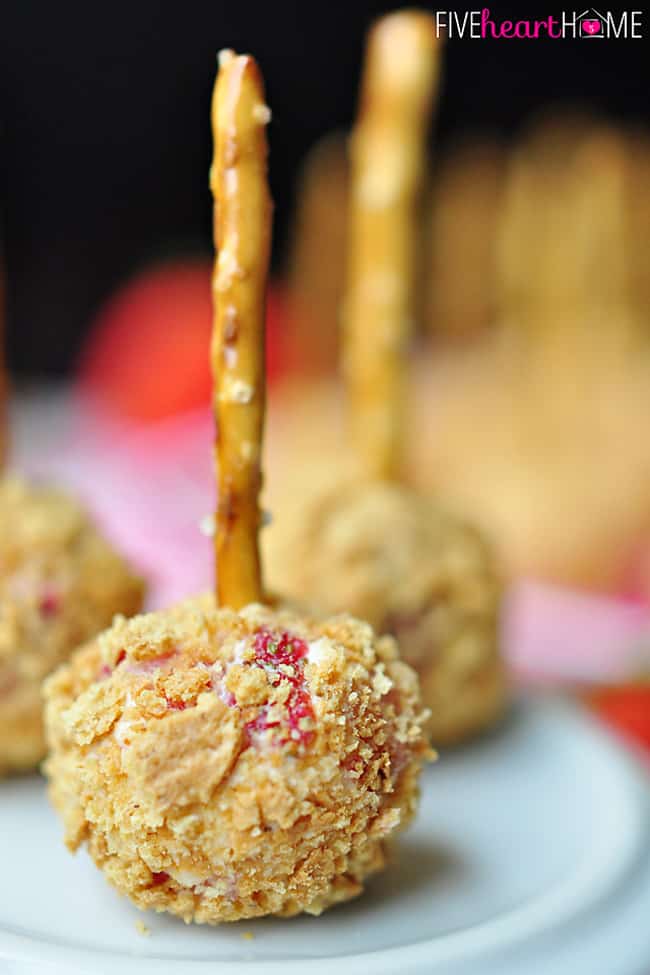 Well, I decided that I wanted to create a sweet version of this recipe, and strawberries seemed the perfect addition to give them a tint of natural pink. Instead of chopped nuts, I thought it would be tasty to roll them in graham cracker crumbs, à la strawberry cheesecake. And finally, I opted to keep the pretzel stick, partially because I really enjoy a little salty with my sweet (as evidenced here and here), and partially because it looks nice and makes the entire appetizer edible, meaning you don't have to worry about throwing away toothpicks when you're done.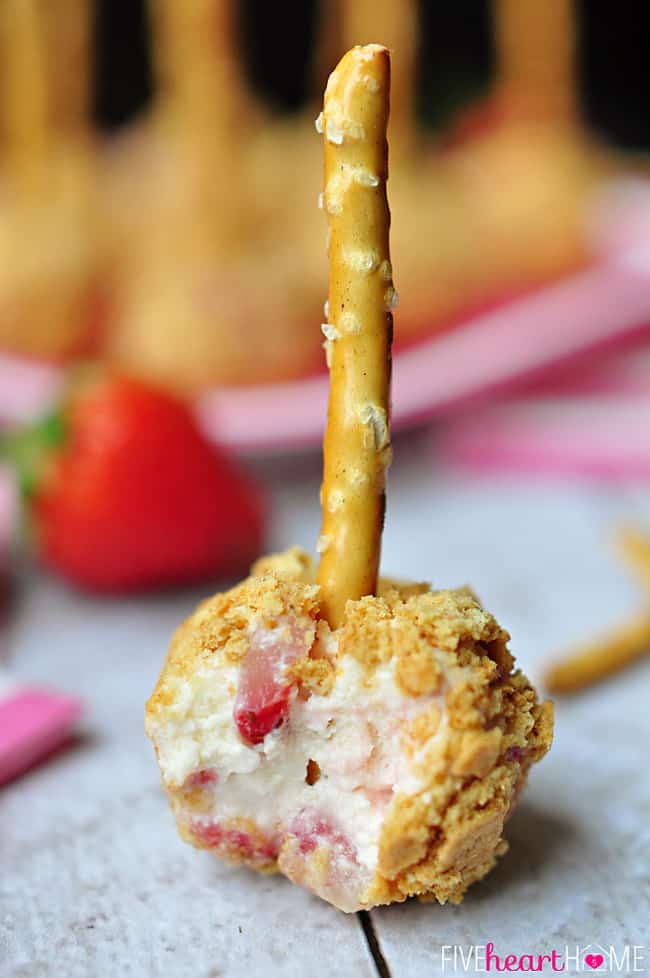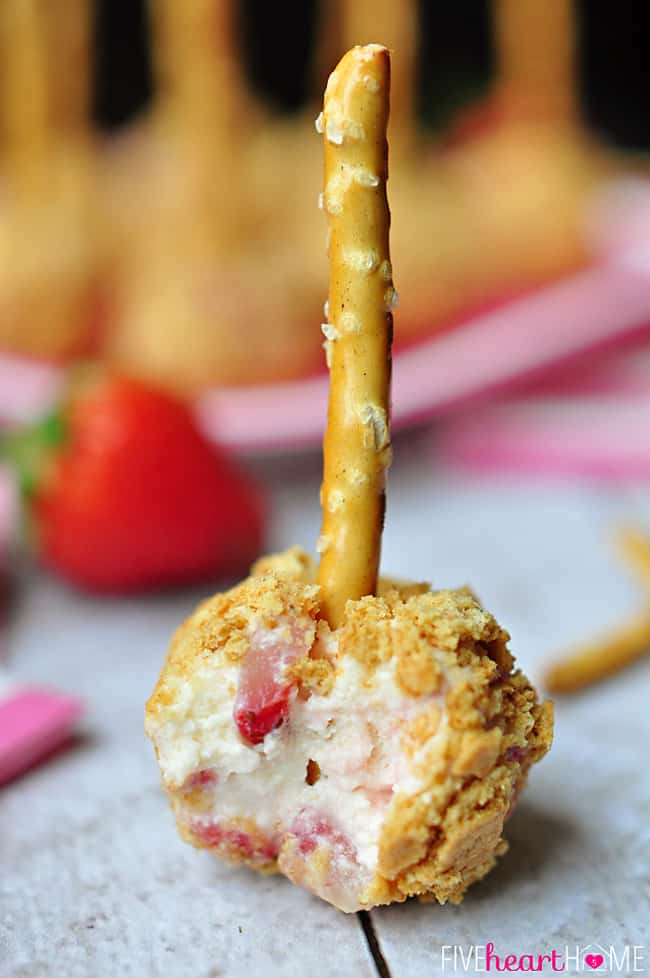 As much as I love the graham cracker coating, I wanted to experiment a little and see if these would be good with a chocolate accent as well…so I took a few cheese balls and rolled them in mini chocolate chips. Wow. It's hard to beat strawberry cheesecake plus graham cracker, but if anything can do it, it might just be strawberry cheesecake plus chocolate!
It's up to you to decide which version you prefer to try. Both variations taste really, really good. Just keep in mind that the chocolate chips end up being heavier, so if your cheese balls sit out too long and soften too much before eating them, the pretzel may come right out when someone goes to pick it up. But even if that happens, I'm sure your party guest will press on, pick it up, and eat it anyway. 😉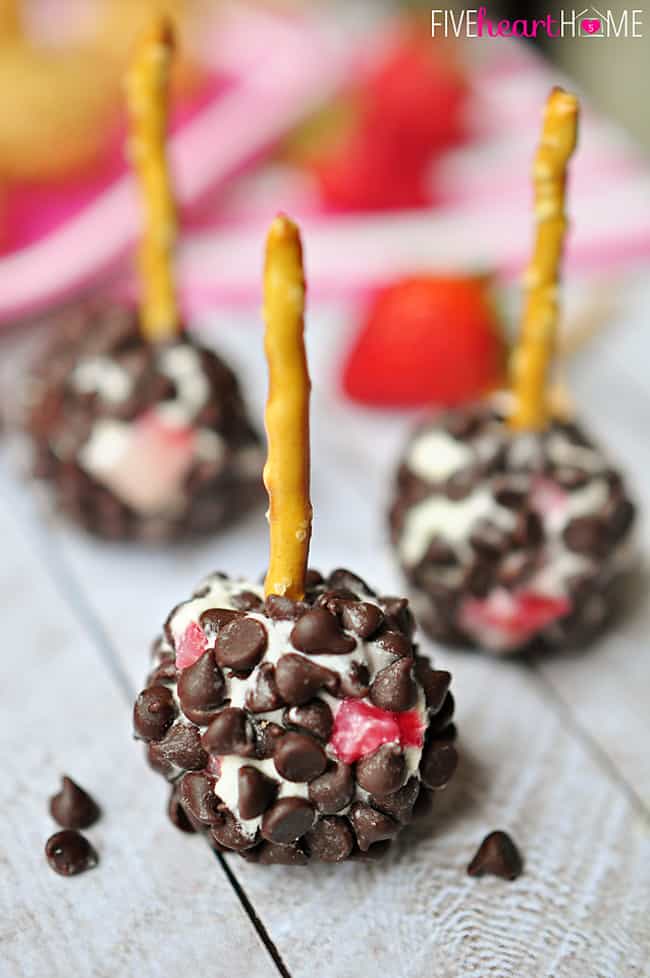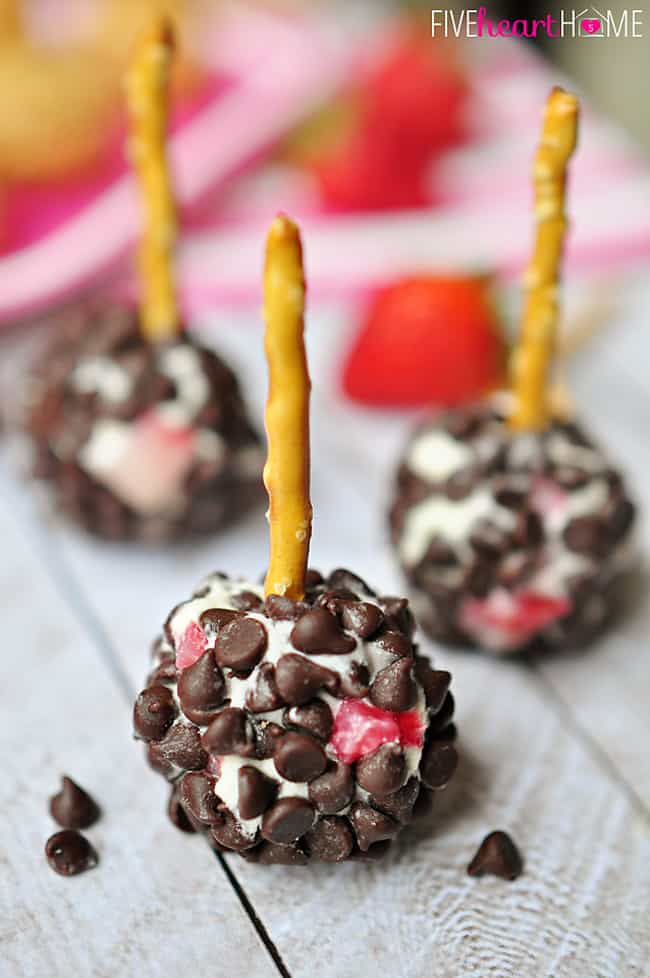 The other thing I love about serving this recipe at a party or get-together is that it can be made ahead of time! Just wait until right before serving to add the pretzels, or else they'll become soggy sitting in the refrigerator. And as I alluded to above, don't set these out until you're ready to serve them. They will become increasingly softer at room temperature which simply makes them a little harder to pick up as time goes on, but they'll still taste great!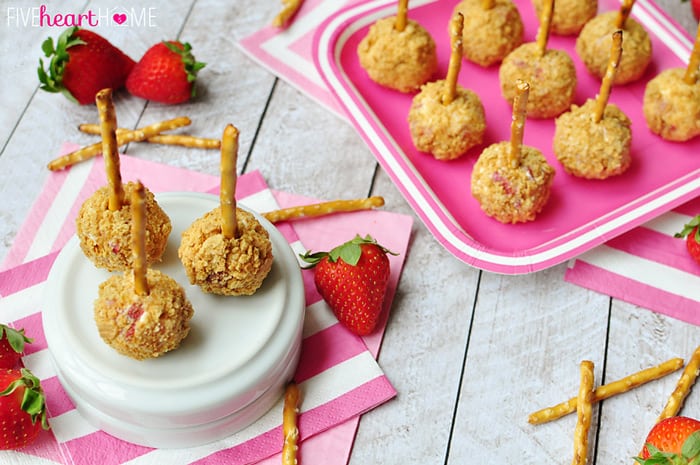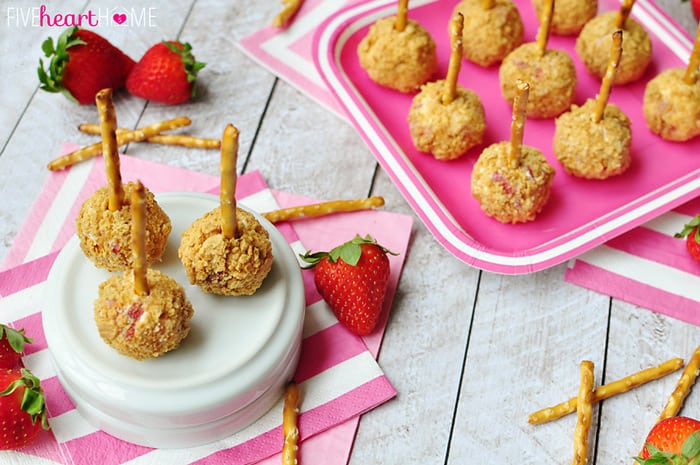 I hope that all of you baby shower guests have a chance to try out these creamy, berry-infused cheese balls, and I hope that y'all enjoy them if you do! Thanks so much for stopping by to wish Cathy all the best with her new bundle of joy! And be sure to hop on over to the other participating blogs to see what goodies and treats they're serving up to celebrate the soon-to-be new baby girl over at Lemon Tree Dwelling! Just click on the links below…yum, yum! 😉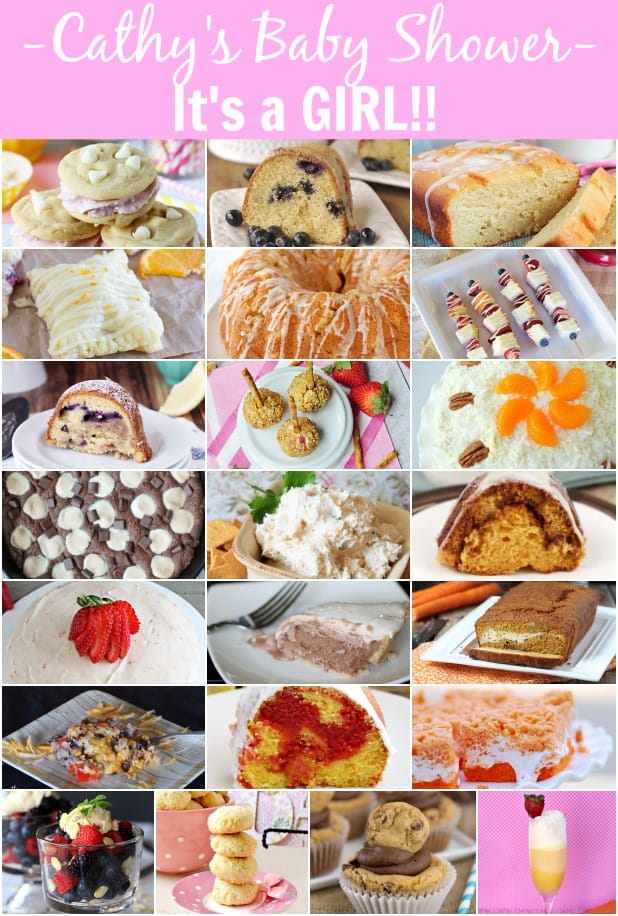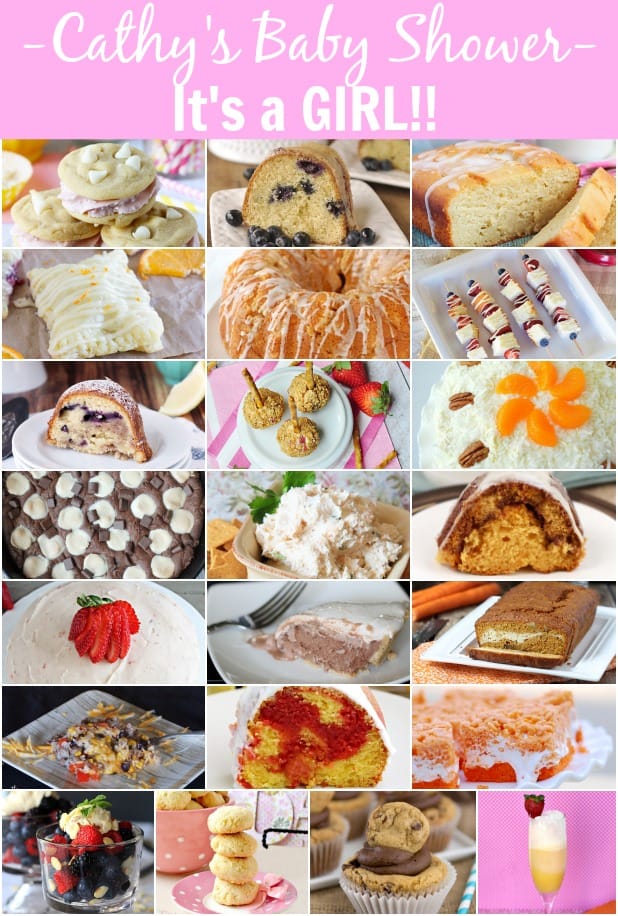 Lemon Raspberry Cookie Sandwiches by Life Love and Sugar  //  Blueberry Buttermilk Coffee Cake by Your Homebased Mom  //  Lemon Yogurt Cake by Yummy Healthy Easy  //  Orange-Raspberry Mini Toaster Strudels by Chelsea's Messy Apron  //  Orange Dream Monkey Bread by Wine and Glue  //  Strawberry Shortcake Kebabs by Or So She Says  //  Lemon Blueberry Bundt Cake by Beyond Frosting  //  Strawberry Graham Cheese Ball Bites by Five Heart Home  //  Pig Pickin' Cake by Sugar Dish Me  //  Chocolate Peanut Butter Cup Skillet Cookie by Lemons for Lulu  //  Creamy Shrimp Dip by Mostly Homemade Mom  //  Salted Butterscotch Coffee Cake by Julie's Eats and Treats  //  Strawberry Cake by The NY Melrose Family  //  Frozen Chocolate S'mores Ice Cream Pie by Pink When  //  Carrot Cream Cheese Swirl Loaf by Spoonful of Flavor  //  Fiesta Rice Skillet by The Grant Life  //  Raspberry Ripple Lemon Bundt Cake by Love Bakes Good Cakes  //  Ooey Gooey Orange Creamsicle Bars by The Gunny Sack  //  Mixed Berries with Honey Maple Mascarpone by Joyful Healthy Eats  //  Rosewater Almond Macaroons by Little Miss Celebration  //  Chocolate Chip Cookie Cupcakes by Crazy for Crust  //  Momosas Mocktail Recipe by The Weary Chef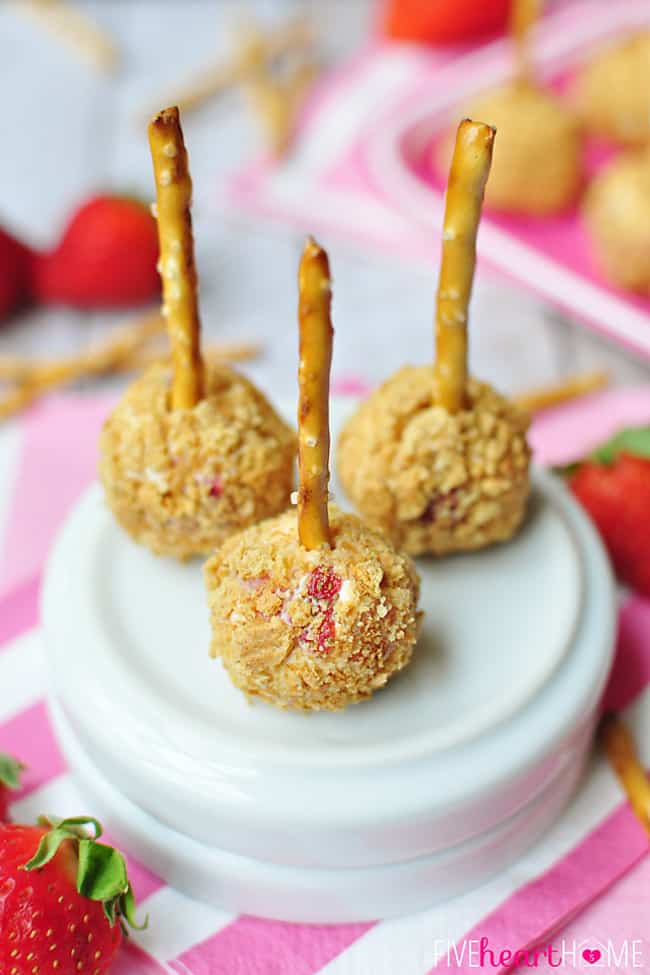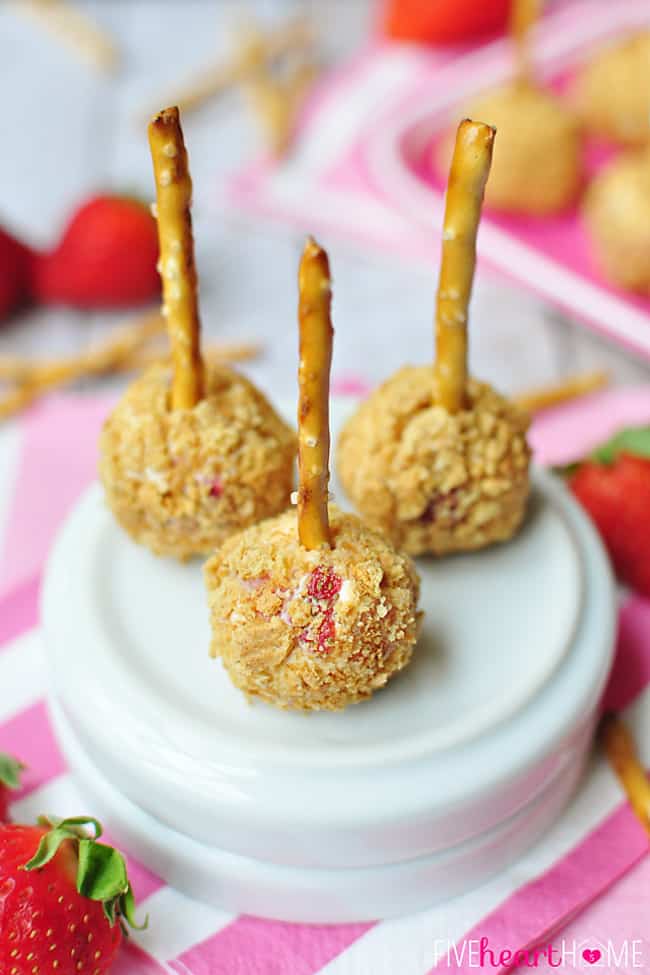 27