Traditional pesto gets a  twist in this flavorful Texas Pesto  featuring toasted pecans and Cotija cheese, perfect for slathering on bruschetta, tossing with pasta, jazzing up veggies, and so much more!

Yay for basil! Because my herb garden has it coming out the wazoo, and there's really no way to use it all up before it goes bad without making some big batches of pesto, Texas Pesto to be specific. So here we go!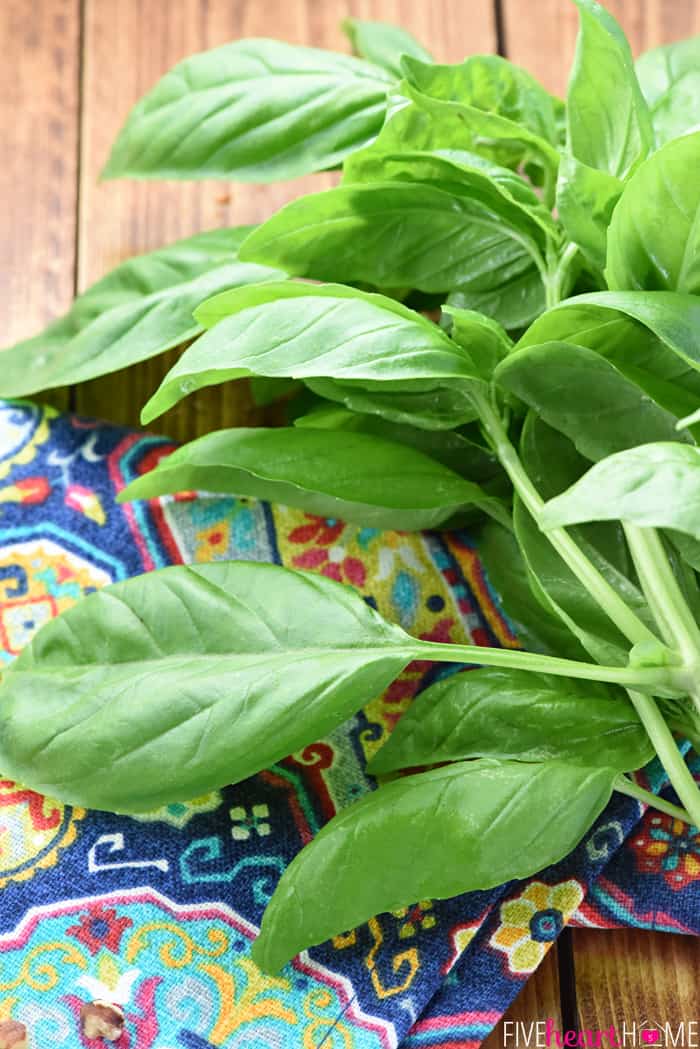 That being said, I realize that there are already approximately eleventy-billion pesto recipes on the ol' interwebs, and most of those are for some form of traditional pesto. But did you know that you can also make fresh, flavorful pesto with other types of nuts and cheeses (than pine nuts and Parmesan)? Because let's face it…who automatically keeps pine nuts on hand? Plus, they're rather (ridiculously) pricey.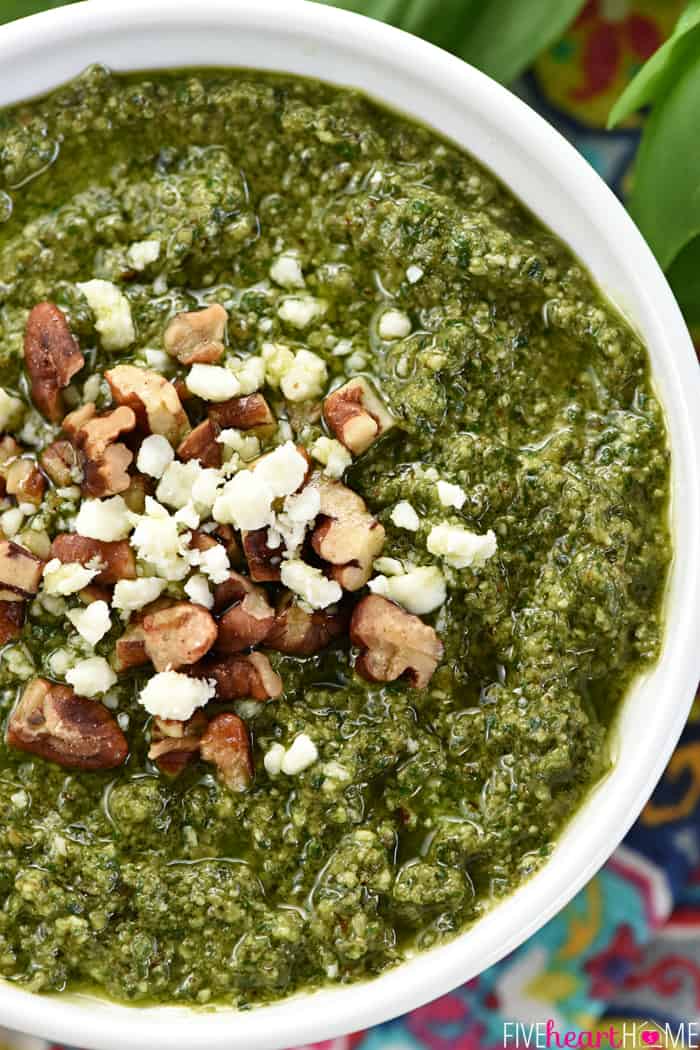 But you know what nut I always have on hand? Pecans. Because pecans are the state nut of Texas, Y'ALL! And on top of that, they're quite delicious and versatile, which means they're typically my nut of choice to fold into muffin batter or sprinkle into salads. And after concocting this delectable new Texas Pesto recipe, I'll also be calling on them any time I have a plethora of basil to use up.
When I decided to try pecans in my pesto, I knew I had to think of something equally untraditional to replace the usual Parmesan or romano. And so I remembered a half block of Cotija cheese in the fridge that we'd enjoyed crumbled over some tacos a few weeks back. JACKPOT. What a perfect way to add a bit of Tex-Mex inspiration to my pesto!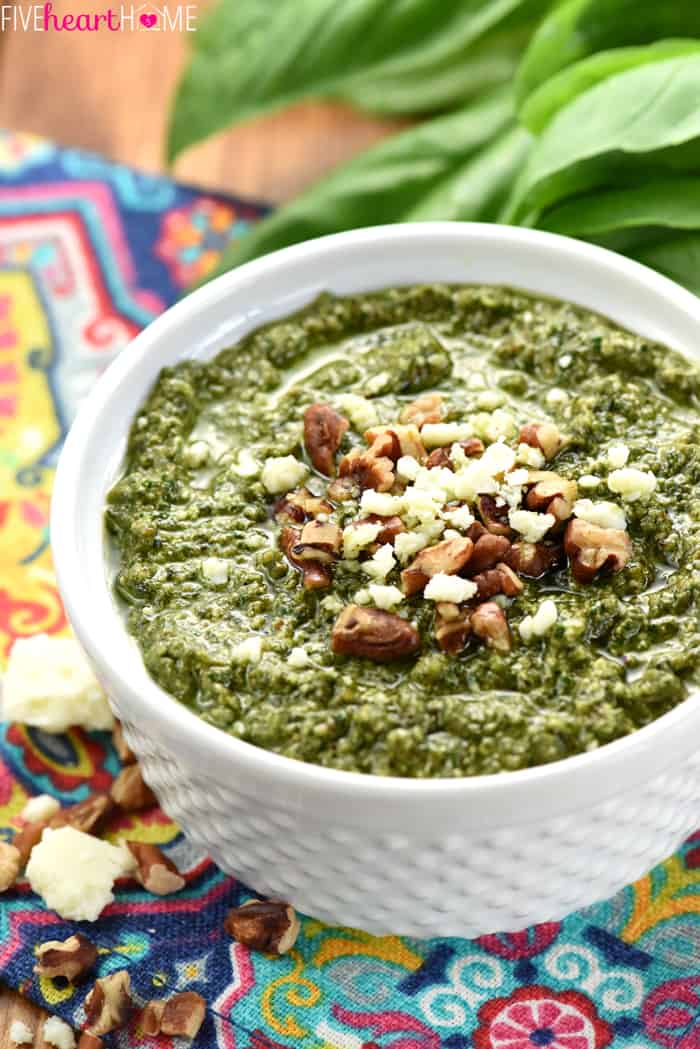 I think it's really important to toast your pecans before grinding them into your pesto for maximum pecan flavor. And as previously mentioned, my Cotija cheese came in a block so I crumbled it myself to measure out 1/2 cup (crumbled Cotija somewhat resembles feta, except it's firmer and less creamy). Or if you don't want to mess with measuring your crumbles, you can simply measure out 2 ounces of Cotija on a food scale instead…either way works.
I was honestly so pleased with how this Texas Pesto turned out. The fresh basil…the toasty pecans…the creamy Cotija…just YUM. In addition to those base ingredients, this recipe also includes the other traditional basil fixins' of fresh garlic (a little bit goes a long way), lemon juice (for a touch of brightness), salt and pepper, and of course, extra-virgin olive oil (good quality, please) to smooth everything out. Feel free to add a bit more olive oil depending on your preferred pesto consistency.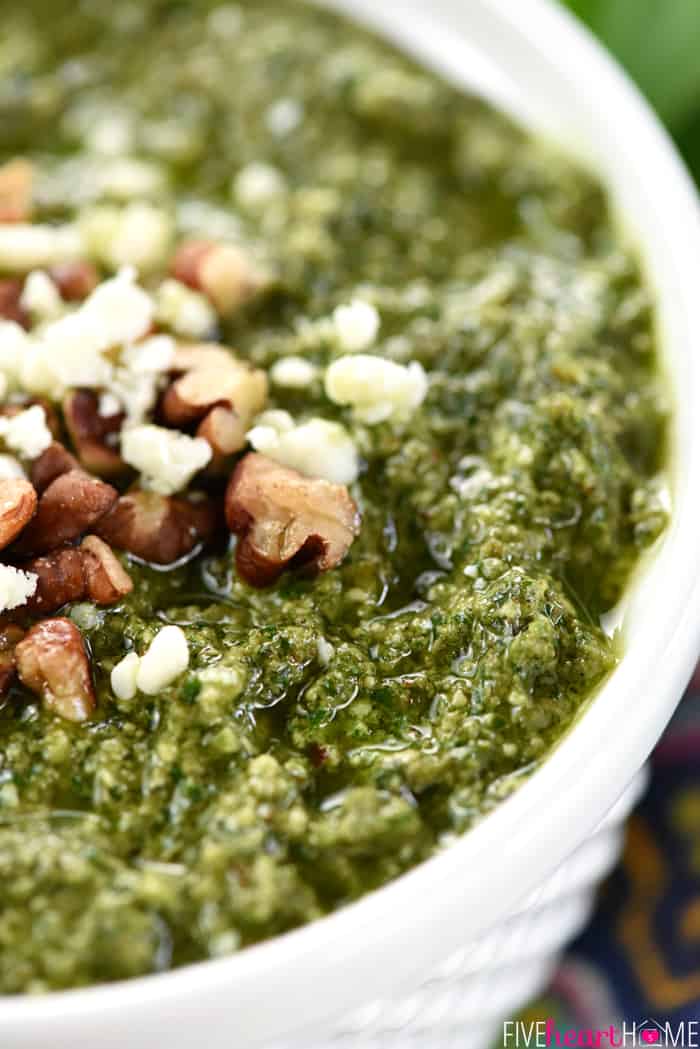 As for how we enjoyed this pesto? This may sound crazy, but we ate some of it like a dip with raw veggies and tortilla chips and it was amazing! It's only natural that Texas Pesto lends itself to tortilla chip dipping, I suppose. Then to use up the leftover pesto at lunchtime the next day, I thinned it out with some extra olive oil and tossed it with warm cheese tortellini. Mighty tasty.
So who's ready to put that overabundance of garden fresh basil to good use? And as a bonus, pesto freezes beautifully…so lucky for us, this Texas Basil is a taste of summer that we can enjoy all year long!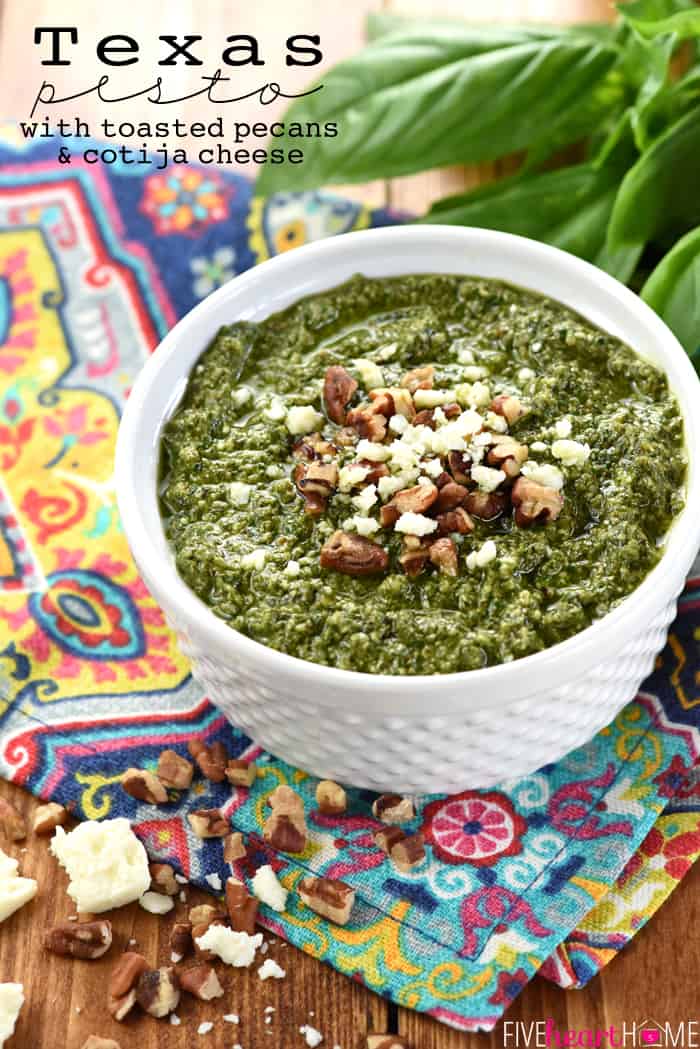 Texas Pesto Recipe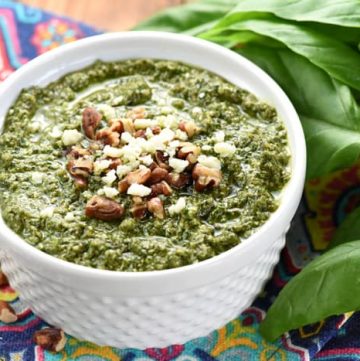 Texas Pesto
Traditional pesto gets a Texas twist in this flavorful version featuring toasted pecans and Cotija cheese, perfect for slathering on bruschetta, tossing with pasta, jazzing up veggies, and so much more!
Print
Pin
Rate
Servings:
20
tablespoons (Approximately 1 1/4 cups)
Ingredients
2

cloves

garlic

1/2

cup

toasted chopped pecans

2

cups

packed fresh basil leaves

1/2

cup

(2-ounces) crumbled Cotija cheese

1

teaspoon

freshly squeezed lemon juice

1/4

teaspoon

salt

,

plus more to taste

Freshly ground black pepper

,

to taste

1/2

cup

good quality extra-virgin olive oil
Instructions
Place the garlic in a large food processor or blender. Pulse until minced. Add the pecans and pulse until finely chopped. Add the basil, Cotija, lemon juice, salt, and pepper. Process/blend until ingredients form a smooth paste, stopping to scrape down the sides of the bowl/blender as necessary.

With the food processor/blender on, stream in the olive oil, adding extra if you desire a thinner consistency. Taste and adjust salt and pepper, if desired. Serve immediately or store packed down in an airtight container.
Notes
To toast pecans, preheat oven to 350°F. Chop pecans to measure 1/2 cup. Spread chopped pecans in a single layer on a sheet pan and bake for 6 to 8 minutes or until fragrant and light golden brown, watching carefully to prevent burning. Allow to cool completely.
Just like guacamole, pesto can quickly turn from a bright and lovely shade of green to an unappetizing brown color once exposed to the air. There are a few things you can try to inhibit this process:
*make sure your basil leaves are completely dry;
*make sure all of the stems are removed from your basil leaves;
*add additional extra-virgin olive oil (which acts to preserve the basil, so the more you add, the more likely it will stay nice and green);
*add additional lemon juice (though this will affect the flavor if you add too much);
*don't leave out the salt;
*pack the pesto in an airtight container for storage (with no air bubbles), then cover the surface of the pesto with a sheet of plastic wrap (touching the entire surface) before putting the lid on the container...or instead of using plastic wrap, pour a thin layer of extra-virgin olive oil over the surface of the pesto before putting on the lid.
If none of the above ideas keep the pesto as green as you wish, you can even try blanching the basil leaves (put the basil leaves in boiling water for 10 seconds, then plunge them into an ice bath, then completely dry them) before making your pesto to help retain the bright green color.
Calories:
78
kcal
|
Carbohydrates:
1
g
|
Protein:
1
g
|
Fat:
8
g
|
Saturated Fat:
1
g
|
Cholesterol:
3
mg
|
Sodium:
71
mg
|
Potassium:
21
mg
|
Fiber:
1
g
|
Sugar:
1
g
|
Vitamin A:
140
IU
|
Vitamin C:
0.7
mg
|
Calcium:
25
mg
|
Iron:
0.2
mg
More Green Favorites