The only two things in life that make it just awesome…
is queso that tastes good and fresh, spicy salsa.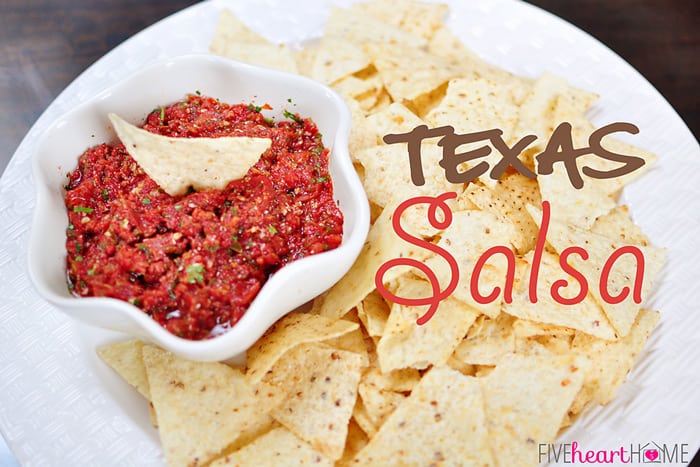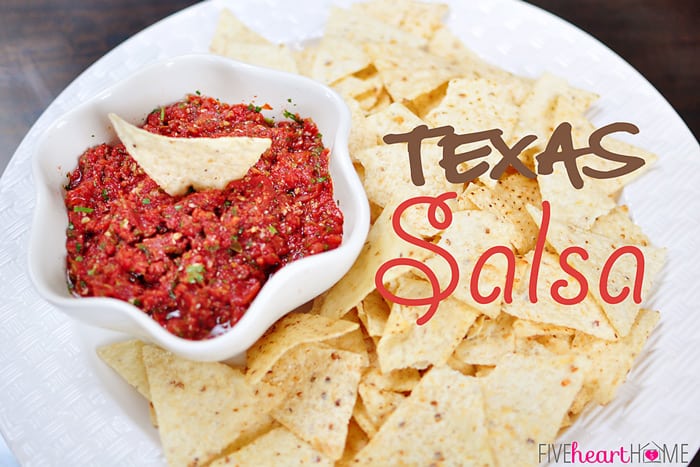 If you enjoy bad twists on good lyrics — and if you've never made your own salsa before — well then, today is your lucky day! (Not to worry…queso will get its own glorious post at a later date.) Homemade salsa is quick, easy, fresh, and tasty! Let's get started, shall we?
Salsa is pretty much a food group in Texas. And how much do I love thee, salsa? Let me count the ways. Yes, salsa makes an undeniably good dip for tortilla chips. But it's also so much more, a veritable Little Engine That Could of the culinary world, if you will. Use it to boost the flavor of eggs, beans, rice, fish, chicken, meatloaf, hamburgers, Mexican food (well, obviously)…you get the drift. The list goes on and on.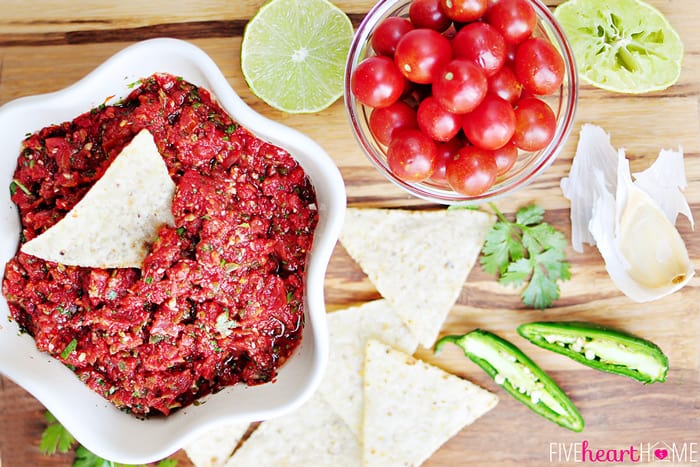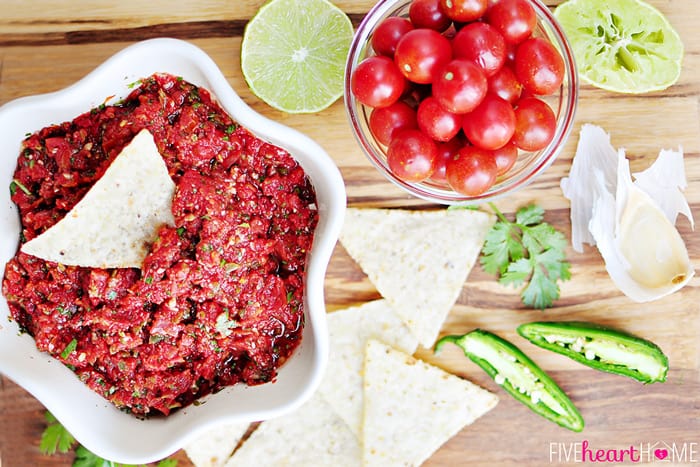 My favorite kind of salsa comes from fresh, in-season tomatoes, and my preferred method for procuring said salsa is to briefly roast the tomatoes in the oven to intensify their bright flavor before whirring them up in the food processor with my other ingredients of choice. The downside to making salsa with fresh tomatoes is that it can end up turning watery. But lucky for us, there are a few potential remedies for this problem.
First off, I extract as many seeds and squeeze as much juice as possible from my tomatoes before roasting. It also helps to use a meatier tomato with less seeds and juice to begin with (like a plum tomato). Then if my salsa is still watery after puréeing everything, I pour it into a colander lined with a couple of paper towels and let it briefly drain over the sink. If you find this step to be necessary, just be careful not to drain all of the water off or else your salsa won't be quite so salsa-y anymore.
Another alternative for avoiding waterlogged salsa is to cut your tomatoes into big chunks, remove the seeds/juices, toss them with some salt, and put them in a colander over the sink for 15 to 20 minutes. The salt will pull a lot of the water from the tomatoes using this method, but remember that you may need to adjust the salt accordingly later in the recipe so you don't end up with over-salted salsa.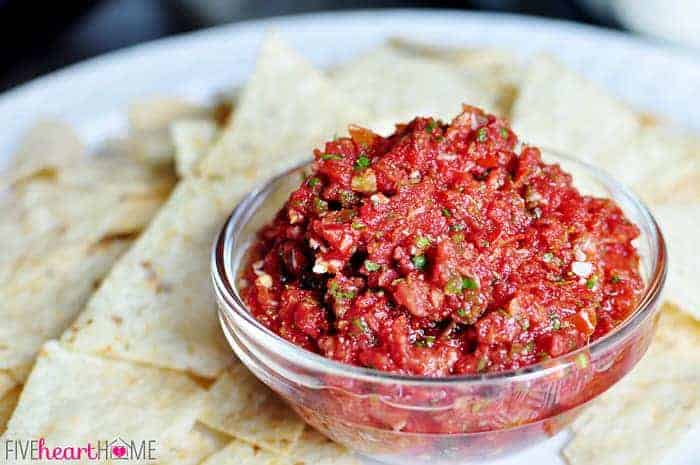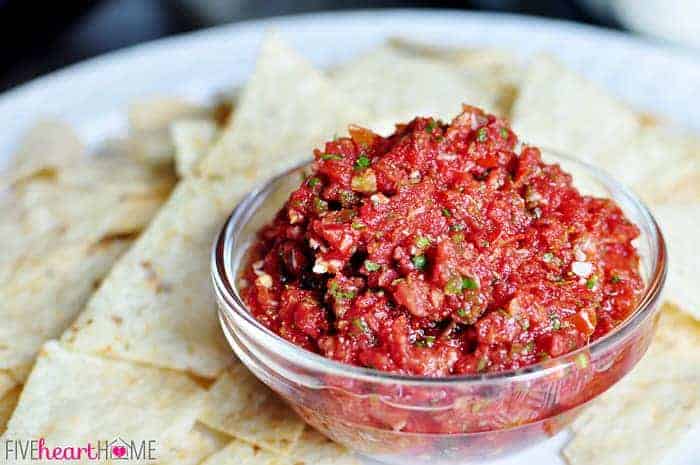 If tomatoes are out of season and you end up using store bought or home canned tomatoes, watery salsa shouldn't be an issue. These tomatoes have already been cooked enough to activate their pectin, and this will naturally thicken your salsa. As previously mentioned, you can also cook down your fresh tomato salsa to achieve the same pectin-activation and the same end result, but that's a different recipe for a different day.
This recipe tastes bright and fresh. It definitely carries a distinctive undertone of cilantro, so if you're not so fond of this boisterous herb, feel free to cut it back. I used to dislike cilantro but now I love it, so I can understand how it can be an acquired taste that takes a little easing into. And while roasting the tomatoes, jalapeños, and garlic can be skipped if you're short on time, I really think it deepens the flavor of the resulting salsa.
The other ingredient you can tweak to your liking would be the jalapeño peppers, though I certainly wouldn't recommend leaving them out altogether. If you only use one or two and make sure to remove all of the seeds and membranes, your salsa should stay mild. Added in small amounts (and without seeds), jalapeños merely lend flavor. Only after you use multiple jalapeños will they start contributing a bit of heat. And if you like really spicy salsa, don't remove any of the seeds or membranes! Since only you know your family's taste and heat tolerance, you'll have to use your judgement on this one.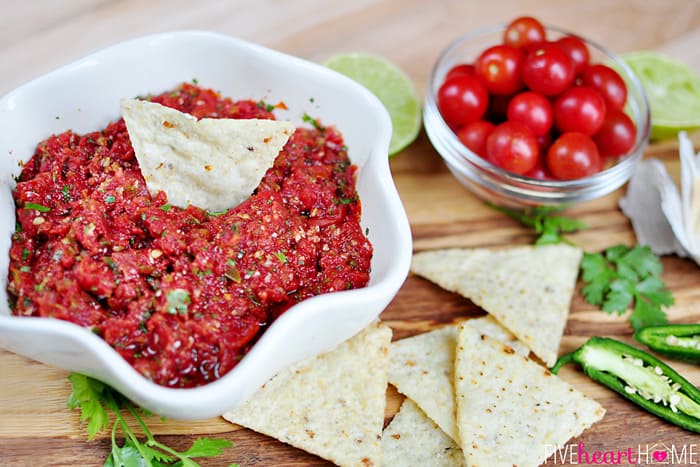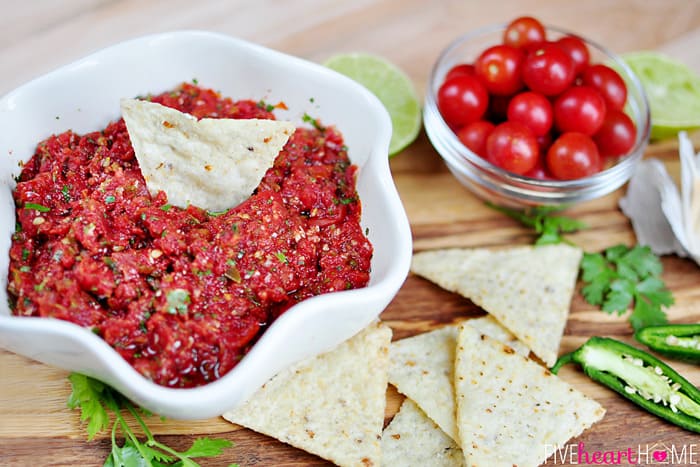 So have I convinced you to whip up some homemade fresh salsa today? When I made the batch pictured here, my family scarfed down the whole bowl in a matter of minutes. That's two pounds of tomatoes worth, folks. Even the baby was sucking scoops of it off of a chip.
I do believe it's time to go pop open a fresh bag of tortilla chips and revel in a bowl of flavorful homemade salsa. Willie and Waylon and the boys would be so proud.
Inspired by a recipe from The Homesick Texan.
This post is linked to Strut Your Stuff Saturday Link Party Week 107 at Six Sisters' Stuff.