Thanksgiving Salad is a gorgeous, vibrant addition to any menu, bursting with pomegranate, pears, pecans, & brie and dressed with a homemade balsamic vinaigrette!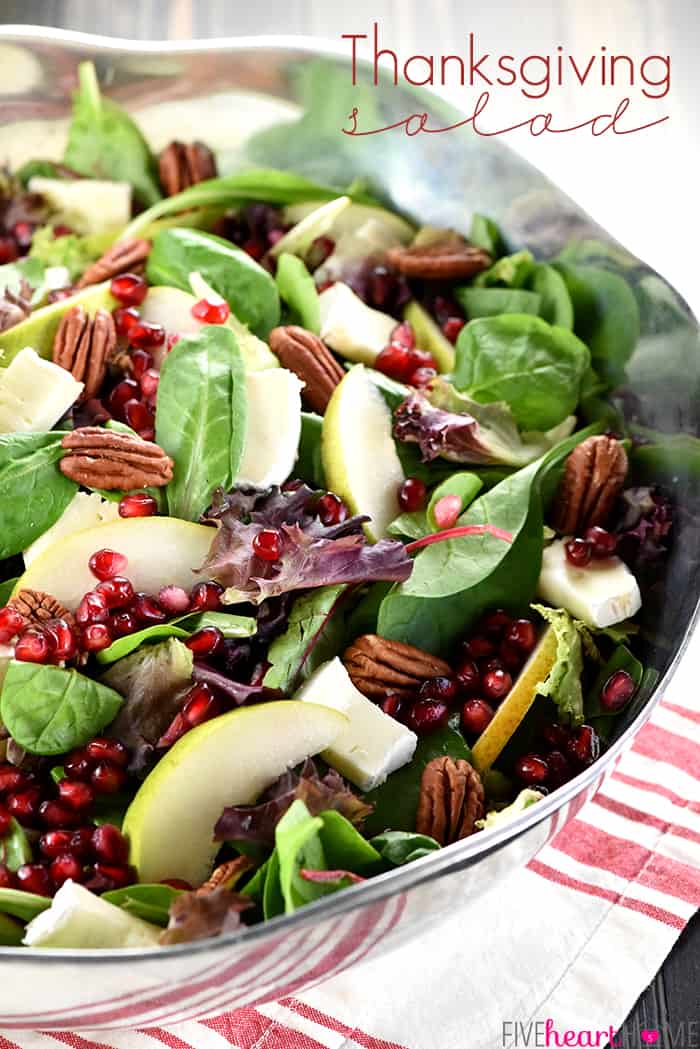 Your Thanksgiving feast won't be complete without my Maple-Glazed Turkey with Bacon, Make-Ahead Garlic Herb Mashed Potatoes, and The BEST Pecan Pie with a homemade, EASY Butter Pie Crust!

I'm a sucker for a loaded salad. The more contrasting flavors and textures, the better. And if it's a pretty salad, to boot? Can't be beat. Lucky for us, this Thanksgiving Salad has all of those qualities in SPADES!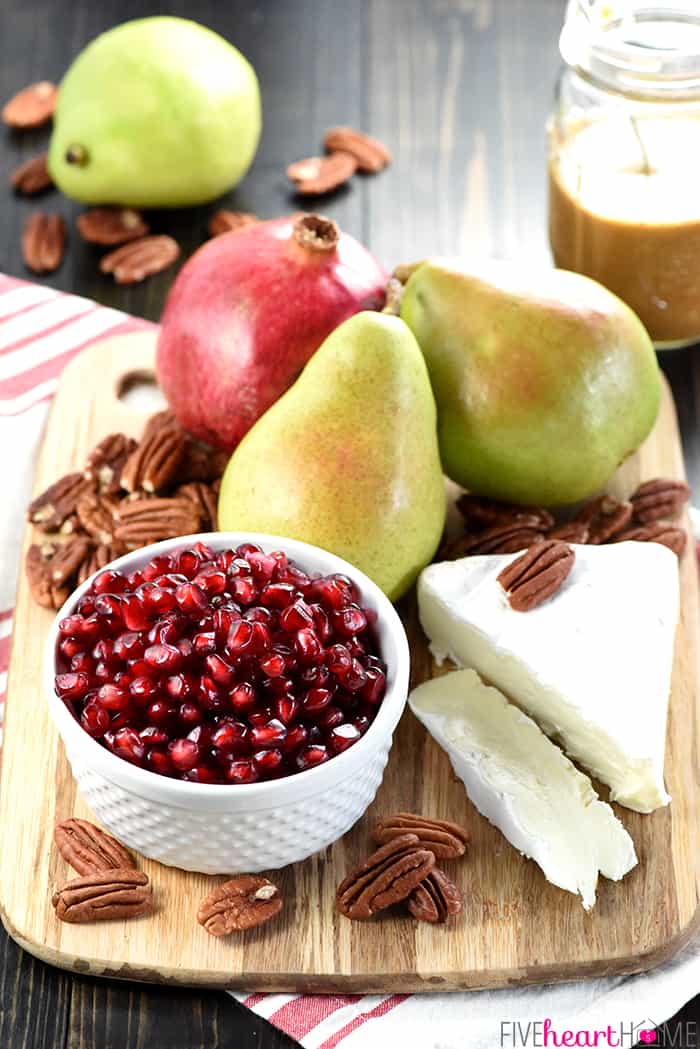 Inspiration
This time last year, I concocted a festive red-and-green Holiday Honeycrisp Salad using some of my favorite salad ingredients. And, lo and behold, y'all seemed to agree that it was both beautiful and delectable, as it quickly became one of Five Heart Home's most-pinned recipes on Pinterest. That salad immediately became our new family Christmas dinner tradition as well.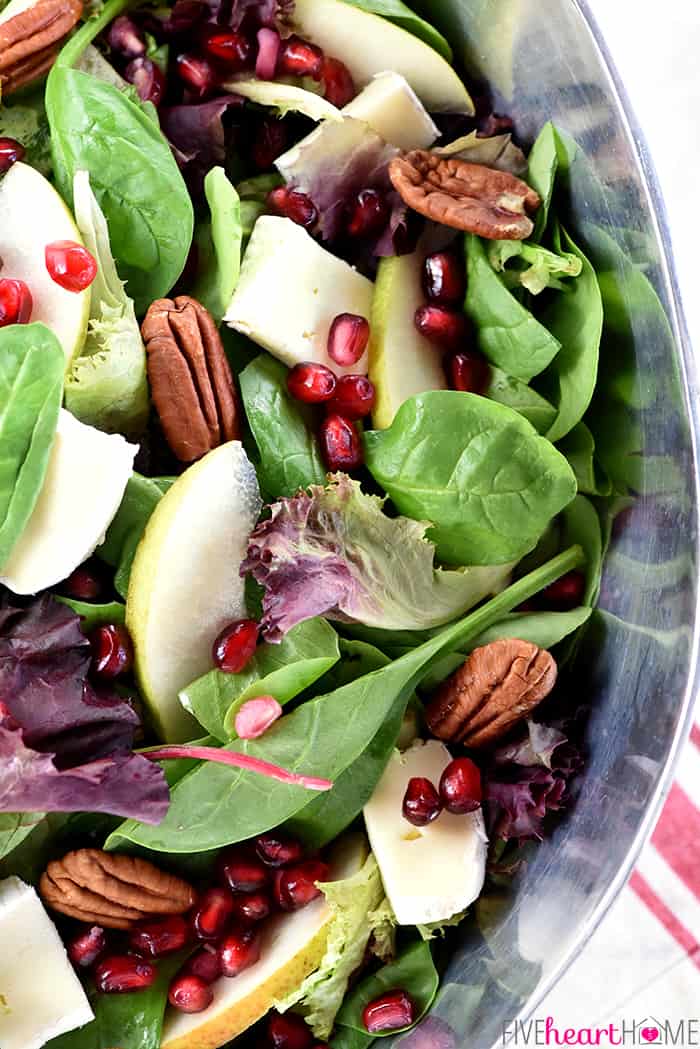 So this year, I decided that our Thanksgiving table also needs a new tradition: a fresh, vibrant salad to lighten up all of the buttery Sweet Potato Casserole and Bacon-Wrapped Green Beans and Creamy Cheesy Corn. And since I can't resist a combination of fresh mixed greens, sweet fruit, crunchy nuts, salty cheese, and zesty vinaigrette, I decided to start with those ingredients as my template for this Thanksgiving Salad.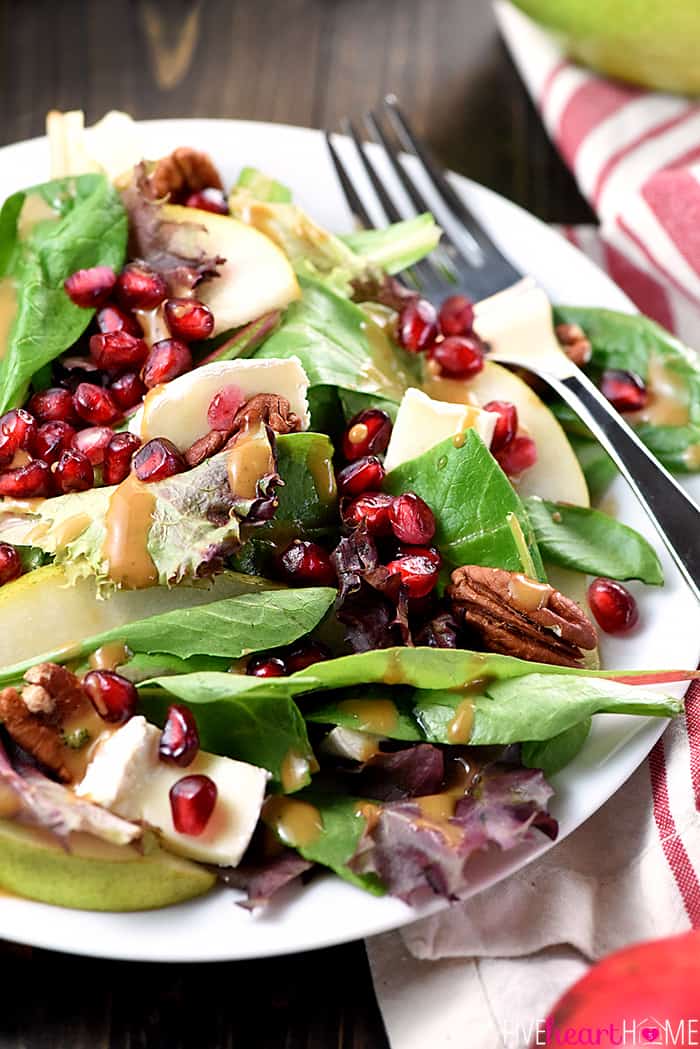 Ingredients
Since my other holiday salad centered around apples, I decided to make juicy pears the star of this Thanksgiving Salad.
The thinly sliced pears are complemented by ruby-red pomegranate seeds, speckling the salad like little jewels (seriously...aren't they so pretty?!).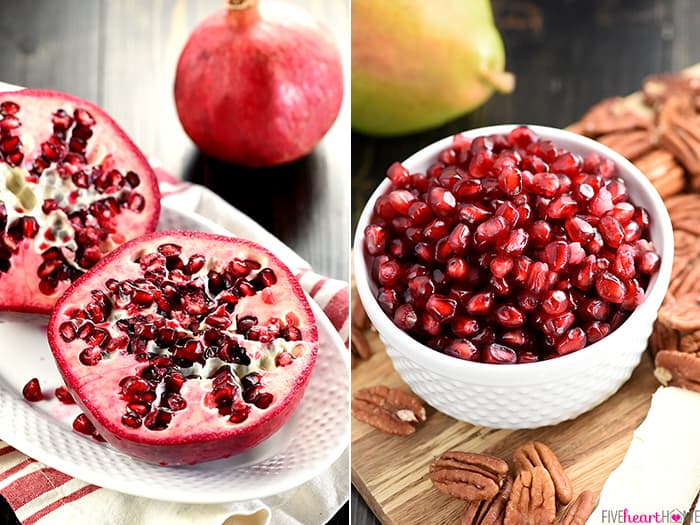 Since pears and pomegranates are already sweet, I decided to forgo my usual beloved candied nuts in favor of simple toasted pecans. Just promise me you won't skip the toasting, as it makes the pecans extra crunchy and brings out a deep, nutty flavor.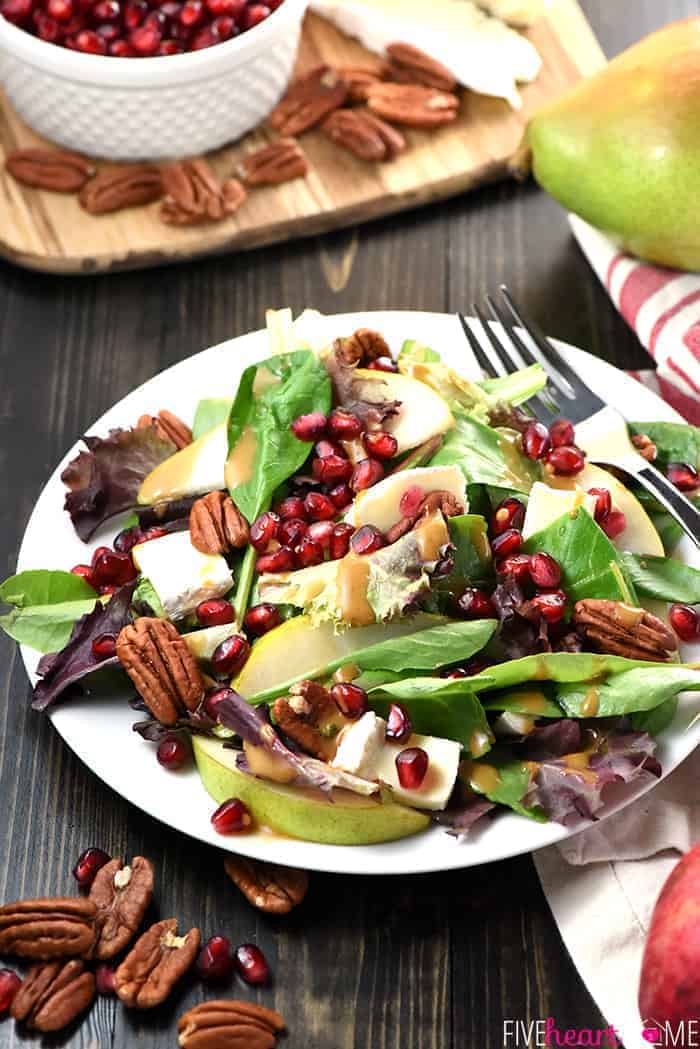 As for the cheese, I wanted to branch out from crumbled Feta or blue cheese, which are my typical salad choices. I've had a recent (and heavy) obsession with Brie, and it turned out that little pieces of this creamy, salty, soft cheese were the perfect balance to the zippy greens, fresh fruit, and toasty nuts.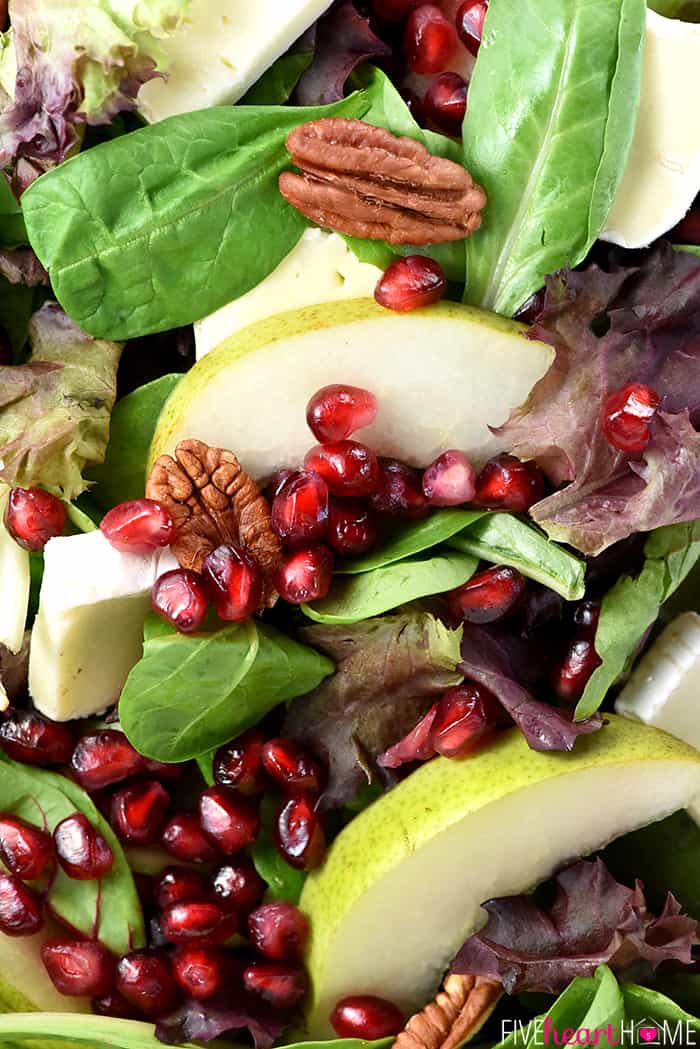 And finally...the dressing! I decided to go classic here with an effortless homemade Balsamic Vinaigrette. It's silky, zesty, and adds a perfect touch of acidity to the salad. It's also tasty enough to lick the bowl clean...but that might be rather off-putting to the other Thanksgiving guests in attendance, so do your best to refrain. 😉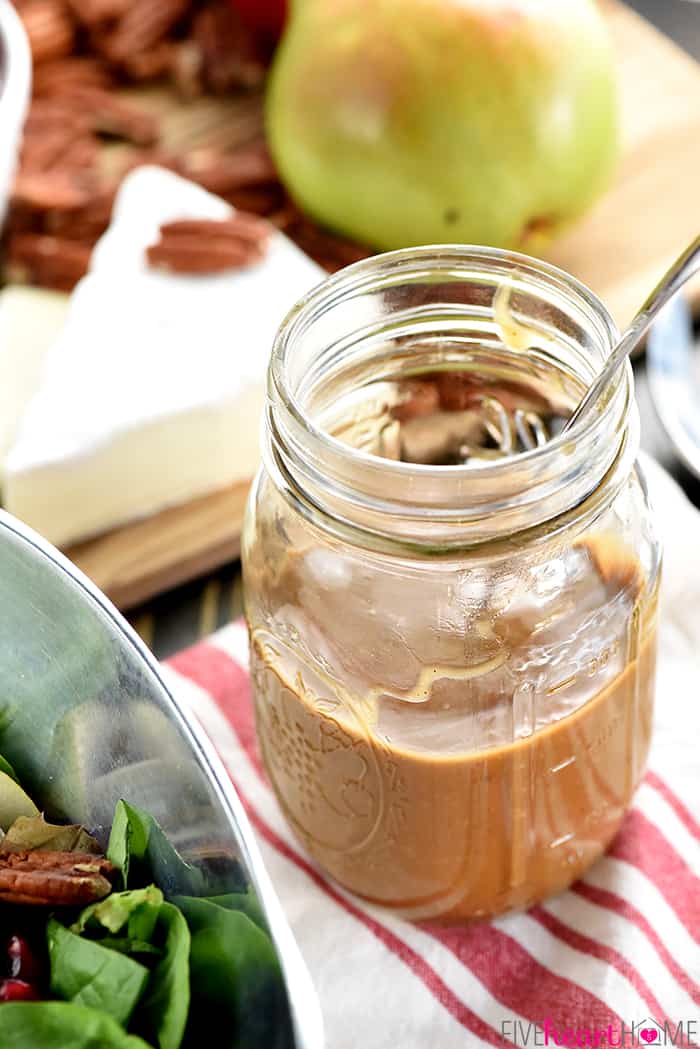 So how did this experimental Thanksgiving Salad go over 'round these parts? Well, I tested the recipe out on my friends at a church meeting over the weekend, annnnnd...it was a smashing success. In fact, everyone agreed that Y'ALL need to make this Pomegranate, Pear, Pecan, & Brie Salad for Thanksgiving! And Christmas! And New Year's!
I'm pretty sure that once you do, it'll become a new holiday tradition. (Just remember...don't lick the bowl 'til you get it back to the kitchen.) 😉

More Thanksgiving Recipes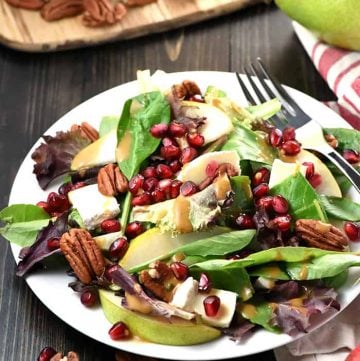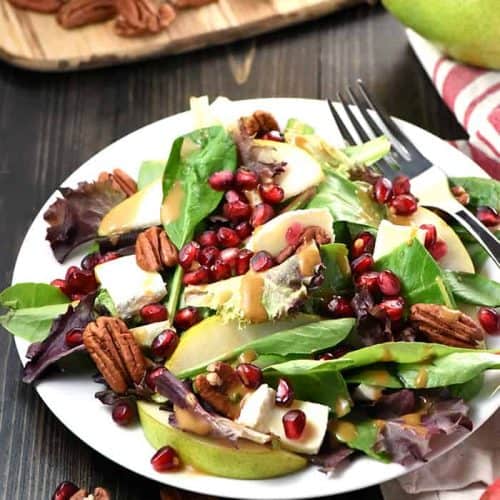 Thanksgiving Salad
This gorgeous Pomegranate, Pear, Pecan, & Brie Salad with Homemade Balsamic Vinaigrette is loaded with vibrant colors and flavors and contrasting textures. It makes any dinner special but would be perfect as a Thanksgiving salad or on your Christmas holiday table.
Print
Pin
Rate
Servings:
10
to 12 servings
Ingredients
FOR THE BALSAMIC VINAIGRETTE:
⅔

cup

extra-virgin olive oil

¼

cup

good-quality balsamic vinegar

1

tablespoon

Dijon mustard

1

teaspoon

honey

1

teaspoon

lemon juice

1

clove

garlic

,

pressed or finely minced

¼

teaspoon

salt

,

plus additional to taste

Freshly ground black pepper

,

to taste
FOR THE SALAD:
3

medium D'Anjou pears

,

ripe yet firm, thinly sliced

Juice of ½ lemon

,

or more, as needed

16

ounces

salad greens

,

such as spring mix, with or without baby spinach

8

ounces

Brie

,

thinly sliced and cut into 1-inch pieces

Seeds from 1 large pomegranate

1 ½

cups

pecan halves

,

toasted
Instructions
To prepare Balsamic Vinaigrette, measure all of the ingredients into a mason jar. Tightly screw on the lid and shake vigorously until everything is thoroughly combined. Alternatively, you may briskly whisk the ingredients together in a medium bowl, or blend them in a blender or mini food processor.

Immediately after cutting the pear slices, place them in a large plastic baggie and squeeze fresh lemon juice over them. Close bag and gently shake to coat. In a large salad bowl, layer salad greens, pear slices, pieces of Brie, pomegranate seeds, and toasted pecans. Just before serving, dress with desired amount of Balsamic Vinaigrette and toss until salad ingredients are evenly coated.
Notes
If you use a really good balsamic vinegar, 1 teaspoon honey should be sufficient. However, you can always add a bit more honey, to taste, if you wish.
I've made this dressing before when I was out of fresh garlic (oh, the horror!), but I substituted ½ teaspoon garlic powder and it still turned out great.
To toast the pecans, preheat the oven to 350°. Spread the pecans on sheet pan and bake for 8 to 10 minutes or until fragrant and lightly toasted, watching carefully to prevent burning. Allow to cool before adding to the salad.
You may use your favorite variety of pears in place of D'Anjous...just make sure that the pears you choose aren't overly soft or ripe.
For the least messy experience, I prefer to seed a pomegranate underwater. Fill a large bowl with cool water and slice the pomegranate in half. Take one half of the pomegranate and, holding it underwater, break it into large pieces and pop out the seeds, allowing them to fall to the bottom of the bowl. When you are done extracting all of the seeds and discarding the pomegranate peel, most of the pieces of membrane will be floating in the water as the seeds will have sunk. Pour as much water and membrane out of the bowl as possible, without losing any seeds. Pour the seeds and remaining water into a colander and pick out any remaining membrane. Repeat with the other half of the pomegranate. (And if this explanation didn't make sense, Google a YouTube video demonstrating this technique...it's much easier than it sounds!)
This recipe can easily be cut in half in the event that you're not feeding a small army.
Calories:
302
kcal
|
Carbohydrates:
14
g
|
Protein:
7
g
|
Fat:
26
g
|
Saturated Fat:
6
g
|
Cholesterol:
23
mg
|
Sodium:
232
mg
|
Potassium:
242
mg
|
Fiber:
3
g
|
Sugar:
7
g
|
Vitamin A:
671
IU
|
Vitamin C:
13
mg
|
Calcium:
65
mg
|
Iron:
1
mg
Post originally published on November 14, 2016.
Save
Save
Save
Save
Save
Save
Save
Save
Save
Save
Save
Save
Save
Save
Save
Save
Save
Save
Save
Save
Save
Save
Save
Save