This homemade Healthy Trail Mix recipe is easy to make and customize, loaded with healthy fats from wholesome nuts, dried fruit, and your favorite add-ins!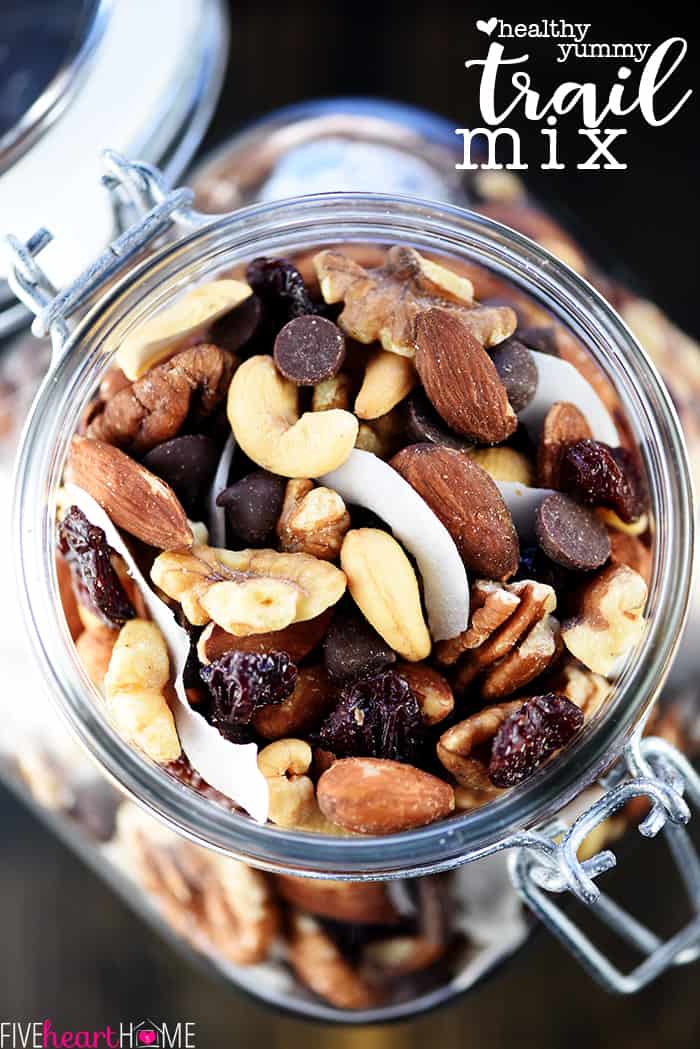 There are as many variations of trail mix as there are stars in the sky, or drops in the ocean, or rocks in my dryer. But have you ever made your own homemade trail mix, where you get to control the ingredients and keep things healthy? It's ridiculously easy, and that's only one of the many reasons to give it a try.
Why Make Trail Mix?
First off, and perhaps most obviously, trail mix makes a fantastic snack. It's easy to keep on hand at room temperature and it lasts a long time. I love keeping a big jar of it in the pantry as an incentive to make smarter snacktime choices. Because if I'm fighting the urge to rummage for a bag of chips and Healthy Trail Mix is staring me in the face, it's only logical that I'm more likely to reach for a handful of fruit and nuts.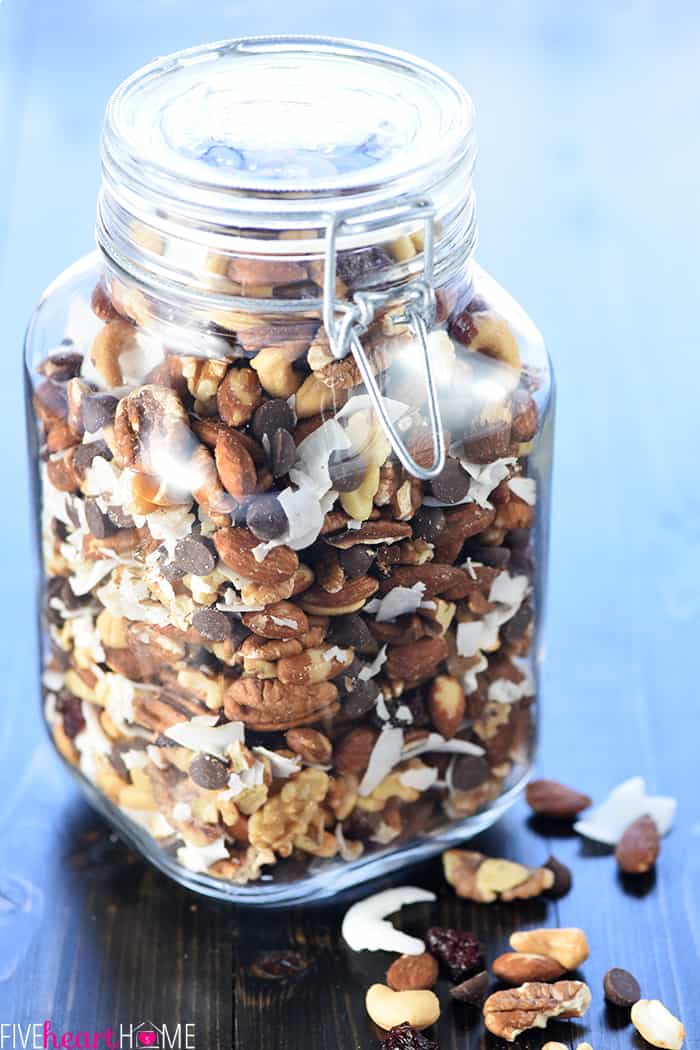 Trail mix is not only a healthier option, but it's more satisfying, to boot! That's true whether I need a quick, ready-made snack or I end up working through breakfast or lunch. Now I'm not advocating working through mealtimes, but let's be real...it just happens sometimes (I send a batch to work with my husband for the same reason). So if I'm headed out the door to pick up my kids from school and suddenly realize that I'm famished, eating some trail mix is preferable to scarfing down half a dozen pieces of leftover Easter candy, dontcha' think? 😉
This snacktime wonder is also highly portable. I like to prefill small, snack-sized bags for grab-and-go snacks. For example, when my boys are playing sports (which is pretty much year-round), there are some days that we have to eat dinner early and other days we that we have to eat dinner late. So for those late dinner days (when we're going straight from school to the ballpark or the field or the gym), I keep baggies of Healthy Trail Mix in my bag. It tides my kids over until dinnertime without filling them up on junk. And, as an added bonus, it's a great energy-boosting snack for the athlete o' the moment.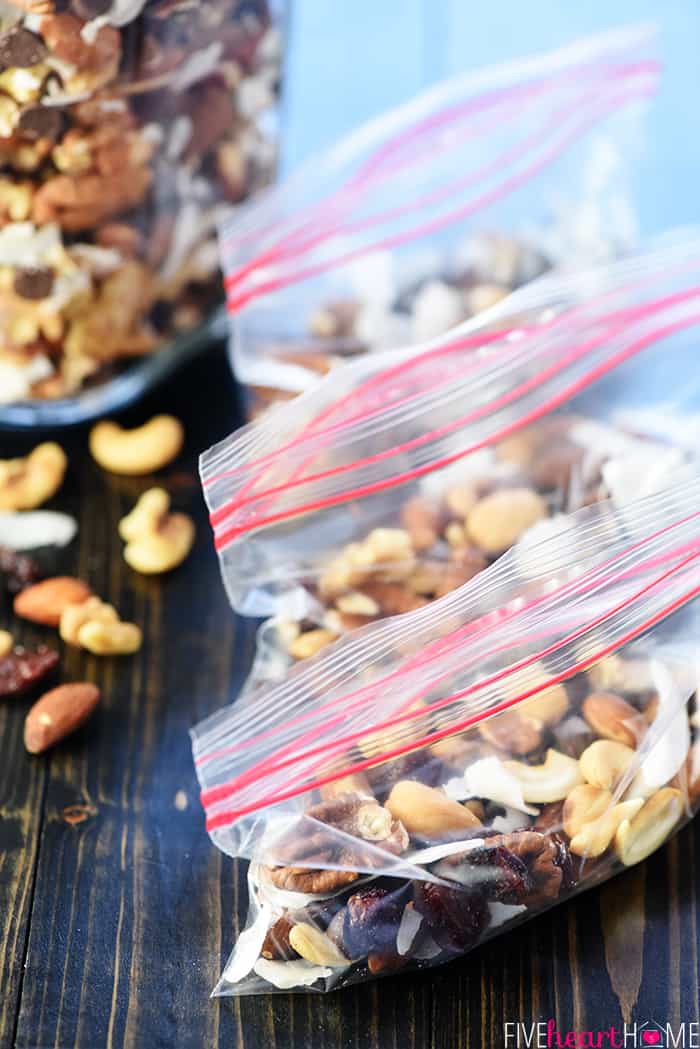 The trail mix of my childhood was always the same and never very exciting...peanuts, raisins, maybe a few M&Ms? Of course, I always ate the M&Ms first and picked out the raisins. And this truth is, a lot of store-bought trail mixes are loaded with not-so-good-for-you ingredients...glazed or oil-roasted nuts, sugar-loaded dried fruit, and even candy. But lucky for my kids, the homemade version that I keep on hand is not only healthier, but it's also tastier and more interesting.
How to Make Trail Mix
The best part is you can assemble it with pretty much any ingredients you like! I load mine with superfood, protein-packed, heart-and brain-healthy nuts. I add a bit of dried fruit, chocolate, and typically one more goodie to add flavor and texture and keep things interesting.
The proportions are important (more of the healthy stuff, less of the goodies), but again, you can tweak any ratios to your liking.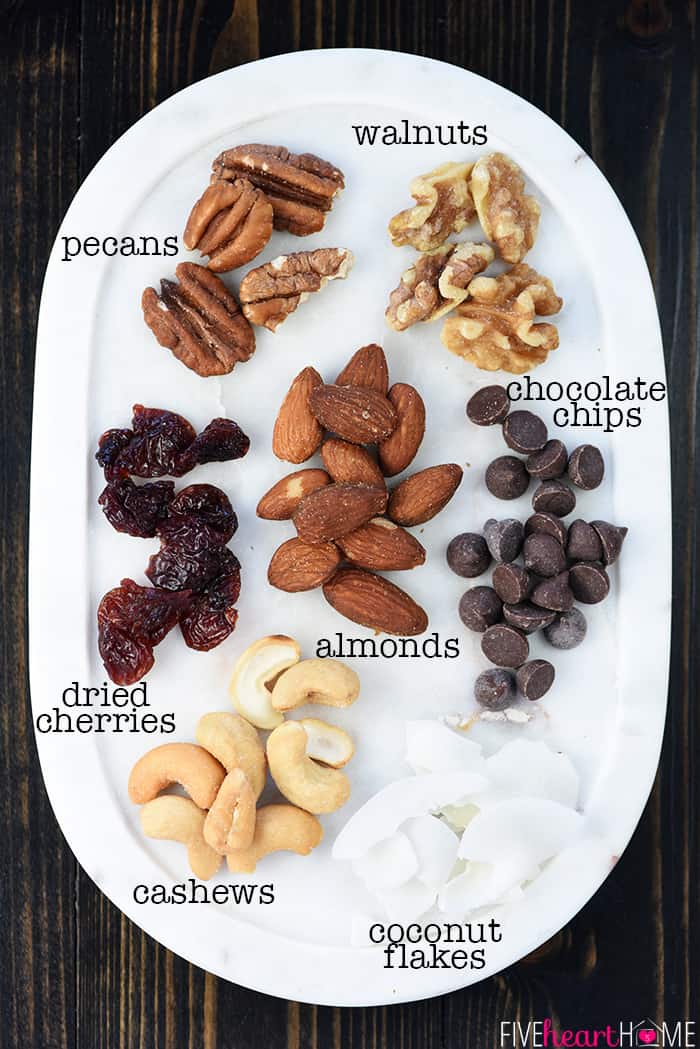 Ingredients in Healthy Trail Mix
Here's what I like to include in my Healthy Trail Mix:
Walnuts and pecans. Walnuts and pecans are nutrient-dense nuts that promote both brain health and heart health. They're high in omega fatty acids, other healthy fats, protein, vitamins, and minerals, and they're also a good source of antioxidants and fiber. They're a great addition to trail mix either raw or lightly toasted in the oven.
Almonds. I like adding dry-roasted, lightly salted almonds as well. The purists will tell you to use raw almonds instead, and you certainly can and should if that's your preference! But (call me bad) I like just a little bit of saltiness in my trail mix. Using salted almonds provides the perfect amount without going overboard.
Cashews. Another healthy nut with great flavor and texture, I prefer using roasted, unsalted cashews in my trail mix. Just make sure any roasted nuts you use -- cashews or almonds -- are dry-roasted rather than roasted in oil.

Dried fruit. For the healthiest option, try to stick with unsweetened, unsulphured dried fruit. If using dried cranberries (which clearly need to be sweetened), you can sometimes find them sweetened with apple juice instead of sugar. Raisins are always a classic. Or dried mango or pineapple will give your trail mix a tropical twist. And banana chips are even fun! My family loves dried tart cherries in our mix.
Chocolate. Chocolate as an ingredient in a Healthy Trail Mix? Of course! Haven't you heard that dark chocolate actually has healthy benefits? And just a little bit goes a long way in adding sweetness and creaminess to each bite of trail mix. I recommend using good quality semi-sweet chocolate chips. (Of course, if you're feeling a bit naughty, you can add mini peanut butter cups or M&Ms instead of dark chocolate and I promise not to tell a soul.)
Extra goodies. Here's where you get to have some fun with yummy add-ins! Certain add-ins, such as seeds (pumpkin seeds or sunflower seeds), contribute extra nutrition. Other add-ins, such as popcorn or pretzels or cereal, simply contribute varied texture and flavor. I chose unsweetened coconut flakes as an add-in for this particular batch.
And that's it! The "recipe" is as simple as measuring into everything into a bowl, giving it a good stir to combine, and then storing in an airtight container (such as a big tub, a big jar, or small individual bags for portable snacks). Trail mix will keep for at least a month, but I doubt it lasts that long!
Hopefully all of this has given y'all a new snack idea for your arsenal while saving you from the temptations of chips and leftover jellybeans. Enjoy!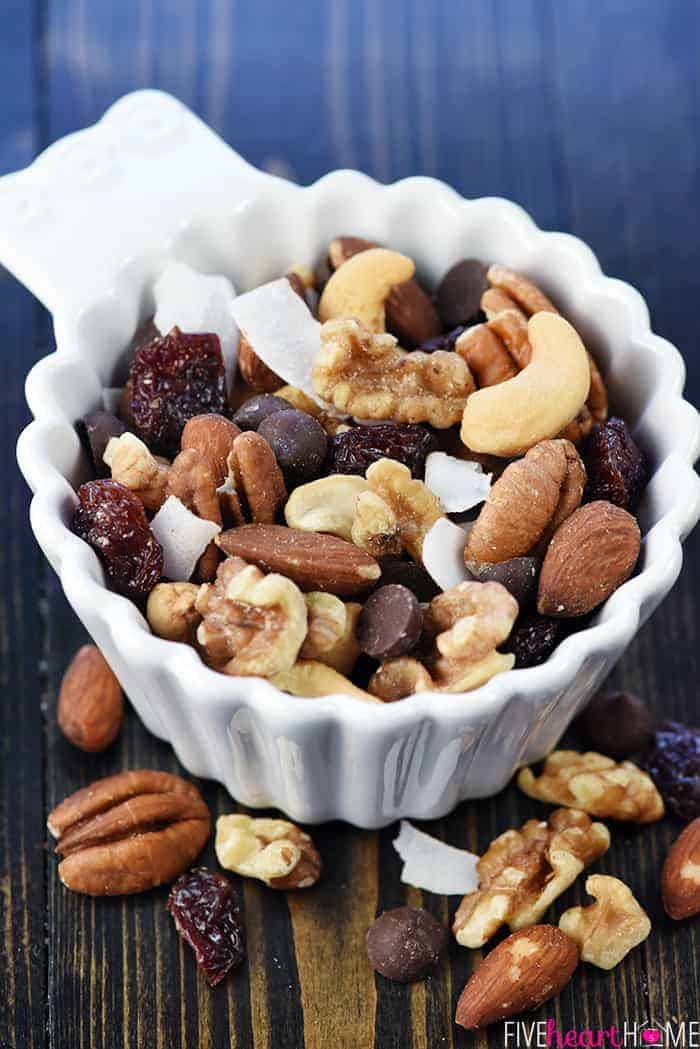 Helpful Tips, Tricks, & Equipment
The size of the batch you make is up to you. I listed the below recipe in parts rather than distinct measurements (like cups). So choose the size of scoop that you want to use and add the listed number of scoops to the bowl for each particular ingredient. For example, you could use a ¼-cup measuring cup for a small batch of trail mix, a ½-cup measuring cup for a medium batch of trail mix, or a 1-cup measuring cup for a large batch of trail mix.
The nutrition calculations at the bottom of the recipe card are based on a batch that was theoretically made with ¼-cup "parts." The entire batch would make 2 ¾ cups of trail mix, or 11 servings. Nutrition info is for one serving, which is ¼ cup of trail mix. The nutrition information should be the same no matter how large or small your chosen "parts" are, but the total number of servings would go up or down accordingly.
I prefer using a bag of "halves & pieces" for the walnuts and the pecans. Using only halves makes for pieces throughout the trail mix that are too large. On the other hand, you don't want tiny little pieces of chopped nuts either.
For toasted walnuts and pecans, spread your nuts in an even layer on a sheet pan. Bake them in a preheated 350°F oven for 5 to 8 minutes, until fragrant and lightly toasted. Be sure to watch them carefully since nuts can go from perfectly toasted to scorched very quickly. Completely cool the nuts before adding them to your mixture.

More Healthy Snack Ideas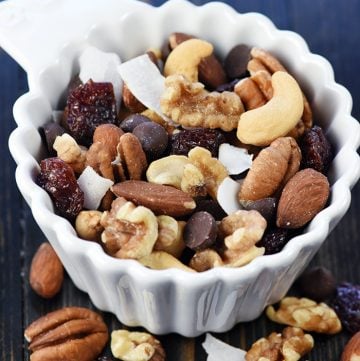 Healthy Trail Mix
It's easy to make and customize this homemade Healthy Trail Mix recipe, loaded with healthy fats from wholesome nuts, dried fruit, and your favorite add-ins!
Print
Pin
Rate
Servings:
11
(¼-cup) servings (assuming recipe is made with each "part" equaling ¼ cup)
Ingredients
3

parts almonds

,

dry-roasted & lightly salted

2

parts raw walnuts

2

parts raw pecans

1

part cashews

,

dry-roasted & unsalted

1

part dried cherries or cranberries

,

unsulphured and unsweetened or fruit-juice sweetened

1

part semi-sweet or bittersweet chocolate chips

1

part unsweetened flaked coconut
Instructions
Measure all of the ingredients into a large bowl. Stir gently to combine. Store in an airtight container.
Calories:
183
kcal
|
Carbohydrates:
9
g
|
Protein:
4
g
|
Fat:
16
g
|
Saturated Fat:
3
g
|
Cholesterol:
1
mg
|
Sodium:
2
mg
|
Potassium:
164
mg
|
Fiber:
3
g
|
Sugar:
4
g
|
Vitamin A:
98
IU
|
Calcium:
40
mg
|
Iron:
1
mg
Originally published on April 5, 2018.