Turkey Meatloaf Muffins are juicy, flavorful, quick to make, and egg-free & gluten-free, with a tender texture and a yummy barbecue sauce glaze!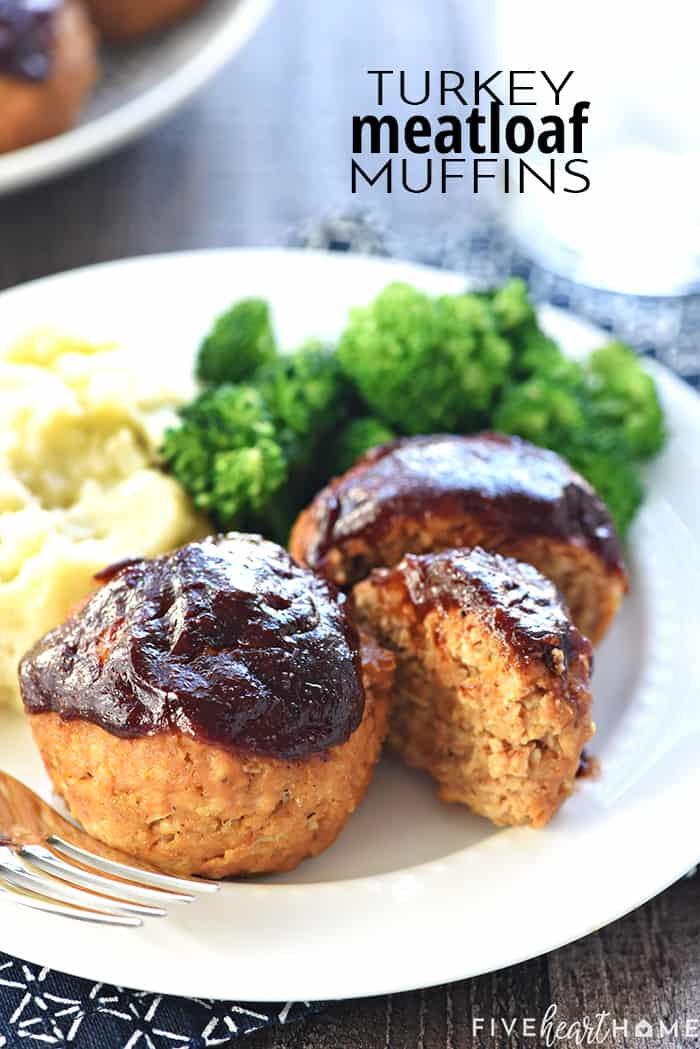 If you enjoy meatloaf muffins, you'll love classic BBQ Sauce Glazed Meatloaf Muffins and taco-inspired Mexican Meatloaf Muffins!
It's been years since I've made "regular" meatloaf in a "regular" pan. Instead, I've become a forever fan of meatloaf muffins, taking a standard meatloaf recipe and dividing it between the cups of a muffin pan. And today I've taken my favorite method and turned it into tasty Turkey Meatloaf Muffins!
Before I get into the particulars of this turkey meatloaf recipe, allow me to first enumerate the reasons that I prefer baking meatloaf as muffins. 🙂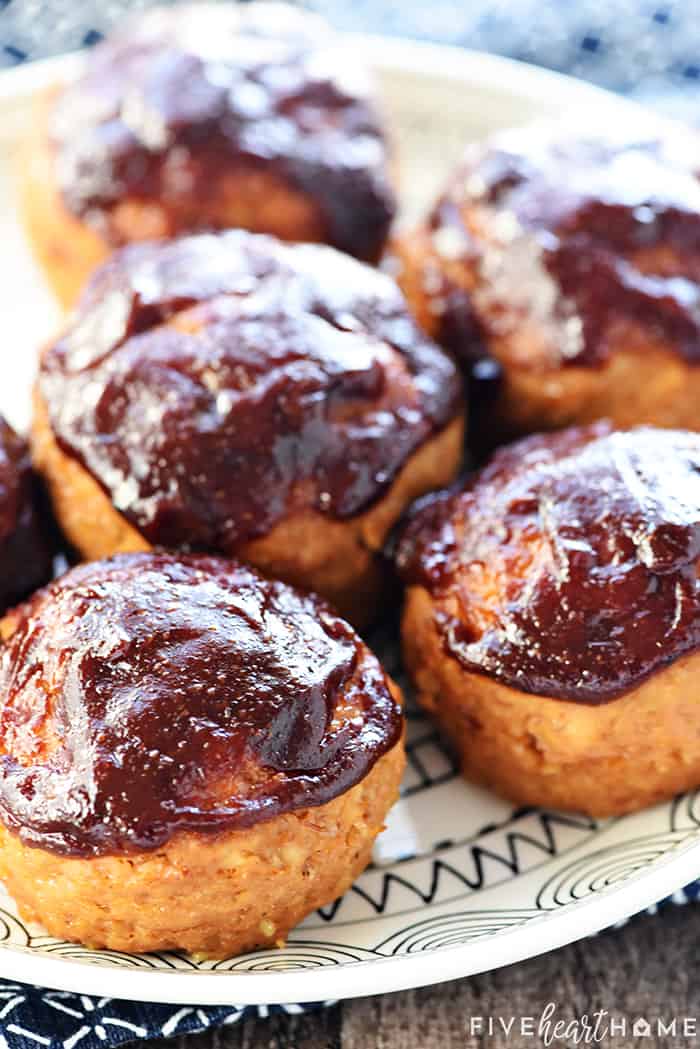 Why Make Meatloaf in a Muffin Pan
Meatloaf muffins are quick to make! They simply cook faster than ground meat formed into a big fat loaf, which typically takes around an hour to cook through to the center. And usually, I don't want to wait that long for what should be a speedy weeknight dinner! So cooking meatloaf in smaller scoops in a muffin pan means it bakes significantly more quickly.
There's a higher ratio of glaze-to-meat! Is it just me, or is the glaze not one of the best parts of a meatloaf? And with little meatloaf muffins, there's a perfect smidge of glaze for each and every bite.
Individual portions are fun! I mean, mini food is just cuter, isn't it? My kids love that they each get their own mini meatloaf. And bigger appetites can enjoy two or three!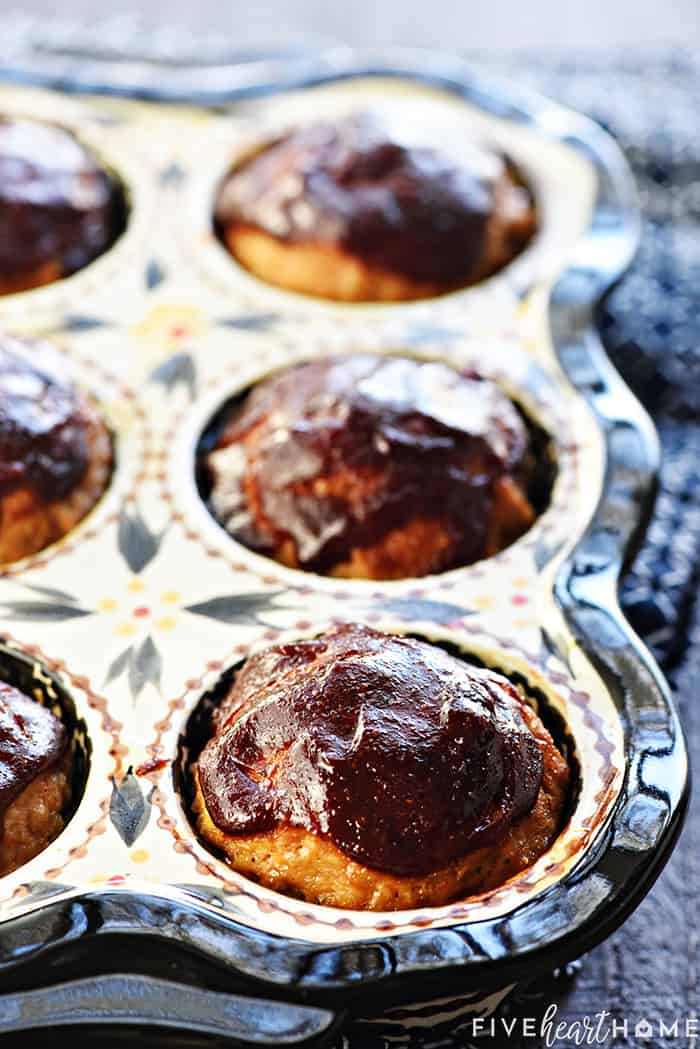 To make sure my meatloaf mixture gets evenly divided between the six muffin cups, I smooth the top of the turkey mixture in the bowl and use a butter knife to "cut" it into six equal portions (like a pizza). Then I scoop each triangle out with a big spoon and form it into a ball with my hands. Finally, the ball-o-meat gets plopped into the muffin pan!
Hopefully the high-quality iphone shot below can explain this method better than words. 😉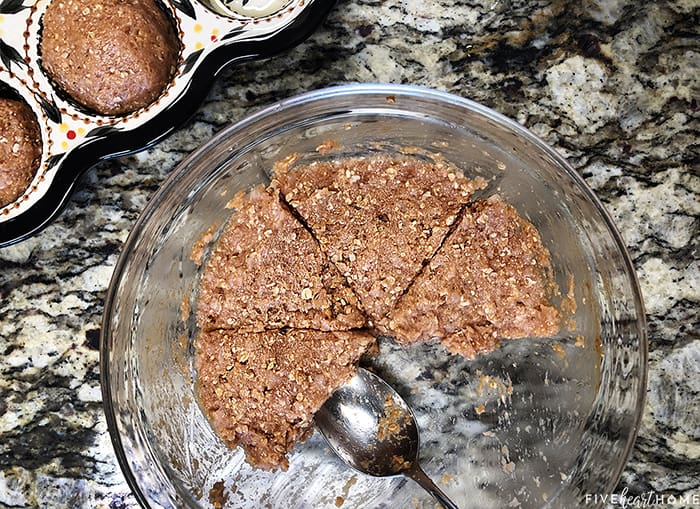 And obviously, if you double this recipe, you'd need to divide your meatloaf mixture into twelve equal "slices" instead.
Turkey Meatloaf
Since I already have several ground beef meatloaf muffins on the site, I decided it was high time to create one featuring ground turkey. And while I was at it, I experimented with making it egg-free and gluten-free for those who may have sensitivities. But you would never guess that this recipe is missing anything at all, because these Turkey Meatloaf Muffins turned out absolutely delicious!
How to Make Turkey Meatloaf Moist
My other beef meatloaf muffin recipes are cooked at a fairly high temperature. To keep my Turkey Meatloaf Muffins from drying out, I cooked them at 375°F and substituted some olive oil for the egg that I usually include. I also opted for ground turkey (a mixture of white and dark meat) as opposed to ground turkey breast to ensure tender and juicy meatloaf muffins.
The other major substitute I made when converting my standard meatloaf muffin recipe to this one was that I swapped quick oats (gluten-free ones, if gluten is what you're trying to avoid) for my usual breadcrumbs. And I honestly couldn't tell a difference!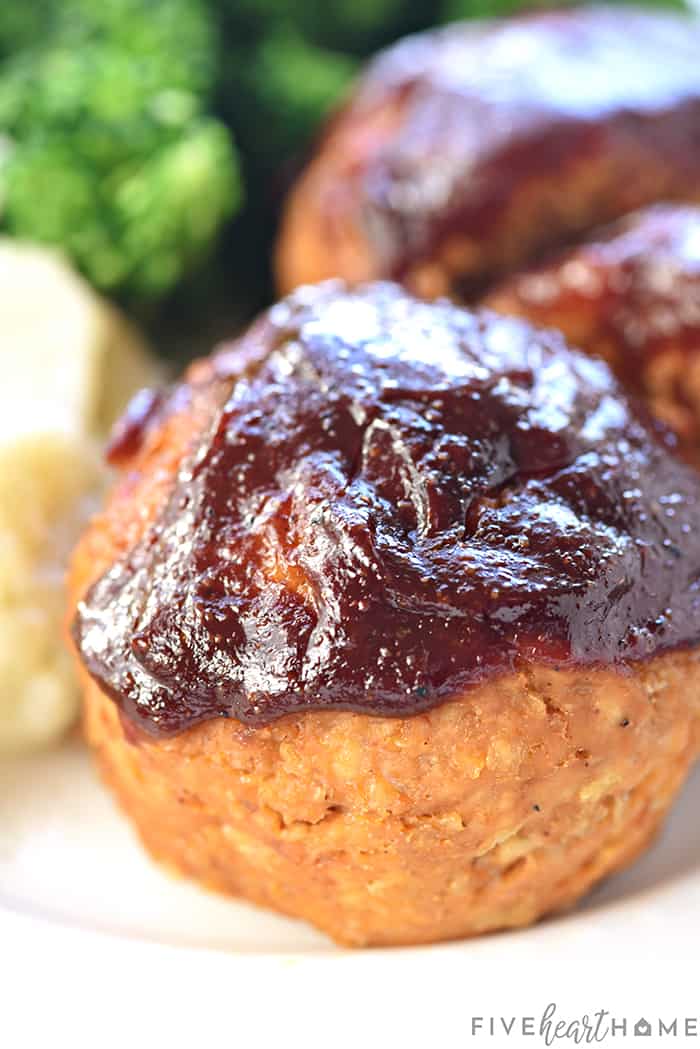 Safe Temperature
To make sure your Turkey Meatloaf Muffins cook through without drying out, it is imperative to use a meat thermometer and cook them to 165°F. I prefer the type of digital probe thermometer that stays inserted as a recipe is cooking. This way, you are alerted the moment it reaches the desired temperature! My Turkey Meatloaf Muffins took 35 minutes to fully cook.
You can find a link to the particular thermometer I use in the next section. Just make sure any thermometer is inserted into the center of a muffin and that the tip isn't touching the bottom or sides of the muffin pan.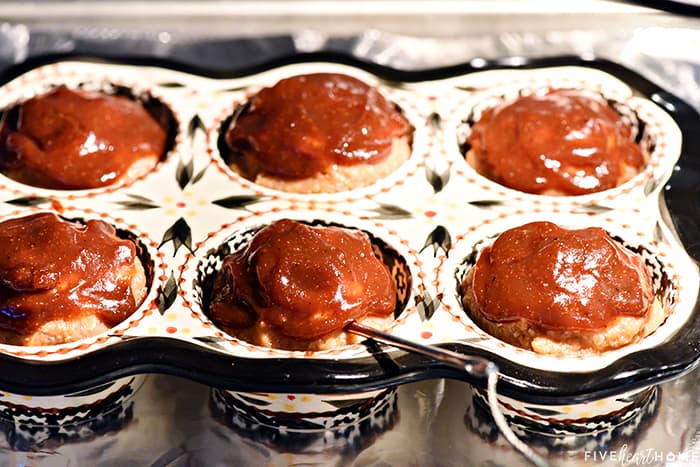 Tips, Tricks, & Equipment
I generally make meatloaf muffins in ceramic muffin pans, but a regular nonstick muffin tin will work just fine.
Here is my favorite digital food thermometer.
One pound of ground turkey fills 6 muffin cups and makes 3 to 4 servings. Feel free to double the recipe...now that my kids are older, I always do!
Any fat from the ground turkey will drain to the bottom of the muffin cups and creep up the sides. I like to place my muffin pan on a baking sheet just in case there's an overflow of fat. Then once the muffins come out of the oven, I use two forks (or spoons) to carefully remove each muffin to a paper towel-lined plate to finish draining, though most of the fat will remain behind at the bottom of the muffin cup.
If you don't have any reason to avoid eggs or gluten, you may make this recipe with one egg in place of the olive oil and/or plain breadcrumbs in place of the quick oats.
The type of barbecue sauce you decide to use will largely affect the final flavor of your meatloaf. I typically use a mixture of sweet Kansas-style BBQ sauce and savory/slightly spicy Texas BBQ sauce. Or if you're feeling ambitious, you can make your own Homemade BBQ Sauce!
I always check the labels of store-bought barbecue sauce and ketchup for "real" ingredients. 🙂
You may add 1 cup of finely minced/grated veggies (carrots, onions, celery, bell peppers) to the meat mixture, if you wish.

More Quick, Easy, Kid-Friendly Dinners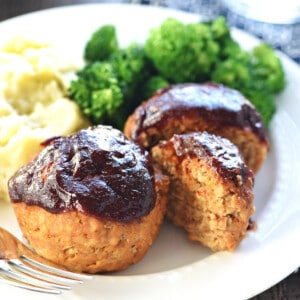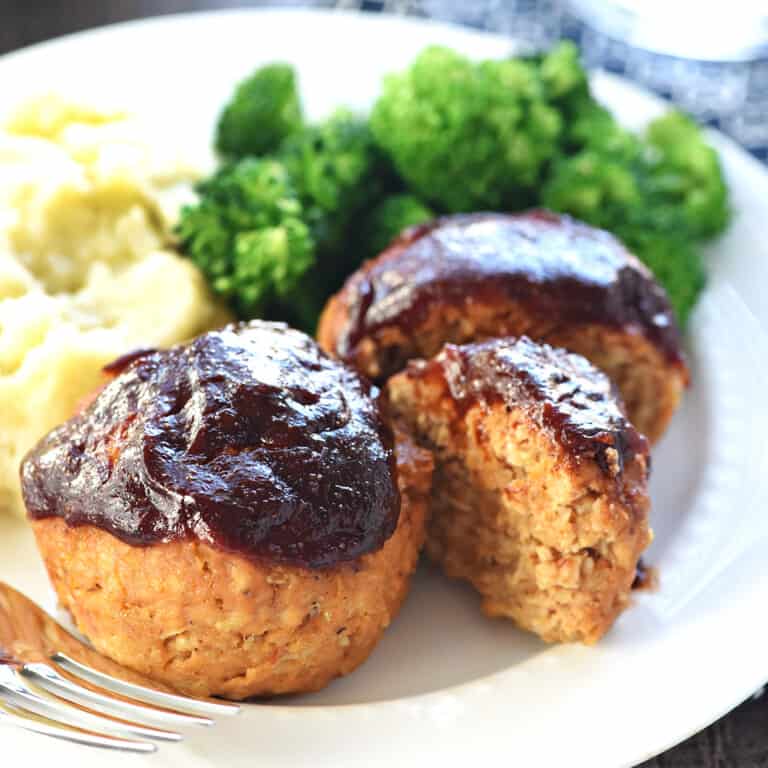 Turkey Meatloaf Muffins
Turkey Meatloaf Muffins are juicy, flavorful, quick to make, and egg-free & gluten-free, with a tender texture and a yummy barbecue sauce glaze!
Print
Pin
Rate
Ingredients
1

pound

ground turkey

¼

cup

olive oil

½

cup

quick oats

,

(gluten-free, if desired)

½

teaspoon

garlic powder

Freshly ground black pepper

½

cup

barbecue sauce

¼

cup

ketchup

2

teaspoons

Worcestershire sauce
Instructions
Preheat oven to 375°F. Line a rimmed baking sheet with foil. Spray a six-cup muffin tin with nonstick cooking spray and set on top of the baking sheet.

In a large bowl, combine ground turkey, olive oil, quick oats, garlic powder, and freshly ground black pepper.

In a 1-cup measuring cup, measure out barbecue sauce, ketchup, and Worcestershire sauce; stir well. Pour half of the barbecue sauce mixture into the ground turkey mixture and mix to combine.

Evenly divide the meat mixture between the six muffin cups, smoothing the tops of the mounds. Carefully spoon the remaining barbecue sauce mixture over the meatloaf muffins. Bake for 30 to 45 minutes, until the center of a meatloaf muffin reaches 165°F on an instant read thermometer. Use a spoon to help lift the muffins out of the pan and drain on a paper towel-lined plate.
Notes
The baking sheet under the muffin tin is to prevent any potential overflow of ingredients from making a mess on the bottom of your oven.
Calories:
243
kcal
|
Carbohydrates:
17
g
|
Protein:
19
g
|
Fat:
11
g
|
Saturated Fat:
1
g
|
Cholesterol:
41
mg
|
Sodium:
394
mg
|
Potassium:
349
mg
|
Sugar:
10
g
|
Vitamin A:
125
IU
|
Vitamin C:
0.8
mg
|
Calcium:
15
mg
|
Iron:
1.2
mg