Requiring only six ingredients and just ten minutes, Ultimate Bean Dip is creamy, cheesy, stove-top deliciousness, a perfect recipe for parties or the big game!

Football season has arrived, friends! And I don't know about you, but at our house that means College Game Day with coffee on Saturday mornings, weekend flag football games for my boys, a few fall treks to the ol' alma mater to cheer on the Aggies, and the background buzz of football games on TV several nights of the week. It also means GAME DAY GRUB…and I'd be lying if I said that a portion of my football-related excitement isn't entirely based around the food. 😉
When trying to think of a new game-watching dip recipe to share this season, I recalled a gooey, cheesy appetizer that we ordered at a local Tex-Mex restaurant over the summer. Now, y'all know that I'm a queso girl through and through, but we decided to get all wild and crazy that night and order bean dip in addition to our usual queso. I was surprised at how yummy it was, although I probably shouldn't have been, since the menu revealed that it was basically beans mixed with queso and what's not to love about any recipe involving queso?!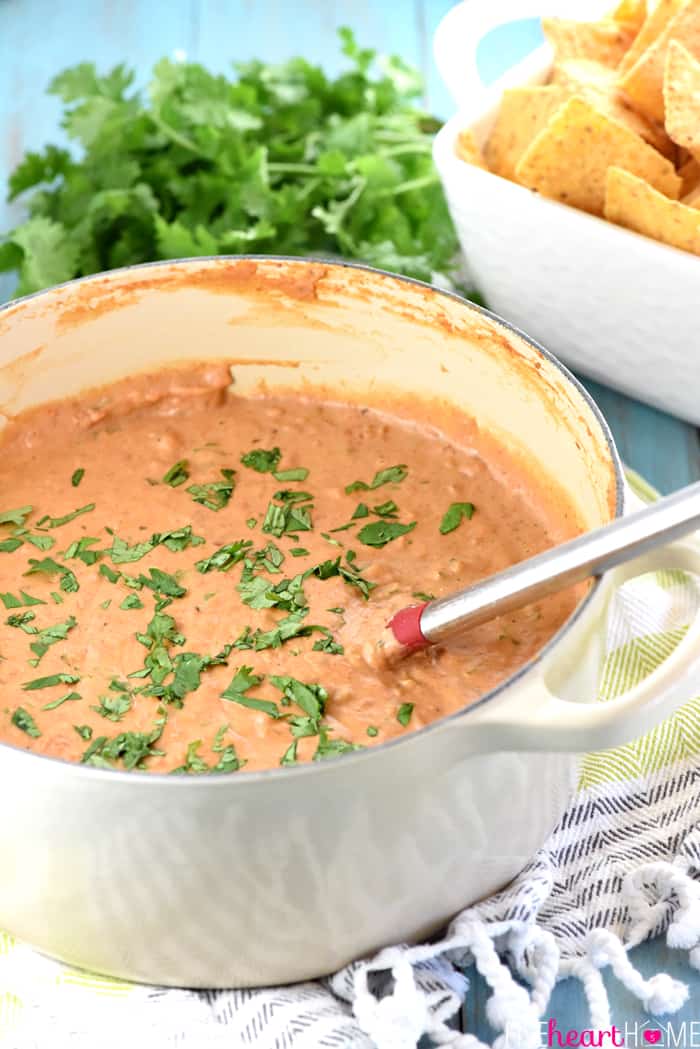 Anyway, I decided to concoct my own queso/bean homage to that restaurant dip. I actually shared a Warm & Cheesy Bean Dip recipe a couple of years ago that involves whizzing everything together in the food processor and then baking in the oven until hot and bubbly. But I wanted my latest variation to not only be quick and easy to make (with just a handful of ingredients and ready in less than 15 minutes), but I wanted it completely assembled in one pot on the stove-top, with the option of transferring the dip to a small slow cooker to keep warm for serving. And since this version was supposed to mimic the addition of queso, I knew I'd need to take the cheese to the next level… 😉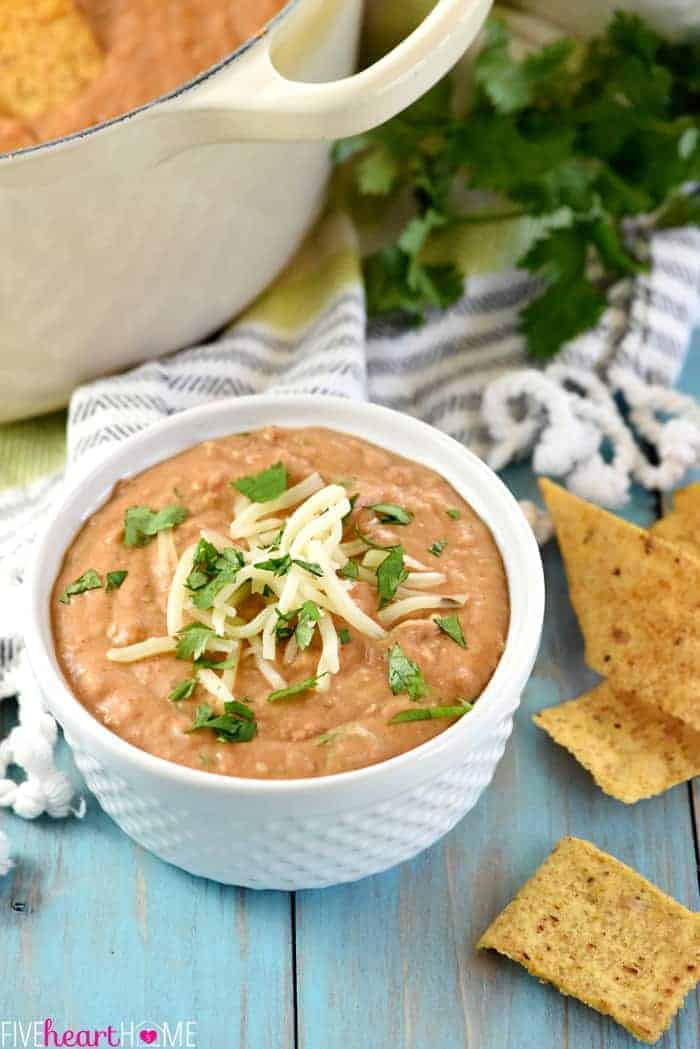 Well, I'm happy to report that my experimentation was a success! Ultimate Bean Dip is an unbelievably easy-to-make, totally tasty recipe. How easy is it, you might be asking. Why, allow me to answer…it's as easy as dumping a couple cans of refried beans into a pot along with a block of cream cheese, some salsa, and a bit of taco seasoning. Melt and stir together until smooth and creamy, and then mix in your choice of grated cheese (I used Pepper Jack, but you could opt for less spicy Monterrey Jack or sharp cheddar, if you prefer) and a handful of fresh chopped cilantro. Yep…it's as scrumptious as it sounds!
It's easy to find canned refried beans these days with real, straightforward ingredients, so I'm all about taking advantage of that shortcut. The cream cheese lends the dip a rich, decadent undertone. The salsa (I prefer using the fresh, pureed kind from the produce section) contributes acidity while the cilantro adds freshness. The Pepper Jack brings heat and creaminess. And the taco seasoning (try my homemade blend if you haven't already!) is a quick, easy way to add some spice. Stir everything together in a big pot, garnish with a little more cilantro, and dig in with tortilla chips! I'm telling you, this stuff is game-watching bliss.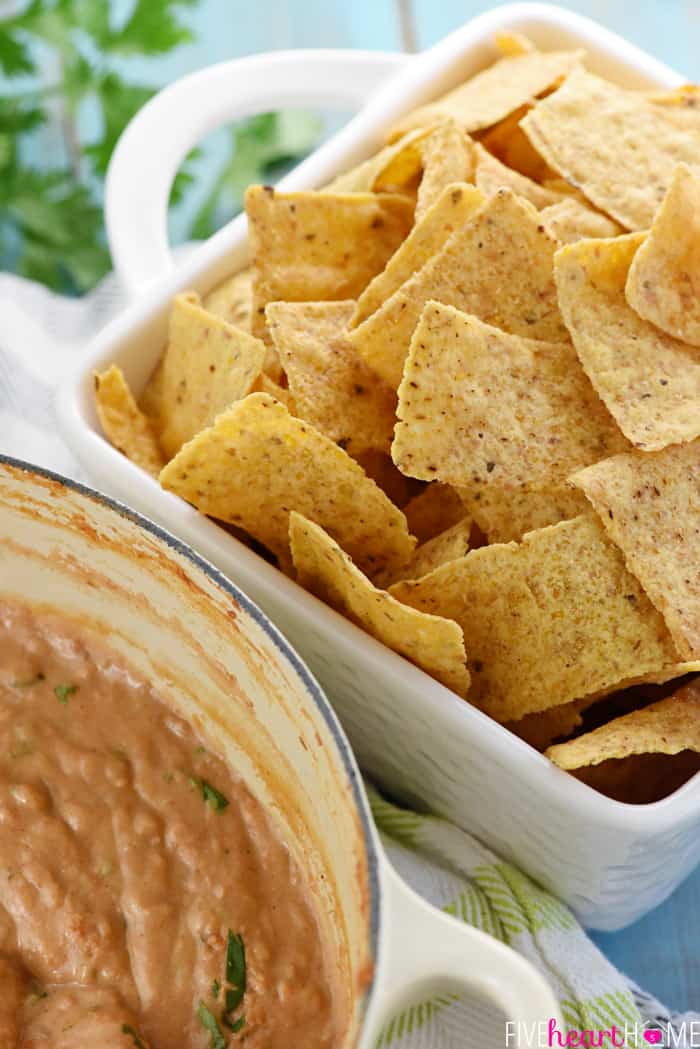 You know what else it is? It's a last-minute homemade burrito stuffing when you get home late from after-school activities and didn't have a chance to prep anything for dinner yet. Because that's exactly what we had tonight! I just reheated a bowl of dip, spooned it down warm whole wheat flour tortillas, and rolled into burritos. It may have been a bit drippy as a burrito filling, but my kids loved it and there were NO complaints.
So whether you need a party snack or a tailgating treat, Ultimate Bean Dip is sure to be a crowd pleaser! It's effortless to whip up, it's a one-pot recipe, and a single batch goes a long way. And have I mentioned creamy, cheesy deliciousness? I think I have, but it bears repeating. 😉 Enjoy, y'all, and happy Friday!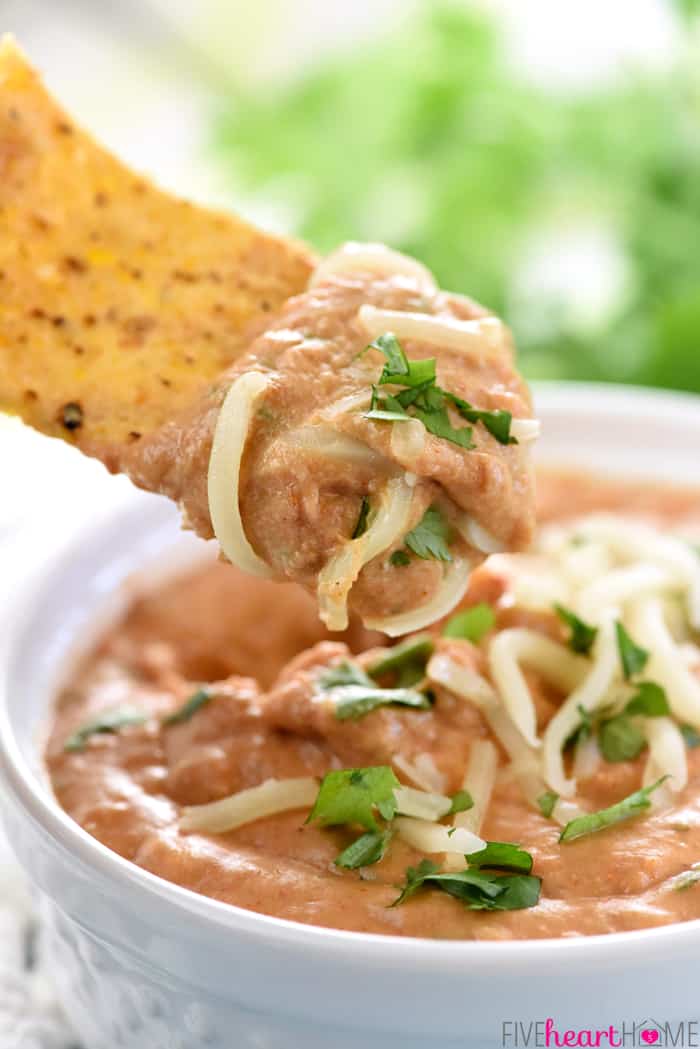 ***I apologize for my late-night, brain-dead inability to work a natural segue into the post, but before I get to the recipe, I wanted to quickly let y'all know that next Wednesday, September 14th, I'm going to be on QVC with my cookbook!!! I will be a guest on "In the Kitchen with David" and, at this time, it looks like my segment will be on towards the end of the 8:00 p.m. hour. They are supposed to give me a more exact time the morning of the show, however, so if you'd like to tune in, be sure to check my Facebook or Instagram accounts where I'll try to post an update when I have one. In the meantime, I welcome all prayers and/or positive thoughts that I am able to get through the experience without resorting to breathing into a paper bag — ha. 😉 And if I miss posting a new recipe next week, please forgive me as my current to-do list before heading out of town is a bazillion items long! 😛 Thanks, as always, for your support, friends…♥ ***
You can see my QVC segment HERE!?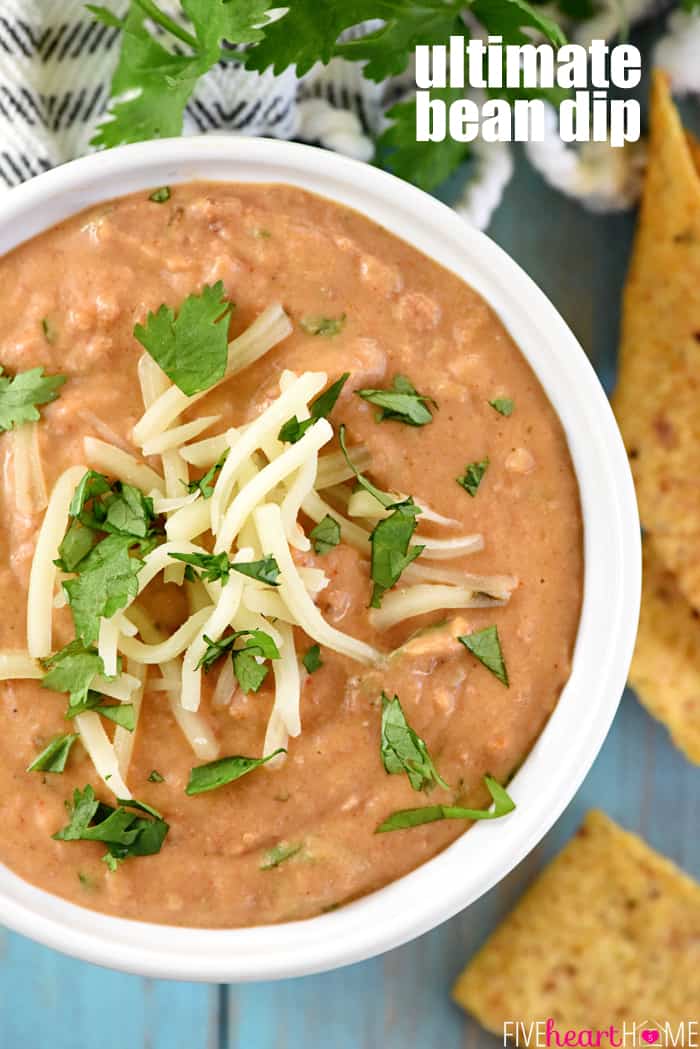 And watch just how easy it is to make this dip in the video below!
Ultimate Bean Dip Video:
Ultimate Bean Dip Recipe: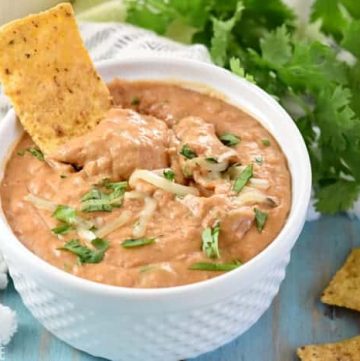 Ultimate Bean Dip
Requiring only 6 ingredients and taking just 10 minutes to make, Ultimate Bean Dip is creamy, cheesy, stove-top deliciousness...the perfect appetizer for parties or for watching the big game!
Print
Pin
Rate
Ingredients
1

8-ounce package cream cheese, at room temperature

2

16-ounce cans refried beans

3/4

cup

salsa

,

mild, medium, or hot, depending on your preference

1

tablespoon

Homemade Taco Seasoning

,

plus more to taste if desired

8

ounces

2 cups grated pepper jack cheese (or Monterrey Jack or sharp cheddar, for a milder dip)

1/4

cup

chopped fresh cilantro leaves

,

plus additional for garnish
Instructions
In a medium pot set over medium heat, break up the cream cheese into chunks. Add the refried beans, salsa, and taco seasoning and mix together until well incorporated. Stir occasionally until smooth and heated through, adjusting the heat as necessary to prevent the bottom from burning. Stir in the grated cheese until melted, and then add the cilantro. Garnish with additional cilantro, if desired, and serve warm with tortilla chips.

To keep warm while serving, you may transfer the dip to a small slow cooker set to WARM, stirring occasionally to prevent the bottom from burning and the surface of the dip from drying out.
Notes
I made this dip with medium salsa and pepper jack cheese and it was moderately spicy, but not so hot that my kids couldn't eat it. If you prefer a milder dip, you may use mild salsa and/or substitute your favorite non-spicy grated cheese.
I didn't want my dip to have an overt taste of tacos, but I wanted it to be adequately seasoned. I recommend starting with 1 tablespoon of taco seasoning, and if you think more is needed, add an additional teaspoon at a time. I ended up using a total 1 1/2 tablespoons taco seasoning in my dip. You can also supplement the taco seasoning with some plain salt and pepper, if you wish.
You may add more salsa for a thinner dip, but keep in mind that adding a lot more will change the flavor.
More Delicious Dip Recipes
Save
Save
Save
Save
Save
Save
Save
Save
Save
Save