Welcome to Moonlight & Mason Jars!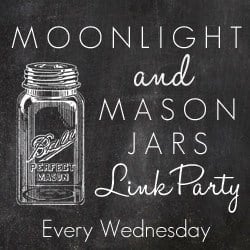 Hi, friends! How was your Labor Day weekend? Aside from nearly melting in the heat, we had a rather eventful past week. First, we unexpectedly inherited a kitten that a stray mama cat abandoned near my in-laws' house. And then, two months after moving out of our home, last weekend finally marked the big move into our next house! The renovations took longer than expected, and boy were we ready to be back in our own home again. Of course, when I went to schedule my Monday blog post just before the movers came and the chaos began, I discovered that there were some major issues with my blog. My wonderful tech support gal worked all day to get everything fixed, but when I got out my computer to hit 'publish' late Sunday night, I realized that I left my computer cord at my mom's house and my laptop was dead. I logged onto my hubby's computer only to find that the draft of my post had disappeared in the process of getting my site back up and running. So despite my best efforts, there was no recipe post at the beginning of this week…sorry! Then on Monday, my blog e-mail account got hacked and I started getting angry/cursing e-mails from people who thought I was sending them spam. Fun! 😛 Anyway, the good news is that we are all moved in! Now to get started on unpacking those 235 boxes…
Moonlight & Mason Jars is a weekly party where bloggers are invited to link up some of their latest recipes, crafts, DIY projects, and seasonal fun (to be simultaneously seen on FIVE BLOGS)…and readers get to check out all of that talent in one place! That makes this a great place to find great new ideas and inspiration. The party goes live at 10:00 p.m. CST every Tuesday night and is open through the week for your link-up (or link-browsing) convenience. 🙂 Thank you again for stopping by…it's time to party!
Five Heart Home | Pinterest | Google+ | Twitter | Facebook | Subscribe
Dandelion Patina | Pinterest | Google +| Twitter | Facebook | Subscribe
Modern Pilgrim | Pinterest | Google+ | Twitter | Facebook | Subscribe
Cherished Bliss | Pinterest | Google+ | Twitter | Facebook | Subscribe
Maison De Pax | Pinterest | Google +| Twitter | Facebook | Subscribe
This week's five fabulous features…
There is something so refreshing and beautiful about breathing new life into something,
and each of these "upcycles" offer a stunning and creatively repurposed object.
She Shed | Ella Claire Inspired

Grain Sack Pillow Cover | Tidbits

DIY Dutch Tulip Crate | Anderson + Grant

DIY Doily Clock | Busy Being Jennifer

Decorating with Vintage Electric Insulators | Scrapality

To provide maximum exposure for our winners, we pin all featured party picks to our group Features Pinterest Board. Feel free to visit these blogs to pin these wonderful features as well!
* * * * * * * * * *
0