Fruit Pizza on a heart-shaped sugar cookie crust features cream cheese frosting topped by glossy berries & cherries. It's a perfect Valentine's Day dessert or treat for any occasion!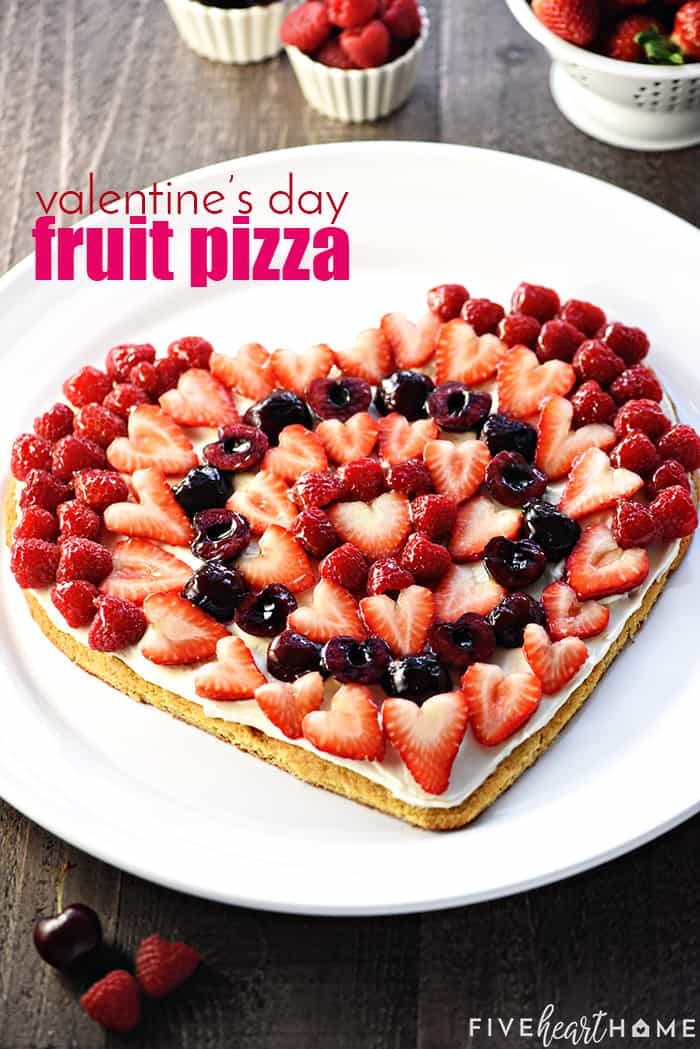 Happy February, friends! Food bloggers process the year in order of food holidays, which means that after Super Bowl is over this weekend, Valentine's Day is up next! And because I love y'all, I've put together a festive Valentine's Dessert that's simply too pretty (and easy!) not to make...heart-shaped Fruit Pizza!❤️
Who doesn't love fruit pizza? I mean, I forget how good it is until I have it once again, and then I'm always like why don't I make this more often?! So today I'm vowing to make it again SOON.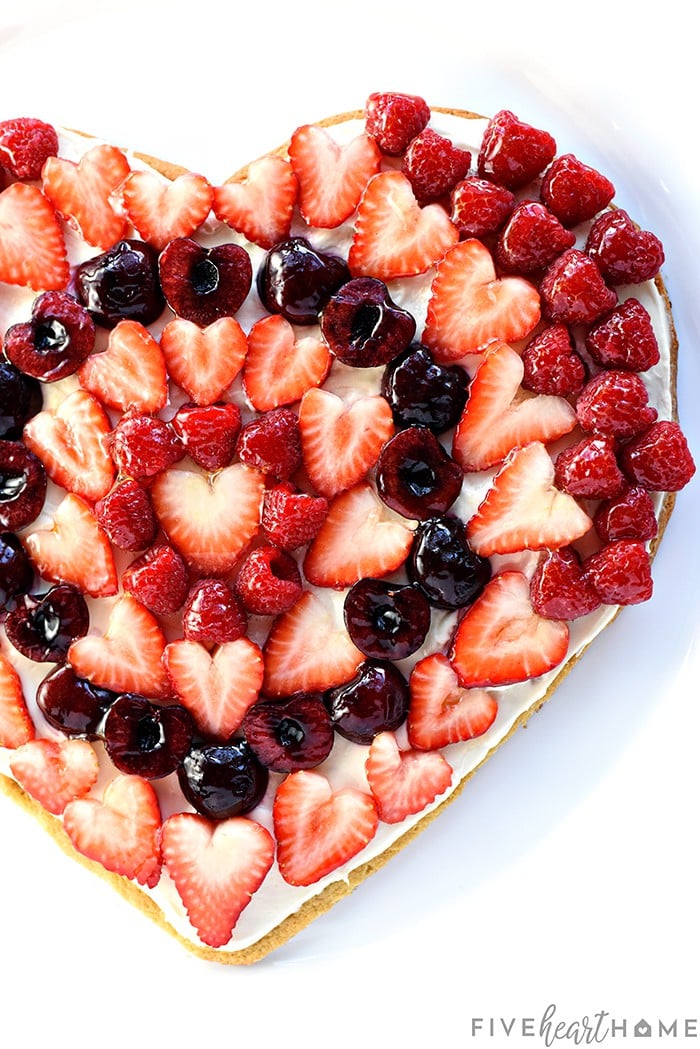 Ingredients
Can I let you in on a little secret, though? This fruit pizza isn't much different than your standard, run-of-the mill fruit pizza. It's equally delicious and easy to make. But this pizza's crust is simply shaped into a heart before being topped with fruit in shades o' red.
So what do you need to make it?
Sugar cookie dough. I used a log of refrigerated sugar cookie dough, checking the label (as I tend to do) for "natural ingredients." We all can appreciate that using refrigerated cookie dough makes this Valentine's dessert extremely quick and easy to throw together. However, if you prefer to use your family-favorite homemade roll-out sugar cookie recipe instead, please...by all means do so!
Cream cheese + butter + sugar + vanilla. You're basically making homemade cream cheese frosting for the "pizza sauce."
Red/pink berries or fruit. You know, for the Valentine's theme! I used fresh strawberries, raspberries, and cherries.
Apricot preserves. Thinned out with a little water, this is used to glaze the fruit for a glossy, gorgeous finish.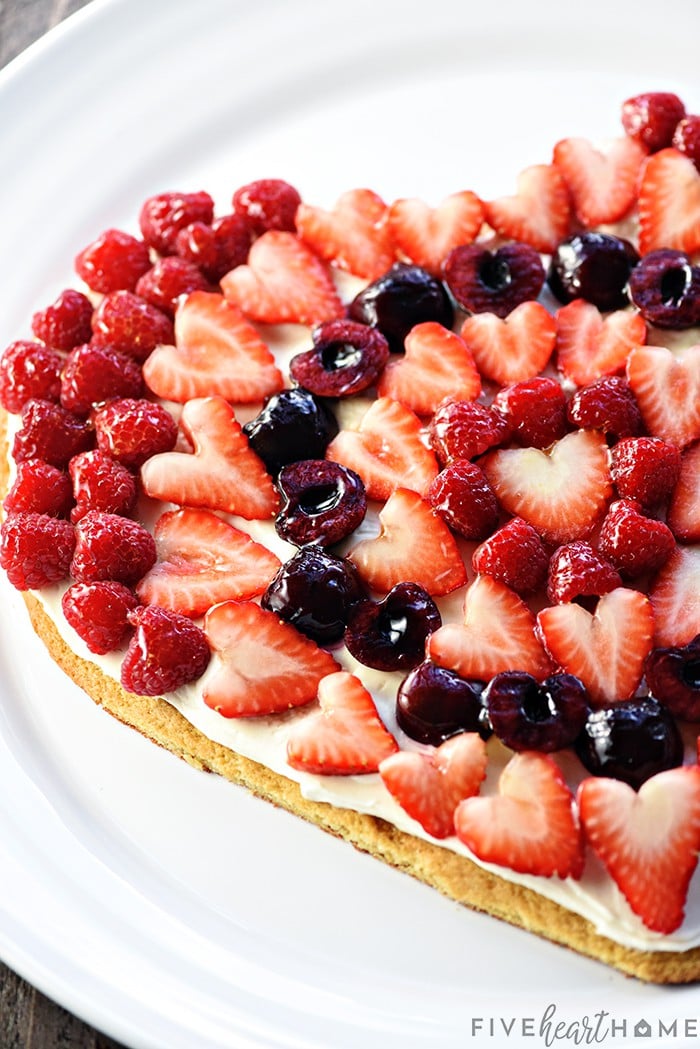 How to Make It
Let's break it down now, shall we?
I cut the sugar cookie log into slices and arranged them on a parchment paper-lined baking sheet in the shape of a heart, allowing enough space around the edges of the pan for "cookie spread-age" during baking.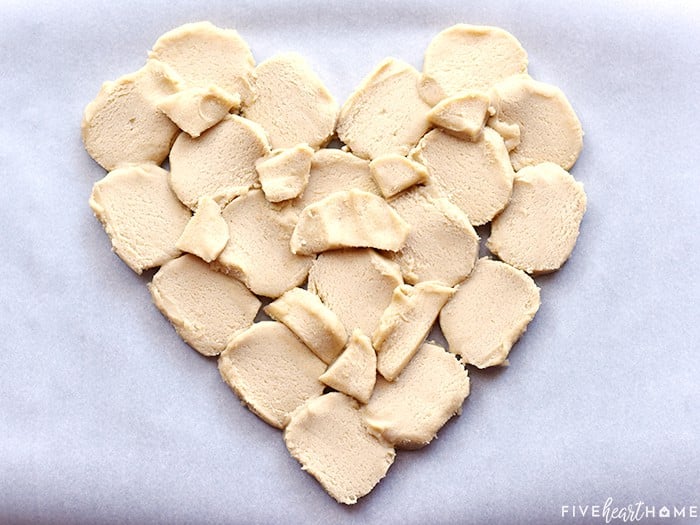 Next I pressed the slices together with my fingers and sculpted the edges a bit to make the pizza crust look like a true heart.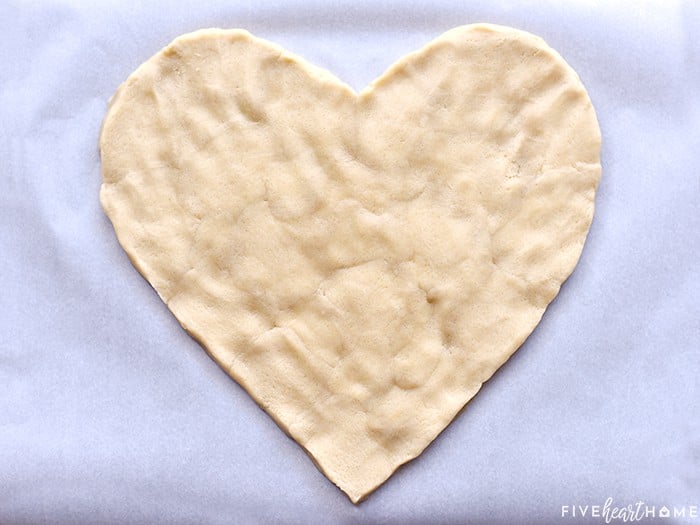 Since the cookie dough came to room temperature as I was working with it, I popped it into the freezer while I preheated the oven. I figured chilled dough was less likely to spread as much while baking. Then into the oven it went!
Once my cookie crust came out of the oven, I used a knife to trim off a few slivers around the edges, thereby restoring the crust to its originally intended heart shape.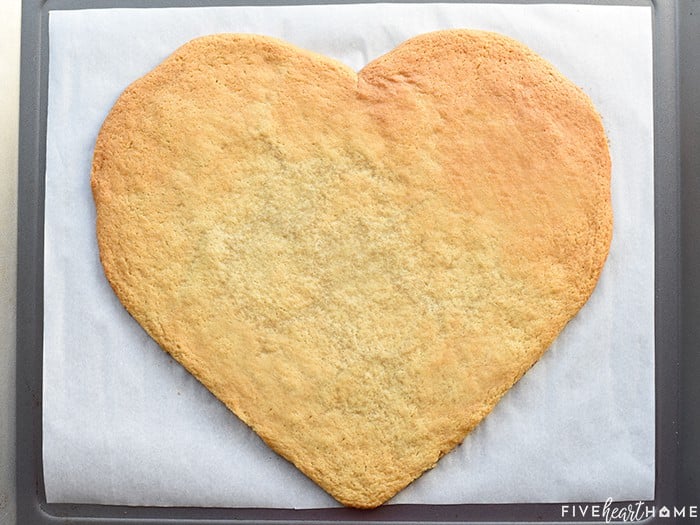 Next I made the cream cheese frosting. I blended together softened cream cheese, butter, sugar, and vanilla until light and fluffy. Then I spread it onto my (cooled) giant sugar cookie heart, right on up to the edges.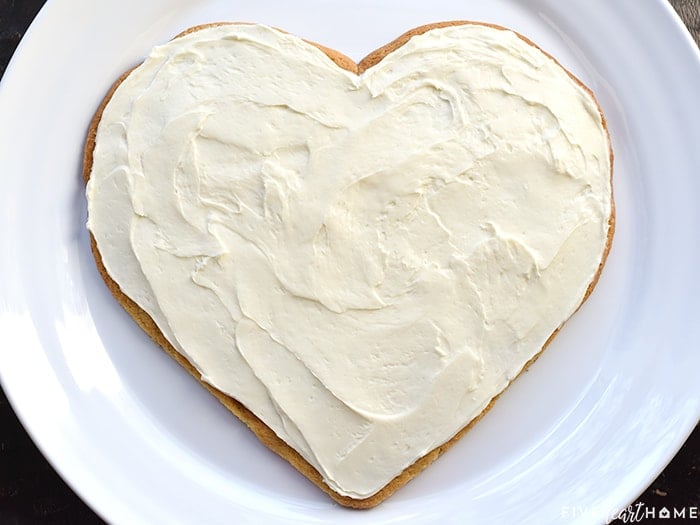 Now it was time for my attempt at artistically arranging fruit. I went for juicy red strawberries, plump pink raspberries, and shiny maroon cherries.
I sliced the strawberries into thirds vertically. But I was careful to cut out enough of a notch at the top to give them a rounded heart shape.
While I left my raspberries whole, I halved and pitted my cherries. I laid some of them cut-side-up and some of them cut-side-down. Because I'm wild and crazy that way.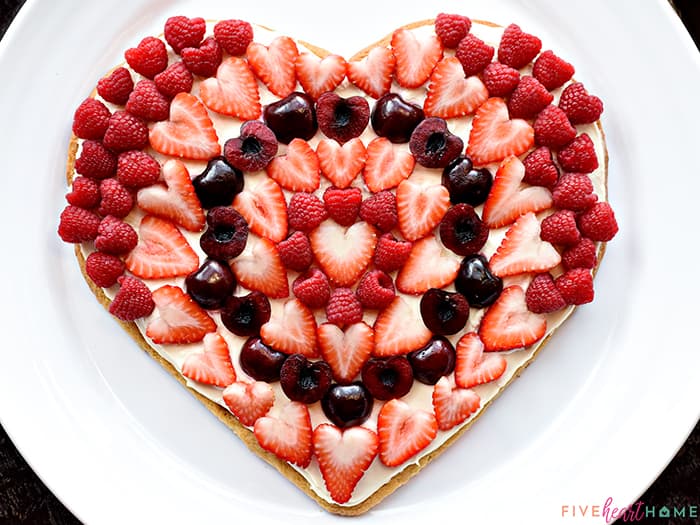 And finally, for the finishing touch, I brushed my berries and cherries with some strained/thinned-out apricot jam. I just loooove the glossy shine that this last step lends.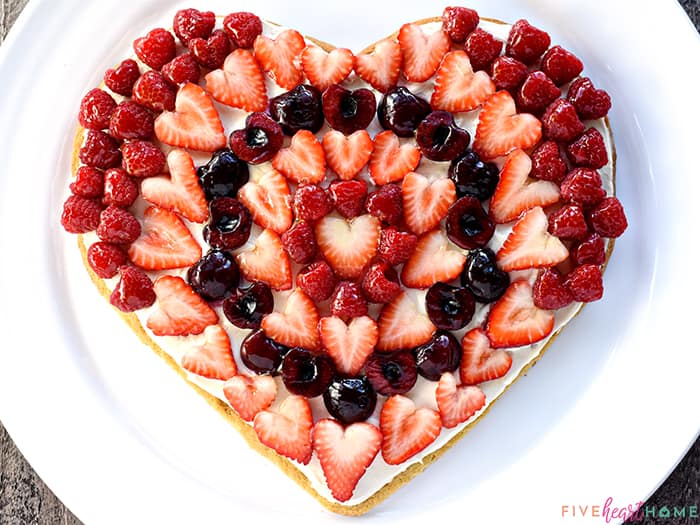 And that's it! A Valentine's dessert fit for a king...or a queen...or three hungry kids wishing to avenge that time their mother made a fruit pizza and they got nary a slice.?
Hope y'all enjoy this one as much as I know they will!?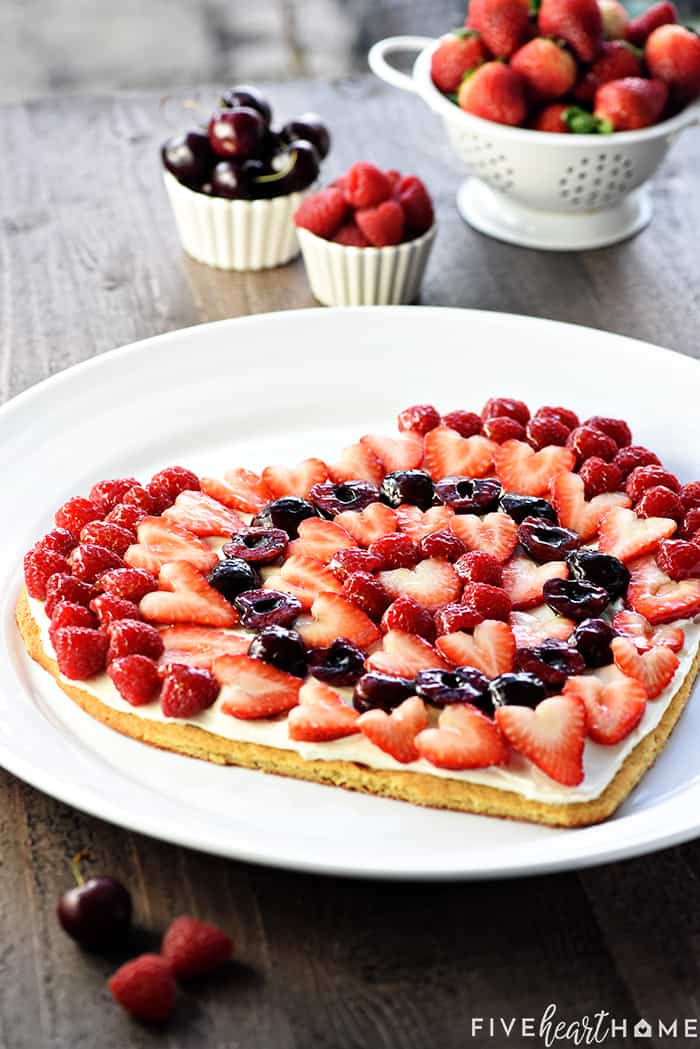 Helpful Tips, Tricks, & Equipment for Making Fruit Pizza
The photographed pizza is decorated with about 8 ounces of strawberries, 6 ounces of raspberries, and 9 cherries. You may adjust the amounts (or types) of fruit to your liking.
Hull each strawberry and slice vertically into thirds, notching and rounding the top of each slice into a heart.
If your frosting is too stiff to whip and spread, you can blend in a spoonful of milk.
For the glaze on the fruit, you may use any flavor of light-color preserves/jam/jelly. Apricot, apple, pineapple, or peach would all work. So would a red colored fruit spread, as long as you don't mind a pink-ish cast to the white part of your strawberries.
If you're feeling extra fancy, you can drizzle the finished fruit pizza with melted chocolate. Use semisweet, white, or a combination of the two!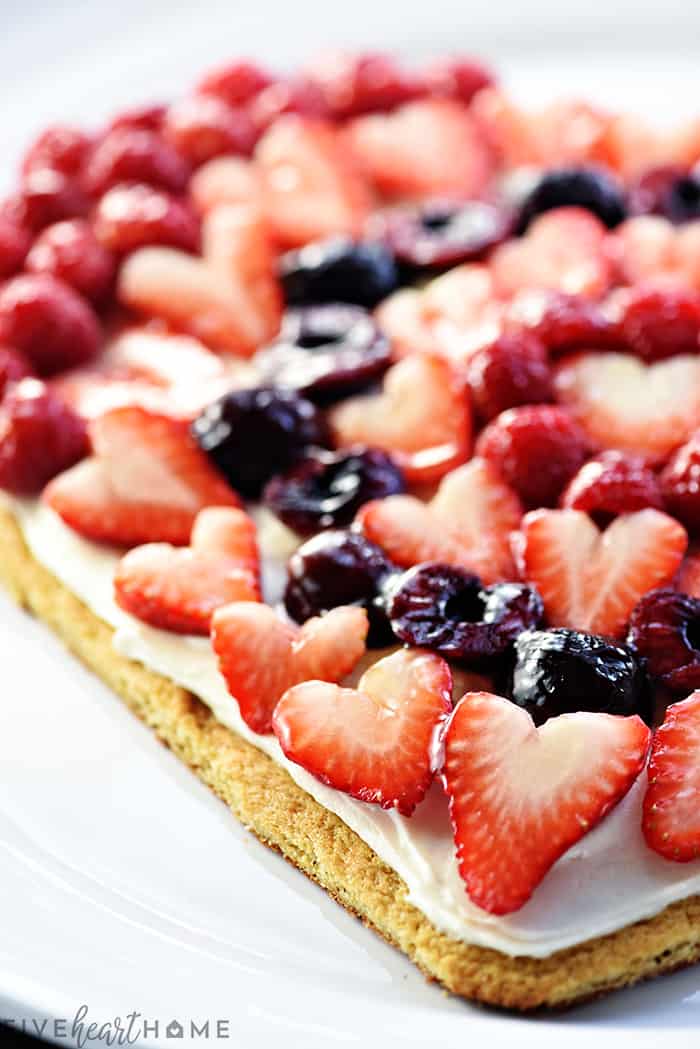 More Valentine's Desserts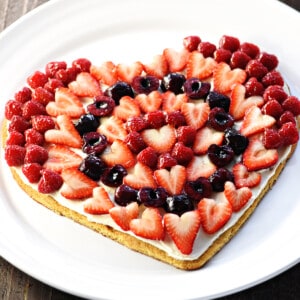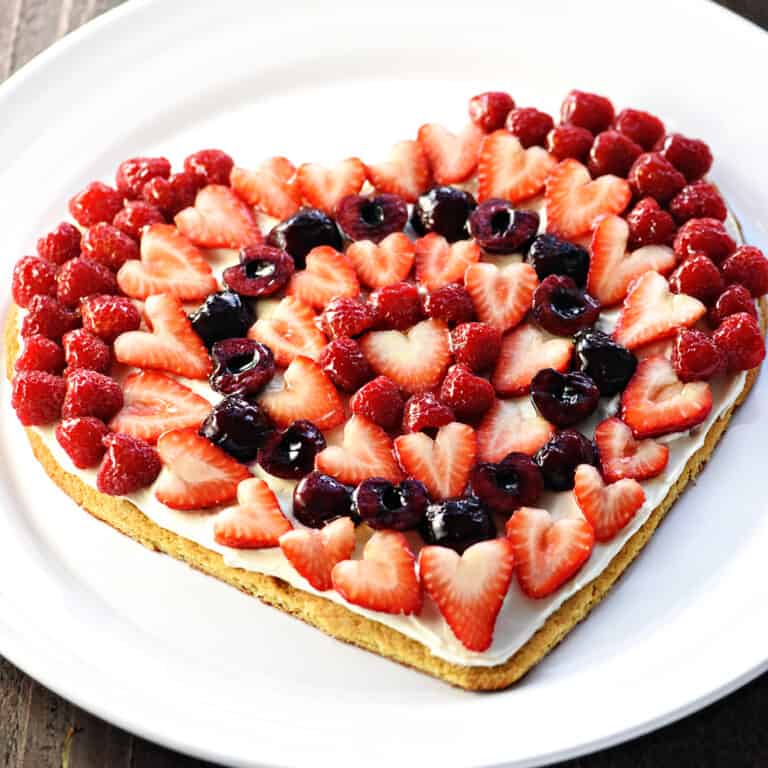 Fruit Pizza
Fruit Pizza on a heart-shaped cookie crust features tangy cream cheese frosting topped by sweet, glossy berries & cherries...perfect as a Valentine's Day dessert or for any occasion!
Print
Pin
Rate
Ingredients
1

(16.5-ounce) package refrigerated sugar cookie dough

1

(8-ounce) package cream cheese

,

at room temperature

2

tablespoons

butter

,

at room temperature

½

cup

granulated sugar

1

teaspoon

pure vanilla extract

Strawberries, raspberries, and cherries

,

washed & dried

¼

cup

apricot preserves

1

tablespoon

water

Optional garnishes: melted chocolate drizzle & mint leaves
Instructions
Line a large baking sheet with parchment paper. Cut the log of cookie dough into ⅓-inch thick slices. Arrange them into a heart and press the slices together with your fingers, sculpting the edges of the overall crust for your desired shape. Place the baking sheet in the freezer for 5 to 10 minutes.

While the cookie dough crust is chilling, adjust the oven rack to the center position and preheat the oven to 350°F. Bake the crust for 10 to 14 minutes, or until done in the center and just starting to turn golden around the edges. Remove from the oven, set the pan on a wire rack, and allow to cool completely.

In a medium bowl, use an electric mixer to cream together the cream cheese and butter. Mix in the sugar and vanilla and beat until light and fluffy, scraping the bowl as necessary.

Evenly spread the cream cheese frosting on the cooled crust. Arrange the fruit on top of the frosting.

In a small bowl, stir together the preserves and water until smooth. If chunky, strain through a fine mesh sieve. Brush the mixture over the fruit; cover and refrigerate the fruit pizza until serving.
Calories:
364
kcal
|
Carbohydrates:
46
g
|
Protein:
4
g
|
Fat:
19
g
|
Saturated Fat:
8
g
|
Trans Fat:
1
g
|
Cholesterol:
36
mg
|
Sodium:
228
mg
|
Potassium:
173
mg
|
Fiber:
1
g
|
Sugar:
32
g
|
Vitamin A:
409
IU
|
Vitamin C:
27
mg
|
Calcium:
35
mg
|
Iron:
1
mg
Adapted from Pillsbury
Post originally published on January 23, 2019.