It's Wednesday, and I think that's as good of a reason as any for another pumpkin recipe, wouldn't you agree?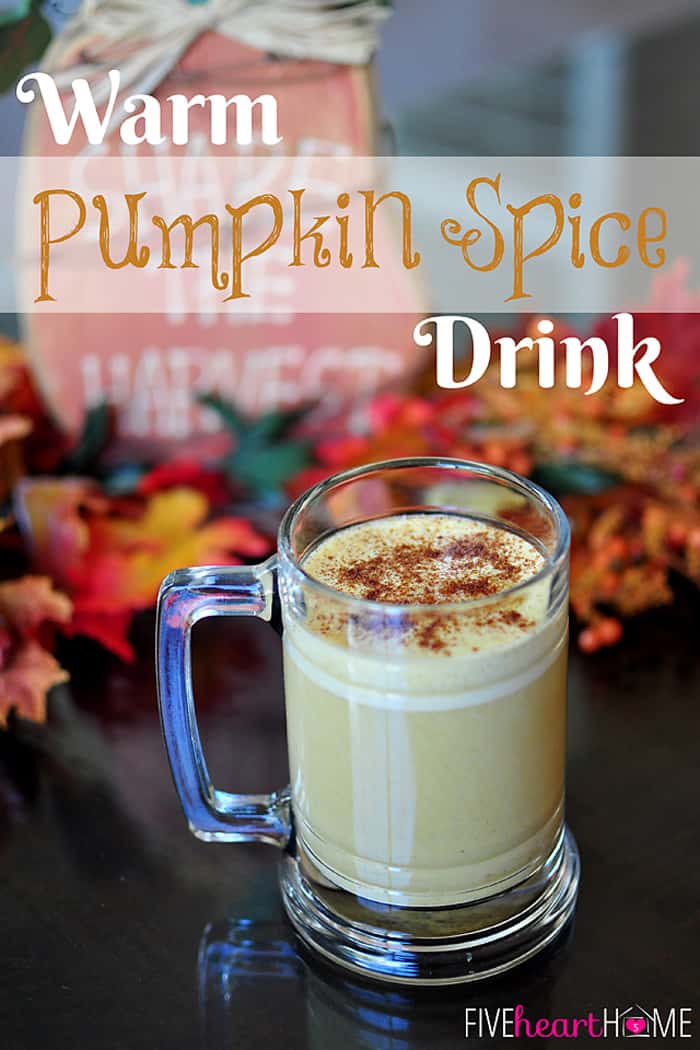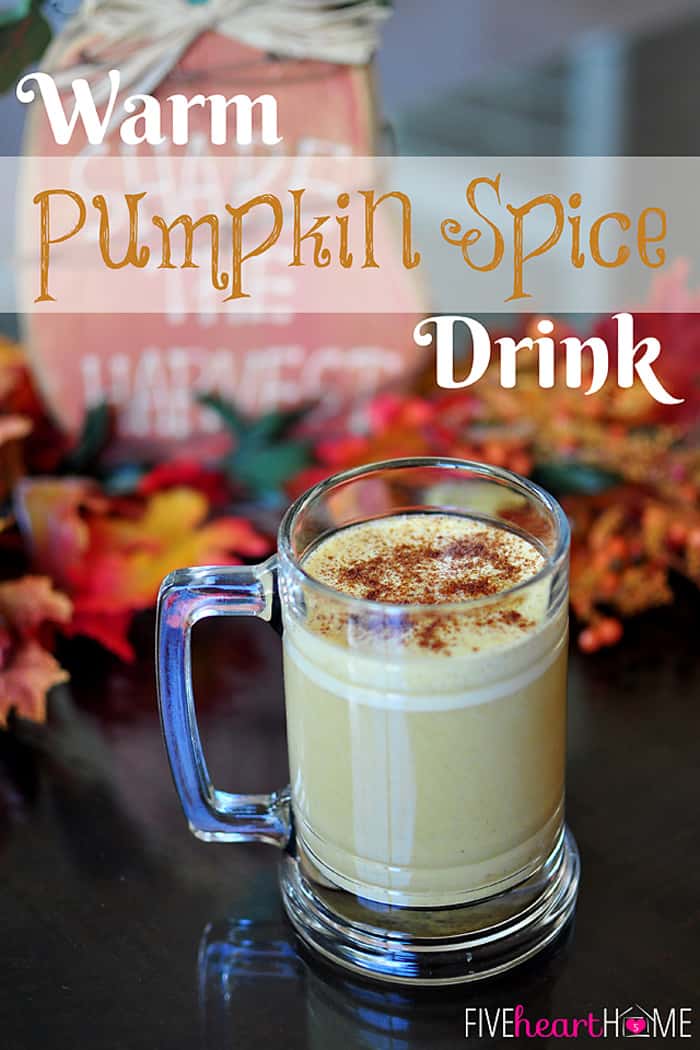 Since the calendar turned to September, I've been trying to will the cool fall weather to make its way to Texas by concocting all sorts of autumn-inspired recipes, from warm and hearty soups to pumpkin this and pumpkin that.
Today I present to you pumpkin that. A little birdie told me that Pumpkin Spice Lattes have hit Starbucks, so I thought it would be fun to whip up a pumpkin drink to enjoy at home for those days when a Starbucks run is not in the cards. Plus, I really wanted something caffeine-free that my sweet boys could enjoy as well.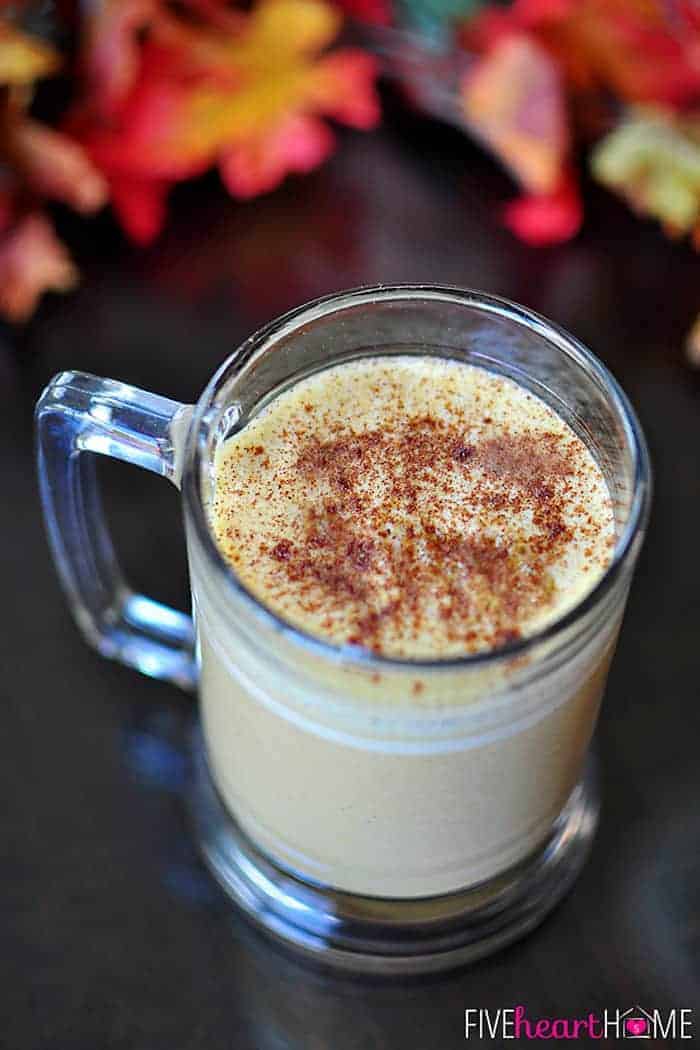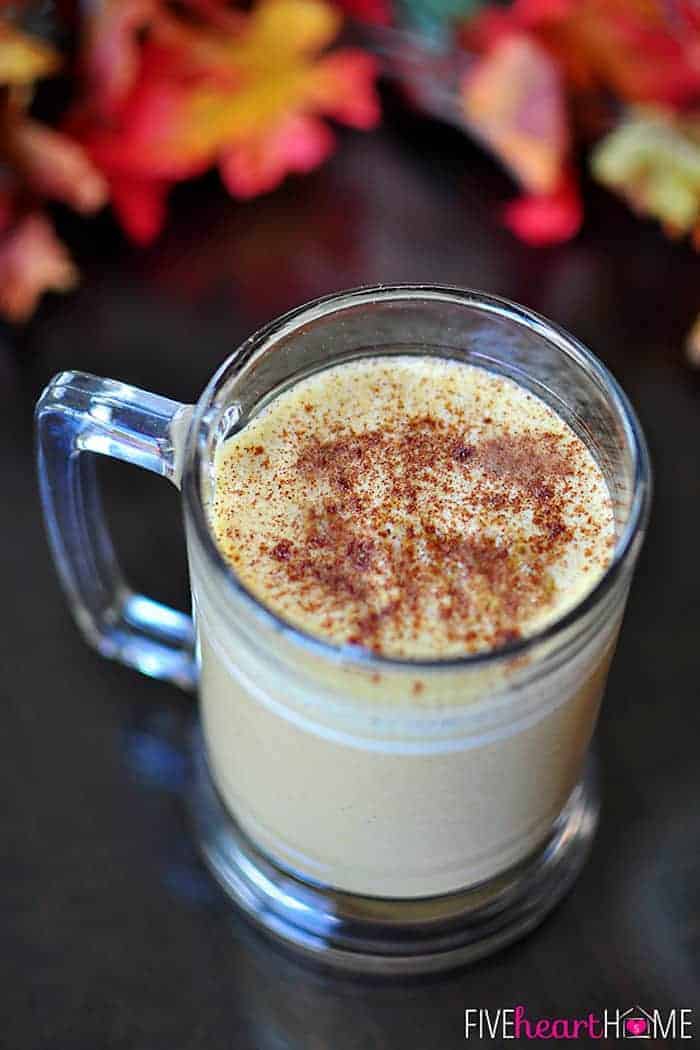 And let me tell you…enjoy this drink they did, particularly my 3-year-old. I was cracking up at his reaction as he took his first sips. With a shy smile on his face, he was talking straight to the pumpkin goodness in his mug, not to me.
(whispered) "Wow."
(regular voice) "Wow. That's the betterest one ever, in my whole entire life."
(another sip, another whisper) "Wow."
I'm not even exaggerating here…it was hysterical. And I have to say, I agree with him. This drink is pretty dang good. It's like pumpkin pie in a mug.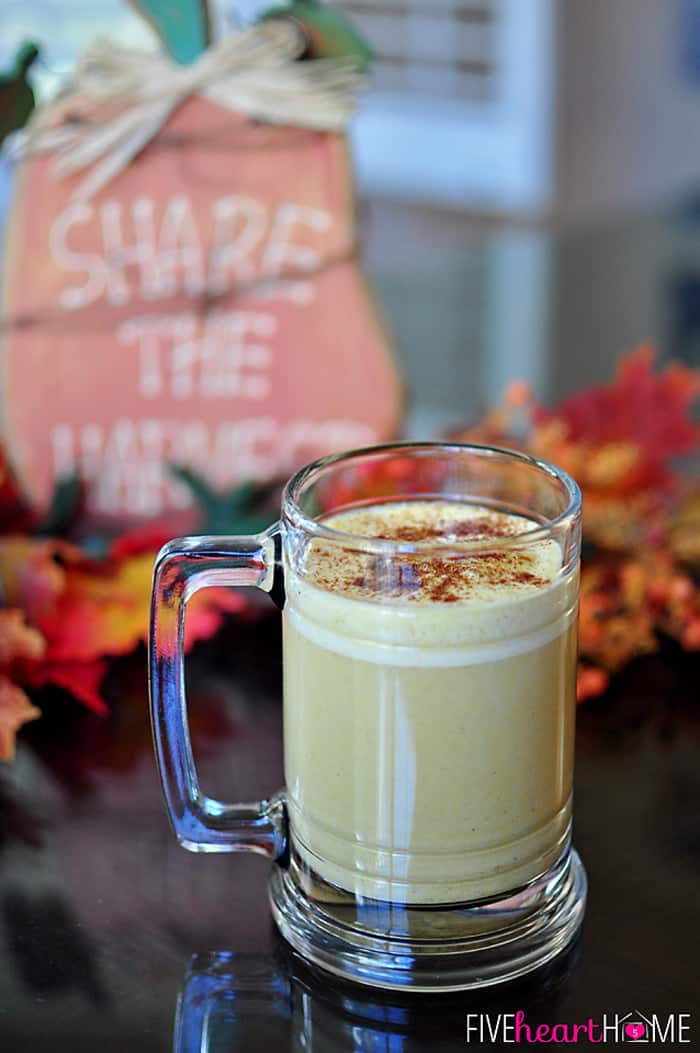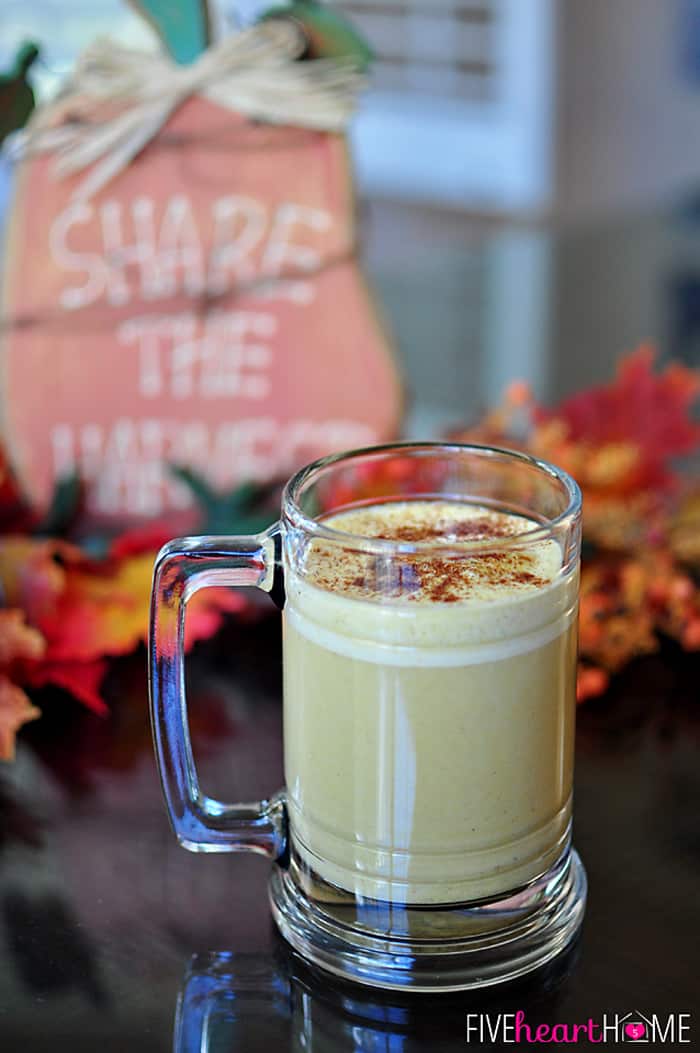 I made two versions for my boys, one regular and one dairy-free. Since my older son has lactose issues when it comes to straight milk, I made his with almond milk instead. Both ways were quite tasty, but the batch made with whole milk was understandably richer and creamier.
Even though this treat is caffeine-free and potentially dairy-free, it can also be morphed into a copycat version of the aforementioned Starbucks Pumpkin Spice Latte with the simple addition of some coffee. I tried it out, half coffee and half pumpkin drink, and I found it to be delicious. Adjust the amount of coffee to your liking, and you could even add whipped cream to make it extra decadent and Starbucks-like. Heck, adding whipped cream to the regular, non-coffee version of this drink would be amazing as well (just don't tell my kids I said that…my 3-year-old might just straight-up pass out from that experience).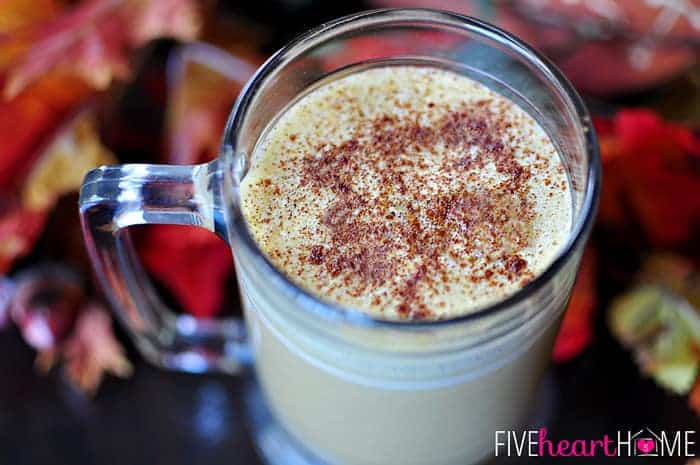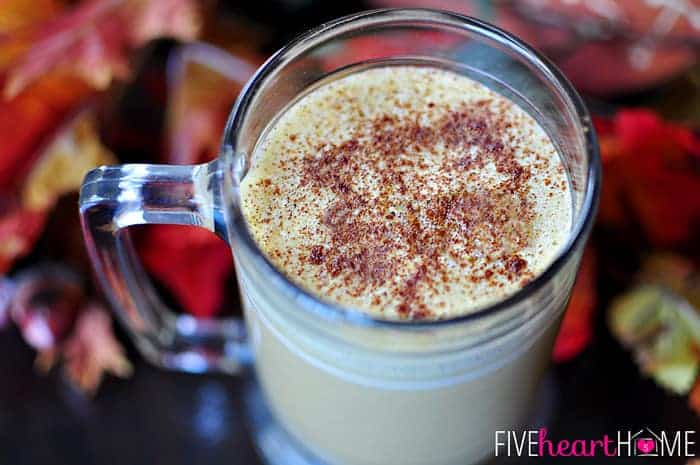 My only word of caution in making this recipe is to mix just one or two servings at a time in the blender, so as to avoid potential overflow. Since you will be starting with warm milk, it's a good idea to crack open that little cap in the center of the blender lid in order to release the steam. But you don't want the drink to shoot straight out of the hole when you turn the blender on, so you'll want to hold the cap in place with a folded kitchen towel on top to catch any wayward pumpkin drink while simultaneously allowing the steam to escape. I really like whipping this concoction in the blender because it ensures that the pumpkin and spices are totally incorporated with the milk, plus it makes everything all nice and frothy. However, if you want to make a large amount of this drink with lots of servings, I would suggest blending cold batches in the blender and then transferring all of the batches to a big pot for slow warming on the stove…or you could even heat it all up in a crock pot (set to low, stirred frequently, and then switched to warm).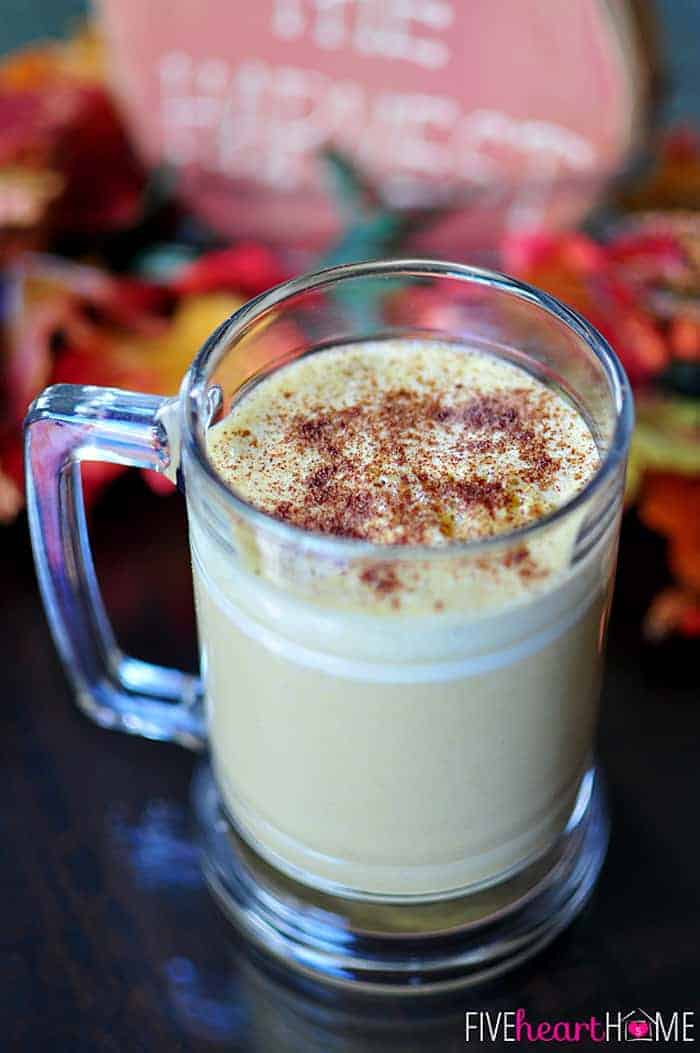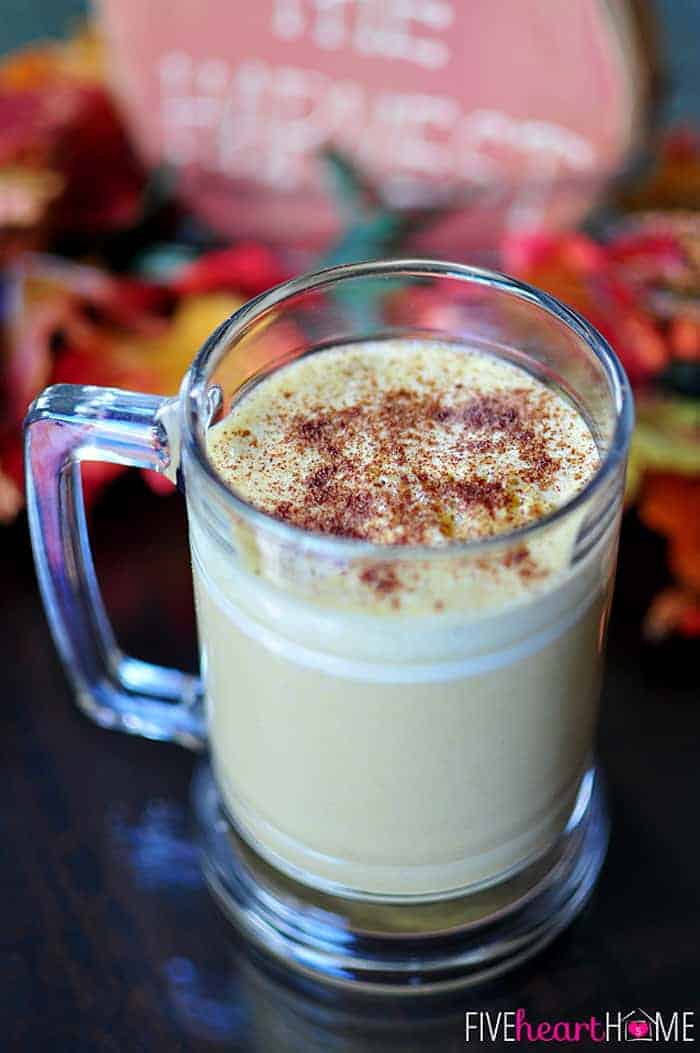 I can already predict that this recipe is going to be a staple at our house all fall (and winter) long, this year and every year to come. It would be so much fun to serve this Warm Pumpkin Spice Drink at a party, as an alternative to hot cocoa or apple cider. Likewise, it would be the perfect treat to complement trick-or-treating or Thanksgiving dinner. This drink is warm, it's comforting…it trumpets the arrival of autumn. And according to a certain 3-year-old, it's the betterest thing you'll ever taste.
Adapted from Allrecipes.
Let's stay in touch!
Facebook   |   Google+   |   Pinterest   |   Twitter   |   Instagram
Sign up to have new blog posts sent to your inbox!
I always love hearing from you! ~ samantha {at} five heart home {dot} com