How many of you have a kiddo who started off the summer excited about reading, but now that we're midway through July, has lost a bit of that initial enthusiasm? If this describes one of the smaller members of your household, don't give up the good fight quite yet. It's never too late to employ a few motivational tactics, and what says motivation like a cardstock kite taped to the wall? Say hello to my new Summer Reading Program!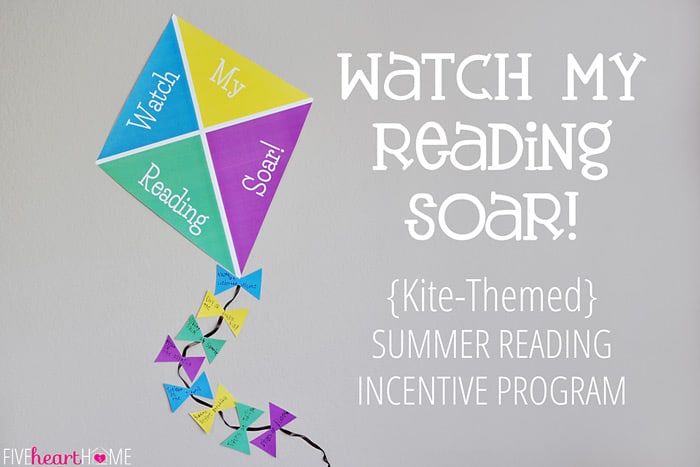 Kite-Themed Summer Reading Program
I came up with this kite-themed "Watch My Reading Soar!" Summer Reading Incentive Program (and I use the term "program" rather loosely) for a couple of reasons: (1.) to keep my incoming first grader accountable for and excited about his summer reading, and (2.) because I was feeling tired and lazy by the end of the school year. This was the easiest way I could devise to let him celebrate and visually keep track of each book he read without me having to worry about reading logs or a bunch of excessive paperwork. Yes, someone was burned out by the end of the school year, and it wasn't the Kindergarten graduate.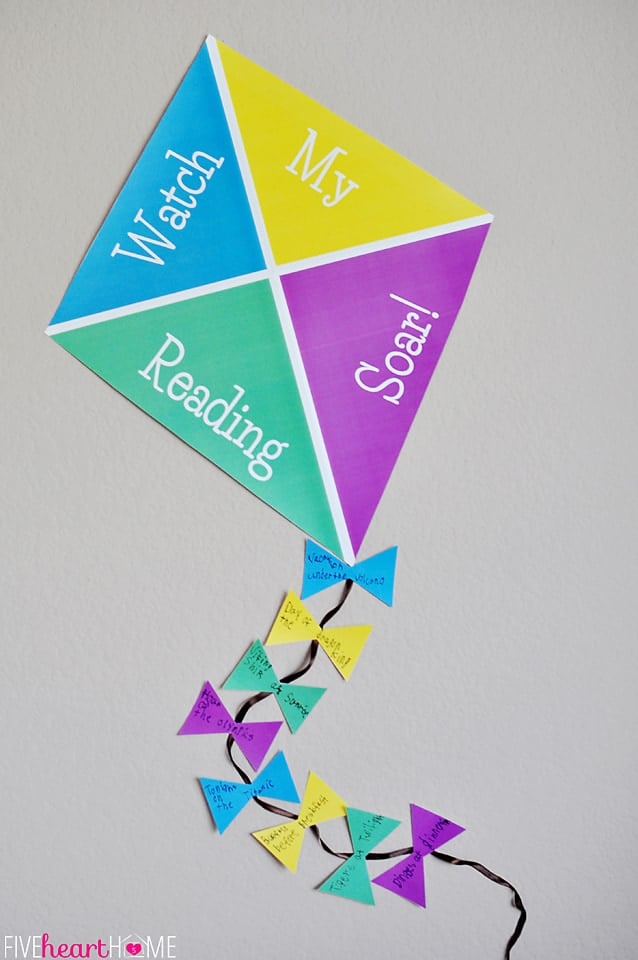 My solution was pretty simple, you see. When my sweet and compliant child reads a book, he gets to write its title on a bow and slap the bow on the tail of this charming kite. He enjoys watching the bows multiply and I enjoy not having to do anything beyond initially cutting it all out, taping it together, and hanging it up. Win, win!
I keep a small bowl full of extra bows handy so that my son can add them to the kite tail as fast as his little heart cares to read. And if my dear husband is reading this…you may rest assured that I used painter's tape to affix these various components to the wall. I may be Type-A about everything else around these parts, but my hubby is the guardian of the walls.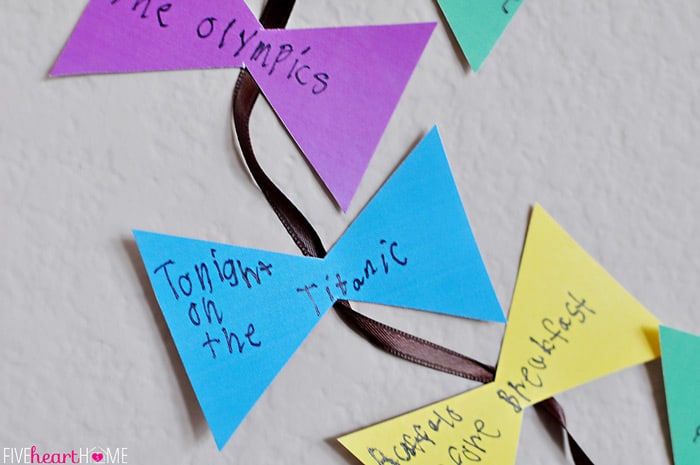 Now when you go to print the kite on your computer (and I do recommend using cardstock), the printer will tell you something like, "The image is larger than the paper's printable area; some clipping will occur." Go ahead and hit print anyway. The white border along the edge of the page is going to serve as the cross bar in the middle of your kite, so don't trim it off! After you have the four kite pieces cut out and puzzled together, flip them all over, butt the pieces up to one another, and use clear tape to attach them together.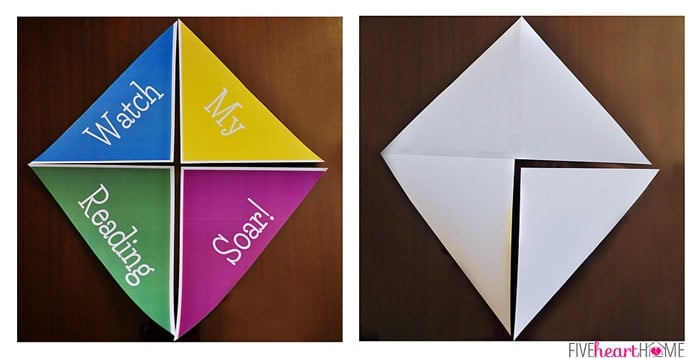 Just a heads-up that after you finish taping, you may or may not need to ever-so-slightly trim a couple of the corners with scissors in order for them to line up perfectly, because I may or may not be a professional graphic designer. Ahem.
Finally, scrounge up a piece of ribbon or string to serve as the tail and, VOILÀ!!! Instant summer reading motivation!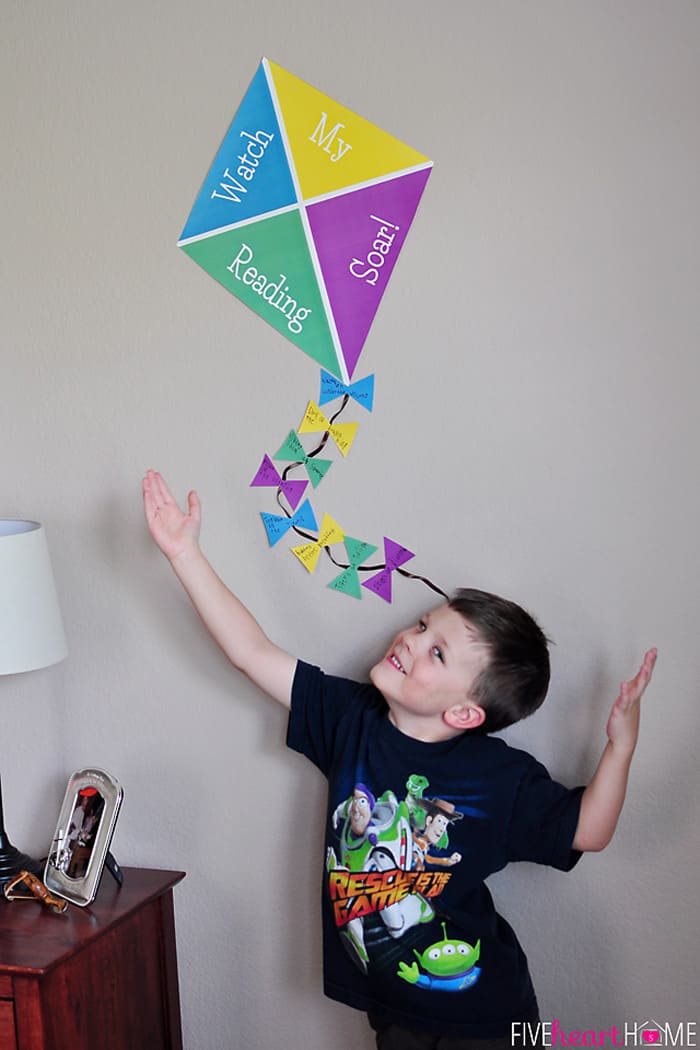 My five-year-old is (clearly) so excited about his cute and colorful kite. And because he's competitive (no idea where he gets that), he's already set a goal for how many bows he hopes to earn before school starts back up. I have him finish a whole chapter book before he gets to write its title on a bow (this would be the summer of "The Magic Treehouse" around here), but you can customize the "rules" to fit your child's needs. You could squeeze in a few titles per bow (for quick and easy books) or a few chapters per bow (for long and difficult books). Or you can let your child haphazardly add those bows until the kite tail makes three laps around the room. It's really up to you!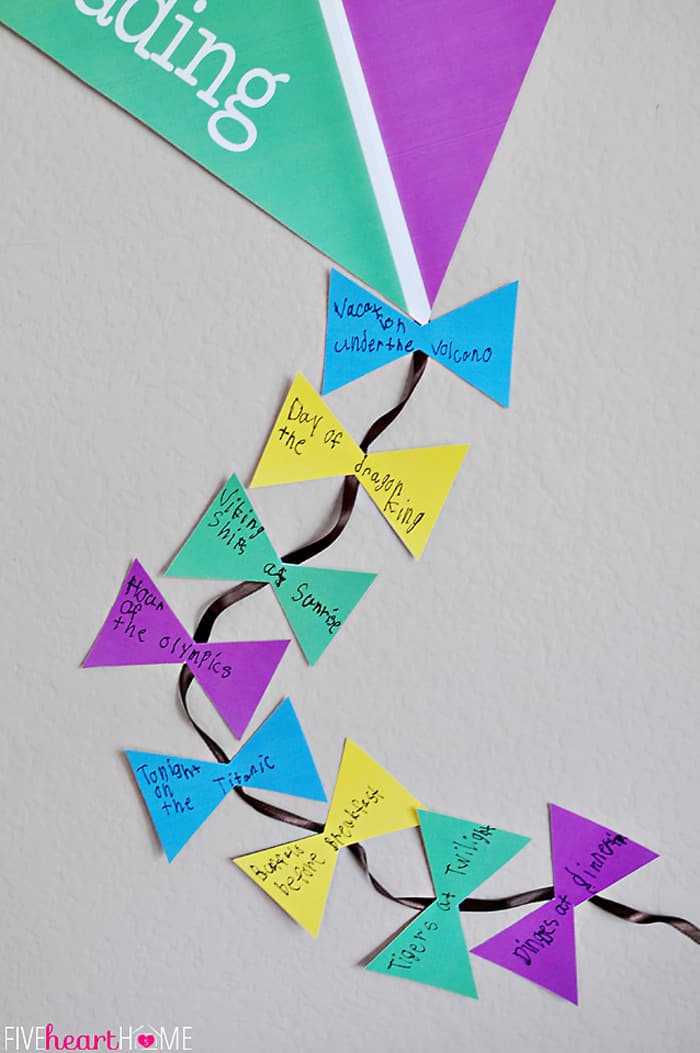 So has your kiddo lost some of that original enthusiasm for vacation-time reading or is s/he still going strong? Either way, I hope that this set of summer reading incentive printables will get you through the long days of July by keeping your little reader excited about books!
Free Printables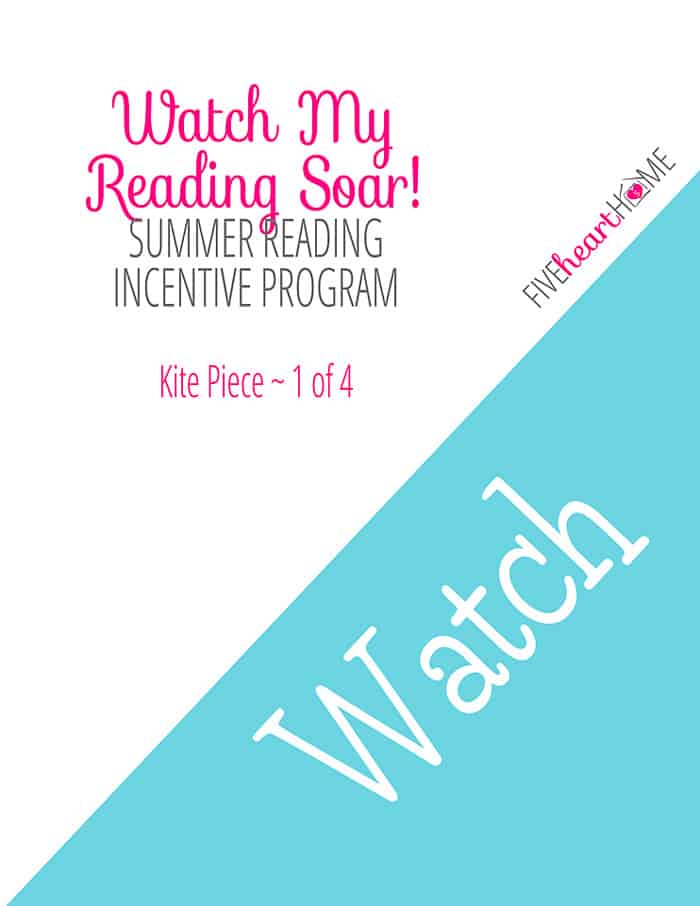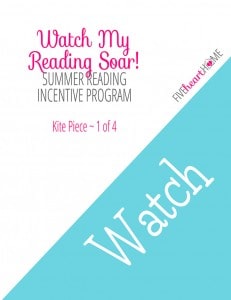 Click HERE to download Kite Piece Printable ~ 1 of 4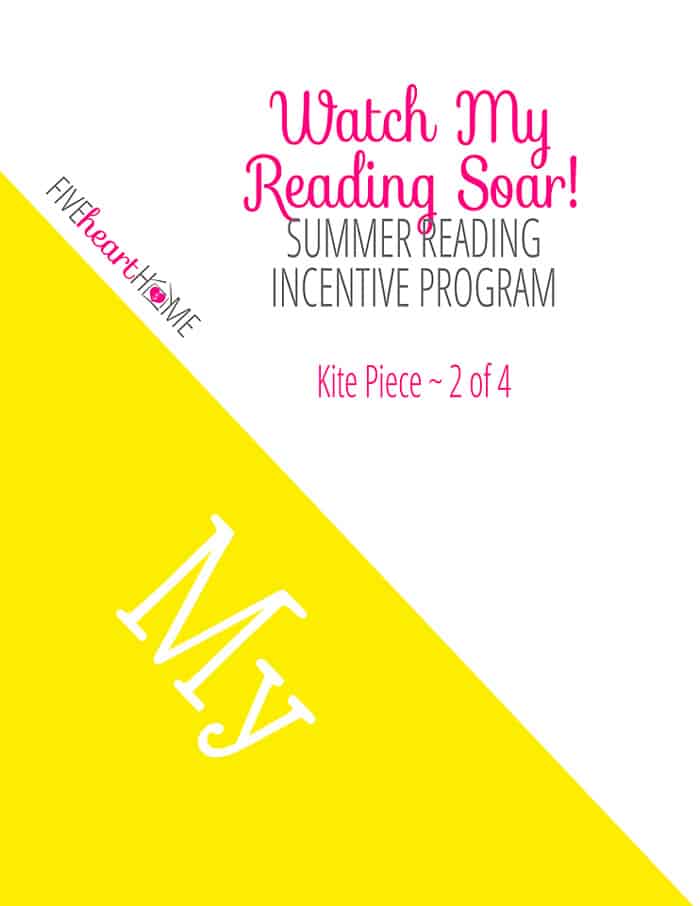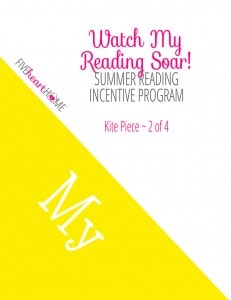 Click HERE to download Kite Piece Printable ~ 2 of 4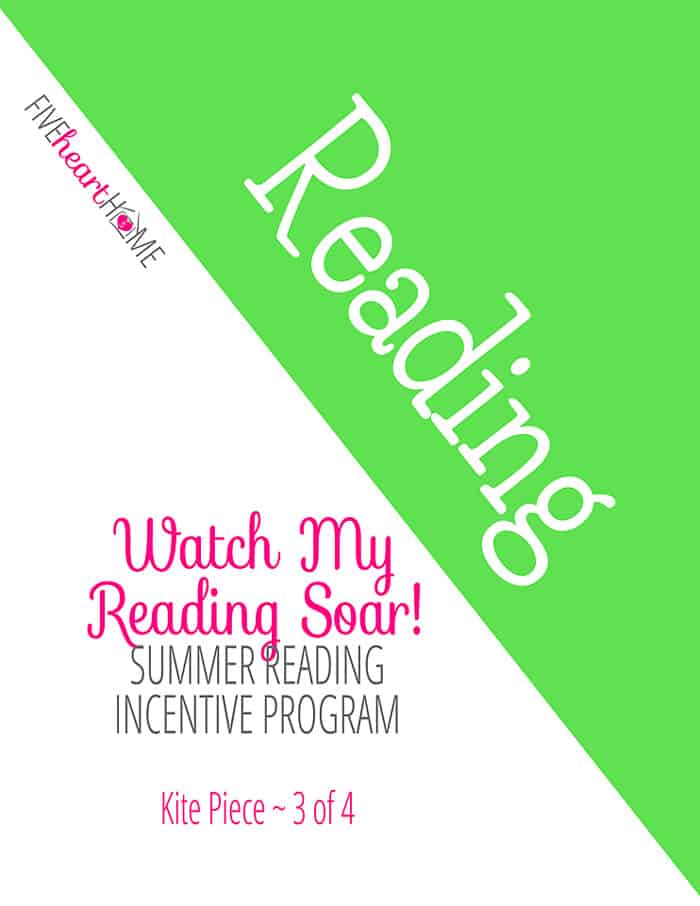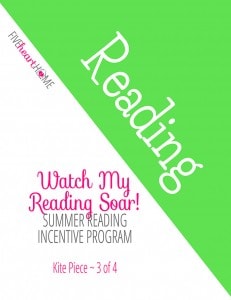 Click HERE to download Kite Piece Printable ~ 3 of 4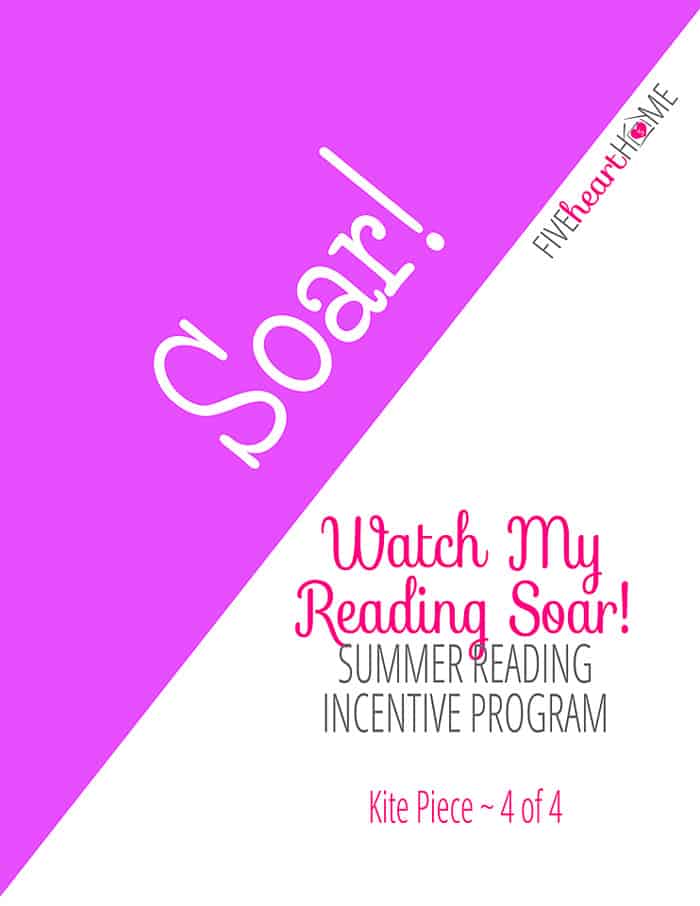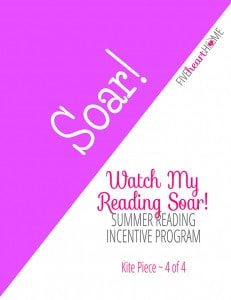 Click HERE to download Kite Piece Printable ~ 4 of 4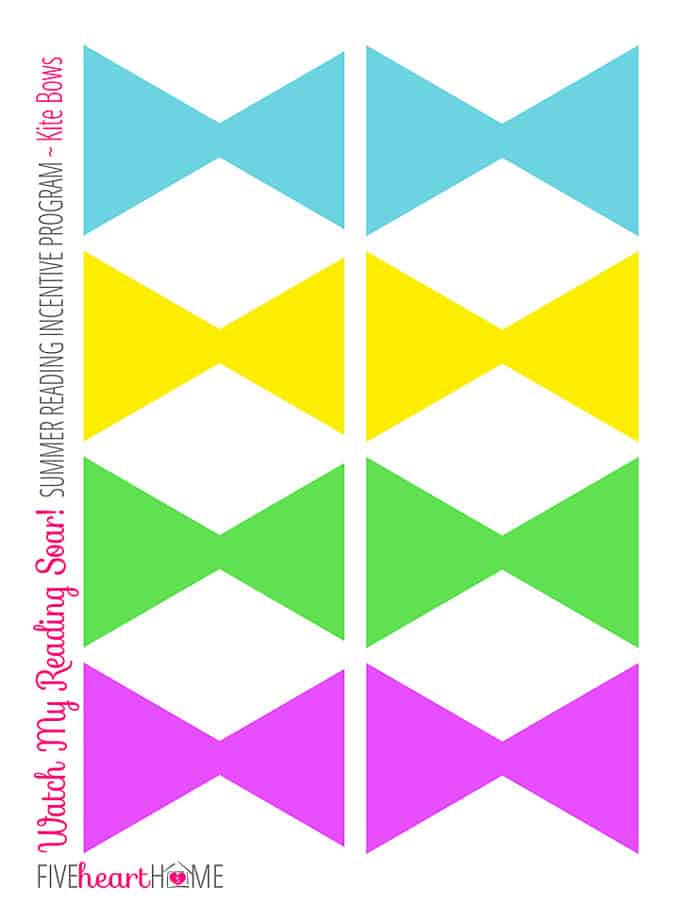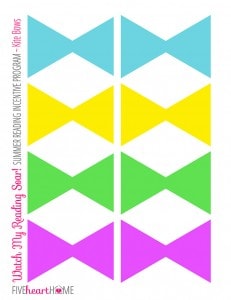 Click HERE to download Kite Bows Printable
Enjoy!!!