This Watermelon Smoothie is a delicious and healthy way to cool off on those lazy, hazy, crazy days of summer!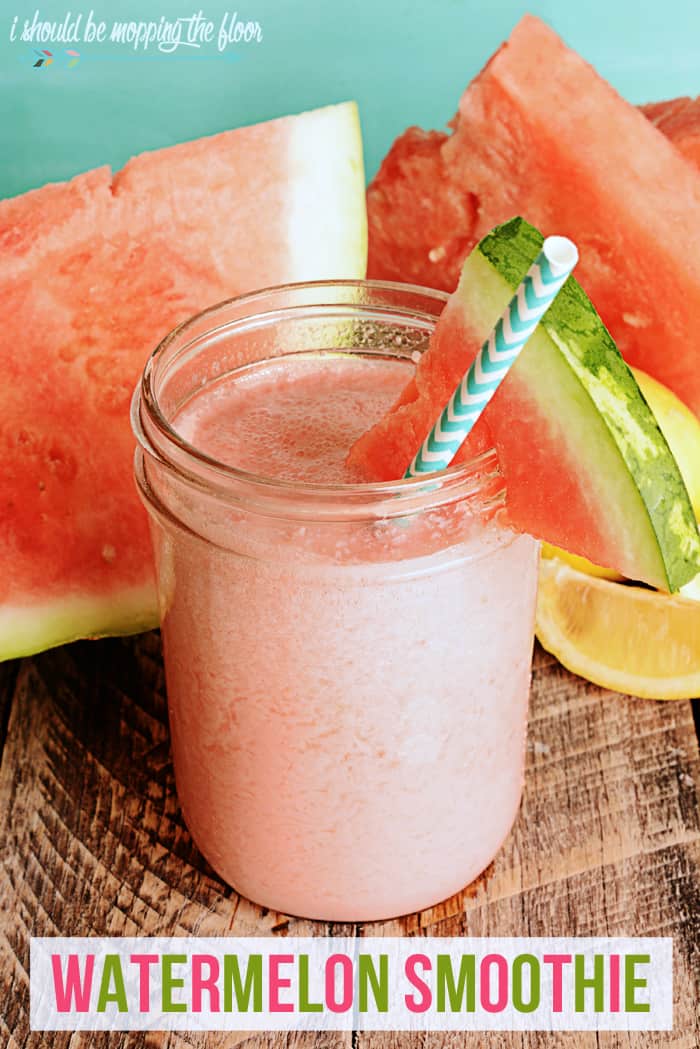 * * * * * * * * * *
Boy do I have an exciting surprise for y'all!

Did the little teaser above give it away? 😉 I'm thrilled to announce that today kicks off Five Heart Home's SUMMER GUEST POST SERIES…which means that every Friday this summer, I'll be welcoming one of my best blogging buddies to the site. That's right, friends…each week, you'll have the chance to get to know a different, fabulous food blogger! She'll be introducing herself and bringing over a recipe to share, and I know that you'll love each of these talented ladies (and their yummy eats & treats) as much as I do.
One thing I've learned after two years in this industry is that bloggers encourage and support one another like you wouldn't believe! So when I realized that, over the next few months, I'd have to squeeze in packing up a whole house, moving, unpacking, and traveling to Europe to visit relatives, I about had a nervous breakdown trying to figure out how my Five Heart Home duties were going to fit into the mix.
But when I finally waved my little white flag, guess who came to my rescue? My wonderful fellow food bloggers. In their amazing generosity, they are going to share a weekly post with y'all, my readers, to help alleviate a bit of my usual workload while things are so crazy this summer. Isn't that amazing? I am so grateful that, even when I'm running out of hours in the day, y'all will still be getting consistent, quality content all summer long. I'll continue posting my own new recipes each Monday and Wednesday…but this Summer Guest Post Series will provide y'all with a fresh Friday recipe from June through August. I'm excited for y'all to get to know these lovely ladies and their recipes, and I'm beyond thankful for their support and friendship. So without any further ado, let's welcome our first guest of the series, shall we?
Kristi is not only a brilliant and experienced blogger, but she's a wonderful real-life friend! A fellow Texan, Kristi's got a twangy accent and a heart of gold. You can find her mouthwatering recipes, fantastic free printables, creative DIY projects and crafts, and so much more over at I Should Be Mopping the Floor!
* * * * * * * * * *
Hey-ohhhhh, Five Heart Home readers! I'm Kristi from ishouldbemoppingthefloor.com and I'm delighted to be here today. Samantha and I just live a few miles (okay, like an hour-ish) from each other and have had a great time getting to know each other through the blog world and in real life, too! I think her blog is PRESH, y'all.
Today, I'm sharing a yummy new treat that my family and I are slightly addicted to. We've been working on eating healthier for the last 18 months and this recipe fits well into that plan. Watermelon is so refreshing and summery…this is pretty much a glass full of summer.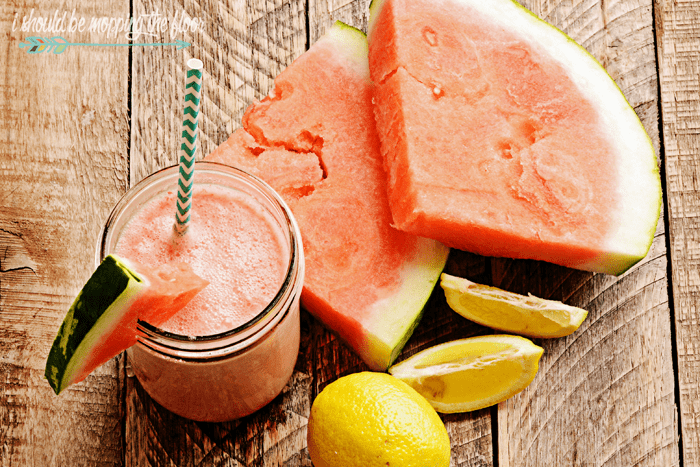 The lemon is optional, but it adds a really tart, citrusy spin on this one.
My kids don't care for the lemon in theirs, but I really like it!
You can just ease into that part of it…or just leave it out altogether.
I also like to freeze my Greek yogurt in an ice cube tray ahead of time for this recipe.
I then use it in place of ice cubes in the recipe…straight out of the freezer.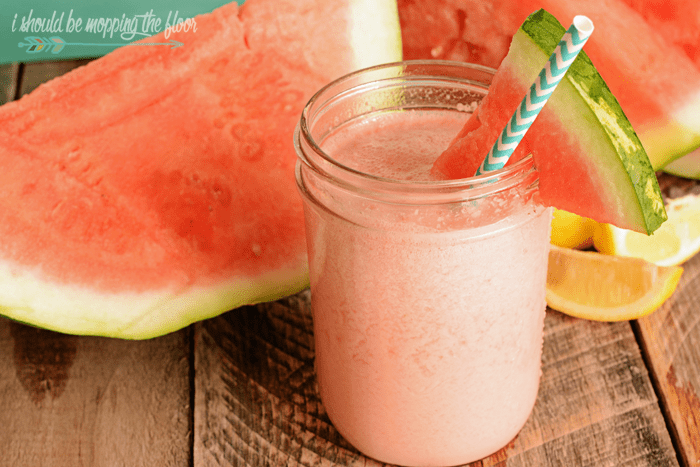 Watermelon Smoothie Recipe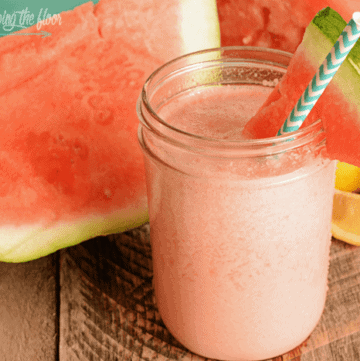 Watermelon Smoothie
This Watermelon Smoothie is a delicious and healthy way to cool off on those lazy, hazy, crazy days of summer!
Print
Pin
Rate
Ingredients
Half of a small seedless watermelon

,

cut into 1-inch cubes

2

cups

vanilla Greek Yogurt

,

frozen into cubes

1/2

cup

almond milk

1/2

banana

Juice of half a lemon

,

optional

Watermelon wedges

,

for garnish
Instructions
Add all ingredients to a blender and pulse on high until blended. Pour into four glasses and garnish with additional watermelon, if desired.
Calories:
123
kcal
|
Carbohydrates:
16
g
|
Protein:
11
g
|
Fat:
2
g
|
Saturated Fat:
1
g
|
Cholesterol:
8
mg
|
Sodium:
75
mg
|
Potassium:
53
mg
|
Fiber:
1
g
|
Sugar:
11
g
|
Vitamin A:
75
IU
|
Vitamin C:
1.3
mg
|
Calcium:
151
mg
Summery and refreshing!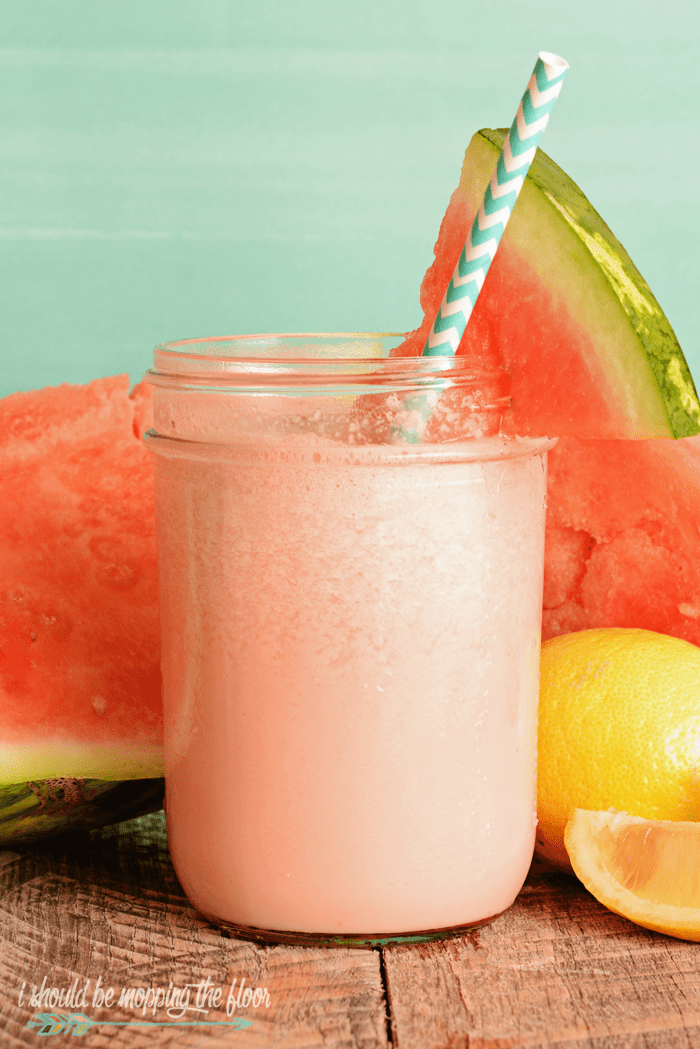 Would love to see more of you! Find me on any of the social media channels below. 
Follow on Facebook | Follow on Twitter | Follow on Pinterest | Follow on Google+ | Follow on Instagram
 And check out a couple of recipe favorites from my own blog, too (they're definitely not all healthy!):
* * * * * * * * * *
YUM, Kristi…thanks again for kicking off our Summer Guest Post Series! Your frosty Watermelon Smoothies are going on our summer bucket list, STAT! 😉