White Bean Dip with Jalapeño & Cilantro makes a creamy, zesty party appetizer when served with tortilla chips…but it's also a healthy, flavor-packed dip for enjoying raw veggies!

Today's recipe is like the perfect January mash-up! So as not to botch any New Year's resolutions, it's a health-conscious dip that can be served with raw veggies for a fantastic alternative to calorie-laden dip or dressing. But this White Bean Dip with Jalapeño & Cilantro also happens to be tasty enough to serve at parties or gatherings, alongside a big bowl of tortilla chips…think upcoming Super Bowl. Nobody will ever guess that it's light and practically guilt-free!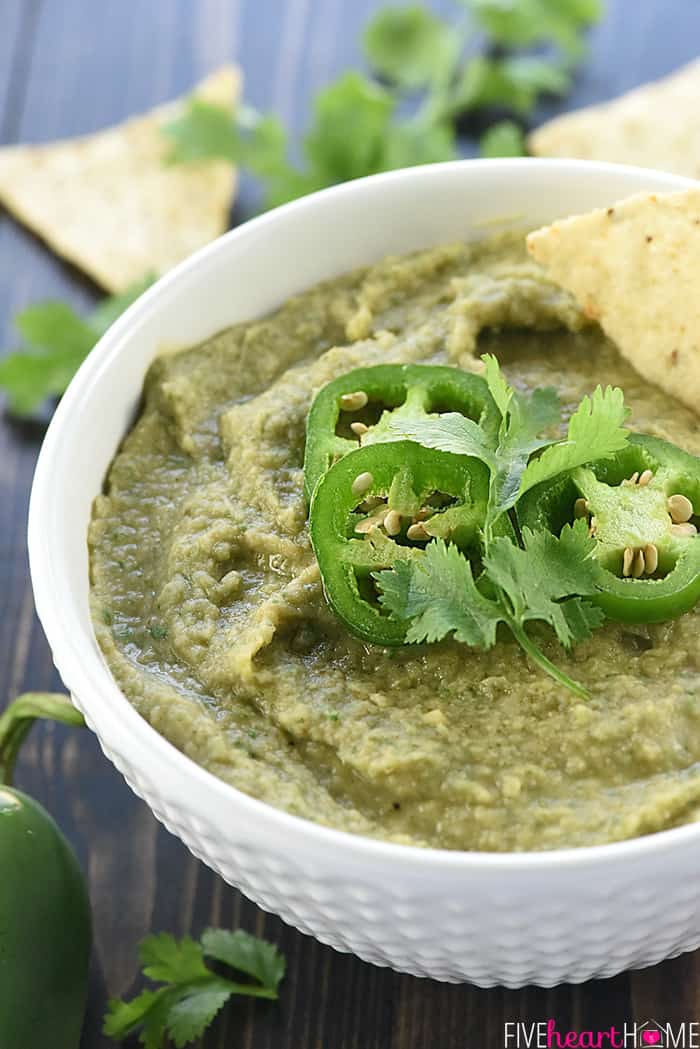 Several times per year, when there's a big sporting event to watch on TV, my family has a tradition of making a bunch of different appetizers for dinner and sitting around the coffee table to eat. Whether it's a college bowl game or the Final Four, the World Series or the Olympics, the Tour de France or the Super Bowl, each family member gets to pick a recipe that they'd like to have included in the spread that night.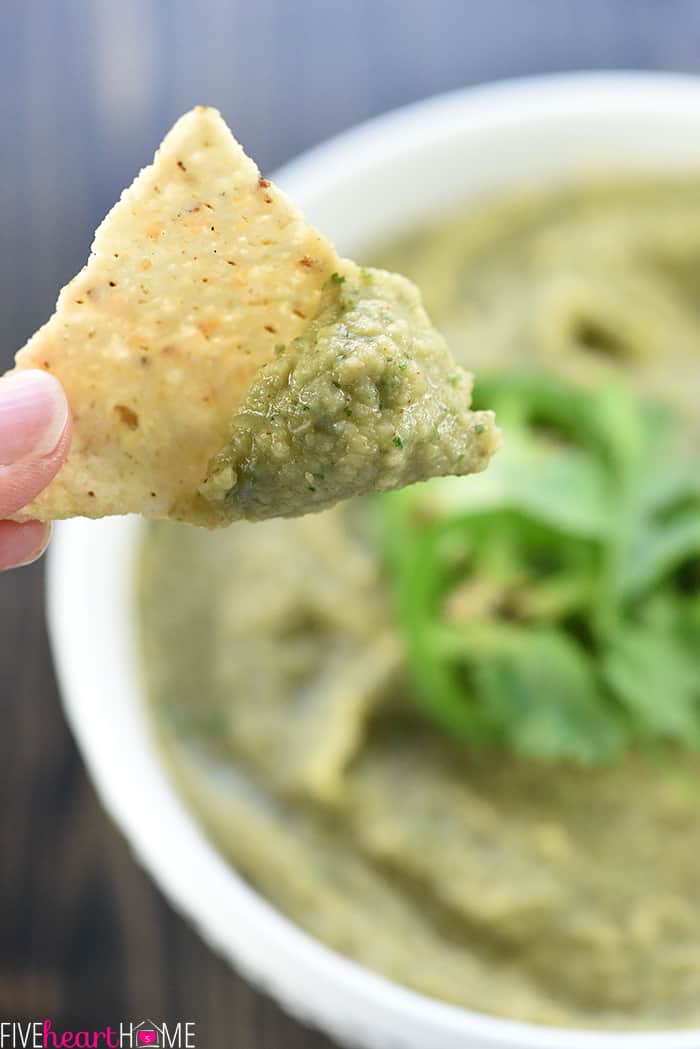 For the recent College Football National Championship game, my 9-year-old requested a Zesty Black Bean Dip that I shared on the blog several years back. Problem was, I didn't have any canned black beans in the pantry. So I asked him if he'd be okay with me changing things up a bit and attempting a similar dip with white beans instead. Lucky for us, my boy was game and the happy result is this White Bean Dip with Jalapeño & Cilantro!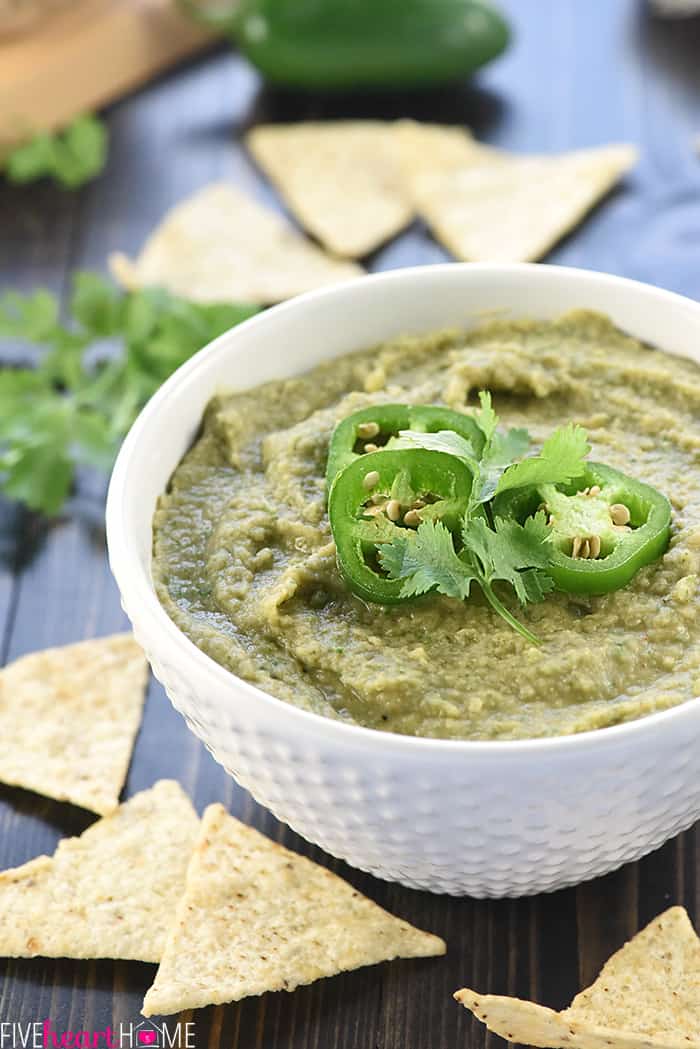 This recipe couldn't be any easier to make – it's as simple as whipping everything together in the food processor. And despite its base of mild white cannellini beans, it's oh-so-flavorful thanks to fresh garlic, jalapeños, cilantro, a splash of lime juice, and a few Tex-Mex seasonings, including cumin and a touch of chipotle chile pepper powder for a slightly smoky undertone.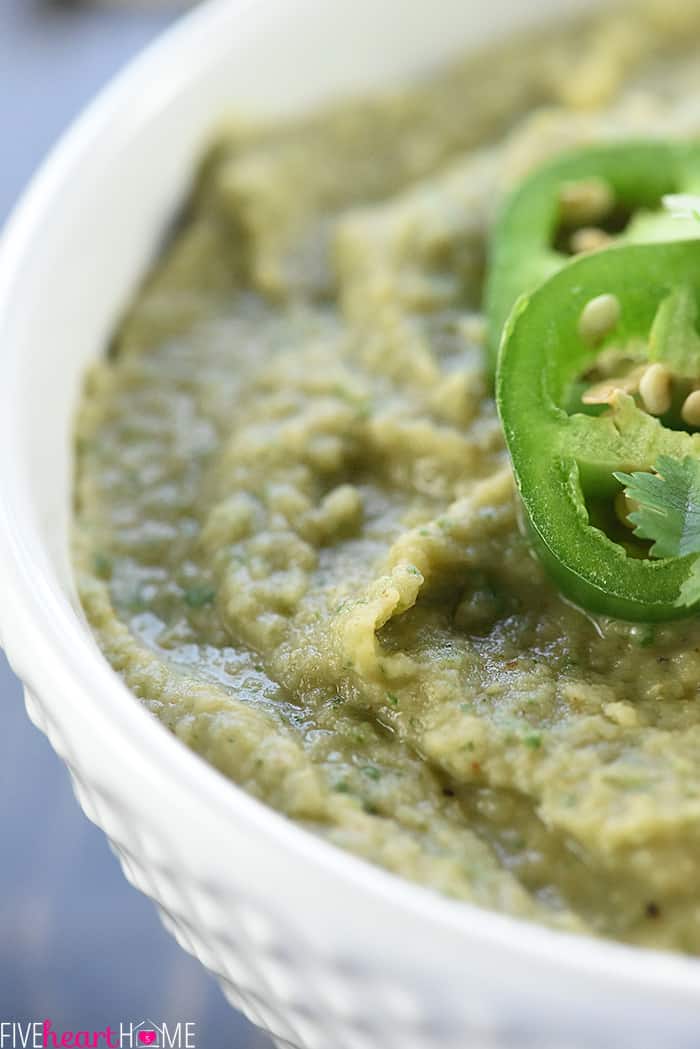 You can easily control the heat of this dip by adjusting your fresh jalapeño usage. Most of the heat in a jalapeño is retained in its seeds and membranes. So completely remove them for flavor and only mild heat, or leave 'em intact for a spicy dip. You can also up the dip's heat and smokiness by adding a bit more chipotle chile pepper powder, but do so gradually because a little bit goes a loooooong way. And for smokiness without the heat, you can always swap out smoked paprika instead.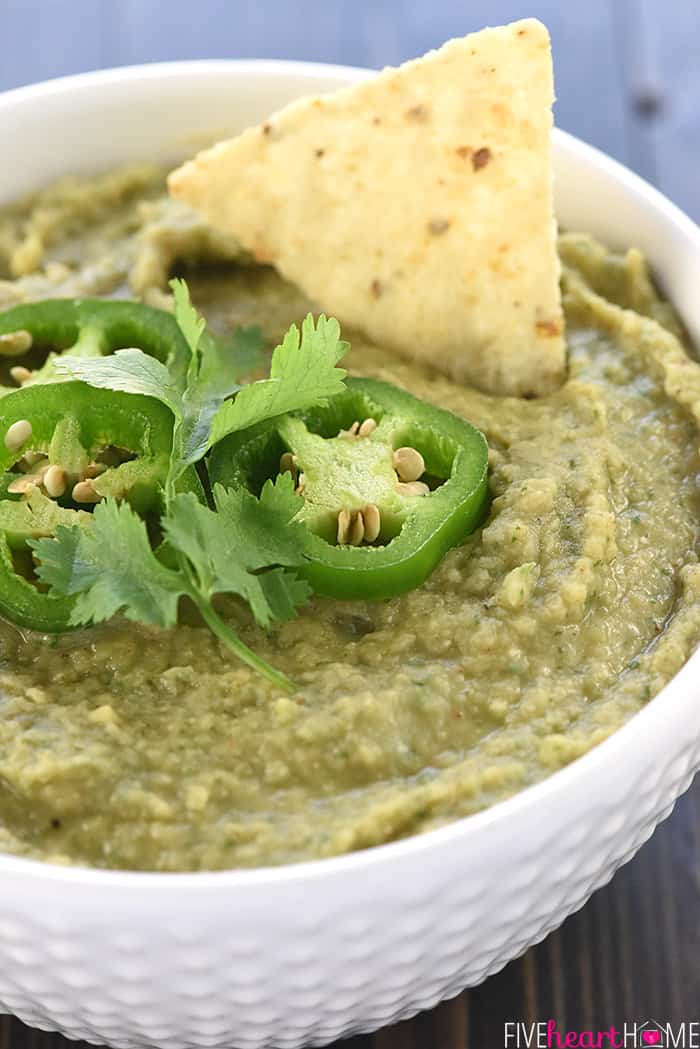 When I made this recipe, I tossed in two jalapeños with seeds and membranes removed and my dip was spicy but not overly so. My hot-salsa-eating kiddos had no problem with the heat…but do keep in mind that they're hot-salsa-eating kiddos. 😉 In fact, my boys loved this white bean dip so much that they asked if I could start making it as a dip for the raw veggies that we eat with dinner several nights a week. And of course I agreed, because anything that encourages them to eat more vegetables (especially when that anything also happens to be healthy!) is A-OK in my book. As a bonus, one batch of dip lasts all week.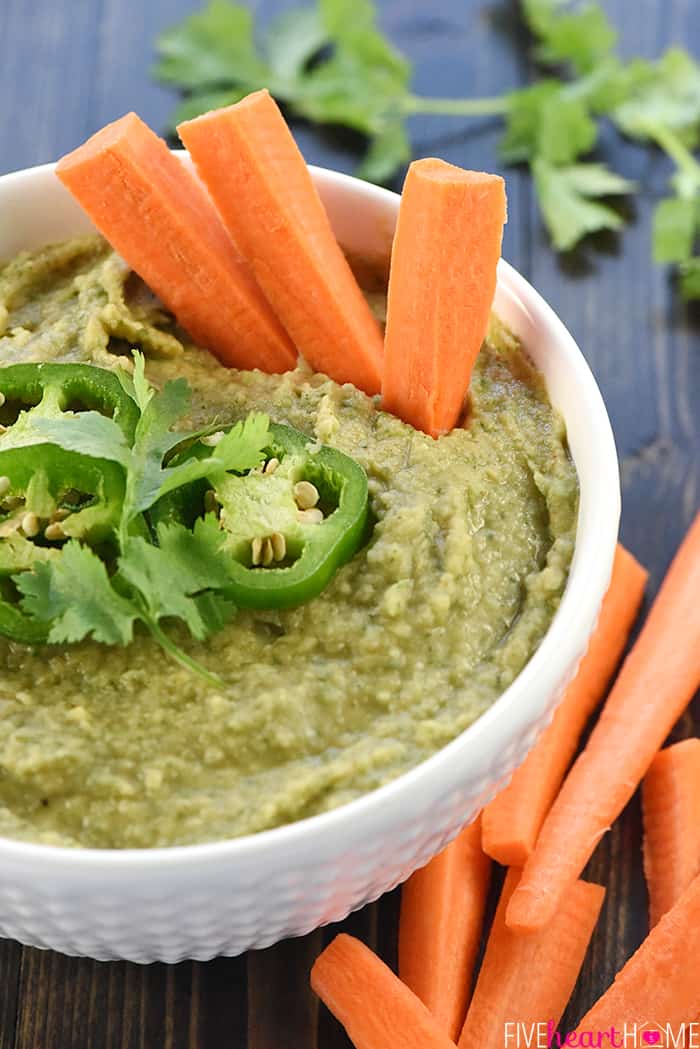 I'm a huge fan of drool-worthy dips, but many of my favorites are loaded with cream cheese or cheddar or sour cream. So it's nice to have a few recipes in my repertoire that are on the lighter side while still being packed with flavor. After all, one bite of White Bean Dip with Jalapeño & Cilantro means that I can eat three bites of queso, right? Because I'm all about balance. 😉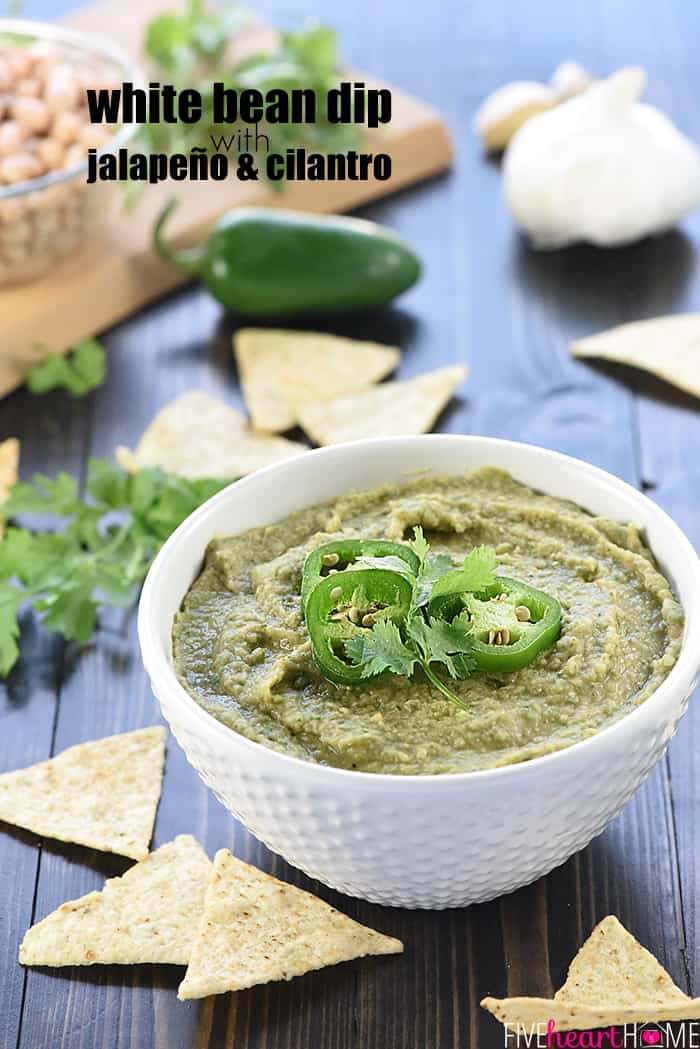 White Bean Dip with Jalapeño & Cilantro
White Bean Dip with Jalapeño & Cilantro makes a creamy, zesty party appetizer when served with tortilla chips…but it's also a healthy, flavor-packed dip for enjoying raw veggies!
Ingredients
2 large cloves garlic
2 jalapeños, seeds and membranes removed, chopped into chunks
1/2 cup packed fresh cilantro leaves
2 (15-ounce) cans cannellini beans, rinsed and drained
1 1/2 teaspoons garlic salt
1 teaspoon cumin
1/4 teaspoon onion powder
1/4 teaspoon chipotle chile pepper powder
Freshly ground black pepper, to taste
1 1/2 tablespoons fresh squeezed lime juice
1 tablespoon apple cider vinegar
2 to 4 tablespoons water
Instructions
Place garlic, jalapeño, and cilantro in the bowl a food processor (or the pitcher of a blender). Process until finely chopped, scraping down sides halfway through. Add beans, garlic salt, cumin, onion powder, chipotle chile pepper powder, black pepper, lime juice, apple cider vinegar, and 2 tablespoons water to food processor. Process until all ingredients are smooth, adding additional water one tablespoon at a time (if necessary) until preferred consistency is reached. Taste and adjust seasonings as desired.
Garnish with cilantro and sliced fresh jalapeños, if desired. Serve as a dip with tortilla chips or raw vegetables.
Notes
You may substitute another type of canned white beans -- such as great northern beans or navy beans -- for the cannellini beans.
https://www.fivehearthome.com/white-bean-dip-with-jalapeno-cilantro/
https://fivehearthome.com ~ All recipes and images on Five Heart Home are copyright protected. Please do not use without my permission. If you would like to feature this recipe, please rewrite the directions in your own words and give proper attribution by linking back to this blog.
More football-friendly dips…
Ultimate Bean Dip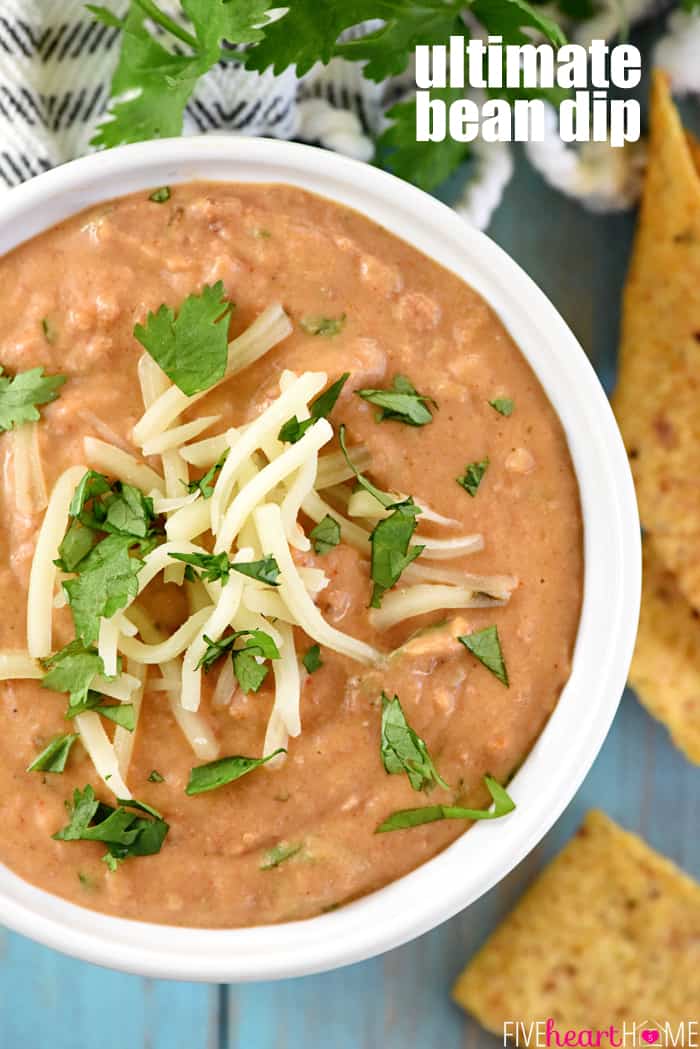 Creamy Jalapeño Dip {Chuy's copycat}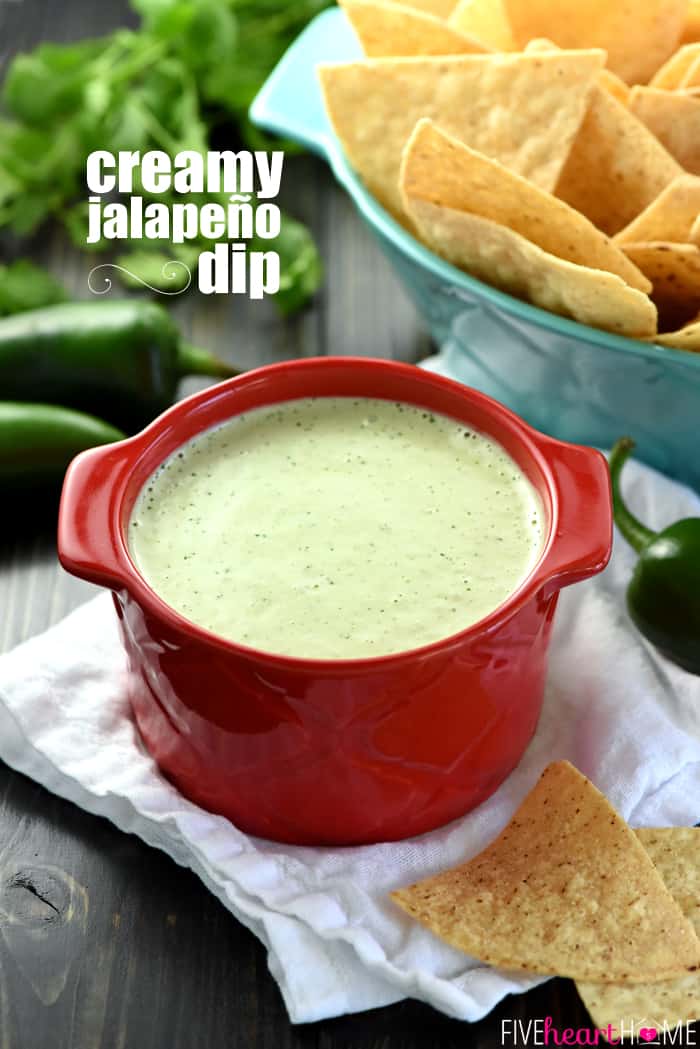 Ultimate Mexican Street Corn Dip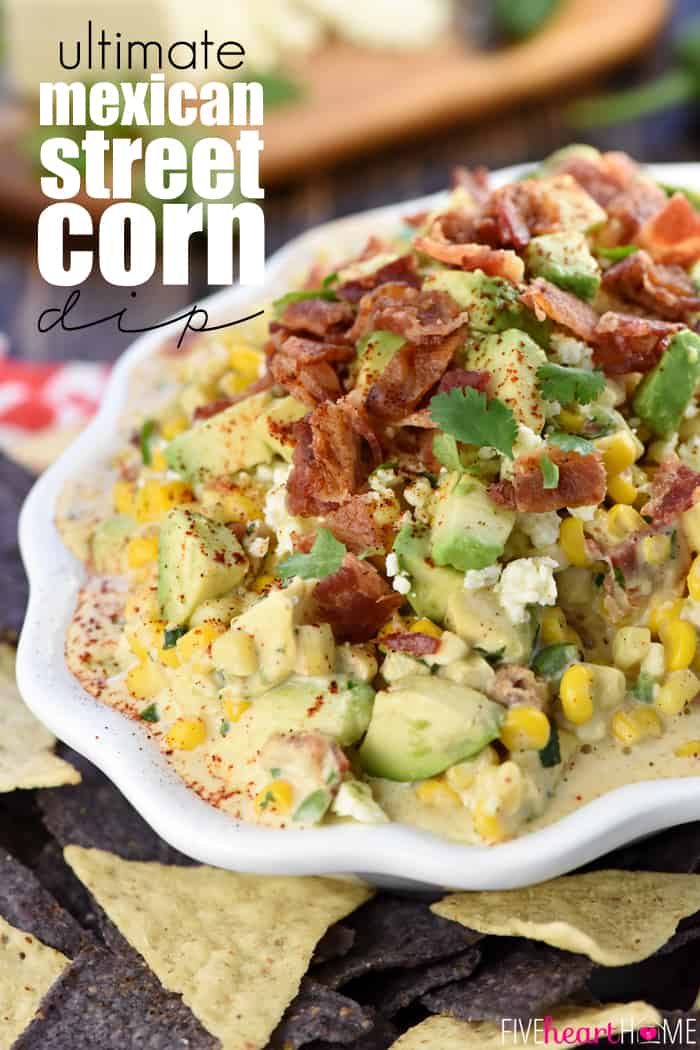 Buffalo Chicken Dip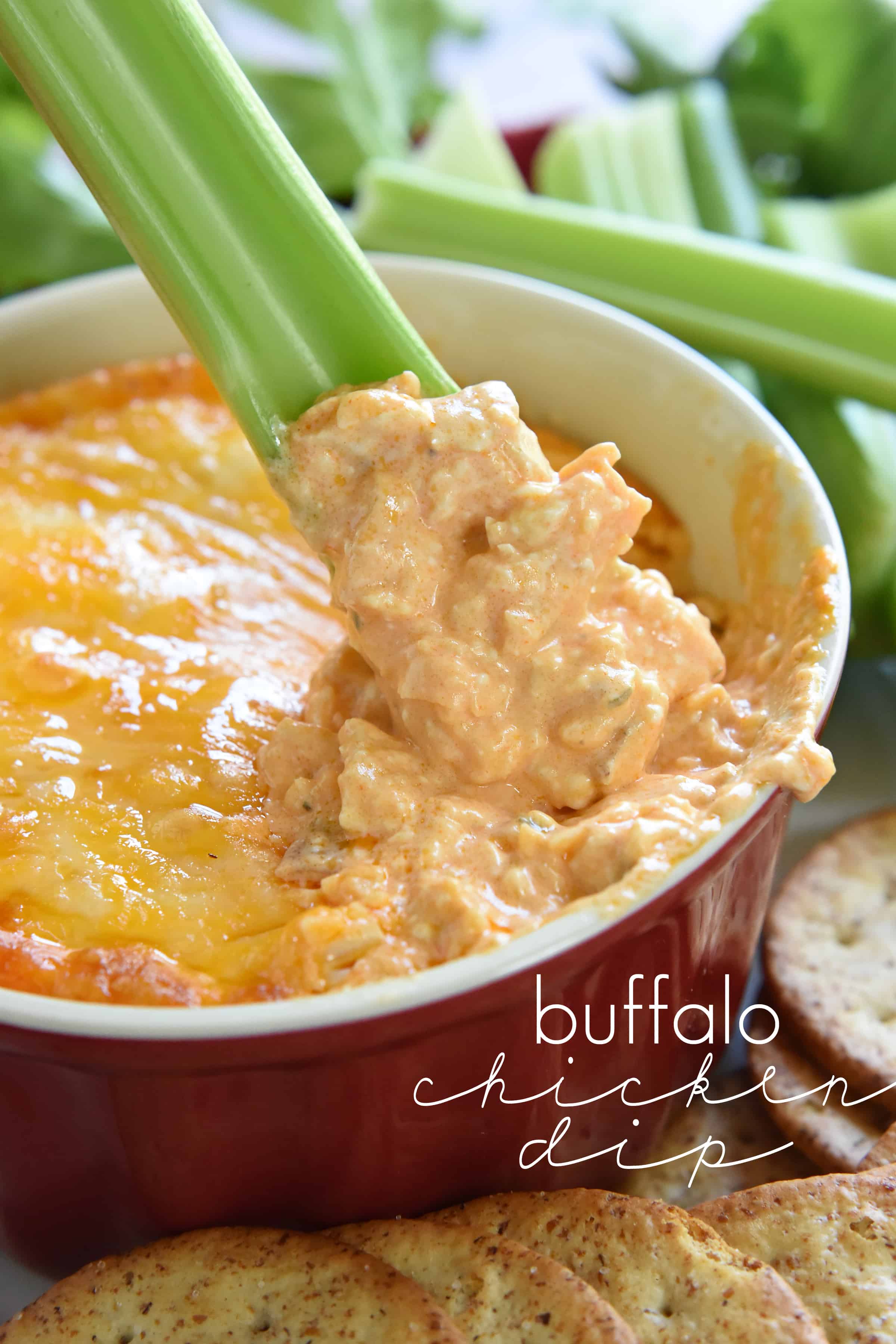 Save
Save
2