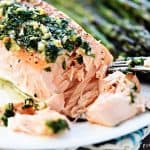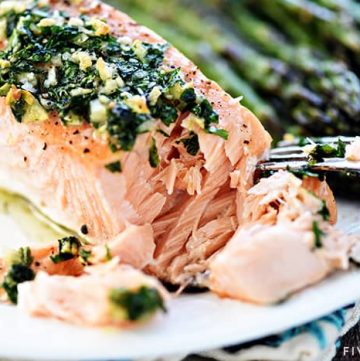 Print
Baked Salmon with Garlic & Parsley
Baked Salmon with Garlic & Parsley is a flavorful, delicious recipe that comes together in a flash, to impress company or as a go-to weeknight dinner!
4

(5- to 6-ounce) salmon fillets

Salt & freshly ground black pepper

4

cloves

garlic

minced

4

tablespoons

minced fresh parsley

3

tablespoons

extra-virgin olive oil OR melted butter
With the rack in the center position, preheat the oven to 400°F. Line a large, rimmed baking sheet with foil, and lightly oil the foil or spray it with non-stick cooking spray. Place the salmon fillets on the pan, skin side down, and generously season them with salt and pepper.

In a small bowl, combine the garlic, parsley, and olive oil (or melted butter). Spoon the mixture on top of the salmon, evenly dividing it between the fillets.

Insert a thermometer into the end of the thickest part of one of the salmon fillets, ensuring that the probe is not angled downward nor touching the pan. Place the pan in the oven and cook until the salmon reaches 140°F, which should take 15 to 20 minutes, depending on the thickness of the salmon. Remove the pan from the oven, loosely cover with foil, and allow to rest until the temperature increases to 145°F (the safe temperature for fish per the USDA). Serve immediately.
You can easily adjust the number of servings for this recipe. For each 5- to 6-ounce salmon fillet, you will need 1 clove of garlic, 1 tablespoon of minced parsley, and 1 scant tablespoon of extra-virgin olive oil (or melted butter).
If desired, you may swap fresh minced dill (or other fresh minced herbs) for up to half of the parsley.
Salmon will look opaque and flake easily with a fork when cooked through. Using a thermometer is the most foolproof way to know that fish has reached temperature. Again, the USDA recommends a safe temperature of 145°F for salmon, but if you prefer it less cooked, that's up to you.
Feel free to squeeze lemon wedges over the fillets before serving.
Calories:
340
kcal
|
Carbohydrates:
1
g
|
Protein:
34
g
|
Fat:
21
g
|
Saturated Fat:
3
g
|
Cholesterol:
93
mg
|
Sodium:
77
mg
|
Potassium:
867
mg
|
Vitamin A:
8.1
%
|
Vitamin C:
7.6
%
|
Calcium:
3.1
%
|
Iron:
9.5
%