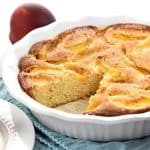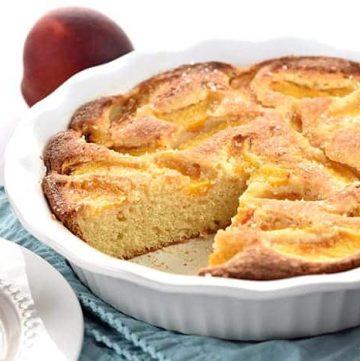 Print
Summer Peach Cake
Summer Peach Cake is a delectable summer dessert recipe featuring fresh sliced peaches sunken into a sweet golden cake!
Total Time
1
hour
15
minutes
Servings
8
to 10 servings
Peel and slice each peach into 8 equal slices. Arrange on a paper towel-lined plate (to remove some of the moisture) and set aside.

Position rack in center of oven and preheat oven to 350°F. Generously butter a 9" deep-dish pie plate.

In a medium bowl, whisk together flour, baking powder, and salt; set aside. In a large bowl, use an electric mixer to blend the butter until creamy. Add the sugar and beat on medium-high speed for a couple of minutes until light and fluffy. Turn down the mixer and slowly blend in the egg, buttermilk, and vanilla. With the mixer on low, gradually mix in the flour mixture until just combined.

Scrape the batter into the prepared pie plate and smooth the top. Arrange the peach slices on top of the batter with as little space between them as possible, lightly pressing them down. Sprinkle the top of the cake with the sparkling sugar.

Bake for 10 minutes at 350°F. Then reduce the oven temperature to 325°F and continue baking for 50 to 60 minutes, or until cake tests done with a toothpick inserted into the center of the cake (hopefully without hitting a peach).

Place the pie plate on a rack and allow to cool. Slice into wedges and serve with fresh whipped cream or vanilla ice cream or perfectly plain.
Cling-free peaches will make it easier to get neat slices. But even if you have to slice the peach pits out, it's easiest to first quarter each peach. Then cut each quarter in half lengthwise, resulting in 8 slices per peach.
If you don't have a 9" deep-dish pie plate, this cake can also be made in a 10" regular-depth pie plate, a 9" cake pan, or a 9" or 10" springform pan. Just keep in mind that using a dish/pan with a larger diameter will result in a slightly thinner cake, and the baking time may need to be slightly reduced.
Depending on how tightly you arrange the peach pieces together on top of the cake, you may have a few leftover slices that won't fit. Rumor has it they make a great snack while you impatiently wait for the cake to bake.
If you don't have sparkling sugar on hand (or would prefer not to use it), you may instead sprinkle the cake with 2 tablespoons regular granulated sugar before popping it in the oven.
Calories:
313
kcal
|
Carbohydrates:
52
g
|
Protein:
4
g
|
Fat:
9
g
|
Saturated Fat:
5
g
|
Cholesterol:
44
mg
|
Sodium:
171
mg
|
Potassium:
271
mg
|
Fiber:
1
g
|
Sugar:
33
g
|
Vitamin A:
560
IU
|
Vitamin C:
5
mg
|
Calcium:
63
mg
|
Iron:
1.4
mg