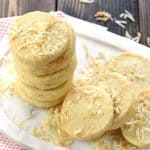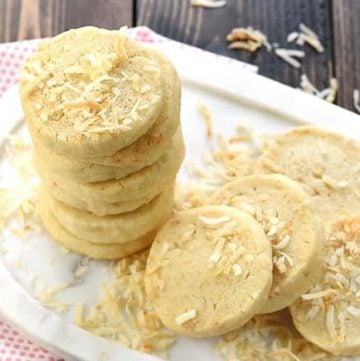 Print
Coconut Shortbread Cookies
Tender, buttery shortbread is loaded with toasted coconut in these delicious, addictive, easy-to-make Coconut Shortbread Cookies!
2

cups

unsweetened coconut flakes

1

cup

(2 sticks) unsalted butter

at room temperature

3/4

cup

powdered sugar

1/2

teaspoon

salt

1

teaspoon

pure vanilla extract

1/8

teaspoon

pure almond extract

2

cups

all-purpose flour

1/2

cup

semisweet chocolate chips

optional, for dipping or drizzling
To toast the coconut, preheat oven to 325°F. Spread flaked coconut into a thin layer on a large, rimmed baking sheet. Bake for 5 minutes, stir, and then bake for 1 to 3 more minutes or until light golden brown. Set aside to cool completely.

In a large bowl, use an electric mixer to beat the butter until creamy. Mix in the powdered sugar, salt, vanilla extract, and almond extract and beat for 1 minute until light and smooth. With mixer on low speed, slowly add the flour, blending until just incorporated. Add the toasted (cooled) coconut and quickly mix it in until thoroughly combined.

Turn the dough out onto a work surface and shape it into a rough ball. Cut the ball in half and form each piece of dough into an 8-inch log. Tightly wrap each log in plastic wrap and freeze for 30 to 40 minutes.

Preheat the oven to 325°F. Line two baking sheets with parchment paper. Remove one log of dough from the freezer. Cut the dough into 1/4-inch thick slices, rolling the log every few slices to maintain the round shape of the cookies. Arrange the cookies on the prepared baking sheet. Bake until the cookies start to turn a light golden color around the edges, between 14 and 16 minutes. Allow to cool on baking sheets.

Repeat the steps with the second log of cookie dough. Once the cookies are completely cool, store them in an airtight container.
You may use sweetened flaked coconut if that's what you have on hand, which will result in slightly sweeter cookies, but these cookies are not overly sweet to begin with. If you wish, you may reduce the powdered sugar to 1/2 cup if using sweetened coconut.
To achieve round logs of dough, I shape them the best I can and then lightly roll them on the counter like a rolling pin after they're wrapped in plastic wrap.
While the first sheet of cookies is baking, take the second log of cookie dough out of the freezer, slice it, and arrange cookies on second cookie sheet so that it's ready to pop in the oven as soon as the first sheet comes out.
If desired, once the cookies are completely cool, you may drizzle them with melted chocolate. Melt about 1/2 cup semisweet chocolate chips in the microwave (in 30-second increments, stirring in between, until smooth & melted). Scrape the melted chocolate into a sandwich baggie, snip a tiny hole in one corner, and drizzle a thin stream of chocolate across the cookies (or just drizzle with a spoon). Set the chocolate by popping the cookies in the refrigerator for 20 minutes or letting them sit at room temperature for about 3 hours. (If you want the chocolate to set firmer and more quickly, you can stir 1/2 teaspoon shortening into the melted chocolate before drizzling.)
Alternatively, you may make sandwich cookies by spreading 1/2 teaspoon of Nutella (or jam, or lime curd) on one cookie and topping with another cookie.
Calories:
126
kcal
|
Carbohydrates:
10
g
|
Protein:
1
g
|
Fat:
9
g
|
Saturated Fat:
6
g
|
Cholesterol:
13
mg
|
Sodium:
35
mg
|
Potassium:
48
mg
|
Fiber:
1
g
|
Sugar:
3
g
|
Vitamin A:
160
IU
|
Vitamin C:
0.1
mg
|
Calcium:
5
mg
|
Iron:
0.6
mg